What Size Kennel for a Goldendoodle? (and 3 best)
Kennels are a convenient dog training tool. They also provide a safe space for your Goldendoodle. It's important to pick up the right size. Dogs like to burrow in small spaces to rest, relax, and sleep. A kennel still needs to provide your pet with some legroom, ventilation, and comfort.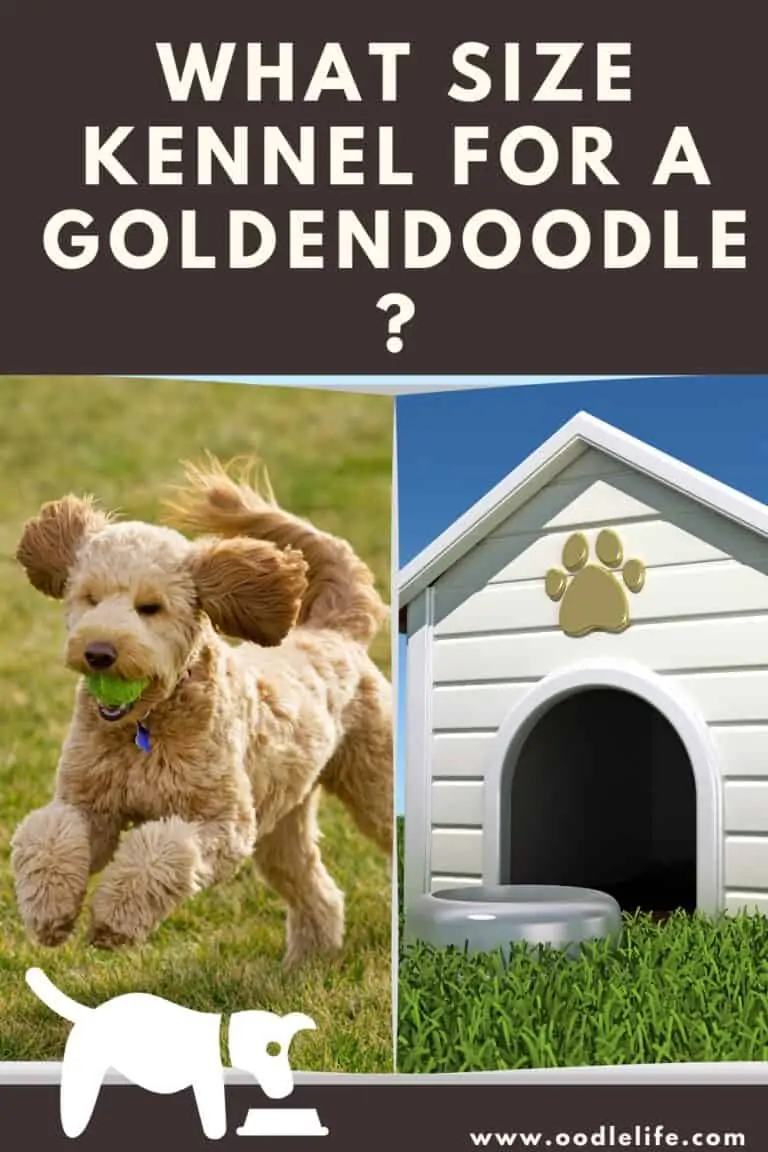 Picking the right size kennel requires a little bit of effort and measuring. It's important to get it right for the sake of your Goldendoodle
The kennel's intended use plays a role in the best kennel type and size for your dog, too. The airlines have strict guidelines. For a long drive, you can pick something different. It's also important to consider the stages of the canine's life.
When some people think of a kennel they are thinking of a stand alone full strength outdoor structure. This is the best kennel for a Goldendoodle.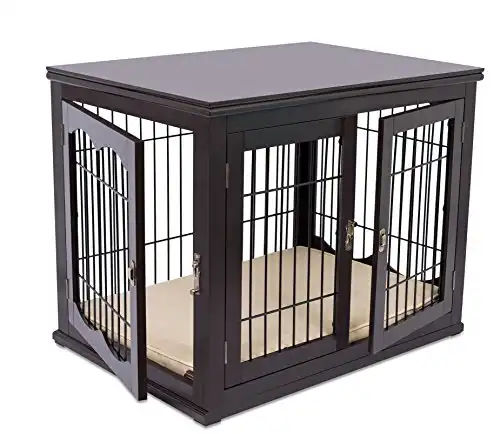 We earn a commission if you make a purchase, at no additional cost to you.
Most people are actually referring to a crate rather than a kennel. Crates are far more tricky to pick the right style and size to match your Goldendoodle.
Many dog owners opt to potty train their puppy with the crate method. So, you need to figure out if you're going to keep the crate after the dog is successfully trained. Puppies start their life in tiny bodies. A Goldendoodle puppy at eight weeks weighs eight to 10 pounds. Dogs stop growing between the age of one and two. By the age of two, the dog could easily outgrow it.
There are circumstances when it's a good idea to purchase a kennel one size up. The smallest kennel measures 24 inches. They are often big for small breeds. It's OK because it provides them legroom space. As long as the kennel is secure and locked, they won't slosh around inside. The same logic applies to all breeds especially if the crate sits at home.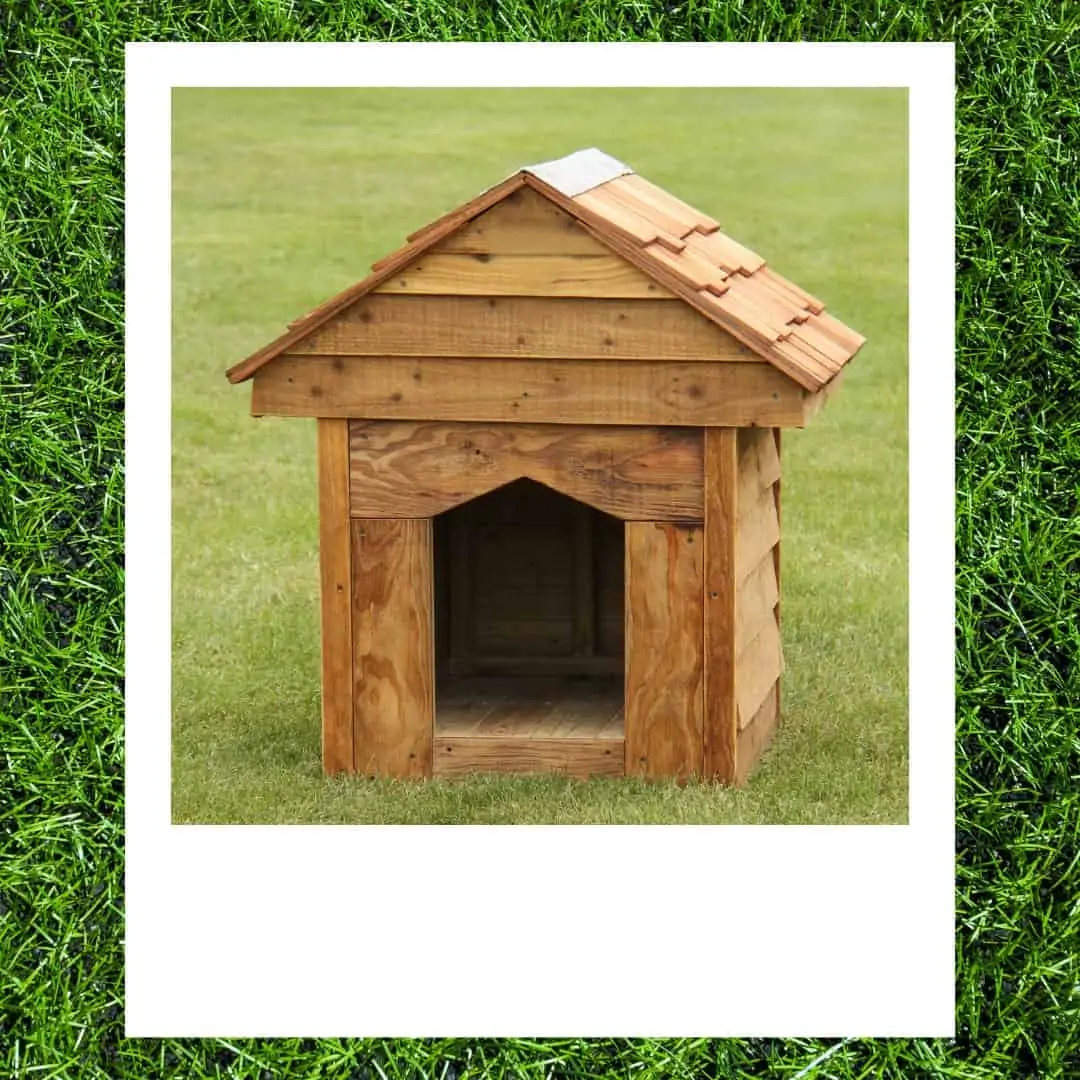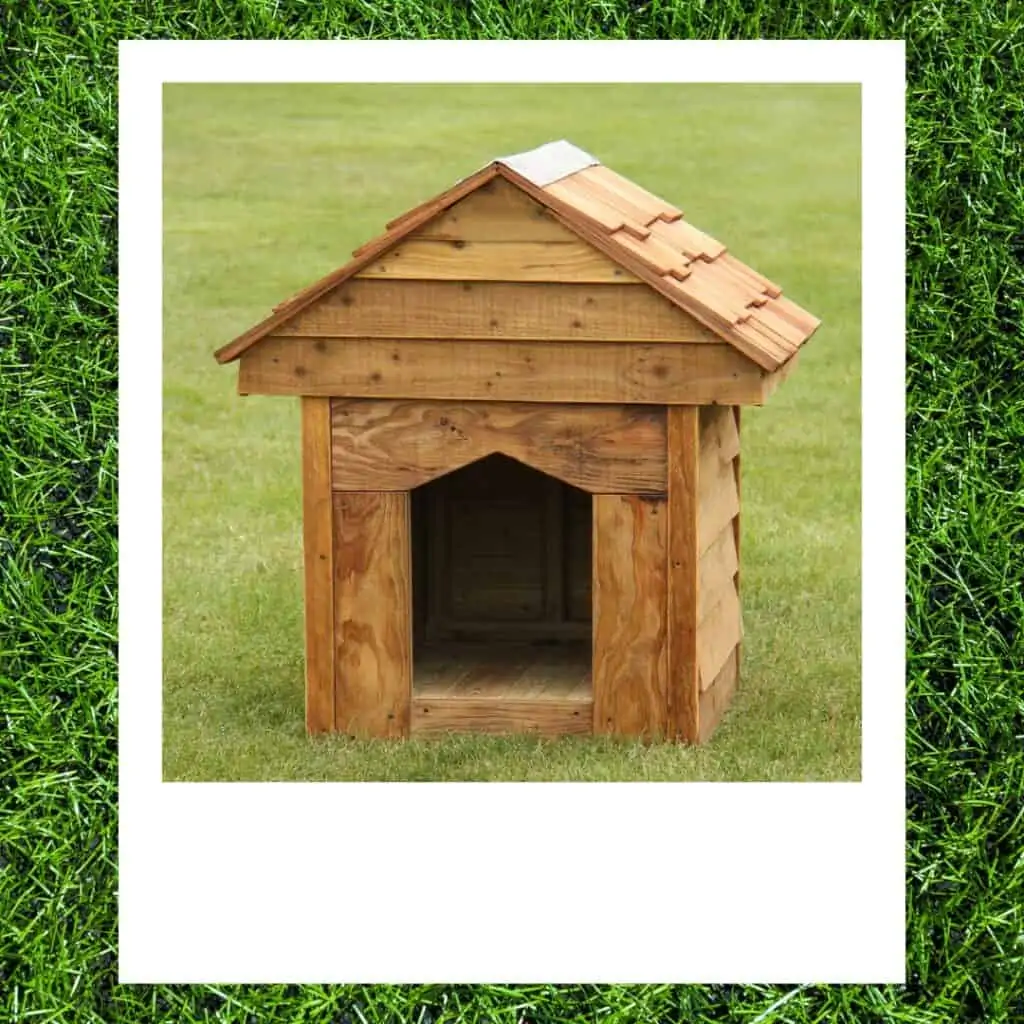 What Size Kennel for a Goldendoodle is Best?
Goldendoodles average a height of 20 to 24 inches. A full-grown Goldendoogle averages 50 to 90 pounds. The best size kennel for a Goldendoodle accommodates their height and weight. It must hit the sweet spot.
| Weight | Crate Length |
| --- | --- |
| 35 – 40 pounds | 24 – 30 inches |
| 40 – 70 pounds | 36 inches |
| 70 – 90 pounds | 42 inches |
| 90 – 100 pounds | 48 inches |
| Over 100 pounds | 54 inches |
| | |
The best crate length for a dog that weighs between 40 to 70 pounds is 36 inches. A 42-inch crate accommodates dogs that weigh 70 to 90 pounds. Here are some more lengths to consider according to weight:
To use the measurement method instead, evaluate your Goldendoodle with a tape measure or other device. Measure the dog from its nose to the tail's base, not including the tail. This gives you the length. To get the height, have the dog sit. Measure from the ground to the top of its head.
These measurements help you find the best crate size. Add at least two inches to the dog's height and length. This gives you the optimal crate height and length.
Goldendoodle Kennel and Crate Types
After you pick the correct crate or kennel length, it's time to pick out the best dog kennel type for your Goldendoodle. Kennel choices include:
Soft-sided
Plastic crate kennel
Metal or wire crate
Wooden aka decorative
Combination
Soft-sided kennels are wonderful for cars and other travel. They are the most lightweight and portable. Soft-sided kennels store easily because they fold. This is the most popular size dog crate category. It's aesthetically pleasing and cozy.
Plastic kennels are sturdy and easy to clean. If you travel by air, airlines prefer it above others. Since the Goldendoodle has a limited view from this kennel, they are more likely to remain calm. There are no bells and whistles for this kennel category. It's the most simple.
Metal and wire kennels are best for puppies who enjoy chewing everything in sight. There will be no jailbreaks from this kennel. The metal and wire crates fold, provide plenty of ventilation, and remain odor-free. These are recommended for dogs over 90 pounds. If they get excited and try to break out, the dog is less likely to hurt itself.
Wooden and combination kennels are heavier and less portable. At home, they get the job done. The wooden kennels blend into the home decor. You'll find them in various colors. Combination kennels marry the best of plastic and wire. This makes them heavy. If they're only going to sit at home, it's a worthwhile purchase.
Kennel Do's and Do NOTS
Dogs make mistakes sometimes. Some puppies are tougher to potty train than others. Some are more curious, too, so they get themselves into precarious situations. A Goldendoodle requires your patience. Some dog owners are tempted to use a kennel as a time-out space or punishment. Dog experts advise against this strategy.
If a canine fears the kennel, it won't get in willingly when it's really necessary. Yelling at them to get in doesn't help either.
Be mindful of the amount of time the dog spends inside the crate. At night, there's no real way to get around leaving them inside for up to eight hours. During the daytime, a dog needs to be able to relieve itself as soon as possible. It also means often.
During the day, a dog needs a break from the kennel every four to five hours. Canines that suffer from separation anxiety have a tough time spending several hours confined to their kennel. It's a good idea to be mindful of their feelings.
Kennels help dogs stay out of trouble when they are home alone. You can run errands for a few hours without needing to worry. It helps them calm down when overly excited. It's a tool that allows them to get used to new surroundings at their pace. Dogs that don't handle travel in cars well also benefit from a kennel during a trip.
At the same time, Goldendoodles need freedom. Too much kennel time leads to confusion and sadness.
With all this information in mind, here are the best three kennels for your Goldendoodle.
EliteField 3-Door Folding Soft Dog Crate, Indoor & Outdoor Pet Home, Multiple Sizes and Colors Available (42" L x 28" W x 32" H, Beige)
Size: 42" long x 28" wide x 32" high; 2" wider and 4" higher than most other brand 42" soft crates, so the EliteField soft crate makes your dog feel more spacious; fully assembled; set-up and...
The crate frame is made of strong steel tube; the crate cover is made of high quality durable 600D fabric and hex mesh fabric; a well ventilated, stylish, lightweight and durable crate.
Three mesh doors (on the top, front, and side) for convenience and for sunlight and breathability; two accessory pockets on the top and side; removable and washable cover and bed
Free carrying bag and fleece bed included; a handle and hand carrying straps on the crate, hand carrying straps and adjustable padded shoulder strap on the carrying bag allow for many carrying...
2 Year Warranty from EliteField, a New York-based Pet Product Manufacturer. The "EliteField" brand is ranked #1 under Amazon's "Soft Dog Crate" category. This can be seen through searching for "Soft...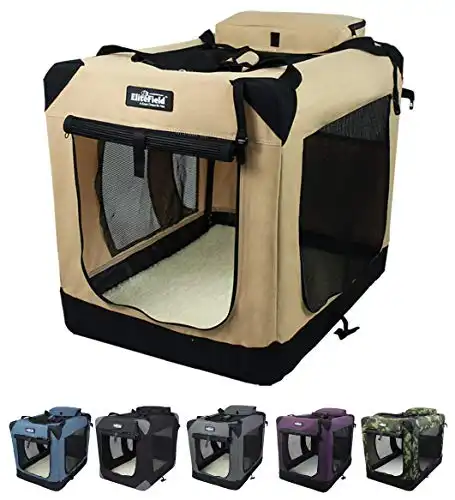 We earn a commission if you make a purchase, at no additional cost to you.
The EliteField 3-Door Folding Soft Dog Crate receives high ratings for several good reasons. Pick from 16 colors and five sizes. It features three mesh folding doors, two accessory pockets, and a washable cover and bed. Your purchase includes a fleece bed and carrying bag.
Color options include:
Black
Beige
Blue-gray
Camo
Navy blue
Size options include:
20″ L x 14″ W x 14″ H
30″ L x 21″ W x 24″ H
36″ L x 24″ W x 28″ H
42″ L x 28″ W x 32″ H
Thanks to the size variety, you are likely to find the best size for your canine.
If you travel, this soft crate is a great temporary home for your Goldendoodle. It folds and it's lightweight. No assembly is required. Strong steel tubes make up the frame.
The EliteField 3-Door Folding Soft Dog Crate is ideal for most dogs. Puppies and others who still chew things are one questionable group. Dogs that aren't fully potty-trained are another.MidWest iCrate Kit
Midwest manufactures wire kennels for Goldendoodles and other breeds of all sizes and weights. The MidWest iCrate Kitis a best seller. It features several options such as a single or double door. With your purchase, you receive a free divider panel, dog tray, and carrying handle.
To protect your floors, there are four rollers under the kennel. If you purchase a large kennel, you can move it to different spots in your home without damaging the flooring.
Size options include:
18″ L x 12″ W x 14″ H with divider
24″ L x 18″ W x 19″ H with divider
36″ L x 23″ W x 25″ H with divider
42″ L x 28″ W x 30″ H with divider (for a really large dog)
Kennel manufacturers understand that there's no one-size-fits-all solution for every dog breed. Midwest manufacturers a series of crates and sizes for each.
Some assembly without tools is required. Assembly takes a few seconds. Look for the Instructions in the box. The kennel folds flat for easy storing and travel. The bottom is not waterproof, so consider placing a rag under the kennel for easy accident cleanup.
For air travel, the PetMate Sky Kennel is a solid option. You receive a durable plastic kennel that protects your Goldendoodle during air travel or a car trip to the vet. The four-way vault door adds a layer of security. Ventilation keeps your pet comfortable. The product includes two Live Animal stickers, clip-on bowls, and ID stickers.
Petmate Sky Kennel Pet Carrier - 28 Inch
Extra Security: 4 way vault door provides extra security for the travel dog crate by preventing sliding and shifting (available on 36 inch size and up)
Durable, Heavy Duty Construction: Durable plastic shell, non corrodible wing nuts, extra strong steel wire, and interlocking door provide heavy duty protection
360 Degree Ventilation: Ventilation openings surrounding the travel kennel give pets fresh air and visibility from all sides
Travel Necessities Included: Portable dog kennel includes 2 Live Animal stickers, clip on bowls and ID stickers for easy modification for travel. Top Handle available on 21 inch and 28 inch sizes
Airline Adaptable: The Petmate Sky Kennel meets most airline cargo specifications for easy and safe travel, but pet owners should always check with individual airlines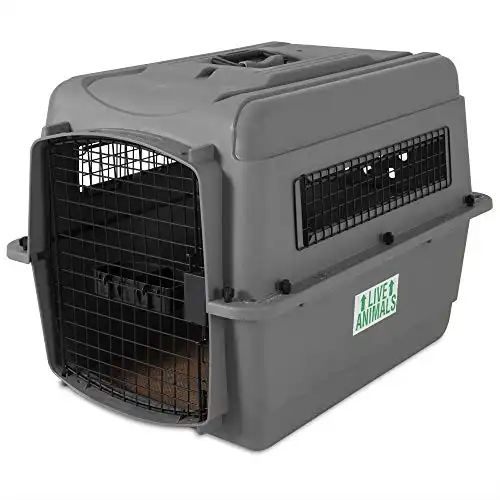 We earn a commission if you make a purchase, at no additional cost to you.
Size options include:
21″ L x 16″ W x 15″ H
28″ L x 20.5″ W x 21.5″ H
32″ L x 22.5″ W x 24″ H
36″ L x 25″ W x 27″ H
This kennel is an enclosed case. The plastic material doesn't allow for stretching or any other adjustments to the crate. The style and material take up to two inches from the product's measurements.
To find what size kennel for a Goldendoodle is best from the plastic category, be sure to measure your Goldendoodle well.
Then, pick the best product size according to height and weight. In this case, add four inches to the dog's height and weight for the best results. By going up a size, your dog should be able to rest comfortably inside the shell without feeling cramped or anxious with plenty of space for the dog bed.