5 Best Dog Crates for a Goldendoodle (Reviews)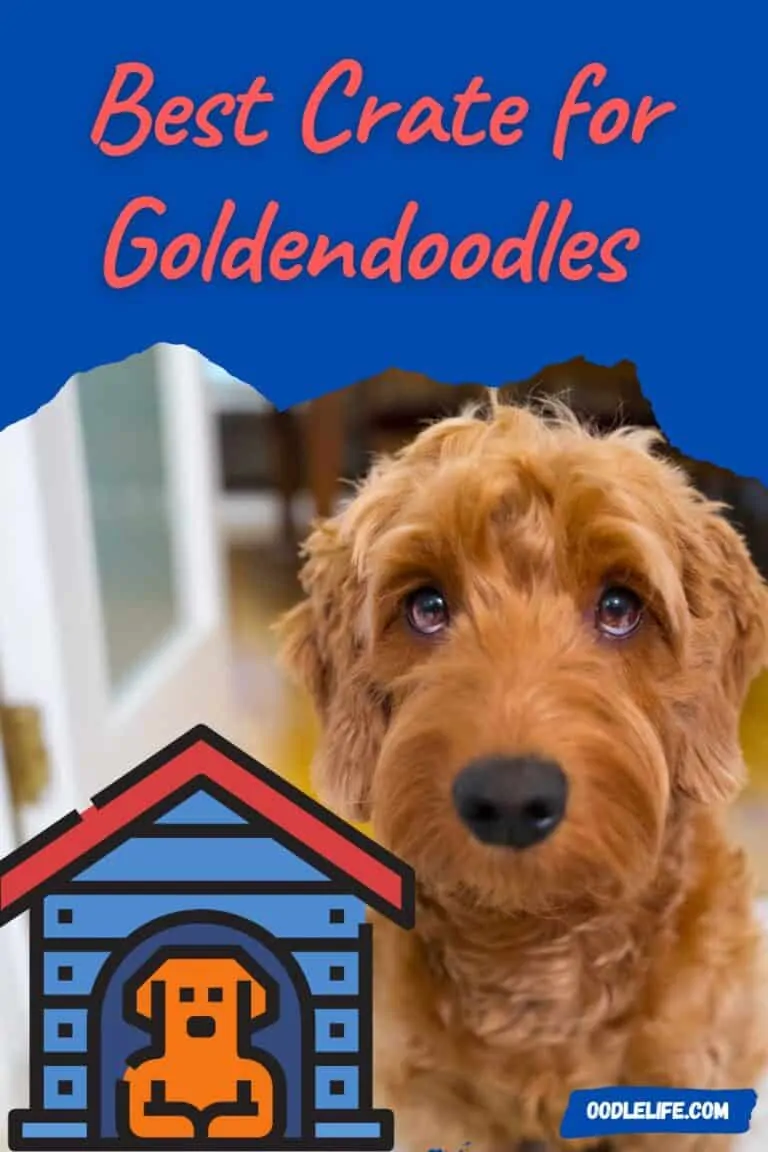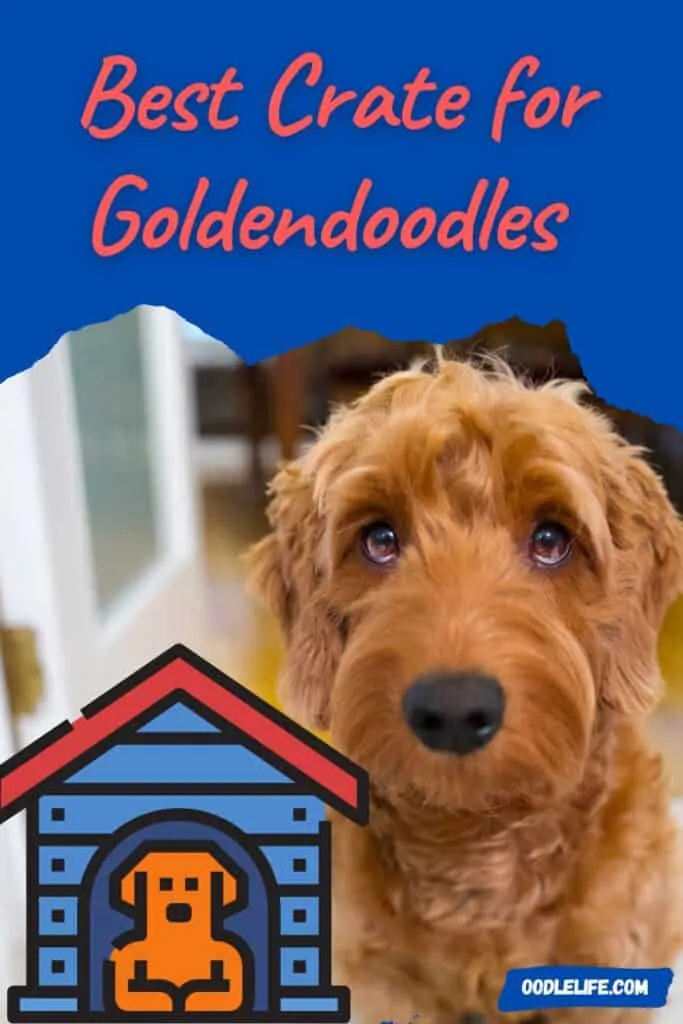 Best All-Round
MidWest Homes for Pets iCrate Dog Crate Starter Kit | 30-Inch Dog Crate Kit Ideal for Medium Dog Breeds (weighing 26 - 40 Pounds) || Includes Dog Crate, Pet Bed, 2 Dog Bowls & Dog Crate Cover
Amazon Basics
Amazon Basics Folding Portable Soft Pet Dog Crate Carrier Kennel, 36 x 24 x 24 Inches, Blue
Best Travel Crate
Amazon Basics 2-Door Portable Soft-Sided Folding Soft Dog Travel Crate Kennel, Medium (29.92 x 21.3 x 21.3 Inches), Tan
Elegance
unipaws Furniture Style White Dog Crate for Medium Large Dogs, Indoor Aesthetic Dog Stuff Kennel, Modern Decorative Wood Wire Pet House Dog Cage, Pretty Cute End Side Table Nightstand
Best All-Round
MidWest Homes for Pets iCrate Dog Crate Starter Kit | 30-Inch Dog Crate Kit Ideal for Medium Dog Breeds (weighing 26 - 40 Pounds) || Includes Dog Crate, Pet Bed, 2 Dog Bowls & Dog Crate Cover
Amazon Basics
Amazon Basics Folding Portable Soft Pet Dog Crate Carrier Kennel, 36 x 24 x 24 Inches, Blue
Best Travel Crate
Amazon Basics 2-Door Portable Soft-Sided Folding Soft Dog Travel Crate Kennel, Medium (29.92 x 21.3 x 21.3 Inches), Tan
Elegance
unipaws Furniture Style White Dog Crate for Medium Large Dogs, Indoor Aesthetic Dog Stuff Kennel, Modern Decorative Wood Wire Pet House Dog Cage, Pretty Cute End Side Table Nightstand
Crate training works. It works exceptionally well for the beautiful temperament and extra energy that Goldendoodles bring into a home.
If you own a Goldendoodle or any dog for that matter, then you are going to need to pick up a dog crate. However, with so many options out there, how do you choose what is right for you? What are the best dog crates for a Goldendoodle?
Goldendoodles can be gentle dogs, but they have bursts of activity and energy. You need to choose a dog crate that is durable and reliable.
Another aspect to consider is comfort. You need rounded corners, easy access, and a comfortable space to fill with soft furnishings.
We can highly recommend any of the crates discussed below. Thousands of reviews show that these options outperform all others.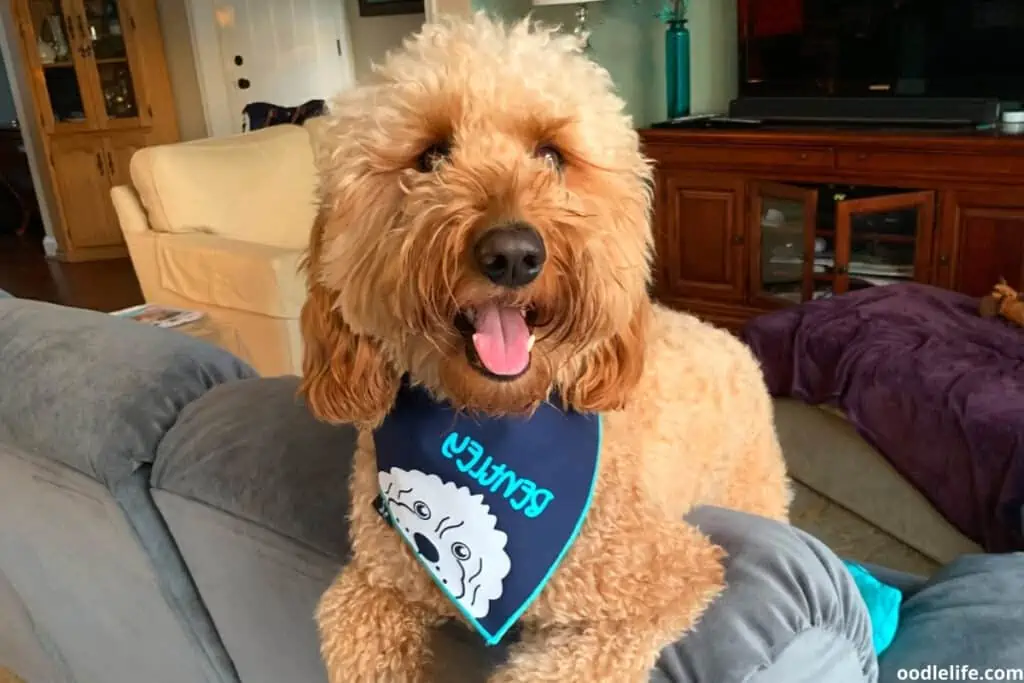 Best All-Round: iCrate Starter Kit
Let's start with the iCrate Starter Kit. This is our 'best choice' for new pet owners, as you get everything that you need loaded into the box.
The iCrate Starter Kit comes complete with:
Dog crate
Dog bed for the crate
Crate cover
Two dog bowls that attach directly to the crate
iCrate Dog Crate Starter Kit | 30-Inch Dog Crate Kit Ideal for Medium Dog Breeds (weighing 26 - 40 Pounds) || Includes Dog Crate, Pet Bed, 2 Dog Bowls & Dog Crate Cover
ULTIMATE CONVENIENCE & PERFECT STARTER KIT FOR THE NEW DOG OWNER. Everything you need arrives in 1 carton so you can enjoy more time with your new family member
MEDIUM DOG BREED KIT INCLUDES EVERYTHING YOU NEED TO GET STARTED: 1 fully equipPed 2-door iCrate, 1 dog bed, 1 crate cover & 2 (20 Ounce) pet bowls that affix to the dog crate; Dog crate measures 30L...
STARTER KIT ideal for medium dog breeds with adult weight up to 26 - 40 pounds
DESIGNED TO FIT & USER FRIENDLY: Fleece pet bed & polyester crate cover fit your dog crate & are machine washable/dryer friendly; 2 inches Snap'y Fit inches dog bowls are designed to attach to the dog...
FULLY EQUIPPED DOG CRATE: iCrate double door included w/ this kit has a divider panel, 4 roller feet (to protect floors), carrying handle & leak-proof removable dog tray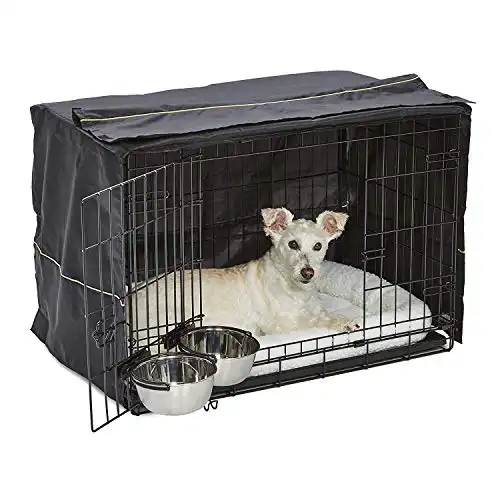 We earn a commission if you make a purchase, at no additional cost to you.
Basically, if you pick up this set, you won't need to purchase any additional crate accessories. It is convenient, to say the least.
This isn't even a bad quality crate. The crate, bowls, and bed are made from durable materials. Your dog should be comfortable with them. And, perhaps more importantly, they aren't going to be tearing them to shreds.
The crate has a double door for ease of access and an included divider panel. The roller feet on the base of the crate will even help to protect your floors.
If your dog makes a mess inside the crate, you won't have to worry. The removable tray is entirely leak proof. The bed is machine washable. This means that you will be able to get everything nice and clean inside the crate in next-to-no time at all.
To cap it all off, this iCrate Starter Kit is available in several different sizes. This means that it shouldn't be too difficult to find the right size for your furry friend.
Runner Up: AmazonBasics Folding Dog Crate
This offering from AmazonBasics almost managed to creep into first place. However, it is lacking a bed. This means that if you want to complete the crate, you will need to purchase those separately. Although, if you stick to the AmazonBasics range, these additional accessories shouldn't be too expensive.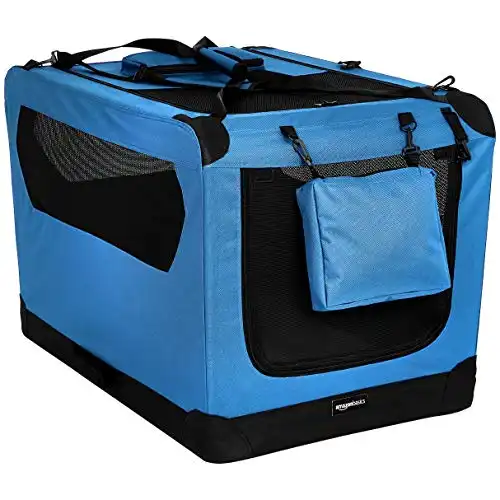 We earn a commission if you make a purchase, at no additional cost to you.
While this is sturdy as a crate, the real highlight is just how portable it is. The problem with many dog crates is that they take up a lot of space. With the AmazonBasics folding dog crate, it can fold up nice and flat in seconds. This makes it easy to store. It could also work as a decent travel crate (although we do have a better travel crate option further down on this page)
The composite tray inside is removable. This means that it is easy to clean should your dog make a mess. Don't worry if you aren't there to catch the mess right away, either. It isn't going to leak all over your beautiful floors.
This crate features a single door design on the front. This makes it easy to load your pet into the crate and remove them. The design also ensures that it should be easy to clean the box's inside, which you should be doing reasonably regularly. There are solid latches on the front of the crate, so you do not have to worry about your dog breaking them.
Once again, this Goldendoodle crate is available in a variety of different sizes, so it shouldn't be too difficult to find the right size for your pet. The medium 30 inch size works for Medium and slightly smaller Goldendoodles (think a Cockapoo sized dog).
Best Travel Crate: AmazonBasics Portable Folding Soft Travel Crate
Next up is a travel crate. This means that the AmazonBasics Portable Folding Soft Travel Crate is perfect for those Goldendoodle owners that travel around a lot and need something that can easily be put into storage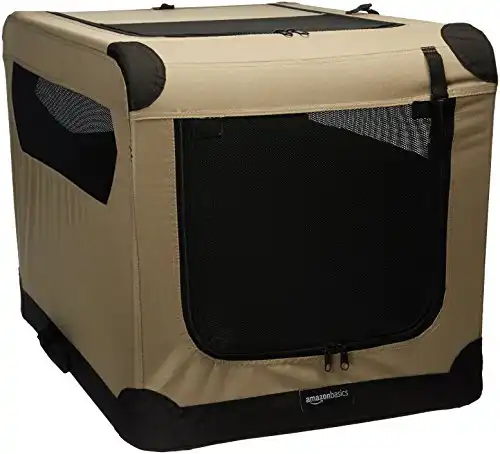 We earn a commission if you make a purchase, at no additional cost to you.
Do bear in mind that since this travel crate does not use bars but instead is made from polyester, some of the tougher dogs may be able to tear through it. Granted, the risk of this is still going to be a bit on the low side, but you may want to keep an eye on your dog when they are inside this crate. This isn't really a crate built for regular use, but more the sort of crate that you pull out when you are traveling.
This crate is surprisingly easy to put together. It utilizes a pop-up design. This means that it can be put together in seconds. When you aren't using it, it will fold up nice and flat.
To ensure that your dog is well ventilated when they are in the crate, a ventilation panel is located on each side. This will keep the air flowing in and ensure that your dog is nice and comfortable.
To allow the crate to be positioned wherever you want, you will find a door at both the front and the back. This will make putting your dog in the crate and then removing them again dreadfully simple.
We know we said earlier that the material isn't as tough as metal (and we stick by this statement). It is still surprisingly tough. Very little could damage this crate, even if you are continually folding it or your dog is knocking it about. The zips are of high quality. In fact, everything about this crate is of high quality. This is why we chose to include it on this list.
If you are looking for the best travel crate for a Goldendoodle, then this has to be the one you choose. We can't think of any better.
Best Stylish Furniture Indoor Crate: Birdrock Home Decorative Dog Kennel
We know that some people are not fans of basic crates. They are functional, but many people find them ugly. Luckily, some companies out there, Birdrock being one of them, that has created crates that could almost be passed off as a piece of furniture. This is our favorite of them.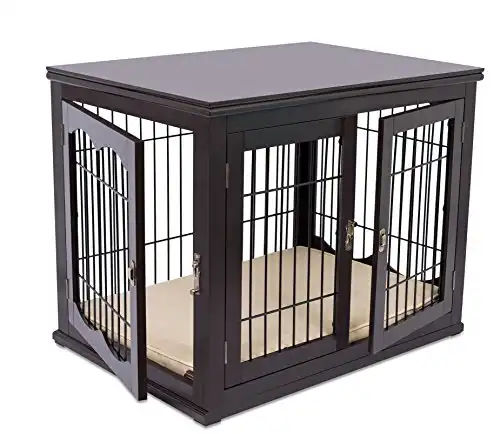 We earn a commission if you make a purchase, at no additional cost to you.
The main feature of this dog kennel from Birdrock is that it can double as a side table or a nightstand. This means that it is perfect for the Goldendoodle owner who wants to blend their dog crate in with the rest of their home decor.
This crate has been constructed from MDF, which has been given an espresso-color paint job. Neatly integrated into the design are tough metal bars to provide the dog with proper ventilation and a view outside of the crate.
This crate has two entrances. You have a double door on the side and a single door at the front of the crate. This means that you can position it however you want, safe in the knowledge that your dog will be able to get in and out of it.
The crate comes complete with a comfortable dog bed, which means your dog can feel comfortable while they are hanging about in their crate.
Honestly, everything about this dog crate looks terrific. The design is impeccable. The brass hardware tough and a real standout feature. If you can incorporate this into your home's design, it is pretty much a 'must buy.'
Best Elegant Dog Crate: Unipaws Pet Crate
We are going to wrap up this list with the Unipaws Pet Crate. The design of this one is pretty similar to the Birdrock option. Although this is a touch more elegant.
unipaws Furniture Style Dog Crate End Table with Cushion, Wooden Wire Pet Kennels with Double Doors, Large Dog House Indoor Use
$319.99 ($319.99 / Count)
Multi-Functional: A solid dog crate with metal wire panels construction doubles as a side table, end table or nightstand as well as keeps the pet confined
Come with Soft Pet Bed: The dog house is also equipped with a removable dog bed creating a comfortable and warm place for your pet to rest
Double Lockable Door: Offers the option of both a single door on the side and double doors on the front for easy accessibility
Ventilation: The kennel as a sanctuary medium with a not full-closed design providing a 360-degree view and multiple vents for your pet
Wide Top Design: Provides additional storage space for magazines, potted plants, lamps, drinking cups, glasses, etc.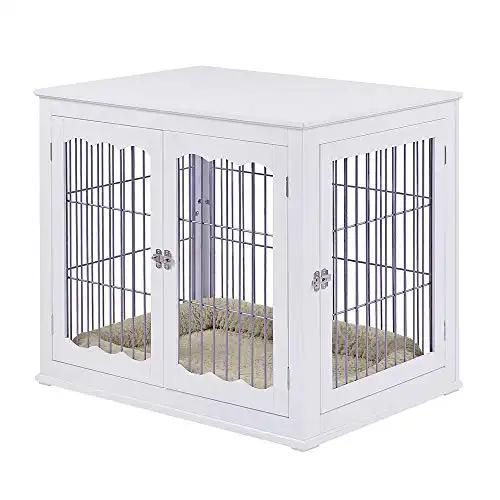 We earn a commission if you make a purchase, at no additional cost to you.
This crate is available in three different colors, so you can really pick and choose the one that you want to fit in with the rest of the decor in your home. Once again, there is a double door on the side and a single door on the front.
This means that you can position the crate however you want. However, to be honest, we find the best position is to have the side doors facing out. It looks better like that. It is also going to be more comfortable for your dog to get inside.
Your dog is also going to love the incredibly comfortable bed packed into this crate. Not only does it look good, but the comfort means that your dog is actually going to enjoy getting into the crate.
You don't even have to worry about your dog escaping from this crate either. The metal bars are chew proof, and the locks, despite looking elegant, will not move out of place unless you are the one moving them. Basically, your dog is going to be utterly secure inside the crate.
Picking a Dog Crates for a Goldendoodle Conclusions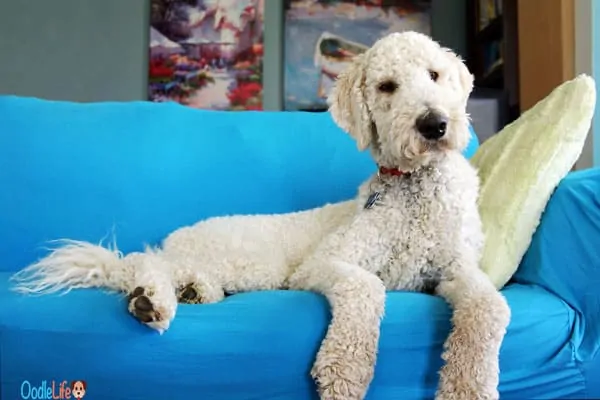 As you can see, we have tried to include a little something for everybody when it comes to the best dog crate for a Goldendoodle. Crate training works and is reccomended by many Veterinarians and universities.
We suggest that you go through each of them. Find out which one is best for your needs. A crate is a one time purchase – but you won't have to bust the bank to find a top quality and durable crate that will last. If your dog graduates to sleeping on the bed – consider listing your crate on Facebook marketplace or donating it.