5 Best SAFE Yorkie Collars (Style and Tech)
Yorkies are some of the best small dogs to add to any family home. These dogs are affectionate and bright. Yorkies love to roam around and have no problem roughhousing with small children or other dogs.
Yorkie is short for Yorkshire Terrier and describes a dog that gets no taller than eight inches and weighs no more than seven pounds. Because these dogs are so small, they will need a collar that accommodates their small size.
Read on to learn about the best and safest Yorkie collars available.
Do Yorkies Need Collars?
Yorkies, like all other dogs, need a collar for their safety and your peace of mind. If a Yorkie gets out of your home and runs off, it may get into trouble or injured. Without a collar, your Yorkie may have trouble getting home and suffer a lot of stress during the experience.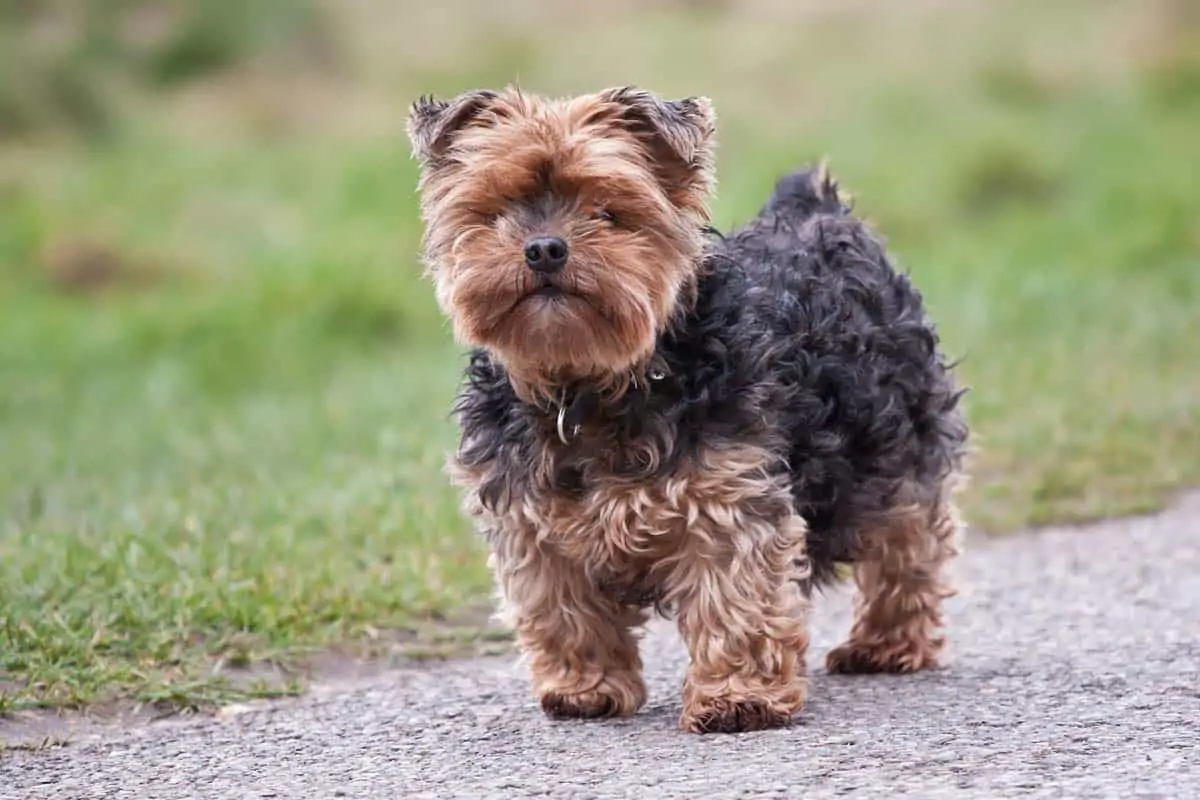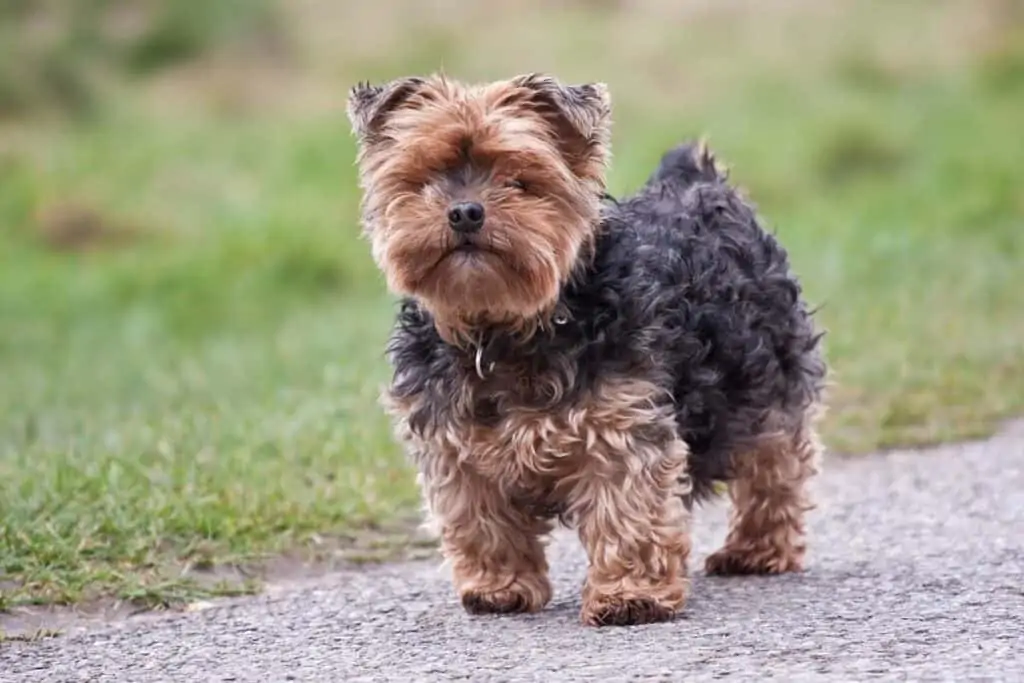 Always ensure your Yorkie's collar has a dog tag with your contact information.
Are Collars Safe For Yorkies?
Collars are safe for Yorkies, but these dogs will likely need plenty of training to ensure they don't hurt themselves by pulling, trying to escape, or other negative behaviors. A collar can help your Yorkie stay with you and prevent stresses related to getting lost or hurt while outside.
The 5 Best Safe Yorkie Collars
The best, safe Yorkie collars can keep your Yorkie safe and maintain their behavior. These collars can also ensure that your Yorkie gets returned to you if they get lost or found by someone else.
Best Overall – Riparo Genuine Leather Padded Dog Collar
The Riparo Genuine Leather Padded Dog Collar is perfect for Yorkies since it's small and made of durable leather. This dog collar uses genuine leather, which can ensure your dog can't gnaw through the collar and reduce the risk of them getting lost, running off, or escaping your care.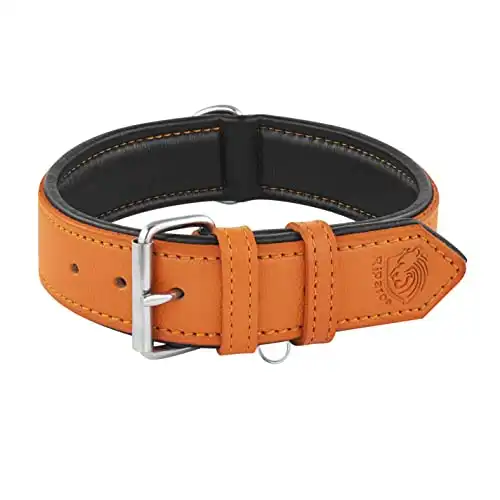 We earn a commission if you make a purchase, at no additional cost to you.
The Riparo Genuine Leather Padded Dog Collar is available in multiple colors, including a sunset orange that can give you and your dog a sense of safety because it's such a bright color.
This dog collar has an adjustable strap, plenty of soft padding for added comfort, and a double leather loop for extra security. You may also prefer this product because of the cowhide leather interior and exterior. Other collars usually have synthetic material lining their interior, but the Riparo Genuine Leather Padded Dog Collar opts for a much stronger cowhide.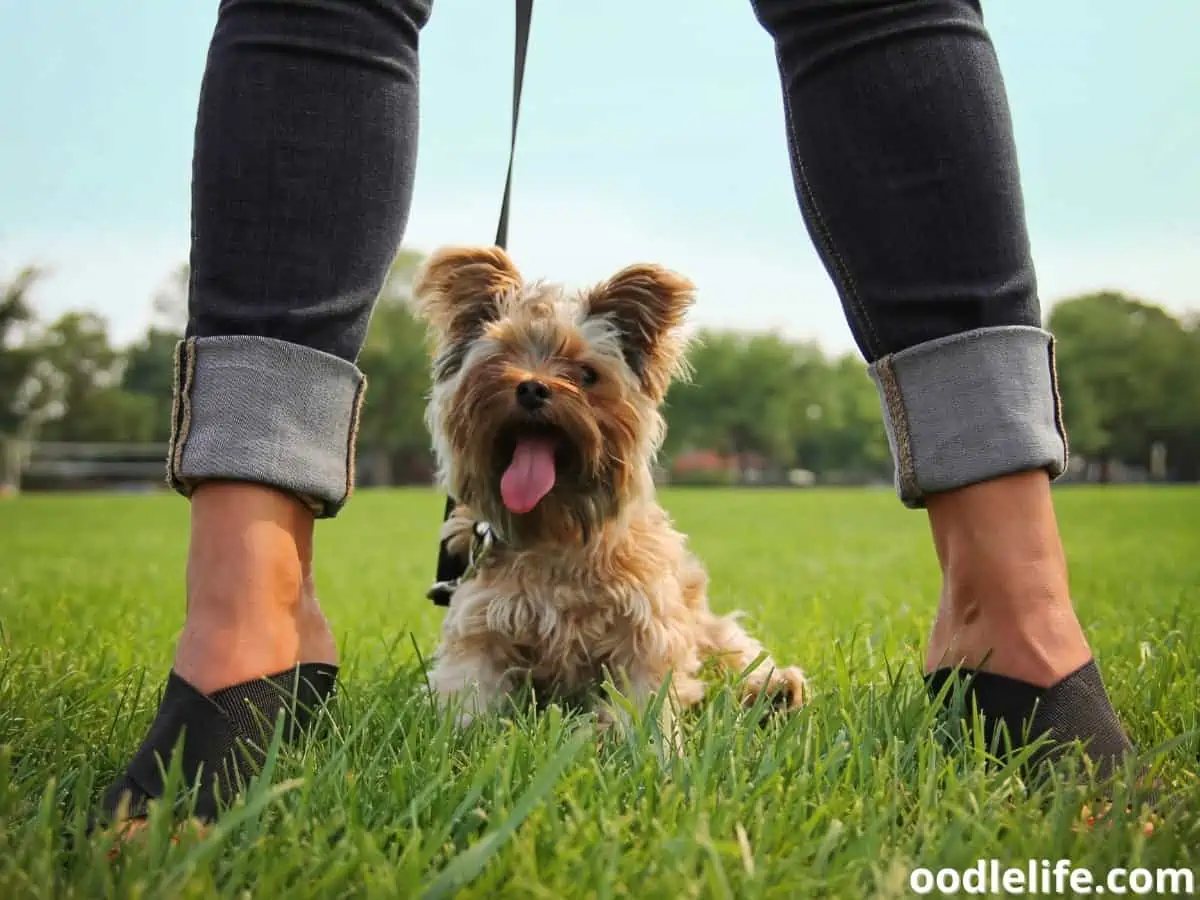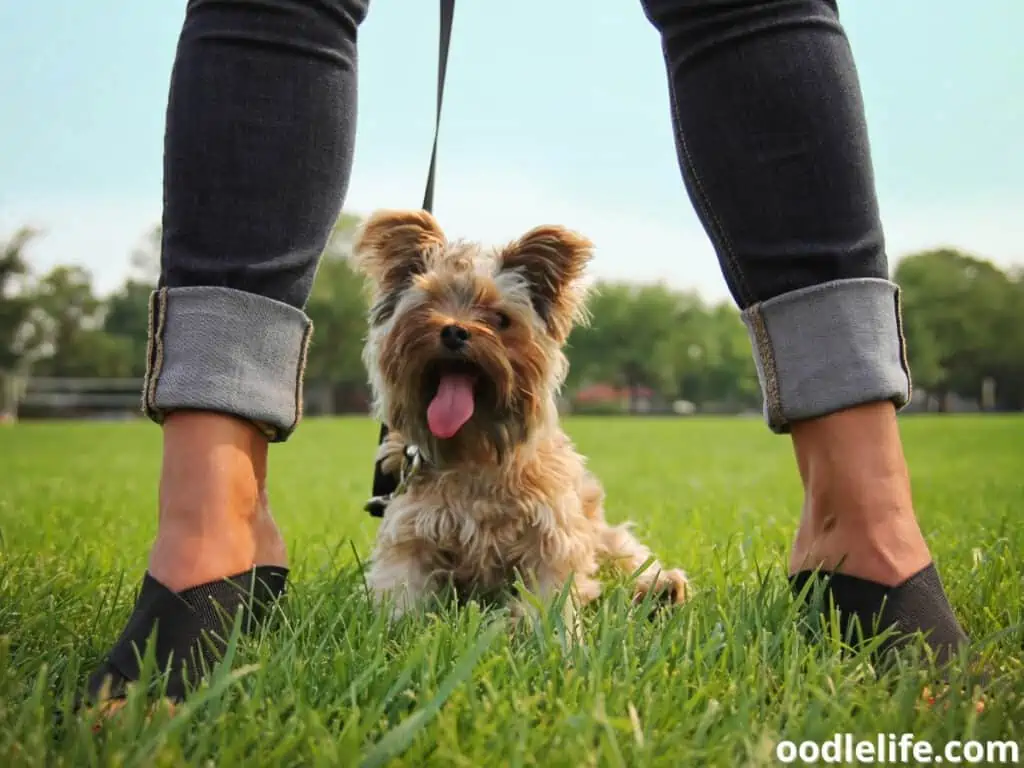 Best for Fashion – PUPTECK Bow Tie Dog Collar With Bell
The PUPTECK Bow Tie Dog Collar With Bell comes with bows, bells, and a bandana so your Yorkie can look just as good as they feel. This collar has a classic, adjustable strap similar to a belt with holes.
PUPTECK Bow Tie Dog Collar with Bell - Classic Plaid Bandana Triangle Bibs Scarf Accessories
🐾All in One - You will be surprised that you can get many items in one package at such a good price! You will get a bandana, a collar, and two bowtie hairpins at the same time. This is a very...
🐾Perfect Size - The bandana's triangle size is 18.5"x12"x12"; The collar can be adjusted from 7.8" to 10", 3/8-inch in width; The bowtie hairpin is 1.8". These sizes are very suitable for small...
🎁Fashionable & Adorable - We adopted the plaid pattern to design this product set, which is very classic and never out of date. They are perfect for holiday and daily wearing. When your pets wear...
🐾Comfortable Material - Except for pretty patterns, we also use premium materials to produce the product. It touches very softly and smooth, which won't friction your puppy's hair and fur. Besides,...
🐾Other Details - The cute golden bell on the collar not only is an accessory but also will make a crisp sound, which can help you lock your pet's location, also can help your pet scare away other...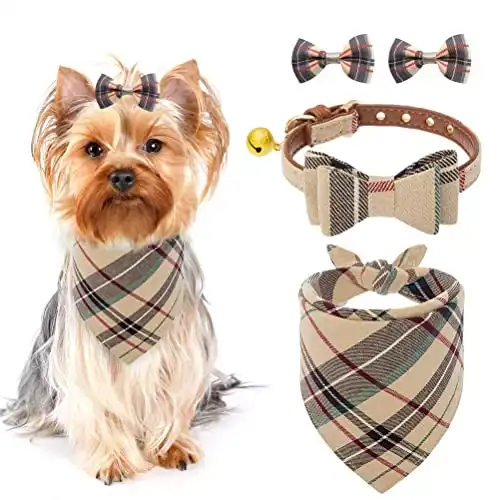 We earn a commission if you make a purchase, at no additional cost to you.
These collars fit well and can be adjusted to a standard size. Although this collar may not identically match your Yorkie, it can make your dog look stunning and awe-inspiring. Consider using this Yorkie collar if your Yorkie is properly trained, won't run off, and responds well to verbal commands.
The PUPTECK Bow Tie Dog Collar is made with a faux leather material that you can pair effortlessly with your own outfits to match your Yorkie. A bonus to this product is that you'll always know where they are since their bell will chime!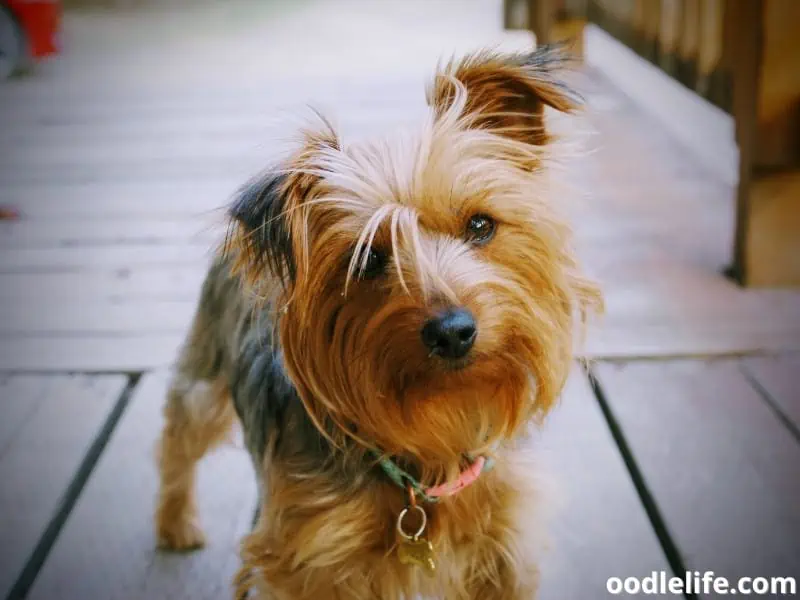 Best for Outdoor Adventures – TagME Reflective Dog Collar
The TagME Reflective Dog Collar is best for Yorkies who are accustomed to going on adventures and spending a lot of time inside. This collar has a three-pronged clasp that will stay secure and a reflective finish that will ensure your Yorkie is visible no matter the time of day.
TagME Reflective Nylon Dog Collars, Adjustable Classic Dog Collar with Quick Release Buckle for Puppy, Sky Blue, 3/8" Width
Premium Material: Our reflective dog collar is made of high density nylon, comfortable, pliable, lightweight and elegant. Nylon webbing joints are all treated with sewing to protect your dogs and...
High Reflective: Each collar utilizes 2 special lines of reflective thread. Highly reflective dog collar keep high visibility at night for safety. And you can easily find your furry pet in the...
Safety Buckle: The quick release buckle is made of premium sturdy plastic and can be released quickly with one hand. Lighter than metal buckles, more comfortable to wear. A separate loop on the collar...
Adjustable Size: Adjustable from 8"-12", 3/8" Width. Suitable for puppy or cats. Please measure the neck circumference of your dog/cat before buying.
Classic Color: This classic solid colors will make your dog look more fashion and stylish while travelling and daily walking.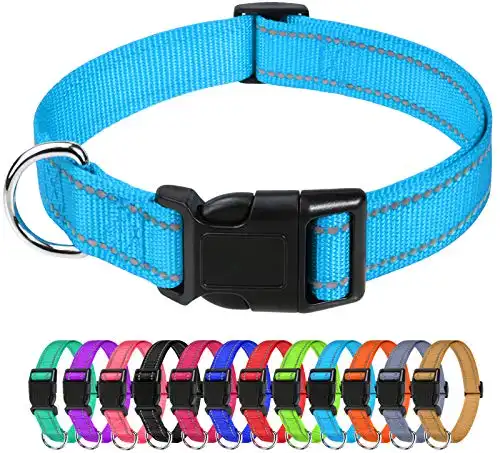 We earn a commission if you make a purchase, at no additional cost to you.
The TagME Reflective Dog Collar is highly reflective and can be seen well at night – a must-have for city-dwelling Yorkie owners. This collar also has a ring that can easily hold dog tags with contact information. You can adjust the collar to fit your Yorkie's neck size, no matter how small.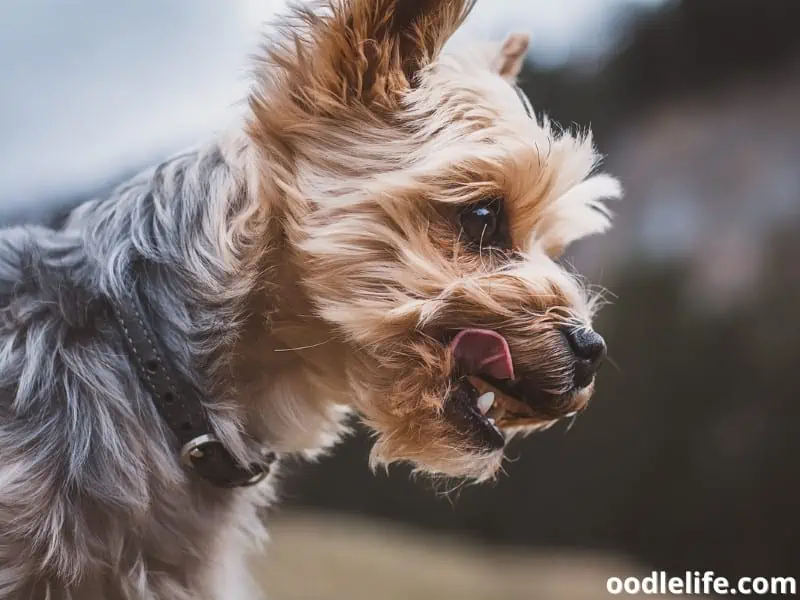 Best for Training – Bousnic Dog Training Collar and Receiver
The Bousnic Dog Training Collar And Reciever can help your Yorkie get trained and stay trained. This dog collar does have a static shock option that should only be used in the case of emergencies or violent behavior. However, this static shock option is not as painful as other collars and enhances training.
Bousnic Dog Training Collar 2 Dogs Upgraded 1000ft Remote Rechargeable Waterproof Electric Shock Collar with Beep Vibration Shock for Small Medium Large Dogs (15lbs - 120lbs)
Safe, Effective, Humane Training Modes — These Bousnic shock collar for dogs offer customized Static Shock (1-16) and Vibration(1-8) levels, as well as a standard "Tone" mode. These variable...
Indoor & Outdoor Versatility — The remote for this dog training collar can reach up to 1000 feet, allowing you to train dogs in the backyard, the park, or anywhere else. The remote also features a...
Premium, Ergonomic Design — The easy-access button sizes and simpler format are easier to operate for pet owners and help dogs learn commands more effectively. A premium training collar for expert...
Rechargeable, Waterproof Durability — Rated IP67 waterproof, this collar receiver works doesn't need to be taken off when your dog goes for a swim, chases toys around a pool, or plays in the rain....
Charge Conveniently: To make sure customers from all over the world can easily charge the product with the worldwide voltage, there is no adapter in the package. But the product can be easily charged...
We earn a commission if you make a purchase, at no additional cost to you.
This collar can help a Yorkie who needs more training and enable them to learn appropriate outside behavior, especially when interacting with other dogs, cats, or small mammals. Three options are available to help teach your Yorkie and help them learn, including beeping, vibrating, and a small, soft shock to make your Yorkie pause and redirect their behavior.
This collar is made with durable, lightweight material that won't impede their ability to run and play. This collar will also ensure your dog doesn't wiggle away because of the four-point clasp.
Best for Wigglers – KRUZ PET Mesh Dog Collar
The KRUZ PET Mesh Dog Collar is a perfect choice for Yorkie owners who want to ensure their dog can't wiggle out of their dog collar. This dog collar is made of a lightweight and breathable cloth that won't snap, shred or break.
KRUZ PET KZA102-14XS Mesh Dog Collar for Small, Medium, Large Dogs, Adjustable Neck Collar, Soft, Lightweight, Breathable, Comfort Fit - Red - X-Small
TOTAL CONTROL AND ULTRA COMFORT - The Kruz PET Mesh Dog Collar offers total control of your pet and an ultra comfortable fit that places less stress around the neck area while your dog is pulling....
SUPER LIGHTWEIGHT AND BREATHABLE - Mesh collars allow for comfy, all-day wear. Soft, lightweight and breathable, superior in comfort as compared to nylon and polyester fabrics. This dog neck collar...
DUAL LAYERED MESH FOR DURABILITY - Composed of hi-density, dual layered air mesh fabric for higher tensile strength. Featuring an ultra sturdy buckle clip to withstand high tug pressure, and...
EASY SIZE ADJUSTMENT FOR CUSTOM FIT - This adjustable dog collar is fitted with a tri-glide that allows for easy size adjustments for custom fits. Available in multiple sizes
CUSTOMER SATISFACTION GUARANTEE - If you are not completely satisfied with your purchase for any reason, you can return unworn items within a 14 day period for a refund or exchange.
We earn a commission if you make a purchase, at no additional cost to you.
The four-point clasp on this dog collar is durable, meaning it likely won't snap when pulled on by a small Yorkie. The KRUZ PET Mesh Dog Collar can be used with larger dogs, and this product has reinforcements within the fabric to ensure your dog can't get away from you, even if they spot a squirrel, cat, or another animal they want to chase.
Use this dog collar for any small Yorkie, but especially Yorkies who are extra wiggly, learning to keep still, or puppies needing more reinforcement.
How To Pick The Best Collar for Your Yorkie?
Picking out the perfect Yorkie collar for your precious pup can be challenging, but there are a few key things to look for when choosing. For example, keep in mind your dog's hair level, comfort, and how they react to collars or clothes.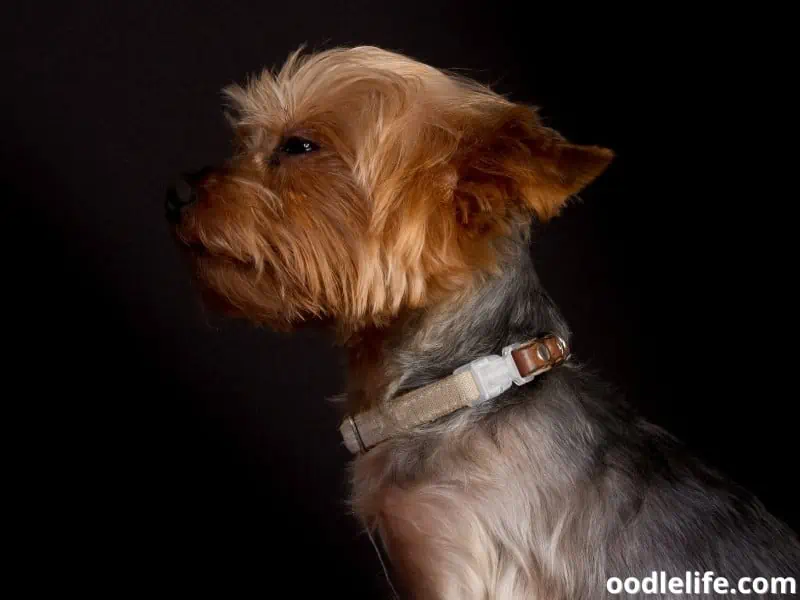 Hair Level
Before choosing your Yorkie's new collar, consider how much hair your Yorkie has. Your Yorkie may need a larger size or one with an adjustable strap for their utmost comfort. Excess hair can get in the way and make your Yorkie feel uncomfortable if they wear a collar at all hours of the day.
Consider cutting your Yorkie's hair if you want them to fit in one specific collar or choosing a collar that suits your Yorkie's hair level.
Dog Comfort
Your dog may not be comfortable in every dog collar. Consider the things that annoy them and accommodate them. Your dog should always be comfortable while lying down, eating, and playing while wearing its collar.
If your Yorkie appears uncomfortable while wearing their collar during any of their daily activities, you may need to invest in a different collar. Sometimes, these discomforts can be addressed by tightening or loosening a collar, too.
Reaction to Collars or Clothes
Always pay attention to how your dog reacts to the collars you use on them or the clothes you put them in. Be mindful of their reaction to these items and choose a collar for your Yorkie that will accommodate their needs, desires, and lifestyle.
Final Thoughts
Yorkie collars are essential for owners who want to ensure their dog doesn't run off or can be located and returned if they do escape. Yorkie collars shouldn't be too tight and should be strong enough to hold a tag with your contact information on it.
Yorkies should have a collar and dog tag even if they are microchipped with your information. Consider your dog's comfort, hair levels, and size before choosing the best collar for your Yorkie. The choosing process may be tough, but the benefits of a Yorkie collar outweigh any concerns.