Yorkie Homemade Dog Food Ideas [+Recipes]
Yorkies are a small breed of dog that typically weigh between 4 and 7 pounds, with the male being the heavier of the two. Yorkies are known for their long coat – which is sometimes hand stripped for show purposes.
These cute dogs also come with certain health and nutritional considerations that homemade dog food can provide in ways traditional kibble can not. Let's look at the health benefits of homemade dog food for Yorkies.
Benefits Of Homemade Yorkie Dog Food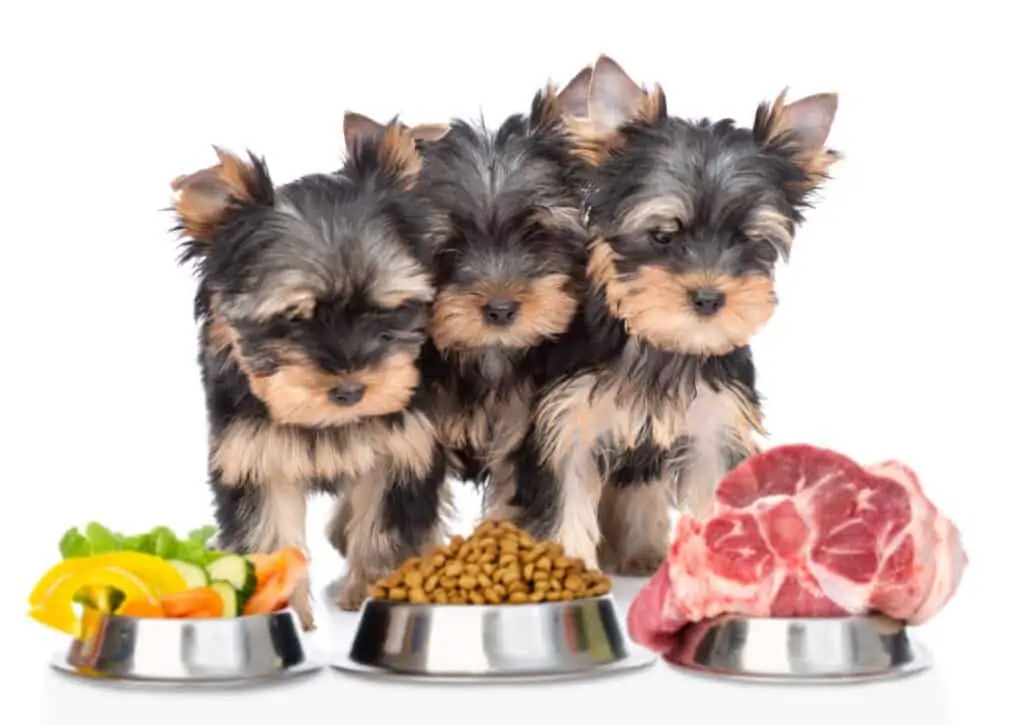 Less Expensive
The best thing about making your own dog food rather than purchasing it is that you can do so without spending too much money – unless you go organic. Making your dog food will help you save money since you buy the bulk ingredients and cook for your pet yourself rather than purchasing ready-made food from a store.
Tasty For The Dog
It isn't always easy to find the best dog food, but you can be sure it will be as tasty as possible when you make it yourself. If you want your Yorkie to eat something they don't particularly like, homemade food is the best way to go. It's not that you can only cook tasty things for your dog but making it yourself also ensures that you know all of the ingredients going into their meals – instead of a store where they may receive low-quality products.
Fewer Carbs And More Protein
One problem with many commercial food brands is that they have loads of fillers and carbs/grains, affecting your dog's health. Making homemade food for Yorkies allows you to control the number of grains or carbs in their diet, so it isn't too high. Those who want to feed their dog a low-carb diet could try making their food with only meat.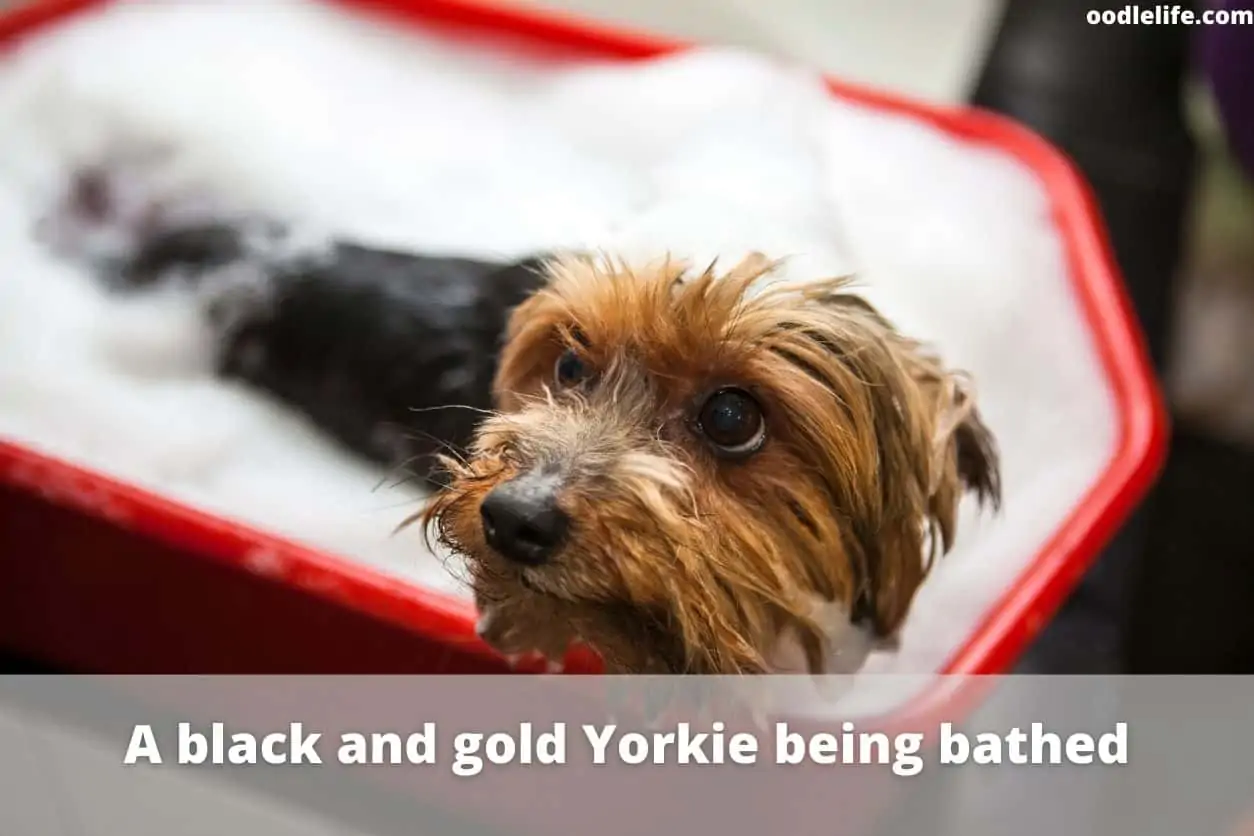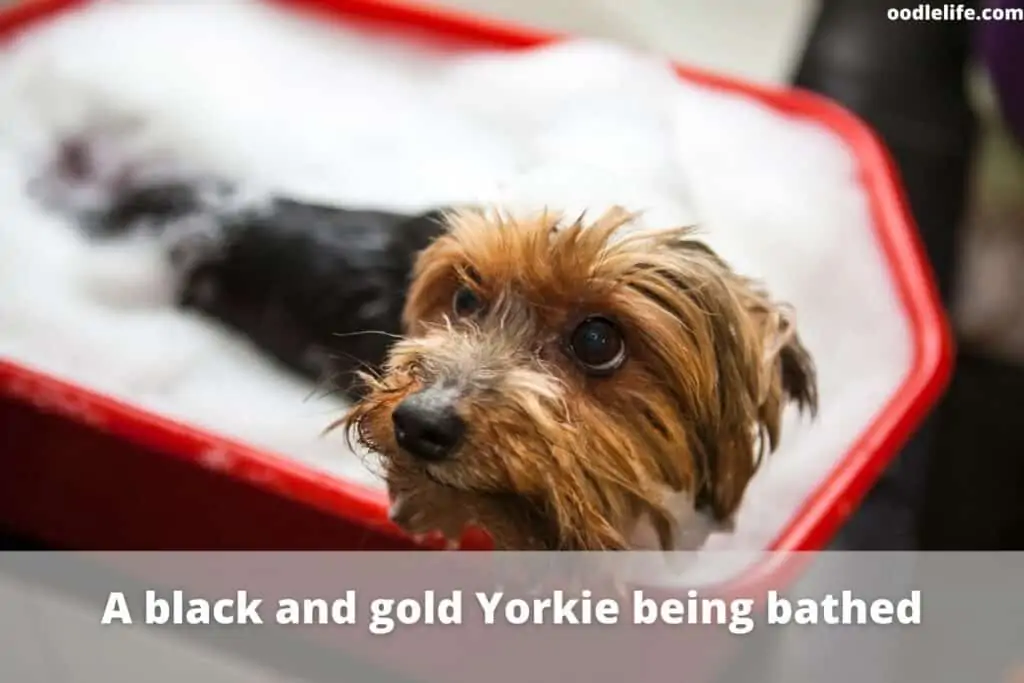 A Better Coat And Skin
When you are feeding your dog, you are also supposed to consider their coat quality. Many commercial dog food brands contain "by-products" that don't give them the nutrients they need for a gorgeous coat and skin – instead, it can lead to issues like dandruff and skin rashes.
When you make homemade dog food for Yorkies, you can use healthy ingredients like coconut oil and salmon to give them a shiny and gorgeous coat.
Cleanse The Dog's System
Another benefit of homemade dog food for Yorkies is that it can help to cleanse the system. Making homemade meals lets you control everything going into their body and give them a healthy digestive tract – no more upset tummies or constipation. Yorkies can often have digestion issues, so controlling their diet is necessary to avoid stomach problems. Try to make any diet changes gradually to avoid causing the dog any gastrointestinal discomfort.
Nutritional Guidelines To Consider
You need to consider some things when making homemade dog food for Yorkies, especially since they are a small breed. They may require more protein than larger breeds of dogs, so you may want to consider adding meat like poultry or fish.
You can also purchase supplements designed explicitly for small-breed dogs to give them a boost, whether it's for their coat or skin. One popular multivitamin treat for dogs is a Zesty chew.
Multifunctional Supplements for Dogs - Glucosamine Chondroitin for Joint Support with Probiotics for Gut & Immune Health – Omega Fish Oil with Antioxidants and Vitamins for Skin & Heart Heal...
8-in-1 Formula - Zesty Paws Multifunctional Bites are functional supplement chews with premium ingredients that support physical performance, antioxidants, hip & joint, heart, immune, skin, liver, &...
Skin Health & Antioxidants – For animals with sensitive skin, this formula contains Cod Liver Fish Oil and Vitamin E to help maintain normal moisture and CoQ10 to help reduce oxidative stress.
Hip, Joint & Performance Support - Each dog chew features OptiMSM, a premium form of MSM for muscular support, which works synergistically with the Glucosamine HCl and Chondroitin Sulfate in these...
Gut Health & Probiotics - These chews also contain a six-strain Gut Health Blend (500 million cfu per chew) and a Digestive Health Blend to promote gut flora while supporting normal bowel function for...
Heart, Liver & Immune Health - Multifunctional Bites feature CoQ10, Cod Liver Oil and Vitamins A, C, & E to promote healthy cardiovascular function, support liver health and enhance immune response.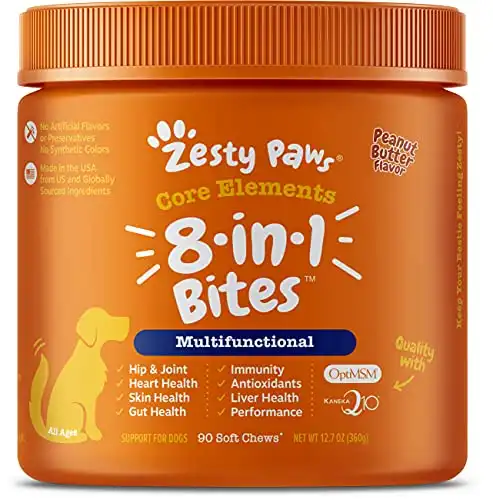 We earn a commission if you make a purchase, at no additional cost to you.
Make sure your homemade food and treats include the following nutrients:
Vitamins – A, E, and Vitamin K
Protein – meat, poultry, or fish
Healthy fats – coconut oil, olive oil, or sunflower oil, or salmon
Omega-3 fatty acids – found in salmon and flaxseed oil.
Minerals – Calcium, sodium, magnesium, potassium, iron, zinc, and more
Healthy carbs – brown rice, whole wheat, and oats
Based on their size, Yorkies should eat between 268 and 346 calories each day [Ohio State University]. Make sure you feed your dog mostly good things. Food should account for 90 percent of the total calories, while treats should not be more than 10%.
Recipe Ideas For Your Yorkie
A homemade dog food recipe for Yorkies doesn't have to be complicated, but it can include several ingredients.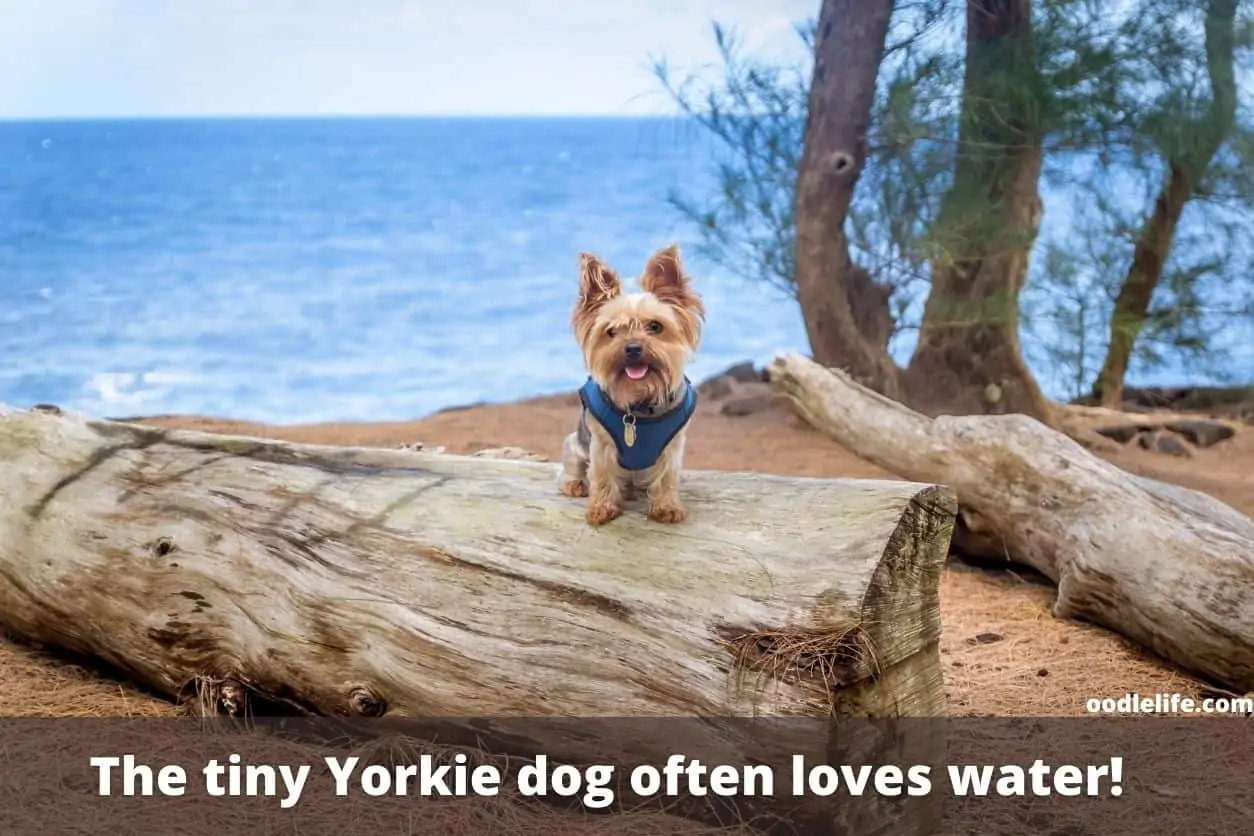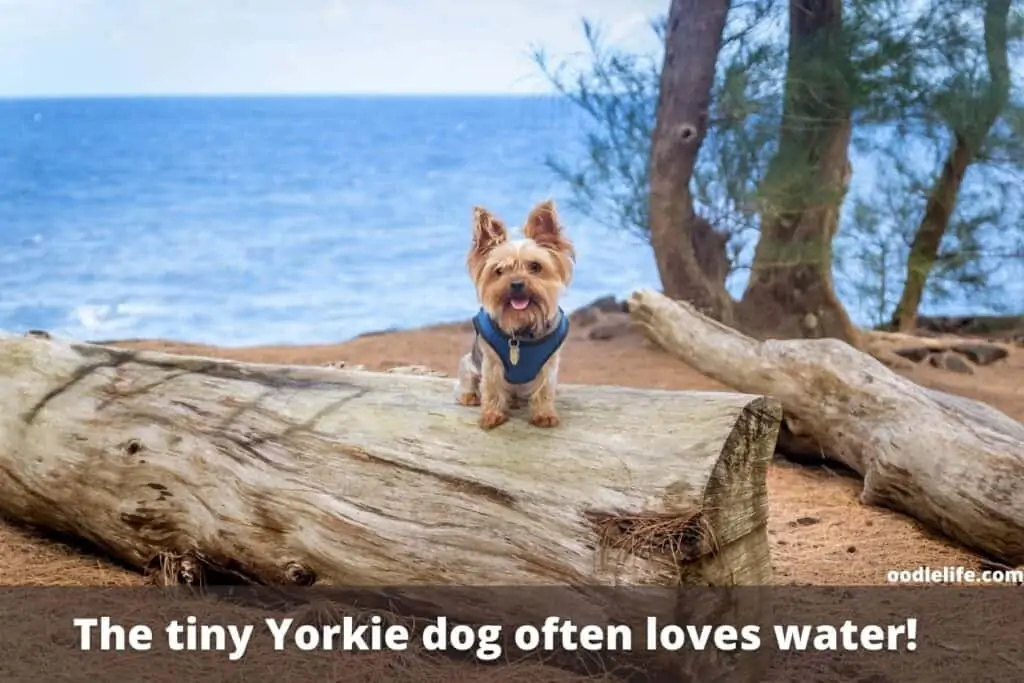 Here is a sample recipe below:
2 pounds beef or chicken (or fish)
Cooked brown rice
One egg
1 tablespoon coconut oil
One tablespoon pumpkin
Oatmeal or whole wheat flour
1 teaspoon olive oil
(If your Yorkie is underweight, you may want to add in extra protein with meat)
(Use an oven or grill if possible to cook meat)
Instructions:
Chop meat
Mix brown rice, cooked meat, egg, pumpkin, and oatmeal or flour.
Knead with hands until ingredients are thoroughly mixed together. Form into small dog bone shapes about 1 inch thick.
Put bones on a cooking sheet and bake them for at least 45 minutes to an hour in a 350° oven.
Once done, let them cool completely and serve to your Yorkie.
Here is another recipe using chicken:
2 pounds of chicken
1/4 cup cooked oatmeal or brown rice
1 tablespoon of vegetables like peas, carrots, green beans, broccoli, spinach (or any other veggies you want)
1 tablespoon of rolled oats
Instructions:
Slice meat into small pieces and cook thoroughly on a stovetop.
Stir vegetables, rolled oats, and chicken together until mixed thoroughly.
Place mixture in the refrigerator for at least an hour.
Once cooled, scoop out small portions and serve to your Yorkie.
Best Cooking Practices
When cooking for your Yorkie, it is vital to make sure you handle the food correctly. Ensure the meat you use is cooked thoroughly and avoid leaving out meats or other ingredients that should be served warm.
If you plan on saving the dog food for later, make sure you put it in an airtight container and in the fridge. It should be good for about 24 to 48 hours, depending on the type of food and ingredients you used. If it smells bad or looks like mold is growing, you shouldn't give it to your dog.
Remember that if you are cooking meat for your Yorkie, do not cook it rare. Cook it thoroughly so that bacteria will die and there is less risk of your dog getting sick after eating it. To improve the ease of digestion, cook all grains, legumes, and starchy foods as well.
What Shouldn't Your Yorkie Eat?
Avoid high-carb foods like corn, peas, and any white potatoes. You should also avoid foods rich in fat since they can put your Yorkie at risk for an upset stomach or pancreatitis. Cooked bones, table leftovers, high-fat meals, or too many treats may cause bloat in a Yorkie.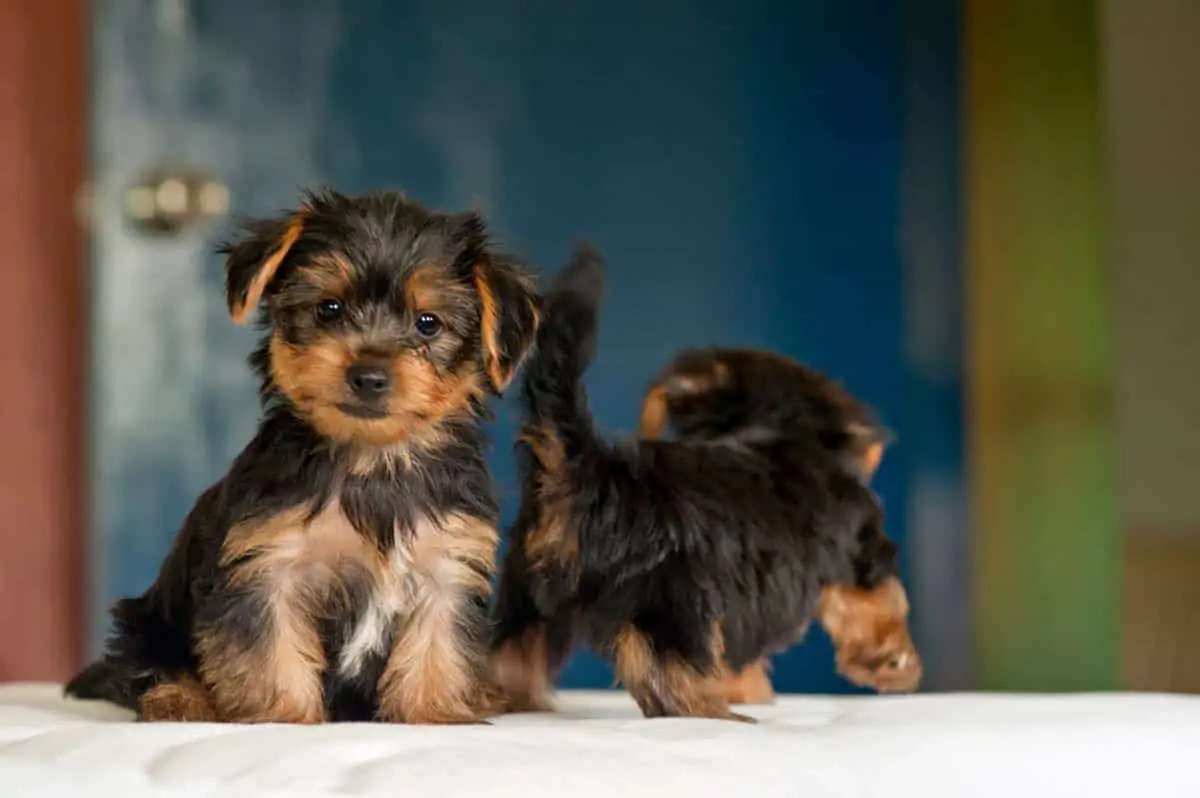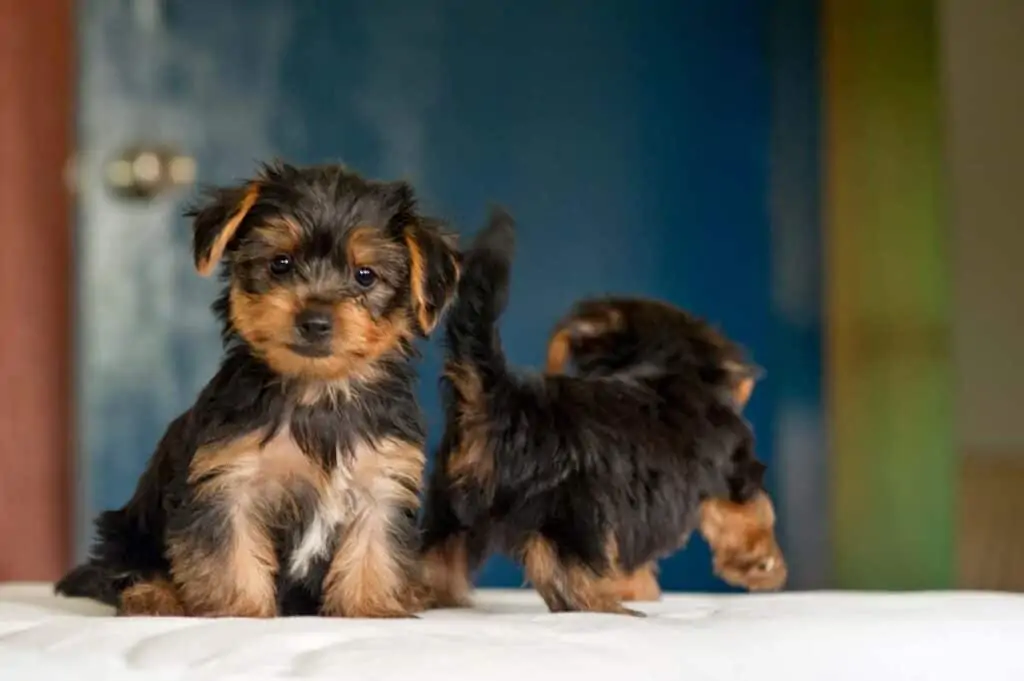 Risks of Homemade Dog Food
When you are making your own homemade dog food for Yorkies, there are some risks to be aware of. The main concern is that if you do not cook the food thoroughly, bacteria won't die and could get your Yorkie sick. You also need to be careful with large bones or anything that can lead to choking or blockage problems.
As mentioned before, make sure the homemade food includes enough nutrients. Before you cook anything, make sure you don't use toxic ingredients such as chocolate, onions, or grapes. Dogs also can't eat raw pork, and spices like jalapenos and bell peppers need to be approached with caution.
(Out of interest check our advice on whether Yorkies should eat peanut butter)
Wrap Up
In conclusion, you can cook homemade dog food for your Yorkie, but you need to ensure you do it properly. Make sure you take all the necessary health risks and precautions when cooking for your Yorkie. Also, make sure your dog eats high-quality foods with lots of vitamins and nutrients.