4 Best Shampoo for Labradoodles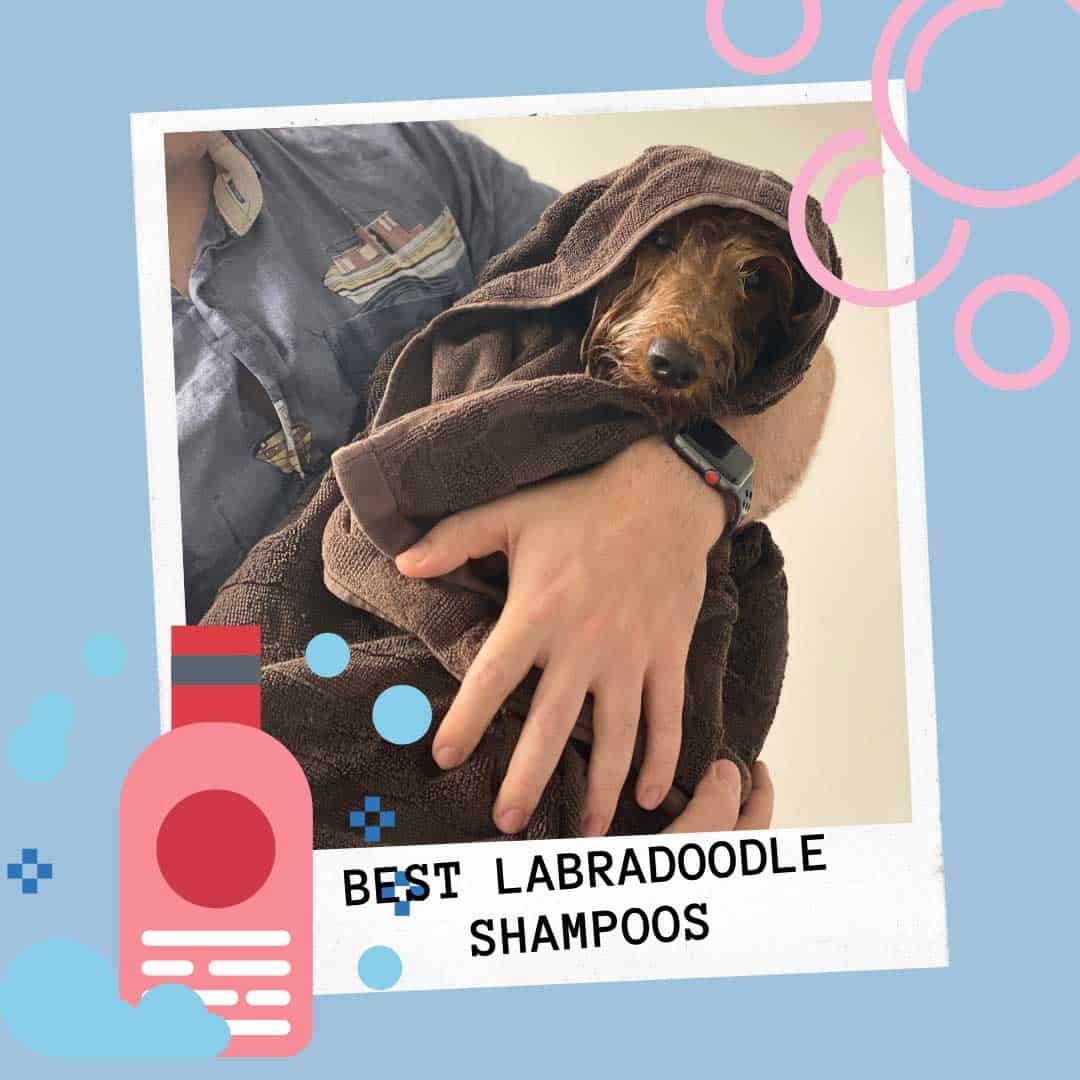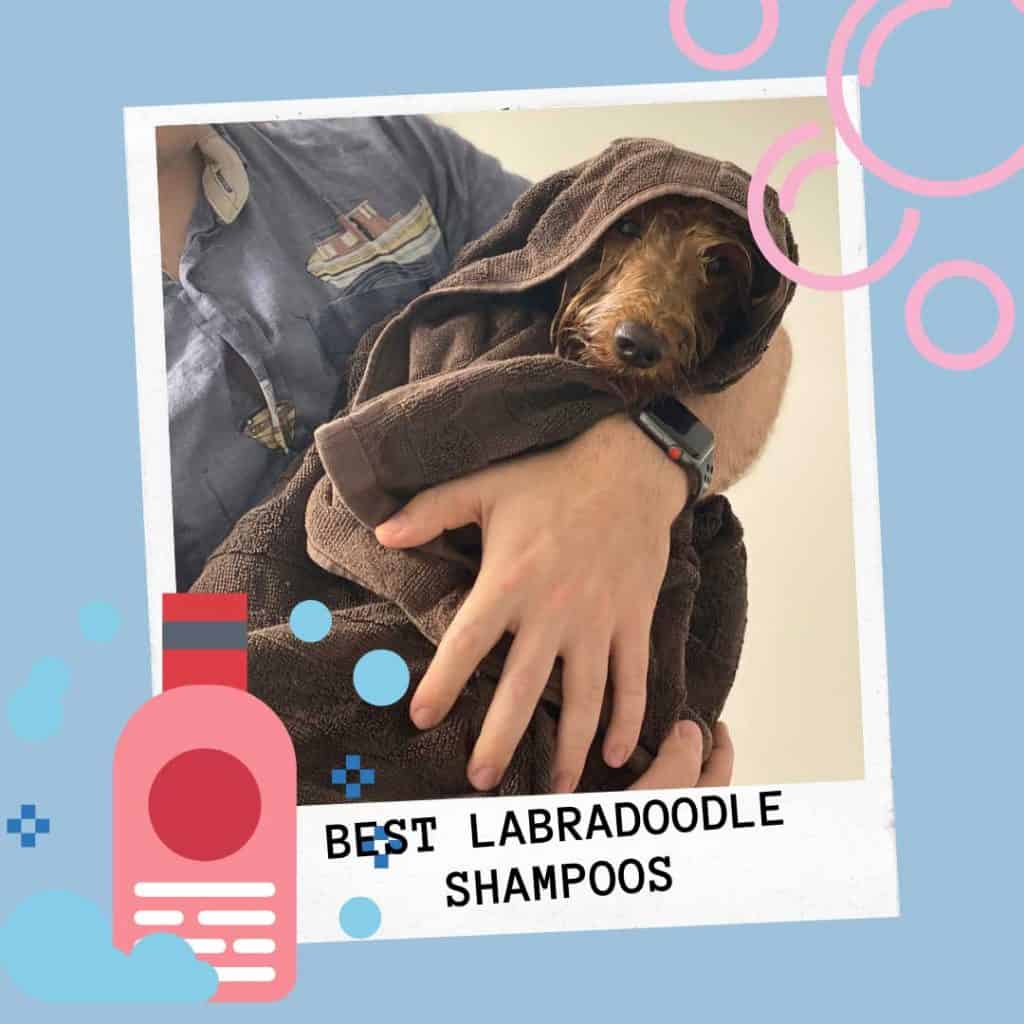 I love the super soft coat our our Labradoodle Max. Keeping that coat healthy and puppy-soft as he get older (and plays in the mud and beach) has been tricky.
We have tested so many types of shampoo to come up with our four favourites.
The 4 Best Labradoodle Shampoos on the market are
Nootie - Pet Shampoo for Sensitive Skin - Revitalizes Dry Skin & Coat - Natural Ingredients - Soap, Paraben & Sulfate Free - Cleans & Conditions
WAHL Dry Skin & Itch Relief Pet Shampoo for Dogs – Oatmeal Formula with Coconut Lime Verbena 64oz - Model 821004-050
Cloud Star Buddy Wash Lavender and Mint, 16 Ounce (Pack of 2)
Dog Shampoo with Oatmeal and Aloe. Shea Butter for Smelly Dogs, Puppy Shampoo by Oliver's Choice 14 oz
Nootie - Pet Shampoo for Sensitive Skin - Revitalizes Dry Skin & Coat - Natural Ingredients - Soap, Paraben & Sulfate Free - Cleans & Conditions
WAHL Dry Skin & Itch Relief Pet Shampoo for Dogs – Oatmeal Formula with Coconut Lime Verbena 64oz - Model 821004-050
Cloud Star Buddy Wash Lavender and Mint, 16 Ounce (Pack of 2)
Dog Shampoo with Oatmeal and Aloe. Shea Butter for Smelly Dogs, Puppy Shampoo by Oliver's Choice 14 oz
How we chose and tested the best shampoos for Labradoodles
Let's learn more about why these four tested so much better than the competition. We only elect natural and healthy shampoos that are low allergy. Choosing natural ingredients is so important for both the puppy skin AND the human doing the washing.
Keep the ingredient list natural to avoid any type of skin reactions or allergies.
The second element we looked for is the smell! We all want a nice smelling dog – but the odor must not be too perfume-y or fake. We want a clean smelling dog – not a perfume fluff ball that turns up noses!
All four of our top choices of Labradoodle shampoo have a delightful smell that is not too strong. Finding the middle ground can be tough! The smell being appropriate is super important given that over 40% of dogs sleep IN bed with their owners and that Labradoodles are not good at living outside.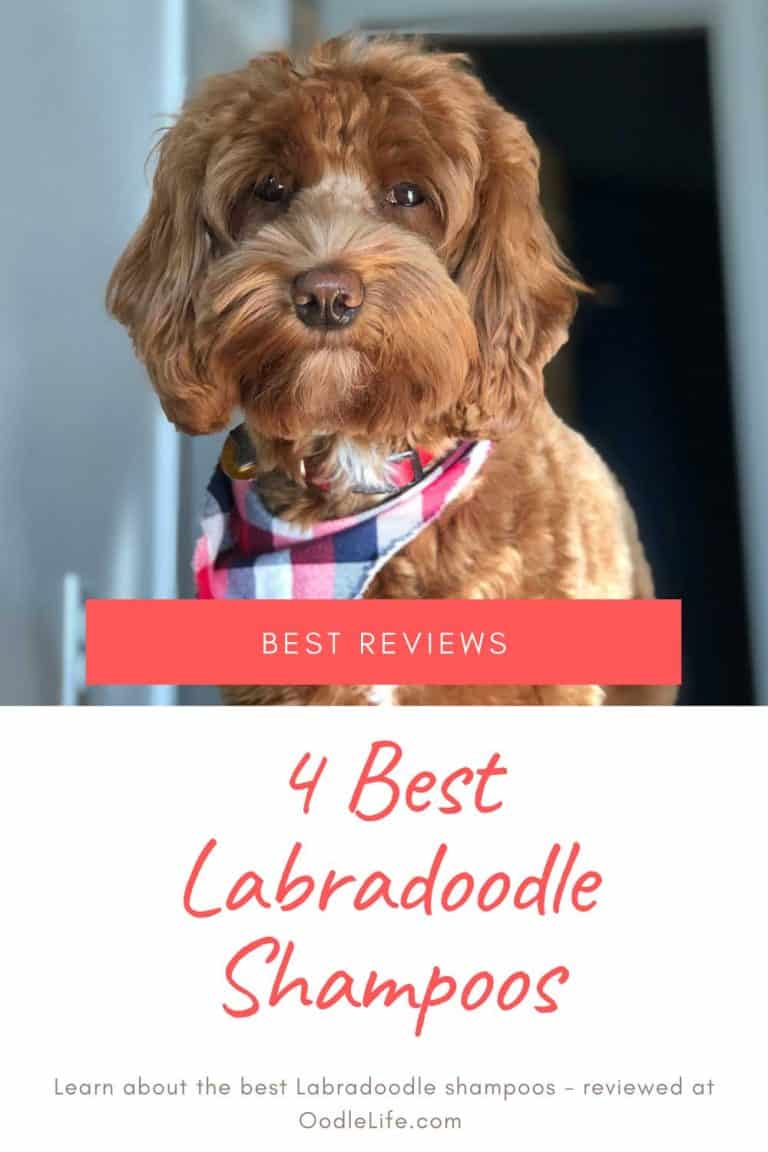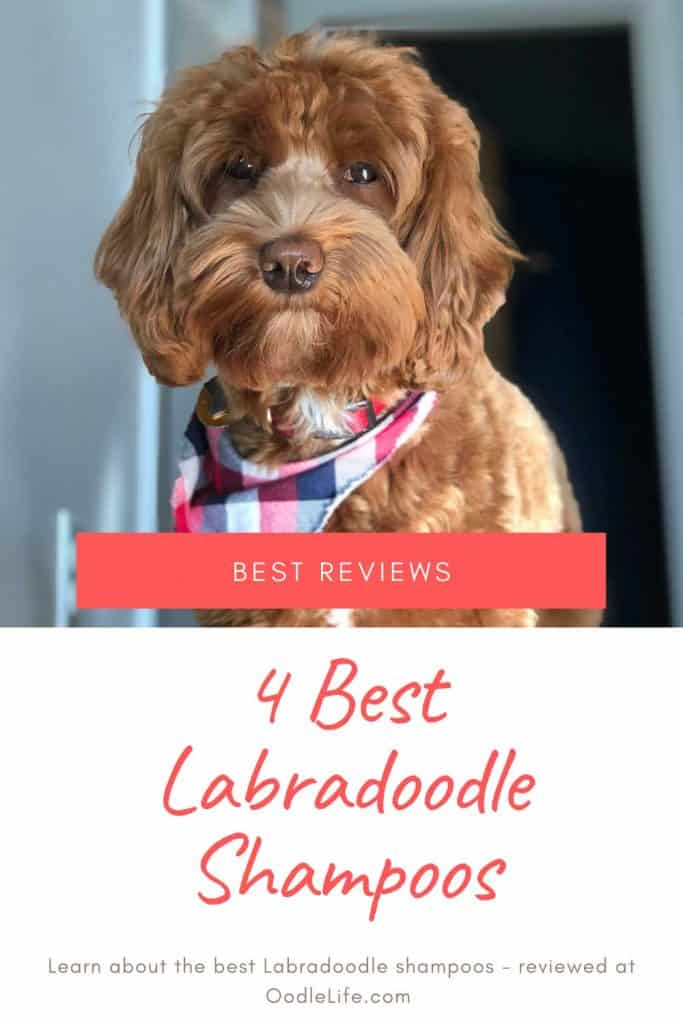 The Best All Round Shampoo for Labradoodle Dogs
Our favourite Labradoodle shampoo continues to be the Nootie shampoo. Specifically the Japanese Cherry blossom. There is something about this shampoo that just straight up agrees with the wavy non-shedding coat of our puppy.
Reasons why Nootie is a great shampoo for Labradoodles
Nootie products are soap and paraben free but still manage to cut through grime – it has surprising grunt for such a natural ingredient list
Our Labradoodle loves the beach and sometimes the grit and salt spray result in his fur getting lightly matted and tough
I don't have to do anything special other than just use a little bit of this shampoo and this frequent condition is resolved.
Personally we can't smell the rosemary but we do the get the delightful cherry blossom hint. We get compliments on how nice our dog smells and people note how pleasant it is (without being too perfumey)
Check Price on Amazon
One word of warning is that the smell is the strongest of the four recommended today. We find it exceedingly pleasant but if you are worried consider one of the other options. A safe bet is the Wahl Oatmeal shampoo discussed next.
Safe and Gentle and US made
Sale
WAHL Dry Skin & Itch Relief Pet Shampoo for Dogs – Oatmeal Formula with Coconut Lime Verbena 64oz - Model 821004-050
Made in the USA - Our oatmeal formula pet shampoo is pH balanced, alcohol free, paraben free, PEG-80 free and is highly recommended for moisturizing dry skin & providing itch relief
Oatmeal Formula – This coconut lime verbena scented pet shampoo is great for moisturizing dry skin, cleaning dirty coats, & itch relief. The thick lather rinses off clean & keeps your pet looking and smelling clean
Less is More - Wahl has a higher concentrate of coconut derived sodding agent, which means you don't have to use as much as other dog shampoos. A little bit of shampoo goes a long way and provides a rich lather that's easy to rinse off
Allergy Friendly - Our dog icon, Rocket, was designed in the image of our family dog Cooper – a golden doodle, who has severe allergies. This is the only shampoo we have found safe and effective. He loves the smell too!
The Brand Used by Professionals - Wahl has been serving professional vets and groomers for over 50 years. clean, condition fur & hair for a smooth, soft coat. We are a company of animal lovers that want the best for your family member
The Wahl Oatmeal is a super simple but highly effective Labradoodle shampoo. The bulk pack option makes it a popular choice for both Labradoodle owners and even some groomers.
What makes the Wahl Oatmeal Shampoo Good?
I first picked up a bottle of the Wahl Oatmeal when we were researching the best shampoo for Bernedoodle (another Poodle mix) coats. A groomer I interviewed told me it is the specific shampoo she uses for her grooming clients.
A coconut and oatmeal base is a superb natural combination. They are common shampoo base ingredients for humans also. They provide much of the structure and elements needed to ensure smooth and rich hair.
The smell is refreshing (it is cut with lime) but smells… natural. This is not a try-hard perfumed product. When we wash with this shampoo our Labradoodle smells fresh and clean.
This shampoo is a concentrate – a little goes a long way. The coconut elements help bulk up the froth and lather from the shampoo. This means less shampoo is required to achieve a great lather.
The shampoo agrees with the non-shedding but fairly dense coat of a F1b or F2 Labradoodle. Wavy and curly Labradoodle hair will wash and separate nicely with this wash.
We had two months of heavy beach visits with our Labradoodle and this was the shampoo we used at that time. It cut through the sea salt and tangles easily.
Check Price on Amazon
The Wahl Oatmeal is a simple but effective shampoo that will remain as a back-up/travel bottle for us.
Cloudstar Buddy Wash Lavender and Mint
Sale
This Buddy Wash shampoo hits the mark and does a wonderful job with the hair of a Poodle mix like a Labradoodle.
Like all of the shampoos we recommended for Labradoodles this can be use without a conditioner. In fact Buddy Wash claims to explicitly incorporate both into the one bottle and advertises itself as a shampoo and conditioner combination.
I like this shampoo/conditioner combination cause it ticks all the boxes of being natural and using quality ingredients – but also just cleans well. It leaves the fur feeling very soft. I ran a survey of owners of Poodle mix dogs and Buddy Wash got quite a few shout outs from owners of Bernedoodles. One Cockapoo owner was also a mega fan.
After receiving such praise I tried it – and it was a winner. Easy – soft – nice smell. Simple stuff. Highly recommended.
Check Price on Amazon
There are some claims that the lavender has a protective effect but I personally believe it complements nicely as a long lasting pleasant "clean" smell.
Best Itchy Skin Labradoodle Shampoo
Some Labradoodles can get itchy skin or dry skin. Much of this depends on climate. Both Labradors and Poodles are prone to having some issue with this kind of thing. Using a gentle soothing shampoo can ease and assist.
Given this can happen to Labradoodles, we are lucky that the fourth highly recommended shampoo has shea butter and aloe and is known to be soothing.
Dog Shampoo with Oatmeal and Aloe. Shea Butter for Smelly Dogs, Puppy Shampoo by Oliver's Choice 14 oz
Specifically designed to deodorize and leave your dog smelling amazing and their coat restored!
Infused with a blend of Oatmeal, Aloe, and Shea Butter fragrance, this pet shampoo is safe for all dogs and puppies! This formula is also biodegradable for less pollution.
Oliver's Choice clinically designed formula is made in the USA, is biodegradable, paraben free, cruelty free, and naturally derived
Safe and effective for any breed and color of dog. Leaves your pup feeling and looking incredible! You'll love their coat after they get their bath!
Manufacturer's Guarantee - If for whatever reason you are unsatisfied with our product, let us know and we'll gladly give you your money back. No questions asked.
What makes Oliver's Choice a Great Labradoodle Shampoo?
The focus of this shampoo is comfort and relief for dry itchy skin. Safe for use for puppies and dogs – it helps out when your Labradoodle suffers from these conditions.
Check Price on Amazon
The thought and care that has gone into making the shampoo extends to the packaging and even either. Oliver's choice is made in the USA from natural ingredients. It is biodegradable to minimise the impact on the environment.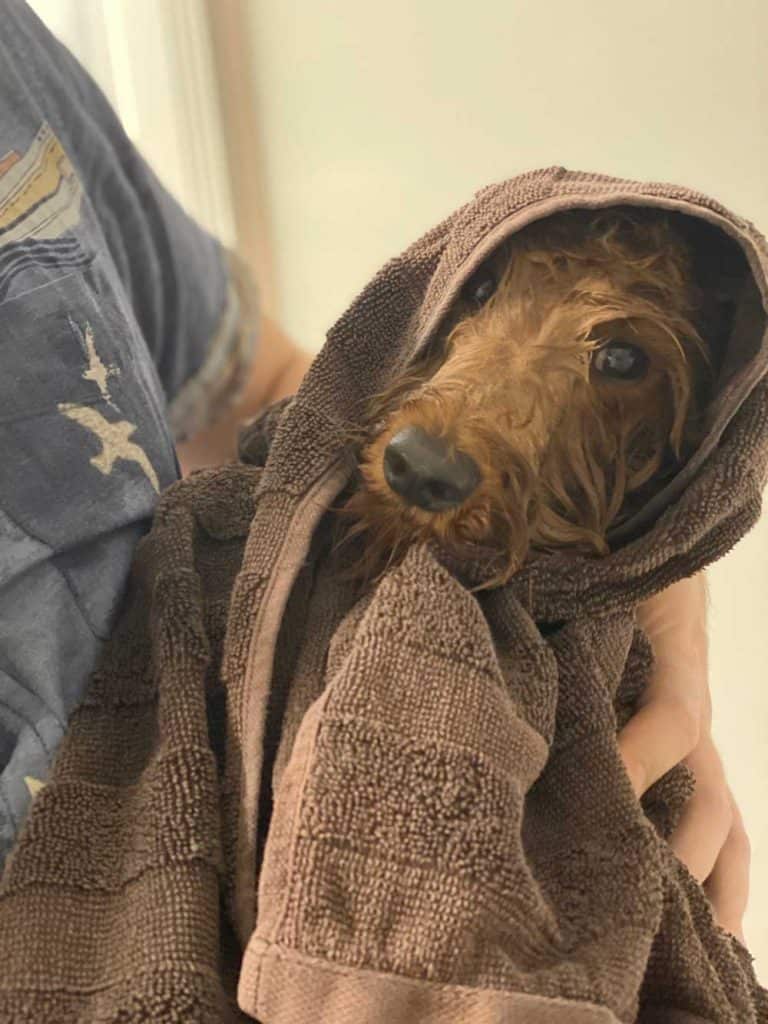 Tips to Make Shampooing a Labradoodle easier
Labradoodles typically have a low or non-shedding coat that is easy to maintain. Brushing every other day with a quality comb or slicker brush will keep the coat in good order. Shampoo and wash only when needed. Even with the quality shampoos there is a risk of over washing.
The biggest obstacle to shampooing or washing a Labradoodle is… the Labradoodle. Not every dog likes to have its coat cleaned!
Tips to make the Labradoodle shampooing experience easier include
Consider switching it up between a bath and a shower. Both can work to wash a Labradoodle. One might be easier than the other depending on temperament and size of the Labradoodle
Use warm water instead. Avoid hot or cold water. Most dogs like water that is a bit warmer than room temperature.
Pick good quality dog foods to keep the coat healthy (look for Omega-3 in particular. These are found in almost every dry food on the market)
Dogs that frequent the beach or lake need extra washing but consider using less shampoo. A quick rinse immediately after leaving the ocean or lake will remove the debris and sand. Doing this immediately also prevents matting or hair twisting that can make the grooming difficult.
On this note it is always easier to brush your dog well BEFORE you give it a shower. Completely dry Labradoodle hair is much easier to manage and groom. Get this step sorted before the bath.
When you do shampoo your Labradoodle the fastest and easiest way is to
Set the water to warm
We the dog ALL over first
Use a SMALL amount of shampoo to begin with
Pat it onto the hair and gently massage
Use more if needed
Try not to cause matting with the clean – the quality shampoos will help keep the hair stands separate
Keep the shampoo and water OUT of the ears of the Labradoodle
Cleaning Labradoodle ears is a separate but important task. You will need to trim the ears, remove extra hairs (plucking!) and also remove an excess wax. You need simple and budget friendly tools to perform this easy DIY task. We wrote a simple guide to at home Labradoodle ear grooming.