7 Best Shampoo for Labradoodles (2023 Update)
Keep your Labradoodle's curly coat soft and healthy with the right shampoo! Specialized Labradoodle shampoos balance hydration and clean effectively, using natural ingredients that are gentle on the skin. Consider your dog's specific coat type and any allergies when choosing. Opt for all-natural formulas and skip the harsh chemicals.
Labradoodle dog shampoos are designed specifically to cater to their coat requirements–balancing the hydration, maintaining coat health, and leaving their fur soft and manageable. These shampoos often include natural ingredients that are gentle on your dog's skin while still effectively cleansing away dirt and debris.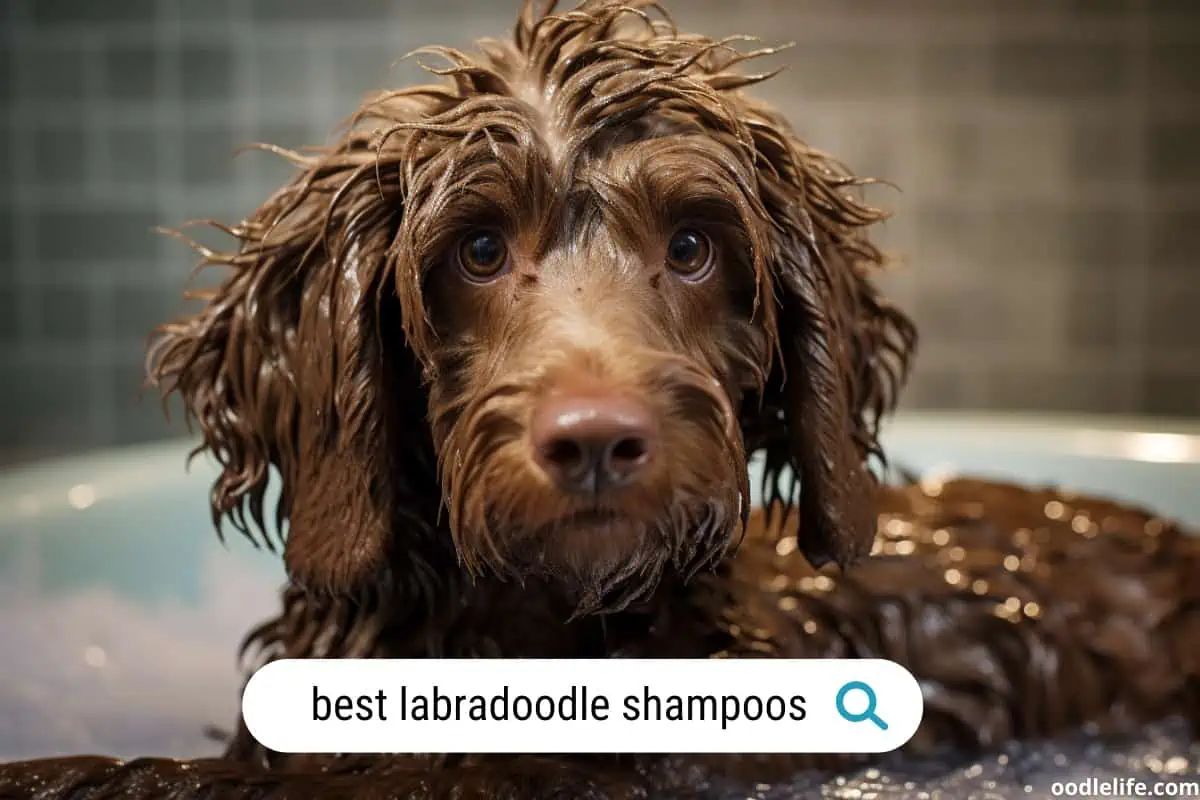 Best Labradoodle Dog Shampoos
Finding the perfect shampoo for your Labradoodle's luscious locks can be a daunting task. Don't worry, we've done the dirty work for you! Below is our curated list of the best dog shampoos that will keep your furry friend's coat looking fabulous and feeling fresh.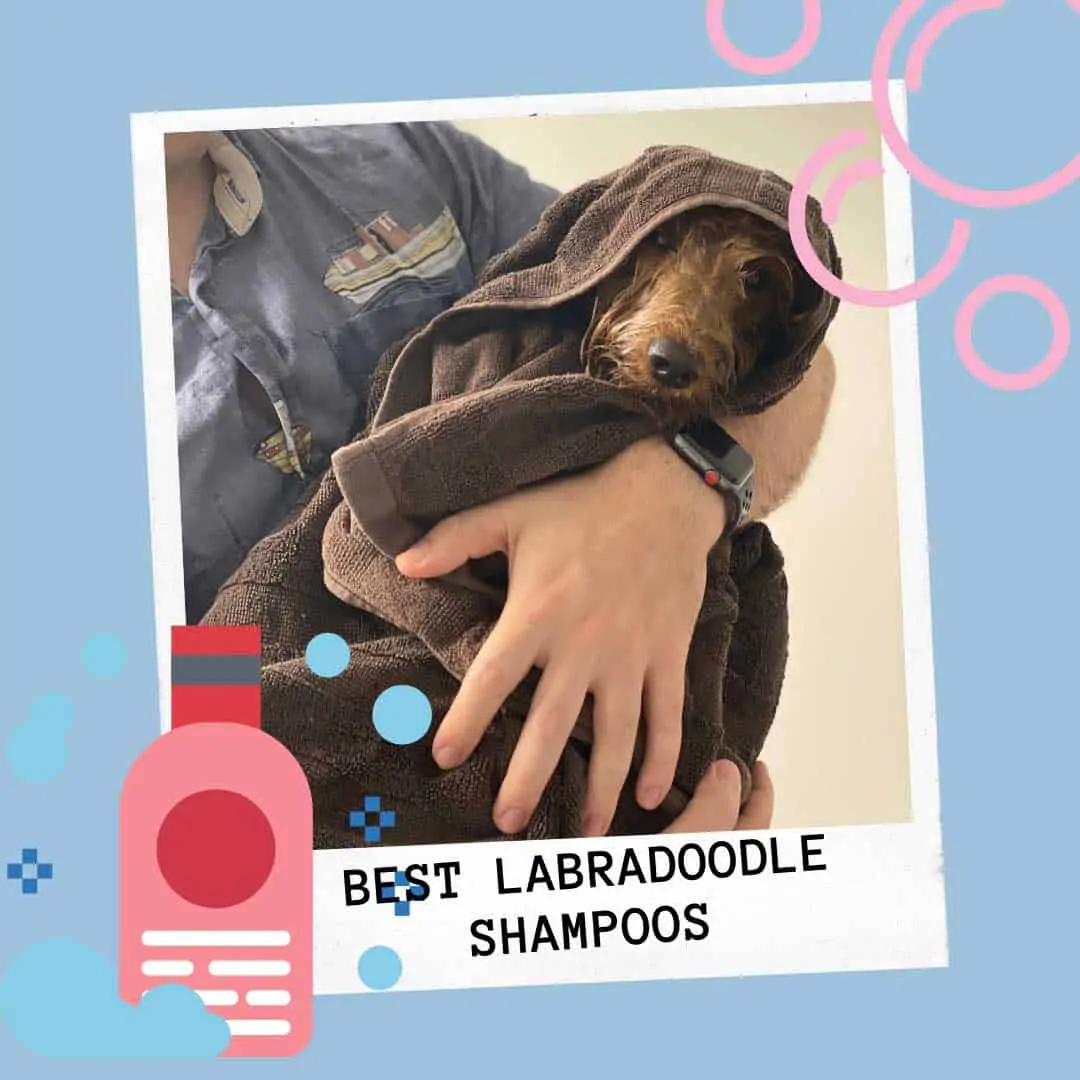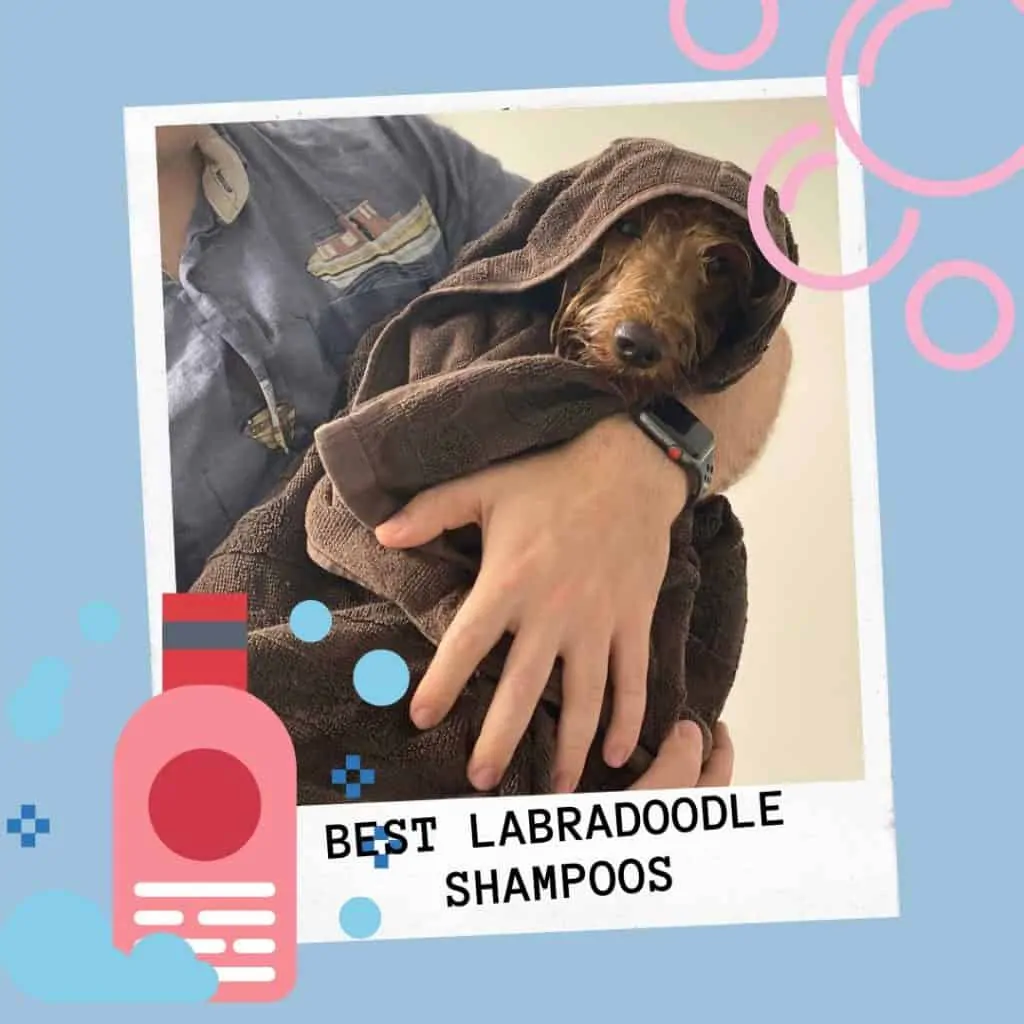 Best Overall OodleLife Dog Shampoo and Conditioner
Get your Labradoodle squeaky clean and itch-free with this USA-made, natural OodleLife Dog Shampoo.
OODLELIFE Soothing Shampoo and Conditioner Aloe Oatmeal + Coconut
$14.95
$10.95 ($0.68 / Fl Oz)
Refreshes & Soothes: Like a comforting belly rub, it cleanses, conditions, detangles, and moisturizes - dog itching skin relief
USA-Made: A top-quality, homegrown product for your furry friend.
Soft coats - Safe, non-irritating, natural ingredients that nourish your dog's coat. Dog bathing made easy with our oatmeal dog shampoo for allergies and itching.
Eco-Friendly, Pure Formula: Only the good stuff, none of the bad.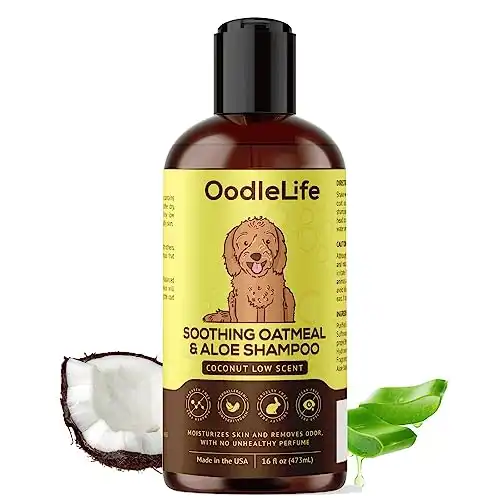 We earn a commission if you make a purchase, at no additional cost to you.
Pros
Soothes and moisturizes itchy skin
Made in the USA with eco-friendly ingredients
Nourishes and softens coats
Cons
Distinct coconut scent
May not lather well in some cases
If you have a Labradoodle who tends to get itchy or has sensitive skin, the OodleLife Dog Shampoo and Conditioner is worth a try. Made with natural ingredients like aloe, oatmeal, and coconut, it provides a soothing and moisturizing bath experience for your furry friend.
One thing to note is that some users have reported that the shampoo does not lather well. You might need to use a bit more product than usual to get a thorough clean. However, don't let this deter you – when it comes to soothing itchy skin, this shampoo delivers.
While some pet owners enjoy the fragrance, others might find it overpowering. This is something to keep in mind if you or your Labradoodle are sensitive to smells.
OodleLife offers a money-back refund warranty, so if you face any issues, you can always reach out to their customer service.
In conclusion, OodleLife Dog Shampoo and Conditioner can be a great choice for Labradoodles with itchy or sensitive skin. Though the scent may not be everyone's cup of tea and the lathering may require some extra work, its soothing properties and eco-friendly ingredients are worth considering. Give it a try and watch your Labradoodle enjoy a more comfortable bath time!
Arm & Hammer Super Deodorizing Shampoo For Dogs
A must-have shampoo for a refreshed and odor-free Labradoodle.
Arm & Hammer Super Deodorizing Shampoo For Dogs - Odor Eliminating Dog Shampoo For Smelly Dogs & Puppies With Arm & Hammer Baking Soda -- Kiwi Blossom Scent, 20 Fl Oz
DID YOU KNOW DOG SKIN DIFFERS FROM HUMAN'S - Dogs' skin is less acidic than human skin, so human shampoos destroy a dog's skin protective barrier, leaving your pet vulnerable to itchy flaking
ODOR CONTROL WITH BAKING SODA - This dog deodorizer shampoo includes the signature Arm and Hammer baking soda to naturally control and remove dog odors
NATURAL DOG SHAMPOO - The natural ingredients in this dog shampoo - cucumber mint & baking soda - effectively work together to tackle odors and keep your pet's coat clean while moisturizing dog dry...
KIWI BLOSSOM SCENTED DOG ODOR SHAMPOO - This pet odor remover is naturally derived and adds a hint of kiwi blossom scent after every wash
USE REGULARLY FOR BEST DOG DEODORIZING RESULTS - This dog shampoo for strong odor is safe to use with topical products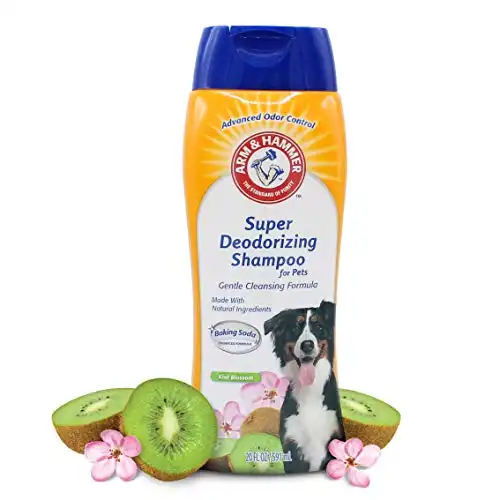 We earn a commission if you make a purchase, at no additional cost to you.
Pros
Powerful odor control with baking soda
Natural ingredients for a gentle cleanse
Pleasant kiwi blossom scent
Cons
May cause a reaction in dogs with sensitive skin
Scent may not last for an extended period
May not entirely eliminate strong odors like skunk spray
As a Labradoodle owner, I recently tried the Arm & Hammer Super Deodorizing Shampoo for Dogs, and I must say, it did wonders for my furry friend. The shampoo swiftly tackled those stubborn doggy odors, and the natural ingredients left my Labradoodle's coat looking clean and healthy. What I appreciated the most was the pleasant kiwi blossom scent that made cuddling with my pooch even more enjoyable.
The odor control offered by the shampoo's baking soda content left my Labradoodle smelling fresher for longer. This fast-acting formula also rinses easily, helping me save time during bath time. I was delighted to learn that this shampoo is safe to use with topical flea and tick treatments, ensuring my pup remains protected while still smelling great.
However, it's essential to note that on rare occasions, some dogs may experience a reaction to this shampoo if their skin is sensitive. Additionally, while the kiwi blossom scent is enjoyable, it may not last as long as you would like. Finally, this shampoo may not eliminate incredibly strong odors like those from skunk spray, but it does a wonderful job of handling daily pet smells.
Overall, the Arm & Hammer Super Deodorizing Shampoo for Dogs is a great investment for any Labradoodle owner seeking an effective, natural, and pleasant-smelling shampoo. Your furry friend will thank you, and you'll be grateful for a pleasantly smelling pup.
TropiClean 2-in-1 Papaya & Coconut Dog Shampoo and Conditioner
For clean, soft, and great-smelling Labradoodles, this TropiClean 2-in-1 shampoo is a top choice.
Tropiclean Papaya and Coconut Luxury 2-in-1 Pet Shampoo and conditioner, 20oz
Cleans & Conditions – Dog shampoo & conditioner duo cleans the coat of dirt & debris while conditioning the coat for easy brushing.
Moisturizes Dry Skin – Luxurious lather hydrates the skin and coat leaving it soft and healthy.
Eliminates Dog Smell – Refreshing scent of papaya & coconut takes your pet to a tropical paradise with every bath!
Softens the Coat – Papaya, kiwi, mango, pomegranate, yucca, chamomile, and aloe extracts leave the coat feeling silky soft.
Tough on Dirt, Not Pets — Gentle coconut cleanser gives a soap-free clean, so you don't have to worry about washing away topical treatments.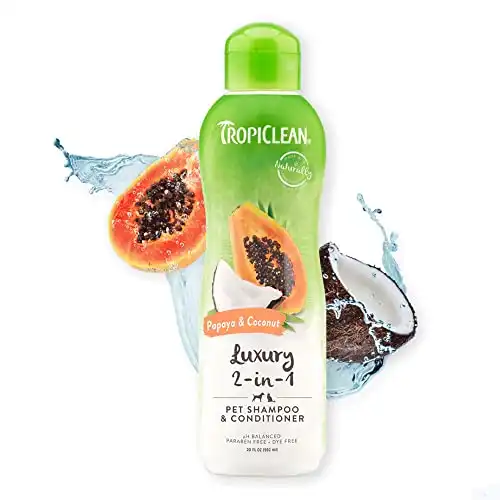 We earn a commission if you make a purchase, at no additional cost to you.
Pros
Effectively cleans and conditions fur
Derived from natural ingredients
Suitable for cats and dogs
Cons
Might require a second lather for heavier dirt
Some users report bottle leakage during shipping
Slightly more expensive than competitors
TropiClean's 2-in-1 Papaya & Coconut shampoo combines both conditioning and cleaning within the same product. After giving your Labradoodle a bath, you'll notice that their fur appears cleaner and shinier. This shampoo not only gets rid of dirt, but it also does a fantastic job of conditioning the coat for easy brushing. Thanks to its natural ingredients, like coconut and vitamin E, your Labradoodle's fur will feel soft and silky to the touch.
As a pet parent, you'll appreciate the gentle formulation of this shampoo. It's free from parabens, soap, dyes, and cruelty, making it safe for pups and felines aged 12 weeks and up. If you want to give your furry companions a spa-like experience, this TropiClean shampoo delivers a tropical scent that smells amazing.
Some users have mentioned issues with the shampoo bottle leaking during delivery, so be cautious when receiving your package. Additionally, for those extra-dirty Labradoodles, you might need to lather up twice to ensure the best clean. However, the overall performance and natural ingredients make this shampoo worth the slightly higher price tag.
In conclusion, TropiClean 2-in-1 Papaya & Coconut shampoo is an excellent choice for Labradoodle owners who want a clean, healthy-looking coat that smells delightful. It contains natural ingredients suitable for both dogs and cats, while also being gentle on the skin. Just be aware of potential leakage and the possibility of needing a double lather for the dirtiest of furballs.
Wahl Dry Skin & Itch Relief Shampoo
The Wahl Dry Skin & Itch Relief Shampoo is a must-buy if you want a reliable solution for your Labradoodle's itch relief and coat moisturization.
WAHL Dry Skin & Itch Relief Pet Shampoo for Dogs – Oatmeal Formula with Coconut Lime Verbena 64oz - Model 821004-050
Made in the USA - Our oatmeal formula pet shampoo is pH balanced, alcohol free, paraben free, PEG-80 free and is highly recommended for moisturizing dry skin & providing itch relief
Oatmeal Formula – This coconut lime verbena scented pet shampoo is great for moisturizing dry skin, cleaning dirty coats, & itch relief. The thick lather rinses off clean & keeps your pet looking...
Less is More - Wahl has a higher concentrate of coconut derived sodding agent, which means you don't have to use as much as other dog shampoos. A little bit of shampoo goes a long way and provides a...
Allergy Friendly - Our dog icon, Rocket, was designed in the image of our family dog Cooper – a golden doodle, who has severe allergies. This is the only shampoo we have found safe and effective. He...
The Brand Used by Professionals - Wahl has been serving professional vets and groomers for over 50 years. clean, condition fur & hair for a smooth, soft coat. We are a company of animal lovers that...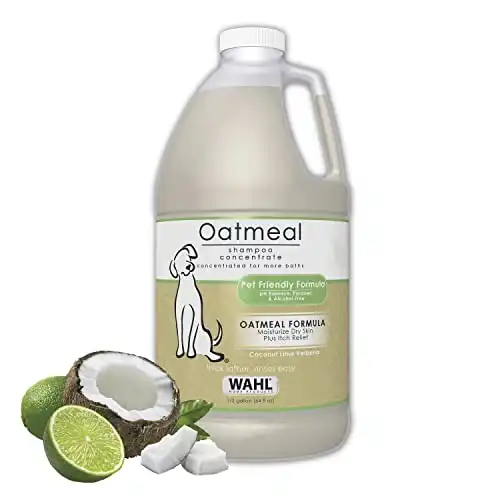 We earn a commission if you make a purchase, at no additional cost to you.
Pros
Effective itch relief and moisturizing
Pleasant coconut lime verbena scent
Concentrated formula allows more baths per bottle
Cons
Potentially not suitable for pets with plant oil sensitivity
May be slightly pricey for some
Limited fragrance options
As a Labradoodle owner, you've likely faced the challenge of managing your furry friend's sometimes sensitive and itchy skin. Wahl's Oatmeal Formula Shampoo, with a delightful coconut lime verbena scent, just might be the answer to your dog's itchiness and dry skin concerns. After the first wash with this shampoo, you'll notice your pet's coat looking clean, silky, and smooth, and more importantly, their itchiness subsiding.
One thing that sets this shampoo apart from the competition is its concentration. You won't need much of it to create a rich lather that easily rinses off, making the 64-ounce bottle last much longer than other brands. This concentrated formula offers up to 70% more baths, which makes the slightly high price point more justifiable.
However, despite its generally fantastic performance, it's essential to note that this shampoo may not be suitable for all Labradoodles. If your dog has sensitivity to certain plant oils, be sure to consult your vet and perform a small spot test before fully committing to using the shampoo.
In conclusion, Wahl Dry Skin & Itch Relief Shampoo could be a game-changer for your Labradoodle's itch relief and coat care routine. With a pleasant scent and concentrated formula, this shampoo is both enjoyable to use and efficient on your dog's sensitive skin. Just remember to consult your vet if you're unsure about your pet's reaction to plant oils. Happy bathing!
Chris Christensen SmartWash50 Jungle Apple Ultra Concentrated Dog Shampoo
The Chris Christensen SmartWash50 is your go-to solution for keeping your Labradoodle's coat fresh, clean, and healthy.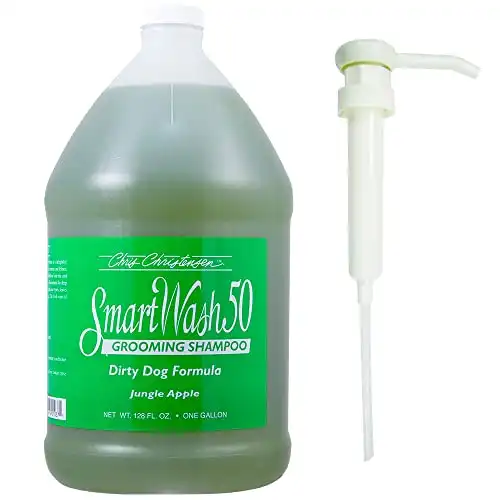 We earn a commission if you make a purchase, at no additional cost to you.
Pros
Effective in removing waxes, oils, and buildup
Delightfully scented Jungle Apple fragrance
Ultra-concentrated formula – 1 gallon makes 50 gallons
Cons
May require some manual shaking for a perfect mix
Larger container can be heavy
Dispenser needs an improvement to avoid wasting shampoo
Ever feel like you've tried every shampoo on the market for your Labradoodle? Look no further because the Chris Christensen SmartWash50 Jungle Apple Ultra Concentrated Dog Shampoo is here to save the day. This highly concentrated formula is excellent in keeping your Labradoodle's fur clean and free of any unwanted dirt or buildup.
Remember the time your Labradoodle played in a muddy puddle? Thanks to SmartWash50's powerful yet gentle cleaning action, say goodbye to residue and hello to elevated shine and zest. The Jungle Apple scent doesn't just mask, but eliminates bad odors—and it's so delightful, your furry friend will smell like a tropical paradise after every bath.
The ultra-concentrated formula means more bang for your buck. One gallon can make 50 gallons when correctly diluted. However, make sure you're shaking the mix well to prevent a less-than-even application. The dispenser, while convenient, could be improved to minimize any waste or unnecessary mess.
In conclusion, if you want a shampoo that not only deep cleans but leaves your Labradoodle's coat shiny and smelling amazing, then the Chris Christensen SmartWash50 Jungle Apple Ultra Concentrated Dog Shampoo is an excellent choice. Just remember to shake well and manage the dispenser for an optimal bathing experience.
PetAg Fresh 'n Clean Scented Dog Shampoo
For a fresh and clean Labradoodle coat, PetAg Fresh 'n Clean Scented Dog Shampoo is a top choice.
Classic scent
PetAg Fresh 'n Clean Scented Dog Shampoo - Classic Fresh Scent
Soothing Agents: Aloe vera leaf juice and vitamin E gently clean the hair and lock in moisturizer
Cleansing Shampoo for Dogs: Provides a fresh, soft, and shiny coat while strengthening and repairing hair
Doggie Odor Control: Has a long-lasting classic fresh scent that clings to hair for up to 2 weeks
Ready-To-Use Formula: Keep pets smelling fresh and clean between baths or trips to the groomer with this shampoo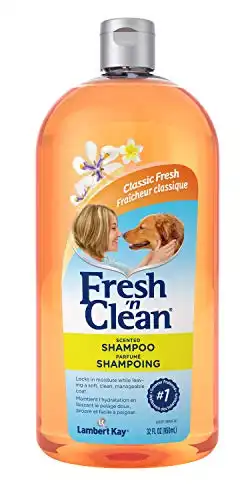 We earn a commission if you make a purchase, at no additional cost to you.
Pros
Soothes and moisturizes with aloe vera and vitamin E
Strengthens and repairs hair, leaving a soft and shiny coat
Long-lasting classic fresh scent lasts up to 2 weeks
Cons
Scent may not be everyone's favorite
May require more lather than expected
May not control all types of odor
Using PetAg Fresh 'n Clean Scented Dog Shampoo on your Labradoodle will definitely feel like a treat for both you and your pet. The shampoo's soothing agents such as aloe vera leaf juice and vitamin E gently clean the hair while locking in moisture, ensuring your furry friend's coat remains soft and healthy.
The shampoo effectively tackles dirt and doggie odor, providing a fresh scent that amazingly clings to their hair for up to 2 weeks. This helps you minimize the frequency of giving your Labradoodle a bath, allowing you both to focus on the more enjoyable parts of life, like playtime and cuddles. However, it's important to note that some people may not be quite as fond of the classic fresh scent.
Even though the product earns high ratings for its effectiveness, some users may find that they need to use more lather than they initially thought to cover their Labradoodle's entire coat. Nevertheless, it's a relatively small issue considering the overall benefits of the shampoo.
In conclusion, if you're looking for a quality shampoo that leaves your Labradoodle's coat clean and fragrant, PetAg Fresh 'n Clean Scented Dog Shampoo is certainly a worthwhile investment. Just remember that it may take a little extra elbow grease to work up a lather, and the scent, while pleasant, may not be everyone's favorite.
Burt's Bees for Pets Oatmeal Dog Shampoo
A perfect choice for Labradoodles with dry, itchy skin that will nourish their coat and keep them comfortable.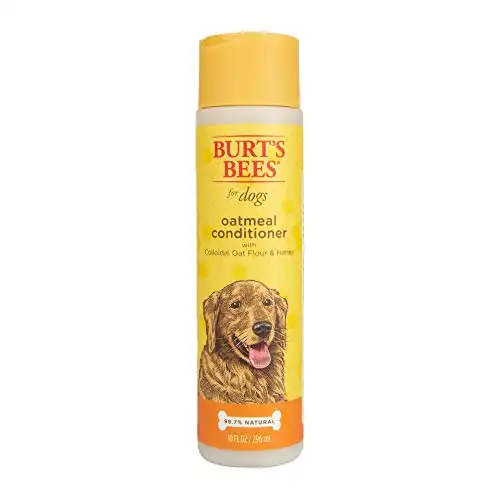 We earn a commission if you make a purchase, at no additional cost to you.
Pros
Soothes and softens dry, itchy skin
Made with high-quality ingredients
Suitable for all dogs and puppies
Cons
Light lather, may require more product
No strong scent, if preferred
No artificial fragrances added
When it comes to bathing your beloved Labradoodle, using Burt's Bees for Pets Oatmeal Dog Shampoo can make a real difference. Just the other day, after giving my Labradoodle a bath with this shampoo, I could see and feel the improvement in their coat. The colloidal oat flour and honey formula did wonders for soothing and moisturizing their dry, itchy skin.
Burt's Bees for Pets Oatmeal Dog Shampoo doesn't have a strong, artificial scent like other dog shampoos. When washing my Labradoodle, I noticed the shampoo lathered lightly and required a bit more product than usual. But this is a small price to pay for the benefits it provides, considering it's free of harsh chemicals and artificial fragrances.
I wholeheartedly recommend Burt's Bees for Pets Oatmeal Dog Shampoo for any Labradoodle parents looking to keep their pets comfortable and their coat nourished. This shampoo will leave your furry friend feeling refreshed, and its natural ingredients are gentle on their skin. Who wouldn't want the best for their cuddly, curly-coated companion?
Buying Guide
When looking for the best labradoodle dog shampoo, it's important to consider several factors to help you choose the right product for your furry friend.
Ingredients
First and foremost, pay attention to the ingredients. Look for a shampoo that is free of harsh chemicals, parabens, and sulfates. Instead, opt for a product with gentle, natural ingredients such as aloe vera, chamomile, and oatmeal. These will soothe your labradoodle's sensitive skin and maintain a healthy coat.
pH-balanced Formula
Labradoodles have a different skin pH than humans, so it's essential to find a shampoo with a pH-balanced formula designed specifically for dogs. This ensures that the shampoo won't dry out their skin or irritate it further.
Hypoallergenic
If your labradoodle has allergies or sensitive skin, a hypoallergenic shampoo will be your best bet. These products are formulated without common allergens and irritants, reducing the risk of reactions.
Moisturizing and Conditioning
Labradoodles' curly coats can be prone to matting, so it's crucial to find a shampoo that moisturizes and conditions the hair. Look for ingredients like coconut oil, shea butter, or almond oil, which will help nourish and detangle their fur.
Scent
While it might be tempting to choose a shampoo with a strong, perfumed scent, remember that your labradoodle will be the one wearing it. Opt for a mild, pleasant fragrance that won't overwhelm their sensitive noses.
Consider these factors when choosing your labradoodle's next shampoo, and you'll be well on your way to finding a product that keeps their coat clean, healthy, and comfortable. Happy shopping!
I love the super soft coat our our Labradoodle Max. Keeping that coat healthy and puppy-soft as he get older (and plays in the mud and beach) has been tricky.
We have tested so many types of shampoo to come up with our four favourites.
The 4 Best Labradoodle Shampoos on the market are
How we chose and tested the best shampoos for Labradoodles
Let's learn more about why these four tested so much better than the competition. We only elect natural and healthy shampoos that are low allergy. Choosing natural ingredients is so important for both the puppy skin AND the human doing the washing.
Keep the ingredient list natural to avoid any type of skin reactions or allergies.
The second element we looked for is the smell! We all want a nice smelling dog – but the odor must not be too perfume-y or fake. We want a clean smelling dog – not a perfume fluff ball that turns up noses!
All four of our top choices of Labradoodle shampoo have a delightful smell that is not too strong. Finding the middle ground can be tough! The smell being appropriate is super important given that over 40% of dogs sleep IN bed with their owners and that Labradoodles are not good at living outside.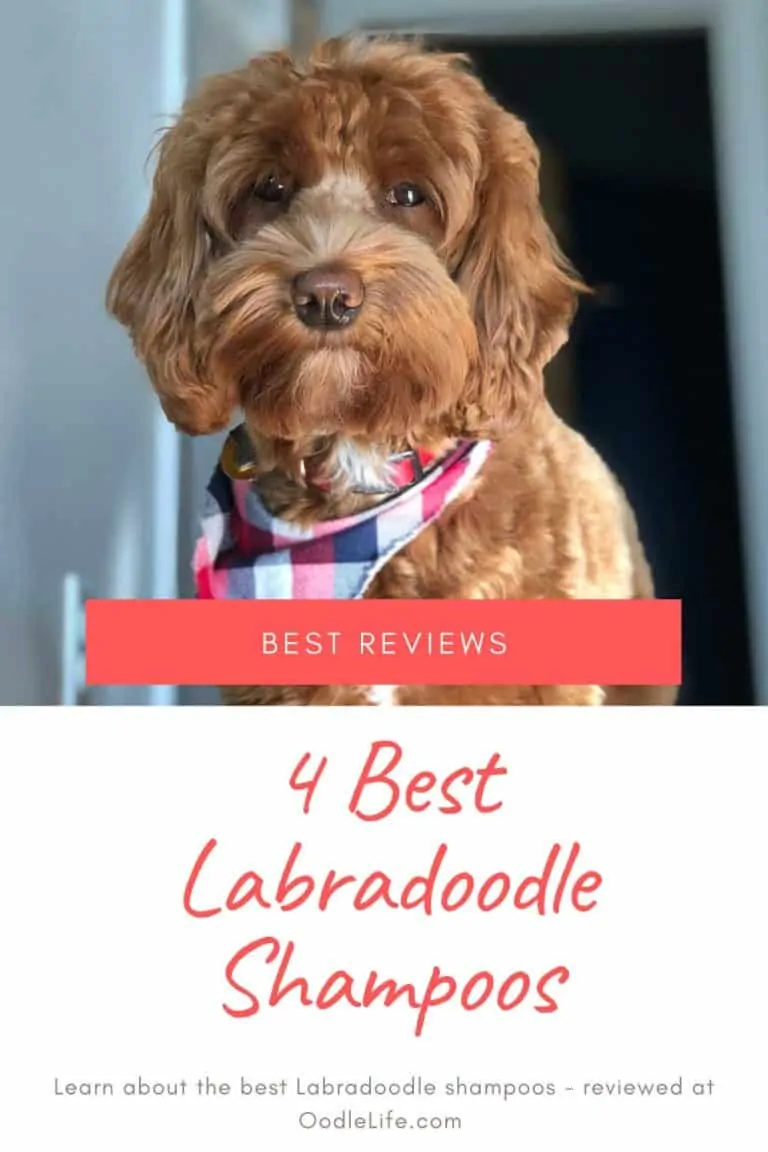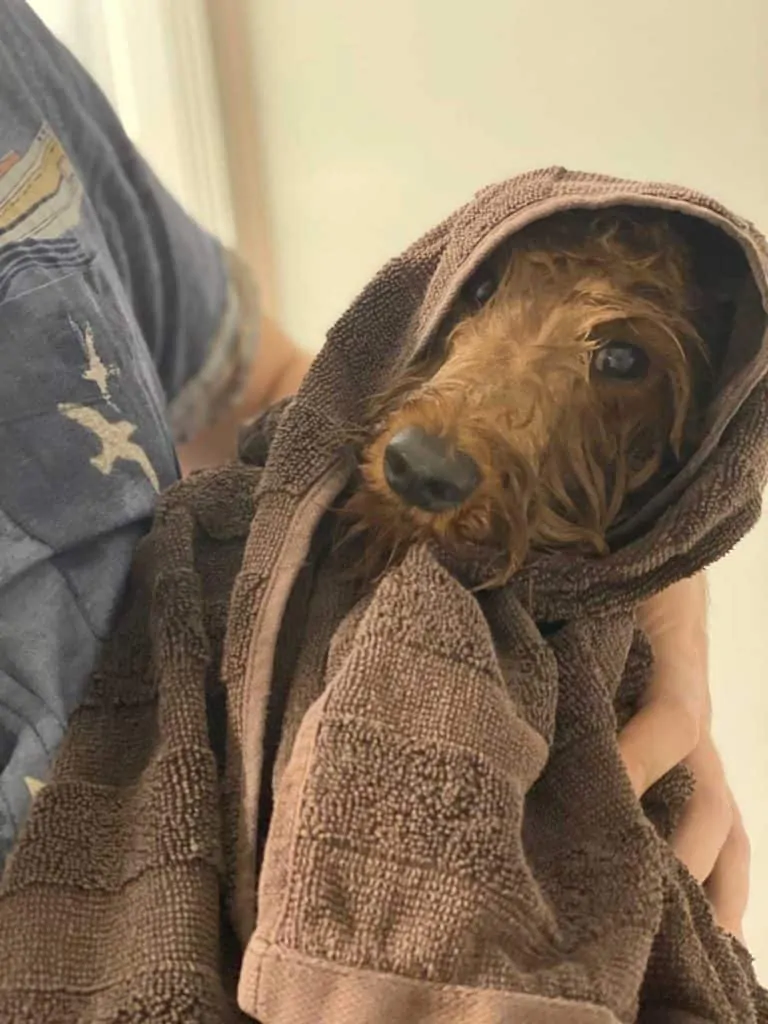 Tips to Make Shampooing a Labradoodle easier
Labradoodles typically have a low or non-shedding coat that is easy to maintain. Brushing every other day with a quality comb or slicker brush will keep the coat in good order. Shampoo and wash only when needed. Even with the quality shampoos there is a risk of over washing.
The biggest obstacle to shampooing or washing a Labradoodle is… the Labradoodle. Not every dog likes to have its coat cleaned!
Tips to make the Labradoodle shampooing experience easier include
Consider switching it up between a bath and a shower. Both can work to wash a Labradoodle. One might be easier than the other depending on temperament and size of the Labradoodle
Use warm water instead. Avoid hot or cold water. Most dogs like water that is a bit warmer than room temperature.
Pick good quality dog foods to keep the coat healthy (look for Omega-3 in particular. These are found in almost every dry food on the market)
Dogs that frequent the beach or lake need extra washing but consider using less shampoo. A quick rinse immediately after leaving the ocean or lake will remove the debris and sand. Doing this immediately also prevents matting or hair twisting that can make the grooming difficult.
On this note it is always easier to brush your dog well BEFORE you give it a shower. Completely dry Labradoodle hair is much easier to manage and groom. Get this step sorted before the bath.
When you do shampoo your Labradoodle the fastest and easiest way is to
Set the water to warm
We the dog ALL over first
Use a SMALL amount of shampoo to begin with
Pat it onto the hair and gently massage
Use more if needed
Try not to cause matting with the clean – the quality shampoos will help keep the hair stands separate
Keep the shampoo and water OUT of the ears of the Labradoodle
Cleaning Labradoodle ears is a separate but important task. You will need to trim the ears, remove extra hairs (plucking!) and also remove an excess wax. You need simple and budget friendly tools to perform this easy DIY task. We wrote a simple guide to at home Labradoodle ear grooming.