Best Dog Bed for Goldendoodle – 6 Top Beds Reviewed
Even the zoomiest of Goldendoodles will love to nap. Even the most active Goldendoodles love to catch some sleep!
Picking the best durable and most comfortable dog bed for any size of Goldendoodle is a must. We have reviewed our five favorite Goldendoodle dog beds.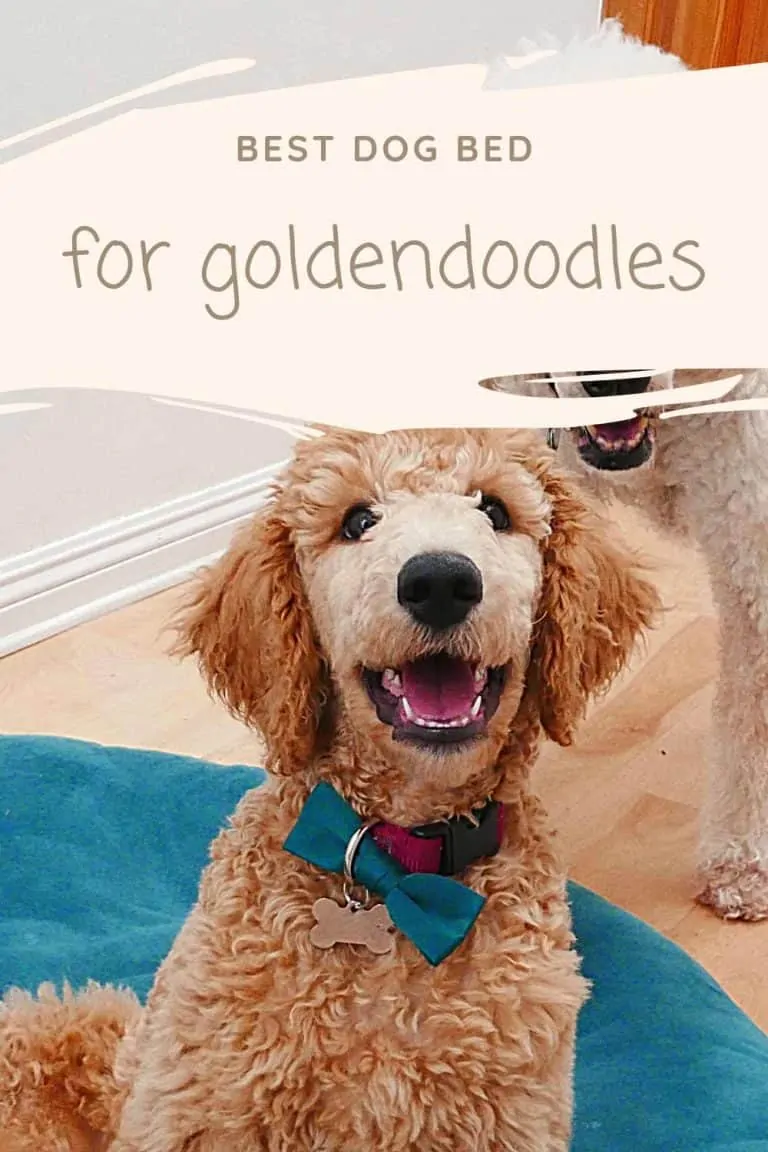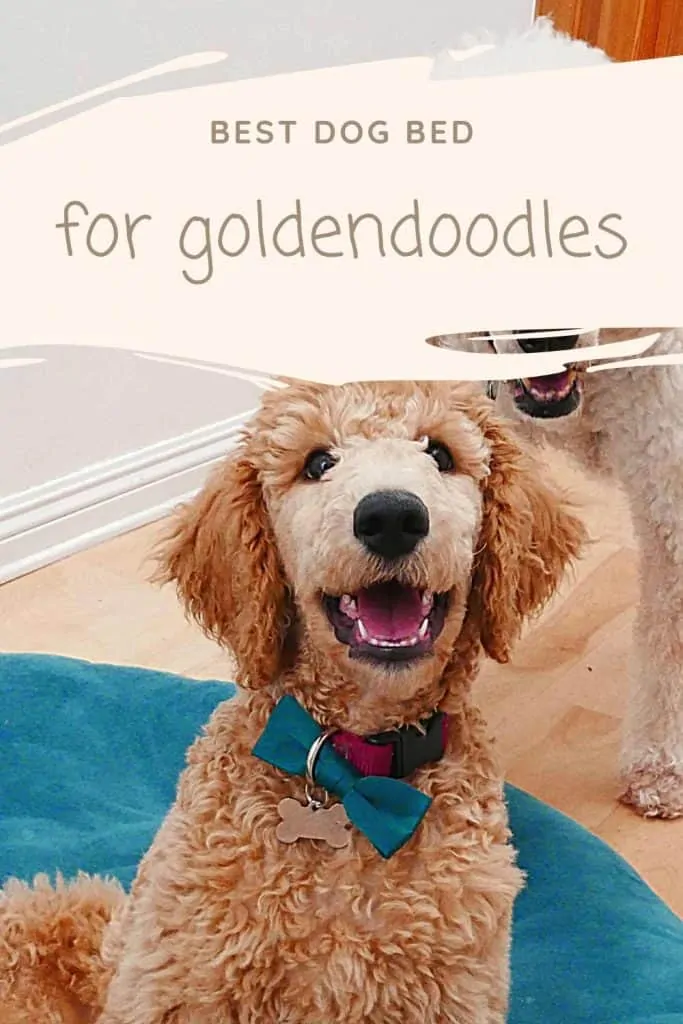 Best Dog Bed for Goldendoodle
Best Overall JOYELF Memory Foam
Best for Large Goldendoodles
Minimalist and Crate Friendly
Best Overall JOYELF Memory Foam
Best for Large Goldendoodles
Minimalist and Crate Friendly
Getting your hands on the best dog bed for Goldendoodle pets is often a lot more challenging than most people expect. There are so many different dog bed options to pick and choose from!
All responsible pet owners want to be sure that their dogs are well taken care of. Nothing feels better as a pet owner than pampering our furry little family members with dog beds that help support good health, energy, and a happy lifestyle.
Below we dig a little deeper into how to find the best dog bed for Goldendoodle pets. We give all the inside information you need to really zero in on the best options available.
We also cover our 6 favorite options on the market today. We review types of factors you need to consider to get a quality dog bed that your Goldendoodle is going to love.
What to Look for in the Best Dog Beds for Goldendoodles
There are a couple of things you want to consider when purchasing a dog bed, including (but definitely not limited to):
The shape of the bed itself
The size of the bed
The support available
The exterior materials of the mattress itself
The interior and cushioning materials of the bed itself
Ease of cleaning and maintaining the bed
… And that's just the tip of the iceberg!
Picking the Right Size Dog Bed
Apart from Teacup Goldendoodles – most Goldendoodles aren't precisely the smallest breed of dog on the planet. This is why you want to make sure that you choose a dog bed that's a little bit oversized. It also offers plenty of structure and stability for your dog to use it comfortably.
The materials on the outside of the dog bed should always be super soft and easy to clean, and it's best if they are waterproof and "accident" proof as well. If your Goldendoodle is a chewer or licks everything, it's a smart move to find something that is chew resistant.
The interior materials should be chosen to support healthy joints and muscles, supporting your dog while alleviating pressure points. The material must also help manage the dog's temperature at the same time.
An otherwise super comfortable dog bed that is too warm or too cold is going to end unused. Environment and temperature will play a significant role in determining how popular your chosen sleep spot will be.
The Best All-Round Dog Bed for Goldendoodles – Joyelf Memory Foam
JOYELF Medium Memory Foam Dog Bed Orthopedic Dog Bed & Sofa with Removable Washable Cover and Squeaker Toy as Gift
HIGH-QUALITY MATERIALS: ①Solid Memory Foam base for perfectly to your pet's body for maximum comfort;②Memory Foam using flame retardant material;③The Bottom Material of the dog bed comes with...
BETTER DESIGN:①The base high-density memory foam can provide the ultimate sleep experience with superior overall comfort and to last;②The bottom is lined with to avoid the bed from ever sliding...
EASY To MAINTAIN:①Removable cover is machine washable,simply remove the cover, zip closed ②Easy to find & Remove hair;③Do not immerse in water for long time& tumble dry ,Line dry better
GIFTS:Squeaker toys as gifts(Bone shape)
SIZE: Measuring from outside of bolster 31'' x 22'' x 7'' Sleeping area inside bolster: 24'' x 16''.The memory foam base 29'' x 20'' x 2'' Ideal for Small to Medium size dogs .Consider carefully dog's...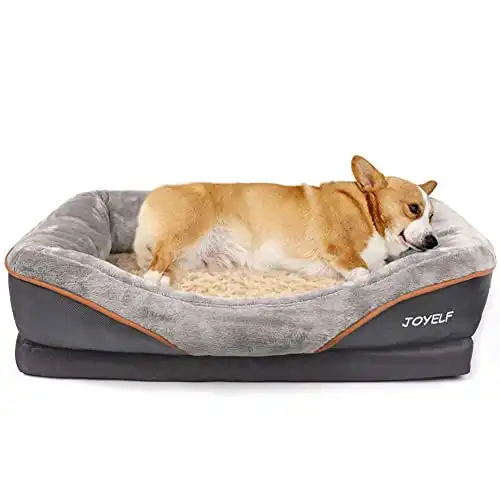 We earn a commission if you make a purchase, at no additional cost to you.
Our all-around favorite choice on the market today as far as dog beds for Goldendoodles are concerned. Everything about this dog bed is well-considered, carefully constructed, and built to optimize your dog's comfort before all else.
Everything starts with intelligent choices as far as the overall materials used in the construction of this dog bed are concerned.
The exterior fabric has been made of a highly durable but super soft material that is going to comfort your dog while sleeping on it. It does not trap too much heat and also not attracting too much dog hair at the same time.
The covers also 100% removable and machine washable, allowing you to drop this into your washing machine and run it through the dryer the same way you would with a regular load of laundry.
The material built into the inside of this dog bed is made out of solid memory foam, helping to cradle your dog's body while sleeping. Pressure points are alleviated, temperature cooling materials make sure things don't get too hot or too cold. This all means your Goldendoodle will be able to enjoy great sleep whenever they pop onto the bed.
It's really not hard to see why so many people have fallen head over heels in love with this Goldendoodle dog bed specifically.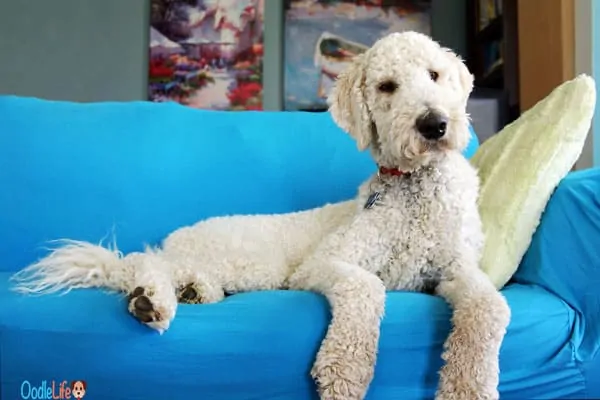 Ergonomic and Well Designed for Larger Goldendoodles
Furhaven Medium Orthopedic Dog Bed Two-Tone Faux Fur & Suede L Shaped Chaise w/ Removable Washable Cover - Stone Gray, Medium
DESIGNED FOR PETS: The bolstered L-shaped corner sofa design promotes ultimate comfort and security, providing high-loft orthopedic cushion support as well as a super cozy nestling and burrowing space...
SLEEP SURFACE: The main sleep surface is lined with cuddly soft, plush faux fur, while the supportive bolsters are wrapped in easy-care suede; both materials are gentle on noses and paws for enhanced...
EASY ON JOINTS: The egg crate orthopedic foam base helps cushion pressure points and improve air circulation, while the fluff-filled bolster railings support the neck, back, hips, and joints; both...
PRODUCT DETAILS: Stone Gray; Medium, 30" x 20" x 6" (3" Foam; Sleep Surface: Approx. 26.5" x 16.5")
AVAILABLE VARIANTS: The bed comes in Espresso, Dark Sage, Stone Gray, and Marine Blue; it's also available in Small, Medium, Large, Jumbo, and Jumbo Plus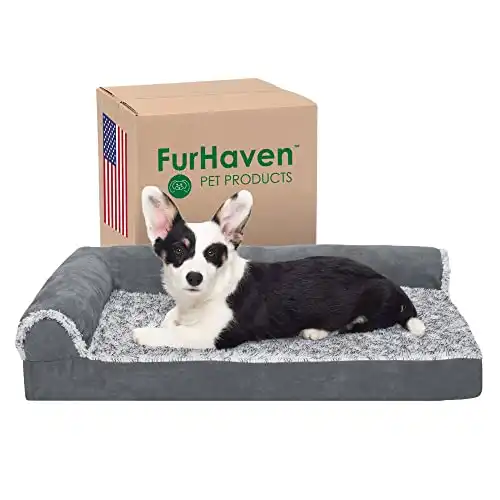 We earn a commission if you make a purchase, at no additional cost to you.
This dog bed is a perfect option for Goldendoodles that like to sort of sprawl out without feeling to tightly tucked in or confined. It is ideal for dogs that need a little bit of support against their back and a "pillow" that they can lay their heads on.
The L-shaped design of this bed with double bolsters provide that extra bit of security and stability. Each of the bolsters is made of high loft cushioned material that cradles and secures your dog without causing any discomfort and without adding any extra heat to the mix.
The exterior fabric is made with a super plush faux fur lining that is crazy soft, a coating that is gentle on your pet's skin, and one that isn't going to force them to shed faster than they might have otherwise.
This exterior fabric is also 100% machine washable and easy to take care of, a big bonus for those who want to keep the beds hygienic.
Finally, the orthopedic material stuffed into this bed is fantastic for dogs getting a little bit older. If your Goldendoodle has celebrated their fifth birthday already, you want to make sure that their joints and tendons stay loose and energized. This is precisely the kind of dog bed that will help you do just that.
Budget and Comfortable Snuggly Dog Bed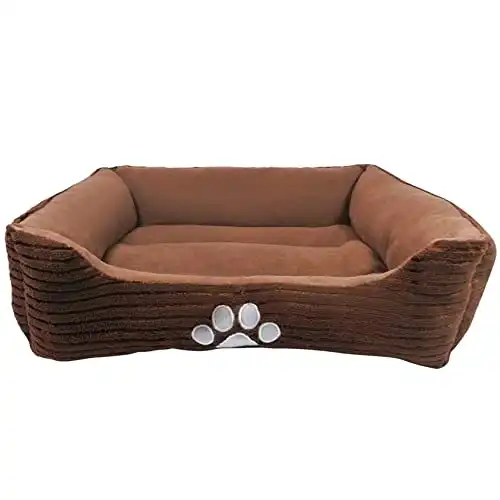 We earn a commission if you make a purchase, at no additional cost to you.
There are plenty of Goldendoodles out there that love to curl up and snuggle into their bed
Available in a couple of different sizes, this "four walls" dog bed option for Goldendoodles has been designed explicitly with curling dogs in mind. Dogs that like to feel safe, secure, and really comfortable will appreciate the four walls that this bed has – curling up in the middle and sleeping soundly knowing that they are protected.
The reversible exterior material is designed to be swapped out as the season's change. One side has a suede-like cloth, and microfiber feels intended for colder weather and the other side that's a little softer and a little more appropriate for warmer temperatures.
The interior materials of this dog bed are of high quality, 100% toxin-free, and similar to the same stuff you'll find in memory foam pillows for humans. Super inexpensive, easy to clean, and quite durable is a great dog bed to add if your budget isn't super robust.
Stylish and Minimalist – The Plush Ombre Dog Bed
MidWest Homes for Pets Deluxe Dog Beds | Super Plush Dog & Cat Beds Ideal for Dog Crates | Machine Wash & Dryer Friendly, 1-Year Warranty
Ultra Plush pet Bed: Gray Ombre Swirl deluxe dog bed & cat bed works great as a stand alone pet bed or can be used inside a 24 inch long dog crate to create a comfortable pet home
Perfect pet Bed for Extra Large Breeds: Ideal for dogs weighing 91 110 pounds, this pet bed measures approximately 46 L x 29 W x 4 H inches
Create a cozy den for your pet: Ultra Soft synthetic pet Bed provides additional comfort to Your dog's crate further enticing them to love using their crate
Stylish dog bed complements your home Decor: Ombre Swirl pattern & neutral gray color looks great in the Home
Easy maintenance pet bed: Machine washable & dryer friendly pet bed Includes a 1 year MidWest quality guarantee manufacturer's warranty
We earn a commission if you make a purchase, at no additional cost to you.
About as simple and as straightforward a dog bed as you are going to find on the market today. This particular option is also stylish and designed with larger dog breeds in mind – perfect for Goldendoodle owners, that's for sure.
Essentially just a mattress, with no bolsters, no walls, and no extra or ancillary "topside support." Simplicity is an excellent choice for dogs that love to sprawl out or for dogs that like to move around and change positions. The dog bed is also an excellent option for pet owners who want to put a great dog bed inside a crate.
Engineered to be soft and stable. The best thing about this Goldendoodle dog bed is that it can accommodate animals up to 110 pounds without any extra compression making the dog bed uncomfortable.
As long as your Goldendoodle weighs in at less than 110 pounds, the odds are excellent that they will feel real relief and support every time they lie down.
Machine washable and dryer friendly, you'll appreciate the fact that this option also includes a 12-month warranty. The company also has fantastic customer service and support should you need a replacement or a refund, so you can order this with real confidence.
Raised Goldendoodle Bed for Cooling and Extreme Temperatures
Coolaroo The Original Cooling Elevated Pet Bed, Nutmeg, Large
KEEPS YOUR PET COOL – Coolaroo's signature breathable fabric promotes and increases air flow on all sides of the bed, keeping your dog or cat cool and comfortable
RELIEVES JOINT PRESSURE POINTS - Off-the-ground design helps to eliminate hot spots and fabric flexibility creates low-impact areas to relieve joint pressure points
EASY TO CLEAN - simply hose off with water or wash with a damp towel - use mild cleanser for deep cleaning
100% RECYCLABLE - Fabric is 100% Recyclable GREENGUARD certified fabric: free of harmful lead and phthalate chemicals
PORTABLE & LIGHTWEIGHT - ideal for the home and travel. Suitable for both indoor and outdoor use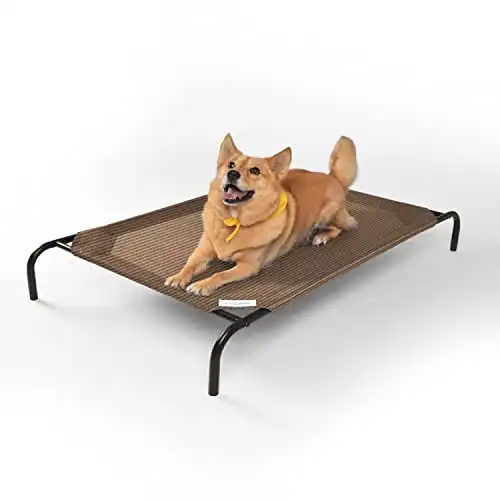 We earn a commission if you make a purchase, at no additional cost to you.
If your dog doesn't really love sleeping on a traditional dog bed set on the floor, consider a hammock style raised bed. You really won't find anything on the market better than this option.
This company has absolutely knocked it out of the park when it comes to raised dog bed options. They designed something that is super inexpensive, super durable, and beneficial to your dog's health and wellness. While keeping your Goldendoodle fresh, keeping them supported, and shaking things up a little bit in the traditional dog bed world.
This hammock-style option gently supports and cradles your dog off the ground. Being raised alleviates a lot of pressure that would have been pressing on their bones, muscles, joints, and tendons.
This design also supports much higher airflow when your dog is sleeping – and that helps to keep them cool when temperatures start to climb. Best of all, this whole unit is machine washable. Replacement covers can be purchased affordably. You can use this dog bed indoors as well as out with zero headaches or hassle whatsoever.
Easy to Clean – Anwa Machine Washable Dog Bed for Messy Goldendoodles
ANWA Durable Dog Bed Machine Washable Medium Dog Bed Square, Comfortable Puppy Dog Bed Medium
THOUGHTFUL MEDIUM DOG BED: Spoil your dog with this elegant designed dog bed. The bolstered sides provide ultimate comfort for dogs who love to cuddle, curl and snuggle while sleeping. The cozy...
FULLY WASHABLE MEDIUM DOG BED: Washable dog bed free you hands and allowing you to clean effortlessly. Frequent washing can avoid dirt and provide a comfortable and clean bed for your dogs. Portable...
NO-SLIP BOTTOM DOG BED: More than 20 dots per square inch at the bottom, high density rubber dot shall prevent the large dog bed from sliding during rambunctious play with a favorite toy or a crazy...
COMFORTABLE and SOFT FABRIC DOG BED: Cozy large dog bed is made of soft fabric, non-toxic and environmental friendly. Stuffed with eco-friendly PP cotton, cozy beige plush provides an ideal sleep...
7 - 24 HOUR ONLINE SERVICE: Soft dog bed is not only a comfortable bed, but also a seamlessly décor to your home. Machine cold wash, tumble dry below 110℉, avoid direct-sun exposure. More...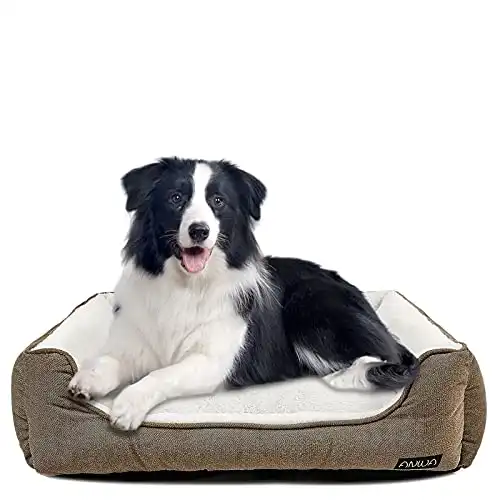 We earn a commission if you make a purchase, at no additional cost to you.
Anytime you have a bed specifically for your Goldendoodle – or any dog, really – you know that it is inevitably going to start to stink a little bit. That's just the beast's nature when our furry small family members are spending a lot of time on cloth and fabric.
With this dog bed, though, washing and drying things has never been more uncomplicated or straightforward.
The entire dog bed is 100% machine washable and machine dryable, allowing you to pitch the whole thing into your laundry machines without any worry.
This cuts down on the amount of time you spend cleaning and maintaining these dog beds. Still, it guarantees a more sanitary and hygienic sleeping platform for your dog as well.
This simple cleanable option is top-notch because it combines some high-quality materials (including memory foam materials), environmentally friendly PP cotton choices on the exterior, and a variety of different sizes designed to accommodate all kinds of dogs. This is perhaps the ideal dog bed for large Goldendoodles.
This belongs right up there amongst the best of the best options as far as top-quality dog beds are concerned.
Goldendoodle Dog Bed Conclusions
At the end of the day, you really can't go wrong with any of the choices we have highlighted above.
If you're serious about making life a little easier for your dog, or just want to pamper them a little more. Take a closer look at the best dog bed for Goldendoodle options
.