Best Heavy Duty Dog Crate for Escape Artists (2023)
From creating a safe, familiar space for your dog or preventing destruction around the house, crate training can offer many benefits for pets and their owners.
However, not every dog loves spending time in their crate. Anxious or energetic dogs can chew through weak spots in flimsy wires or use their strength to destroy their crate. Some of the smartest dog breeds, like Poodles and Goldendoodles, can even learn to unlock their crate door when you're not home.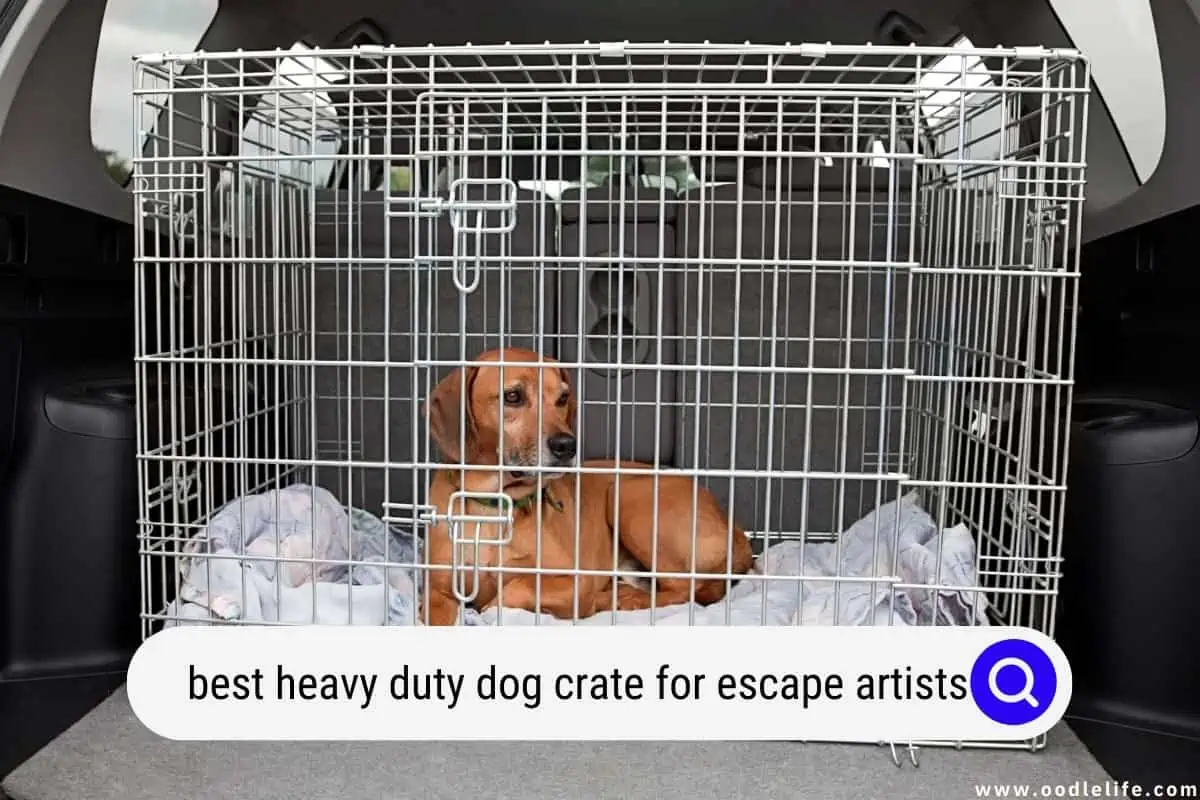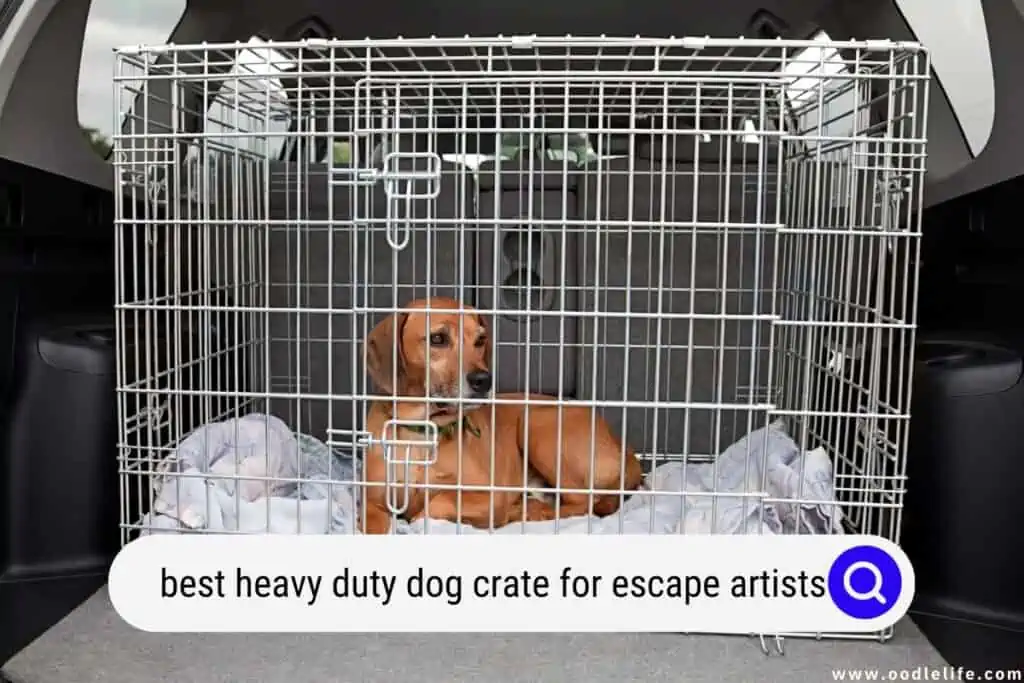 Luckily, if you've found yourself dealing with an escape artist, you have plenty of options for finding a crate that will keep your pet safe, secure, and comfortable.
We've gathered six of the best, most durable heavy-duty dog crates that not even the most determined dogs will be able to escape.
What To Look For When Buying a Heavy Duty Dog Crate?
Keeping your pet safe, happy, and healthy is crucial to any pet owner. So before we get into the best heavy-duty dog crates, here are some key considerations that will help you find the right cage for your pet.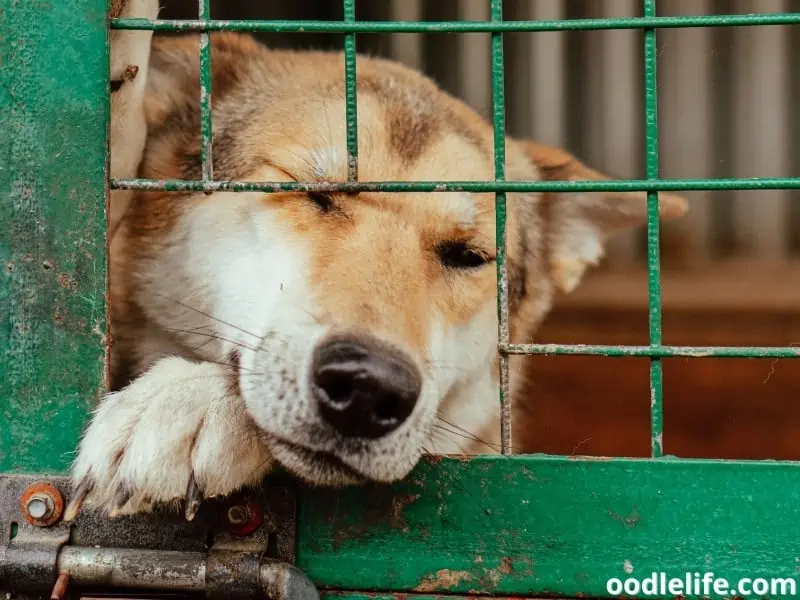 Material
If your dog loves to chew, the traditional wire or plastic cages aren't going to be enough to prevent them from escaping.
Indestructible, heavy-duty dog crates are made from durable materials resistant to wear and tear caused by anxious and energetic dogs. You'll want to watch for crates made from steel or reinforced metal.
Many of the crates in this guide also use a non-toxic rust-resistant finish for extra durability. While these heavy-duty crates are pricier than conventional dog cages, buying a sturdy, durable cage guarantees long-term use and helps prevent even more costly damage around the house.
Size
Crate size is one of the most important factors when finding the right cage for your dog. The crate you choose should be big enough for your pet to turn around and lie comfortably. 
Most heavy-duty crates we've selected come in various sizes, so you can find the perfect crate no matter what breed you have. From small to extra large dogs, these indestructible crates ensure that every dog is comfortable and secure.
Convenience
While heavy-duty crates are ideal for preventing escapes, they can also be heavy and difficult for pet owners to manage.
Despite the heavy materials used in these crates, added features such as integrated wheels, removable trays, and foldable designs guarantee hassle-free travel and cleaning.
Best Heavy-Duty Dog Crate
Now that you know the key factors, here is your guide to the best heavy-duty dog crate:
1. LUCKUP Heavy-Duty Dog Cage
If you're looking for a crate guaranteed to last, the LUCKUP Heavy-Duty Dog Cage is a fantastic option.
With a 38-inch and 42-inch crate option, LUCKUP cages are large enough to accommodate most medium to large dog breeds comfortably. And with strict quality checks and a non-toxic finished surface, you can enjoy peace of mind knowing that your dog is safe and secure in their crate.
While large, anxious dogs can easily chew through other cages, this heavy-duty design uses bite-resistant technology and sturdy, corrosion-resistant industrial steel to prevent damage to the frame. The crate has two locks with safety buckles to prevent nervous, high-energy dogs from manipulating the latch and escaping.
Other features include:
A double door design for easy in and out
Fast and easy assembly
360-degree wheels that can be locked in place
A removable plastic tray for easy clean-up
If you're having trouble getting a large, anxious dog used to being in a crate, this sturdy, bite-resistant cage might be the perfect solution.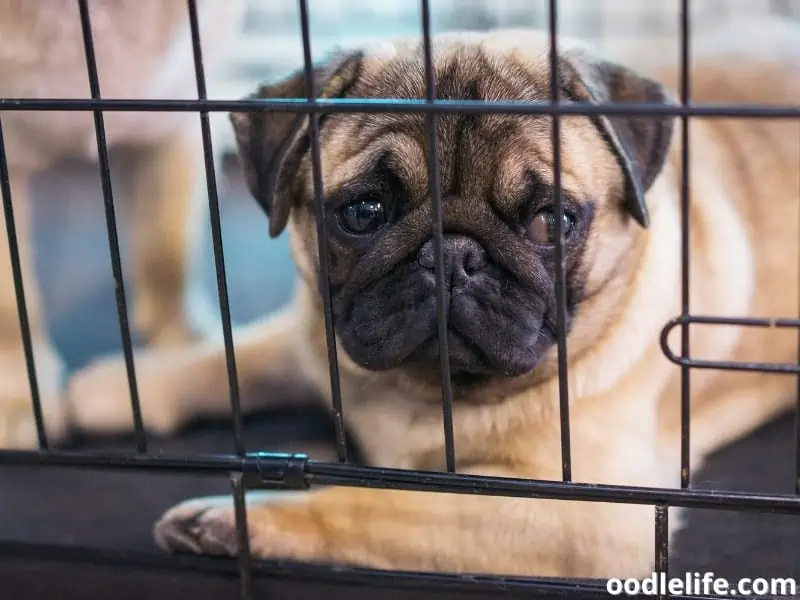 2. ProSelect Empire Dog Cage
With a 20-gauge steel design and reinforced .5-inch steel tubes, the ProSelect Empire Dog Cage is one of the most durable and indestructible dog crates you can find on the market.
ProSelect Empire Cages - Medium
Dimensions: 33.75" H x 37" W x 25.13" L | Bar Spacing: 2.25''. Inside dimensions-35¾ L x 23½ W x 24½ H inches
20-Gauge Steel Cage – This ProSelect Empire dog cage is extremely strong with reinforced 0.5-inch diameter steel tubes and 20-gauge steel
Medium-Sized Cage – (26 - 40 lbs)
Floor Grate With Tray – Cleanup is easy with this ProSelect dog cage because of its grated floor with tray
Removable Casters – You can attach casters to the bottom of the cage to allow for easily rolling the cage to other locations or leave the casters off for added stability.Durable Dog Cage – The...
We earn a commission if you make a purchase, at no additional cost to you.
If you have a highly anxious escape artist, this heavy-duty cage might be your best option. Along with the reinforced steel design, this cage also comes with strong welds at vulnerable stress points, resistant dual latches, and a hammer-tone finish that can withstand any escape attempt.
This crate comes with a floor grate and steel tray for easy and convenient cleanup. And with a medium and large size option, this is a great choice for any dog up to 70 pounds.
While the reinforced, heavy-duty construction ensures that your dog is safe and secure in their cage, it also makes this cage a much heavier option than some of the other crates on this list. However, the crate does come with removable casters for added portability.
This cage also starts at a higher price point than some of your additional options, so you might want to consider another crate if you're looking for a lightweight and budget-friendly option. But with impressive durability and security against even the most energetic dogs, we think this heavy-duty cage is worth the price.
3. ECOFLEX New Age Pet Dog Crate
Determined dogs can often escape by finding weak spots on conventional, flimsy wire or plastic cages. The ECOFLEX New Age Pet Dog Crate combats this problem with a unique, durable design, stainless steel tubing, and secure latches.
New Age Pet ecoFLEX Pet Crate/End Table, Medium, Espresso
Elegant way to house your pet while disguising the pet crate as a fashionable piece of furniture that can double as an end table
Made of ECOFLEX, a non-toxic recycled plastic-wood polymer composite material that won't warp, crack or split
Spindles made of stainless steel tubing and a stainless steel latch; double latches on large and x-large crates
Easy, no-tools assembly
For dogs up to 50 lbs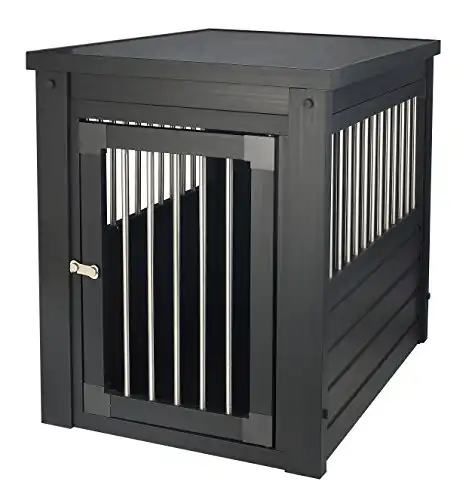 We earn a commission if you make a purchase, at no additional cost to you.
This long-lasting cage is made from ECOFLEX, a non-toxic plastic-wood polymer designed to prevent any cracks or damage with use. Along with providing a safe and secure space for your pet, ECOFLEX doesn't absorb moisture or odor, allowing easy clean-up.
The New Age Pet Dog Crate comes in four sizes – small, medium, large, and extra-large – so dogs up to 100 pounds can enjoy this safe and secure hangout. The large and extra-large crates also come with double stainless steel latches to prevent even the strongest dogs from escaping their crate.
While your puppy will love the comfortable design and excellent ventilation, you'll enjoy the quick and simple assembly and lightweight build.
Not only does this serve as an effective heavy-duty dog crate, but this purchase doubles as an end table with a removable table top. And with four different colors to choose from, you can show off your sense of style while knowing your pet is protected when you leave the house.
Durable, heavy-duty cages are often pricey, but the ECOFLEX New Age Pet Dog Crate offers an affordable option without sacrificing quality. We recommend this reliable choice if you're looking for the most value for your money.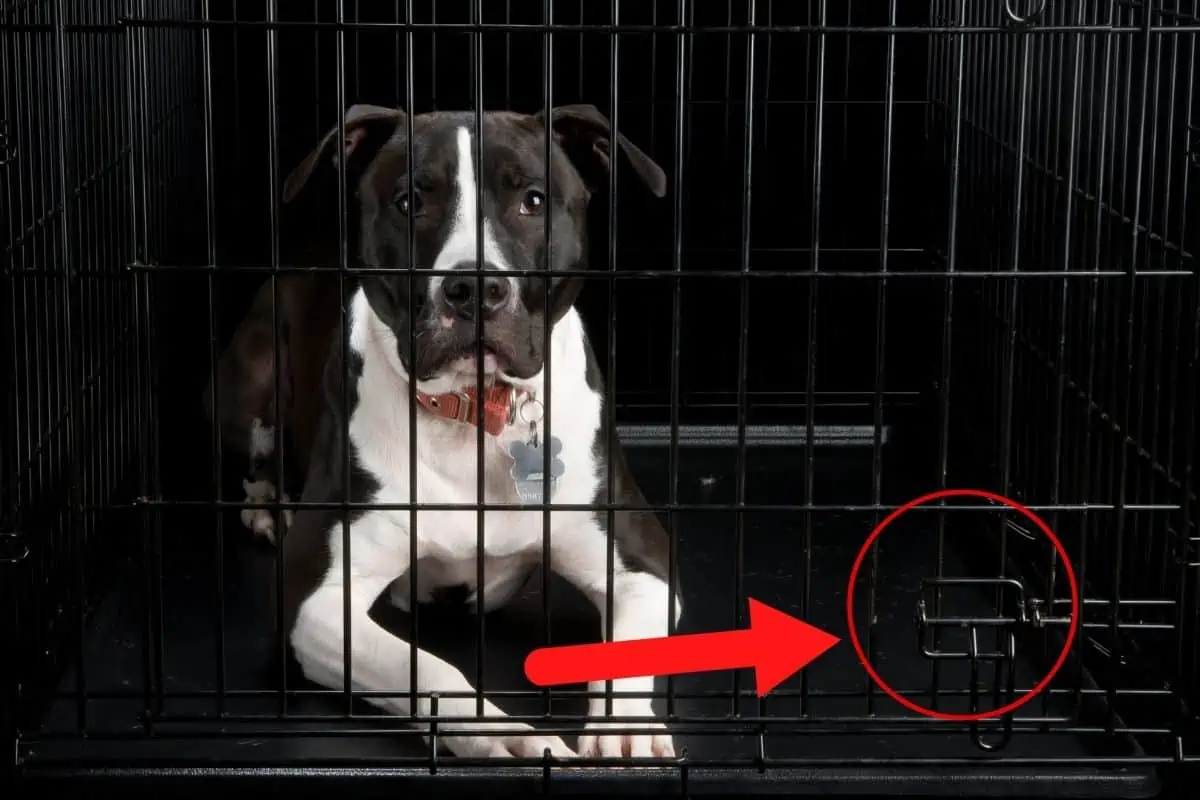 4. Pet Gear The Other Door Steel Crate
The Other Door Steel Crate is perfect for on-the-go pet owners that want to guarantee safety and comfort for their dog in any situation.
Pet Gear The Other Door Steel Crate - Tan/Black - 36"
Measures 36.5" by 24.5" by 27.5" | For pets up to 70-pound
4 doors, including the large side door that opens up and out of the way like a garage door
Color-coordinated plush bolster bed included for your pets comfort
No tools needed to set up or fold down and includes storage bag for easy transport
Rounded corners and no exposed steel edges protect you and your pet from sharp edges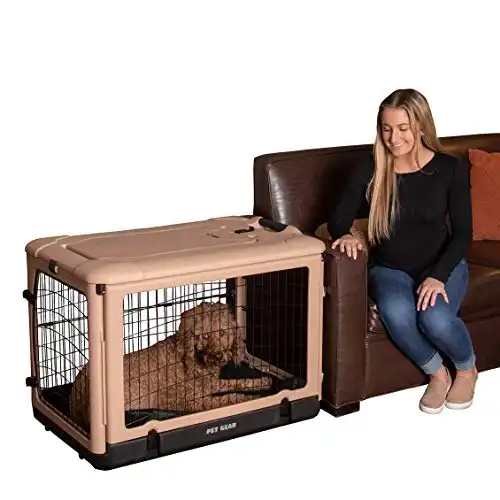 We earn a commission if you make a purchase, at no additional cost to you.
This heavy-duty cage is made from durable low-mold plastic designed to hold pets up to 70 pounds comfortably. Along with this sturdy construction, the crate has an insulated base designed to resist cracks and damage in cold weather.
One major benefit of Pet Gear's crate is the four doors, including two side doors, a large sliding garage door, and a top door for easy access to your animal. There are also rounded corners for extra safety.
Another feature that makes this crate stand out is its effortless portability. The crate includes integrated wheels and a built-in handle and can even fold flat for trouble-free storage or travel.
While The Other Door Steel Crate is a bit pricier than other heavy-duty crate options, your purchase does include additional accessories such as a plush fleece pad and a convenient travel bag.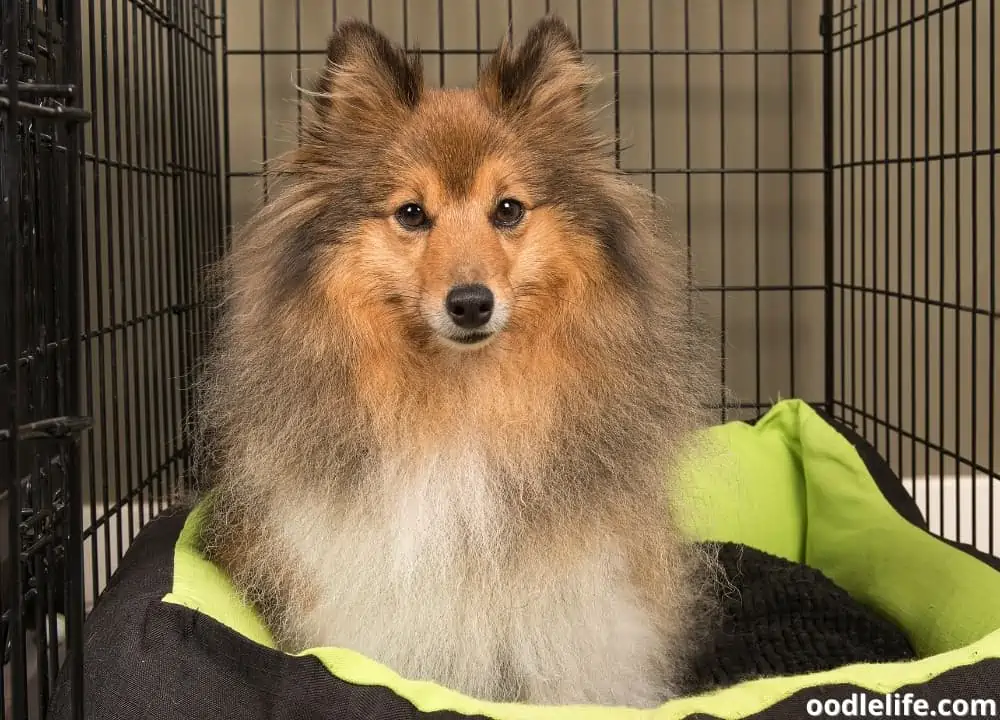 5. SMONTER Heavy-Duty Dog Crate
SMONTER's mission is to create a warm, safe space for pets through strictly checked products, and the company's durable, Heavy-Duty Dog Crate is the perfect product to help them reach this goal.
The .85-inch reinforced steel pipe design and two patented security locks guarantee that even the toughest dogs can't escape from this crate. The strong metal frame is built to last and is covered with a hammer-tone coating that resists rust, corrosion, and scratches.
If your dog chews or licks its crate, you won't have to worry about any hazardous materials. SMONTER uses safe, non-toxic materials to protect your dog's health. The frame offers exceptional ventilation and visibility for extra comfort and peace of mind.
The SMONTER Heavy-Duty Dog Crate also includes a range of features designed to make crate time easier for pets and their owners. These include:
A slide-out plastic tray for easy cleaning
A simple 10-minute set-up and installation
360-degree locking casters
A folding design for simple storage
An open-top skylight
This crate comes in 38 and 42 inches and can hold most medium to large dogs. You can even purchase this cage risk-free, as SMONTER promises that it will resolve any quality or bite issues found within the first three years of your purchase.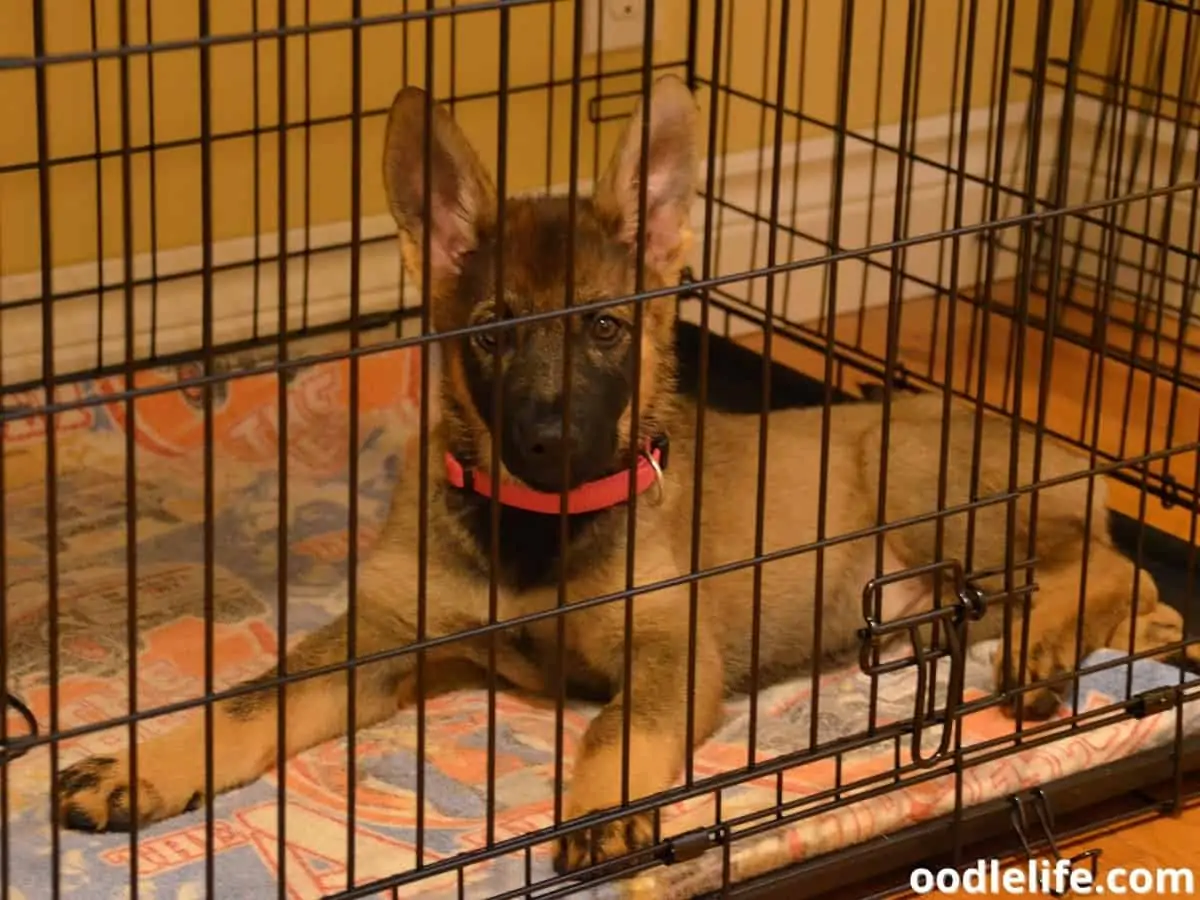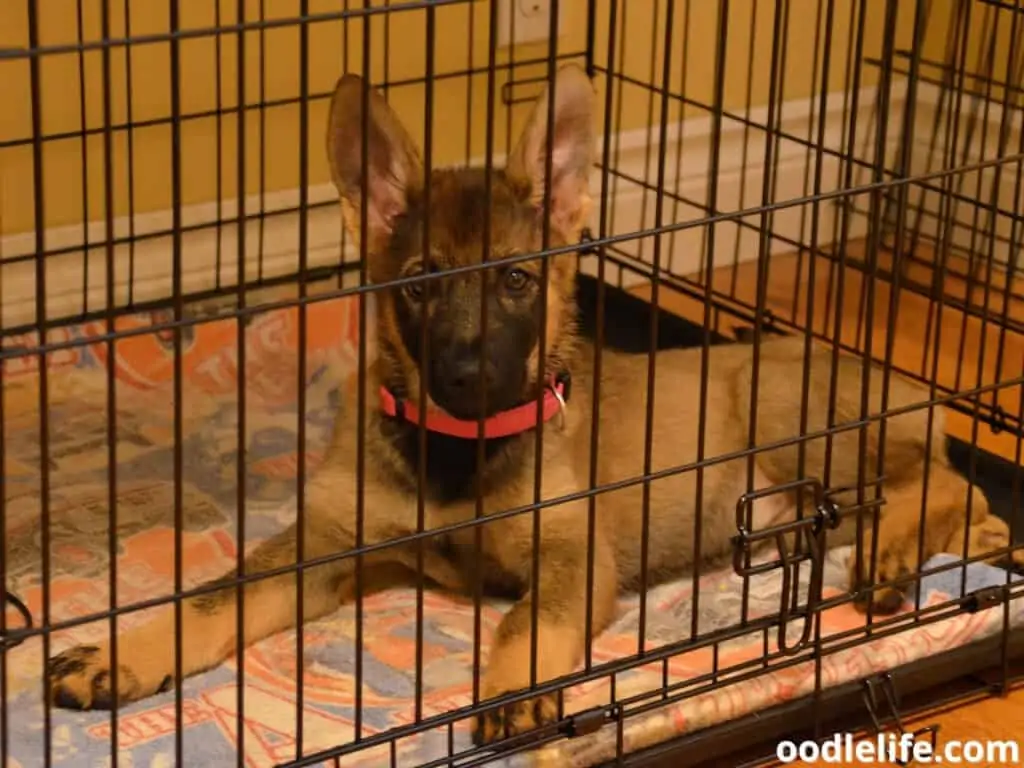 6. SmithBuilt Heavy-Duty Dog Crate
If you're looking for a more affordable, budget-friendly option, SmithBuilt offers a heavy-duty dog cage perfect for energetic dogs. This crate utilizes commercial-grade steel and reinforced 20-gauge tubes to ensure an ultra-durable construction that lasts through years of heavy use.
SmithBuilt 48" Extra Large Heavy-Duty Dog Crate Cage - XL Two-Door Indoor Outdoor Pet & Animal Kennel with Tray - Black
Premium-grade construction: Commercial-quality steel construction provides a heavy-duty, solid framed pet crate expertly crafted and designed to keep pets safe and comfortable. Built-to-last, animal...
Convenient two-door design: Great for puppies, growing pets, and energetic breeds; this kennel features both top and side door access. The front door locks with two slide-bolt latches, and the crate...
Rolling with locking wheels: Includes four rolling casters for easy transfer from room to room. Two wheels have locks to prevent accidental movement and keep your cage securely in place.
Rust & corrosion-resistant: Featuring a multi-layer, protective hammer-tone coating that resists rust, corrosion, and fading, this cage is suitable for both indoor and outdoor use
Removable pan for easy cleaning: Tray is stain and rust resistant and won't retain pet odors. Grated design allows for any soiling to drop to the lower pan to maintain a clean environment for pets....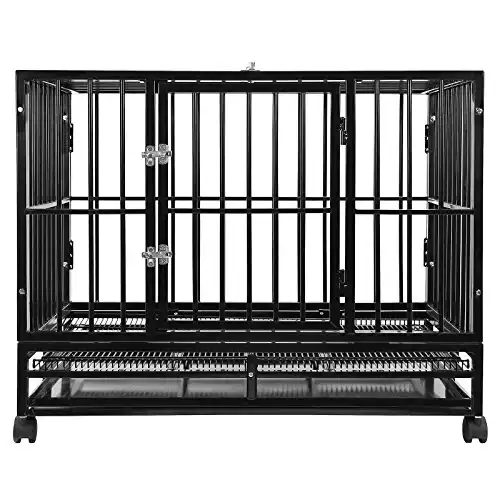 We earn a commission if you make a purchase, at no additional cost to you.
The design is simple and convenient and includes both side and top door access, two strong slide-bolt latches, and a removable, easy-to-clean pan. The sturdy, reinforced frame is also finished with a resistant hammer-tone coating to prevent rust and corrosion throughout indoor or outdoor use.
While the cage is relatively heavy, it comes with four rolling casters for easy transport throughout the house. This SmithBuilt cage comes in three sizes – 36, 42, and 48 inches – so you can find extra security and convenience even for extra-large dog breeds.
Final Thoughts
If you've ever come home to an open crate and chewed-up furniture, you know how frustrating flimsy, unreliable dog cages can be.
No matter what breed you have, these six heavy-duty dog crates offer peace of mind knowing that your dog will stay safe and comfortable, even when you're not around.
With durable, long-lasting designs, these cages are guaranteed to keep any persistent escape artist from making another getaway.