The Top 6 Best Shampoo for Goldendoodles
Let's not beat around the bush, – these are the four best shampoo for Goldendoodles on the market. Detailed reviews are below.

There are two runner-ups reviewed below that are also excellent Goldendoodle or Groodle shampoos.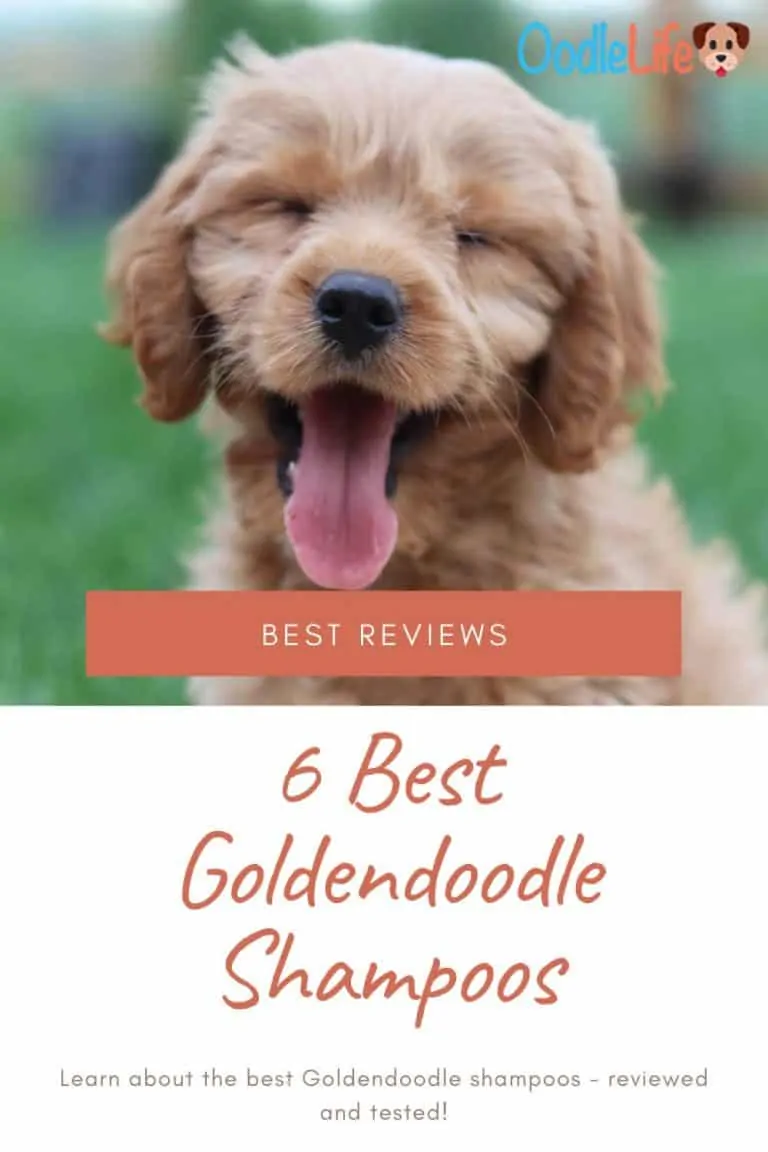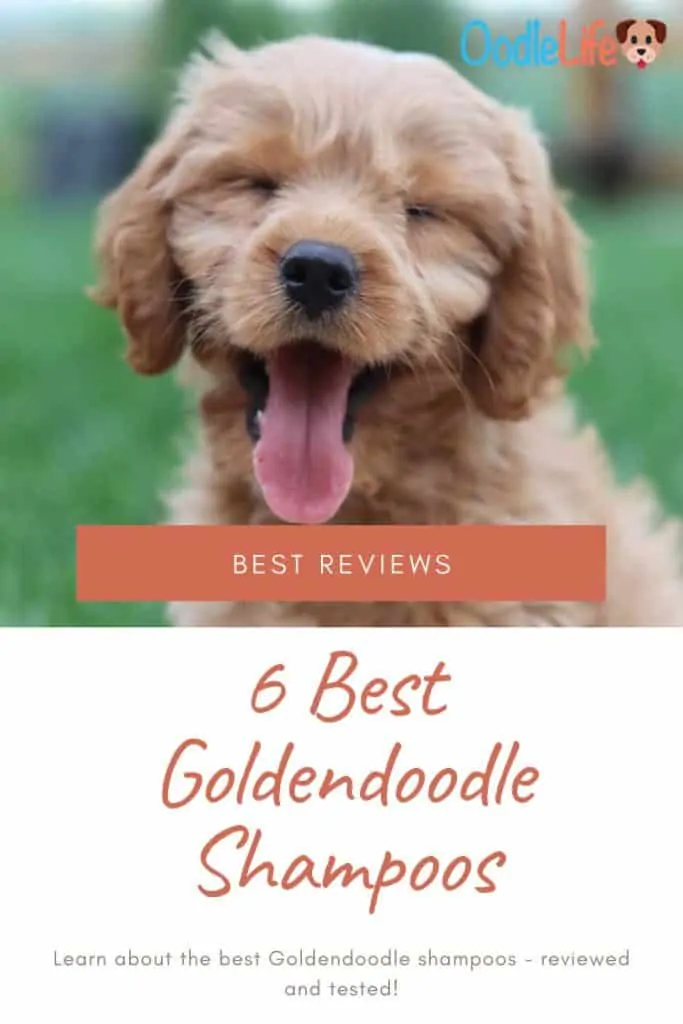 Goldendoodles have beautiful and thick coats. They are soft and typically non-shedding. These range from clear white to rich golden or even brown chocolate. This breed has an iconic coat. Your Goldendoodle deserves the best-reviewed and quality advice and products. 

Finding the best Goldendoodle shampoo on the market is important. In this detailed review article, we will cover all the elements of bathing and shampooing the beautiful Goldendoodle coat.

Using the correct shampoo will protect and shine the Goldendoodle fur regardless of the type of coat. All generations of Goldendoodle require excellent coat care to prevent knotting and trouble. Even super low shedding F1b generation Goldendoodles will require regular grooming.

If you pick the correct shampoo, at-home Goldendoodle grooming and bathing are much easier.

By consulting and surveying groomers, trainers, and actual owners of Goldendoodles and Groodles we have picked and tested the six best Goldendoodle shampoos for adult dogs and puppies.

Our impartial top 6 recommendations are reviewed in detail to give you all the details needed to make an informed decision.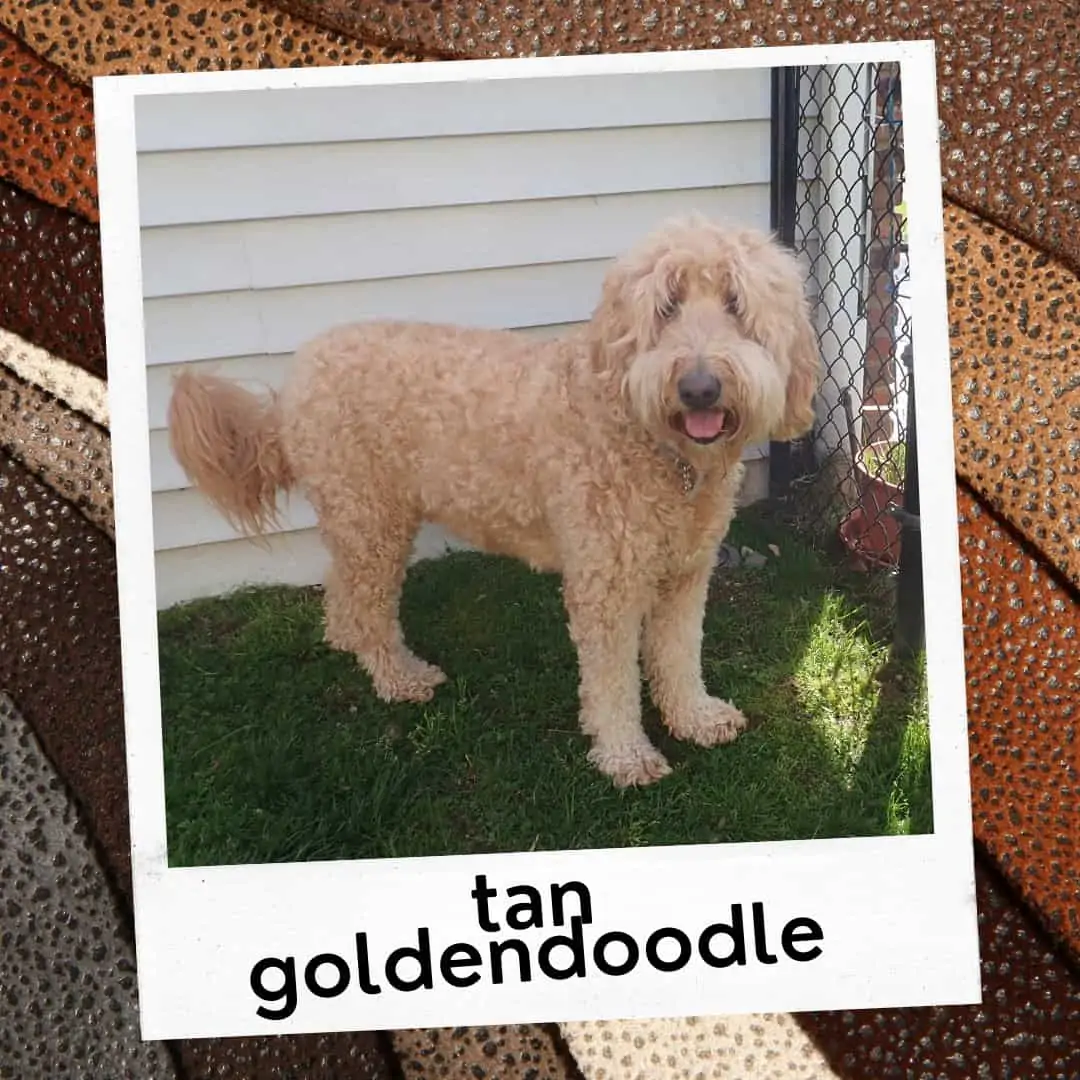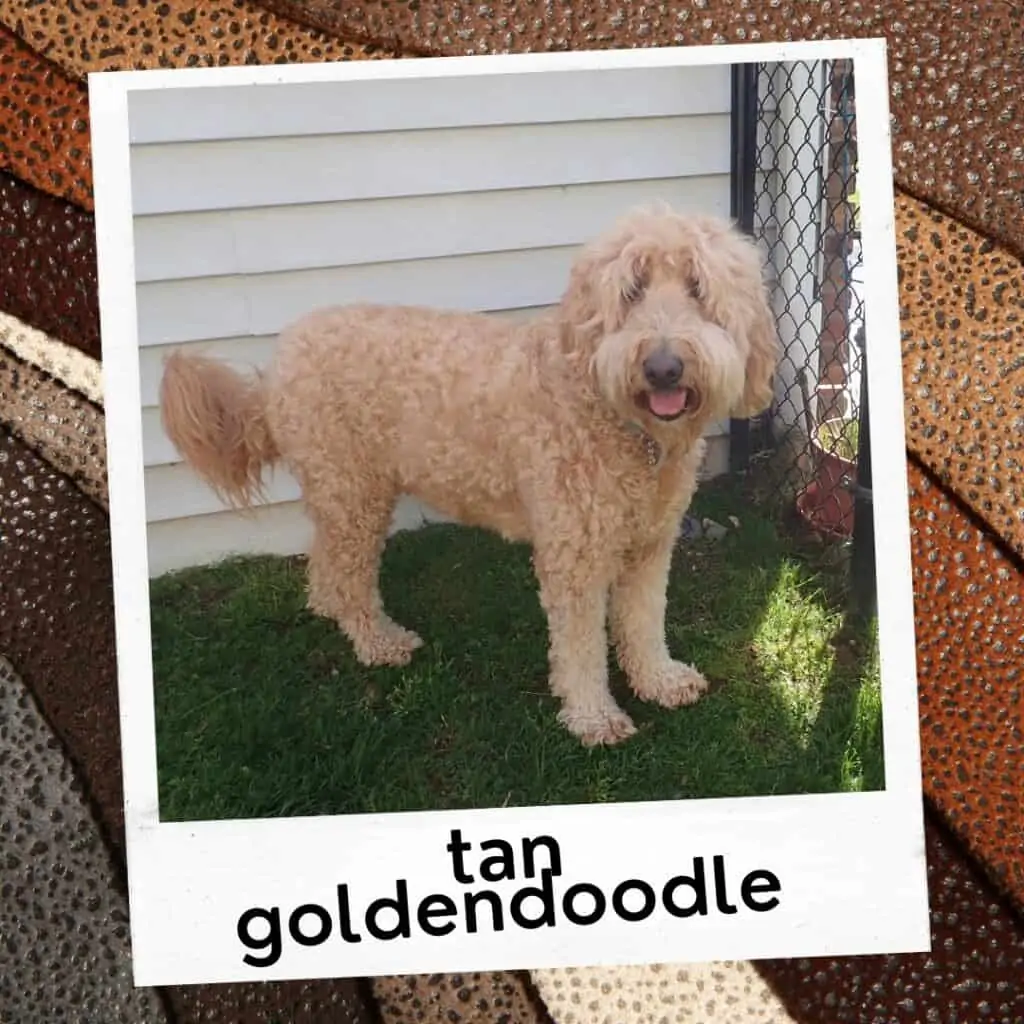 Strategies For Appropriate At-Home Goldendoodle Coat Care
Every 3-6 weeks is an appropriate timeframe to bath most Goldendoodles. 
Individual Goldendoodle dogs may need more or less frequent baths or showers

This will mostly be influenced by the amount of natural protective oils the Groodle coat produces
The oil does protect the coat, but if your Goldendoodle produces an excess of coat oil then you will end up with a smelly problem
If your dog plays in mud or dirt often, bacteria can grow on the coat which can give rise to a smelly Goldendoodle
It is vitally important to avoid over bathing your Goldendoodle

The easiest way to have a significant impact on your Goldendoodle coat is to ensure a balanced and varied diet

A shiny and healthy coat can be significantly influenced by nutrition
Studies have found that Omega-3 containing pet food can contribute significantly to the overall health of the Groodle coat
Choosing healthy appropriate snacks for your Goldendoodle including training treats will have an influence on the coat
Improving the diet of the Goldendoodle is said to have a positive impact on coat appearance in a matter of weeks
Best Shampoo for Goldendoodles
There are many dog shampoos and conditioners available. By surveying Goldendoodle owners and groomers we identified which Goldendoodle shampoos to test. Once our wash testing was complete we narrowed the field to 6 amazing shampoos for Goldendoodles. Each of these shampoos will work very effectively for most Groodles.
If your dog has specific requirements due to allergies or skin trouble, some of these shampoos will be more effective for your dog. These are listed clearly to give you the best Goldendoodle shampoo and conditioner for your puppy.

Oodle Life is impartial and is not affiliated with any brands or organizations. I took a deep dive on Goldendoodle shampoo and conditioners. We surveyed both owners and groomers to get their advice. Links to Amazon are affiliate links and may result in a small commission on the purchase – at no additional expense to you.

The Very Best Shampoo For Goldendoodles
The best shampoo for Goldendoodles reviewed in 2020 is Natural Dog Shampoo with Colloidal Oatmeal (Lavender Oil Edition). The brand has a stellar record of producing high-quality dog shampoos and conditioners for all breeds. The popularity of this item is universal, and the reviews are consistently high.
Natural Dog Shampoo with Colloidal Oatmeal
Price

Gentle To Skin

Cleaning Power

Fragrance
Summary
COLLOIDAL OATMEAL SHAMPOO for dogs & puppies with sensitive skin. Designed to be hypoallergenic & extremely soothing for your dog's flaky dry skin using natural ingredients such as jojoba. Our clinical strength shampoo protects & combats skin irritation on your dog's fur.

ENHANCED WITH LAVENDER essential oil our formula is extra calming. Lavender has a homeopathic comforting effect making him easier to bathe and control his dog odor.

VET RECOMMENDED clinical formula using pure high quality ingredients for an extra strength cleanse and odor remover. Our ingredients restore essential oils while combating skin irritants. This shampoo is a must for tear free pet care.

SAFE AND EFFECTIVE pet care with all Natural Lavender Oatmeal Pet Shampoo for dogs is extremely gentle and effective. It is more effective for dog's sensitive skin than other options on the market.

SATISFACTION GUARANTEED – Manufactured in a state-of-the-art facility in the USA
Check Price and Reviews on Amazon
Pros
Hypoallergenic and soothing to skin
Designed to ease any flaky or dry skin
Colloidal Oatmeal (a winner ingredient)
Small and pleasant Lavender fragrance
Appropriate pH
Tear free and will NOT irritate the skin
Sulfate free
Actively softens the fur
Cons
Very few downsides to this reasonably priced premium product
Lavender oil can smell if shampoo leaks in storage
The ability of this shampoo to clean the iconically dense Goldendoodle fur is really impressive. It is suitable for all Goldendoodle coat types from curly, to wavy. Even shedding straight coats will benefit from its deep cleaning ability.
It is truly impressive to see how well this shampoo consistently cleans Goldendoodle-type coats given how natural and soothing the ingredient list is.
The shampoo does not soap up too much – but easily forms a great lather. It feels good in the hand and you can feel the soothing elements that protect your Goldendoodle's skin. You don't need to use bucketloads of product either – which is great.
This is a premium level product at a reasonable price point. It is not cheap enough to waste without purpose. Luckily you don't need heaps to get a thorough clean. For regular at-home grooming, it is perfect.
I really liked the smell of the dog after cleaning with this natural shampoo. It was not too strong, and the fresh smell lasted for days.
Check Price and Reviews on Amazon
Best Shampoo for Goldendoodle Puppies

The Japanese Cherry Blossom scented Nootie puppy shampoo is a Goldendoodle owner favorite. It is remarkably gentle and has the best scent and fragrance of any Goldendoodle puppy shampoo on the market. It is wildly popular for many years!
Nootie Pet Shampoo (Japanese Cherry Blossom)
Price

Gentle to skin

Cleaning Power

Fragrance
Summary
The exotic scent of Japanese Cherry Blossom combined with Rosemary stimulates the senses while promoting a healthy soft coat. Rosemary stimulates the hair follicles, resulting in a strong healthy coat.
It is made with natural ingredients and is soap and paraben free. No sulfates or harsh chemicals for gentle cleansing
It's long lasting fragrance remains on your pet for days. Safe to use along with topical flea & tick products
Check Price and Reviews on Amazon
Pros
Natural Ingredients
Paraben free
Soap free
Safe with flea and tick products
Cons
Although cost effective, not the cheapest option
Popular scent might not be for all
You're gotta smell this shampoo to believe it! It really is the best shampoo for Goldendoodles puppy's. It is so popular in Goldendoodle (and other Poodle Mix) forums and groups. Owners love this product. The shampoo strikes an excellent middle ground between cost and premium hypoallergenic ingredients.
Check Price and Reviews on Amazon
Best Value Shampoo for Goldendoodles

If you are looking for the best value and cost-effective clean, you need to consider Wahl's Dry Skin & Itch Relief Pet Shampoo for Dogs – Oatmeal Formula with Coconut Lime Verbena. The famous grooming and haircare brand have been making USA-based pet shampoos for a very long time.
Wahl Dry Skin & Itch Relief Pet Shampoo for Dogs – Oatmeal Formula
Price

Gentle To Skin

Cleaning Power

Fragrance
Summary
Made in the USA – Our oatmeal formula pet shampoo is pH balanced, alcohol free, paraben free, PEG-80 free and is highly recommended for moisturizing dry skin & providing itch relief

Oatmeal Formula – This coconut lime verbena scented pet shampoo is great for moisturizing dry skin, cleaning dirty coats, & itch relief. The thick lather rinses off clean & keeps your pet looking and smelling clean

Less is More – Wahl has a higher concentrate of coconut derived sodding agent, which means you don't have to use as much as other dog shampoos. A little bit of shampoo goes a long way and provides a rich lather that's easy to rinse off

Allergy Friendly – Our dog icon, Rocket, was designed in the image of our family dog Cooper – a golden doodle, who has severe allergies. This is the only shampoo we have found safe and effective. He loves the smell too!

The Brand Used by Professionals – Wahl has been serving professional vets and groomers for over 50 years. clean, condition fur & hair for a smooth, soft coat.
Check Price and Reviews on Amazon
Pros
USA Made
Contains Oatmeal, Aloe and other soothing natural ingredients
Itch relief formula
Concentrated formula means more washes from less Shampoo
Combination of shampoo AND conditioner to save hassle
Paraben free and pH balanced
Cons
Not medicated, some dogs will require further treatment if itchy
Best value comes from buying the larger quantities but this means more initial spend to save over time
A thick consistency (as it is a concentrate) which might confuse some
Even if this bargain product was sold to the public at a higher price, this shampoo would still make our list of best Goldendoodle shampoo and conditioner recommendations. The soothing aloe, coconut, and oatmeal formula is a winner for all skin types. It really delivers for dogs with allergies and soothes and provides a foundation for repair (through gentle moisture).
The highly concentrated (and therefore very thick) shampoo goes a LONG way. It results in pretty incredible ROI (return on investment) for a groomer-level Goldendoodle shampoo.
You can get luxurious Goldendoodle coats through at-home grooming using a product like this Wahl shampoo.
Check Price and Reviews on Amazon
Best Shampoo for Goldendoodle with Allergies

Bert's Shampoo for dogs (Bert's Allergy Shampoo for Puppies) is a classic of the puppy shampoo circuit. For at-home cleaning for dogs (of all ages) who suffer from allergies – Bert's is a widely available and much-beloved product.
Burt's Bees All Natural Oatmeal Shampoo & Conditioner for Dogs
Price

Gentle to Skin

Cleaning Power

Fragrance
Summary
MADE WITH THE HIGHEST QUALITY INGREDIENTS — This gentle formula includes ingredients like colloidal oatmeal, honey, and beeswax for sensitive skin
DIRECTIONS — Apply to dog's wet coat. Work from head to tail and rinse, carefully avoiding eyes. As is typical with natural formulas, this shampoo will only have a light lather
SUITABLE FOR ALL DOGS AND PUPPIES — This mild tearless shampoo is pH balanced especially for all dogs and puppies
100% SAFE — Veterinarian recommended formula, free of fragrances, sulfates, colorants, and harsh chemicals
Check Price  and Reviews on Amazon
Pros
Safe and Veterinarian approved
High quality colloidal oatmeal
Natural ingredients
Inoffensive smell
Cons
May need some further coat products for ultimate shine
If your Goldendoodle has allergies, this is the top choice shampoo for you. You need natural ingredients – and Bert's delivers these in spades. In fact, 97% of the ingredients are natural.
The whole product is pH-balanced and moisturizes your dog's skin. This soothes and protects. There are no artificial fragrances, colors or sulphates in the product,
Two runner up Goldendoodle shampoos (that are still great!)

These other two runner-up Goldendoodle shampoos are still great options. You will not go wrong with any of our top six recommendations of the best Groodle shampoo and conditioners.
Buddy Wash is made in the USA and very suitable for both adult dogs and puppies. The ingredients are natural and it has lovely smelling botanicals. This is a great option if you have a larger dog or puppy and are looking to buy a high-quality dog shampoo in cost-effective larger sizing.
Check Price and Reviews on Amazon
If you have a really smelly Goldendoodle, This shampoo might be for you. it has the usually natural ingredients, but also a big hit of odor eliminating cleaning agents. It is a strong and effective option for a particularly smelly Goldendoodle.
Check Price and Reviews on Amazon

7 Cool Ideas To Make Your Goldendoodle Puppy Enjoy Bath Time
Goldendoodle dogs love water, and just like Bernedoodles, they enjoy swimming. Not all puppies and dogs love bathtime. Here are a few little tips and tricks that owners and groomers find help make Goldendoodles enjoy bath time more.

Use warm water to wash your Goldendooodle. This seems a little like a no-brainer but it pays to be kind and use warm water when bathing your dog.
A little touch of luxury can come about by warming a towel for your dog. What puppy wouldn't love a dry warm towel! You can use the dryer for a few minutes or even a towel warmer.
If you need to groom or brush your Goldendoodle, do this before bathing the dog. It is much more difficult to get out knots and tangles once the dog is wet – even while drying. Make life more comfortable for your Goldendoodle by getting this out of the way before the water is switched on.
Use shampoos that are soothing to the skin for your dog. Pick one of the shamoos from our list or alternatively test your dog shampoo on your own skin before applying it to the puppy
Remember to pat the shampoo onto the Goldendoodle rather than rubbing it. The gentler you are, the less tangles later. Less tangles also means a happier dog when it comes to brushing time.
Consider switching to showering your Goldendoodle instead. If your dog HATES baths, they might actually be more comfortable in the shower! This of course only works in large showers or open plan bathrooms. Be careful as wet tiles are slippery for both you and the dog.
You don't have to use a hair dryer or blow dryer. If you live somewhere warm enough you can let your Goldendoodle dry with a simple towel dry and time. You will need to brush once the coat is completely dry. Either way be careful when using a towel not to tangle the Groodle fur.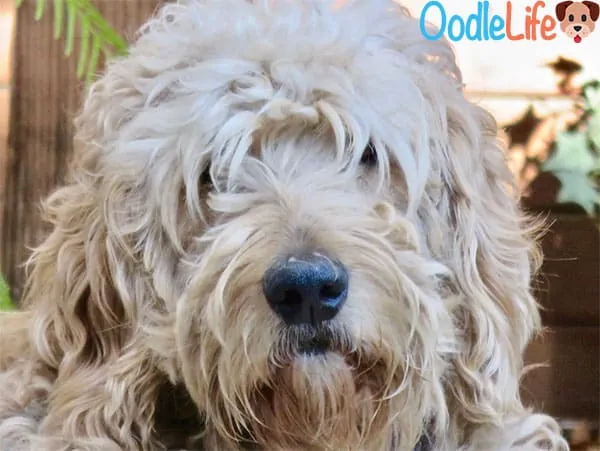 Frequently Asked Questions
How often to bathe a Goldendoodle
Unless there is a heap of dirt of matting, you can get by washing your Goldendoodle once every three to six weeks. A great smelling Goldendoodle is important, but not over-washing your dog is just as important. The natural oils in the coat need to be protected to give the luxurious Goldendoodle coat experience. Use a high-quality shampoo with appropriate pH and a good smell.
How often to wash a Goldendoodle Puppy
Bath your Goldendoodle puppy whenever it gets dirty. This includes messes from house training. Other messes include dirt or bacteria. If the puppy remains clean wash every 3-4 weeks using the best Goldendoodle puppy shampoo.
How can I make my Goldendoodle Smell better?
There are plenty of different reasons that Goldendoodles can smell. Ensure appropriate ear care, coat care, and paw care. All of these areas contribute to a stinky Goldendoodle. Identify the causes of the smell, all of which can be improved or solved with simple at-home grooming.
What Is The Best Shampoo For Mini Goldendoodles?
When picking the best shampoo for Mini Goldendoodles you should be looking at a puppy-appropriate shampoo. Selecting appropriate pH, skin-friendly, and deep cleaning shampoo is a must. There are plenty of good shampoos out there, but you need one that can clean the dense and luxurious Mini Goldendoodle coat.
Look to brands like Nootie or Wahl for your Mini Groodle. We reviewed the top 6 best shampoos for Goldendoodles as recommended by owners and groomers – and each of these is appropriate for a Miniature Goldendoodle.
Conclusion
All of the Goldendoodle shampoos that we have discussed today are excellent. We tested many to decide which are the very best. All six are very unlikely to disappoint. You can't go wrong!

All six reviewed shampoos have great smells, and excellent deep cleansing properties. We only considered shampoos and conditioners for Goldendoodles that gave value for money AND excellent results.

Each of the products listed will help you care for your Goldendoodle at home, and get a groomer quality result. Would love to know if you own a Goldendoodle and have a favorite Goldendoodle shampoo. Please comment below if this is the case!