Buddy Wash Dog Shampoo 2023 Review
There are many dog shampoo brands on the market. All of them give promises of being the best in the market. They'll even have a high price tag to prove their value.
But when it comes to doing the job? They fail spectacularly. And now, here you are yet again.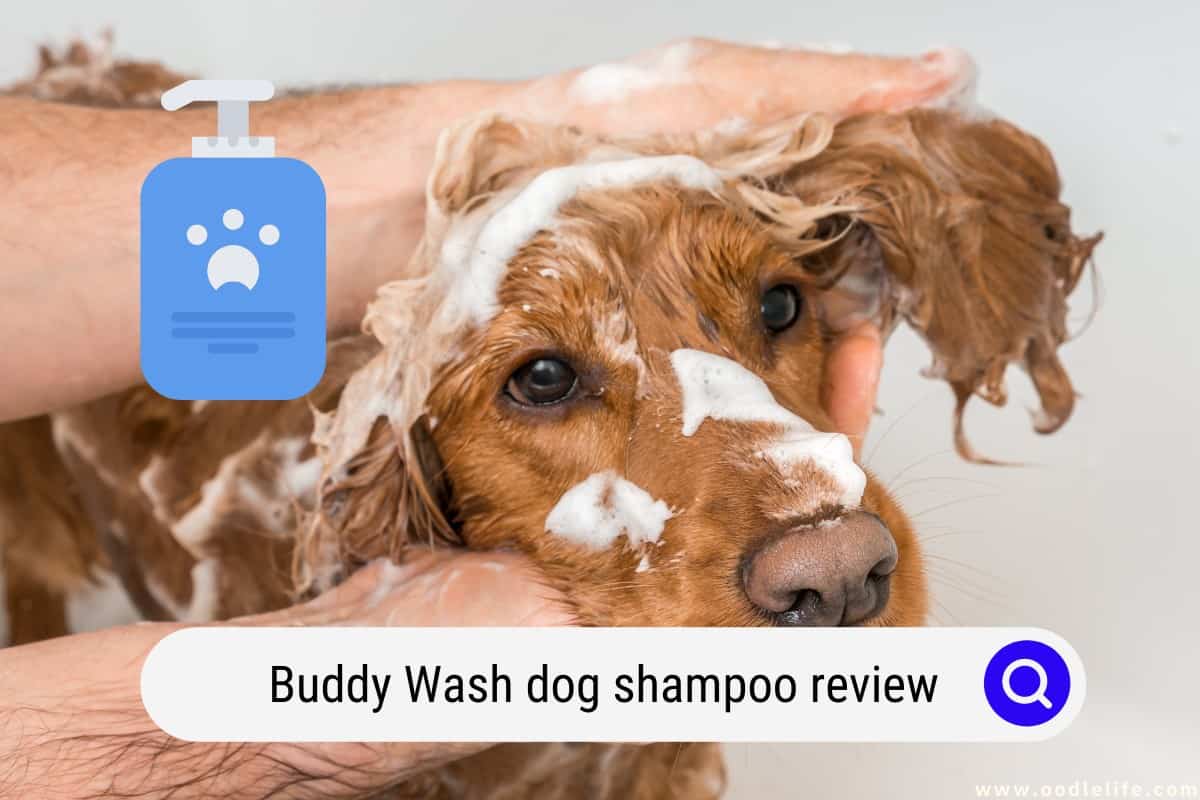 Facing the same dilemma of which brand of dog shampoo works well.
You've stumbled upon Buddy Wash Dog Shampoo and wonder whether it's worth trying out. So, we've prepared an ultimate review – something that will help you decide whether Buddy Wash Dog Shampoo is fitting for your trusty dog.
Review Summary
Buddy Wash shampoo is an ideal choice for pet parents who want a versatile solution for dogs of all ages and those that have sensitive skin. Buddy Wash is a US-made dog shampoo, so you can be confident that the product follows a strict manufacturing process. It is made from natural and dog-friendly ingredients.
Buddy Biscuits Buddy Wash Dog Shampoo & Conditioner for Dogs with Botanical Extracts and Aloe Vera, Green Tea & Bergamot - 16 fl. oz., Model:CS15232
DOG SHAMPOO AND CONDITIONER – Pet shampoo & conditioner made in the USA with ingredients from the garden
WITH HYDRATING OILS – This 2-in-1 pet wash cleans and moisturizes with ingredients like bergamot, green tea, and rosemary and sage botanical extracts.
EASY PET GROOMING FOR DOGS – Dirty dogs don't stand a chance. One application means easy, gentle, and safe dog grooming that leaves your dog soft, fluffy and smelling great.
SOOTHING & SAFE SHAMPOO – Dog shampoo with a soothing formula safe for frequent use.
SPECIALLY FORMULATED – Made with a coconut base, aloe vera and vitamin E to nourish skin and make coats velvety soft.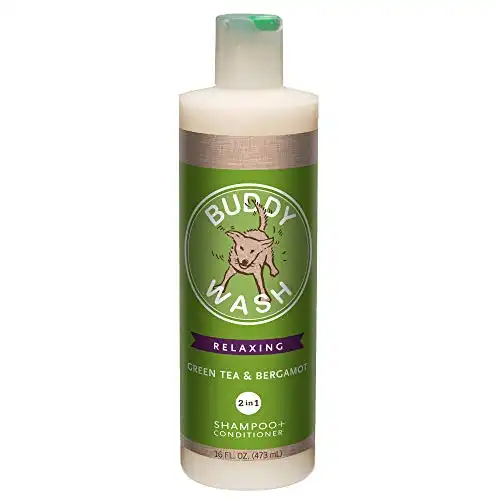 We earn a commission if you make a purchase, at no additional cost to you.
The shampoo and conditioner work well if you are looking for an easy-to-use and versatile product that gets your dog clean fast.
Pros
Gentle ingredients that don't irritate the skin.
You can use it for dogs of all ages.
Safe for regular use.
Thick formulation means you use less shampoo per wash.
Contains conditioner to soften the dog's coat and fur.
Great for dogs with sensitive skin.
Cons
The formulation is designed strictly for use on dogs.
The scent doesn't last long.
Some dogs may be sensitive to tree oil.
May leave residue.
Product Specifications
| | |
| --- | --- |
| Manufacturer | Buddy Biscuits |
| Scents | Lavender and Mint, Rosemary and Mint, Green Tea and Bergamot |
| Ingredients | Coconut shampoo base, aloe Vera, chamomile, tea tree oil, lavender, mint, rosemary, Vitamin E, Vitamin C, Sage, wheat protein extract |
| Dog Sizes | Small, Medium, and Large |
| Dog Ages | All |
| Hair Types | All |
| Features | Soap-free, alcohol-free, natural ingredients 2in1 shampoo and conditioner |
Dog-Friendly Ingredients
Buddy Wash Dog Shampoo is made from mild ingredients such as aloe vera, coconut shampoo base, mint, chamomile extracts, rosemary extracts, wheat protein extracts, tea tree oil, Vitamins E and C, and lavender extracts.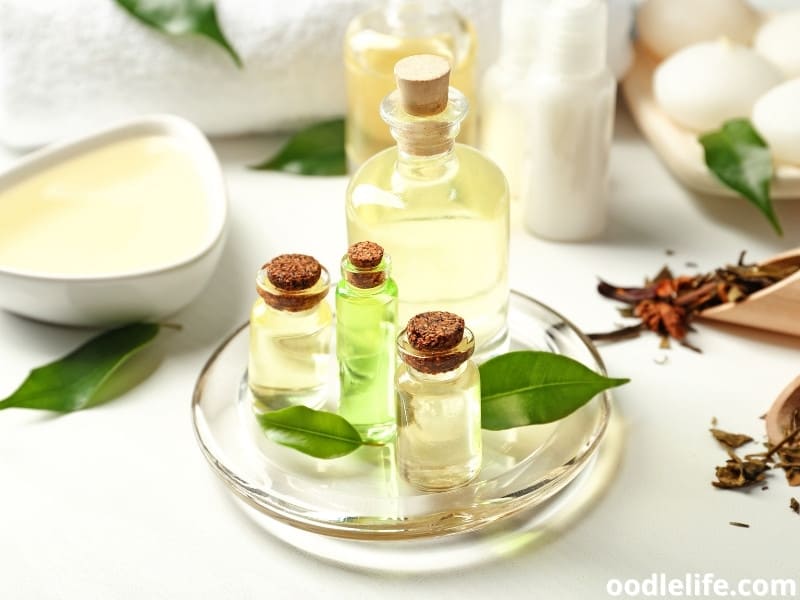 These ingredients are gentle on your dog's sensitive skin and make the shampoo ideal for puppies and adult dogs.
The coconut shampoo base used in the shampoo's formulation does not contain alcohol, meaning it will not dry out your buddy's coat. It has soothing and hydrating oils to nourish your dog's skin and keep it moisturized.
On the other hand, the mint and chamomile provide a calming effect on your dog, making it a great choice if your dog gets stressed at bath time.
The shampoo is also infused with lavender scents to keep your dog smelling fresh for longer. The shampoo's tree oil component can facilitate skin healing if your dog has some mild skin condition.
Always check the ingredients list when purchasing dog shampoo. Some shampoo ingredients may irritate your dog or instigate allergic reactions.
Ease of Use
Buddy Wash Shampoo comes in a thick formulation that produces a thick lather in a small quantity. This means you can clean your dog in one wash. The shampoo contains a conditioner that softens your dog's fur, making it easier to brush after the bath.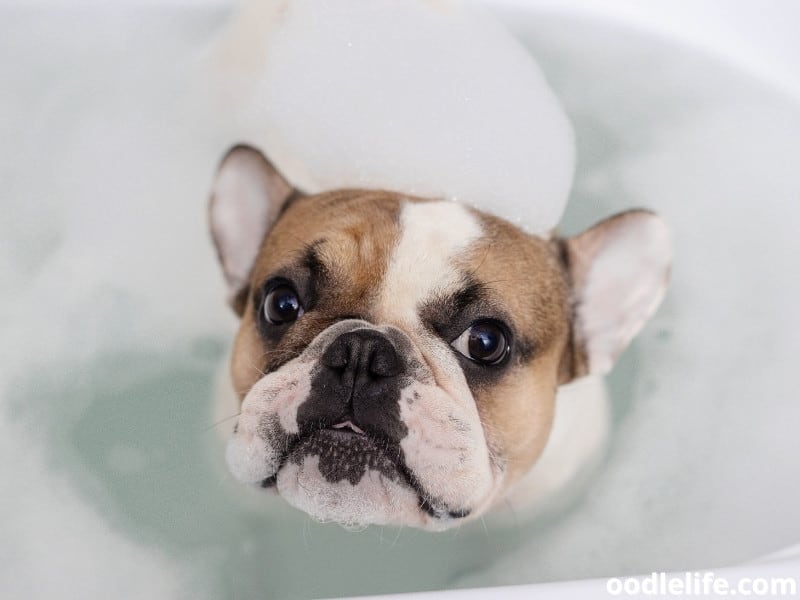 The flip-top lid makes it easy to apply when bathing your dog. But, the bottle might be hard to squeeze, forcing you to open the top entirely and pour out the shampoo.
To use Buddy Wash, wet your dog's coat thoroughly. Press the applicator to squeeze some shampoo and lather into your dog's coat. Rinse well, and towel dry your dog.
Buddy Wash Scents
Buddy Wash shampoo and conditioner comes in three scents:
Lavender and Mint
Rosemary and Mint
Green Tea and Bergamot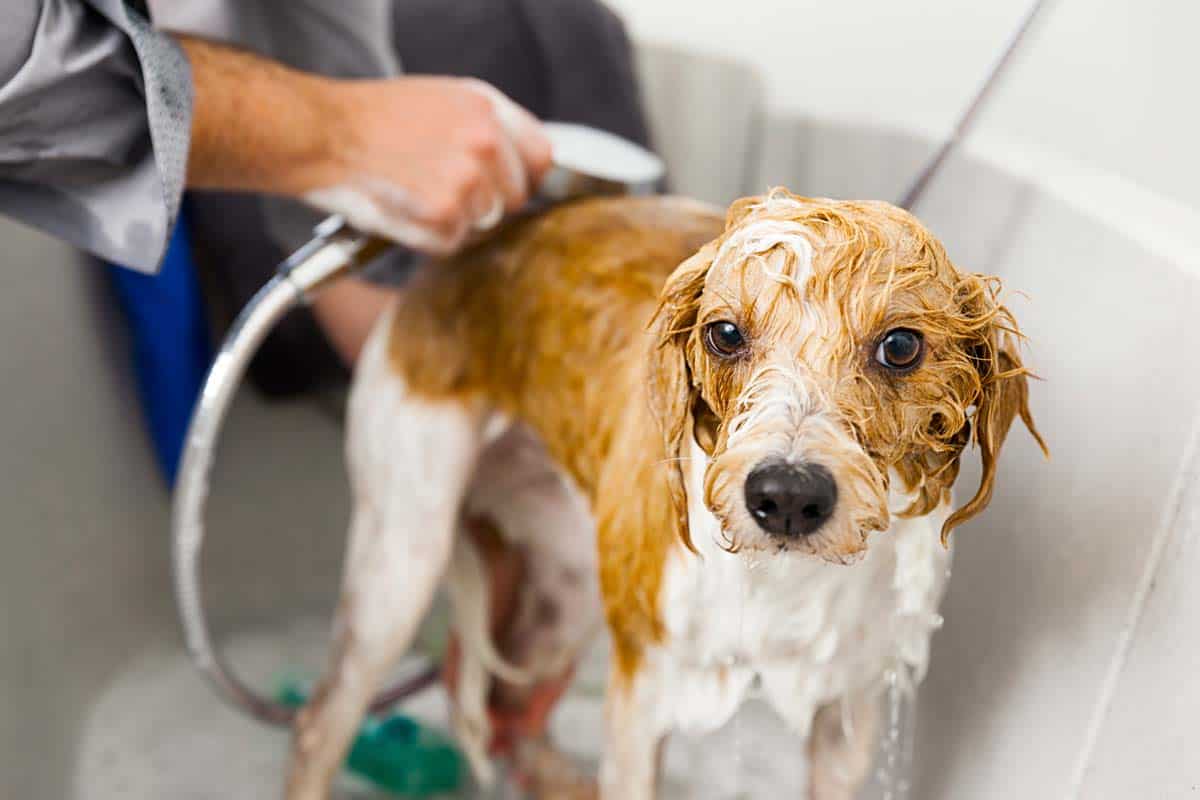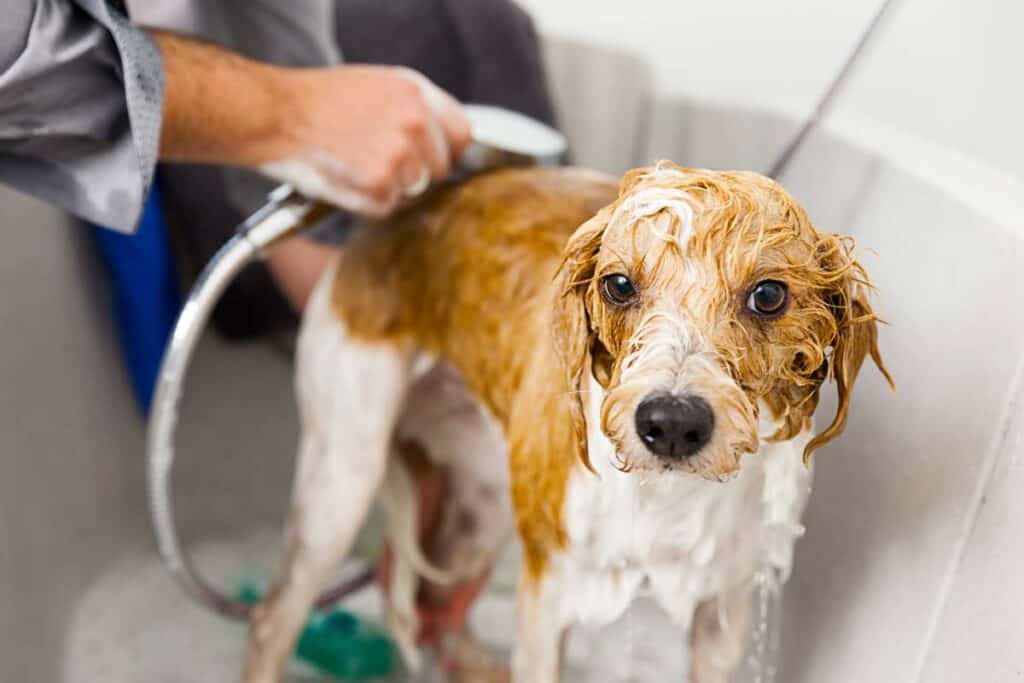 These fragrances are derived from botanical extracts. They introduce a great smell to your dog after a bath without causing skin or eye irritation for your buddy.
Buddy Wash Shampoo pH
Buddy Wash Dog Shampoo has a pH of 5.0-6.0, which falls within the acceptable range for dog shampoo products. It is neither too acidic nor alkaline, meaning it does not irritate your dog's skin.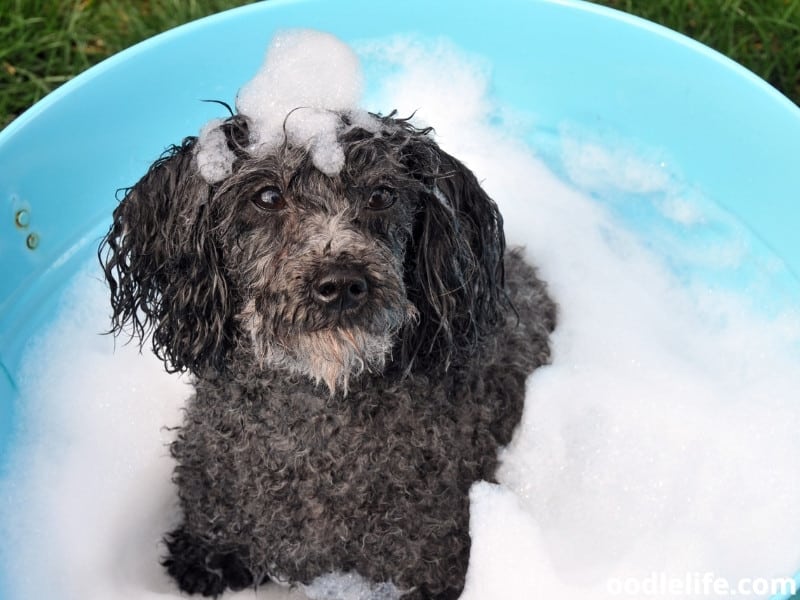 Frequently Asked Questions
Will a soap-free shampoo clean my dog?
A soap-free shampoo will clean your dog. Buddy Wash shampoo is soap-free. It is designed for sensitive skin and lacks the harsh ingredients in most soap-based shampoos.
Instead of a soap base, Buddy Wash uses a coconut shampoo base to build the shampoo and conditioner.
Is Buddy Wash made from organic ingredients?
The ingredients in this dog shampoo are derived from botanicals without harsh components. Buddy Biscuits, the manufacturers of Buddy Wash Dog Shampoo, do not specify whether inorganic ingredients are added.
How long does Buddy Wash last?
You'll notice that Buddy Wash Shampoos do not have an expiration date. However, the longer you have the shampoo, the more you detect the ingredients separating. When this happens, you must shake up the bottle to ensure the ingredients are thoroughly mixed.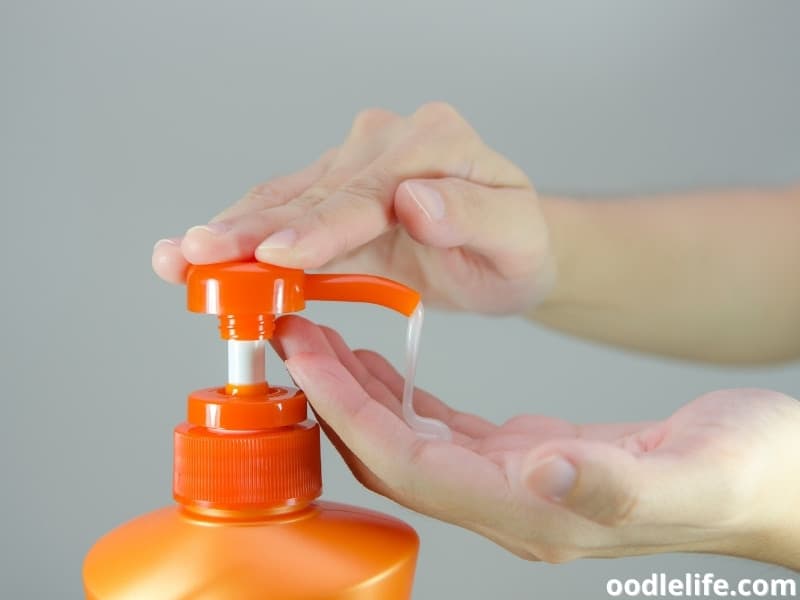 Can Buddy Wash be used to repel ticks and fleas?
Buddy Wash is designed as a shampoo and conditioner to clean, soften, and moisturize your dog's coat. If your dog has ticks, flies, or mites, you may want to consult your vet for guidance on the best products to use. Before you shampoo, check the instructions on how long you should wait after pest treatment to shampoo.
Can I use Buddy Wash on Puppies?
Buddy Wash is a safe shampoo and conditioner for dogs of all sizes and breeds. Its ingredients are designed from natural products that are gentle on a puppy's skin.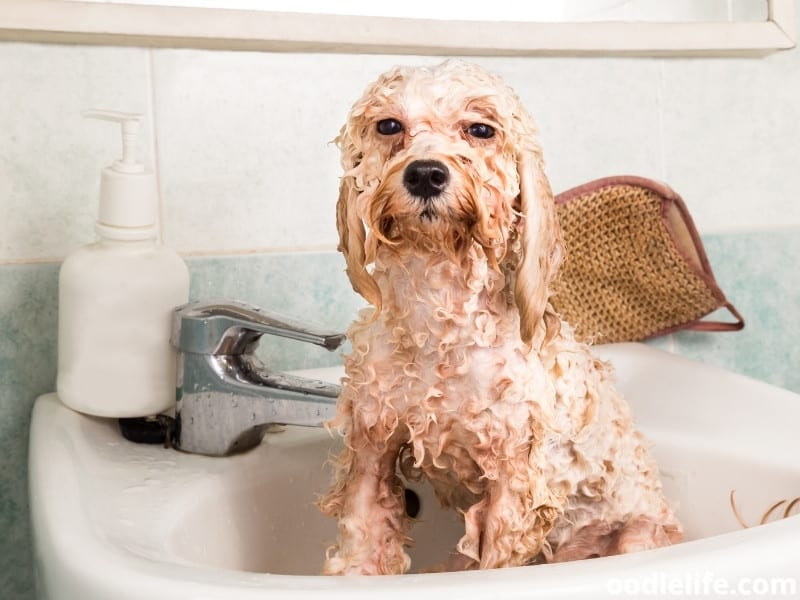 Can I use Buddy Wash for my cat?
Buddy Wash has only been tested for cleaning dogs. You should never use it on your cats.
Final Thoughts
Buddy Wash Dog Shampoo is an excellent addition to your dog-grooming regimen. The 2-in-1 shampoo and conditioner is made in the USA from all-natural, safe ingredients on your dog's skin. It also comes in three scents, lavender, rosemary, and green tea, to ensure your dog smells great after bathing.