7 Best Inflatable Dog Beds [for Traveling] Plus one to AVOID
Do you have a cuddly canine buddy but are always on the move-a camping trip one weekend, a cousin's wedding the next, a road trip across several states for work? Pet owners are sometimes bound by various commitments and need to travel frequently. At times like these, you want to ensure that your four-legged family member is comfortable.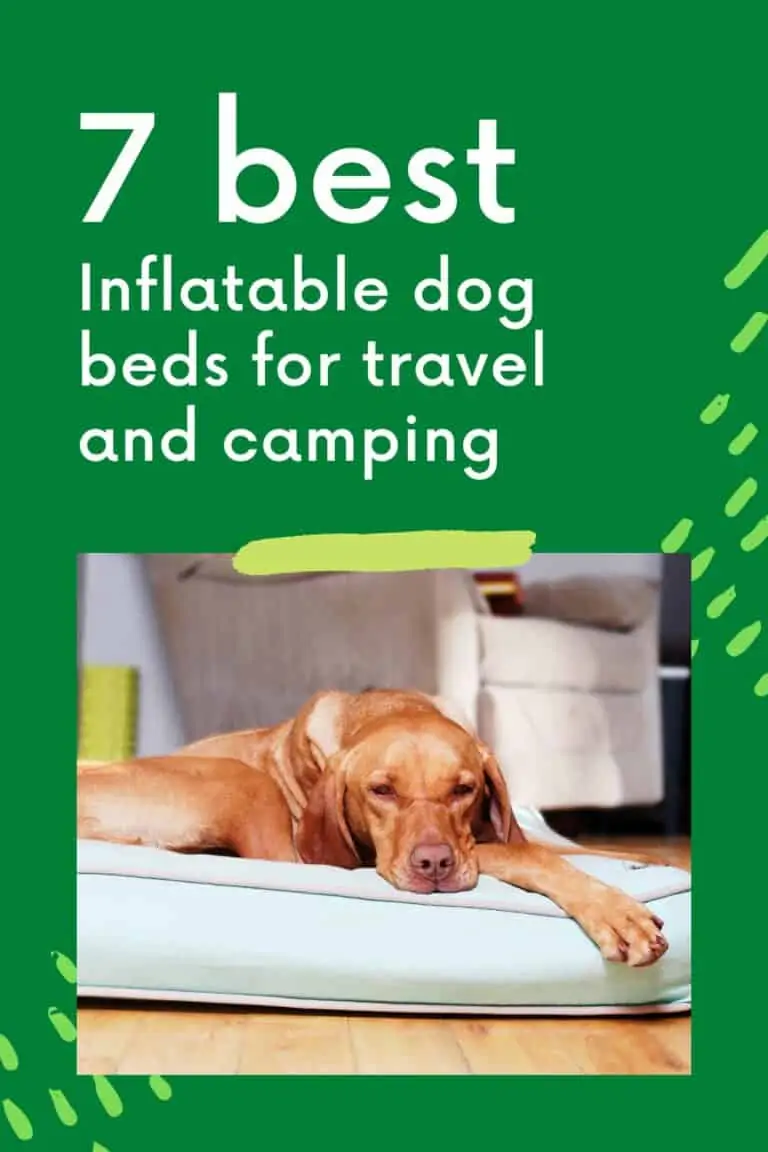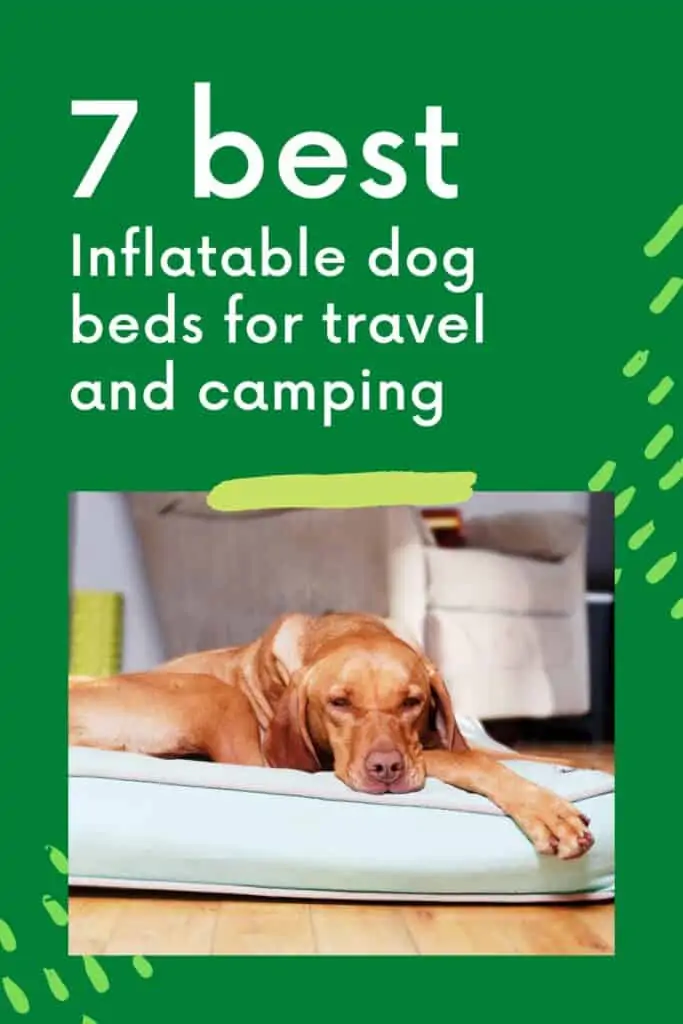 So you carry their favorite toys and make several pit stops for food, water, and walks. But where does your pooch sleep? A rug on the car floor? On the seat next to you? At the back of the truck or SUV? What happens when you stop at a motel? What if you're out camping or trekking? You can't carry his memory foam bed around with you. So what do you do?
The market is flush with bedding solutions for dogs. A fleece-topped one or a waterproof one? Is there a difference between a bed, a mat, a lounge, or are they interchangeable terms?
With so many types of travel beds, it might take some research for you to settle down on which one to buy.
Worry not! We're here to help you. Since you have to invest in a travel bed or dog camping mattress that you can fold or roll and carry wherever you go, how about we explore a few kinds?
Got no time? Here is the table of the 4 best inflatable dog beds or dog camping beds. But we go *very* deep into the why and durability and product specific factors to consider below. Plus there are four additional beds for specific breed and circumstances that we recommend.
Why an Inflatable Dog Bed?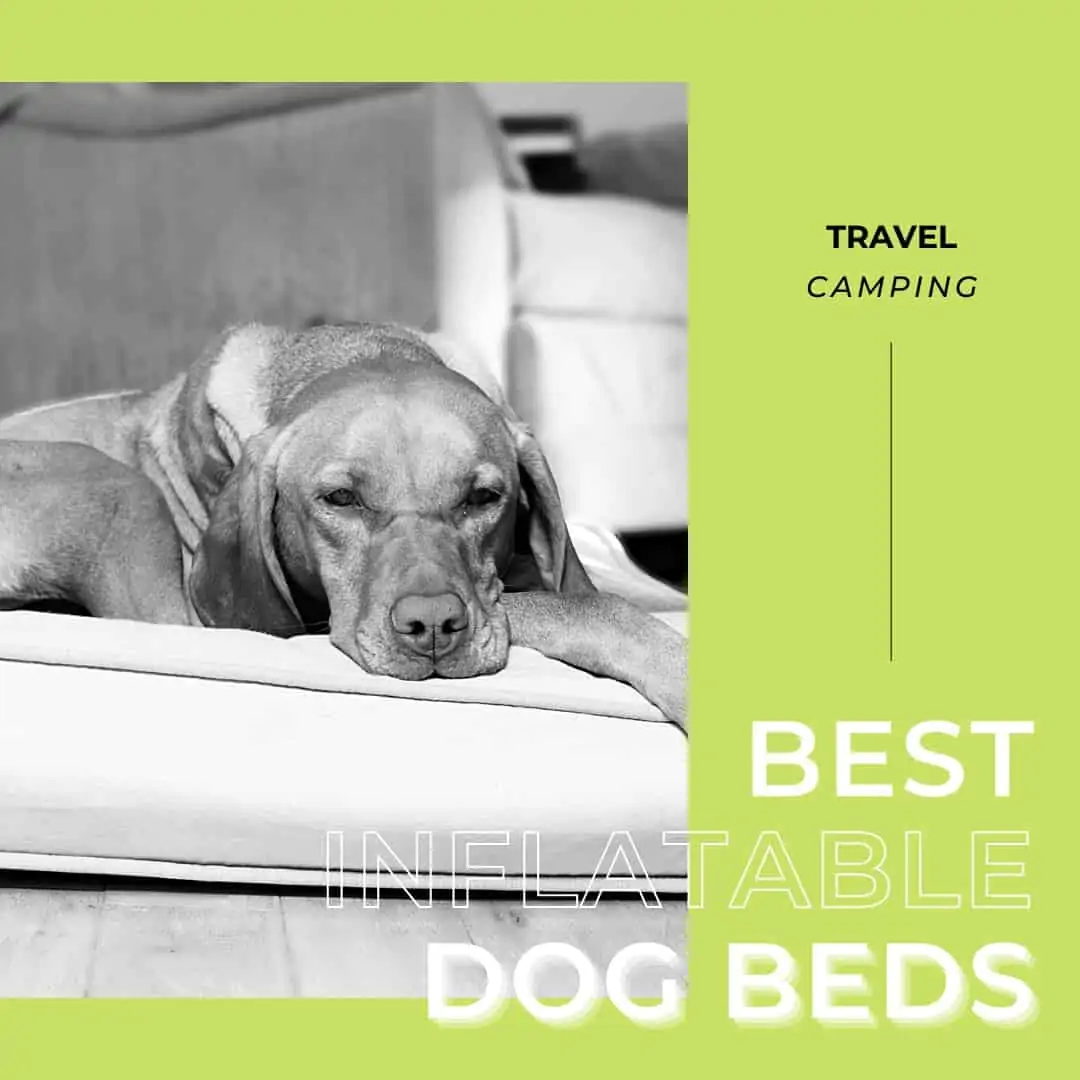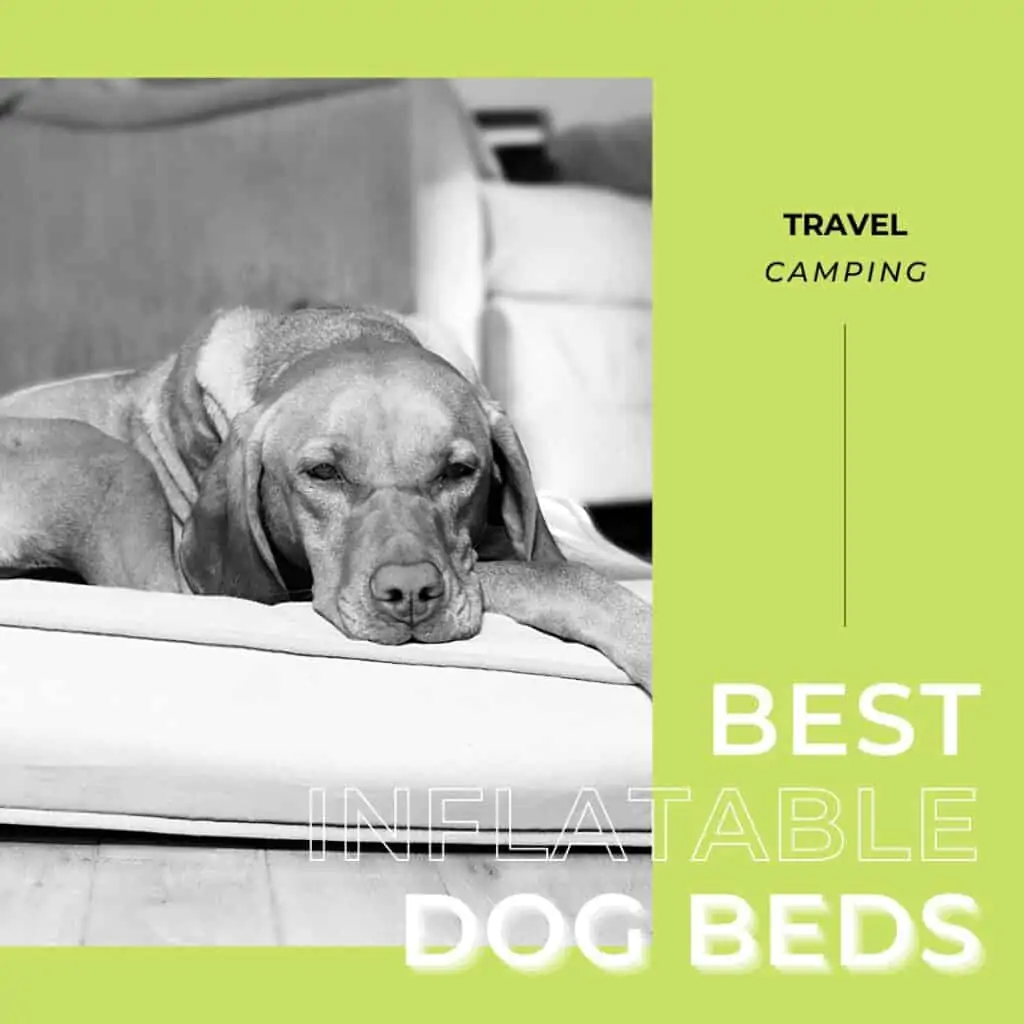 The different types of beds in the market – foldable beds, elevated, roll-up, and inflatable beds – could confuse many dog owners and prevent them from settling on the right option. At times like these, you must first identify your needs. Let's take a look.
Backpacking beds: When you're in the great outdoors, you need a bed that is lightweight, easy to carry, comfortable, and yet resistant to the elements. These beds will probably be flat against the ground, where they'll be exposed to thorns, rocks, or other jagged edges. Since they're similar in design to human sleeping bags, and you've probably used a few of those, you know the associated issues.
Elevated dog beds: They're more comfortable than other travel beds as they're above the ground. Elevated dog beds are a popular choice for homes as they are made of washable canvas and are known to be easier to get in and out of, especially for senior dogs. But they're not very travel-friendly. They can be heavy to cart around, especially if you're going on a camping trip.
Inflatable beds: The winner in the category of travel beds! These are convenient as they can fit into a casual bag or a purse. They're comfortable as they come with a thick, comfy inflatable pad. They're safe as they're puncture and element-resistant. All you need is a moment to inflate it – et voila! You have the perfect bed for your dog on your trip!
Best Inflatable Dog Beds
K9 Sport Sack | K9 Sleeper Inflatable Dog Bed with Klymit Technology | Lightweight Durable Travel Dog Bed (Small - Medium)
PORTABLE DOG BED: The K9 Sport Sleeper is the most advanced inflatable dog bed of its kind. This product was created with the ability to eliminate the need of carrying a bulky dog bed or pet bed...
INDOOR & OUTDOOR DOG BED: Unlike traditional inflatable dog beds that flatten, deep welds create expansion zones that allow the doggy bed to fully loft beneath your pet. In other words, your dog won't...
DURABLE DOG TENT BED: Our K9 Sport Sleeper is designed to fit into our K9 Sport Shack popup tent or any other outdoor dog kennel or tent. Made from heavy duty Klymit technology material, is waterproof...
COMES IN TWO SIZES: The K9 Sleeper comes in two different sizes. If you are looking for a small or medium dog bed the 20" x 20" Small - Medium K9 Sleeper will be perfect for your pup. If you are...
USA-BASED COMPANY, PERFORMANCE GUARANTEED: Wrong size? No problem. Any issues? We're here for you. Whatever the problem may be don't worry we'll cover it, but we're happy to hear any good...
We earn a commission if you make a purchase, at no additional cost to you.
The K9 Sport Sleeper uses Klymit technology – offering durability, comfort, and ease of use. These inflatable beds come with deep welds that create expansion zones, allowing your doggy bed to remain at a height even with your pet on top of it. In simple words, your dog wouldn't end up feeling the hard floor beneath his tushy!
It is designed to fit inside the K9 popup tent or any other tent or dog kennel. So your dog can feel protected and cozy inside a tent. The material is water-resistant as well as claw and scratch-resistant, thanks to the rough-and-tough Klymit technology.
It comes in two sizes – medium and large – for your puppy as well as your adult dog.
Pros:
Cons: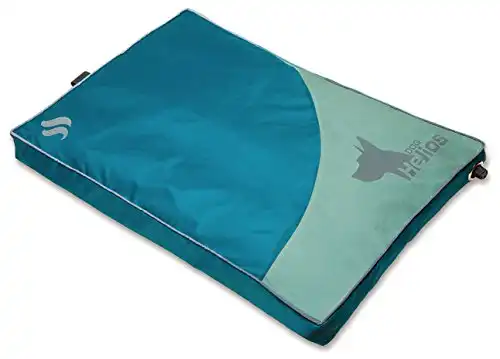 We earn a commission if you make a purchase, at no additional cost to you.
These beds take care of one of the greatest dilemmas a traveler faces – the compromise of comfort over weight. Even though thick padding gives your dog the comfort and warmth it needs, the bed becomes heavy and bulky for camping.
HELIO Aero uses air to furnish a thick comfortable cushion. Upon deflation, the bedrolls up tightly, and both sides are waterproof. It is lightweight, convenient, and comfortable.
It comes in two sizes:
Medium: 25.19″ x 18.89″
Large: 38.97″ x 9.92″
Pros:
Cons:
The inner foam in this dog bed inflates with just a twist of the nozzle. You can make adjustments by blowing in more air or pushing air out. The bed is machine washable for extra pet parent convenience.
Lightspeed Outdoors Self Inflating Fleece Top Cover Travel Dog Bed | Kennel Bed ,32-Inch by 42 Inch
Open size 42" X 32" X 2"; rolled size 32" X 6"; weight 3. 6 lbs.
1. 5" Inner foam mattress self inflates with a twist of a nozzle; adjustments can be made by blowing air in or pushing air out
Machine washable puncture resistant and water resistant bottom and sides protect the bed from rough surfaces while the fleece top keeps your furry friend comfortable
Built in nylon Buckle straps for easy storage and transport
Customer friendly 1-year included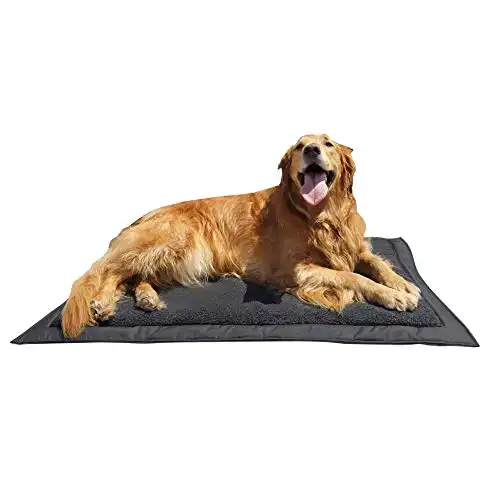 We earn a commission if you make a purchase, at no additional cost to you.
It's even puncture-resistant, so your puppy can fidget however much he wants. Its water-resistant bottom and sides prevent any unwanted moisture from seeping in.
With a soft, furry fleece top, your puppy can have a comfortable trip and several nights of awesome sleep. It even comes with built-in nylon buckle straps for convenient travel.
Pros:
Cons:
This durable car SUV equipment is for anybody who's cruising in the back seat. Its spaciousness can accommodate more than two large adult dogs.
Heavy Duty Car Travel Inflatable Mattress Car Inflatable Bed SUV Back Seat Extended Mattress
Durable car SUV equipment for comfortable travel sleeping for kid and partent, or create more room for romantic intimate motion in vechicles
Folded volume: 25cm x 22cm x10cm Mattress Spread to Size: length 115-130cm, width 85-90cm
Height: 38cm-43cm, Mattress Thickness: 8cm, Maximum Load bearing: 800 lbs
Includes car electric air pump, repair pad and glue kits
High quality heavy duty PVC made, soft and comfortable,micro-fluffy feather-feeling surface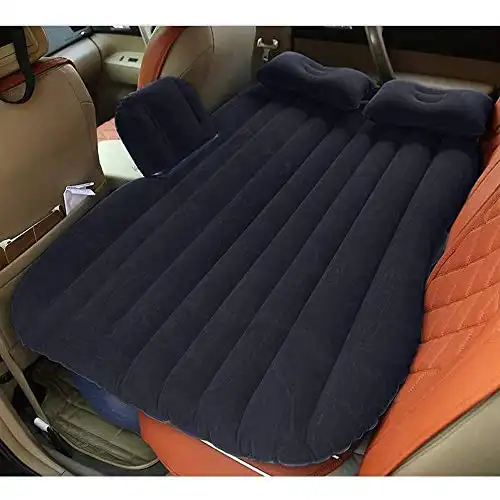 We earn a commission if you make a purchase, at no additional cost to you.
It comes with a car electric air pump, repair pad, and glue kits. It has a premium quality, heavy-duty PVC-made material that is soft, comfortable, and has a fluffy-feathery feel.
Pros:
Cons:
This bed is a perfect choice for summer as it isn't a full air mattress. It has breathable mesh material in the middle, and it's double-layer air-filled. The breathable mesh material lifts your pup off the ground, keeping him cool.
It's available in small size should you have a toy poodle!
Outdoor Elevated Dog Bed - Double Thickness Adjustable Original Bed, Inflatable Pet Cot, Great for Forest Camping & Mountain Hiking, for Small Medium Pet
Elevated: The bed is not a full air mattress, it's hollow and there is breathable mesh material in the middle, besides, it's double-layer air-filled. All these advantages keep your pet away from the...
Size & Material: After full inflation, the size is about 34"x26"x9", which is suitable for small to medium dogs or cats. It's a little small for large dogs, please buy carefully. The middle mesh is...
Inflatable & Portable: You don't need to assemble the bed because it's inflatable. We recommend you use an air pump to inflate, that will be easy and quick, no matter for men or women. If you don't...
Place of Used: It can be used almost anywhere. You can use it at home, in the yard, at the park, near the lake, forest camping, mountain hiking, etc. If you want to go to outdoor games or traveling...
Warm Hint - For the safety of our dogs please do not over inflate and please try to use it on flat ground. We have perfect pre-sales and after-sales service, we are always at your service.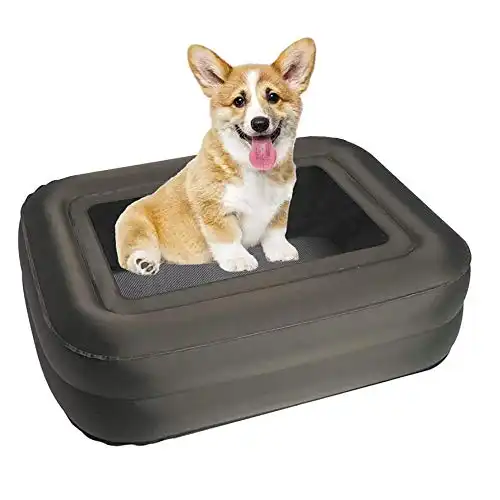 We earn a commission if you make a purchase, at no additional cost to you.
The bed is easily inflatable, and it's advisable to use an air pump. It is compact, so storage isn't a hassle, and the space required in your bag is minimal.
It works well at home, as much as it does while you go on hiking. So any forest camping or mountain hiking is perfect with your fur buddy.
Make sure to use the bed on a flat surface – simply for the safety of your pooch.
Pros:
Cons:
Cuddle Buddy Travel Air Bed
While road-tripping, your dog can feel some movement-related anxiety. With this cuddle buddy travel air bed, you can transform your backseat into a safer, more comfortable space for your dog.
Perked up on this comfy mattress, your pet can enjoy looking out the window without freaking out – and you can wave bye-bye to any jerk-based falls into the footwell of your car.
With a heavy-duty build, this mattress can hold up to 300 pounds. That equates to three mature German Shepherds (and four large poodles!). It is carefully crafted with a premium, leak-resistant PVC, and as a plus, an airy top that's breathable and comfortable.
The size is perfect for the backseats of most standard-sized sedans, hatchbacks, SUVs, minivans, and mid-size pick-up trucks – you name it.
It inflates right in your car! Just plug in the electric air pump into the 12V car charger socket and – voila! Your air bed inflates in just three minutes.
After a nice, muddy, sandy walk at the park or at the beach, reality hits you when you see a soiled-up mattress. Worry not. This mattress is waterproof and can be easily cleaned with a soft rag.
Pros:
Premium quality
Can hold up to 300 pounds
Leak-resistant PVC
One-size-fits-all
Easy to set up
Even easier to clean
Includes a set complete with two mini pillows, a repair kit, and a carrying bag
Cons:
This lightweight travel bed comes with a heavy-duty inflatable pad inside the cover and zipping to protect the pad. It even has a detachable blanket. It is designed to keep your dog's comfort in mind – it inflates to a thickness of 1.5 inches and has a screw valve for easy inflation.
Portable, Inflatable Dog Travel Bed. Great for Camping, Backpacking, Hiking, Car Seat -For All Outdoor Dog Activities. Sherpa Faux Wool Top & Puncture Protective Material. Comes with a Blanket by ...
LIGHTWEIGHT BED & DETACHABLE BLANKET SET - A lightweight travel bed & detachable blanket set with a heavy-duty inflatable pad inside the cover, which zips closed to protect the pad. Also includes a...
BUILT FOR COMFORT - Your dog's camping gear is built with your pet in mind. The inflatable pad inflates to approximately 1.5 inches thick and has a screw open & close air valve for quick and easy...
MADE TO LAST - The top of the bed is Sherpa Faux Wools and has material underneath the wool covering designed to protect the inflatable piece from toenail punctures. The bed bottom is made with an...
GET UP AND GO! - The MOJO bed includes a stuff sack. Simply and quickly deflate the bed and roll the bed and blanket up and into the stuff sack. Your doggie sleeping bag can be put away as easily as...
WATERPROOF BLANKET - Designed for use camping, hiking, boating, traveling, as a carseat, in an RV, or just for use at home (inside or outside). Fits inside MEDIUM & LARGE paniers for dogs, so they can...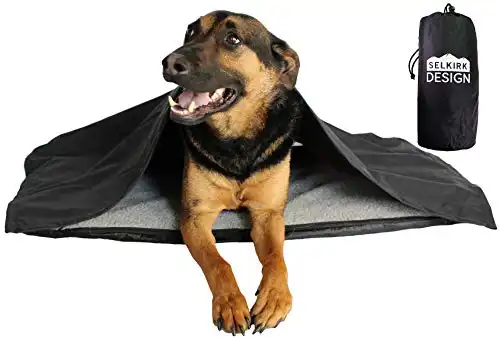 We earn a commission if you make a purchase, at no additional cost to you.
Made with Sherpa Faux Wool, it's absolutely crawl-into-worthy! The material underneath it protects the inflatable piece from toenail explorations. The combination makes it durable and long-lasting.
This MOJO bed is sold with a stuff sack. Once you're done using it, simply roll and pack. And you'll be done faster if you have a helpful dog giving a paw.
Pros:
Cons:
Idepet Dog Bed
Perfect for dogs of most sizes, this inflatable bed has all the style and comfort that your dog needs while on vacay. The best part about this bed is that it comes with a soft, plush cover that gives added comfort to your pooch while he sleeps.
The inflatable bed has three layers, of which the first is made with a premium washable fleece cover and an oxford cloth. The second tier is an uneven inflatable layer designed for arthritic comfort, while the third is a waterproof non-slip glue cloth bottom.
The PVC liner design ensures that any joint issues your dog suffers are kept at bay while on this bed. The lining is waterproof as well as mold-proof and prevents any possible skin infections caused by moisture.
Pros:
Cons:
Factors to Consider While Buying the Perfect Bed For Your Canine Travel Buddy
Warm or Cool?
Are you traveling to a cold place? Or are you going beachside with lots of sun, fun, and warmth? Either way, you need to consider how much warmth your dog needs. An inflatable bed that lifts off the ground will keep your cuddle-buddy warm. Equally, a bed that lifts off the ground will prevent heat transfer from the floor to your dog, ergo keeping her cooler on a hot night.
If your dog isn't used to colder environments, he could struggle to deal with the weather. This is true for breeds like Goldendoodles that have a short coat. Carry a bed cover or a blanket to make your dog warmer.
In warmer climates, your pooch will need a cooler-material bed that does not increase its body heat.
Portable Dog Bed
Depending on the activity that you're doing, you need to make sure you don't weigh yourself down because of the weight. You'd get tired and wouldn't enjoy the trip.
Since portable dog beds serve different functions, here's a list of criteria to consider before settling on which one to purchase.
Space
If you travel frequently and prefer to travel light, then the space taken by your pet's bed will be a concern. As space is limited, choose a bed that takes the least amount of space. A foldable dog bed or a roll-up one takes quite a bit of space. And we don't want to carry around a big bed on our head, do we? So that brings us to our favorite, an inflatable bed.
Size
Most well-intentioned pet parents aren't practical when it comes to bed sizes. This is why you'll see a small breed like a Chihuahua on a bed that could accommodate Mount Everest. While it's cute and fun, a bed serves a definitive purpose-support while your pet sleeps.
Please leave appearances aside and pick a small bed for a small dog and a large bed for a large dog! If you have a nice, healthy poodle, her weight can squidge a nicely padded bed that lacks a proper support system.
Larger dogs also have joint and hip issues, so keep that in mind when considering the travel bed's size.
Durability
If your dog is like mine, your bedding probably gets replaced more often than you change your bedsheets! Even the best-behaved dogs have a natural tendency to fidget by digging and pulling at bed fabric. If you know that your dog does that, choose a highly durable bed or opt for a cheaper one that you can easily replace without breaking your bank balance.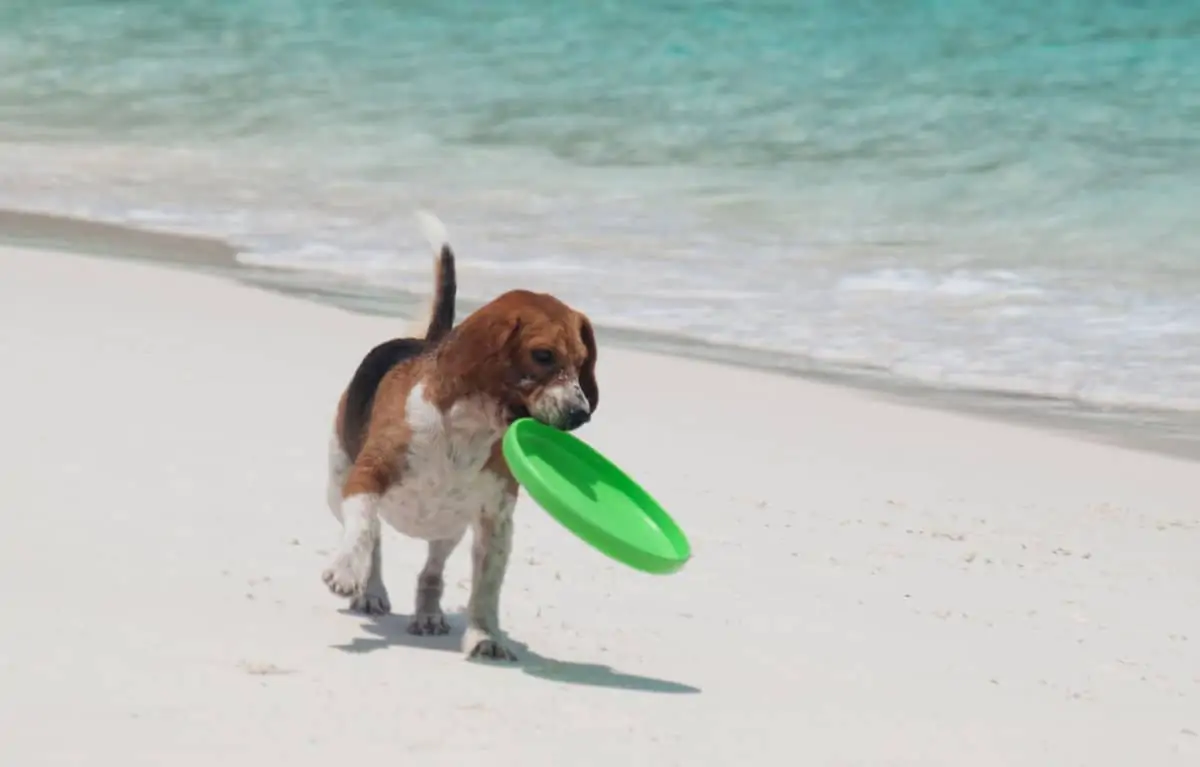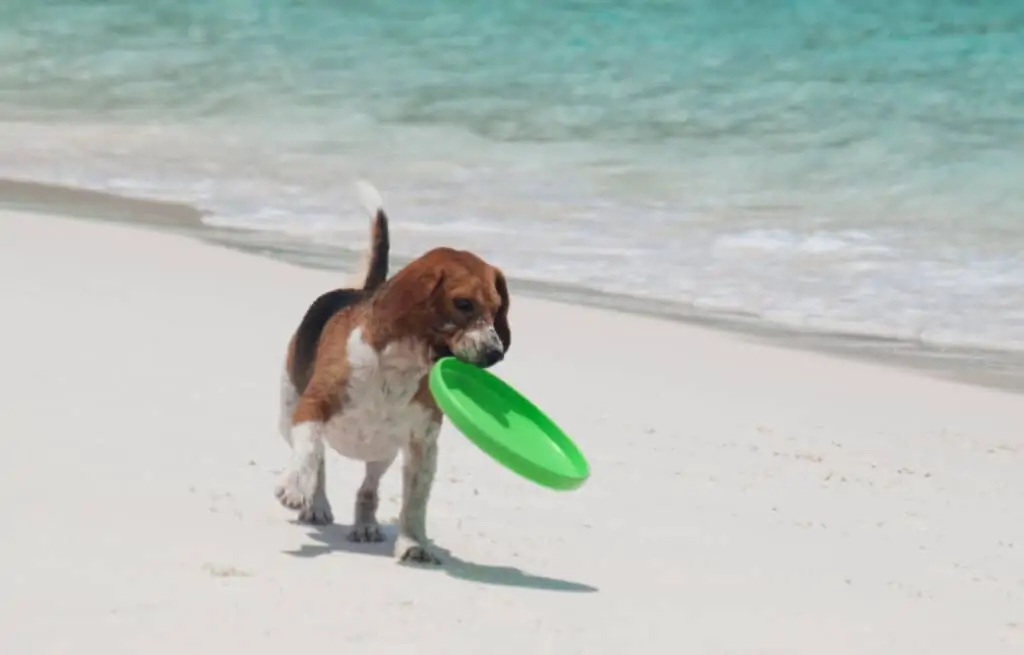 Water-Resistance
Choose a bed with a good grip. That way, your dog won't slip while jumping in and out of it. Also, opt for a bed with a waterproof bottom to prevent the dampness from getting in. If you're camping or trekking or generally in a place with a lot of rain, the ground will be cold and wet. Expect the moisture to seep through the fabric and make your dog wet, uncomfortable, and perhaps even sick.
Cleaning
My dog is a mischievous mini monster! She rumples everything around – including the bed, hers and mine! The result? A muddy, drooled-on bed with a generous coating of hair. Even the most well-trained dogs have a tough time staying clean. This is why cleaning is an essential factor to consider when it comes to pet bedding.
If the bed remains in the room or car, there's no need to worry. But, if it's going to be kept outside, a muddy outside, then choose an inflatable bed that you can toss into a washing machine or rinse off as soon as you get home.
That said, let's look at the eight inflatable beds that made our list!
Takeaways After Reviewing So Many Inflatable Dog Beds
Every dog has a different requirement-some will tear your bag like they would a piñata, while others would quickly jump into it and snore loudly.
Also, the kind of travel and destination will have different demands from the bed you carry. Whether it's backpacking or leisurely camping in the woods – choosing the most convenient bed that offers the best comfort – and that too at the best possible price – is a task. Which, my friend, is the hardest to excel at.
The best choice that you can make is the one that puts your convenience along with your dog's comfort, in a neat, inflatable package. And you'll come back home with better memories to look back on!