Best Dog Food For German Shepherds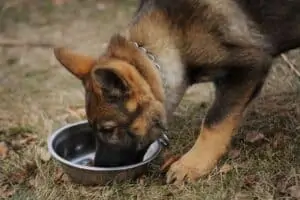 The only creatures that are evolved enough to convey pure love are dogs and infants – Johnny Depp
When life gives you lemons, you make lemonade, but when life gives you a dog, you can sit back, enjoy the ride and make the absolute most out of every single second of every day.
Dogs make everything better. They see, and bring out, the best in their owners and show us what it means to love unconditionally and be loved for who we are.
Our constant and faithful companions for millennia, dogs have earned their role as man's best friend a thousand times over, and the one thing that you can always count on in life is your dog.
Any dog person will tell you that even though they're just happy to be around dogs of all shapes and sizes, there's one breed that they feel a special bond with and that makes their heart beat a little faster whenever they're around it.
That breed of dog, the one that makes someone smile as soon as they think about them or their name is mentioned, is different for everyone, and for us, it's the German Shepherd.
And as you're here, we're willing to bet that you're a Shepherd fan too. That's why we've put together a list of the best dog food for German Shepherds so that you can feed your best pal the best food you can.
Because when it comes to your German Shepherd, if you're anything like us, only the best will do. Call your Shepherd and tell him to get ready for dinner, it's chow time…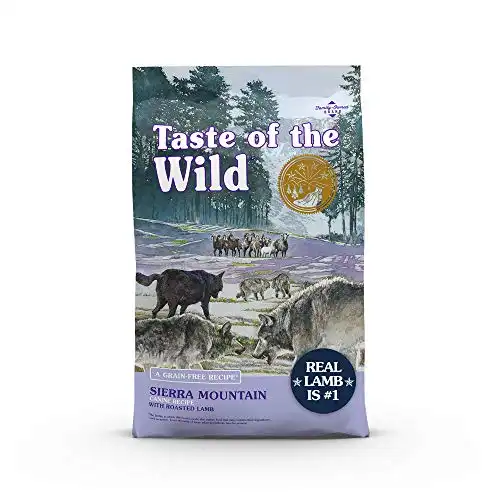 Taste of the Wild takes its name seriously. They make high quality, affordable, protein-based dog food that's based on the ancestral diet of your dog.
The first ingredient in all of their food is real meat, fish, and fowl, and they use unique sources of protein such as duck, venison, boar, and bison to imitate the historical sources of food, and prey, that canines would have hunted, and still do, in the wild.
Combining real lamb with superfoods, Sierra Mountain has been formulated to aid the development of lean, strong muscles and to help your German Shepherd maintain a healthy coat and skin.
Packed full of all of the fatty acids, oils, nutrients, and vitamins that your dog needs to thrive and enjoy a long, happy life, Sierra Mountain has been designed to be easily digestible and appeal to even the fussiest of fussy eaters.
And while Shepherds aren't known for being picky when it comes to food, it's better to be safe than sorry and feed your dog something that you know he's going to love.
All of the ingredients that Taste of the Wild uses in their food are sustainably sourced and one hundred percent natural, so you'll never need to worry about artificial bulking agents being a part of your dogs' diet.
If you follow the path that taste of the Wild has laid down, you can be confident that everything your German Shepherd eats is completely natural.
Pros:
Rich in protein and fortified with probiotics to aid digestion, Sierra Mountain is a lamb based diet that your Shepherd will fall hopelessly in love with.
Taste of the Wild has dedicated themselves to recreating the sort of diet that your dog's ancestors would have lived on. And if it's the same sort of diet that Nature created for them, you know that it's one that your dog is going to thrive on.
Feeding your German Shepherd the Taste of the Wild's dry food won't break your bank account and won't damage your pocketbook. The brand ensures that its food is affordable and easily accessible for all large breed dogs and they want to make sure that your dog not only enjoys their diet, but that they also live a long, healthy, and happy life.
Completely grain-free, Sierra Mountain doesn't believe in using artificial, and unnecessary, bulking agents so you'll know that every mouthful has been designed with one creature in mind. Your dog.
Cons:
Taste of the Wild seems to have recently changed their recipe as some long time devotees have reported that their dogs, who used to dance with joy when mealtime arrived, have started to lose their appetite when presented with Taste of the Wild. While it's only a minority of owners who have reported this change in their dog's behavior, it is an issue that it might be worth contacting Taste of the Wild about so that you can confidently, and with complete peace of mind, raise your best friend on their food.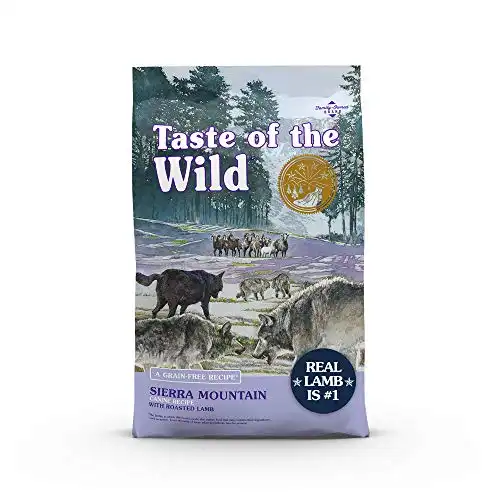 We earn a commission if you make a purchase, at no additional cost to you.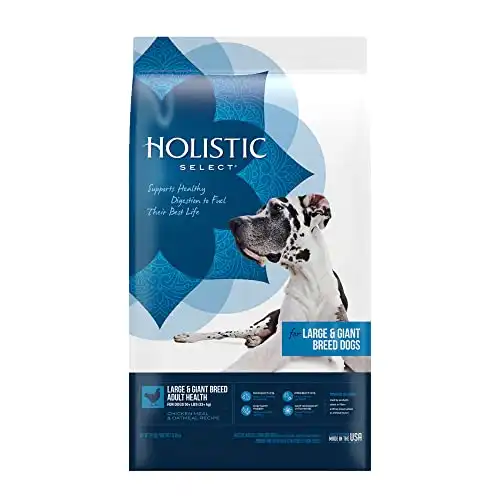 It isn't just people that can benefit from enjoying a holistic diet, dogs can, and do, too.
That's why Holistic Select has spent the last decade creating and refining a holistic diet for canines that is specifically designed to replicate the advantages of their owner's diet, without compromising any of the natural ingredients that dogs need to flourish.
Their recipes are made with pre and probiotics, natural fibers, and digestive enzymes, and botanicals to promote whole-body health.
Believing that health begins in the stomach, all of Holistic Select's formulas adhere to the strictest safety guidelines for the manufacture of any food and contain no meat-by products, artificial colors, flavors or preservatives, wheat, gluten, or fillers.
Holistic Select keeps everything natural, so you can feed your German Shepherd their Chicken and Oatmeal diet and be safe in the knowledge that nothing it contains will ever harm them.
A larger sized kibble for larger dogs with larger than life-sized personalities and appetites, everything that Holistic Select used to make their food has been sourced ethically from sustainable sources.
They only use the finest ingredients because they know that when it comes to feeding your best friend, only the best will do.
Pros:
Completely natural, this Holistic diet has been formulated to promote whole-body health and has been designed to ensure that your German Shepherd makes the most out of every single day.
Reinforced with everything that your German Shepherd needs to live a comfortable and incredibly happy life, everything that this food contains is one hundred percent natural and has been produced with love and genuine affection.

Holistic Select wants your dog to be as healthy as you are so that you can both enjoy your time together.
Cons:
The thing about a holistic diet is that it isn't cheap. If you're going to insist on using the finest ingredients then you're going to end up paying the finest prices, and by finest, we mean highest.

Holistic Select's food is far from being the most affordable way to feed your German Shepherd, but having said that, when it comes to making sure that your best friend is happy, what it costs you isn't going to be the first thing you think about.

Just be aware that over time, this diet will have an impact on your pet's well being and your pocketbook.

One will be incredibly positive, while the other will be much more negative. It's up to you to decide if the balance is worth it.
Holistic Select Natural Dry Dog Food, Large & Giant Breed Adult Recipe, 30-Pound Bag
DIGESTIVE HEALTH: Optimal levels of protein plus prebiotics and probiotics, digestive enzymes, and dietary fiber in this dog food enhance digestion for your large breed dog
HEALTHY HIPS AND JOINTS: Calcium, phosphorus, glucosamine and chondroitin maintain bone strength and joint health
WHOLE BODY HEALTH: Supported by omega fatty acids, antioxidants, glucosamine, probiotics and taurine for a healthy heart
Made in the USA using only the finest globally sourced ingredients, we prepare each of our diets in our own state of the art facility; we craft delicious natural recipes with wholesome ingredients...
QUALITY NUTRITION: We craft delicious natural recipes with wholesome ingredients that your pup will love, chosen for their nutritional benefits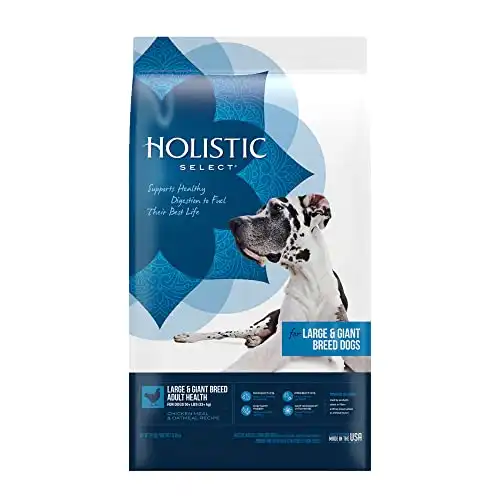 We earn a commission if you make a purchase, at no additional cost to you.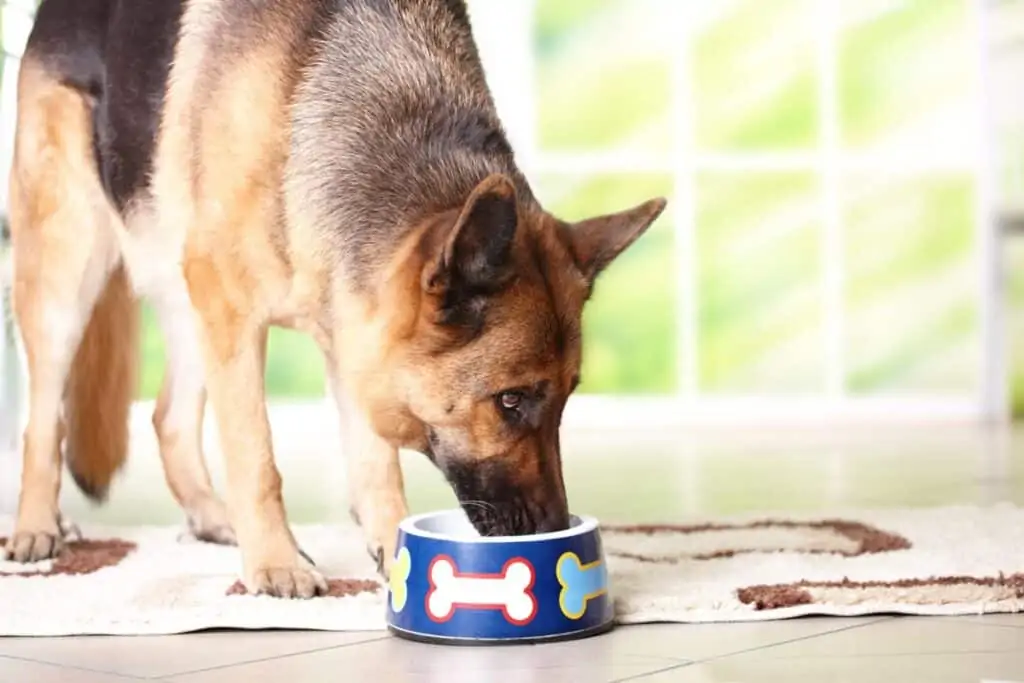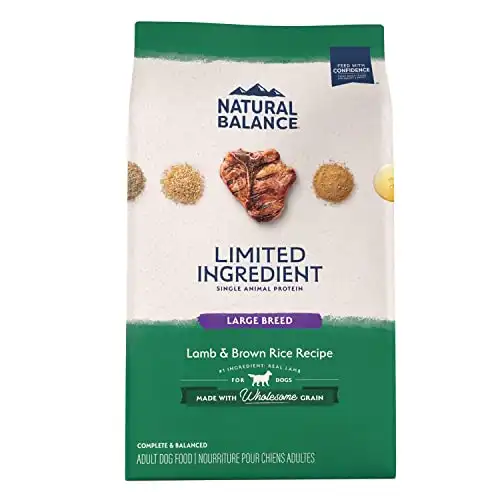 Founded by Dick Van Patten in nineteen eighty-nine, Natural Balance are more than just animal health science experts.
Most of their staff are also happy pet parents and their combination of knowledge and love for pets helps them to create the best premium food products for your best friends.
They know that pets rely on us as much as we rely on them, and that's why they keep their L.I.D. dry food as simple as possible.

By reducing the number of ingredients to a minimum, they know exactly what goes into every batch of their protein-rich food.
This lamb and brown rice formula is full of amino acids, vitamins, omega oils, and nutrients and is a complete and balanced diet that'll fulfill all of your German Shepherds tastes requirements while ensuring that they stay happy, healthy, and active.
Natural Balance has always strived to use only the best natural ingredients and they have always made their food with your pets in mind.
That's why they have their own team of vets, so if you do have any questions about their products, you can give them a call and talk to an expert about finding the right natural balance diet for your best friend.
Pros:
That's right, this is the brand that was started by THE Dick Van Patten who plowed his money, time, and effort into creating a brand of dog food that his beloved hounds would enjoy.

And they've been following Dick's example to the letter since day one. Natural Balance is a brand that was created from one man's love for his dogs. And sometimes, love is all you need to do great things.
Completely natural, their L.I.D. (limited ingredient diet) dry food was formulated to make sure that Natural Balance, and you, would always know what goes into every mouthful of your dog's food.

The reassurance you'll need in order to happily feed your German Shepherd Natural Balance comes from knowing what they don't put into their food, rather than what they do put into it.
Cons:
There is one drawback to Natural Balance's L.I.D. diet. It includes grains, and some dogs don't react well to them being part of their diet.

If you are worried about grains, speak to your, or one of Natural Balances, vets and they'll be happy to advise you about the best course of action to undertake in order to meet your German Shepherd's dietary needs.
Natural Balance Limited Ingredient Diet Lamb & Brown Rice | Large-Breed Adult Dry Dog Food | 26-lb. Bag
LAMB IS THE FIRST INGREDIENT providing essential protein and amino acids to help maintain strong muscles; Brown Rice is included as a healthy and rich source of fiber for digestive health; Contains...
LIMITED INGREDIENT DIET PHILOSOPHY Made with a simple list of premium ingredients; a single animal protein source, healthy grains, and no soy, gluten, artificial colors or flavors; We use fewer...
SPECIALLY FORMULATED FOR LARGE DOGS Made with the same balanced nutritional philosophy, and a larger kibble size, this formula is made to support the heart, bone & teeth, immune system, joint, skin &...
NUTRITION FOR YOUR LARGE BREED DOG Your large breed dog can enjoy our delicious recipes, not just dogs with sensitive stomachs or allergies; Our purposefully crafted formulas reduce the number of...
SAFETY & TRANSPARENCY Natural Balance's 'Feed with Confidence' program tests every batch of food from start to finish, ensuring safety with every bite; Validate bag on our site or call our Customer...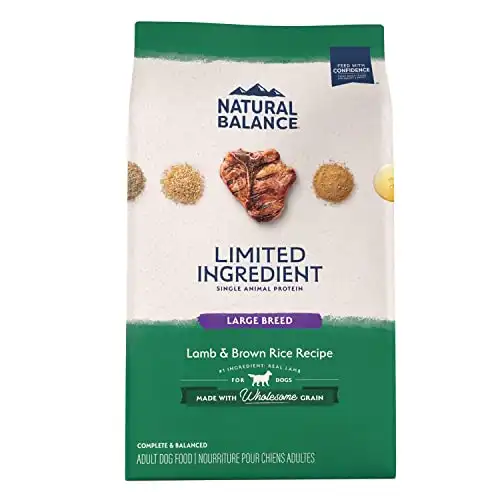 We earn a commission if you make a purchase, at no additional cost to you.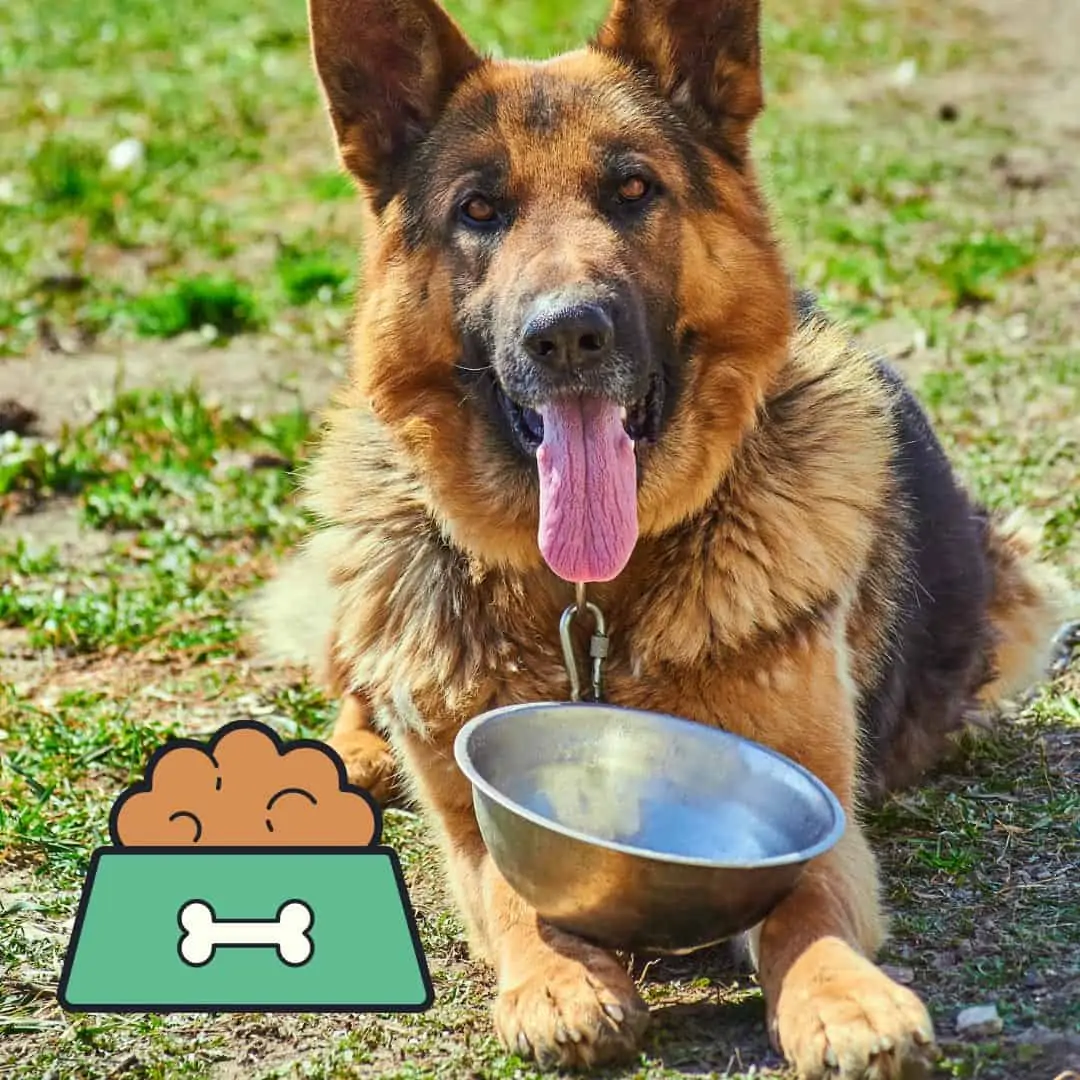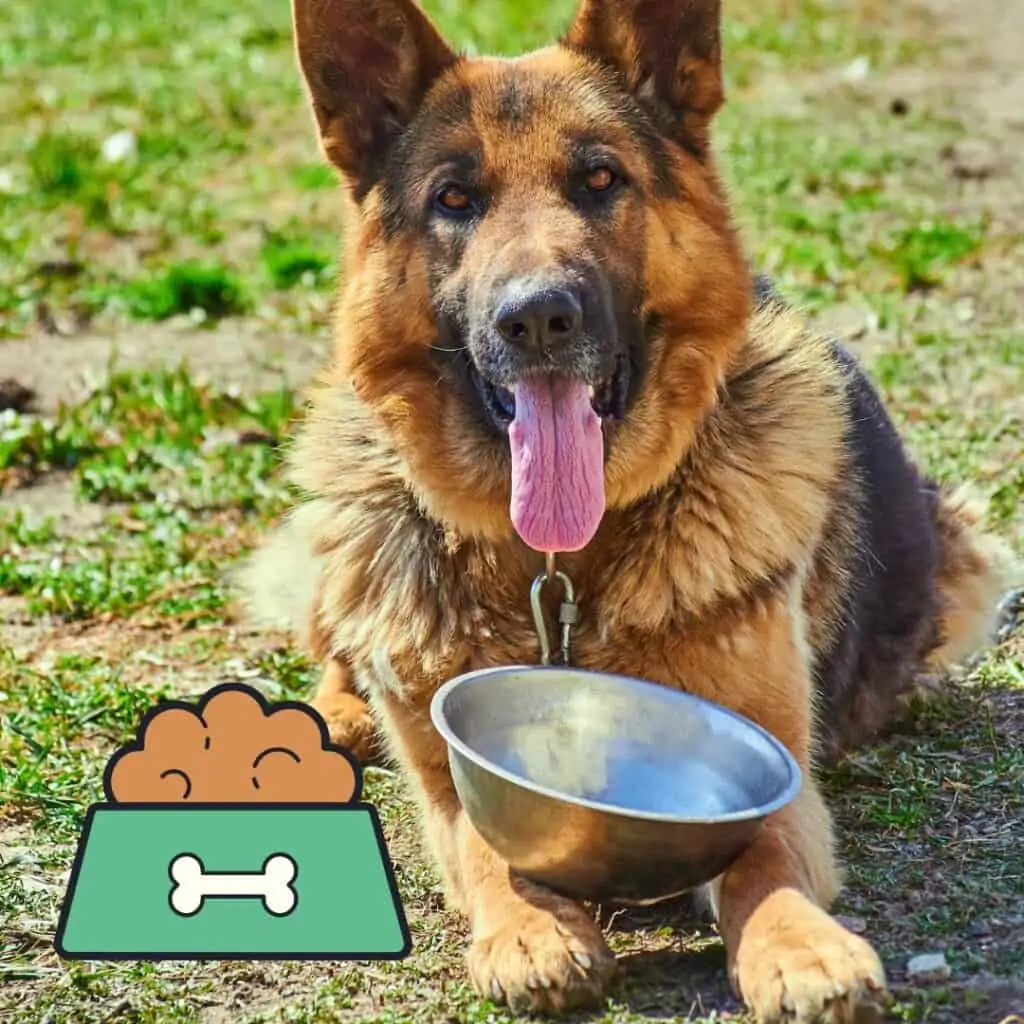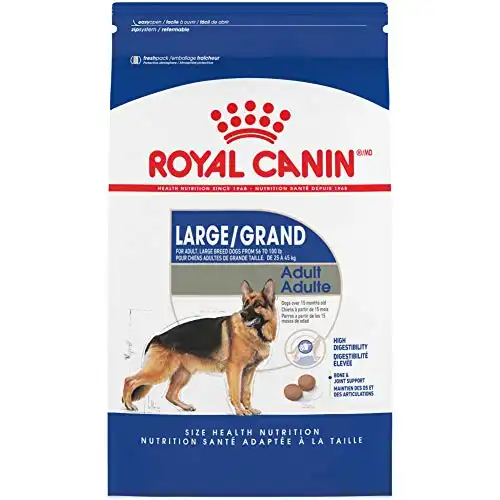 With so many different types of dog food that use their ingredient lists as a way of promoting and advertising their food, how do you know which food is the right one for your dog?
Royal Canin knows, and they've formulated each of their specific diets to contain exactly the right amount of nutrients, proteins, minerals, and vitamins that they need to lead a long, magnificent life.
Big dogs, lead big lives, and their boundless enthusiasm for the challenges that they face every single day places a lot of strain on their joints, which is why Royal Canin's formula contains all of the Omega Three oils and fatty acids that they need to make sure that their joints and muscles can keep pace with their lifestyles.
But don't worry, as it's also packed full of all of the other things that your German Shepherd will need at every stage of their life to enjoy each day from the moment the sun rises until it sets at night.
Royal Canin was founded by French vet Jean Cathary because he believed that food was central to animals' health, and he wanted to maximize animal health and wellbeing with a diet that would put health and taste on an equal footing.
And for more than fifty years that's exactly what Royal Canin has been doing, which is why they've become one of the leading, and most loved, manufacturers of dog food in the world.
Pros:
Every single Royal Canin formula has been specifically designed to cater to the needs of the dog that it was created for. Their every stage of life, large dog dry food is no different.

It contains all of the nutrients, oils, acids, and vitamins that your German Shepherd needs to thoroughly enjoy his life. And it tastes good too. At least we assume it does, as dogs just can't get enough of it.
See the picture on the front of the Royal Canin packaging? It's a German Shepherd. They couldn't make it any clearer if they tried. This dry food has been made for your dog and if you make it their primary diet, they'll never stop thanking you.
Cons:
And now for the bad news. It's kind of expensive. We know, it might not seem that way at first, but over time the costs will mount up and you'll start to feel the pinch.

At which point it'll be too late to try and change your German Shepherd's diet, as they'll be hooked on Royal Canin.

So think carefully before committing to Canin, as you might not want to make an inescapable financial rod for your back.
Royal Canin Large Breed Adult Dry Dog Food, 35 lb bag
LARGE BREED DOG FOOD: Royal Canin Large Breed Adult Dry Dog Food is precise nutrition specifically made for large dogs 15 months to 5 years old weighing 56–100 lb
BONE AND JOINT HEALTH: Mature dog food helps support bones and large breed joint health in older dogs
HEALTHY DIGESTION: Easy-to-digest, high-quality proteins and a balanced supply of fiber promote dog digestive health
SKIN AND COAT HEALTH: EPA and DHA nourish skin and a healthy dog coat
SPECIALIZED KIBBLE: Highly palatable large dog food kibble is specially designed for large adult dogs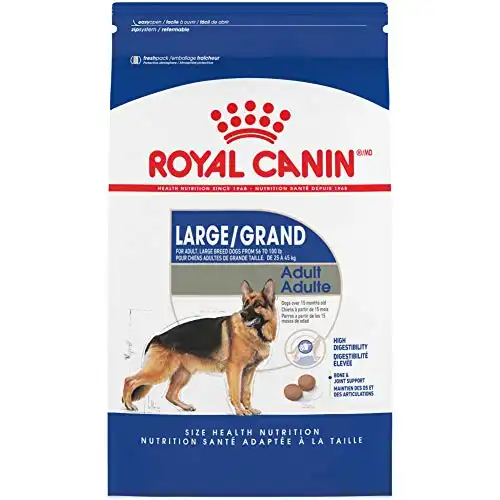 We earn a commission if you make a purchase, at no additional cost to you.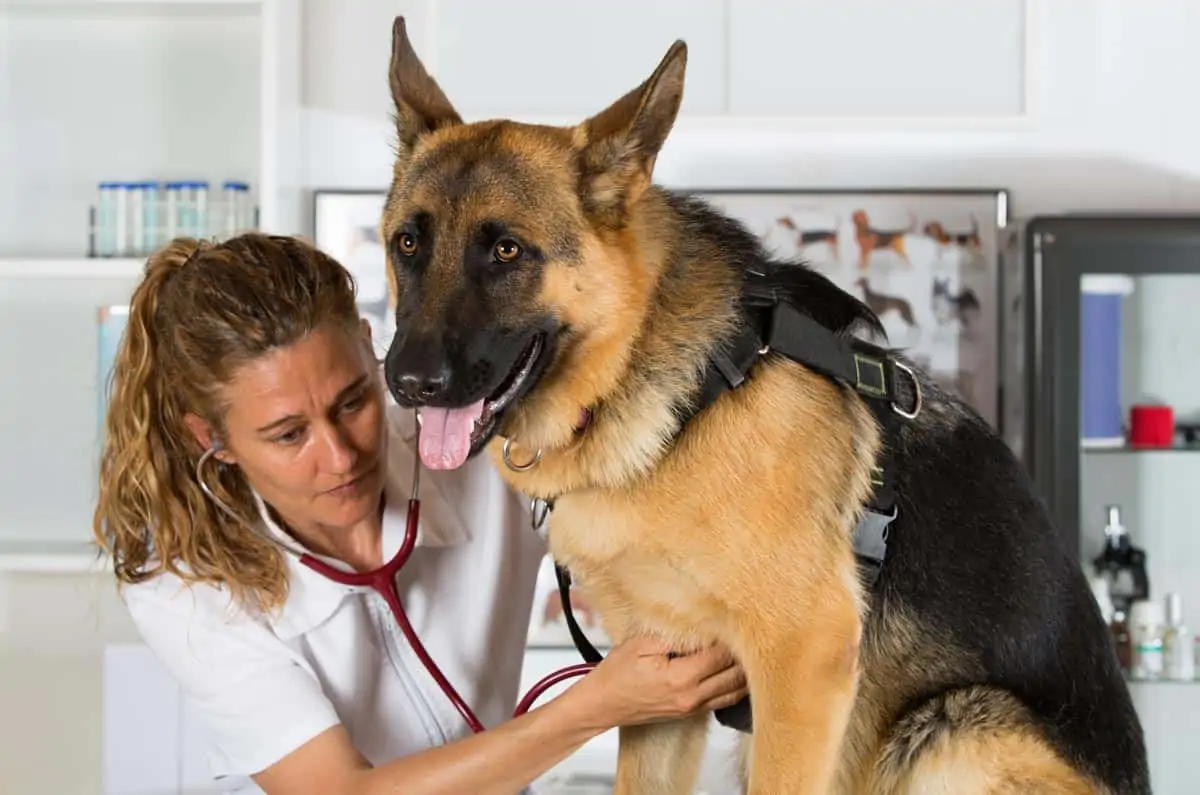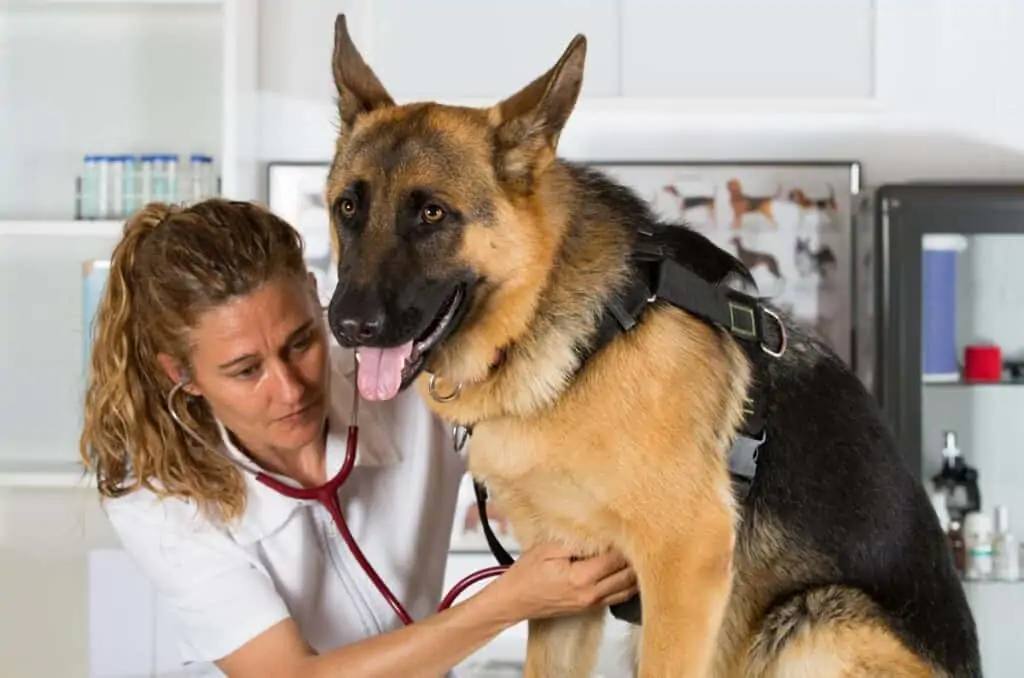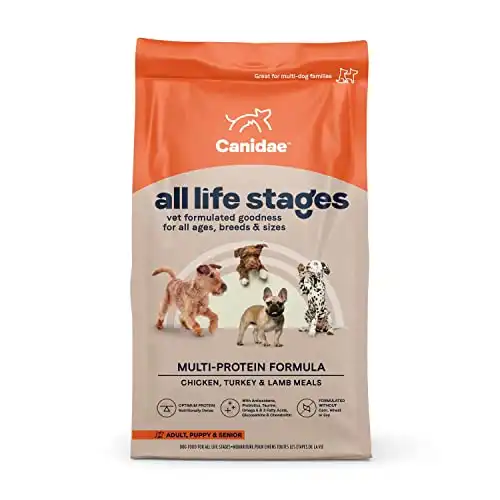 Canidae are proud of their twenty-five-year legacy. From the first batch of food that they delivered to the one currently cooking in their Texas base, they've set a standard that they never fail to live up to.
They know that food can be better, they know that its ingredients can be better and it can contain better nutrients and have a better flavor.
These were the reasons that two pet lovers founded the company in nineteen-ninety-six because they knew pet food could be better.
And that's exactly what they've been doing for a quarter of a century, making dog food better.
All Life Stages has been crafted from chicken, turkey, fish, and lamb meal in conjunction with wholesome grains to provide an optimal level of nutrition for all dogs.
While they add Omega Three and Six fatty acids and oils and probiotics to their food to aid digestion and keep your German Shepherd's skin and coat healthy, what Canidae doesn't add to their All Life Stages food are unnecessary bulking agents like wheat, corn, and soy.
They want their food to be tasty and they want their food to be healthy, and that's all that Canidae wants their food to be.
Nutritionally dense and made to make sure that your dog enjoys every single mouthful and always wants to keep coming back for more, Canidae only uses the finest ingredients like farm-grown vegetables and pasture-raised meat.
And they do that because they believe that every meal should give your dog the goodness that they deserve.
Pros
The first ingredient in every Canidae meal is protein. And so is the second, And so is the third. Your Shepherd will put his muzzle in his bowl and won't stop eating until it's empty. At which point, he'll probably demand another bowl of Canidae.
Packed with probiotics and Omega acids and oils, Canidae has specially formulated to provide your dog with all of the essential extras that he'll need to dictate the pace for you and your life together.
Cons
While all of the ingredients that Candiae uses to make their All Life Stages are completely natural, it contains both grains and chicken fats, which can be the source of common allergens among dogs.

If you don't know if your German Shepherd is allergic to either of these ingredients, it might be worth talking to a vet before fully committing to a Candiae diet.
Canidae All Life Stages Premium Dry Dog Food for All Breeds, All Ages, Multi- Protein Chicken, Turkey and Lamb Meals Formula, 44 Pounds
Contains 1- 44 Lb. Bag of Canidae All Life Stages Multi-Protein Formula Chicken, Turkey and Lamb Meals Dry Dog Food
Nutritionally dense kibble that nourishes in every bite, crafted with chicken, turkey and lamb along with wholesome grains and made without corn, wheat or soy
Complete and balanced goodness for all ages, breeds and sizes. One bag to feed them all, perfect for multi-dog homes
Formulated with antioxidants and probiotics to support a healthy digestive and immune system, along with a nutritious blend of vitamins and minerals to support healthy joints, skin and coat
Canidae is creating a world of goodness for pets and the planet. Premium proteins and regeneratively farmed ingredients nourish pets and planet in every bowl, setting a new standard for pet food....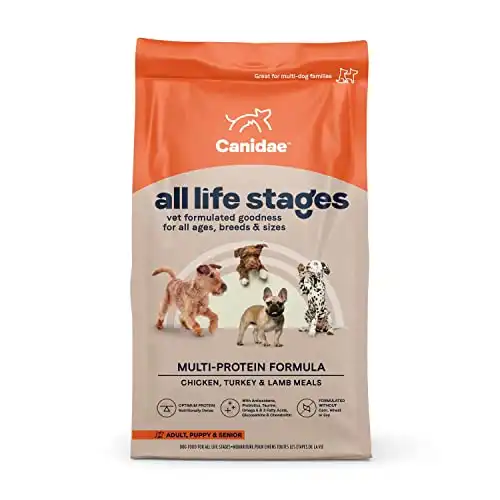 We earn a commission if you make a purchase, at no additional cost to you.
Best Dog Food For German Shepherds Buyer's Guide
Which Dog Food For German Shepherds Is The Right One For My Best Friend?
Barring the most expensive foods on our list, all of the brands fall within a relatively similar price range. You can also make your own German Shepherd food with simples recipes like these.
As such, the food that you choose to feed your German Shepherd is a decision that you will need to make after carefully weighing up all of the options.
He's your best pal, you know what he likes, so follow your heart and listen to what your gut tells you is the right choice and you won't go far wrong.
However, if you wanted our advice and wanted to follow our lead and feed your German Shepherd the same food that we feed choose, we'd always recommend Royal Canin.
It's more expensive than most of the food on our list but we've always pushed the boat out for our boy, as we think that he's worth it. And he does too.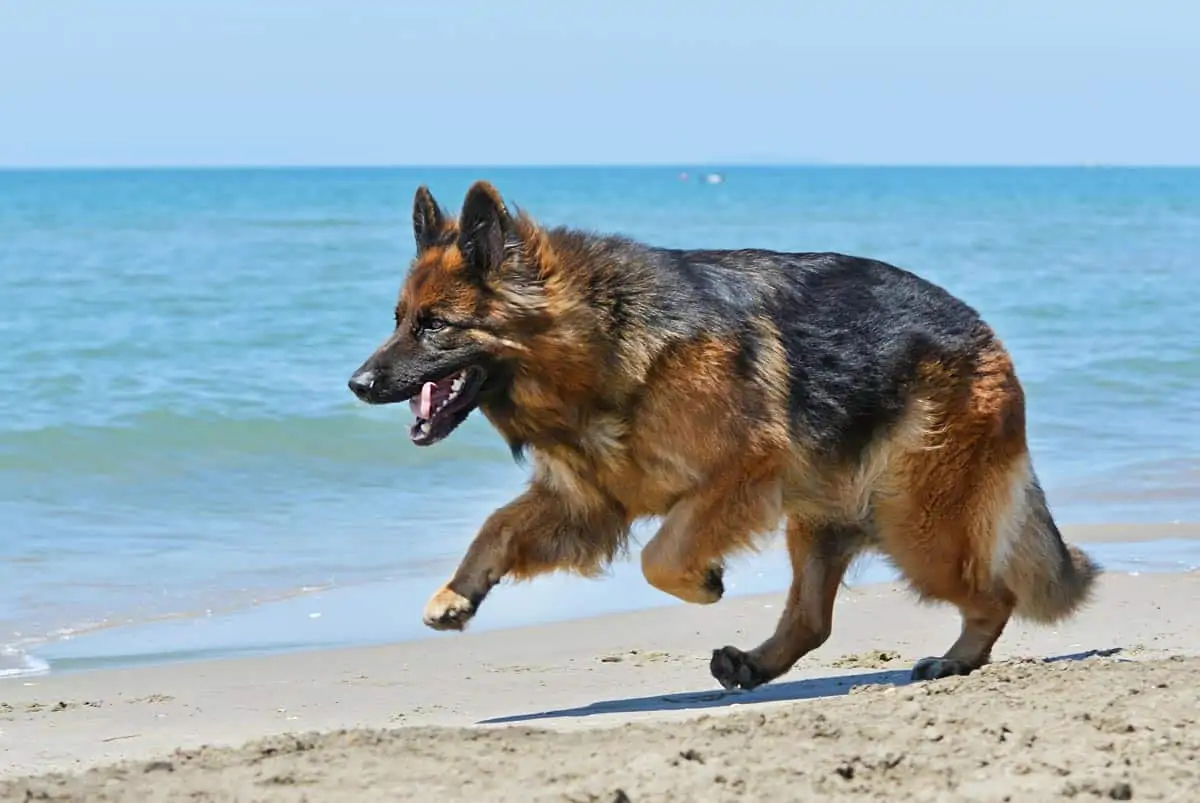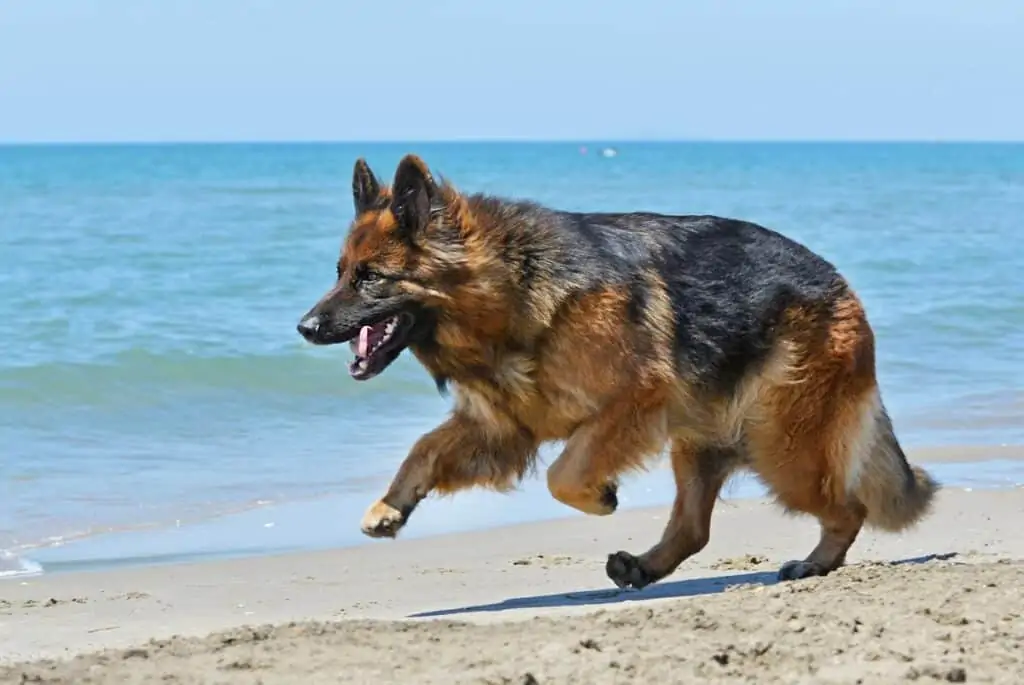 Frequently Asked Questions
What Is A German Shepherd?
The German Shepherd is a large working dog whose origin can be traced back to the beginning of the twentieth century in Germany.
Despite their resemblance to wolves, as the breed is just over a hundred years old, they are regarded as being a modern dog breed by the International Kennel Club.
Known as Alsatians in the UK until 1977, the breed has now reverted to its globally recognized name everywhere.
Primarily bred to herd sheep, the German Shepherd is renowned for its intelligence and as such is easy to train, and valued as a working breed by rescue services, the police, and the military.
Stand-offish with strangers, among their families German Shepherds are known to be loving and incredibly loyal dogs and will fiercely protect their "packs" (families) if they think they are being threatened.