Best Dog Frisbee [5 Best Durable Dog Frisbees]
Playing with your dog is one of the greatest ways to spend time together.
Whether you've got a squeaky bone, a classic tennis ball, or a pup friendly frisbee, fetch is a pup's favorite game. Until the toy breaks and you have to go home, that is.
You might be asking yourself "Can't you just use any old frisbee?" and while there's nothing stopping you, we certainly wouldn't recommend it. Human toys tend to be made from materials that are absolutely not dog friendly.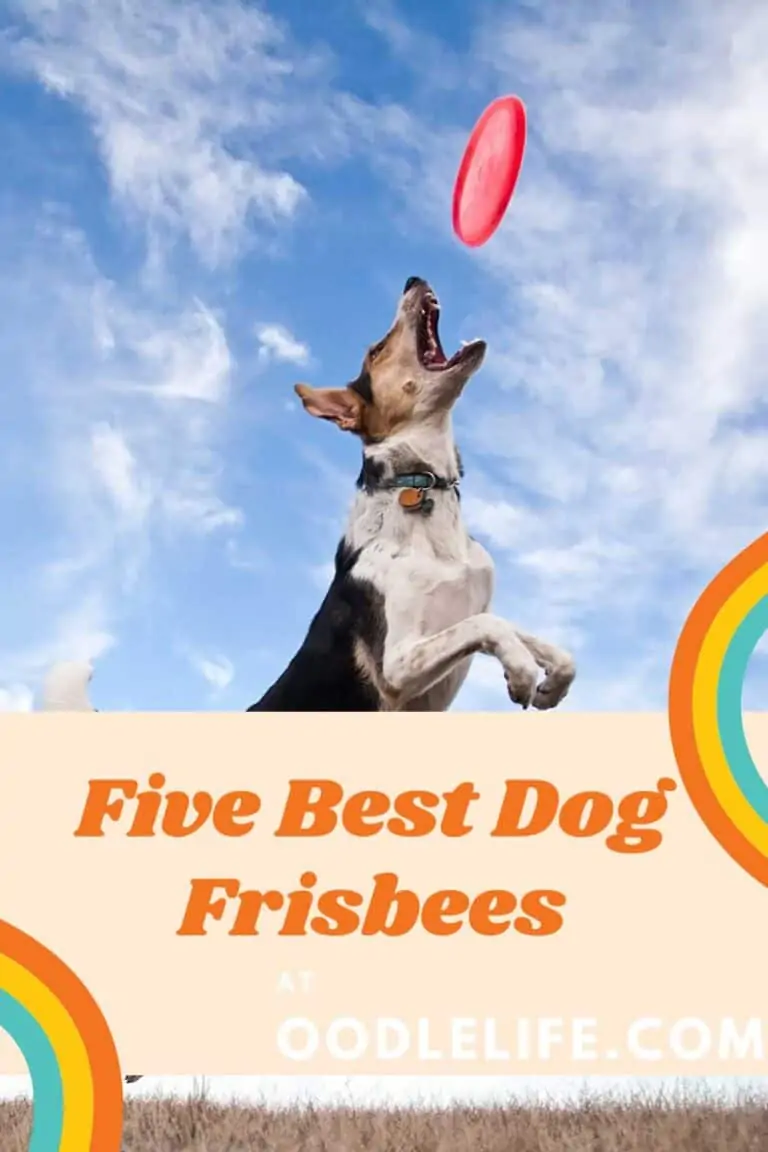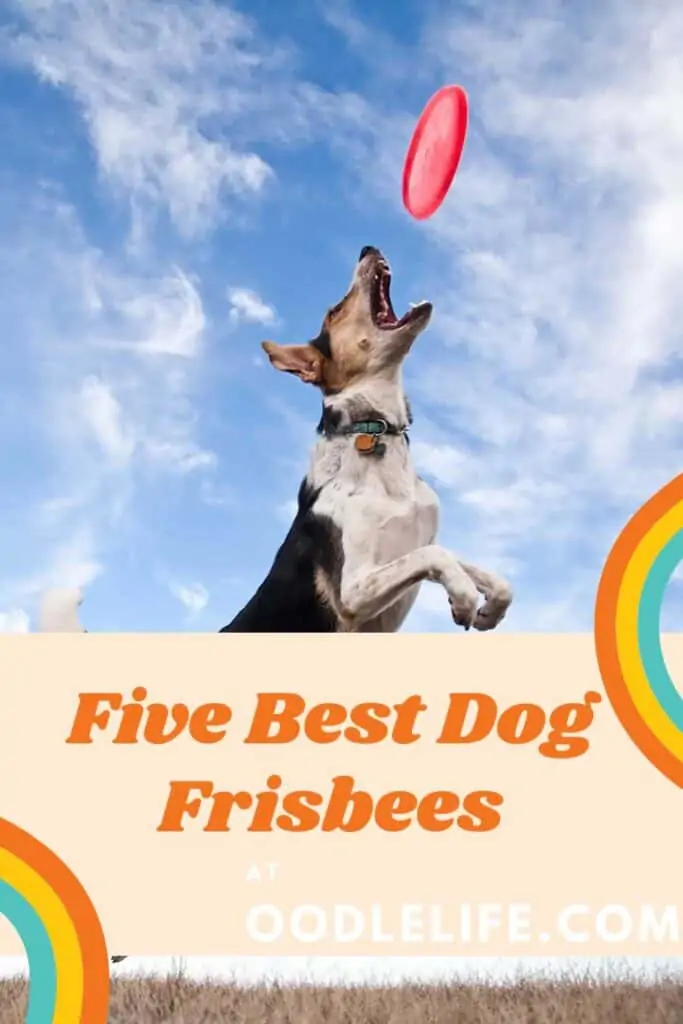 Picking out the perfect frisbee for your furry friend can be tricky, seeing as there are so many to choose from. Don't worry! We've made that decision a whole lot easier, with our list of five of the very best, available to buy right now.
If you'd like to know yourself about what characteristics make for the best dog toy, simply consult our Buyer's Guide. There, you'll find our thorough research, condensed and clear – it's everything you need to think about before hitting buy.
And should you still find yourself with questions, never fear. We've got your back there as well! Have a look at our set of FAQs, composed of the most consistently asked queries from your fellow dog lovers. Hopefully, yours is there too!
Ready To Seriously Up Your Fetch Game, ASAP? Here's Our Top Pick: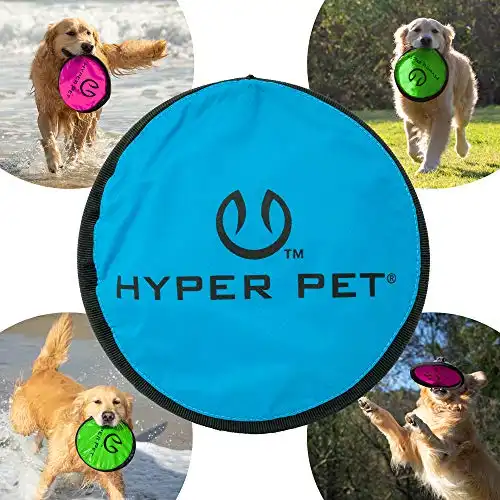 At an incredibly budget-friendly price, in five vibrant styles and ready for play whatever the weather, this was a no brainer.
Our number one choice this time is absolutely the Flippy Flopper from Hyper Pet!
Constructed from durable, multilayer nylon, it's safe in your pup's mouth and more than durable enough to handle hundreds of trips to the park.
Designed for long-lasting outdoor use, you won't have to worry about this toy falling apart.
Bright and easily locatable amongst trees and bushes, its buoyant design flies through the air with ease.
Not only that, but it floats in water, so feel free to enjoy some interactive play at the beach, by the pool or anywhere wet
At a standard size of nine inches in diameter, it's lightweight and suitable for use with any size and breed of dog. Easily slip it into any bag or let your pup carry it in their mouth (if they like to!) – it transports with no trouble at all.
With over 20 years of experience manufacturing toys, each product is proven to excel in performance and fun – you can count on Hyper Pet.
Don't spend too much and avoid the cheap imitations – stick with this dependable frisbee!
Pros:
Lightweight yet durable multi-layer nylon
Waterproof and floats naturally
Perfectly sized for any pup
Five bold color choices
Cons:
Won't stand up to determined chewers!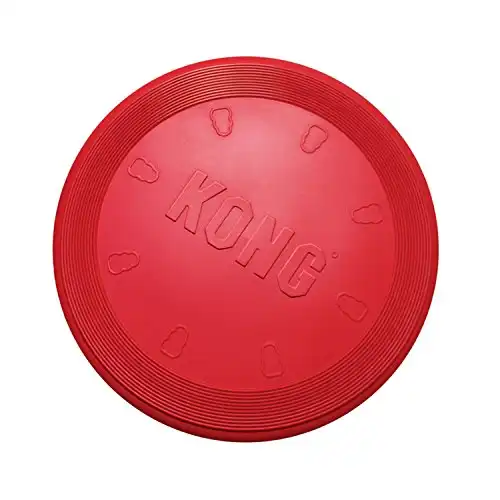 Made from their natural, classic red rubber formula, this frisbee from KONG is no less impressive than their range of chew toys.
Promoting their natural instincts to play and engage in healthy exercise, even destructive dogs can have hours of fun!
Soft and more forgiving than other frisbees, this toy is less likely to injure your pup and easier to grab in general.
It will also deliver a dynamic rebound, should they miss the initial throw, allowing for a second opportunity at a successful catch.
Available in sizes small and large, at 7 and 9 inches respectively, you can pick the right size for your pup.
That being said, KONG recommends you only use their Flyer with larger dogs, between 13 and 30 kilos (30-65 lbs), as it's heavier than average.
Made in the USA, by a reputable company that dog owners have trusted for more than forty years, it might be a little pricier than your average toy, but it's certainly worth the investment. For you, and for your furry friend!
Plus, it's covered by the same protections as all of their products – KONG's Satisfaction Guarantee.
In the event you are unsatisfied, simply fill out their form within 60 days of purchase for a replacement or full refund.
Pros:
Solid, yet mouth-friendly natural rubber construction
Available in small or large
Bounces if missed for a second chance at catching
Covered by KONG satisfaction guarantee
Cons:
Only designed for larger dogs (30-65lb)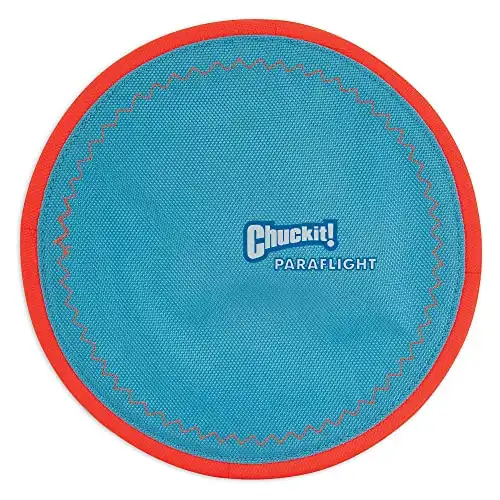 Aerodynamic enough for the most high-flying game of catch you've ever had, Chuckit's Paraflight Flyer absolutely does what it says on the tin.
Ready for long-distance throwing for years to come, your canine pal will surely adore it.
Pairing soft rubber edges with a multilayered nylon interior, it's gentle on your dog's gums and teeth.
Another good safety feature is that it descends gradually, to allow jumping and catching mid flight… and your pup more time to figure it out!
In bright shades of blue and orange, it will certainly stand out from its surroundings for an easy grab.
Plus, it floats, so no matter if you're out in the backyard or hanging out by the lake, you're safe to enjoy some risk-free playtime.
Ready to take on extended outdoor fun in any condition, come rain or shine, the strong construction can withstand plenty of rough and tumble.
That said, you might want to discourage your fluffy friend from chewing on it, if that's their bag.
You'll notice that the Paraflight can be bought in packs of two, three and four – if you have a whole pack of pups, or just want a couple to keep in the car or at a friend's house for spontaneous playtime, this can be a great way to save some cash.
Pros:
Great for high flying, long distance throws
Durable, weather resistant and floats on water
Lightweight, aerodynamic and well-constructed
Multi layered nylon is soft on the gums
Cons:
May not work well for chewers
ChuckIt! Paraflight Flyer Dog Frisbee Toy Floats On Water; Gentle On Dog's Teeth And Gums; Large
10 INCH FRISBEE: Ideal frisbee for dogs for high-flying games of fetch, designed for long-distance flight The Paraflight fetch toy floats in water - great for playing at the pool, beach or lake
DURABLE DESIGN: This large dog frisbee features a multilayer nylon interior with soft rubber edges that's gentle on puppy's gums and teeth. Frisbee gradually descends for jumping and catching mid...
PET TOYS: Get ready for bonding fun with your dogs and cats. Check out a variety of our pet toy products such as frisbees, perches mirrors for birds, prey wand toys for cats, plush toys, light-up...
CHUCKIT FETCH TOYS: Chuckit creates toys that enrich the human-animal bond. Bright colors help dogs and puppies stay engaged. Checkout Chuckit for ball launchers, bouncy balls, frisbees, indoor dog...
JUST FOR PETS: Petmate makes a variety of pet products for dogs, cats, chickens other small furry friends Check out our brands such as Aspen Pet, Arm Hammer, Booda, Chuckit, JW, and more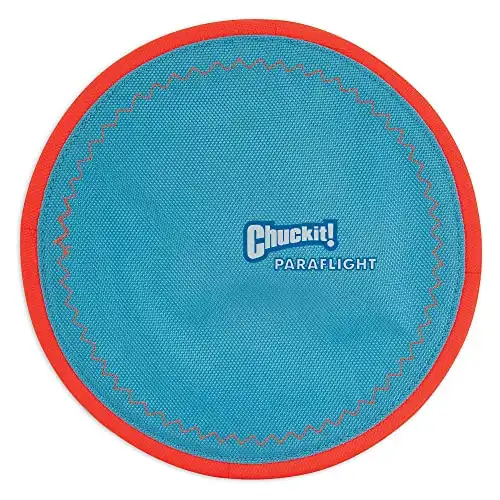 We earn a commission if you make a purchase, at no additional cost to you.
Puncture resistant for even the toughest of pups, Hyperflite's Jawz disc is the best-flying heavy duty disc around.
Again, it costs a little more than you might expect to pay for a dog toy, but you're investing your money wisely!
High-tech polymers and patented dual gripping surfaces combine to create state of the art aerodynamics, despite being remarkably solid. It can not double up as a chew toy, nor does it float, so make sure to only use it appropriately!
Weighing only 145 grams, and 8.75 inches in diameter, it should be fine to use with any size and breed of dog, though remember not to overdo it.
Choose from five extra-bright colors – we recommend the Lemon Lime as most distinctive to dogs.
Those looking to participate in contests should look no further: this competition grade disc was designed by world champions to be capable of record-setting distance throws.
It also boasts Hyperflite's X Flash anti-glare technology for an added edge.
Softer than regular plastic, it's not going to hurt if it bashes against your dog's gums or teeth, nor will it develop a hard or jagged 'edge' after continuous use. This disc is set up to last you and your furry friend for years to come.
Pros:
Pro-level, competition standard disc
Several designs to choose from
Equipped with anti-glare technology
Professional quality materials for longevity and durability
Cons:
On the more expensive side.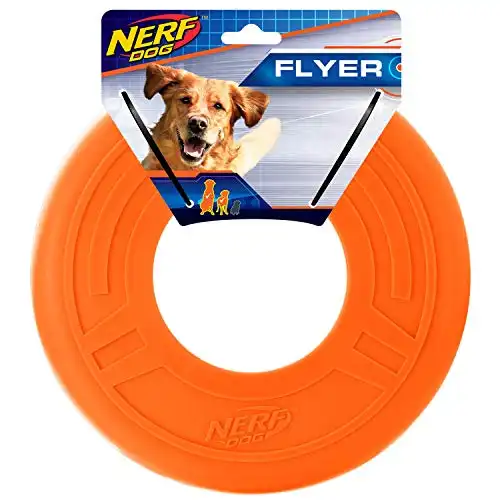 Just like the old commercials said: It's Nerf… or Nothin'! The donut shaped Atomic Flyer has a curved lip similar to human frisbees, offers just the right amount of grip for throwing, and soars through the air tremendously.
Best for adult dogs, it's 10 inches in diameter and composed of lightweight, thermoplastic rubber; though it's tougher than some more buoyant products, this bad boy floats on water too! Enjoy outdoor fun at home, at the park and the beach!
Bold and bright in color, your pup will easily see this disc hurtling towards them or hidden somewhere on the ground, no matter where it ends up. Plus, the wipe-clean material is easily rinsed off to remove any slobber and keep it in tip top condition.
Reviewers suggest, however, that dogs who like to chew won't be able to resist this disc, and will be able to destroy it much more easily because of its distinctive donut shape.
If your dog fits this description – look elsewhere or risk buying a replacement!
Inspired by their epic range of children's toys, designed and optimized with just as much care and consideration, the Atomic Flyer is able to withstand hours and hours of fun. Don't be surprised if it's your pup's new favorite!
Pros:
From the team that create amazing NERF toys
Lightweight, aerodynamic and easy to grip
Waterproof and able to float
Donut shaped with a curved lip for easier catching
Cons:
Easily destroyed by fans of biting – not safe for chewers!
Best for adult dogs only
Nerf Dog 10in Atomic Flyer - Orange
Nerf Dog brand products are 100% designed with your dogs in mind
These toys encourage interactive play between all family members and their 4-legged companions
We make our products to last for hours of extended play and our exciting designs and assorted shapes & sizes will accomodate pups of all ranges
Take your Nerf Dog toys everywhere you go!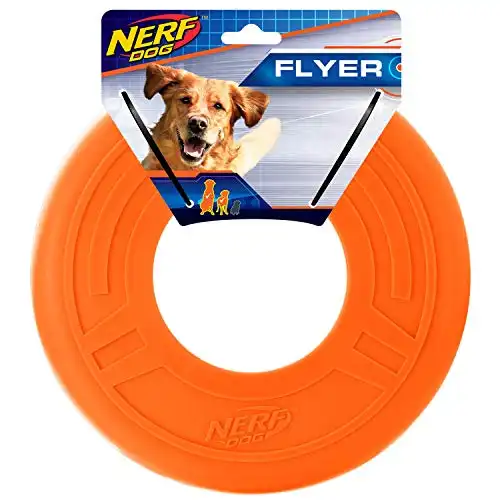 We earn a commission if you make a purchase, at no additional cost to you.
Best Dog Frisbee Buyer's Guide
Features To Consider:
Color
Not everyone knows this, but dogs actually see color differently to us humans.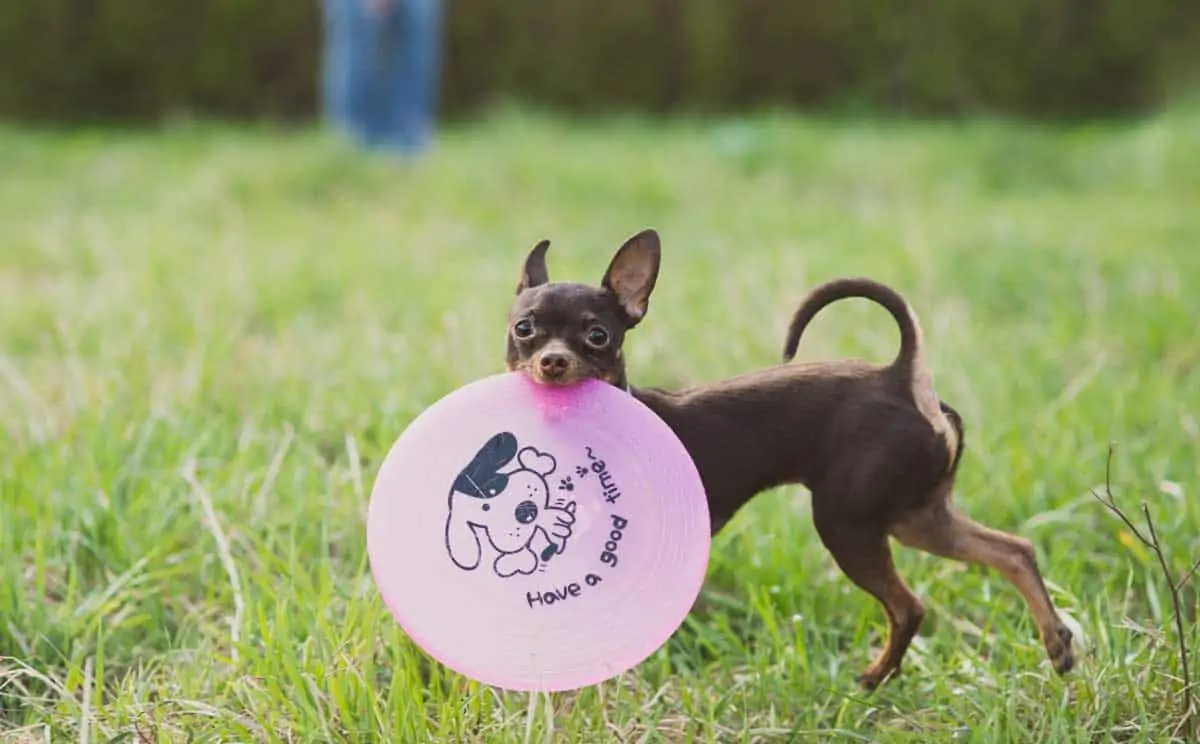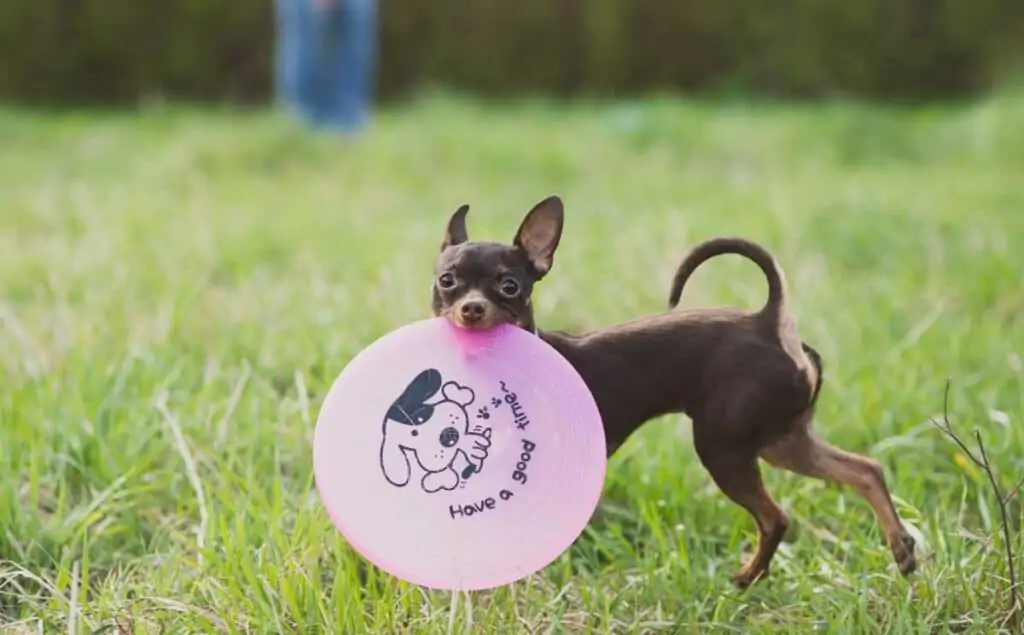 It's a common misconception that they only detect gray, black and white – in actuality, they can distinguish plenty of colors, just fewer than our more advanced eyes can pick up.
Canine eyes have fewer cones – these are photoreceptor cells that enable us to see. Whilst us people have three cones per eye and can see red, green, yellow and blue, pups only have two cones, leaving them with the last two.
Effectively,  pups are red-green colorblind! Therefore, if you pick a toy in this color, they'll find it very difficult to distinguish from their surroundings, particularly if it's tucked away in the dirt or between blades of grass!
Choose a blue or a yellow toy for the best success, as your dog will be able to see it from miles away! Variants of those primary colors, like purple and orange, are equally as distinctive to their eyes, so can also work well.
Material
First things first, determine whether you want a hard or a soft frisbee: if your pup is a big chewer, then the stronger the better.
When your dog is more interested in chasing than chomping, a less indestructible alternative is more than fine.
Of course, your primary concern after that is ensuring you only pick up toys made from non-toxic materials. Double check that the manufacturer provides evidence of this before you purchase – any good supplier will have made this perfectly clear.
Besides the incomparable Kong, you're unlikely to find rubber frisbees, as they need to be lightweight enough to sail through the air!
Therefore, sturdy, rigid plastic is your second best alternative to satisfy pups with an appetite for biting.
When your pup needs a softer approach, aiming for a rugged nylon frisbee will ensure it is soft on their fragile mouths, as well as survive absolutely any weather conditions.
If you're going to be playing near a body of water, ensuring you pick a frisbee that can float is of importance… unless you fancy taking a dive and fishing it out yourself! Either that, or just avoid playing near the dog beach, a river or lake!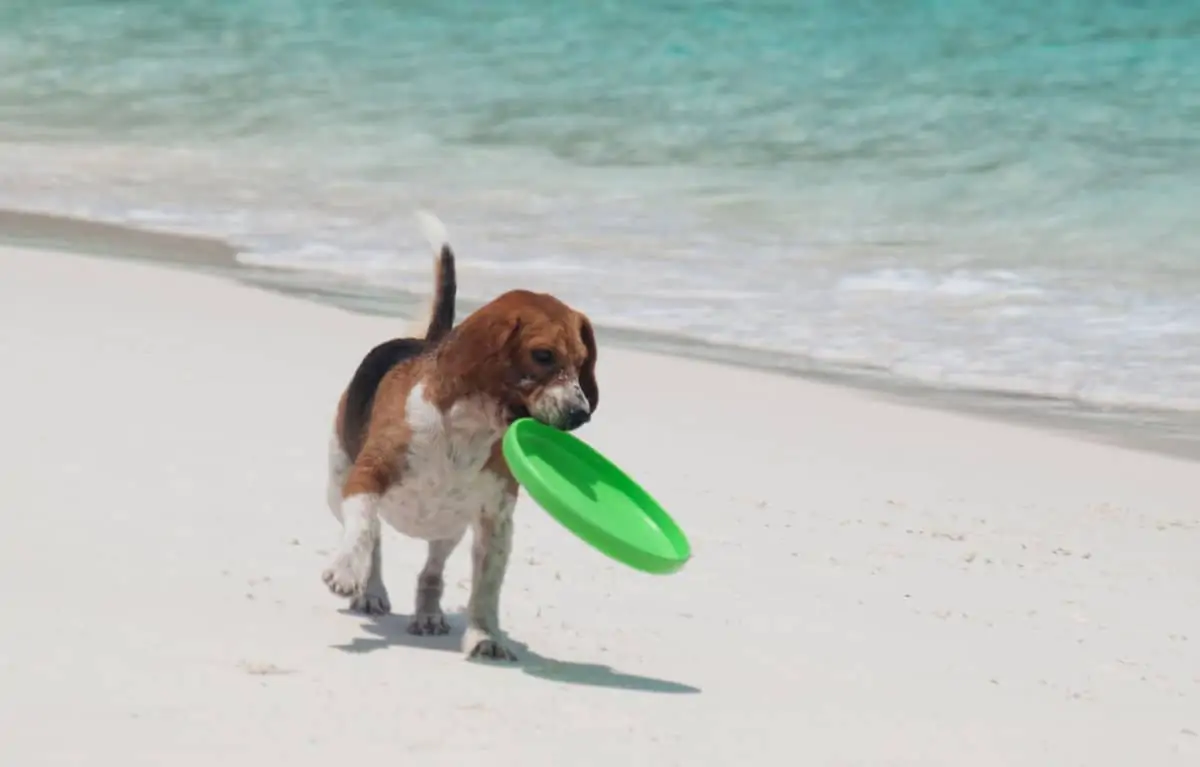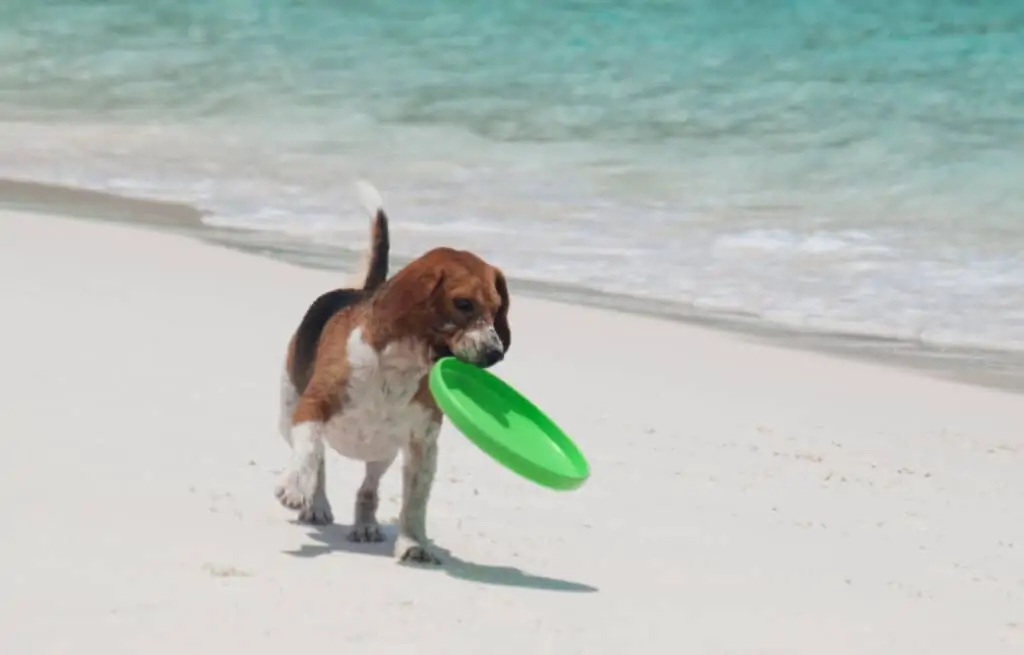 Size
Not to point out the obvious, but you would probably buy different frisbees for a Chihuahua and a Great Dane.
Have a look at the dimensions of the product before you add it to that cart! Or, if you can choose a size, make sure it matches your pup!
If you're not sure whether your frisbee of choice is suitable, consult the reviews of fellow customers. Usually, they'll include photos or descriptions of their canine companions, so you can determine whether your dog is likely to enjoy that toy.
Shape
As with those made for people, frisbees are always circular… otherwise they wouldn't be frisbees.
That said, they do vary slightly, in that some are flat discs and others are more like donuts, with large cuts taken out of the middle.
The latter can be a lot easier for dogs to catch, as it gives them the ability to really clamp their mouths around it.
However, these models are going to be a lot easier to break, so destructive dogs are probably better off with the regular flat variety.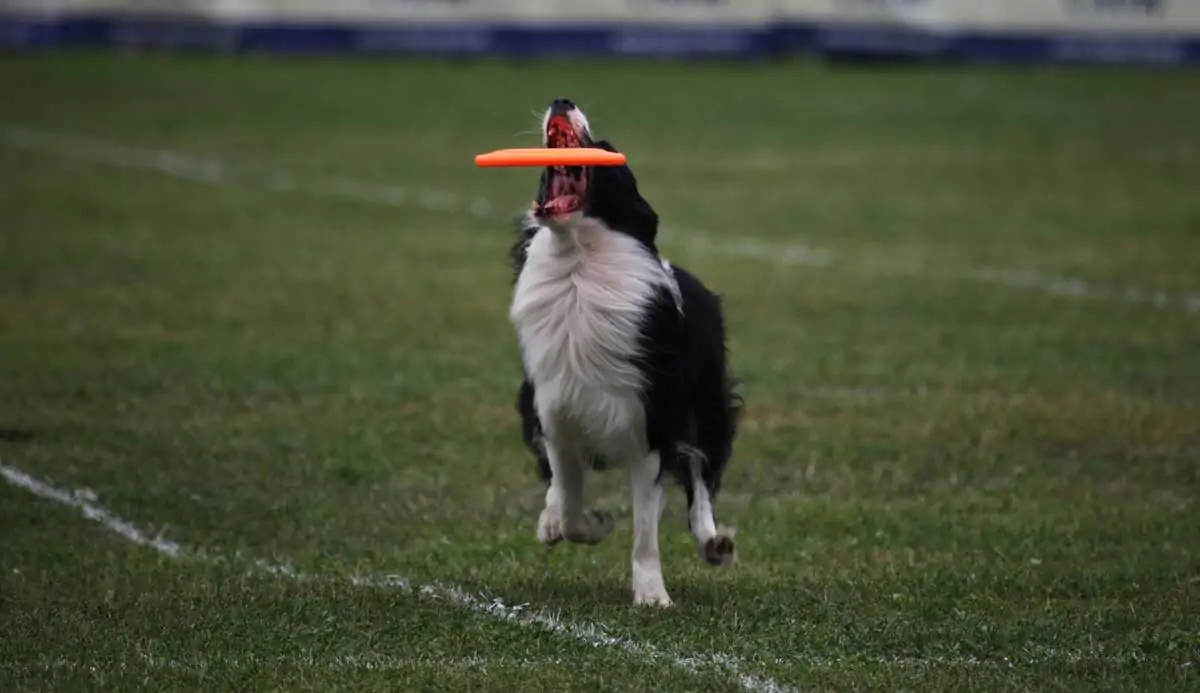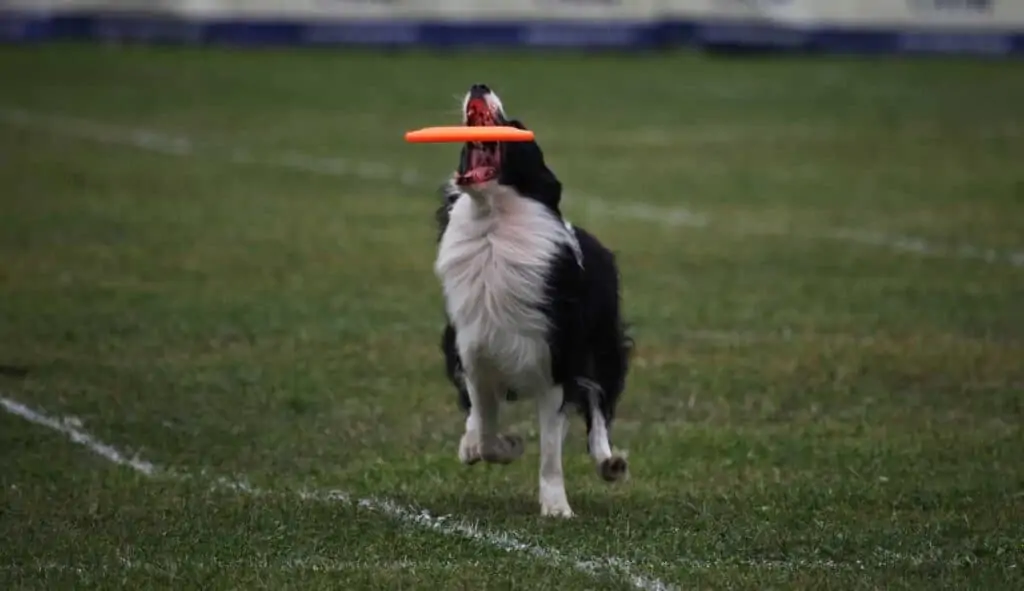 Frequently Asked Questions
Is playing frisbee bad for dogs?
Whilst frisbee and other iterations of fetch are more than fine to enjoy with your furry friend, it's imperative that you bear in mind a couple of things.
Perhaps most importantly, you should never overexert your dog with play that is too vigorous.
Always throw the disc from a safe and appropriate distance – too close and you could smack them in their adorable little face. Too far away, and you run the risk of strain or injury, particularly ligament strains and back pain over-exertion.

Only play for short bursts of time, and try to mix up your play sessions with other types of exercise, like swimming, walking or using agility-style equipment. A trip to the dog park is usually a hit, too!

What age can dogs learn to catch?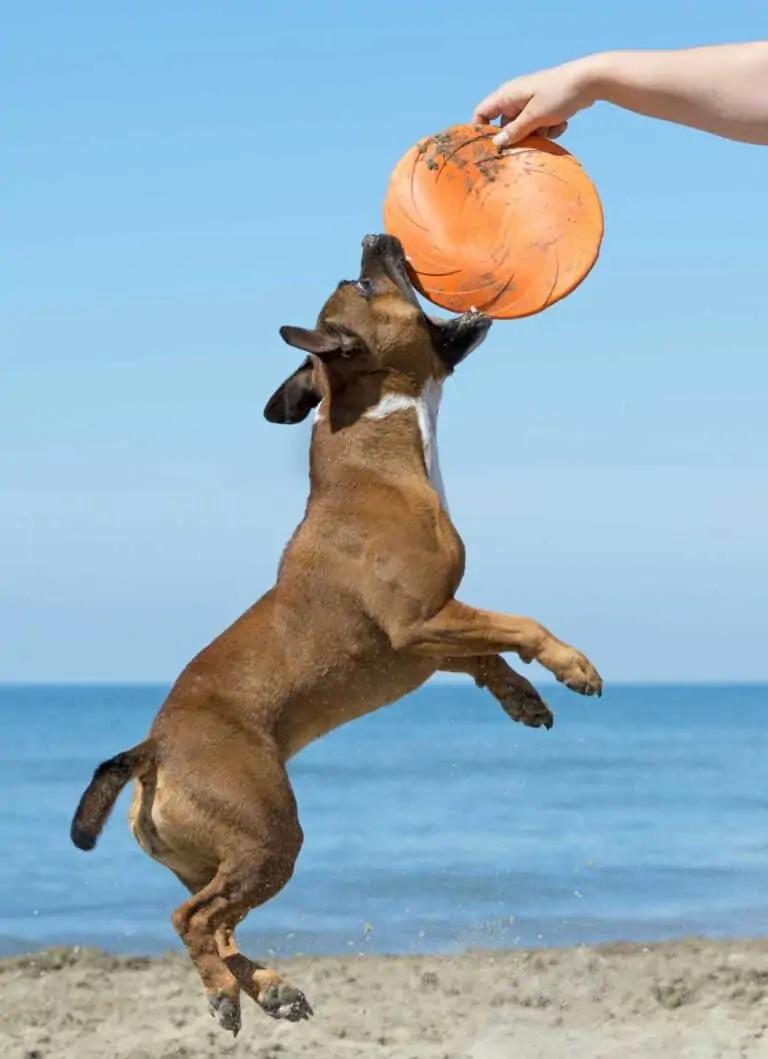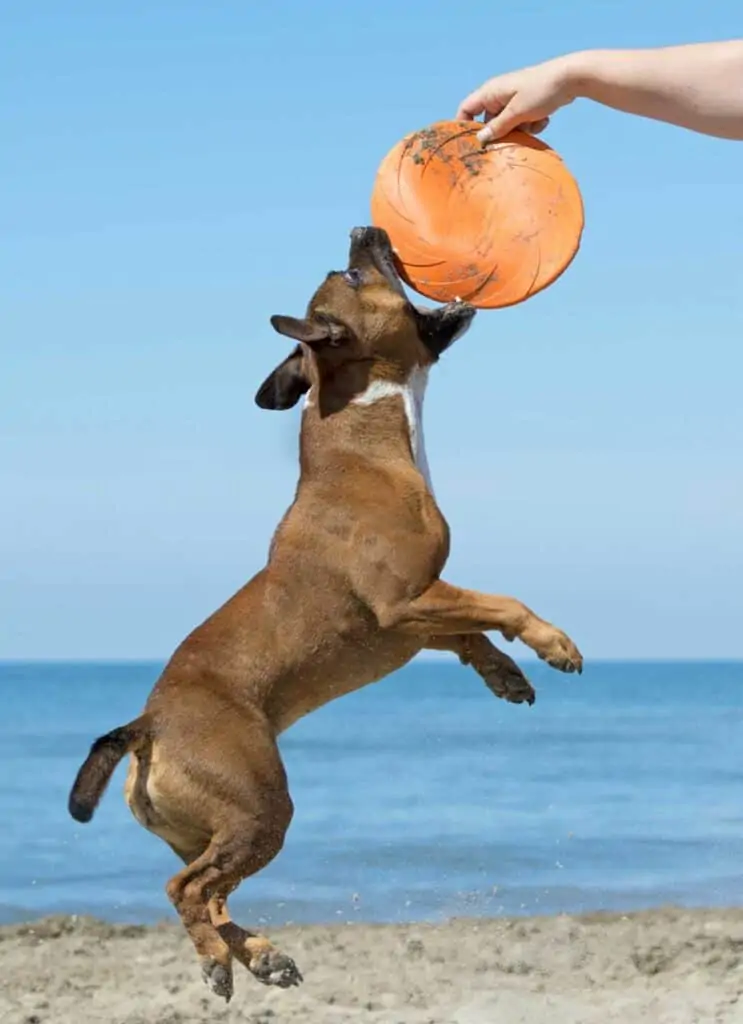 Now, before you go trying to play fetch with your tiny puppy, know this: you're not going to be able to teach your dog to catch until they are at least four months old.
Any younger than that and their coordination and vision is not developed enough.
You should also bear in mind that they probably won't pick it up the first, second or even the third time you try.
Much like playing catch with a little kid, their ability to follow and securely grab at the frisbee is a skill that must be developed over time!
Start by throwing treats instead – once your furry friend has mastered catching a treat from a fair distance, then step your game up to frisbees.
Slowly introduce it and then gradually stop providing treats in between and after successful catches!
The most important thing to remember is practice makes perfect! Don't give up without a fight!
Can all dogs catch a frisbee?
There's nothing stopping you from trying to teach your dog to catch.
Whether they're small and adorable or big and beautiful, no matter the breed, it's a skill that with practice they should be able to master. However!
Regardless of whether or not they can, some dogs absolutely do not want to catch. Maybe they'd prefer a ball or a rope to play with, or perhaps they're just not that interested in playing fetch or catch with you altogether.
If your pup seems uninterested in whatever it is you're trying to teach them, leave it and try again at different times.
In the event that they never run or wag their tail for a game of catch, it's likely it just isn't their bowl of dog chow. Don't force it!
Likewise, if you don't get a frisbee that's appropriately sized, they'll have more trouble than necessary catching it, and could potentially injure themselves. Ensure it's small and light enough for your dog's height, weight and breed!