Are There Dog Translators? [Are They Good?]
All dog owners have wished there was such a thing as a translator for their dog. The movie Up brings this concept to life with a collar that translates everything the dog says. But does a dog translator exist in real life? We might not have flying cars yet in the 21st century, but dog translators do exist.
There's no longer a need to guess everything your dog is saying when you can buy dog translator collars, buttons, neural devices, and apps to help you translate what your dog wants to say.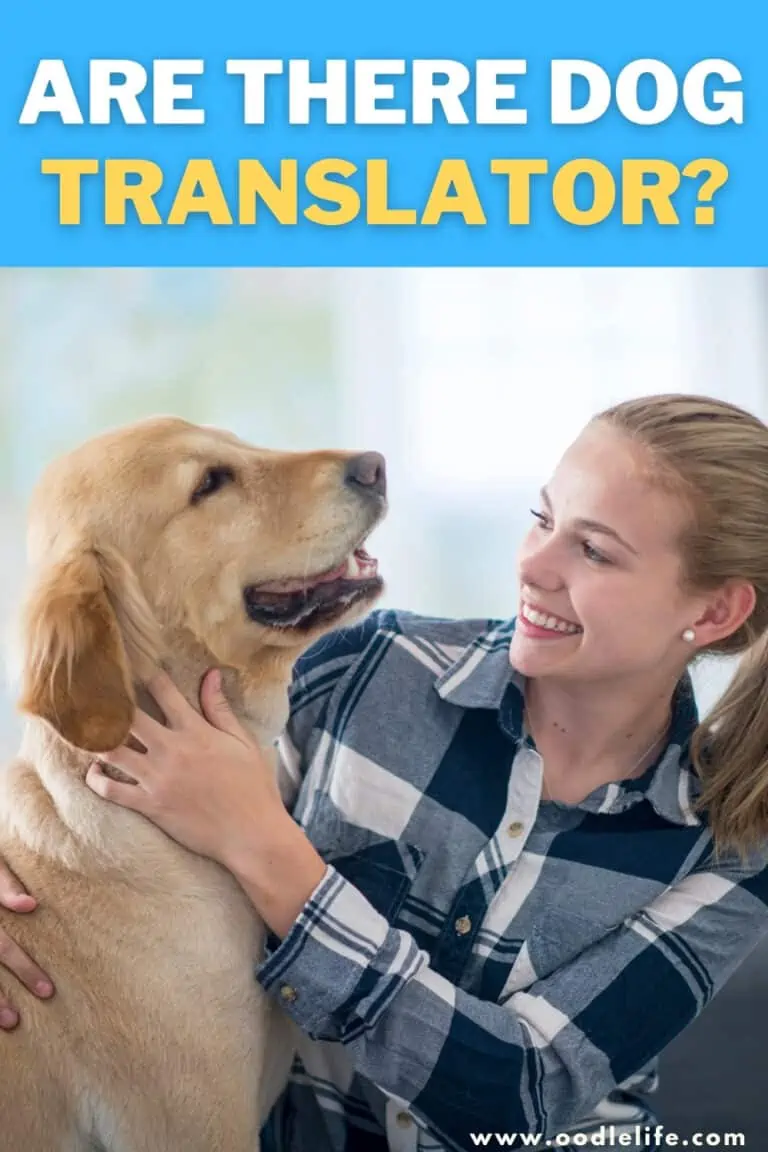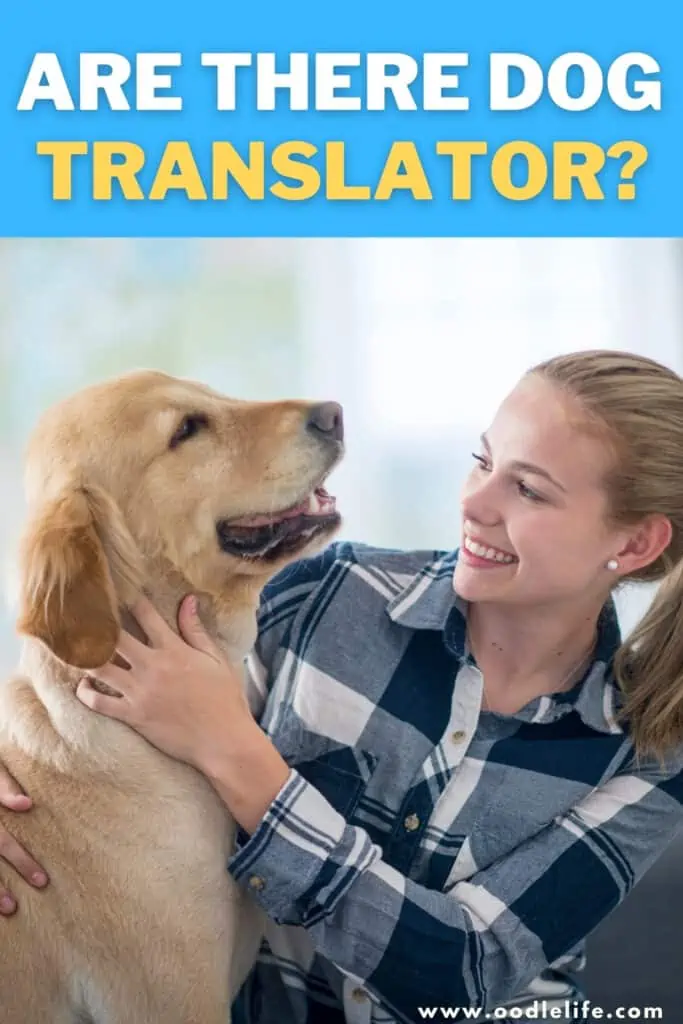 How Can I Translate What My Dog is Saying to Me?
I know that my dog wants to go outside if she shakes her collar or sneezes and that it's an urgent need if she barks in a certain way. But, I don't always get it right. Does she want me to follow her? Is Little Timmy down the well?
We all have our limitations on understanding our dogs. That's where technology can help.
Here are four types of translators that currently exist for dogs:
1. Dog Translator Collars
BowLingual has been using its dog collar device to translate dog barks into human speech since 2002. Dr. Matsumi Sazuki of the Japan Acoustic Laboratory found that dog barks fall in one of six basic categories. With the help of specialists at Kogure Animal Hospital, he was able to pair dog body language with the barks.
One part of this device attaches to your dog's collar, while you hold the other part. It compares your dog's sounds against a database of thousands of pre-recorded dog sounds from more than 80 different dog breeds.
Your translator will then tell you your dog's emotions, such as sad, happy, frustrated, on-guard, or needy. It also speaks phrases to tell you things like "Play with me!" or "I want to be with you."
One of the downsides of BowLingual is that it depends on your dog to bark to be able to tell you what your dog is feeling. If your dog doesn't bark a lot, it may not be so helpful.
Another downside is that, if you're looking for BowLingual, it may be difficult to find it anywhere except eBay currently.
2. Dog Translator Buttons
Not everything a dog wants to convey to you comes through its bark. Dog translator buttons go a step beyond guessing bark meanings to allow your dog to press buttons with their paws to translate what they want to say to you into English. Since your dog is in control, dog translator buttons are likely to be fairly accurate.
In 2018, Speech-language pathologist Christina Hunger had the idea to use Argumentative and Alternative Communication (AAC) devices that she used with her pre-linguistic patients to help communicate with her puppy Stella. She taught Stella to "speak" 29 different words as a part of her puppy training.
Christina has also written a book called How Stella Learned to Talk that can give you more insight into how she used her translator buttons to communicate with Stella.
We earn a commission if you make a purchase, at no additional cost to you.
The idea is to train your dog to learn to press specific buttons to communicate what they want to you. You can record phrases onto the buttons that are the most valuable, like "outside, "walk," and "hungry." Once your dog has mastered a few phrases, you can buy more buttons to increase your dog's communication repertoire.
Christina attached all of Stella's buttons to a piece of plywood. However, there are also non-skid Dog Button Mats available to attach your buttons.
The most highly-rated and most popular dog translator buttons on the market are:
Hunger for Words Talking Pet Starter Set: This set is the one Christina uses with Stella. It comes in a 4-button set and includes a step-by-step teaching guide. However, it doesn't include batteries.
RIBOSY Dog Training Buzzer: It comes in sets of 2, 3, 6, or 8 buttons and includes batteries.
OFVENS Voice Recording Button: It comes in a 4-pack, and two different color combination choices are available. You can record up to 35 seconds of words. Batteries are not included.
ChunHee Dog Speech Training Buttons: This set is available as a one-button potty-training doorbell or as a set of 4 or 6 buttons. It records up to 30 seconds of words. It also includes batteries.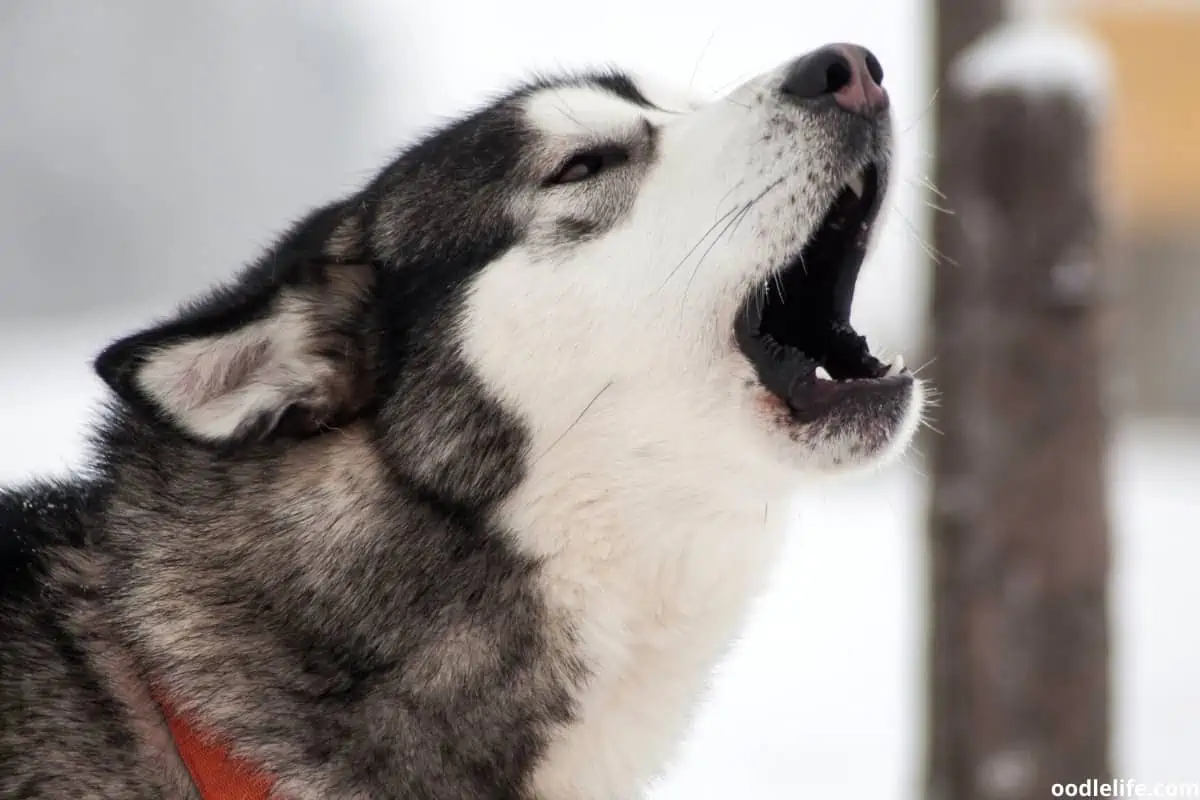 3. Dog Neural Translator Devices
Science has now reached a point where it's possible to decode signals from human brains to help non-verbal people communicate. While this is amazing news for human communication, other scientists are putting science to work to help decode dog neural patterns as well.
No More Woof uses electroencephalography (EEG), micro-computing, and BCI software to turn animal thought patterns into human language.
The simplest version distinguishes between 2-3 emotions like being tired, hungry, and curious. A more advanced version distinguishes between 4+ emotions with more accuracy. Meanwhile, the most complex version is more personalizable and lets your dog speak in short sentences.
Unfortunately, you can't buy No More Woof yet because it's still in prototype version 3.2 stage, but it is available for pre-order in three versions that range from $65-$1200.
However, the fact that they've been in development for several years makes me optimistic that the company isn't willing to release it until they're confident of its accuracy.
4. Dog Translator Apps
Both Android and iOS have several apps available for their phones and other devices that can help translate your dog's sounds into human words.
Different users report varying degrees of satisfaction with the results. Some of the highest-rated ones currently available include the following:
Dog Translator Apps for iOS Devices
Human-to-Dog Translator: This app translates dog sounds to help you identify their emotions and lets you talk back to them in dog language with the touch of a button.
Human to Dog Translator Ultra: This app converts your texts inputs into dog language.
Dog Translator Apps for Android Devices
Cat & Dog Translator: This app translates from dog to human from human to dog language, including for specific dog breeds.
Pet Translator: This app translates dog sounds into human words and allows you to play dog sounds to help you communicate with your dog.
All of these apps are free, but you may have to endure a few ads to use them.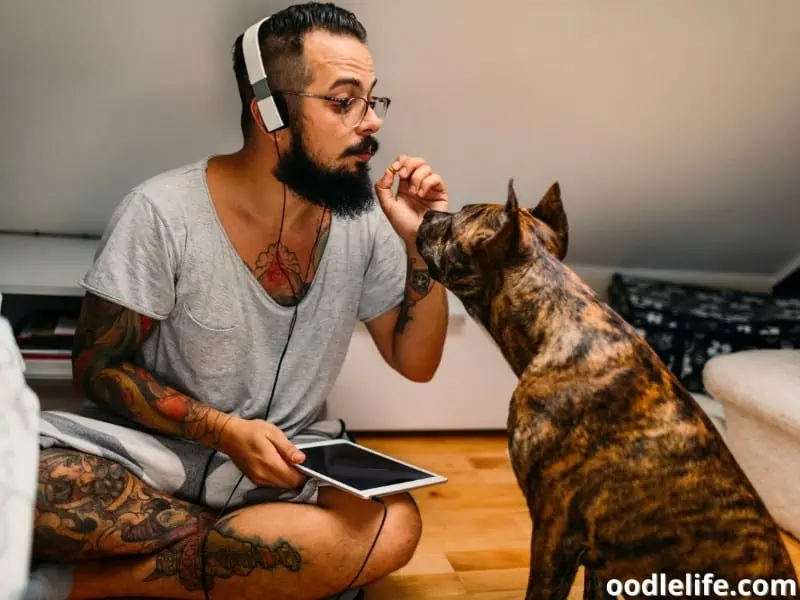 Which Dog Translator Should You Try?
The easiest dog translator to try is one of the highest-rated dog translator apps. They're free, so if they don't work for your dog, you're not out any money. However, if you really want to work on understanding your dog, a set of dog translator buttons is your best choice.
Unfortunately, the dog translator collar is difficult to find, and the neural translator isn't available to the public yet, so your choices are a little limited.
We're not at the level of using dog speech translators in the same way that we use human speech translators yet, but dog translators can help improve meaningful communication between you and your dog. However, don't be surprised if your dog wants to tell you 50 times a day that it wants to go outside or go for a walk.
Happy communicating!