Best Antibacterial Dog Shampoo (for Poodle Mix and other breeds)
Sometimes a puppy will need an Antibacterial dog shampoo. We love dogs – and dogs sometimes love germs. Puppies can play and eat things they shouldn't. Finding the best antibacterial dog shampoo that suits your breed is important.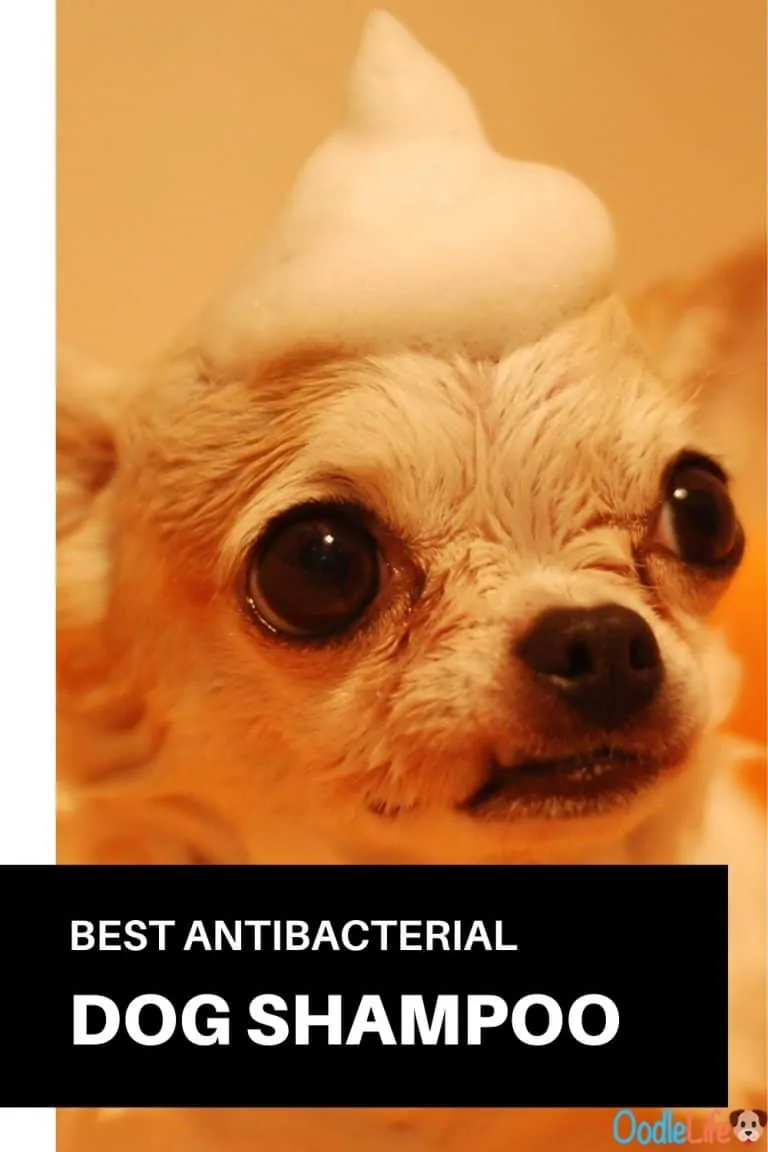 Sometimes owners even worry that their dog has come into contact with germs or viruses and want to clean their puppy.
What Antibacterial Dog Shampoos are Good For
The best antibacterial dog shampoos target bacteria on the outside of the dog. The antibacterial dog shampoo can be useful in eliminating fur bacteria and treating skin infections.
If the infection is internal – you don't need an antibacterial shampoo. Even the best antibacterial dog shampoo cannot fix internal bacterial infections. You need a Veterinarian!
Take your dog straight to the Vet if you are concerned about infection. Always prioritise the health of your puppy and take no risks.
Poodle Mix Cross Breed Bacterial Infections
Poodle Mix breeds are incredibly popular. Famed for their hypoallergenic coats and few health problems – Poodle crosses are still susceptible to infections and bacterial diseases.
One of the most common problems and causes of infection in Poodles in the ears. The shape of the canal traps excess hair and can lead to blockages of wax. These blockages are the perfect breeding ground for bacteria.
Find out how to clean Poodle mix breed ears with our guide to cleaning Labradoodle ears.
The other major type of infection that can infect Poodle cross breed dogs is skin infections. Minor skin infections can be reduced be grooming frequently and correctly.
Minor skin infections for Poodle cross dogs can often be helped or treated by the use of antibacterial dog shampoos.
More serious skin infections require veterinary attention. Often the treatment will be shampoo, but always consult with your Vet if you are concerned.
Properties of the Best Antibacterial Dog Shampoos
The best antibacterial dog shampoos will share the following properties
Clean the area thoroughly with natural ingredients
Actively kill bacteria using effective and strong medicimes
Nourish the fur and cause no coat damage
Repair and improve the dry skin with moisture
Sooth and provide topical relief for the dog while it recovers
The Best Antibacterial Dog Shampoo for Poodle Mix Dogs
After testing and review, it was clear that our favourite antibacterial dog shampoo for dogs was Dechra Miconahex + Triz Pet Shampoo.
It provided an incredibly potent combination of medicines to kill bacteria in a excellent smelling, effective shampoo.
The active ingredients target a huge variety of bacteria. the Chlorhexidine, EDTA and more target gram negative AND gram negative bacteria. Anyone who works in the health industry is impressed with such a broad range of effectiveness.
This shampoo TEARS through bacterial cell walls and eliminates bacteria. All while soothing and gently allowing the skin to repair. This means fast and happy resolution for your Poodle mix puppy. The formula suits hypoallergenic Poodle cross breed fur really well.
This shampoo is the best antibacterial dog shampoo for Labradoodles, Goldendoodles, Bernedoodles and other Poodle Crossbreeds.
Dechra Miconahex + Triz Pet Shampoo
Potency to kill bacteria

Soothing to Skin

Protects the Coat

Fragrance
Summary
Dechra MiconaHex+Triz Shampoo is used to support healthy skin for animals with conditions responsive to miconazole and/or chlorhexidine.
The active ingredients include: 2% Miconazole: a synthetic antifungal used to prevent and treat fungal skin infections 2% Chlorhexidine gluconate: -Generally used as adjunctive therapy for bacterial skin infections cause by Gram-positive and Gram-negative bacteria -Bacteria and fungi do not develop resistance toward chlorhexidine gluconate TrizEDTA (tromethamine USP, disodium EDTA dihydrate):
Antimicrobial and antibiotic potentiating activity
Blocks the Pseudomonas efflux pump
Potentiates chlorhexidine and antibiotics
Disrupts the bacterial cell wall by chelating metal ions making the cell wall more porous
Made in the USA.
Check Price and Reviews on Amazon
Pros
A medicated shampoo that Treats Topical fungal and bacterial skin infections on Cats, Dogs and horses

Antimicrobial, Antifungal and Moisturizing Shampoo

Contains ceramides to aid in Moisturizing, repairing and restoring dry, damaged skin

Continues to work even after rinsing

Made in the U.S.A
Cons
Moderate cost price point
Will not treat internal infections
Conclusions
A strong and effective antibacterial shampoo for dogs is appropriate when you need to kill bugs. If you are going to use antibacterial shampoo, it sure should have POTENT bacteria killing properties. A shampoo like Dechra Microhex provides really potent bacterial killing properties in a nice smelling, soothing product.
This is why the product is the best antibacterial dog shampoo for poodles and poodle cross breeds.