The Best Automatic Dog Feeder of 2023
If you work long hours, you may not get to feed your dog on a consistent schedule. Luckily, you can use the best automatic dog feeder to help.
While you'll still need to care for your dog, automatic feeders mean you have one less thing to worry about. Read on to learn about the best models to try.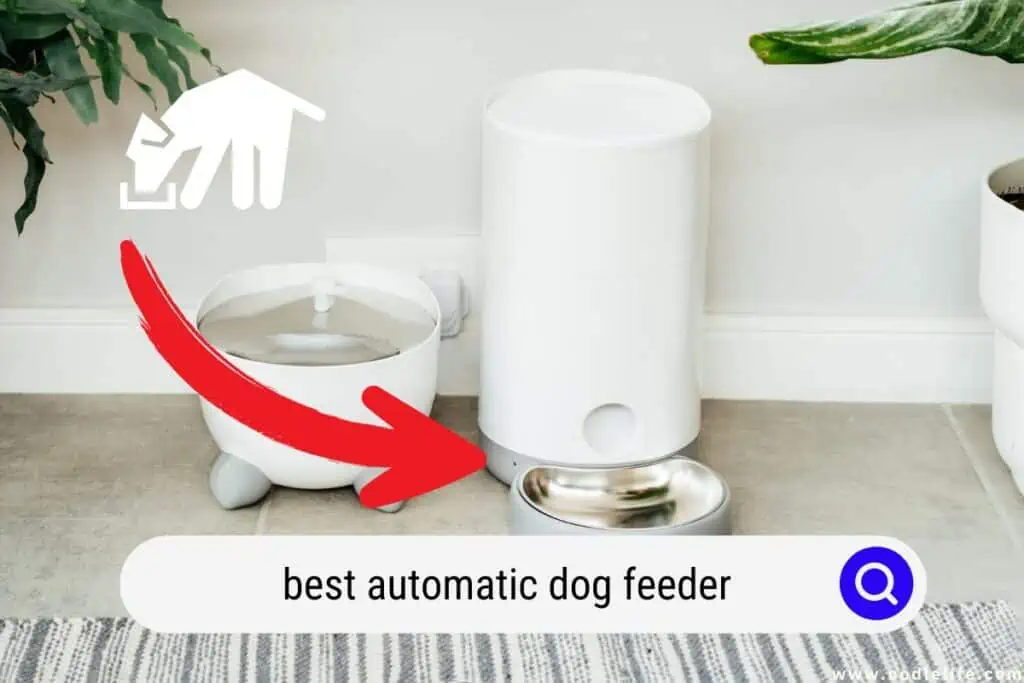 Best Automatic Dog Feeder Options
Consider getting an automatic dog feeder if you want to simplify your dog's meal times. That way, you won't have to manually measure and pour the food every time.
WOPET Automatic Feeder
This WOPET Automatic Feeder is technically for cats, but you can use it for smaller Oodles. You can set the feed times and choose from one to six release times per day. It holds up to 20 portions of food, and you can record messages to play as the feeder releases kibble.
WOPET Automatic Cat Feeder with Camera,7L App Control Smart Feeder Cat Dog Food Dispenser,6-Meal Auto Pet Feeder with Timer Programmable,HD Camera for Voice and Video Recording
Smartphone Controls Feeding:Remotely set times to feed your pet automatically,You can set 1-6 meals per day and up to 20 portions of dry food per meal depending on your pet's needs. Customized...
HD Camera:Work as a smart pet camera with a connected app that lets you see, talk, play with your pet. Connect with your pet while you are away with the supported audio chat/recording. Sharing your...
Suitable Capacity:This 7L / 29cup dog feeder automatic consistently provides food for your cat and dog smoothly for a couple of day, assuring you that it' ll stay full and happy when you're out for a...
10s Customized Messages:Record your voice messages and play it to make your pets get used to the feeder better while dispensing meals. Automatically broadcast to remind your pets that it's time for...
Dual power supply:Power the feeder via the included power adapter or 3 pieces D batteries (not included).Battery Backup ensures that your pets get fed even in a power outage.We recommend using the two...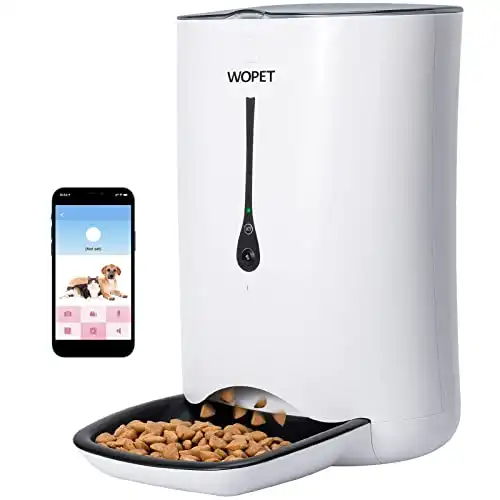 We earn a commission if you make a purchase, at no additional cost to you.
Features
HD camera that connects to an app.
Watch your dog as they eat.
Holds up to 29 cups of food.
Pros
Share recordings with others.
Record and play your voice for your dog.
Feeds up to six times a day.
Dual power system.
Cons
Somewhat expensive.
Not for large dogs.
Petmate Replendish Feeder
If you're on a tight budget, the best automatic dog feeder to try is from Petmate. The feeder can hold up to ten pounds of food at a time and uses gravity to replenish the food. Unfortunately, that does mean you can't schedule when food goes out, so your dog has to know when to stop eating.
Petmate 24495 Replendish Gravity Feeder
AUTOMATIC FOOD DISPENSER: Cat and dog gravity feeder dispenses dry food as pets eat, prolonging refill time & perfect for busy pet parents. Auto food bowl features easy-snap top lid. We recommend...
MULTI-PET HOUSEHOLDS: Pet food dispenser has an 10 lbs. capacity to accommodate multi-pet households & larger breeds. The food container locks securely into base for stability.
FOOD & WATER: Keep pets fed with fresh food & water with a variety of our products. Check out our airtight dry food storage containers, bowls for kennels, gravity water bowls, automated food bowls &...
Petmate: For over 50 years, we at Petmate are passionate about our dogs, cats & furry friends in general. Starting with the very first dog kennel, we've produced plenty of eco-friendly products that...
JUST FOR PETS: Petmate makes a variety of pet products for dogs, cats, chickens & other small furry friends! Check out our brands such as Aspen Pet, Arm & Hammer, Booda, Chuckit!, Jackson Galaxy &...
We earn a commission if you make a purchase, at no additional cost to you.
Features
Gravity feeding system.
Easy to refill.
Lightweight.
Pros
Easy to use.
Good for houses with multiple pets.
Affordable.
Different sizes and colors.
Cons
Doesn't stop releasing food until empty.
Not the best quality.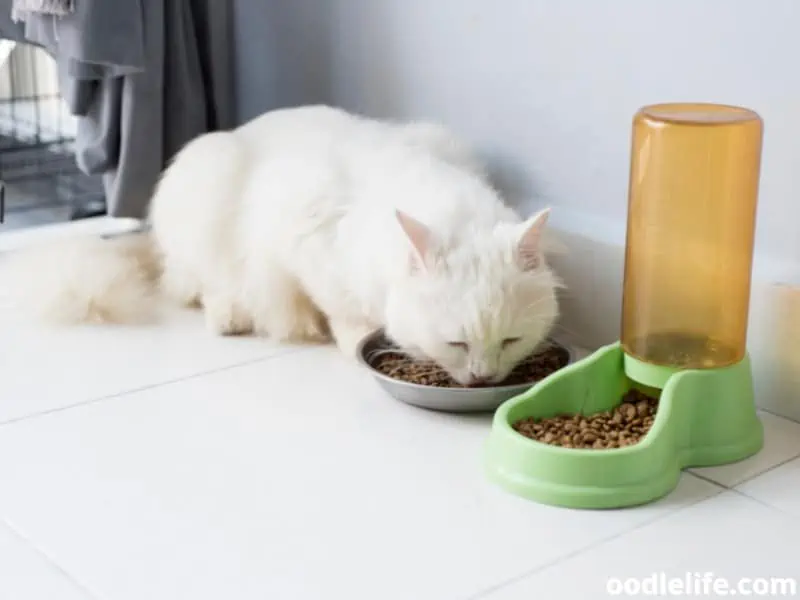 Dogness Smart Camera Feeder
The Dogness Smart Camera Feeder uses a camera so that you can watch your dog eat and check on the food supply. You can schedule feeding times from an app, so you can use the feeder when you're at work. It can also control portion sizes.
DOGNESS Automatic WiFi Dog/Cat Smart Camera Feeder - 6.5Lbs Large Capacity App Control Food Dispenser with WiFi, Portion Control, Voice Recording, Camera, Timer Programmable (6.5L, Grey)
Large capacity hopper 6.5 dry food, Humanized design, simple Setting
Voice record/play at the programmed meal time, accurate portion control, two power supply: battery and power adaptor
Dimension: L 16.5 * W 8.66 * H 16.14 inch (assembled), weight: 3kg (6.6 pounds) (without batteries), power: power adapter 5V DC 1A with 3 meter (9 feet) long power cord
It is pet owner's responsibility to make sure feeder has enough food to feed pets, important - your home Wi-Fi network needs to be a 2.4Ghz frequency in order for the pet feeder to work.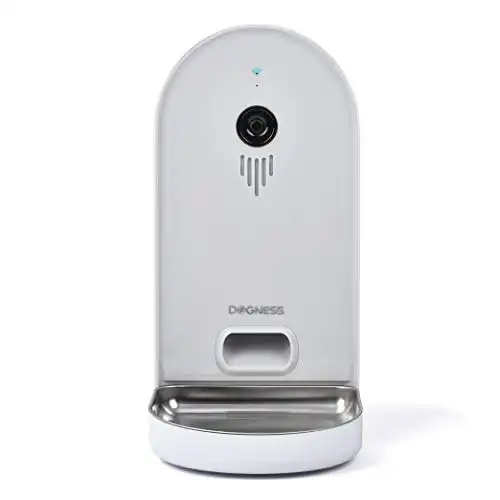 We earn a commission if you make a purchase, at no additional cost to you.
Features
Camera connected to a smartphone app.
Works with WiFi.
Voice recording available.
Pros
Good for long days out of the house.
Fun colors available.
Can hold a lot of food.
Cons
Somewhat costly.
Small food bowl.
WellToBe Automatic Feeder
The WellToBe Automatic Feeder is perfect if you have two dogs who need to eat at the same time because they each get their own bowl. You can program up to six meal times per day based on what your dog needs.
WellToBe Automatic Cat Feeder, Pet Feeder Food Dispenser for Cat & Small Dog with Two-Way Splitter and Double Bowls, up to 6 Meals with Portion Control, Voice Recorder - Battery and Plug-in Power
$89.99
$59.99 ($59.99 / Count)
【Flexible Meal Scheduling】- The Cat Feeder can be programmed up to 6 meals every day at scheduled times, and each meal has from 1 to 48 portions of 0.28 oz/5g (about 1/16 cup)per meal for 1...
【Feed Multiple Pets & Easy to Clean】 - The upgrade auto pet feeder comes with a 2-way splitter and double 3 cups stainless steel food bowls, can divide meals equally, and feed your multiple pets...
【Upgraded Sound Record Design】You can record 10s customized voice message calling that played at each feeding dispenses to let your pet know when it's time to eat. And it dosen't feel lonely...
【Anti-Clog Design】- Advanced automatic reversal mechanism to completely solve the problem of food jams. A built-in infrared sensor alerts when the food bowl is full. and The Blue light flashing to...
【Never Miss A Feeding】- The WellToBe automatic cat feeder is powered by a power adapter and 4 D alkaline size batteries. In case of a power outage, the feeder will continue to function on...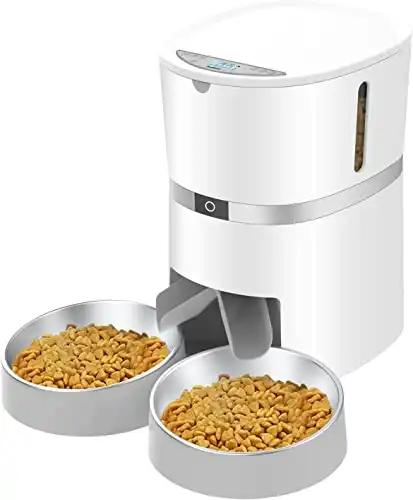 We earn a commission if you make a purchase, at no additional cost to you.
Features
Two-way food splitter.
Anti-clog design to avoid jams.
Good sound recording technology.
Pros
Uses batteries and a cord.
Stores 13 cups of food.
Easy to schedule.
Comes in white or black.
Cons
Stops working randomly.
No low-on-food warning.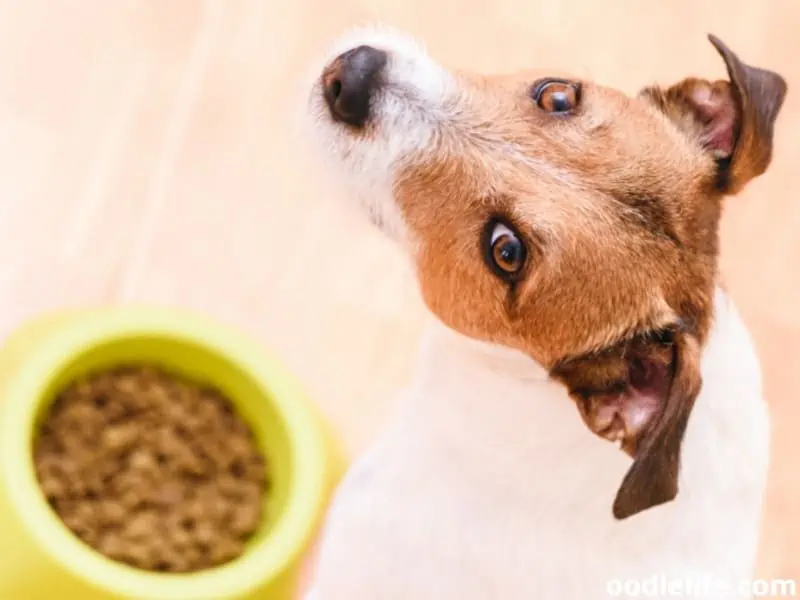 Petsafe 2 Meal Feeder
The Petsafe 2 Meal Feeder is excellent for long days when you're out of the house. You can fill both sides of the feeder in the morning, and each will open at a set time. That way, your dog can eat without you being there, but it's not for longer trips.
PetSafe 2 Meal Automatic Feeder, Built-in Timers, BPA Free Food Bowl, Suitable for Dry Food,Grey
FEEDS 2 MEALS The PetSafe The automatic feeder for cats and dogs has two analogue timers. This means that your pet is fed regularly, even when you are not at home
PLAN MEALS With timers, you can easily set 2 meals for your pet at 30-minute intervals, 24 hours in advance. 1 AA alkaline battery required (not included)
REGULATED FEEDING The automatic feeder has 2 bowls, each of which can be filled with 355 ml of dry food, semi-fencing food, treats or even medicine
PORTION CONTROL This bowl allows you to set the time and frequency of your pet's meals. This allows them to ensure a healthy diet and precisely determine the amount of food
EASY TO CLEAN The removable, BPA-free food bowl tray can be easily cleaned in the top rack of the dishwasher.Please use high-quality batteries as batteries with low power consumption will not power...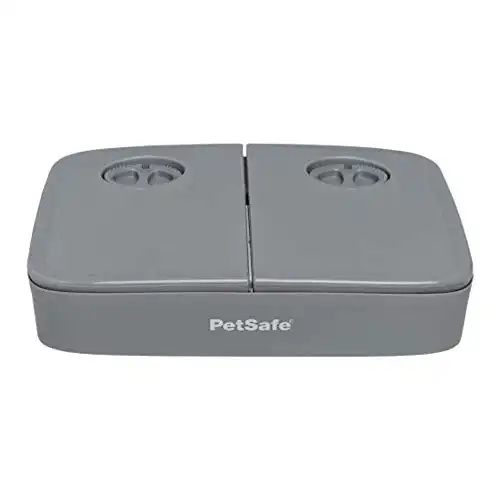 We earn a commission if you make a purchase, at no additional cost to you.
Features
Analog timer.
Portion control.
Uses batteries.
Pros
Easy to set up.
Fantastic for long work shifts.
Can schedule up to 24 hours ahead.
Easy to clean.
Cons
Only works for one day at a time.
Gives your pet only 30 minutes to eat.
Petsafe 5 Meal Food Dispenser
The Petsafe 5 Meal Food Dispenser is an excellent alternative for five meals in a row, so it works for a short weekend trip. You can pre-portion the food for the different meals, and one is ready to go immediately. Then, it will rotate at the next mealtime to let your dog eat more.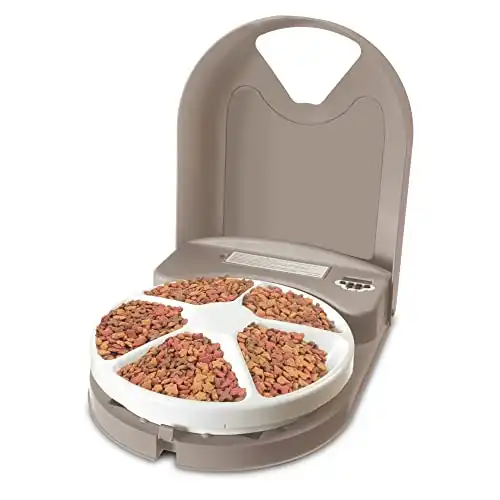 We earn a commission if you make a purchase, at no additional cost to you.
Features
Holds up to a cup of food in each of the five slots.
Use it manually or schedule meals.
Can hold kibble or semi-moist food.
Pros
Easy to use and clean.
Good for short-term use.
Affordable.
Cons
Only holds five meals at a time.
No more than one cup of food per serving.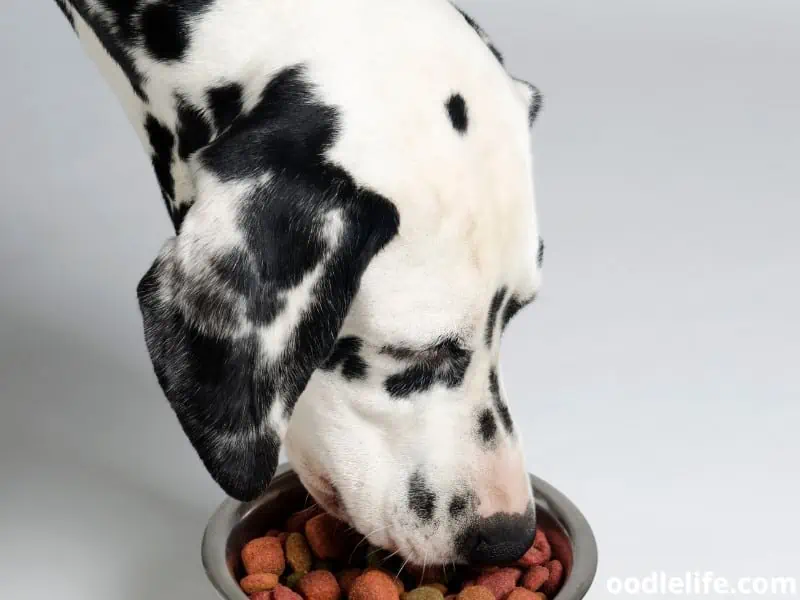 Petsafe Automatic Feeder
Another excellent automatic dog feeder from Petsafe, this one is more traditional. It lets you schedule as many as 12 meals a day, and you can set the portion size. The feeder will distribute the food over 15 minutes, so your dog has to eat slowly.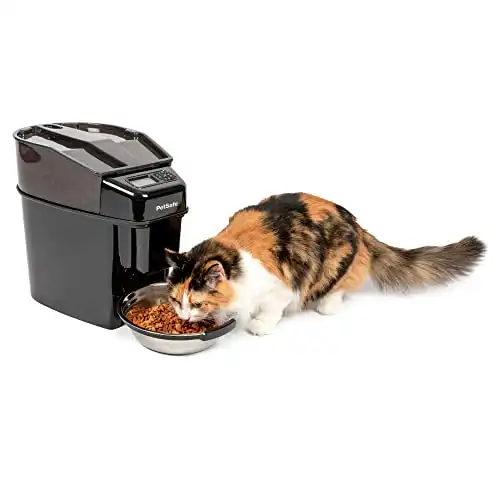 We earn a commission if you make a purchase, at no additional cost to you.
Features
Battery or power adapter.
Locking system protects the food from your dogs.
Holds kibble as big as 3/4 of an inch.
Pros
Easy to use.
Flexible scheduling.
Good quality design.
Cleaning is easy.
Cons
A bit expensive.
No internet connection.
Why Use an Automatic Dog Feeder?
As you search for the best automatic dog feeder, you should consider why one is important to use. While you can't always replace manual feeding, you can use an automatic feeder if you're usually out of the house during meal times so your dog can eat at the right time.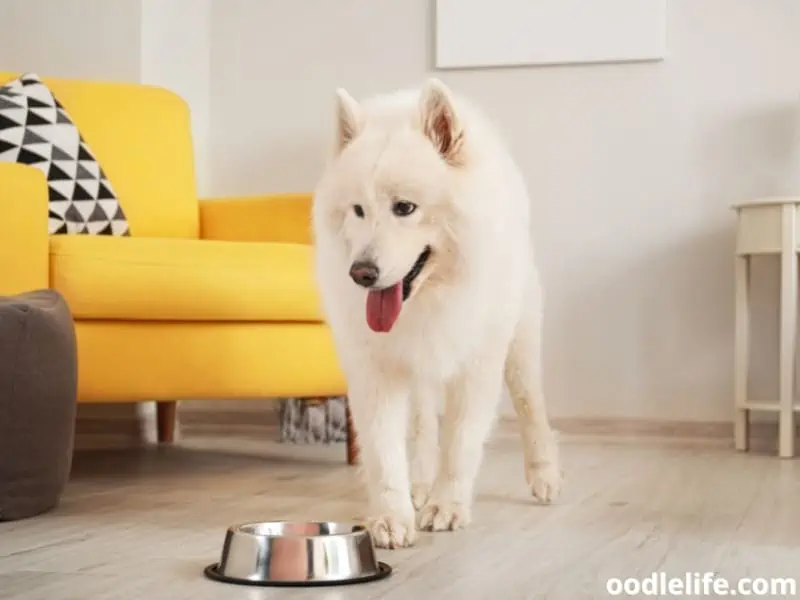 It's also useful if your schedule changes and you can't feed your dog at a consistent time each day. Some larger feeders hold multiple meals' worth of food, so you don't have to get on your knees whenever you need to feed your dog.
Plus, you can find some features with two bowls so that both dogs can eat without you having to feed them.
Drawbacks of an Automatic Dog Feeder
It may seem like you can leave your dog for a few days with an automatic dog feeder. However, dogs aren't as independent as cats. They still need attention from a sitter, so you can't rely only on the feeder to care for your pet.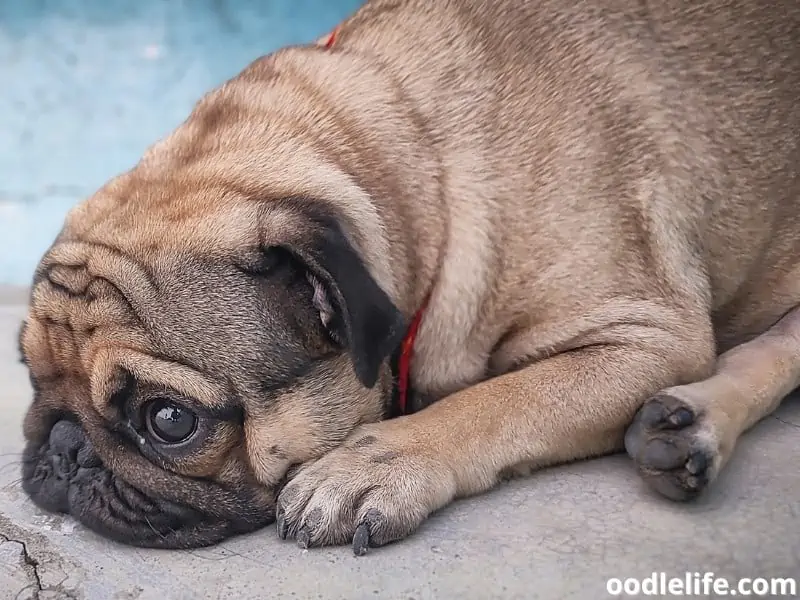 Your dog will still need to go outside for bathroom breaks. But if you can't find a sitter who can feed your dog on schedule, the feeder can come in handy.
And when you bring home a new dog, going straight to the automatic feeder can keep you from hand-feeding your dog and bonding. Of course, you can bond in other ways, but it's still worth considering.
What To Look For in the Best Automatic Dog Feeder?
If you think an automatic dog feeder is a good tool for you, consider what a good one will have. Here are some factors to consider when narrowing your search for a feeder.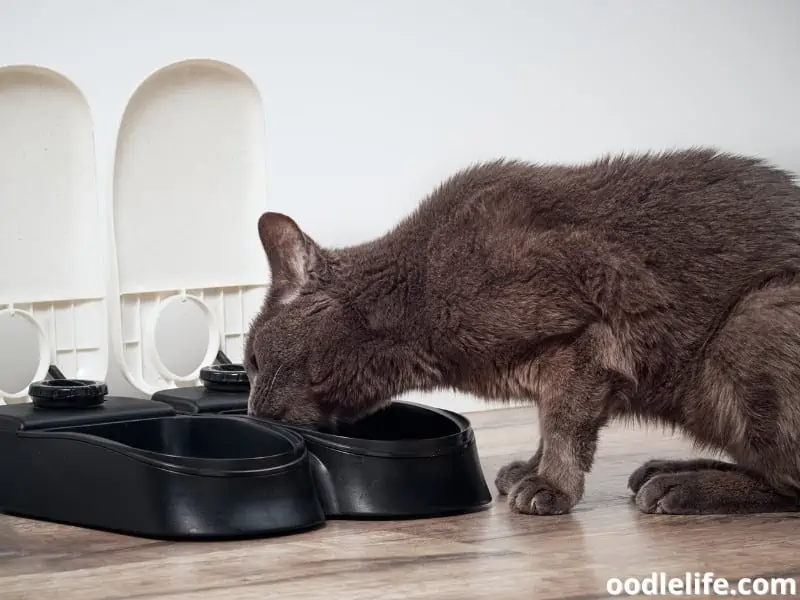 High-Quality Dish
First, you want to make sure the dish that your dog will eat out of is of high quality. That way, it can handle anything your dog throws at it. Some dogs may lick their bowl incessantly, and you must ensure the material is suitable.
You'll also want to consider how big the dish is. If your pup is on the larger side, you may need an automatic feeder with a bigger dish. Some feeders are primarily for cats and smaller dogs, so you may have fewer options for a larger dog.
And if you happen to have two dogs, look into a feeder that splits the food. That way, your dogs won't have to share a bowl, and you won't have to buy and program multiple automatic feeders. Finally, make sure the feeder isn't too large for the area where you want to put it.
Storage Capacity
Another thing to consider is how much food you can load into the feeder. Some of them only allow two to five meals, so you have to refill the container every day or two. However, other feeders can hold multiple pounds of food.
If you struggle to bend down, you may not want to deal with refilling the feeder that often. So you can look into the models with a higher storage capacity. Larger feeders are also nice when you're going on vacation because your sitter doesn't need to measure out the food.
Security and Durability
Finally, the best automatic dog feeder is one that will be secure against hungry, curious dogs. You should get a feeder with thick materials and a locking mechanism. That way, your dog can't let the next meal out before the scheduled time.
Now, this isn't a problem if your dog doesn't tend to eat all of its food. But if your dog likes to try and get more food, you'll need something sturdy and secure.
What's the Best Automatic Dog Feeder?
The best automatic dog feeder is the WOPET Automatic Feeder. You can use the camera to watch your dog eat and check the status of the food. Plus, it uses batteries or a charging cord to maintain power.