5 Best Bernedoodle Breeders in Texas (2023)
Any type of "Doodle" breed is incredibly popular as the perfect companion, and the Bernedoodle is undoubtedly among the favorites. From their adorable teddy bear faces and playful antics to their incredible loyalty and intelligence, a Bernedoodle might be the best fit for you.
Finding a knowledgeable breeder can take time and effort. We've gathered a list of the five best Bernedoodle breeders in Texas to help you search for that perfect new family member. We know they'd be happy to share their programs with you and provide information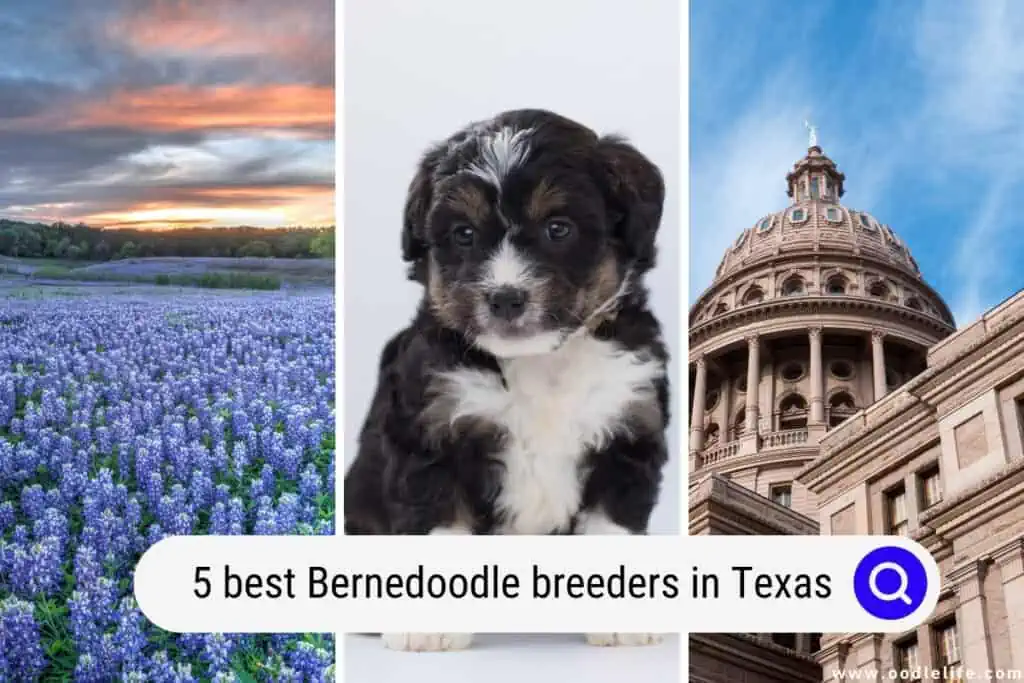 $300 2023 Discount!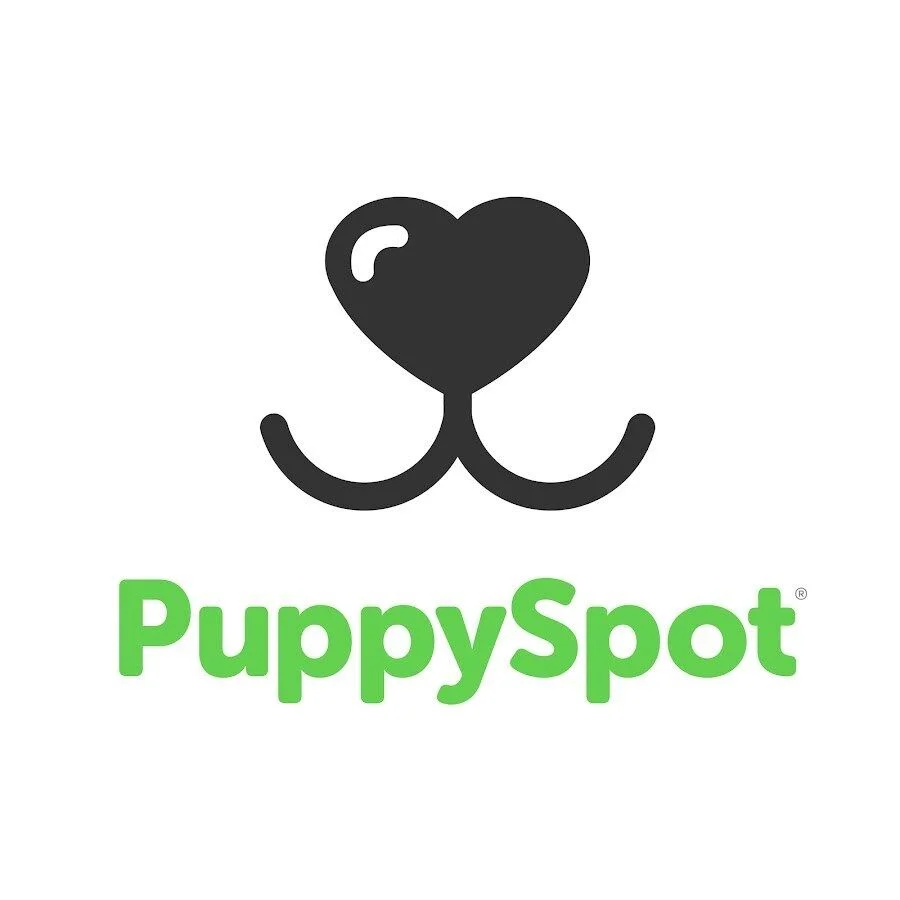 PuppySpot Adoption
PuppySpot is a reputable dog marketplace where you can browse and find compatible puppies right from the comfort of your home. They have placed over 200,000 puppies into homes in the US!
Click through and use the code PUPPY300 for $300 off any puppy adoption.
See Puppies and Save $300
Keep reading to see more on Bernedoodles and the best Bernedoodle breeders in Texas.
What Is a Bernedoodle?
A Bernedoodle is the offspring resulting between the breeding of a Bernese Mountain Dog and a Poodle.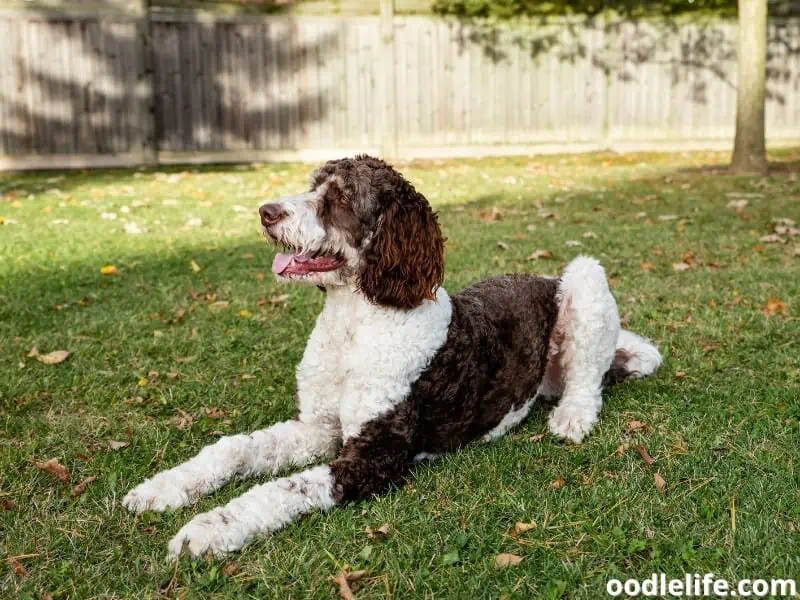 The Bernese Mountain Dog is easily recognizable for its black and rust or tan colored fur, sporting a white bib and white on the muzzle and forehead. While active and playful, a Bernese doesn't require constant mental stimulation and exercise. Their thick, long coat sheds almost constantly, but their affectionate nature and love of children and other pets make them ideal.
A Poodle is also one of the most beloved breeds. Known for their intelligence and loyalty, they are a no to low shedding breed with boundless energy. They require exercise and mental stimulation to prevent unwanted behaviors making them ideal for an active lifestyle.
The pairing of these two breeds results in a Bernedoodle puppy exhibiting the best characteristics of both parents in one adorable bundle of fur. Something to remember is that Bernedoodle coats can be curly, straight, or wiry, and the curlier the coat, the less shedding you will have.
With three different sizes, from Mini to Standard, Bernedoodles also come in various colors and can even be solid colored. They are happy, fun-loving dogs, and crossing the two breeds lessens some genetic factors, such as hip problems and the shorter life spans of larger breeds.
Namaste Bernedoodles
Located in Dallas, Namaste Bernedoodles has been breeding dogs for over three years with an average rating of 4.9/5 stars on Google Business. Developing their own Ultra Bernedoodle, which has a higher percentage of Bernese, Namaste uses their background in biology to breed for not only health and temperament but unique color patterns as well as traditional.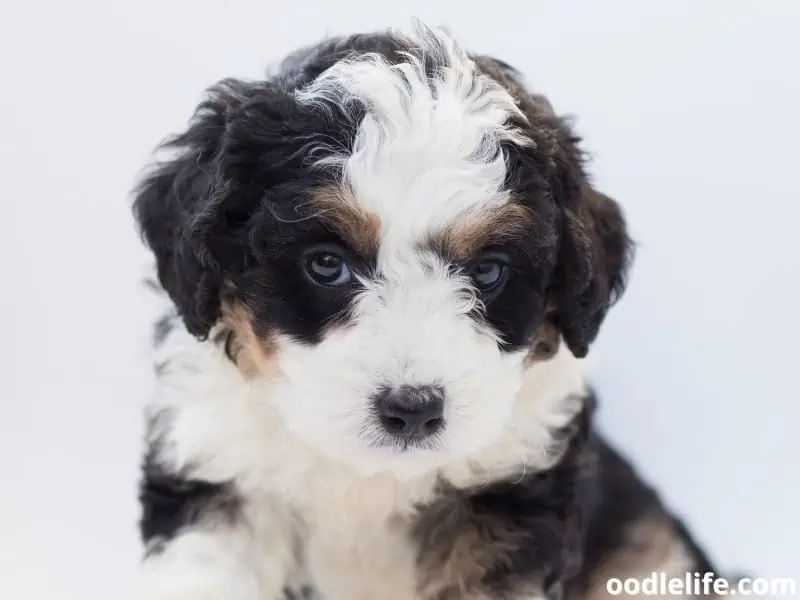 All parent dogs are screened and tested for genetic health and temperament. With many parents being 4th and 5th generation in the "Ultra Bernedoodle" program, the health data and disposition are well documented.
Contact Namaste to discuss your lifestyle and activities if you are interested in a puppy. Namaste Bernedoodles does not accept down payments on future litters, nor does it have a waiting list. After a litter is born and the puppies thrive, a deposit holds the puppy of your choice.
Namaste breeds mini, medium, and standard puppies with only a few carefully planned litters per year. All puppies have a one-year health guarantee against congenital and genetic defects. If you live out of state, your puppy can be hand delivered to you or shipped with an airline.
Breeder Details:
Choice Bernedoodles
Following in her parent's footsteps, Denise, her husband Aaron, and their five children raise micro/tiny Bernedoodle puppies in Rosebud. With an average rating of 5 stars on Google Business, Choice Bernedoodles offers the support of ten years of family experience.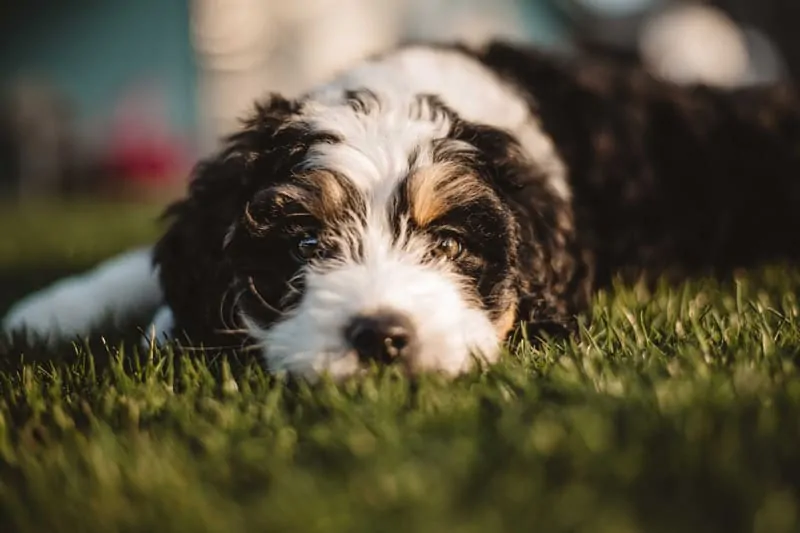 What makes a tiny Bernedoodle from Choice Bernedoodles so special? With an average adult weight ranging from 16-30 pounds, their puppies are small and have only 25% Bernese, reducing the shedding factor to almost zero.
A non-refundable deposit holds your puppy until eight weeks. Your puppy will have its first vaccinations, deworming, an implanted microchip, a collar, and a blanket with the mother's scent to ease the transition into your home. A two-year genetic defect guarantee covers your Choice Bernedoodles puppy.
Breeder Details:
Texas Howdy Doodles
This 5-star rated breeder is located just north of Austin in Round Rock with years of experience breeding standard-size Bernedoodles. Each parent is selected for health and temperament to ensure healthy, intelligent puppies with outstanding personalities.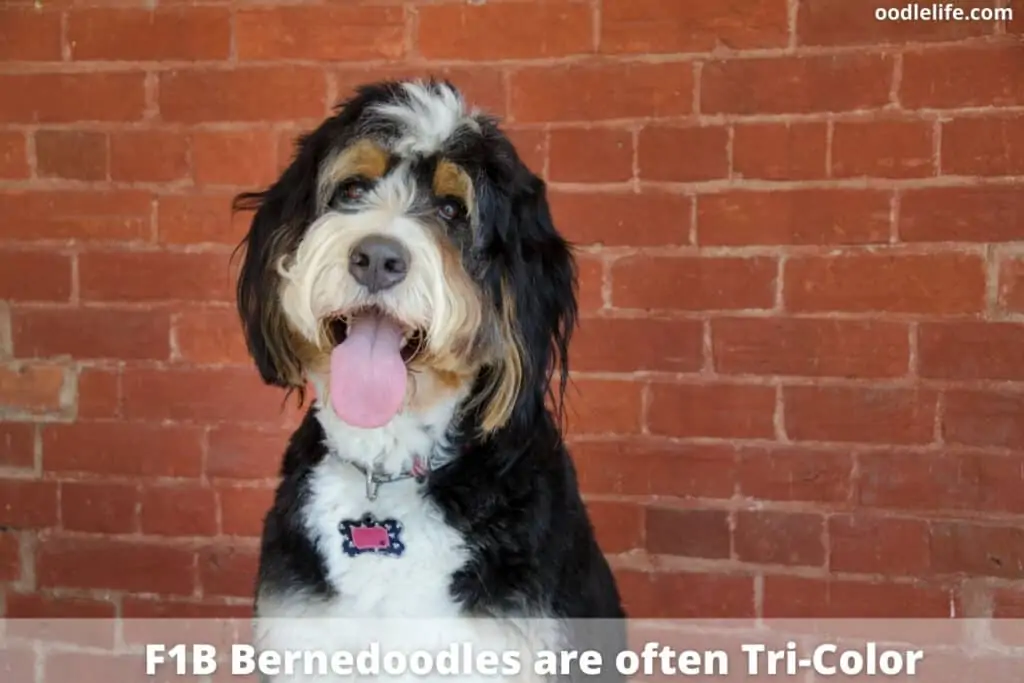 Due to the small number of litters per year, Texas Howdy requires a completed application and non-refundable deposit to be placed on a waitlist. Texas Howdy Doodles will contact prospective owners with information on upcoming litters to determine if the timing fits your lifestyle and needs.
Each Texas Howdy puppy is raised with early neurological stimulation starting the first week and trained with the Puppy Culture Program. Puppy Culture promotes desired behaviors, reducing issues such as biting and jumping that often frustrate new owners or owners with children.
Texas Howdy puppies have various coat types and colors, with photos of parents and puppies on many social media platforms. These family-raised puppies are taught to walk on a leash and are crate-trained and potty-trained before becoming part of your family.
Breeder Details:
Creekside Doodles
Creekside Doodles is a 5-star rated breeder of Standard Bernedoodles raised in a home environment with love and children.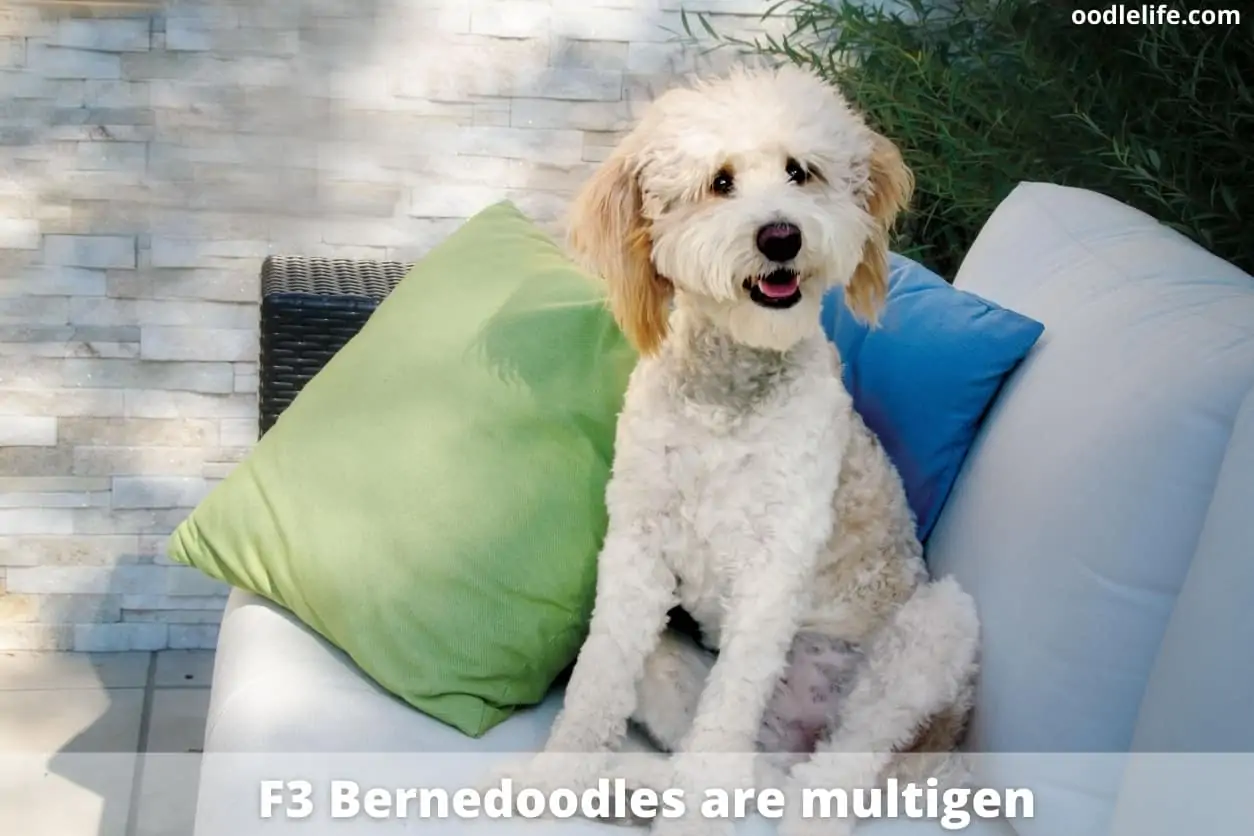 As breeders of Miniature and Standard-size Bernedoodles, genetic factors and joint issues are of utmost importance. Each dog in the Creekside breeding program is extensively tested for genetic and joint health to ensure healthy puppies with long lives.
Creekside educates prospective puppy parents on the uncertainty of adult coats, and the amount of shedding that may result. They also discuss your lifestyle and activities to determine if a Bernedoodle is the best breed for you and your family. A lifelong companion is what they strive to provide to you.
Puppies engage with Early Neurologic Stimulation (ENS) during the early stages of life early, along with scent introduction. Both of these techniques result in a healthier, balanced adult dog. All puppies are exposed to "one new thing" daily to incorporate different sounds and experiences.
Creekside requires a non-refundable deposit and a completed application to be placed on a waitlist. Prospective parents pick their puppy at six weeks. By this age, their health and developing personality traits are defined. Each puppy has its first vaccinations, deworming, and initial potty training sessions.
Creekside also provides a two-year health guarantee.
If you live within driving distance, you can pick up your puppy, or Creekside will meet you within 60 miles for an additional fee. If you live too far to drive, Creekside can assist with arrangements to deliver your puppy or secure flight arrangements to ship your puppy.
Breeder Details:
Cariad Doodles
Cariad is a small, family-operated dog breeder in Lacoste, near San Antonio. With 5-star ratings on Google Business, customer reviews and puppy photos are available on various social media platforms.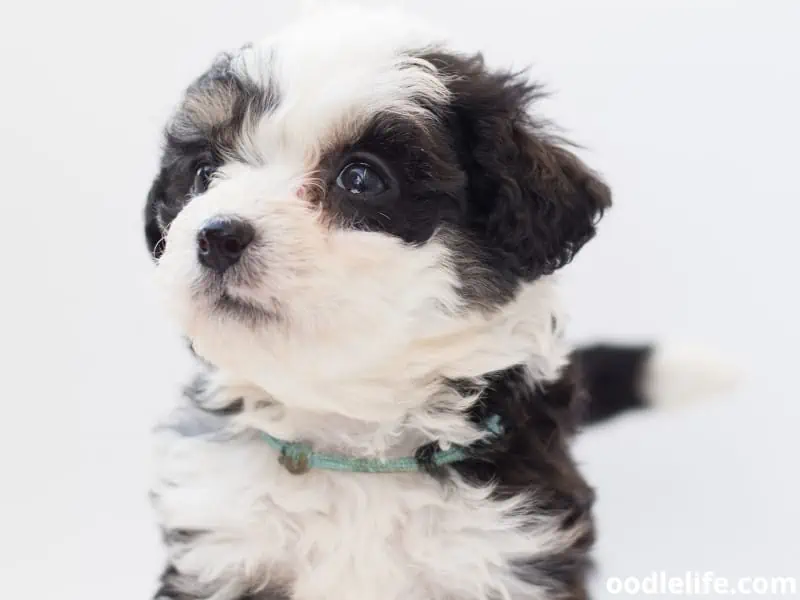 Cariad Doodles takes great care when selecting female breeding dogs to ensure the genetic quality and temperament of each one. With keeping the health of their dogs a top priority, litters are very limited each year.
Cariad features Standard-size and Medium "teddy bear" Bernedoodles at their farm, along with two other Doodle breeds. Each litter is raised inside their home, interacting with children and common household experiences daily.
Since litters are limited, contact Cariad for information on upcoming litters. An application with a non-refundable deposit is required to be placed on a waitlist, and each puppy has a required spay/neuter agreement.
All puppies experience the Puppy Culture program, are doggy door trained with plenty of outdoor playtimes, have up-to-date vaccinations, and are vet-checked, dewormed, and microchipped. When they come home, each puppy comes with a Snuggle Puppy, a sample bag of food, collar, and a two-year health guarantee.
Breeder Details:
Conclusion
A Bernedoodle puppy resembles a living teddy bear filled with immense love and affection. With their heartwarming disposition, it is no wonder they are a highly sought-after addition to the family.
While these are not the only Bernedoodle breeders in Texas, they have excellent customer satisfaction ratings and exceptional genetic testing and disposition requirements of the parents. If deciding a Bernedoodle fits your lifestyle and level of activity, any reputable breeder will be glad to talk to you about their program and any available or upcoming litters.