Best Clippers for Cavapoo [Hair and Nail]
Cavapoos are cute, living, walking soft toys. If you aren't familiar, they're a cross between the Cavalier King Charles Spaniel and the Poodle.
While that is aww-worthy, having a Cavapoo means dealing with a lot of hair. Any pet, irrespective of breed, needs regular grooming and maintenance. And your Cavapoo is no different. How can you pick the best clippers for Cavapoo dogs?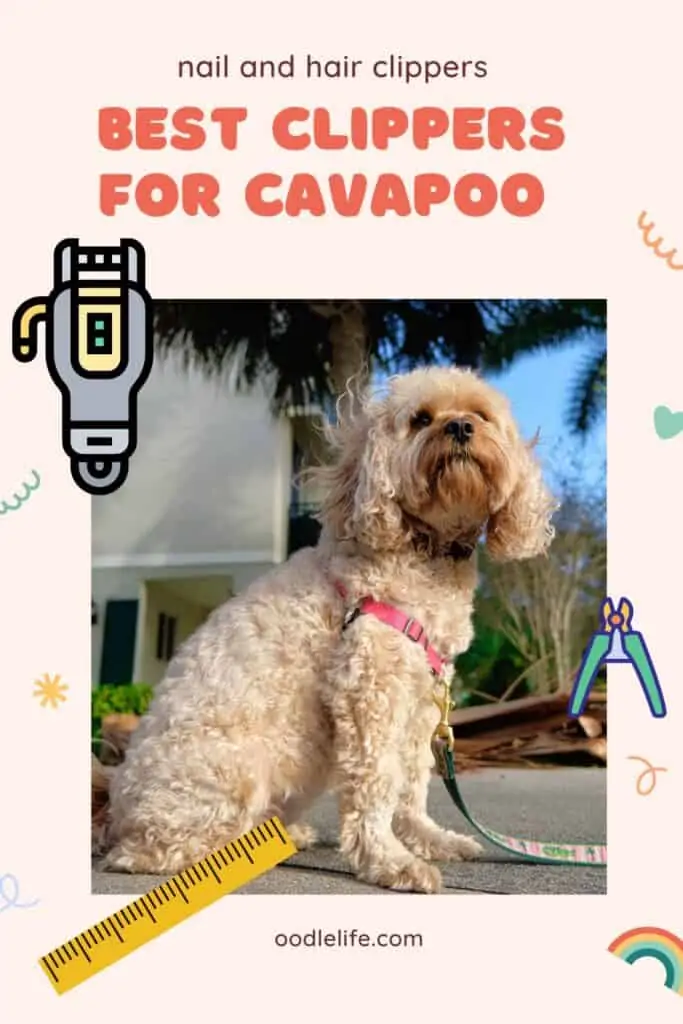 No time to read our guide? For hair clipping go with the Andis Dog Hair Clippers and for nails stick with the manual budget conscious Stainless Steel Safari Nail Clippers
Pet Parent Responsibilities
When you adopt or buy a Cavapoo, you'll expect to incur many costs ranging from vet bills to food, accessories to bedding, and so on. There's also a significant yet underestimated bill-grooming! If you don't groom your dog as needed, they'll end up not just looking like a disaster but hurting themselves.
Hair that hasn't been shaved or trimmed in a while can lead to knots and mats. As humans, we can go without a haircut. But our canine loves cannot. They need regular grooming, without which they will suffer serious health consequences. Be prepared to invest in a good clipper to make grooming at home more relaxing for the both of you!
Tips for Grooming Cavapoos
Would you brush your hair right before you step in the shower? The chances are that most people will not. As pet parents, we often treat our pups the way we do ourselves. And bath time is no different-turn on the water, set the temperature, and hop right in. For pets, especially Cavapoos, you need to follow a few additional steps. Here's covering a few pointers in case you're a new Cavapoo parent!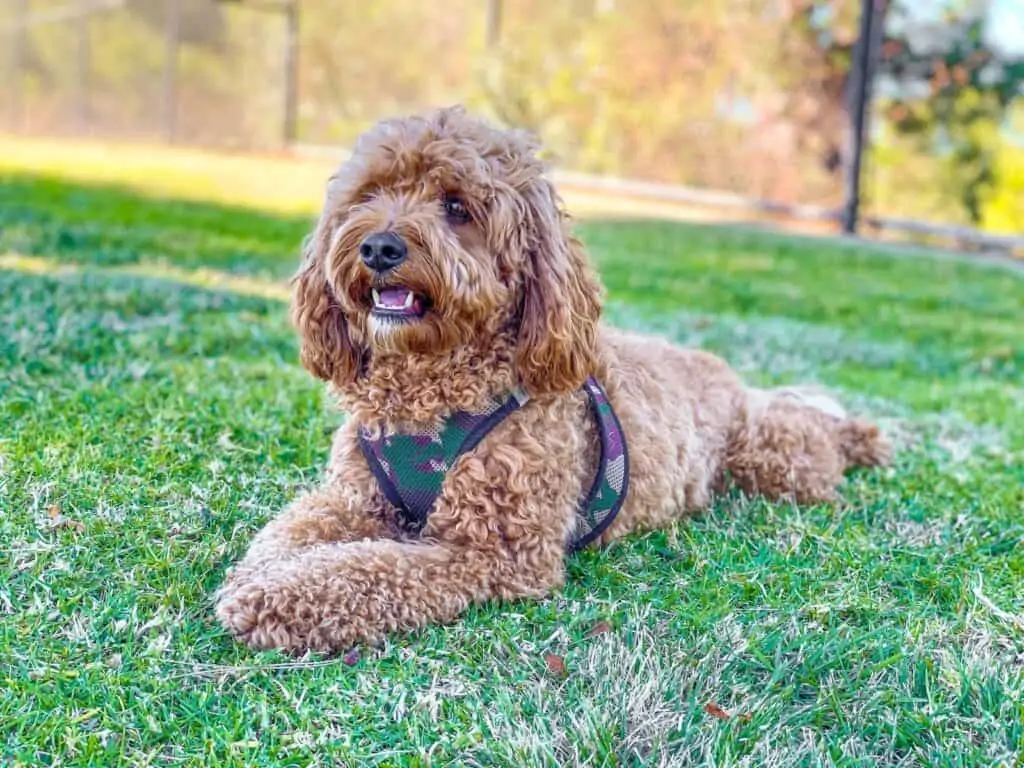 1. Two-sided pin and bristle brushes
If you didn't know, these brushes come with metal pins on one side and bristles on the other. They serve a dual purpose-the metal combs out the mats and tangles, while the bristles help smoothen your pet's coat. Considering its dual purpose, it is essential to invest in a two-sided brush.
2. Brushing before and after bathing
As unnecessary as it sounds, brushing before and after a bath is imperative if you want a tangle-free coat. Brushing before the bath allows you to de-mat your pet's coat. It also helps ensure that their fur does not become frizzy. Repeating the effort after a bath will remove excess fur, tangles as well as dander. While your Cavapoo will enjoy the attention, you'll love not having to scoop hair off the floor, carpet, couch, and other surfaces around the house. Go ahead and spare five minutes for extra grooming.
3. Check their ears
Cavapoos have hair inside as well as outside their ears. If left ungroomed, they can cause infections or, worse, ingrown hairs. Clippers are fantastic for inner ear flaps as there are no sharp edges should your cuddle buddy decide he needs to shake his head right while you're trimming.
4. A paw-dicure
No grooming is complete without proper nail-clipping. And yes, your Cavapoo will have little tufts of hair between his paw pads that you'll need to trip ever so often. While you're there, check their nails as well. Walking your puppy on rough, hard surfaces may help chisel down their nails. But nails are prone to cracking and splintering. Check and clip their nails to avoid any pain or discomfort.
5. Clean their eyes
Cavapoos develop reddish-brown tear stains below their eyes. You will need to wash their face daily to avoid such stains from building up. You might consider trimming the hair around their eyes should it appear as though it's blocking their vision.
Importance of Hair and Nail Grooming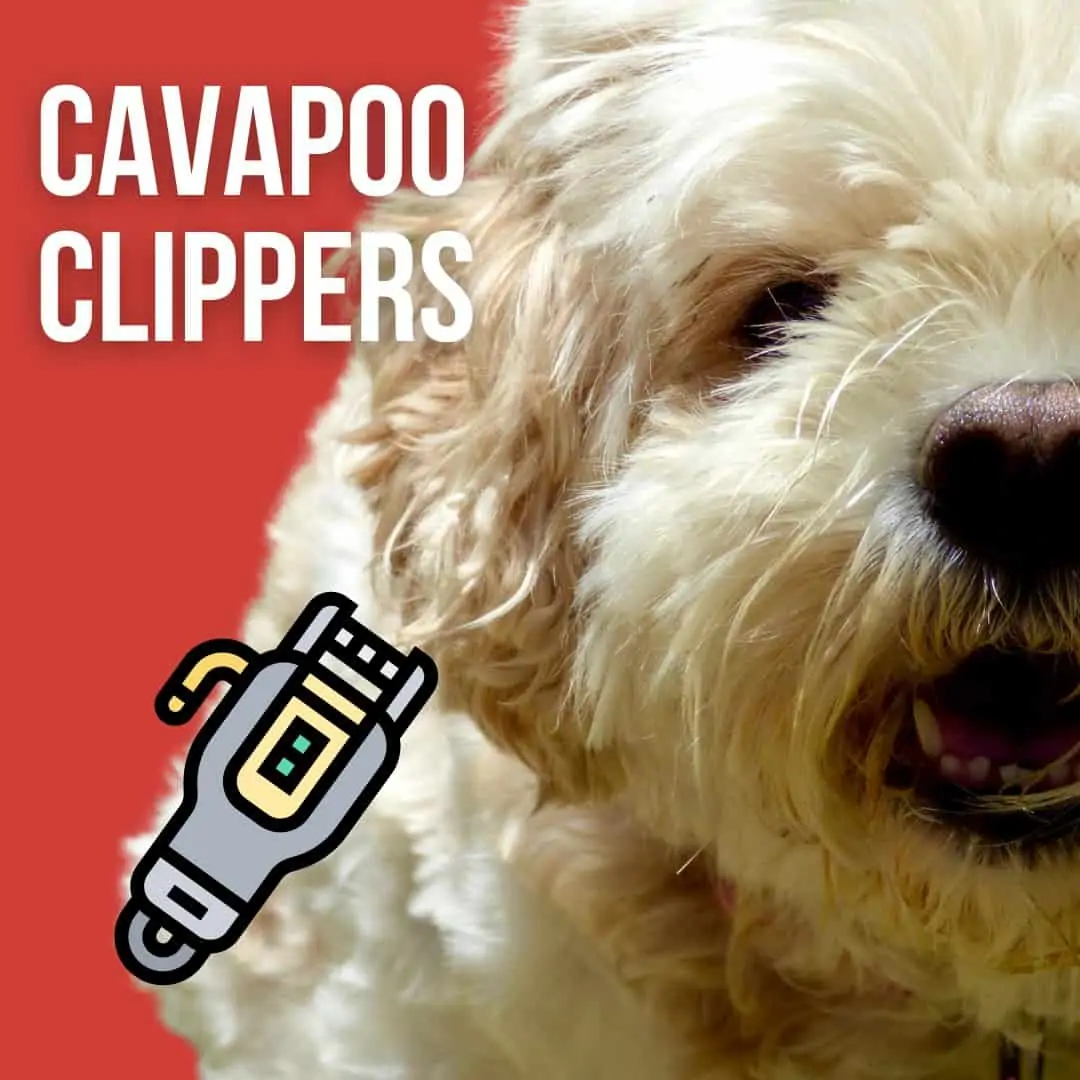 Hair Grooming
When you take your pet to a professional, you should observe the what and how of Cavapoo grooming. No matter how much you know, there's always something to learn from experts! Good groomers not only make your pup look neat and tidy, they look for signs of trouble beneath the fur.
They can discover health issues before you. These issues include cysts, skin conditions, and ear infections – all hiding underneath all that fur.
Matted hair, for example, can cause anything from mild skin irritation to a more severely infected wound. Fleas and ticks thrive in matted hair because they aren't easily visible.
Mats around the hind legs can accumulate fecal matter that could cause all kinds of complications. When mats get severely tangled, they pull on nearby skin, tightening it and, in extreme cases, cutting off blood circulation.
Nail Grooming
Nail clipping is equally vital for the overall health of your Cavapoo. In the wild, nails would wear off while dogs ran and hunted on hard surfaces.
Even now, when dogs walk on pavements for long hours, their nails remain trimmed. But in breeds and crossbreeds where activity is limited to 20-30 minutes a day, it might be insufficient to counter nail growth speed.
If you neglect to clip your dog's nails for extended periods, they could break easily. They can get caught in rugs and bedding fabric. Not only will you have splintered nails to deal with, but you might also have a ruined rug or sheet.
When nails overgrow, your Cavapoo will try to shift their body weight to make walking easier. This shift could cause hip and joint issues.
In more severe cases, their nails can curl into a C-shape and dig into their skin, causing so much pain and discomfort.
A quick look every few weeks could save you and your pet so much trouble! It's a small sacrifice on your behalf that will keep your fur buddy cheerful and healthy.
Hair Clipping
Both Cavapoo parents, be it the CKCS (Cavalier King Charles Spaniel) or the Poodle, have long hair. While the CKCS has wavy hair, the Poodle has tight curls. Your Cavapoo could inherit either type of coat. Surprisingly enough, some Cavapoos have been known to have straight hair as well. 
Depending on your Cavapoo's coat type, you will need to decide what haircut style suits him and the proper dog clipper for the job.
Does your dog have a shiny, well-brushed coat? Does she have matted hair all over her body? For some dogs, no amount of brushing helps untangle their fur. And if they end up with mats, you can't do much else other than shave.
If you have a dog with matted fur, I would strongly advise that you don't try grooming him at home. Instead, take him to a professional groomer. They have lots of experience and are more capable of ensuring that your beloved pet has a relatively pain-free experience.
It helps to remember and perhaps even mark it on your calendar that your Cavapoo will require clipping once every six weeks. If you cannot make it in time for your next grooming appointment, it's better to do a light trim at home. Also, you can invest in a good-quality hair clipper to do a quick touch-up at home between two professional visits.
Types of Clippers
Best Nail Clippers for Cavapoo
We earn a commission if you make a purchase, at no additional cost to you.
The Safari Professional nail trimmer comes in two sizes-small and medium. It's one of the best options for two reasons: it's a durable, good-quality stainless steel clipper with a sharp cutting edge, and it is a total bang for the buck.
The clipper's blades are extra strong and sharp. They cut nails quickly, which is perfect for dogs who get jumpy at nail-clipping.
Designed for small animals, these Shiny Pet Nail Clippers are perfect for a Cavapoo puppy. Once you look at them, you'll know that they are safe for tiny paws.
Pet Nail Clippers for Small Animals - Best Cat Nail Clippers & Claw Trimmer for Home Grooming Kit - Professional Grooming Tool for Tiny Dog Cat Bunny Rabbit Bird Puppy Kitten Ferret - Ebook Guide
#1 FOR CAT & SMALL DOG: Voted best overall for 2023 by Spruce Pets and The Dodo; trusted by millions of pet owners.
CLEAN CUTS EVERY TIME: Our claw scissors have been designed to be used on small animals, such as dogs, kittens, puppies, birds and bunny. Use them as kitten nail clippers or as general pet nail...
SAFE & EASY TO USE: Fitted with razor sharp blades made out of stainless steel and an ergonomic grip made out of a top grade plastic the production of these clippers does not harm the environment.
USER FRIENDLY DESIGN: The stainless steel blade and the handle is finished with a rubberized coating that allows you to securely grip them in order to prevent painful accidents.
INSTRUCTIONAL EBOOK: Worried about clipping your pet's nails for the first time? Don't you fret! Just scan the QR code on the back of the package with your smartphone and get the full guide right now.
We earn a commission if you make a purchase, at no additional cost to you.
The sharp and angled blades cut nails quickly, with a neat finish. The handles are made using 100 % recycled plastic with a slip-proof coating. When you're clipping away those pointy nails, you won't lose grip over a frightened paw.
The manufacturer even offers a lifetime money-back guarantee if you're not satisfied.
Best Professional Pet Nail Clipper Large
TRIM YOUR PET'S NAILS SAFELY: It's easy to make a precise, safe cut with our semi-circular blades. Your pet's nail rests in the semi-circle - you see precisely where you're cutting - no...
A GENTLE SQUEEZE IS ALL IT TAKES: Epica's high-grade stainless steel holds its sharp edge and won't dull - so clipping nails is effortless and a whole lot less scary for both you and your pet.
LOCKS CLOSED WHEN NOT IN USE: Your know your clippers are always in safety mode when you aren't using them - just squeeze the handle and slide the lock into the safe position. Curious kids stay...
RUBBER COATED HANDLES FOR A SECURE GRIP: The handles feel incredibly comfortable in your hand because of the non-slip rubber coating. Together with the rounded blades, you can clip confidently
CHOOSE FROM 2 SIZES TO FIT YOUR DOG: Small/Medium for dogs under 60 pounds such as Beagles, Chihuahuas, Miniature Poodles and Shelties, or Large for dogs over 60 pounds such as Boxers, Labrador...
We earn a commission if you make a purchase, at no additional cost to you.
The semi-circular blades finish half your job, making it easier for you to make safe and precise cuts. They come in small as well as large sizes. It would be a breeze to cut your adult Cavapoo's nails with these.
The edges won't dull as they're high-grade stainless steel. The non-slip rubber grip is an excellent addition, making it a smooth, ergonomic fit for your hands.
These clippers are popular for their strength, quality, and wallet-friendly price. The best part? It comes with a full lifetime promise and guarantee.
URPOWER Rechargeable Pet Nail Grinder Upgraded USB Charging Nail Trimmer Clipper Gentle Paws for Dogs Cats and Other Small & Medium Pets
Upgraded version - Designed to be rechargeable by USB with indicator light make it more convenient and free you from changing batteries that often. Once being fully charged, the grinder will be...
Diamond grinding stone - Constructed with diamond bit grinder which is safer and more effective than nail clipper to trim pet nails, no replacements needed and powerful enough to trim your pets' nail...
Quiet and safe - Using super mute motor, brass shaft, unique mute technology, gently remove thin layers of nail with a soft sound. Pets will not be afraid any longer.
Applicable for small sized and medium sized pets - The pet nail trimmer has three ports for different sized nails. You can choose a suitable one according to the pets' size and characteristics of...
Easy to clean: easy to remove the safe guard cap and nail Grinder Stone and then wipe them with a damp cloth.
We earn a commission if you make a purchase, at no additional cost to you.
Don't like clippers? Worry not. This automatic nail trimmer runs on a battery. It makes nail trimming much easier for fussy dogs that hate nail clipping.
Even though these rechargeable clippers take more time than a traditional nail clipper, they're simple to use and gently remove nail layers.
The diamond grinding stone makes these a powerful tool with which to trim your Cavapoo's nails. Best part? They don't need to be replaced.
GoPets Pet Nail Clipper for Large Dogs and Cats with Nail File and Quick Sensor Safety Guard, Orange / Black
MUST BE AWESOME - 2000 people can't be wrong, the quality of the clippers will be evident as soon as you pick up the clippers.
GREAT PET NAIL CLIPPERS ON AMAZON - Professional Quality Large Pet Nail Clippers for Large or Medium Dogs and Cats includes nail file - Recommended by veterinarians, animal trainers, and professional...
CLEAN CUTS EVERY TIME - Made with high quality 3.5mm thick stainless steel that's great for large medium or small dogs and cats which will stay sharp for years of worry free use. Designed and stress...
SAFE AND EASY TO USE ERGONOMICS - Greatly reduce the risk of injury to your pets with the quick sensor safety guard which prevents over-cutting. Easy to lock blades allows for safe and convenient...
CONFIDENTLY AND EASILY CUT NAILS - Even large breed dogs, with our large ergonomic non-slip handle holding the clippers is comfortable and gives great leverage to make quick clean cuts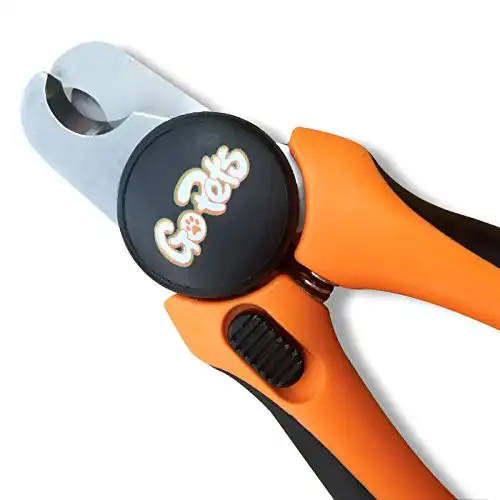 We earn a commission if you make a purchase, at no additional cost to you.
While clipping, you must know precisely where to cut, or else you'd end up with bleeding nails. Dog nails have a quick-soft tissue on the inside that provides blood to the nail. Most pet owners have trouble spotting the quick and cutting below it. These clippers have a built-in 'quick' sensor and a safety guard, making it much safer for you and pain-free for your pet.
The safety guard GoPets Nail Clippers are made with premium, 3.5mm thick stainless-steel blades that create quick, clean cuts and remain sharp even after years of usage.
Best Clippers for Cavapoo Coats
1. Oster Golden A5 Clippers
Oster Golden A5 Two-Speed Animal Grooming Clippers with Detachable CryogenX
Versatile pet grooming clippers with two-speed switch.Two Speed motor Hi - 2,700 SPM, Lo - 2,100 SPM
Great for precision and general-purpose grooming
Great for thick coats (like Goldendoodles and Doodle dogs)
Detachable Size 10 CryogenX blade included
Virtually unbreakable chew-proof housing
Compatible with all Oster A5 detachable blades
We earn a commission if you make a purchase, at no additional cost to you.
The Oster Professional Clippers work exceptionally well with Cavapoo. They offer two speeds – 3000 and 4000 strokes per minute (SPM). Doesn't sound like much? Don't rush to judge. Most people won't need more than 7000 SPM while grooming their Cavapoo.
I asked a professional dog groomer what they use – and this is the actual model. I thought they might use a commercial option but she said the Oster was her favored clipper. Corded clippers are preferred by many dog grooming pros.
The Oster Professional Clippers are pretty durable, and the best part is -they're quiet. This is a considerable advantage for pet parents whose pups get jittery just by the noise of clippers.
Andis 22340 Professional Grooming 2-Speed Detachable Blade Clipper
ROTARY MOTOR: The trimmer's powerful two-speed rotary motor clipper with 120V voltage performs on par with that of pros. It can swiftly trim thick animal hair.
COMPATIBLE: For all livestock and breeds, the trimmer is ideal. Additionally, it has an animal-compatible enclosure with a sturdy frame and detachable drive cap.
LOW NOISE: The animal cutter makes relatively little noise while operating. Low noise won't frighten your pet, and you'll be able to quickly and easily trim its coat.
DETACHABLE BLADE: The trimmer comes with a detachable blade that can be removed & put back easily. The design makes it easier to clean & change the blade.
USAGE IS SIMPLE: ON = ON and OFF = OFF By turning the clipper on, a fresh blade will be applied. Turn the clipper off before removing the blade. The 14' heavy-duty cable makes it easier to move around equipment and animals.
We earn a commission if you make a purchase, at no additional cost to you.
If your Cavapoo often has matted hair, then the Andis ProClip is an excellent choice. Not only do these clippers come with a detachable blade that makes cleaning much easier, but you can also replace the blades when needed.
Andis clippers balance budget and quality quite well – which is a difficult tightrope to balance. They will cut most dog's hair well – though thicker dog's fur might test the limits unless you use thinning shears first.
The Andis ProClip comes in two speeds, 2700 and 3400 SPM. It has an easy on-off lock, so your pet is safe while you work on their tangles. It's a versatile system that works with UltraEdge as well as a CeramicEdge clipper blade. And, it's also compatible with Oster's A5 blade.
This cordless trimmer comes with five attachments, offering you a greater range of choices regarding the ideal hair length for your Cavapoo. They use a lithium-ion battery, the longest-lasting battery available in the market today.
These dog clippers are great for torsos, but they're best for more minor trimmings like round the paws and the ears. You may want to use corded clippers for a better grooming experience, especially for matted hair.
Do ensure you plug it in well in advance if your dog grooming as the Wahl Lithium Clipper can take up to an hour to charge.
Wahl Professional Animal Deluxe U-Clip Pet, Dog, & Cat Clipper & Grooming Kit (#9484-300), Red and Chrome
The Deluxe U-Clip pet clipper and grooming kit is ideal to clip, trim, and groom fine to medium animal hair and fur for dogs, cats, and other pets
Ideal for Yorkies, Cavaliers, Shih Tzus, Spaniels, Maltese, and other medium-duty pet fur clipping, trimming, and grooming of paws, face, ears, touch-ups, and light-body clipping
Powerful speeds up to 7, 200 strokes per minute make clipping quick and easy; this clipper provides substantial power and speed without producing additional heat or noise
This 16-piece kit offers a standard adjustable #30-15-10 blade (Wahl #1037-400) and includes all the tools needed to clip, trim, and groom your pet
Measures 6 5 by 2 inches and weighs 1 pound The Clipper and blade are made in the USA of domestic and imported parts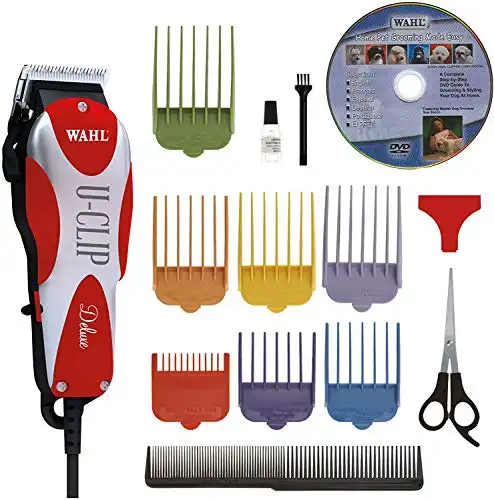 We earn a commission if you make a purchase, at no additional cost to you.
Exclusively designed for home grooming, this medium-duty grooming kit includes all the essentials needed for a professional-style clip. These are the perfect choice for touch-ups between grooming visits and are easy on the pocket too.
The Deluxe U-Clip is excellent for clipping your Cavapoo's claws, face, and finishing touches. You can even use it for light body clipping.
The kit comes complete with stainless steel scissors, seven clipping combs of different lengths, an instructional DVD, oil for the clipping blade, a cleaning brush, and a finishing comb to give the last stroke after clipping.
They are most suitable for hair of medium thickness. Do note that they aren't a good choice for matted hair. Users have reported discomfort from hair tugging and pulling. Overall, they offer a decent performance.
Professional Grade
Wahl Professional Animal Arco Cordless Clipper Kit
The original 5-in-1 clipper, the Wahl ARCO is the tried-and-true cordless option for precise trimming in hard-to-reach spots such as ears, faces, and paws to give groomers, animal professionals, and pet owners everything needed in a lightweight cordless clipper
The 5-in-1 fine blade adjusts between sizes #9, 10, 15, 30, and 40, offering a convenient variety of cutting lengths
With a rechargeable battery, this clipper has an 80-minute cordless run time and 75 minute charge time; it's easy to clean with a no-maintenance motor
Wahl's pet clipper can be used on small and medium-sized dogs such as Bichons, Shih Tzus, Terriers, and Spaniels, as well as cats; can also be used as a horse clipper and is great for trimming and touch-ups on the muzzle, face, ears, legs, fetlocks, and bridle paths
The slim, lightweight design fits comfortably in your hand while reducing wrist fatigue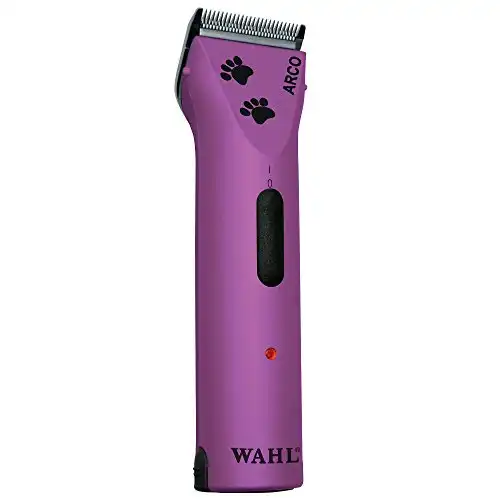 We earn a commission if you make a purchase, at no additional cost to you.
This lightweight clipper is perfect for the occasional grooming. The 5-in-1 blade offers precision for difficult-to-reach areas. They come in five sizes – #9, #10, #15, #30, and #40 – each offering you a different hair length should you decide to get creative.
This cordless set of clippers is ideal for small to medium-sized dogs or for those difficult-to-reach areas on larger dogs. As they were designed for small breeds, they are light in weight and easy to maneuver.
The kit includes rechargeable battery packs, a storage case, a charger and stand, an instruction manual, and so much more.
Final Thoughts
Whether you're looking for hair clippers or nail clippers, we hope that you've found something useful in our suggestions.
Do remember, though. Your cuddle buddy deserves an 'at-home spa day, just like you. A little showering, pampering, a snip here, and a cut there will help your Cavapoo look and feel good. Bonus? You'll save a lot on vet bills if you maintain a regular grooming schedule.