How Much Do Dog Groomers Make? [2023 Update]
Society has dramatically changed today when it comes to how they treat their pets. Back in the day, people brought home pets, specifically dogs, to serve as the family's watchdog or guard.
Now, canine pets are treated as cherished and valuable family members. Some people even forego having children of their own and prefer to have a pack of varying dog breeds at home.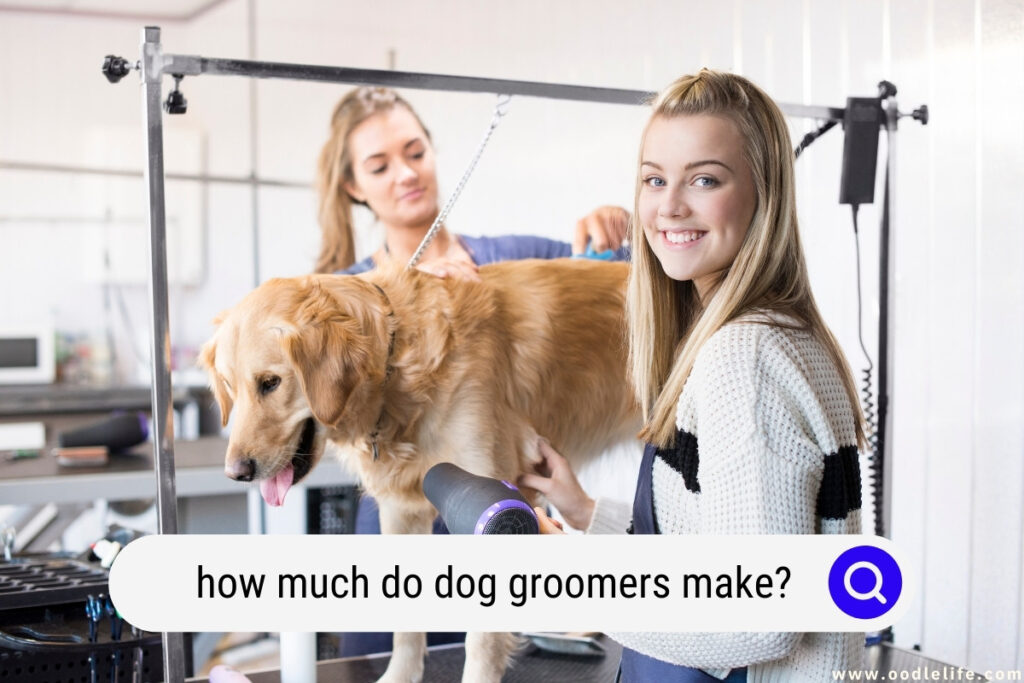 Before becoming a dog parent, you have to understand that it comes with responsibilities. You are responsible for your dog's well-being. Having a dog or two at home entails that you have a dedicated budget for them and their needs.
And one of the regular expenses for dogs is grooming.
You bring your dog to the groomers, and they come out a happy, clean, and pampered pooch. But have you ever thought about the expert groomer responsible for your well-groomed doggo?
Get to know what it takes to be a dog groomer, and you'll surely see them in a different light after reading this.
How Much Do Dog Groomers Make?
The average salary for dog groomers is around $29,000 per year in the US. Entry-level groomers usually start at $23,000, while specialized groomers working for show dogs or specific breeds earn more, up to $35,000.
Several factors influence a dog groomer's pay. And these elements can determine a higher or lower income:
The Work Environment
If you own the business, expect to generate more money than working for an employer. But this entails more responsibilities and a greater risk of losing everything (or nothing) depending on the demand for dog grooming in your area.
The Location
Larger cities with higher living costs would mean a potentially higher income compared to less populated areas. The demand for dog grooming depends on the income and lifestyle of the owners.
Also, it depends on what dog breeds are familiar to your location. You can't expect to use your Poodle grooming skills in an area where Beagles are the predominant breed.
The Pay Structure
Today, the norm is paid on commission, so the money you earn is mainly based on the number of grooms you do.
Should dog groomers be tipped? Most clients give a tip, so depending on the policies of your job, you can keep this tip to yourself, or you might have to share it with the dog bather or brusher.
If you are the sole groomer of your business or your employer, you can keep all your tips.
Dog groomers' pay also varies in different parts of the world. The dog groomer salary in Canada is about $33,638 per year or $17.25 per hour. Experienced groomers can earn up to $45,100 a year.
Dog groomer wage in Australia is about $50756 per year.
The highest paying cities in the US for dog grooming include New York at $24.67 per hour, Nashville at $22.86 per hour, and Austin at $22.44 per hour.
Your Education
Not all employers require formal education, but having one makes you stand out. And this can become your edge, especially if you have hands-on experience to partner it with.
Most pet shops and salons are willing to hire new groomers as long as they have experience doing what needs to be done.
Your Hands-On Experience
This is the most critical and sellable aspect of what determines your pay. The more experience you have—meaning more techniques and skills—the higher your earning potential.
This is why groomers specializing in specific breeds and show dogs earn more. They need extensive experience to be able to offer detailed styling to a particular breed.
Running Your Own Dog Grooming Business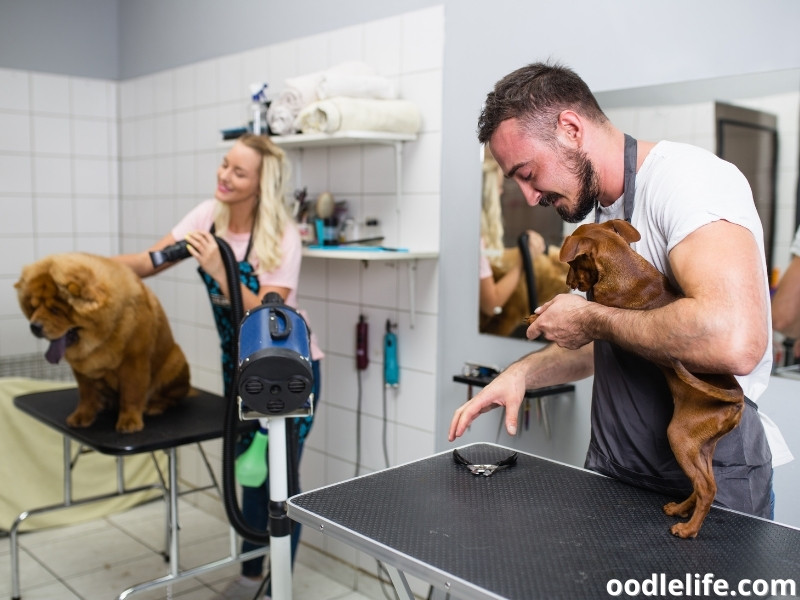 If you are considering starting your own dog grooming business, you will need to be equipped for these costs:
Cost of equipment – Clippers, shears, scissors, brushes, nail clippers, washing machines, dryers, bath tubs, professional grooming tables, bath or sink, blaster, industrial drier, de-shedding tools, toys and treats, crates, head cones.
Rent
Product costs – Shampoos, conditioners, sprays, ear cleaning products, accessories.
Electricity costs
Water cost
Groomer salaries
You may also need to invest in your training and education.
If you plan to run your dog grooming business from home, you'll need adequate space and the right equipment. You'll also need to secure the necessary permission or meet health regulation standards, create a business plan, and set up your home.
While you can run your dog grooming business at home, you'll need a spacious and easily accessible property. You may need to be able to accommodate 2 or 3 dogs at a time. You may consider investing in a mobile van to provide the service from your garden.
What are Dog Groomers?
Dog groomers focus on your dog's overall appearance. The grooming services they provide vary depending on what you want to be done for your dog. Usually, groomers do the essential shampooing, cutting or trimming, and styling your dog's fur.
They also provide ear cleaning and nail clipping services.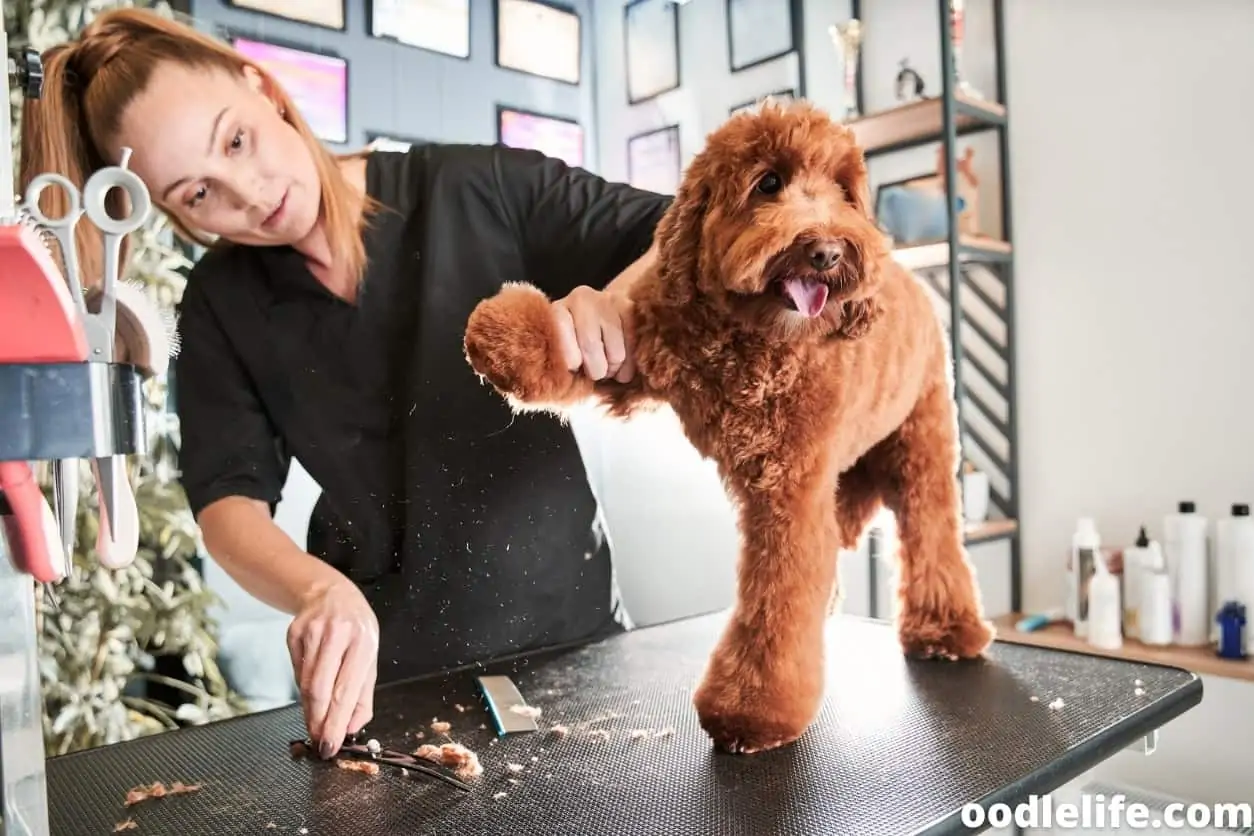 Most dog groomers become affiliated partners of kennels and pet stores. They can also work for privately established dog grooming services.
Considering the work that a dog groomer does, they need to have plenty of patience. After all, their clientele is animals. Groomers should also communicate well with both the fur parents and the dog.
Most importantly, they should have the physical stamina to attend to all the grooming demands.
Imagine having to groom a German Shepherd or even an Alaskan Malamute that is almost the same size as you.
How to Become a Dog Groomer?
Most dog groomers today gain their experience from their on-the-job experience or by helping out other groomers. They can also obtain certifications from different schools that offer dog grooming courses.
On the job, aspiring dog groomers can observe and learn from seasoned employees. They might be asked to engage in some grooming procedures under the supervision of a manager or a tenured groomer. Usually, the training can last 8 to 10 weeks.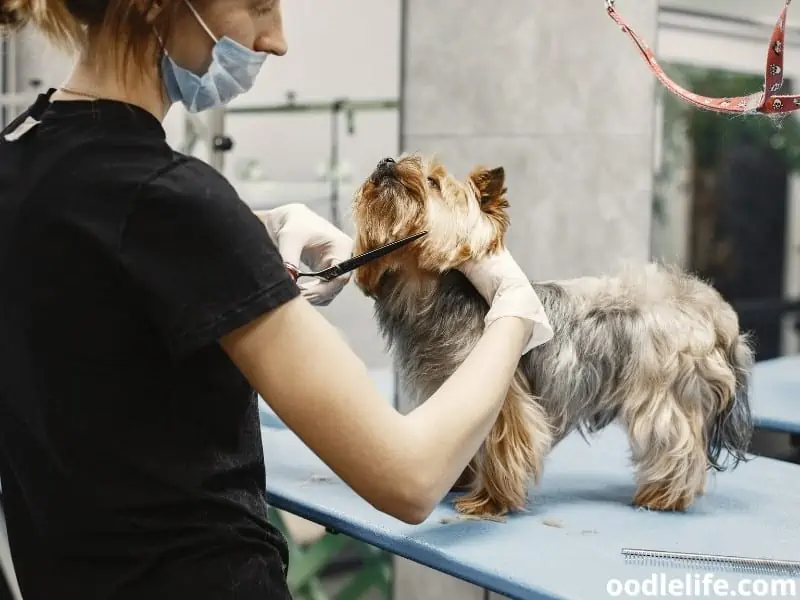 If you opt for certification, you need to look for state-approved schools that offer the training. Most employers don't ask for a certificate of completion. However, having formal training on dog grooming can be an employment advantage.
The length of the course is not set. The course will include the basics of dog grooming and additional training modules like coat styling and different approaches for every type of dog.
There are also online courses available today. If you decide to go this route, make sure that a hands-on or practical experience is included. Learning the concepts and techniques is different from the actual execution, so using your skills in real time will help shape your skills further.
The National Dog Groomers Association of America offers a National Certified Master Groomer or NCMG program certification. The NCMG certification includes practical and written tests for specific and common dog breeds.
You can also explore the Safe Grooming Program of the American Kennel Club. This promotes grooming safety and can equip you with the right grooming techniques.
Do Employers Require Certification?
Most pet shops, kennels, and private businesses do not require certification. Employers will often require a high school diploma as an essential requirement. They do not need you to complete any other formal education.
Most employers value experience with animals more. They prefer candidates with a background as a veterinary technician, animal caretaker, or kennel attendant. These jobs expose you to various effective grooming methodologies.
What is a Dog Groomer's Job Description?
So what exactly does a pet groomer do when you leave your dog for that "usual groom?"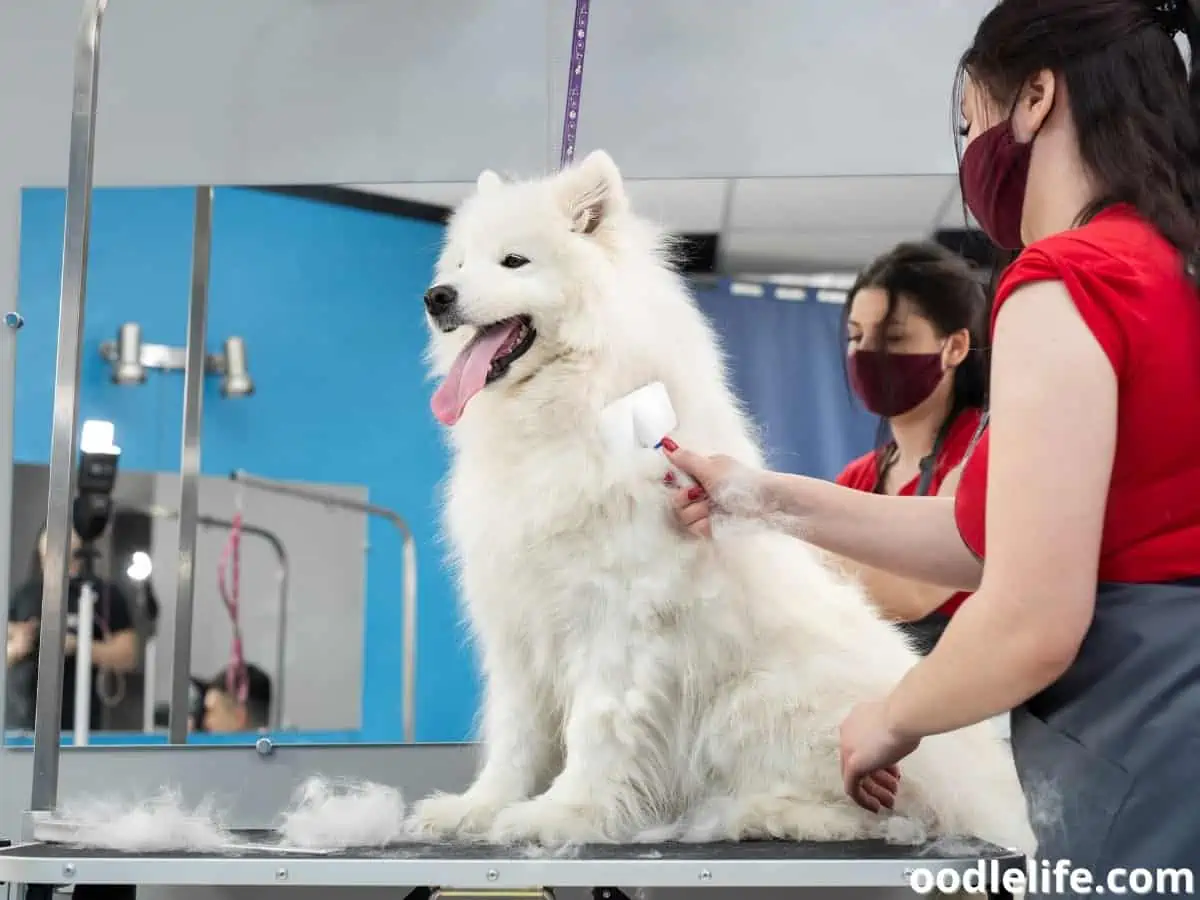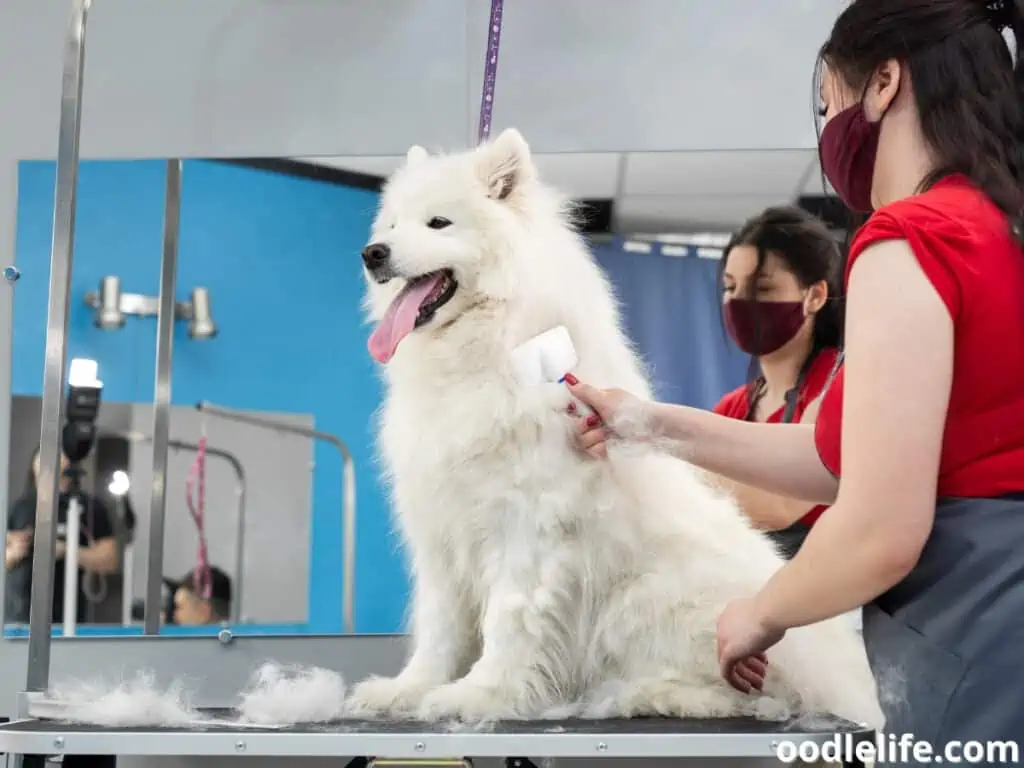 Dog groomers need to take care of your canine's nails and fur. If you have any special requests like a specific style for your dog, they can do it for you. They will also discuss breed-specific recommendations that they think will look and feel good for your dog.
Aside from these, part of a dog groomer's job description is to safely and professionally handle your furry family member in a safe and professional manner.
Dog groomers need to adjust to your dog. Some dogs are comfortable with strangers handling them, but many don't like being touched. They may not enjoy the idea of an unfamiliar person bathing and cleaning them.
A day with the groomer will entail:
Brushing or combing out the mats on your dog's hair.
Giving your pooch a thorough bath.
Cleaning the ears to remove any dirt or wax build-up.
Inspecting your dog's ears and body for any infections.
Cutting and filing your dog's nails.
Aside from this, groomers working at retail chain pet stores or a private business may also be asked to help with other tasks unrelated to grooming. This is based on the agreement they have with their employer.
These tasks are but are not limited to:
Running the registers.
Answering customers' inquiries.
Checking and assisting customers.
Booking schedules and appointments.
Aside from performing these tasks and more, dog grooming is physically demanding. Pet groomers need to be ready and able to bend when bathing the dogs, lift them when needed, and stand for long hours.
It is also imperative that they have patience, calmness, and an alpha attitude during the grooming process. The job makes dog groomers vulnerable to aggressive dogs, cuts, scratches, and even bites.
Why Professional Groomers are the Best for Your Dog?
People have different views about getting their dog professionally groomed. Some may like to take on this responsibility themselves to spend quality time with their dogs and save money. Others would rather leave their dogs in the expert care of groomers, despite the additional expenditure, so they are certain that every ear and paw is clean.
Regardless of your opinion on regular visits to the dog groomers, it is worth getting your dog professionally cleaned up once in a while. And here are the reasons why:
1. Dog Groomers Do Everything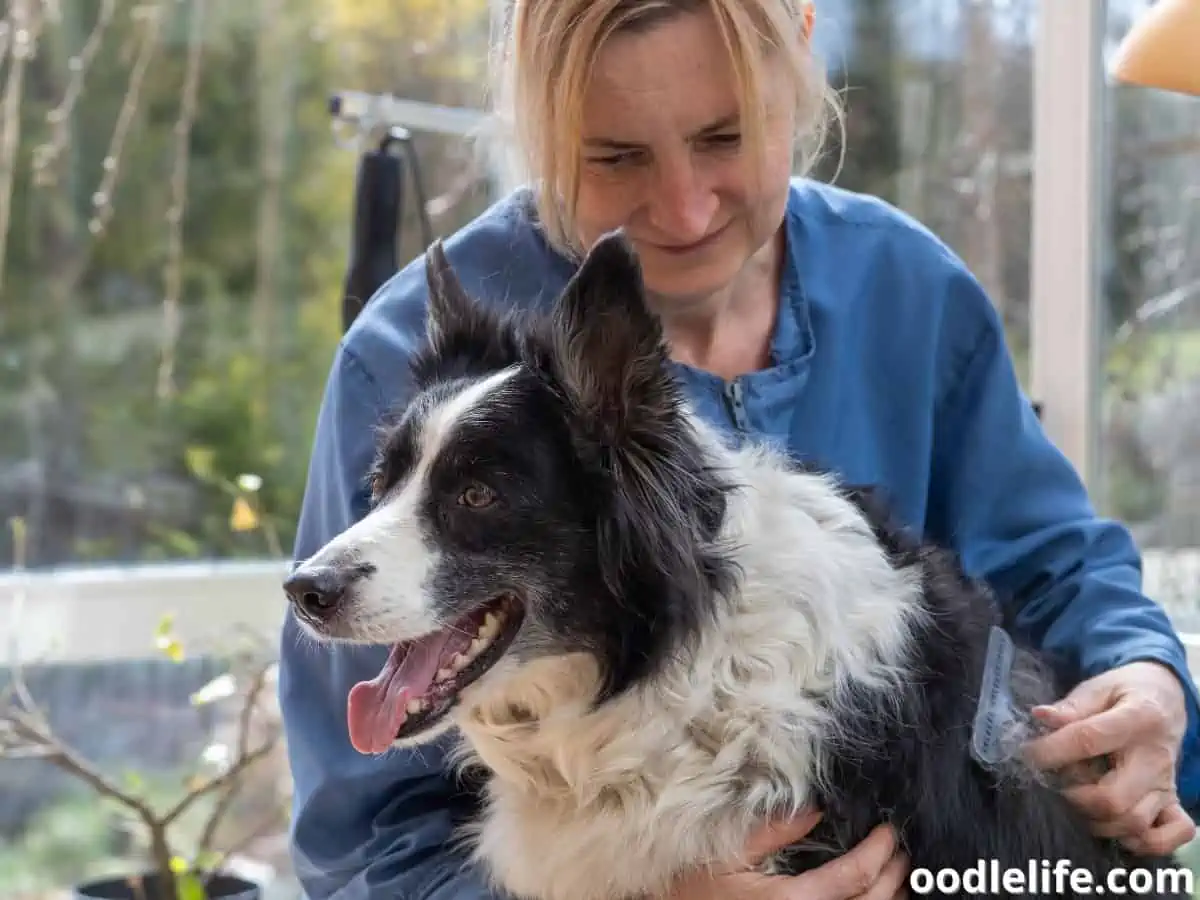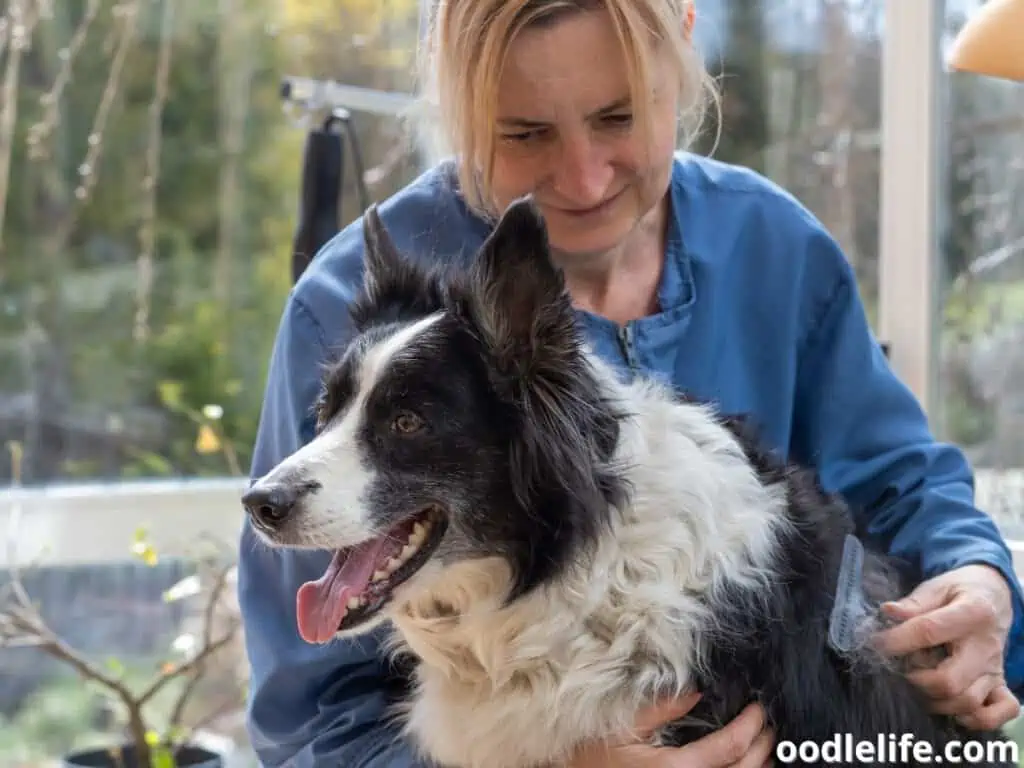 You are most likely pressed for time to be thorough in bathing your dog at home. A professional dog groomer can provide undivided attention during the brushing, bathing, and drying process.
They also take time to clip your dog's nails and make sure that they are styled just the way you like them.
Groomers don't stop here. They also trim the hair over and around your dog's eyes, the edges of the ears, and even the bottom of the paws. Upon request, dog groomers can even brush your dog's teeth using dog-specific and safe toothpaste.
One person or an entire team may do this, meticulously with care and experience. Can you imagine doing this and more for your dog on the weekend?
2. Dog Groomers are Equipped with the Right Tools
Dog groomers either invest in their equipment or their employers provide the tools for them. They have different clippers, scissors, and even an adjustable grooming table. They also have all sorts of shampoos, detangling agents, and brushes for a particular job.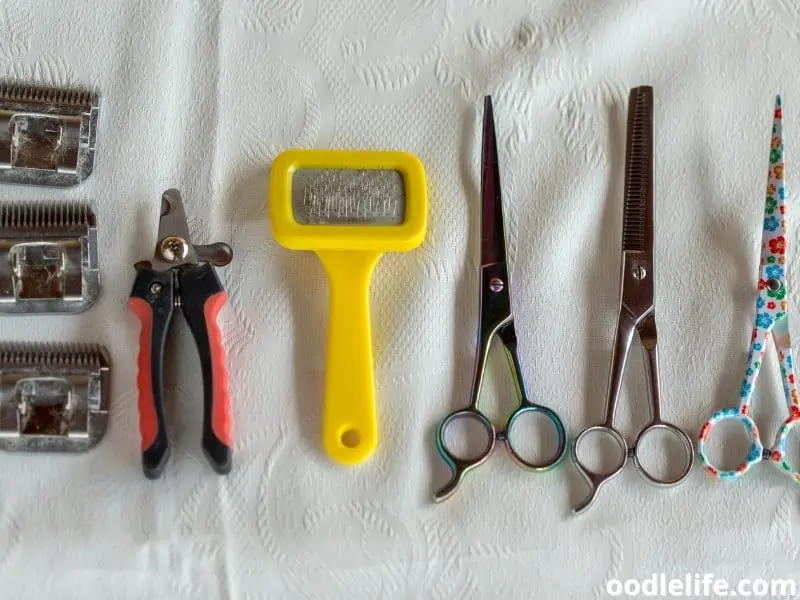 Moreover, dog groomers know how to groom for shows. This needs to be precise as each breed has its requirements.
Unless you want to invest in these various scissors and brushes and equip yourself with the information on how to use them, it's better to bring your dog to the groomer.
3. Dog Groomers can Handle your Dog
Dogs can change behavior during bath time, especially if they are suddenly left under the care of someone they don't know. They can become aggressive and anxious.
This is normal, and groomers understand this. And so, they are also trained on how to handle your dog with utmost patience and care. Yes, some dogs may need to be muzzled and restrained for safety reasons, but rest assured that your dog groomer will only do so if necessary.
This is an advantage for you because you don't need to do the hard work, especially if you have back pains or suffer from arthritis. The professional groomers can take the strenuous activity, and while waiting for your dog to get groomed, you can be productive and get things done.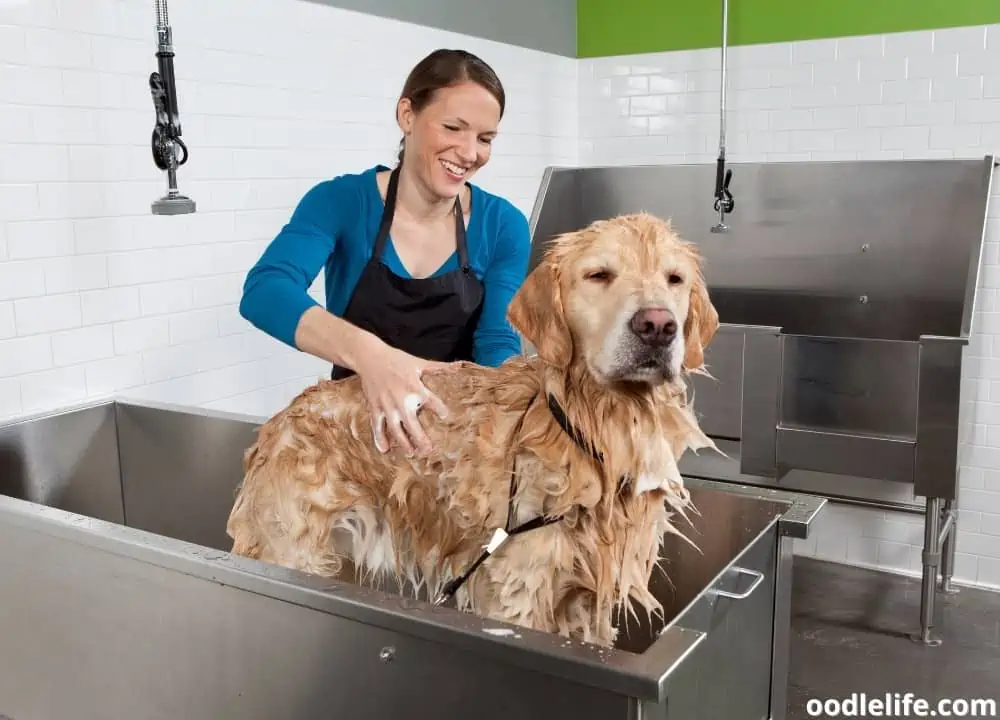 4. Dog Groomers Take Care of the Unpleasant Stuff
As much as you love your dog, removing the ticks, fleas, and other strange things stuck on their fur is something you won't enjoy.
Add in cleaning their anal glands, ears, and teeth and checking for bumps, lumps, and skin irritations. Leave these unpleasant tasks to the groomers. They know how to handle this yucky but necessary inclusion of grooming.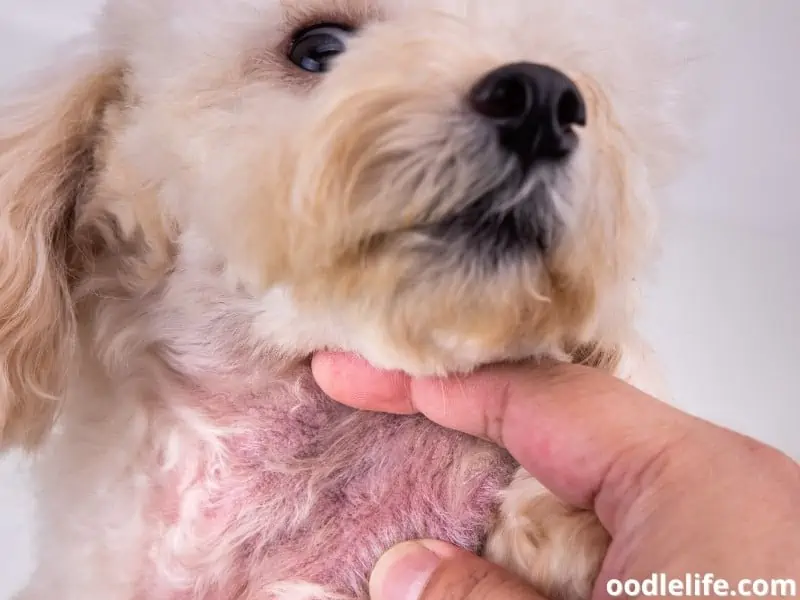 Pros and Cons of Being a Dog Groomer
If you are interested in becoming a dog groomer, here is a short overview of its perks and the compromises you need to be prepared for:
Pros
If you own the business, you can be your boss working on your hours.
If you love dogs, you get to be with them most of the time.
You can create a more comprehensive network and relationships with the people in your location.
Getting into this industry is relatively easy with the availability of courses, training, and exposure to the job.
Cons
If you want sedentary work, this is not for you. This is a demanding job that requires you to be on your feet most of the day.
The hours can be long as one dog can take an hour or two (and even more) depending on the breed, what needs to be done, and other requests from the dog owner.
You need to adjust to all kinds of dog temperaments.
Expect to work on weekends—days that dog owners are usually available to take their dogs out for grooming.
You may be bitten, scratched, or hurt when doing the job.
Conclusion
Being a dog groomer is not a walk in the park. It demands a lot phyically, mentally, and emotionally. But if it is something that you love to do or see yourself doing, go for it.
As for the pay itself, work your way up and get paid more. Learning new techniques and enhancing your skills is a continuous process. By empowering yourself as a dog groomer, you are also working on being irreplaceable and priceless in your community.