5 Best Corgi Dog Food Choices of 2023
Corgis are a popular breed among dog lovers because of their athleticism, friendliness, and short stature. Like many dog breeds, they need a balanced diet to accommodate their potential health issues. They're prone to hip dysplasia and other genetic joint disorders, so finding a formula that supports joint health is crucial.
Since Corgis are also susceptible to gaining weight fast, you'll need a dog food formula high in protein yet low in fat to meet your dog's daily nutritional needs.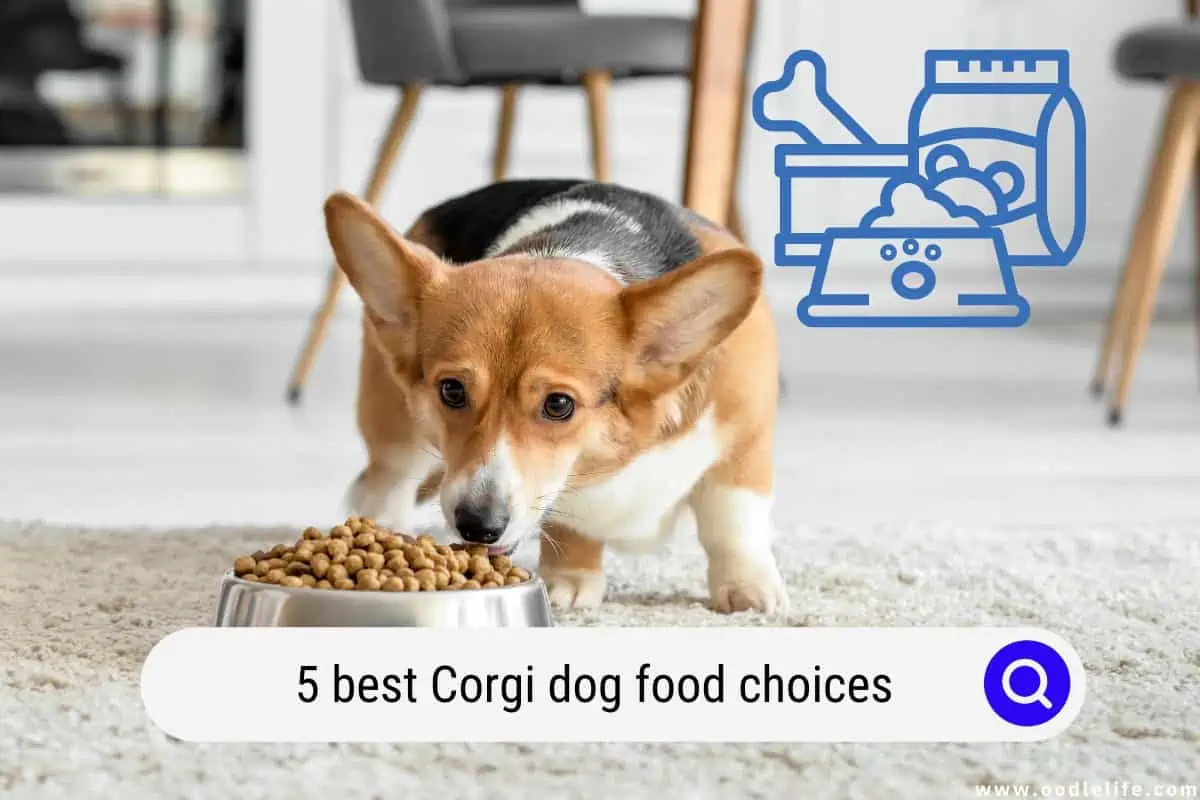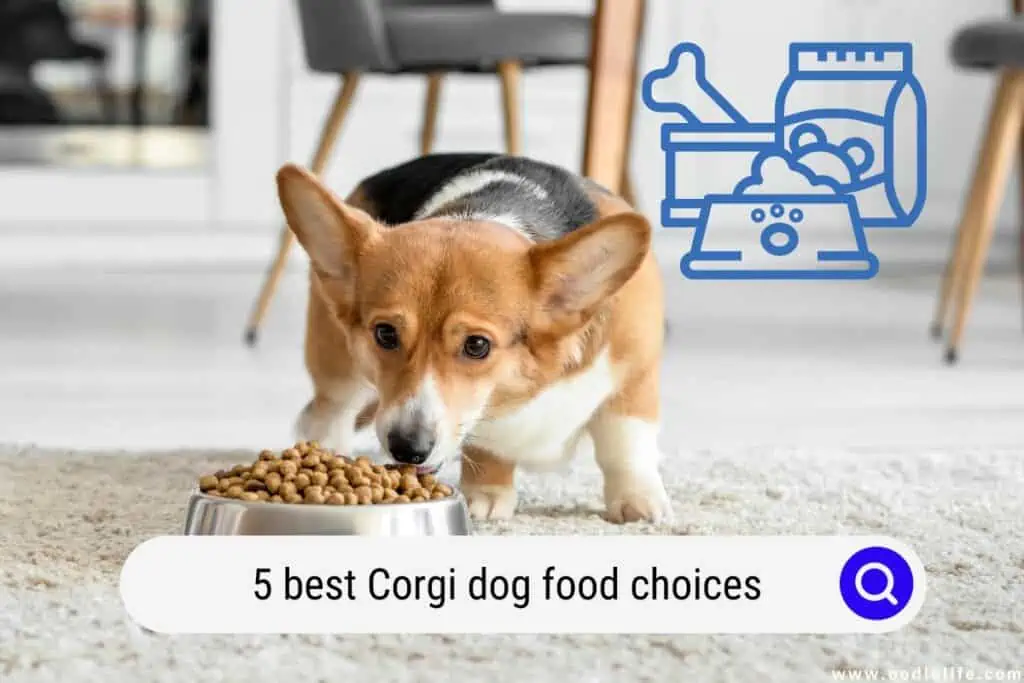 If you're having trouble finding the best Corgi dog food for this loveable breed, I compiled this list of the top options you should consider.
Hill's Science Diet Dry Dog Food – Best Overall
First up on my list of the best Corgi food is Hill's Science Diet Dry Dog Food, the top option in this rundown. This formula contains quality protein and natural fibers, which can improve your Corgi's digestion. It's ideal for Corgis ages one to six years.
Hill's Science Diet Dry Dog Food, Adult, Small Bites, Lamb Meal & Brown Rice Recipe, 33 lb. Bag
A dry dog food with quality, easy-to-digest ingredients to fuel the energy needs of adult canines, with a small kibble and savory lamb flavor
This dry food for small-breed dogs provides omega-6s & vitamin E for healthy skin & coat
Provides your adult little dog with high-quality protein to maintain muscle
Promotes healthy digestion for your adult dog with natural fibers
Made with natural ingredients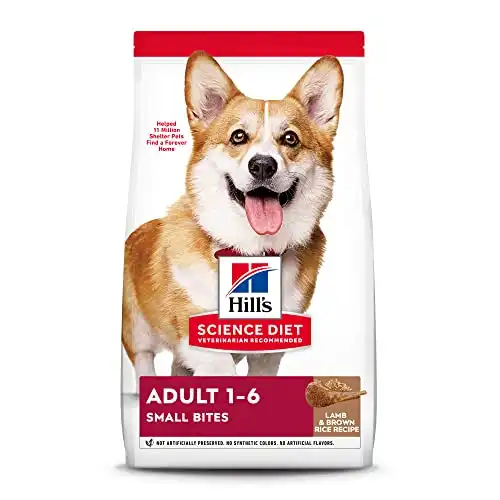 We earn a commission if you make a purchase, at no additional cost to you.
Hill's Science Diet is available in a savory lamb flavor, making it ideal for Corgis who prefer flavors besides chicken or beef or are allergic to specific proteins.
This formula contains several natural nutrients for improving your Corgi's health. The taurine content promotes enhanced heart health for active Corgis, making it ideal for any diet. 
Its soybean oil contains essential omega-6 fatty acids, which keep your Corgi's skin and coat healthy, especially if they're prone to excessive shedding.
Although this dog food formula is ideal for many Corgis, it can be expensive for some owners' budgets if they plan on buying larger bags. Some dogs might not enjoy its lamb recipe flavor, while others might feel gassy after eating it.
Pros:
Promotes healthy digestion.
Supports heart health.
Ideal for one to six-year-old Corgis.
Promotes healthy coats and skin.
Cons:
Expensive.
Limited flavor options.
Causes gas in some dogs.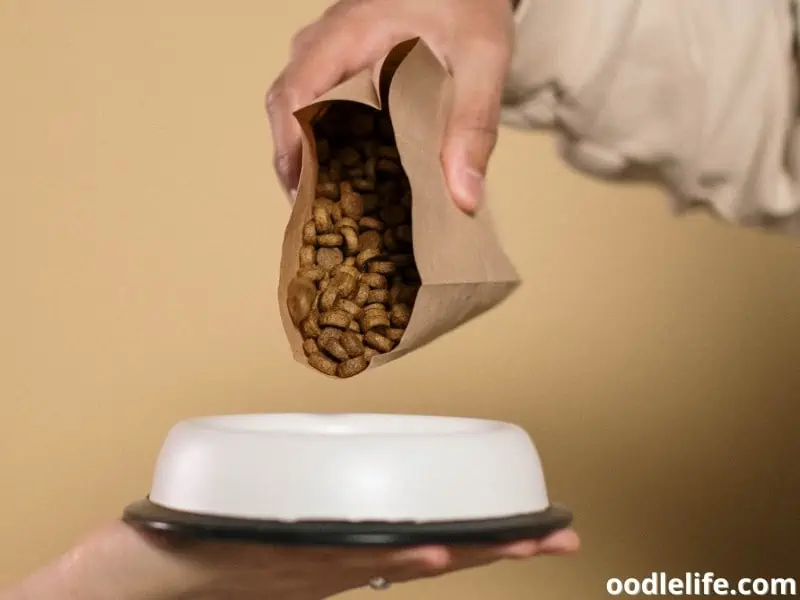 Optimeal Vital Nurture Natural Dog Food – Best for Puppies
The best Corgi dog food you should consider getting for a younger puppy is Optimeal Vital Nurture Natural Dog Food. This formula is ideal for puppies as young as six weeks and as old as 12 months, making it the perfect food for your Corgi until they can transition to eating an adult formula.
OPtimeal Natural Dog Food for Puppies - Proudly Ukrainian - Delicious Dry Puppy Food Recipe, Puppy Dog Food for Healthy Growth and Development8.8 lbsTurkey & Oatmeal
FRESH TURKEY IS THE FIRST INGREDIENT - Optimeal's puppy dry food contains high turkey content to provide your puppy with highly digestible quality protein enriched with vitamins and minerals with a...
SUPPORTS HEALTHY GROWTH - Optimeal's puppy dry dog food supports healthy muscle and bone development in growing puppies. With high-quality animal protein, optimal levels of calcium and phosphorous...
SUPPORTS BRAIN DEVELOPMENT - Our medium and small breed puppy food contains salmon oil. The DHA from salmon oil supports brain development in growing puppies. These omega 3 fatty acids actively help...
SUPPORTS HEALTHY SKIN AND A SHINY COAT - Optimal skin health is dependent on many factors. Our dog food puppy recipe supports healthy skin and a shiny coat with Omega-3 and -6 fatty acids, Zinc, and...
IMMUNITY SUPPORT - Optimeal puppy foods support the immune system through the use of antioxidants such as vitamins E and C, plus other nutrients indicated for immune system health, including vitamin...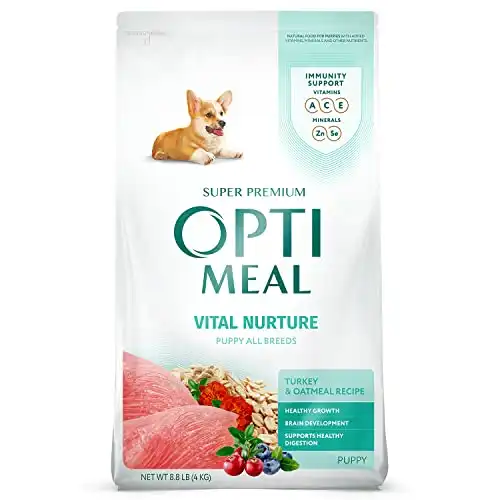 We earn a commission if you make a purchase, at no additional cost to you.
Its formula incorporates fresh turkey as its first ingredient, making it an excellent option for Corgi owners looking for puppy food with quality protein to build lean muscles.
It contains several vitamins and minerals essential to supporting your Corgi puppy's immunity. The formula's salmon oil contains DHA, among other omega-3 fatty acids, essential for a puppy's brain development, while the added oatmeal contains vitamin B for keeping your Corgi's skin healthy and coat shiny.
This formula's calcium and phosphorus promote healthy bone development, reducing the chances of your Corgi developing joint issues as they grow.
Optimeal's packaging isn't resealable and can be prone to tearing, so consider checking the bag thoroughly to ensure the food retains its freshness. The larger bags can also be expensive for some pet owners' budgets.
Pros:
Formulated for six-week-old to 12-month-old puppies.
Packed with vitamins and minerals for immunity support.
Easy-to-digest.
Promotes brain development.
Supports healthy muscle and bone development.
Cons:
Compare the number of grams to the overall cost.
Packaging can be prone to tearing.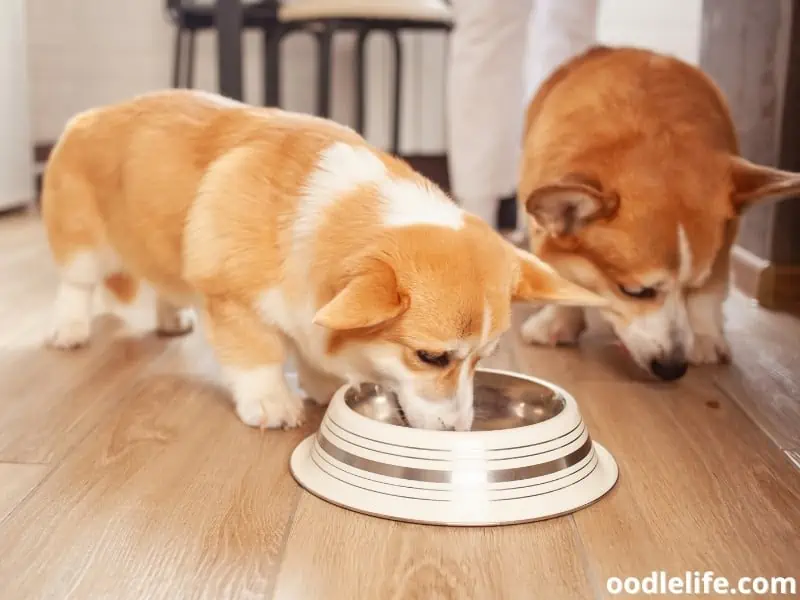 Nulo Freestyle Limited Ingredient Dry Dog Food – Best for Food Allergies
Corgis are susceptible to skin allergies, so it's essential to find the best Corgi dog food which minimizes their allergies while providing them with quality taste. Nulo's limited-ingredient formula is the perfect solution for Corgi owners looking for dog food with fewer allergens incorporated into its recipe.
Nulo Freestyle Limited Ingredient All Breed Dog Food, Premium Allergy Friendly Adult & Puppy Grain-Free Dry Kibble Dog Food, Single Animal Protein with BC30 Probiotic for Healthy Digestive Support
SALMON RECIPE - Nulo Freestyle Limited Ingredient Dog Food features a grain-free kibble blend with single animal protein and is specially formulated to promote your pet's happy, active, and healthy...
HIGH MEAT/LOW CARB - Our proprietary formula contains 74% animal-based protein, more amino acids, and better flavor. Nulo uses fewer carbs & low glycemic ingredients.
LIMITED, NOT LESS - Nulo Freestyle Limited Ingredient dog food is specially formulated for dogs who prefer a simpler diet. Made without common filler ingredients like corn and tapioca, with no...
PROMOTES HEALTHY COAT & LEAN MUSCLES - Along with our nutritious ingredients, Nulo features Omega-3 and Omega-6 fatty acids to nourish your dog's skin and help promote a beautiful, shiny coat.
MANUFACTURED IN THE USA - Based in Austin, TX, Nulo Pet foods contains no corn, wheat gluten, soy, artificial preservatives, colors, or flavoring.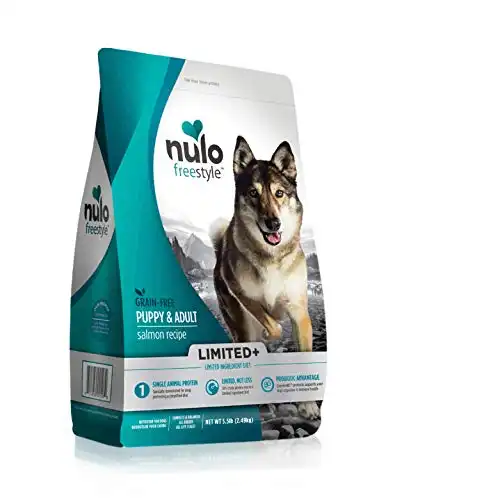 We earn a commission if you make a purchase, at no additional cost to you.
Its low-carb, limited-ingredient formula is perfect for dog owners looking for Corgi dog food without excessive artificial preservatives or fillers. It doesn't contain grains, wheat, corn, or soy, which can cause allergies in some dogs.
Amino acids, like omega-3s, keep a Corgi's coat shiny and its skin healthy. This feature is ideal for Corgi owners who want to manage their dog's skin allergies or shedding.
Nulo is ideal for adult dogs and puppies, regardless of their breed, and comes in three single-protein flavors: turkey, salmon, and pollock.
Like many dog food options made with quality ingredients, it can be pricey for some owners. Some dogs might not enjoy Nulo's flavors if they're picky eaters.
Pros:
Low in carbs.
Doesn't contain corn, wheat, or soy.
Packed with amino acids.
Ideal for puppies and adult dogs.
Cons:
A premium product
Some dogs might not like its flavors.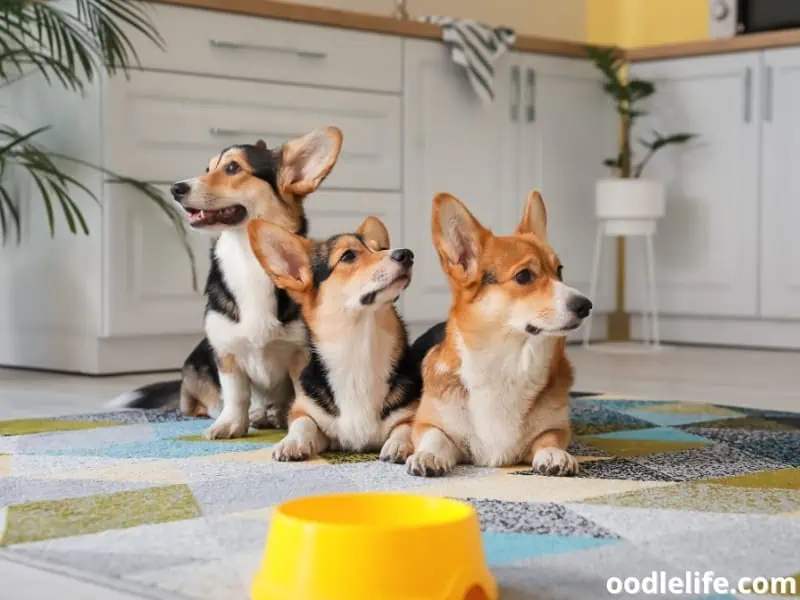 Natural Balance Fat Dogs Dry Dog Food – Best for Overweight Corgis
Natural Balance's formula is the best Corgi dog food solution for overweight canines prone to obesity. It contains fewer calories than some of Natural Balance's standard formulas, rounding to about 300 calories per cup. Its kibble size is small, allowing Corgis to eat several morsels during their daily meals.
Natural Balance Fat Dogs Low Calorie Chicken Meal Salmon Meal, Garbanzo Beans, Peas & Oatmeal Adult Low-Calorie Dry Dog Food for Overweight Dogs
CHICKEN MEAL IS THE FIRST INGREDIENT providing essential protein and amino acids to help maintain strong muscles; Peas, oat groats and barley are included as a healthy and rich source of fiber for...
LIMITED INGREDIENT DIET PHILOSOPHY Formulated with a simplified list of premium ingredients; a single animal protein source, and no grain, soy, gluten, artificial colors or flavors; We use fewer...
ULTRA REDUCED CALORIES Scale back on the calories, not the taste! Made with the same healthy whole ingredients your dog loves, this delicious formula has 25% fewer calories than our Original Ultra...
NUTRITION FOR EVERY TYPE OF DOG Any dog can enjoy our delicious recipes, not just dogs with sensitive stomachs, irritable skin or allergies; Our purposefully crafted formulas reduce the number of...
SAFETY & TRANSPARENCY Natural Balance's 'Feed with Confidence' program tests every batch of food from start to finish, ensuring safety with every bite; Validate bag on our site or call our Customer...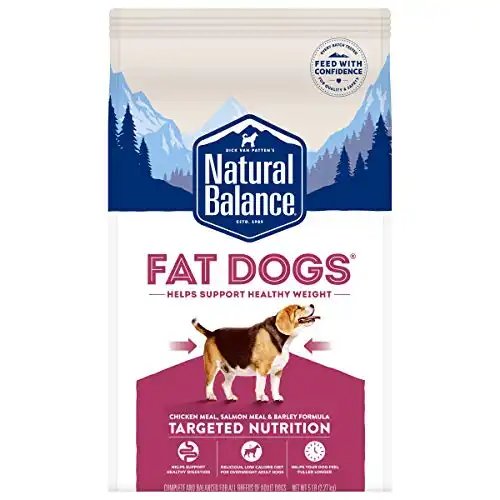 We earn a commission if you make a purchase, at no additional cost to you.
This formula contains wholesome grains and fibers to enhance your dog's digestion while keeping them full for longer before their next meal. One of its vital amino acids, L-carnitine, helps your dog maintain weight by enhancing its metabolism.
Traces of vitamin C, zinc, and vitamin promote your Corgi's immune system to ensure a long, healthy life. The formula doesn't contain artificial coloring, gluten, and soy, offering quality flavors without losing nutritional value.
Corgis' metabolisms can vary because of their health, age, and activity level, so the food's weight loss capability can vary from dog to dog. Its high-fiber content can cause diarrhea in some dogs if they eat too many portions per meal.
Pros:
Keeps your dog full for hours.
Low in calories.
Soy, corn, and gluten-free.
High in fiber.
Limited-ingredient formula.
Cons:
Causes diarrhea in some dogs.
Weight loss effects can vary.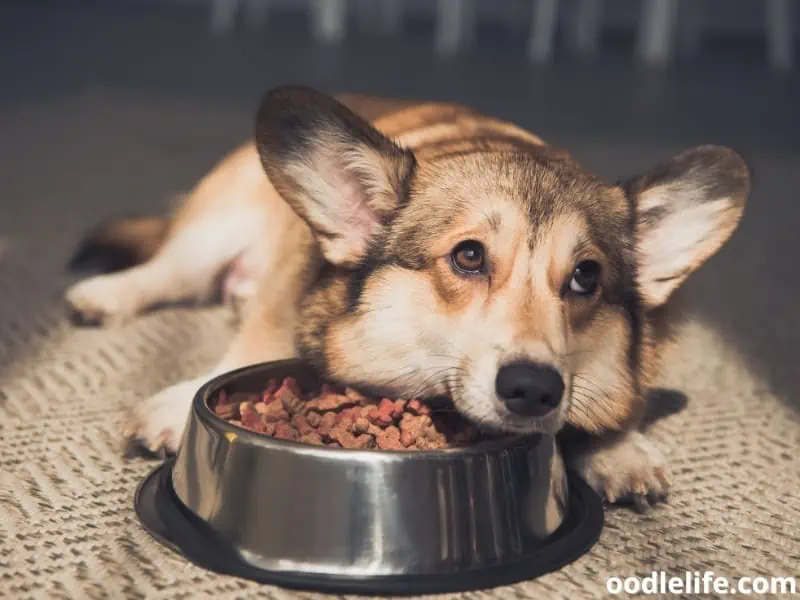 Wellness CORE RawRev Dry Dog Food – Best Grain-Free Recipe
Is your Corgi sensitive to grains? Wellness CORE's RawRev is an excellent alternative if you're looking for dog food with fewer allergens. This grain-free formula doesn't contain soy, wheat, corn, eggs, soy, and artificial preservatives.
Wellness CORE Rawrev Grain Free Natural Dry Dog Food, Healthy Weight Deboned Turkey & Chicken With Freeze Dried Turkey Recipe, 4-Pound Bag
GRAIN-FREE ADULT DRY DOG FOOD: Protein packed, nutrient dense kibble combined with 100% raw freeze-dried turkey pieces for a crave worthy savory dog food; with optimal protein levels, high fiber and...
LEANER BODY MASS AND MUSCLE TONE: Based on the nutritional philosophy that dogs thrive on a natural diet mainly comprised of meat, this dog food is made with high quality protein ingredients
SUPPORTS DIGESTIVE HEALTH AND HEALTHY COAT: Contains guaranteed levels of glucosamine for strong joints, probiotics for digestive health, omega fatty acids for healthy skin and coat, and taurine for a...
NO CORN, WHEAT, OR SOY: Contains only premium, all natural ingredients with no poultry by-products, wheat, wheat gluten, corn, soy, artificial colors, or preservatives; Manufactured in a facility that...
MADE IN USA: Using only the finest globally sourced ingredients, we prepare each of our diets in our own state of the art facility; recipes crafted with wholesome, non-GMO ingredients chosen for their...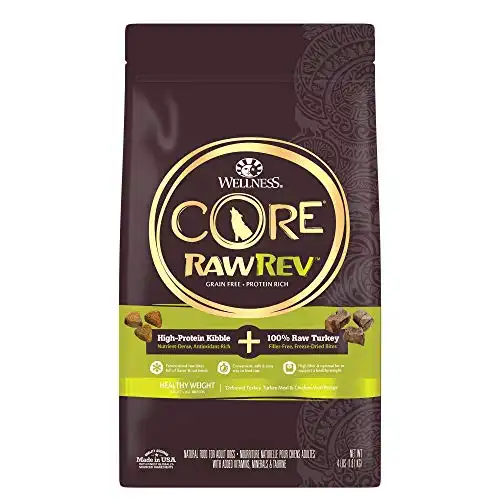 We earn a commission if you make a purchase, at no additional cost to you.
Wellness CORE's formula incorporates freeze-dried turkey chunks in its crunchy kibble to give the food some extra flavor without artificial additives. The formula contains lentils and peas protein packed with fiber, while its flaxseed and salmon oil keep your Corgi's coat and skin healthy.
This dog food comes in a resealable bag, ensuring the food remains fresh for several weeks, allowing you to save extra when stocking up on more food.
The amount of freeze-dried turkey can vary from bag to bag, making it inconsistent for some dog owners. Although Wellness CORE's grain-free formula is fantastic for some dogs with dietary sensitivities, it can increase the chances of heart issues.
Pros:
Rich in antioxidants and probiotics.
Contains raw, freeze-dried turkey.
High in fiber.
Resealable bag.
Cons:
Can increase the chances of heart issues.
Inconsistent meat chunk ratio.
Things To Consider When Choosing Corgi Dog Food
There are several factors you should consider before narrowing down your top options for the best Corgi dog food. Here are a few examples to help you simplify your search..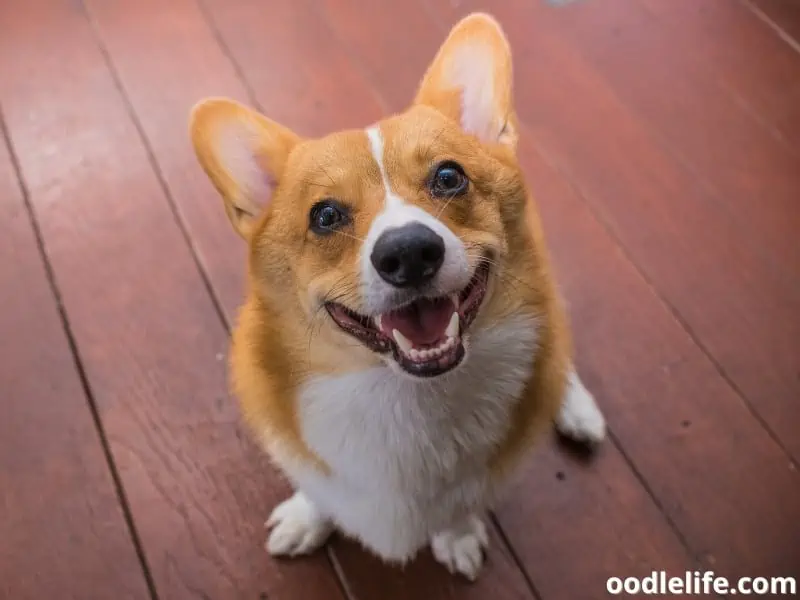 Ingredients
A dog food formula's ingredients can make or break any dog owner's decision when choosing the best one for their Corgi. The best options should contain natural ingredients and have animal protein, like beef or salmon, listed as its first ingredient on the bag's nutritional label.
Corgi dog food formulas with amino acids, like omega-3s, improve your dog's skin and coat health, while ones packed with phosphorus and calcium improve their joint and bone health.
Avoid dog food formulas containing GMOs, artificial food dyes, or nitrates since they can significantly impact your Corgi's health if they eat them too often.
Your Corgi's Age
A Corgi's dietary requirements change depending on its specific life stage. Most dog food formulas crafted for Corgi puppies contain higher protein, calcium, and fat content than adult formulas since they need more nutrients to grow and provide energy.
Your Corgi's Activity Level
A dog's activity level can impact its metabolism, and Corgis are no exception. If your Corgi lives an active lifestyle, it'll need to eat more calories and proteins to provide its muscles with the nutrients they need to energize its body.
Your Corgi's Health Conditions
If your Corgi has joint issues or is overweight, you'll need to buy a dog food formula to accommodate your dog's health needs. Some don't contain specific dog food allergens, like chicken and soy, while others have lower fat, carb, and calorie content.
Final Thoughts
Finding the best Corgi dog food can be challenging, but several formulas can accommodate your dog's breed-specific dietary needs. The best dog foods should be rich in proteins and nutrients, have balanced fats, and offer quality flavors.