Best Dog Food To Gain Weight
As with humans, it's much easier for a dog to become overweight than to become underweight. Dogs, after all, are notoriously greedy. It is not a negative criticism – it is animal nature!
But what happens when your dog has lost weight? Their ribs are starting to show, they might not be interested in their food, they might be lacking in energy, or their coat might be looking dull.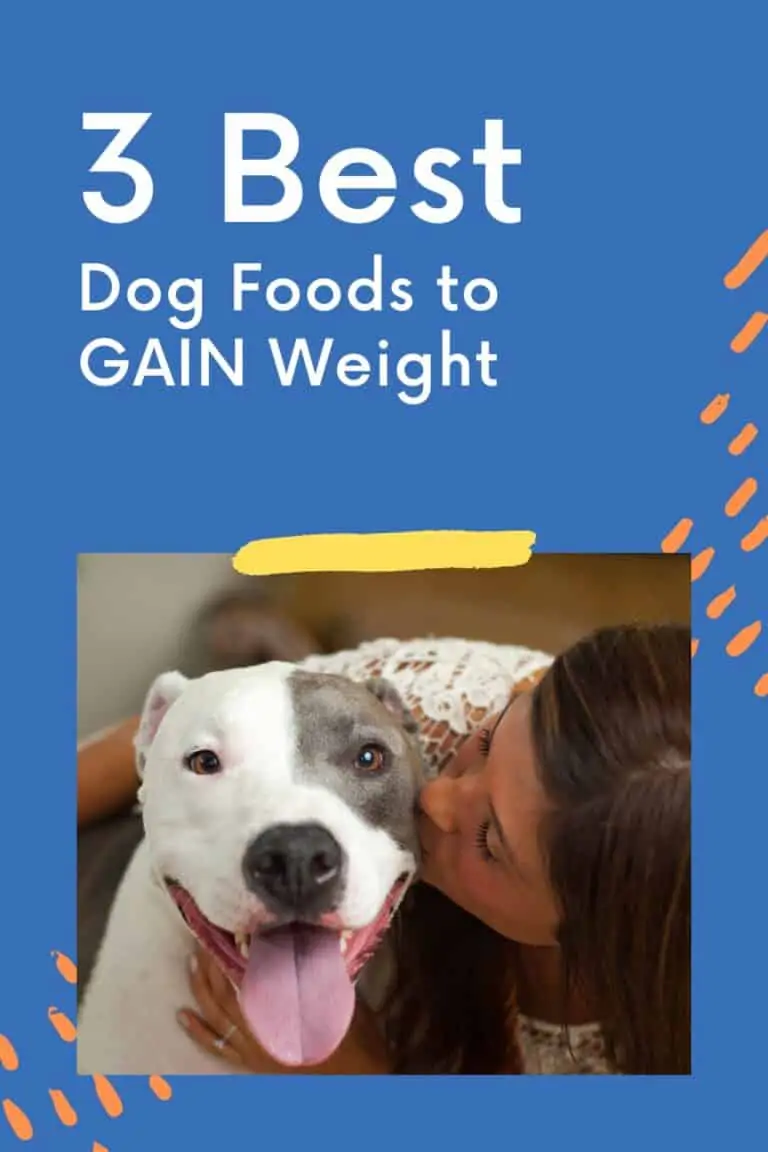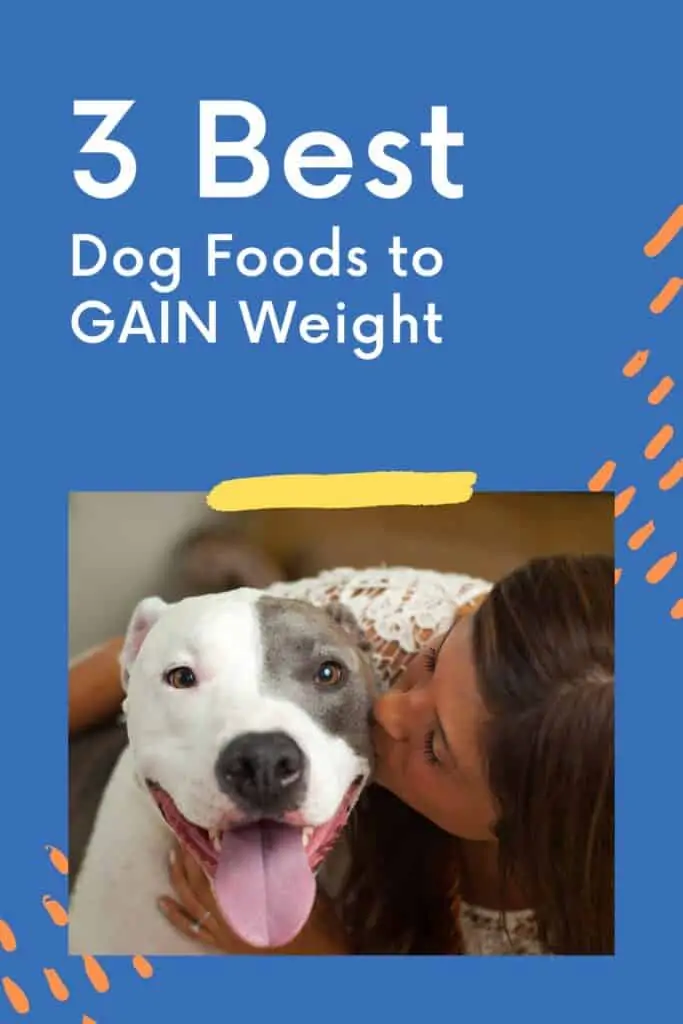 It's never nice to see your pooch acting differently from their usual self. Whether you're wanting your Yorkie to enjoy his food again, or whether you want your Pitbull to bulk up, you're going to want to help them gain weight safely. After all, an underweight dog could be a sign of a serious health problem.
Luckily for you, we've got you covered. We understand the importance of keeping your pups at a healthy body weight because they deserve nothing but the healthiest life.
That's why we have found the best dog food to gain weight for a variety of dogs, and we hope you can find something that is suitable for your situation. Let's get started!
When it comes to finding a dog food to help your dog gain weight, your priority is to look for a high-calorie diet. It's not about force-feeding your dog with large and frequent meals – it's about providing them with more calories than usual to help them safely gain weight.
With 600 calories per cup, this Miracle Vet dog food is one of the most high-calorie dog foods on the market – making it ideal for helping dogs to gain weight quickly. Not only is it high in calories, but it also features 31% protein and 25% fat, which are other great sources of nutrition to support healthy weight gain.
Whilst this might seem a bit excessive for some dog parents, the formula is made in the USA from 100% natural ingredients sourced locally, so you'd be giving your dog the highest quality food.
None of the ingredients include artificial fillers (which work to fill up a dog for a short amount of time and are absolute rubbish), flavorings, or colorings.
Whilst this is a fairly pricey product, it is a large bag that is said to last 47% longer than other dog food brands, which could be a money-saver in the long run. Once the dogs begin to gain weight gradually from eating this food, the money will be worth it.
Pros:
Ideal diet for weight gain – High in calories and balanced in proteins and fats to make for safe weight gain
Natural ingredients – Locally sourced, natural ingredients with no artificial products
Long-lasting – Large bag lasts 47% longer than other dog food brands
Cons:
Small kibble – Whilst good for small dogs, large dogs might inhale the small kibble which could increase the risk of choking and coughing
Miracle Vet High Calorie Dog Food For Weight Gain - 600 Calories Per Cup (Most In The World) - Veterinarian Approved For All Ages (Works For Puppies, Adults, and Senior Dogs). High Protein, High Fat.
Miracle Vet High Calorie High Protein Weight Gain Dog Food for Adults and Puppies: 600 Calories per cup. That's more than any other dog food in the world. This calorie dense dog food is ideal for...
8-IN-1 Weight, Growth & Health Benefits: Fer healthy weight gain, prebiotics, and probiotics to improve digestion, Omega 3 & 6 fatty acids for skin and coat health, added antioxidants for immune...
High Calorie and Protein Food for Working Dogs: Miracle Vet High Calorie Weight Gain Dog Food contains essential proteins and carbohydrates to help meet the energy needs of working dogs
Great Protein & Fat Ratio for Growing Puppies: Calorie-dense with a perfect protein & fat ratio of 31/25 food creates less stomach distress and helps the puppy's delicate digestion. Easy to digest and...
Improves Health and Weight Faster: No other dog food contains more calories, and no other food or weight gainer will add weight to your dog faster
We earn a commission if you make a purchase, at no additional cost to you.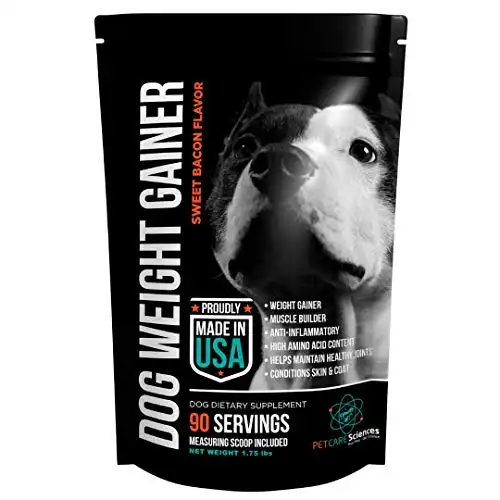 Helping a dog to gain weight isn't always about piling on the pounds to stop their spine from showing – some big dogs require weight gain to build up their muscles. This PET CARE Sciences dog food is designed to do just that.
Sick, injured, or recovering dogs can often lose weight and muscle, which can be detrimental to the overall health of their bodies. This food is about providing working dogs with the necessary muscle to help their bodies – particularly if they are a large breed like a Rottweiler, Bullmastiff, or Labrador.
Not only is this food high in protein to support muscle growth, but it is high in amino acids and vitamins which are ideal for supporting joints and a healthy skin and coat.
Even if you're not looking to bulk your dog with muscle, this is a great food for supporting those in recovery from surgery or illness. It also tastes like bacon, which is irresistible to dogs.
Pros:
Muscle builder – High in protein to support muscle growth in large breed working dogs
Made in the USA – All ingredients are locally sourced
Vitamins and amino acids – Great for supporting joints, skin, coat, and improves energy levels
Cons:
Supplement not food – This is a powder supplement to add with your usual dog food, not a dog food on its own
Weight Gain Supplement, Helps Recovery From Injury and Builds Muscle, Multi Benefit, Helps Maintain Healthy Joints, Conditions Skin and Coat. Sweet Bacon Flavor Powder, 1.75 pounds, Made In The USA
Dog Weight Gain - Has your dog recently suffered from an illness or injury which has caused them to lose weight or size? Or do you have a show or working dog which could benefit from some extra size...
Weight Gainer for Dogs - Packed with protein and all the other natural supplements that your dog needs to regain lost weight or increase muscle size. Simply add this daily weight gain supplement into...
Other Benefits - Not only will this supplement help to grow your dogs size it also aids with the side affects of the increase weight. Included vitamins such as amino acid help with joints strain,...
How to Use - Containing roughly 90 servings of sweet bacon flavour powder, you will not struggle to get your dog to take this supplement. Other size options include 45, 230 and 415 Servings. Simply...
PET CARE Sciences - We know that your pet's health and happiness is incredibly important to you, and rightly so. PET CARE Sciences is here to help safely maintain the health of your precious pets....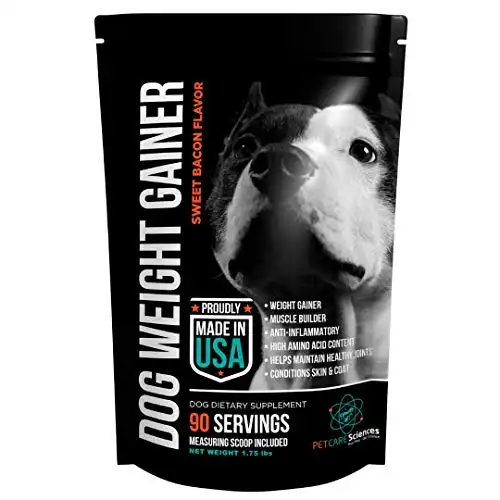 We earn a commission if you make a purchase, at no additional cost to you.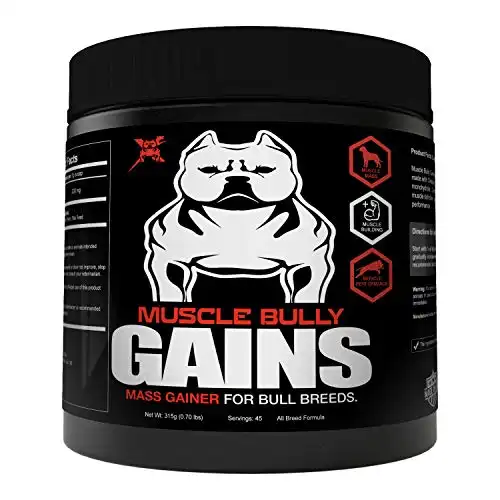 An underweight Bully (Pitbull, Bullmastiff, Bull Terrier, etc.) isn't ideal for their bodies, which require weight and muscle to function properly. Perhaps your dog is a picky eater or is recovering from surgery or an injury.
Or, they might just struggle with putting and keeping weight on, which results in a lack of energy and poor muscle movement.
Like humans, dogs can take protein supplements to help them safely gain weight. This is a high-protein supplement that features whey protein – a brilliant form of protein for athletic dogs who need to bulk up their weight and muscle mass.
This formula is designed specifically for supporting muscle endurance and recovery. It also features amino acids and essential oils which are highly beneficial for the quality of the dog's skin and coat.
What's more, this product is made from safe and tested ingredients and is made in the USA. It is also veterinary-approved and formulated.
Pros:
Great for bull breeds – Works to gain weight and build muscle in working Bull breeds
Good diet for weight gain – High in protein and calories to support healthy weight gain
All-rounder – Also supports bone health and healthy skin and coat
Cons:
Supplement not food – Sprinkle over the top of usual food, not a dog food product
Muscle Bully Gains - Mass Weight Gainer, Whey Protein for Dogs (Bull Breeds, Pit Bulls, Bullies) Increase Healthy Natural Weight, Made in The USA (45 Servings (Trial Size))
WANT TO ADD MASS FAST ON YOUR SKINNY BULLY? Muscle Bully GAINS is a powerful, Healthy and Effective Nutritional supplement that is designed to help skinny, scrawny dogs pack on HEALTHY MASS. This...
RECOMMENDED FOR: SKINNY, UNDERWEIGHT, SCRAWNY, SMALL, PUNY Dogs & HARD KEEPERS! Great for Pitbulls, American Bullies, American Bulldogs, English Bulldogs, Exotic Bullies, Bull Terriers, French...
EASY TO USE & MORE AFFORDABLE THAN EXPENSIVE VETERINARIAN DIETS. Veterinarian diets can be expensive, time consuming and may not work. When you combine Vet visit fees, expensive designer foods and...
We Use HIGH QUALITY INGREDIENTS For Adding On Healthy MASS! Muscle Bully GAINS not only assists with adding Muscle but also supports Muscle Recovery, Muscle Endurance, Bone Density, Moisturizing Skin...
SATISFACTION GUARANTEED! We're extremely confident if our product from field tested proven Results on everyday dogs to Show Ring National Champions. Putting on Healthy weight the right way takes...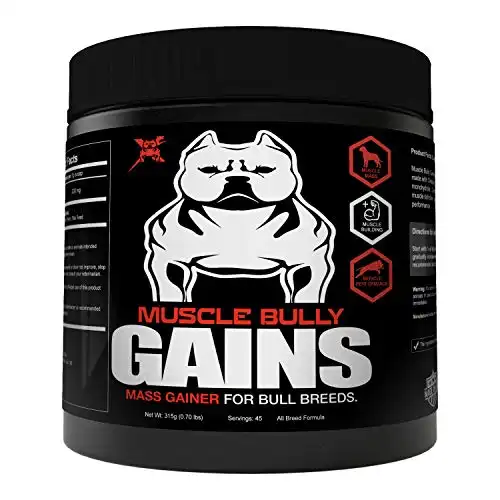 We earn a commission if you make a purchase, at no additional cost to you.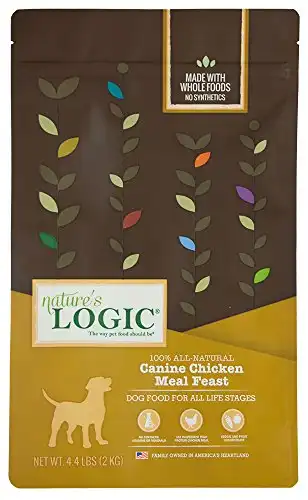 When it comes to feeding your dog, the best type of diet you could ever give them is an all-natural one. After all, the last thing you want is to fill your pooch up with artificial flavorings and fillers for the sake of cheap food. They only deserve the best!
Dog food with all-natural ingredients is a great way to help your dog gain weight. This Nature's Logic dog food is made from real chicken, which is a top source of protein that can help dogs gain weight as well as muscle.
The formula also includes antioxidants like dried blueberry to support the immune system, dried spinach for a healthy coat and skin, and dried pumpkin for a healthy digestive system.
All-natural formulas are great for all dogs, but especially for those who are allergy-prone or with sensitive stomachs. This dog food is free of common allergens like excessive grain, which means you can feed your dog without the worry of an allergic reaction.
Pros:
All-natural – 100% natural ingredients is the healthiest diet for any dog
High-protein and high-calories – Ideal diet for healthy weight gain with 36% protein and 417.95 calories per cup
No common allergens – No wheat, soy, potato, corn, or other common allergens which is ideal for dogs with sensitive stomachs
Cons:
Price – Budgeting is an important consideration for most dog owners
Nature'S Logic Canine Chicken Meal Feast, 4.4Lb
No Wheat, Corn, Rice, Soy, Potato, Peas Or Lentils
Probiotics & Enzymes For Digestive Support
No Ingredients From China
Multiple Proteins For Easy Rotation
100% Natural - No Synthetic Vitamins Or Minerals Added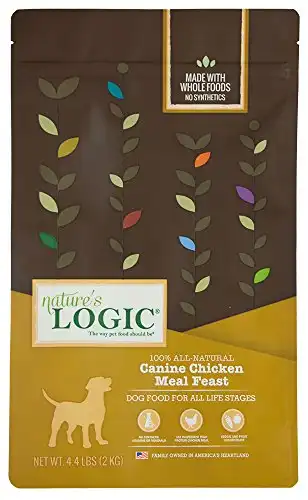 We earn a commission if you make a purchase, at no additional cost to you.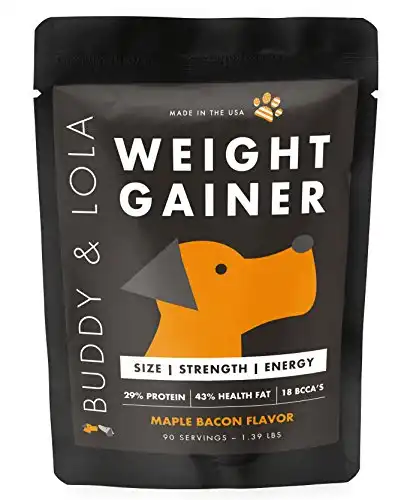 If you have ever rescued or rehomed an underweight dog, you will understand the struggle of helping them gain weight when they're too anxious to eat. Dogs don't cope well in stressful situations, and it can take them up to 3 months to properly settle into a new home.
It is therefore important to feed your dog with food that they will enjoy the taste of to help them settle into a new environment. This Buddy & Lola dog food features a delicious maple bacon flavor that is irresistible to every dog – ideal if you have an anxious dog who might be a picky eater! 
This dog food is filled with 29% protein and 43% fat. Whilst the fat figure might seem high, this is a good way to encourage healthy weight gain because the fats are from vegetables.
It is also high in amino acids, which are highly beneficial for the quality of the dog's skin and coat. Because of the essential vitamins and oils in this formula, this product is also ideal for puppies and nursing mothers who may be struggling to gain weight.
Pros:
Tasty flavor – Maple bacon flavor is delicious for picky and anxious eaters
Ideal for weight gain – High in protein, calories, and fat to safely encourage weight gain
High in amino acids – Amino acid-based formula is great for promoting healthy skin and coat
Cons:
Weight gainer, not food – Note that this is a powdered weight gainer to mix with food, not a dog food
Buddy & Lola Weight Gainer for Dogs (90 Servings) Healthy Weight Gainer Supplement for Dogs. Muscle Builder, Injury Recovery, Energy & Performance Supplement for All Breeds. Made in The USA
ESSENTIAL NUTRIENTS TO ADD HEALTHY MASS & SIZE: Our supplement is formulated with essential nutrients and proteins to help your dog gain healthy mass and bulk. Highly recommended for picky eaters,...
MAXIMIZE ENERGY & PROTEIN INTAKE: We understand how important energy and proteins are for building your dog's muscle mass. Proteins are also essential for the ongoing development of lean muscles in...
THE ULTIMATE DOG FOOD SUPPLEMENT: Our weight gainer for dogs is formulated to help improve muscle endurance, muscle recovery, muscle performance, and muscle building. It is also formulated to promote...
RECOMMENDED FOR PUPPIES & NURSING MOTHERS: Great for a nursing mother and puppies to promote growth and development of body tissue. Helps to support ATP levels, normalize blood glucose levels,...
100% SAFE & PROVEN: We care passionately about your dog's health and the wellbeing of dogs is our primary motivator. We use this product on our own re-homed dogs with great results. All the...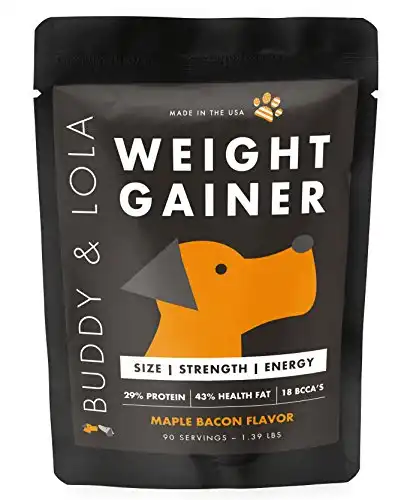 We earn a commission if you make a purchase, at no additional cost to you.
How to Identify an Underweight Dog
You won't have to weigh your dog constantly to know when it is underweight.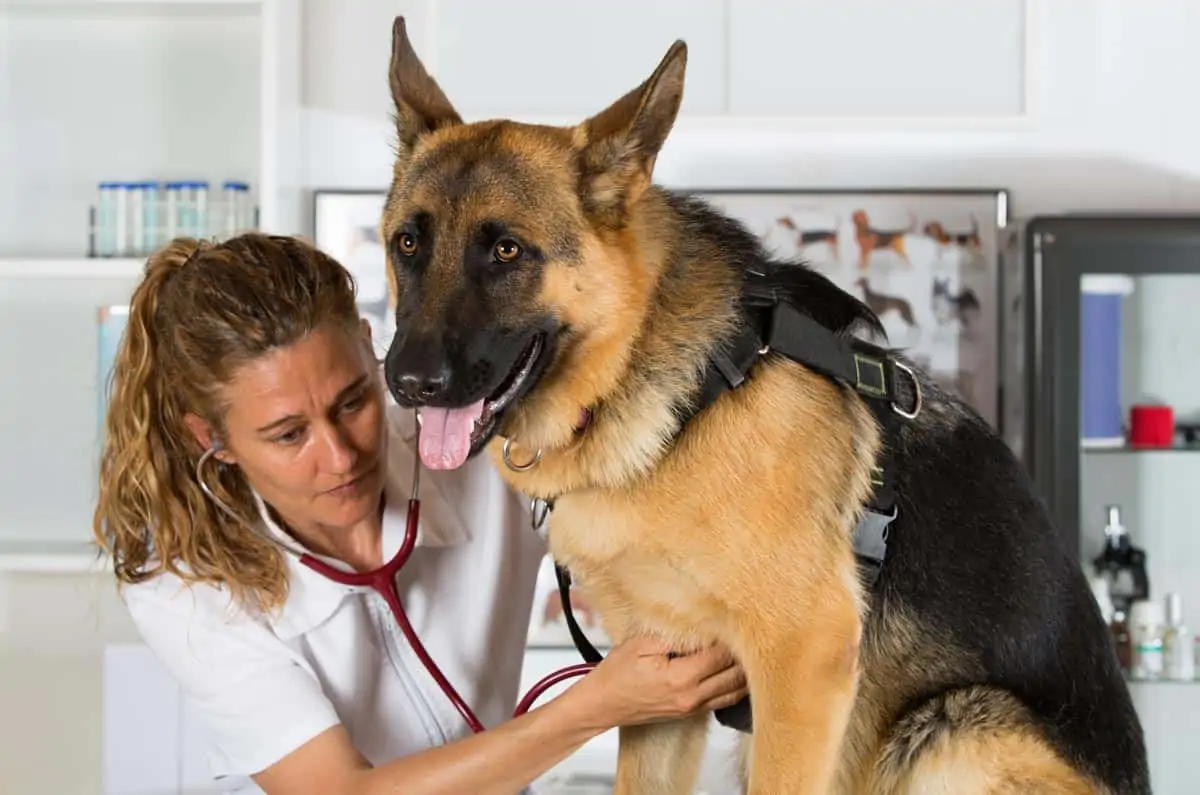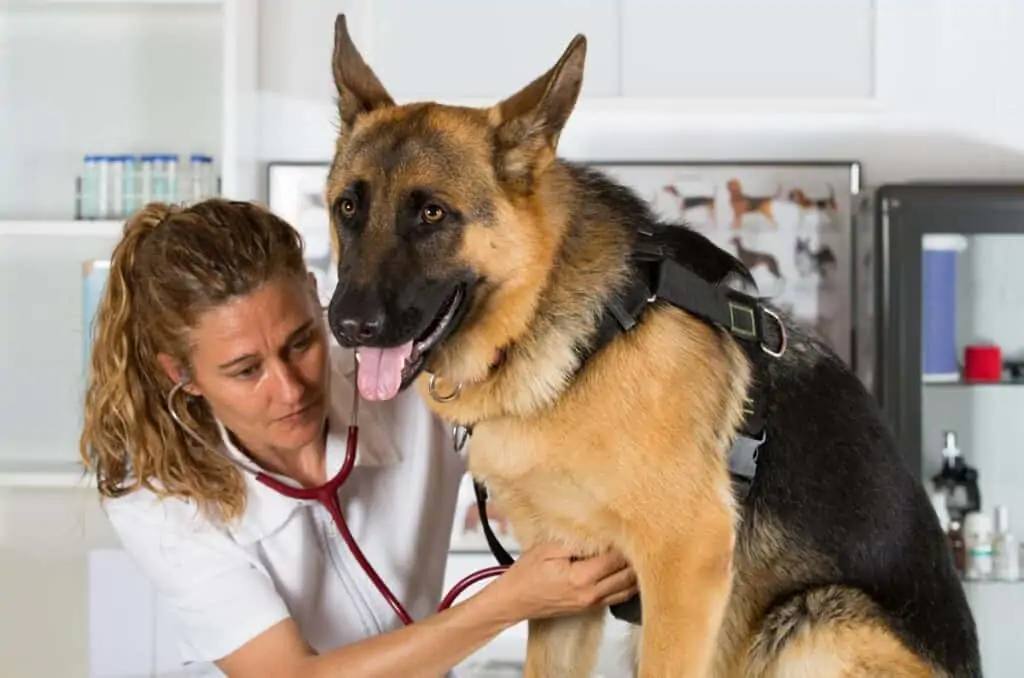 As with humans, it's easier for dogs to become overweight than it is to become underweight, so the signs will be pretty obvious. Pet owners know their dog's body better than anyone else, after all.
The common physical signs of an underweight dog include:
Visible ribs and spine
Visible shoulders and hips
Dull coat that doesn't shine even with a bath
Lack of eating
Lack of energy
Lethargy and depression
Anxiety around food
Whilst it is true that some of these can be a sign of other health issues, these are the most common indicators of an underweight dog.
If you notice these signs gradually increasing in your dog, then you must take it to the vet. It is always worth being proactive in the early stages to prevent something more serious from happening.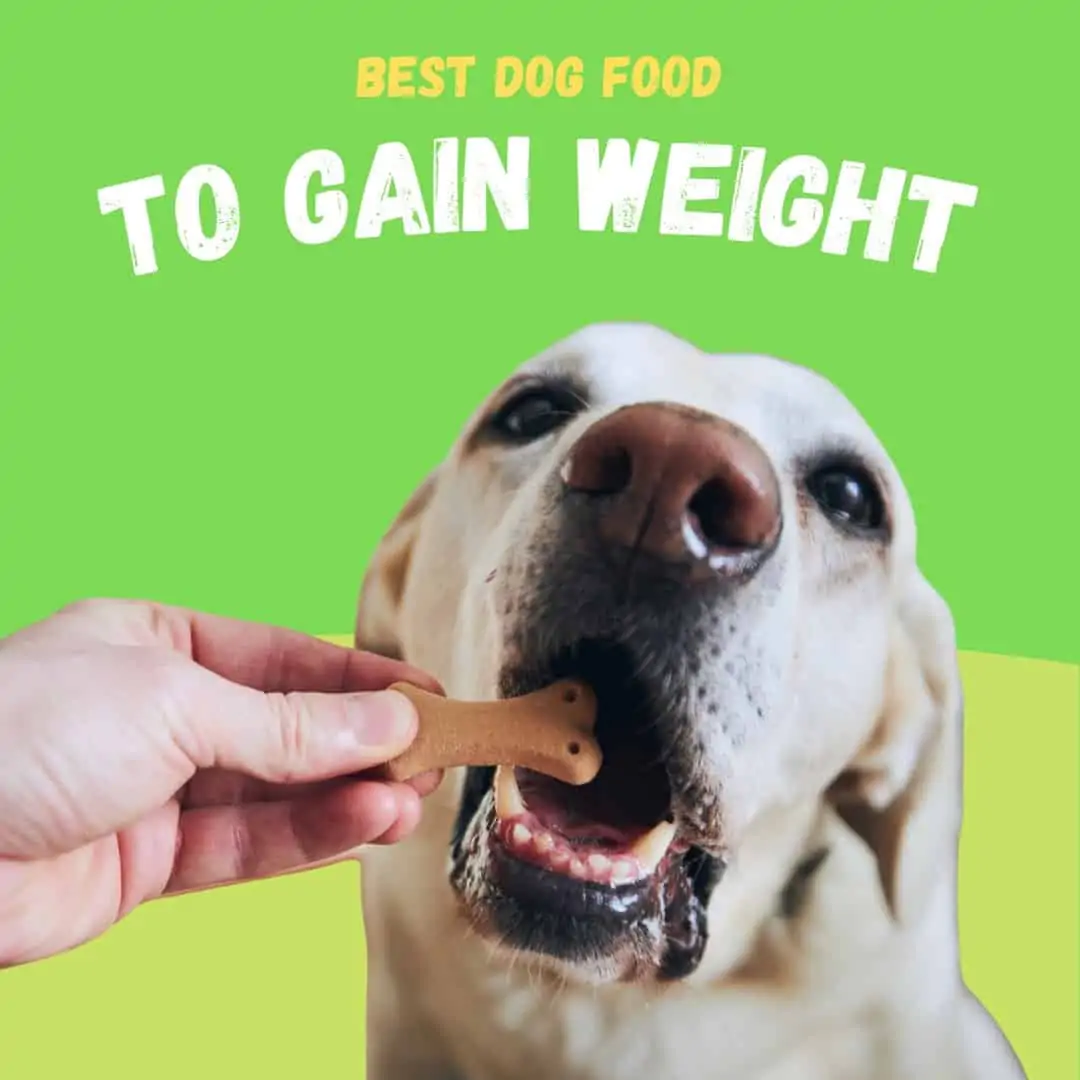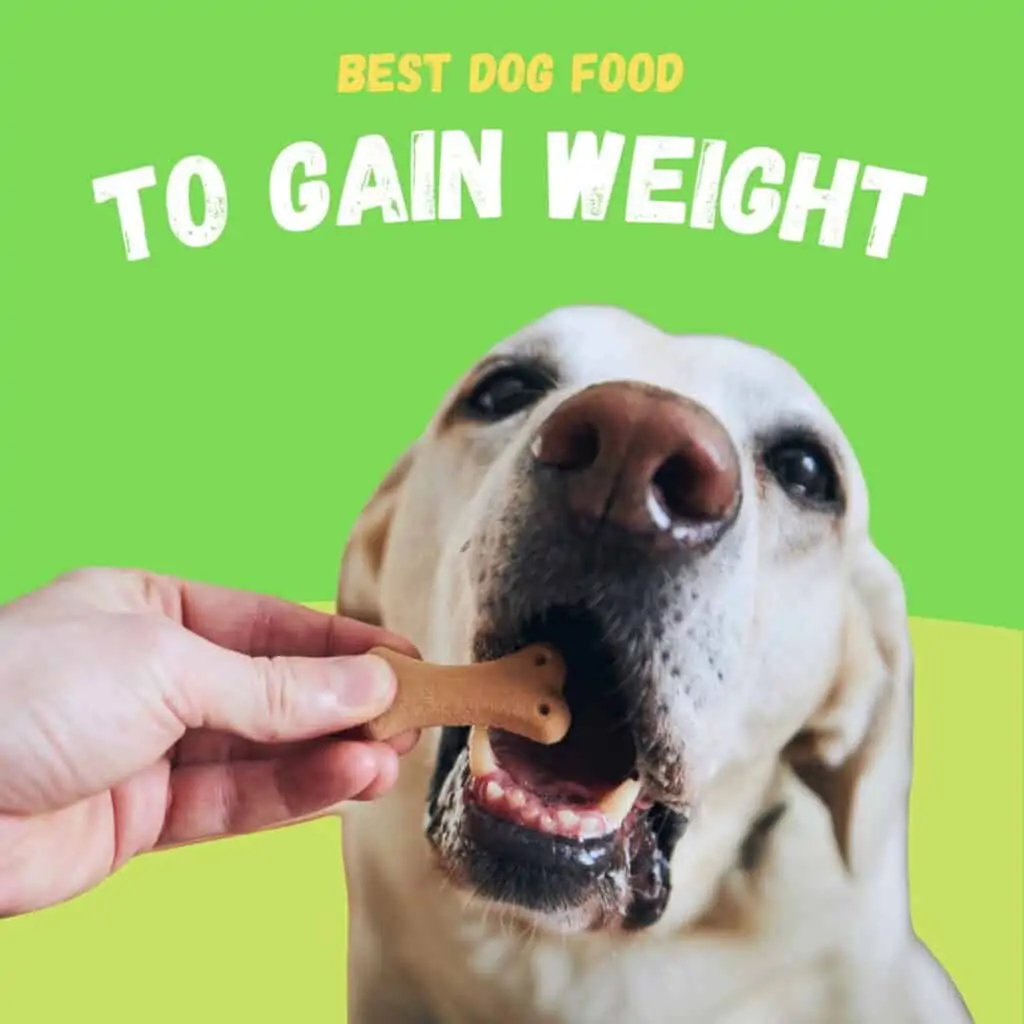 Why a Dog is Underweight
An underweight dog is usually a sign of a health issue. In some cases, such as changing your dog's diet suddenly, dogs won't take to the food and will subsequently lose weight.
Most of the time, lack of weight is because of a health problem that must be investigated by a professional.
Here are some reasons why a dog is underweight:
People often forget about minor issues such as dental problems and insufficient diets when it comes to an underweight dog.
Cheap dog foods are often filled with artificial fillers which work to bulk up the size of the food, but do not fill your dog up with the vital nutrients and calories they need for a strong and supportive body. 
Oral hygiene problems usually occur in dogs with small jaws such as Yorkies. Small jaws mean small teeth, which means food is more likely to get stuck in between the teeth and gums.
If this isn't cleaned away, the food can rot in the mouth, which will cause dental problems. We all know what it's like to have a painful tooth and how we can't eat hard foods, and the same goes for dogs.
Anxiety, likewise, is often the cause of an underweight dog. Particularly in rescued and rehomed dogs, anxiety can make a pup too nervous to eat for whatever reason.
How to Safely Put Weight on a Dog
Putting weight on a dog isn't as easy as forcing them to eat large meals. They require a gradual weight gain to support their muscles and joints, which won't be able to hold body fat if the dog has gained weight quickly.
The first step is choosing the right diet for encouraging weight gain. You should look for high-calorie foods that are high in protein.
Foods that are high in fat are also great, but too much fat will create unhealthy weight gain, and then you'll be battling between weight loss and weight gain for months on end. High-calorie treats are also a great way to bulk up your dog, which works hand-in-hand with training.
Stopped barking at the door? High-protein treat. Just learned how to sit on command? High-protein treats for you.
If you have a picky or anxious eater, try to put them in a quiet room with the food. We recommend hand-feeding your dog with small pieces of food to see whether they want to eat or not.
If they continue to eat from your hand, stop hand-feeding them, and they will eventually realize that they want to continue eating from the bowl.
In terms of when to feed your dog, it's not usually recommended to leave dog food out throughout the day. However, this could be beneficial for weight gain. This is called an ad libitum feeding strategy and essentially works to encourage your bored dog to eat their high-protein food throughout the day.
However, make sure you're not overfeeding them! You can always squeeze in another meal during the day – remember that frequent and small meals are best for weight gain.
As always, make sure to exercise your dog regularly and brush their teeth. It's not about putting fat on the dog and hoping that muscle builder supplements will do enough. Your dog's body is like its own little ecosystem – once something isn't cared for properly, the whole system could fall apart. Given that pet obesity is an epidemic – it is a struggle to find balance for many owners.
Frequently Asked Questions
Can rice help a dog gain weight?
Carbohydrates can encourage weight gain in dogs. Rice has its benefits for dogs, even though it is a carbohydrate, because it is a great plain food source for sensitive stomachs and solidifying stool. Whilst rice will help a dog to gain weight, it is not recommended to overfeed them with it.
Weight gain should be gradual rather than immediate. Dog foods that feature some rice and low-carbohydrate ingredients are fine, just make sure to avoid the ones that are high in carbs. 
Dogs thrive on protein and nutrients. They are omnivores but the protein will lead the way to health for most dogs.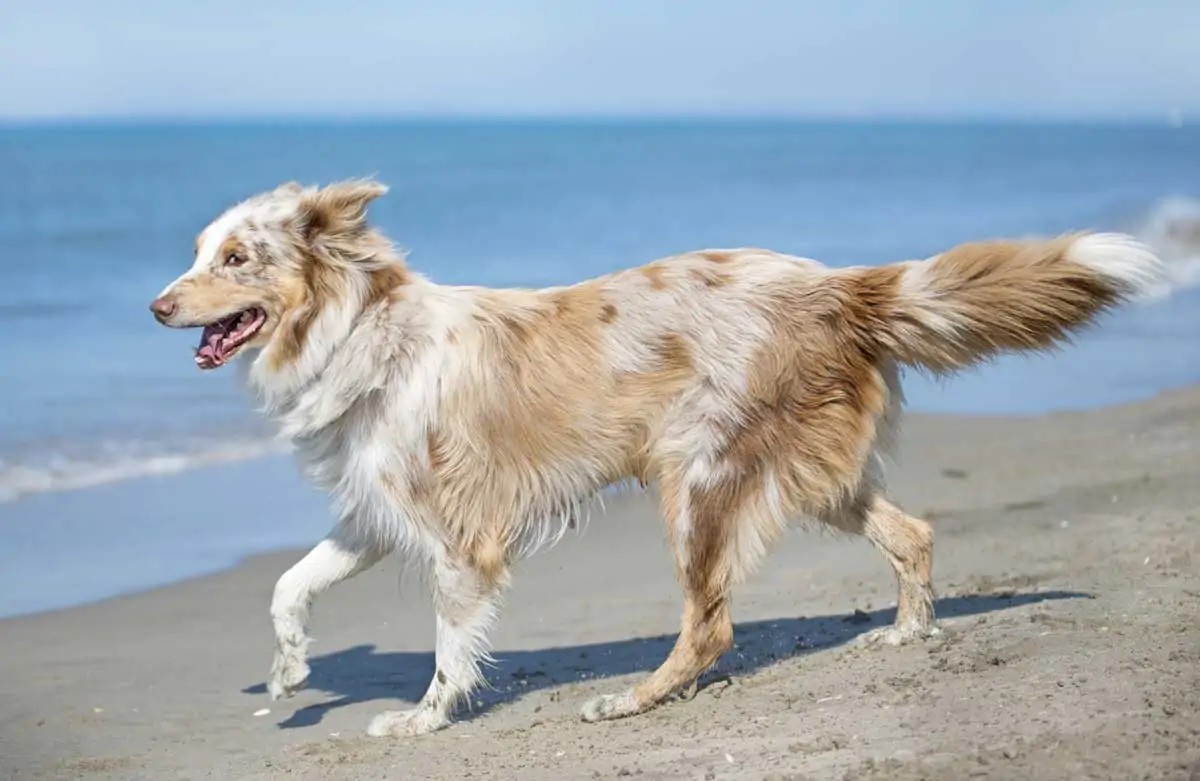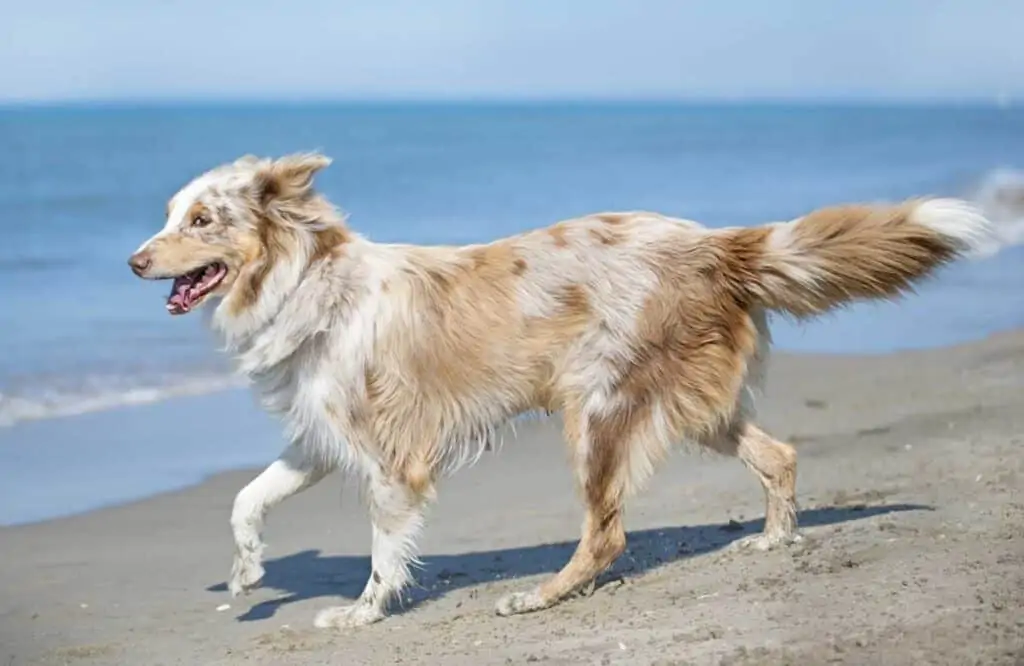 What do you feed a malnourished dog?
The key diet for malnourished dogs is something that is high in calories and protein and low in carbohydrates. Protein is a brilliant way to support muscle and joint development whilst the calories help to increase healthy body fat.
All-natural ingredients are the best for malnourished dogs, as fruits and vegetables contain countless vitamins and minerals which are essential for improving the digestive system, skin and coat, bones, and immune system.
Whilst some carbohydrates like small amounts of rice or sweet potatoes are great for encouraging weight gain, avoid dog foods that contain carbs like potatoes. These will fatten up a dog, sure, but won't help with the growth and development of their muscles and other body parts.
How do I know if my dog is too skinny?
The key signs of an underweight and skinny dog include the obvious visibility of their ribs, hips, spine, and shoulders. You will know when your dog has lost too much weight by the shape of their body depending on the breed of the dog and any underlying health problems they might have.
The ribs should not be visible and the waist should not be narrower than usual. If you think your dog is losing weight unexpectedly, make sure to take it to the vet. Underweight dogs can be a sign of underlying health issues.
Other signs of a skinny and underweight dog include lack of energy, depression, quietness, anxiety, and a dull coat. This is usually because they aren't eating the right type of diet that works to support their entire body.