Best Dog Food to Prevent Gas [5 Options]
As humans, flatulence is a pretty unpleasant but normal part of life.
Dog owners, however, have entirely justified reasons to be terrified of their dog's gas. To put it simply, dog farts are the worst. Silent but deadly is not enough to describe the scent.
Whilst the odd dog fart is gross yet usually amusing, if they become a common occurence it may be a sign of something else.
Frequent dog gas could indicate gastrointestinal problems, digestive issues, or food allergies. And although they are really unpleasant to smell, it is important to understand what smell is normal and what is abnormal for your dog.
We understand the importance of giving your dog a good diet to help their sensitive stomachs, so we have found the 5 best dog foods to prevent gas.
We have also made a handy buyer's guide with some useful tips on how to treat flatulence, and a FAQ section for any unanswered questions.
In a rush?
Our top pick is the Hill's Science Diet Dry Adult Dog Food – a dog food that is designed specifically for sensitive stomach and skin issues.
This formula is filled with prebiotic fiber, which is the main ingredient for treating a sensitive stomach that causes flatulence.
This is also beneficial for improving the quality of stool. As a bonus, this dog food has the essential fatty acids for a healthy skin and coat.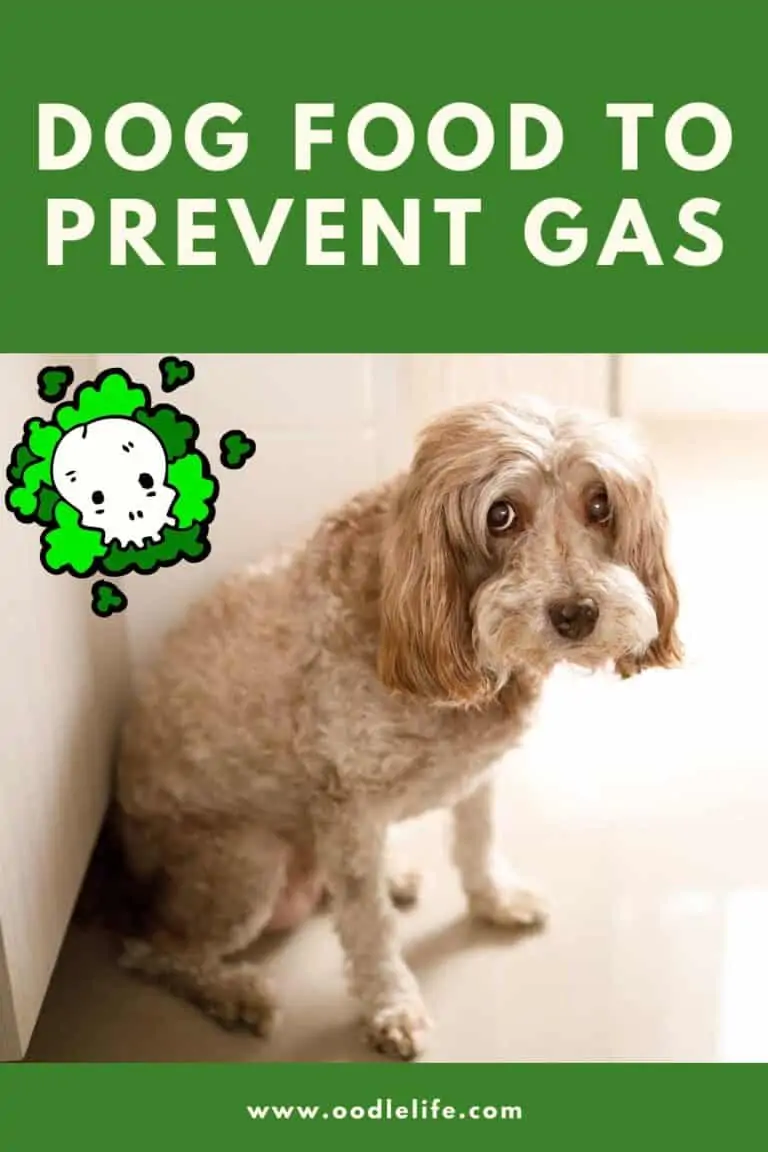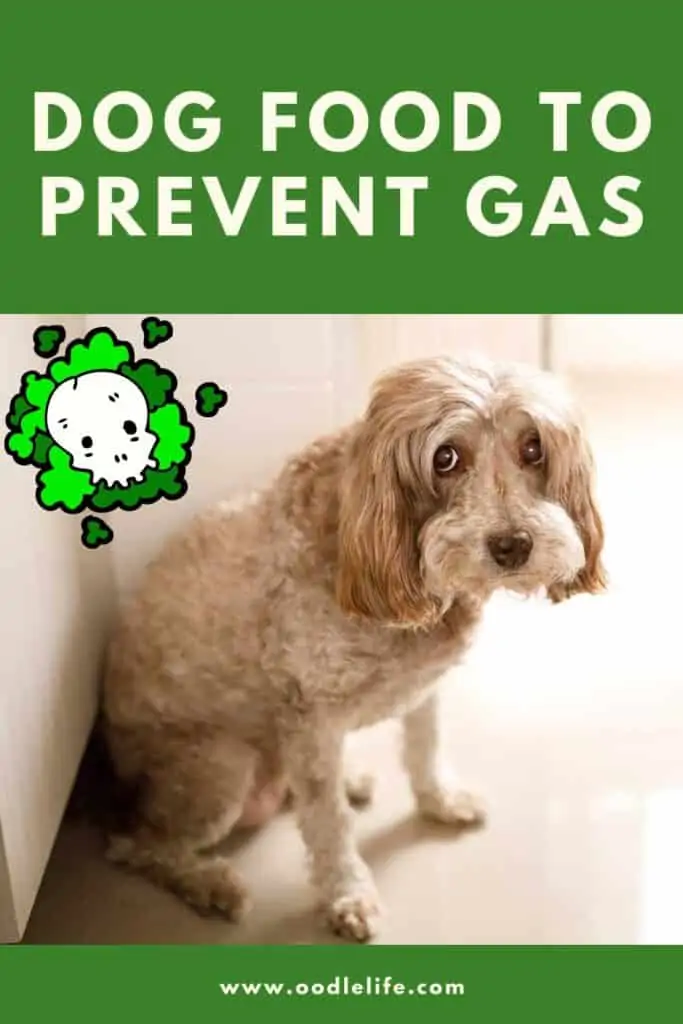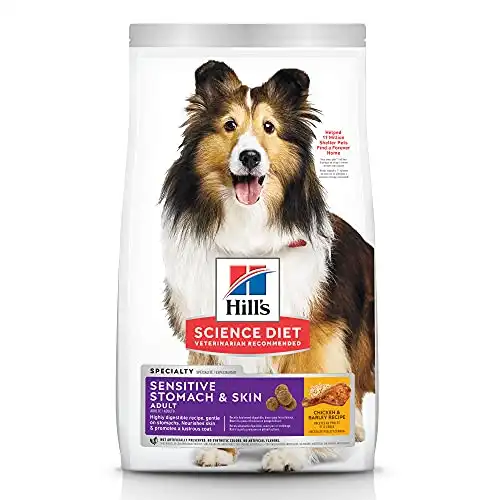 Hill's Science Diet dog food is a trusted brand in the dog food world. This formula was designed especially for dogs who suffer with a sensitive stomach and skin issues, and is proven to do so well.
The dog food is made in the USA and with globally sourced products. What's more, it is number 1 veterinarian recommended.
The formula itself is filled with prebiotic fiber, which gives the gut healthy bacteria to help the stomach settle. Fiber is also helpful for the digestive system, which in turn prevents regular flatulence.
One of the fibrous ingredients in the recipe is rice, which is a useful food to give to dogs who have an upset stomach.
Not only this, but fibre will help to firm up the stool – making it easier to pick up. This formula also contains vitamin E and omega-6 fatty acids to promote a healthy skin and coat, which is an added bonus.
From an ethical standpoint, Hill's Science has a program that donates food and money to shelters across America, feeding over 100,000 homeless dogs daily.
Pros:
Trusted and ethical brand
Full of fibre for a sensitive stomach
Full of fatty acids for skin and coat
Improves quality of stool and reduces gas
Cons:
Not ideal for puppies, or pregnant or nursing dogs.
The Nutri-Vet supplement is wet food designed to be mixed in with your dog's current food.
Please note that this is not designed to be eaten by itself! As it is mixed in, this is incredibly beneficial for when you plan to switch your dog's diet and if they are struggling with the taste of new food.
This yummy pumpkin flavor will act almost like a gravy that will make the food more enjoyable, which you can gradually take out once your dog is ready.
The main reason why this supplement is effective for preventing gas is that it is very fibrous. These fibres make transitioning between different foods much smoother to prevent flatulence and diarrhea.
It is also beneficial for dogs who are going through a particularly gassy time, as you can simply mix it in with their regular food without causing more stomach upset.
This formula was made in the USA by veterinarians.
Pros:
Highly fibrous
Good supplement to help switching food
Also good for gassy moments
Tasty pumpkin flavor
Cons:
Only a supplement, so it cannot be eaten without their regular dog food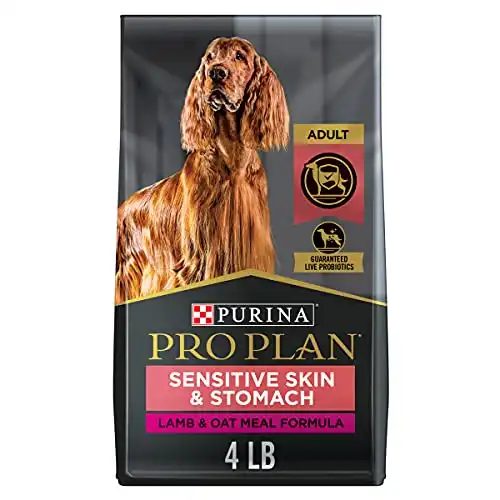 This Purina Pro Plan dog food is all about treating both a sensitive stomach and sensitive skin. This recipe is lamb and oatmeal – a formula that has a multitude of benefits.
The oat is perfect for the digestive system, as it is gentle and easy to digest.
This, accompanied with prebiotic fiber, is incredibly useful for soothing bacteria in the gut – which works to prevent excessive gas and improves the quality of stool.
In terms of improving sensitive skin (which is just a useful bonus if you are wanting dog food just for a sensitive stomach), this formula is filled with omega-6 fatty acids which hydrates the coat and skin.
This leaves the coat and skin shiny and moisturized, whilst preventing cracks, inflammation, and itching.
This formula also includes antioxidants to promote a healthier immune system, and does not include unnecessary wheat, soy, or artificial flavorings or colors.
The lamb is a great source of protein to maintain the energy of the dog.
Pros:
Useful for both sensitive stomach and skin
Also comes in a fish flavor for dogs who prefer fish
Filled with prebiotic fiber to prevent gas and improve consistency of stool
No artificial colors or flavors
Cons:
Does not come in a larger size than a 24 lb. bag
This one is for the senior dogs who have flatulence issues, because sometimes regular adult dog food doesn't help the older pups enough.
The Solid Gold Holistique Blendz formula is all to do with whole grain and fish – high in protein and high in fiber for a sensitive stomach.
The formula itself is potato free, which is ideal for dogs with gas problems as it isn't high in carbohydrates.
Where it lacks in potatoes it has a high amount of prebiotic fiber with its oatmeal and pearled barley, which is very beneficial for settling a sensitive stomach.
This is also a fish-based protein recipe, which is easily digestible and gives the natural essential oils that will benefit the skin and coat.
This food is tasty and very easy to eat, which is ideal for older dogs who struggle with their appetite or who need to gain weight healthily.
Pros:
Best formula for senior dogs
Rich in protein and fiber
Potato free and natural ingredients
Cons:
Most beneficial for senior dogs, not younger dogs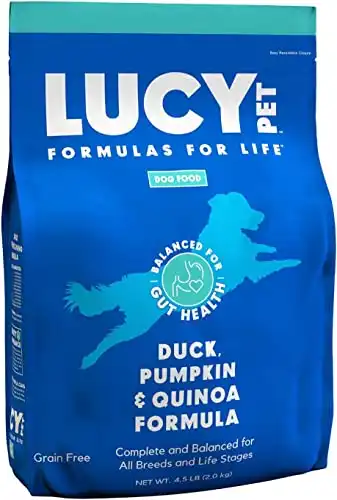 The Lucy Pet Formulas for Life offers a great dry food for dogs with sensitive stomachs and skin problems.
Made from natural ingredients, this formula was designed from scientists and nutritional research to provide the best recipe for your dog.
The formula includes all-natural duck (sourced from France and America) as its main source of protein, which is great for aiding the muscles and helping the body function well.
The quinoa offers fiber to settle a sensitive stomach, so it works to prevent flatulence.
Not only does this formula contain antioxidants to help the immune system, but it also contains taurine to support a healthy heart.
As an extra bonus, this dog food is filled with omega-3 fatty acids from flaxseed and salmon oil to support a healthy coat and skin. The kibble is designed for dogs of all ages and sizes.
Pros:
Natural ingredients
Trusted brand
Good for sensitive stomach and skin
For dogs of all ages and sizes
Promotes solid stool
Cons:
Largest bag size is 25 lb., it does not go higher.
Best Dog Food to Prevent Gas Buyer's Guide
What causes gas in dogs?
Like humans, it is normal for dogs to release the odd fart every now and then.
However, if it becomes a regular occurence, and if the smell is getting worse (if that's even possible), then it may be a sign of something more serious.
As expected, most forms of excessive flatulence comes from the dog's diet. If you have recently changed their food in some way, there's a high chance that that change is the culprit.
To prevent this, make sure to change their food gradually into their new food to give them time to adjust.
If you are feeding your dog something spicy, spoiled, hard to digest, or high in fat, you may need to change their food.
Gassy dogs can also be a sign of gastrointestinal issues. Blocked anal glands can be an issue in some dogs. These glands produce a scent that they use to mark their territory, and healthy glands will naturally be squeezed when the dog has a poo.
If this doesn't work, the glands can get blocked which can get very painful. Your dog will show signs of this if they continuously try to lick their bottom, or if they wipe their bottom along the floor (which does look hilarious, but is a sign that their glands need a professional squeeze).
They will also produce the fishiest of farts. In the case of this, you will need regular trips to the vets to have their glands squeezed.
Other causes of flatulence include:
Allergies or infections
Irritable bowel syndrome
Being overweight or obese
Small intestine bacterial overgrowth
How to Reduce Gas in Dogs
Gas can also occur when your dog eats their food too quickly. This is because they swallow more air when they eat faster, which causes flatulence.
There are specially designed dog food bowls that feature round ridges, which work to make eating their food slightly more of a challenge. This promotes slower eating.
If your dog gets the occasional few days of gas or runny stool, you don't always have to buy expensive products to help with this. Cooked rice is perfect for settling a dog's stomach, and they love it.
Simply cook a batch of rice, or cook a larger portion of rice for your own dinner, and put it away in the fridge or freezer.
Remember to keep the rice fresh and in-date. This is a great source of fiber that works to settle the stomach as it is gentle, and firms the stool significantly.
This might be difficult for some owners, but try not to give them too many scraps of human food. Those pleading eyes are hard to ignore, but it will benefit your sense of smell greatly in the long run.
Dog treats are a great way of improving aspects of their health whilst providing a yummy snack for the dog. Charcoal-based treats are the best for flatulence, as it helps to release any trapped gas in their system.
Be careful to not give them too much, however, as too much can use up the vitamins and minerals in their system.
What to Look for in Dog Food to Prevent Gas
The key ingredients and features to look out for in dog food include:
Natural ingredients: The last thing you would want to give a dog with flatulence problems is processed food. All dogs should eat food that has natural and globally sourced ingredients, as by-products can be unhealthy in the long run.
Omega fatty acids: These acids are very beneficial for maintaining a healthy skin and coat, and also promote a healthier digestive system.
Digestible low-carbohydrates and fibers: Always look for low-carb formulas, as most dogs struggle to digest carbohydrates which can lead to gas. Digestible fibers include oat and pearled barley, which is great for firming stool.
High quality protein: Protein is the main feature of dog food, so give them the best meat possible. It should be natural, as this will be highly nutritious and digestible.
Nothing artificial: Artificial colors, flavors, and preservatives (to name a few) are a big warning sign of bad food. You wouldn't feed your kids fast food burgers twice a day (to their dismay), so don't do the same for your dogs!
Frequently Asked Questions
Why is my dog so gassy?
If your dog does a daily fart, it's not really an issue. This is just how farts work and it's healthier for a dog to fart than to keep it in!
However, if they fart regularly, this could be an indicator of a stomach issue. This could be as simple as a few days of a poorly tummy from eating something they shouldn't have, or it could be a sign of something more serious.
Excessive gas could be a sign of gastrointestinal problems such as bloating (where the stomach twists), irritable bowel syndrome, or anal glands.
If your dog's farts do not prevail after several days, you will need to seek an examination from a vet.
Dog farts could also be a sign of something less serious, such as a sudden change of diet or something they shouldn't have eaten.
To prevent gas, you need to gradually change their food over the period of at least a week. Mix 75% of their old food with 25% of their new food on the first day, and then increase the percentage of the new food over time.
Any sudden changes can upset the dog's stomach which can lead to runny stool and gas.
Likewise, try not to feed your dog too many human food scraps, as this can lead to an upset stomach.
Does rice cause gas in dogs?
Quite the opposite! Cooked rice is an excellent form of fiber that is designed to settle the stomach and help to solidify runny stool and diarrhea.
It is best to cook a batch of rice or some extra rice with your meal, and keep small portions of it in the fridge or freezer to scatter and mix into your dog's food.
Make sure to keep the rice fresh or to defrost it, as old rice could actually create more flatulence than prevent it.
Is it good for a dog to fart?
As with humans, your dog will need to fart regularly. So, yes, it is good for a dog to fart! It's a sign of their system working smoothly as there is no trapped wind.
However, excessive farts can be a sign of something else, so it is important to understand what fart smells and frequencies are normal and abnormal for your dog.
You may have a dog with irritable bowel syndrome, or you may just have a dog that really likes to fart.
What can I give my dog for gas?
If you have recently changed your dog's diet (with the gradual steps) and they are still gassy, this may be a sign that their new food is not appropriate for them.
You will need to find food that is low in carbohydrates and designed specifically for sensitive stomachs.
One of the best ways to help your dog with gas is to exercise them. Like with a human, any trapped or excessive gas can be helped by a walk or run, and the same rules apply for a dog.
Make sure to do this around 40 minutes to an hour after they have eaten to avoid bloating.
Foods such as rice and charcoal are great for settling a sensitive stomach and reducing gas, just make sure you give them to your dog in small portions.
As always, if you are noticing problems with your dog's flatulence or any behavioural changes, it is best to check with a vet.