Best Dog Beds For Labs [5 Top Labrador Dog Beds]
Labradors love their family, and they love to nap. Sleeping is practically a sport for a Lab. While they will snooze pretty much anywhere, the ultimate comfort and health comes from choosing the best dog beds for Labs.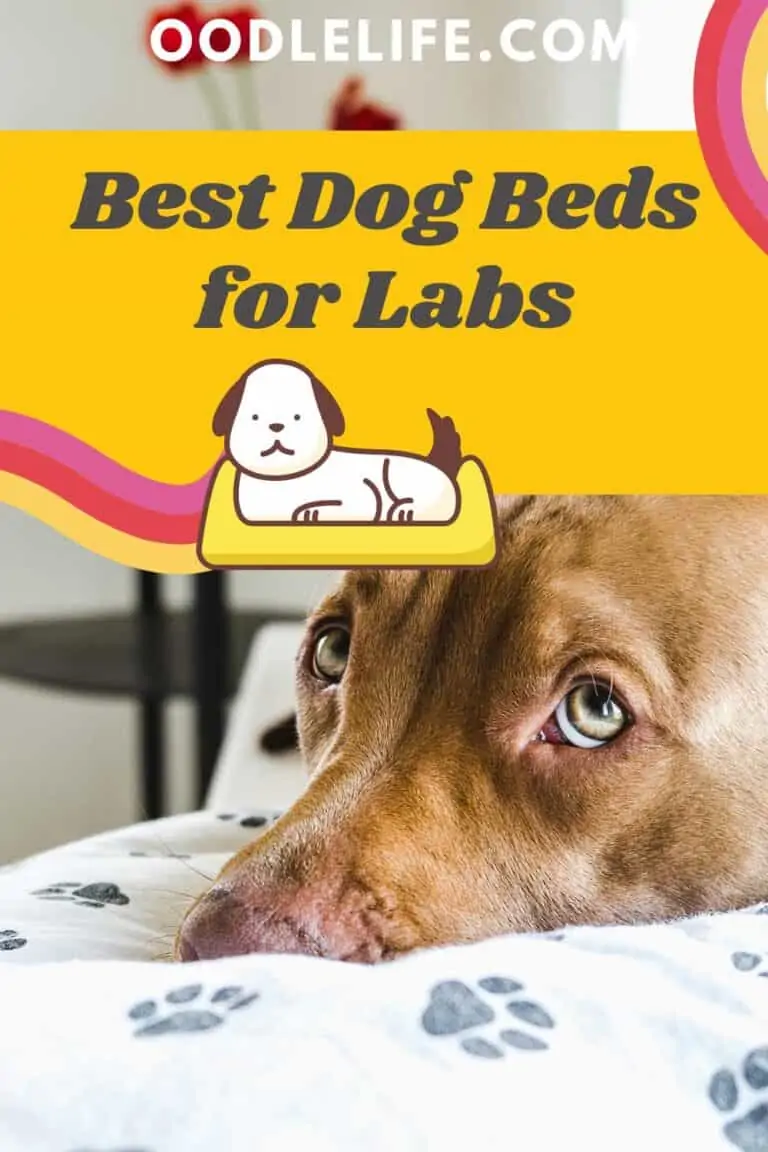 As much as we love sharing our beds with our four-legged labrador friends, they really do struggle to understand the concept of boundaries, which ends up with us hanging on for dear life whilst they take up the whole bed.
That's why they need to have their own uber comfortable dog bed for them to sleep and nap to their heart's content.
However, different breeds have different requirements when it comes to dog beds, so it's important to find one that'll suit your labrador's needs.
We've searched high and low for the best dog beds for labs so you don't have to.
This guide will help you find your next bed for your beloved labrador, give you a good overview of what you should be looking out for in the buyers guide and also answer some frequently asked questions often posed by labrador owners.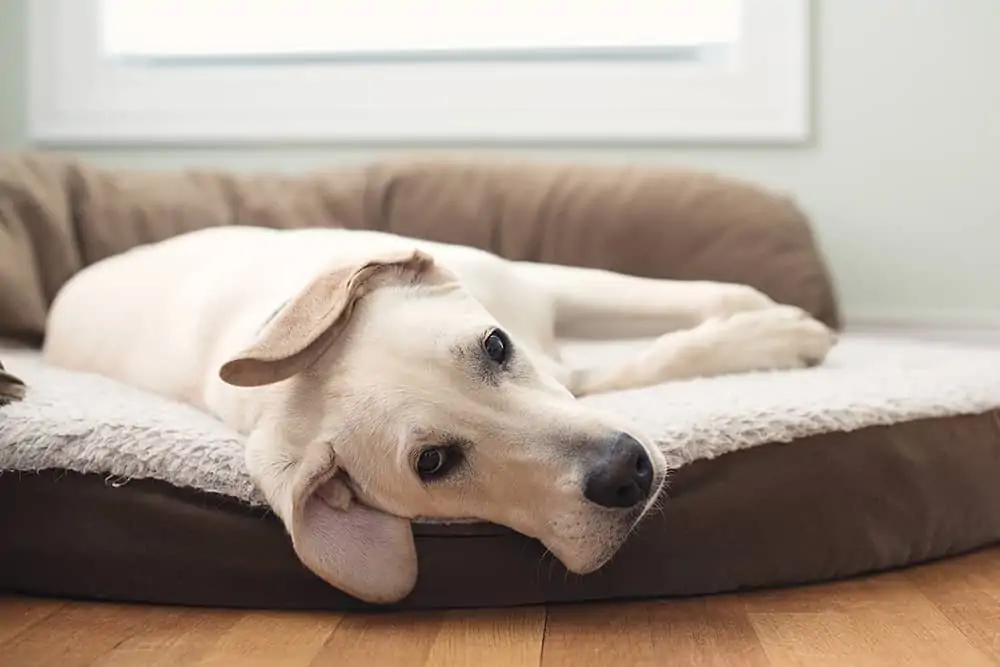 In a hurry?
If your canine companion is in need of a new bed straight away, then you won't have to wait any longer.
Here we have the top choice for the best dog beds for labs and it is the PetFusion Ultimate Dog Bed. Here's a few short reasons why we know your pooch will love it.
3 neutral colors available
Large sizes are very spacious for labs
12-month warranty
Water and tear-resistant
Non-skid bottom
Memory foam is great for joints
Washing machine & tumble dryer friendly
Has bolsters for your dog to lay its head
If you want to read a more in-depth review of the top choice, scroll down to find out our thoughts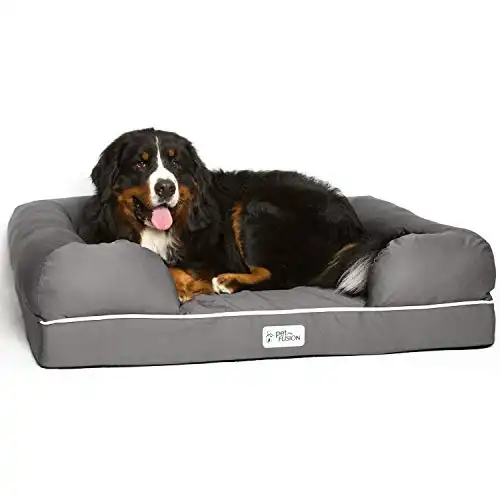 The PetFusion bed is made from premium, durable & comfortable polyester and cotton which will withstand all of your dog's craziest moments.
The bed is perfect for labradors as it comes in two sizes which suit them well, extra large and XXL jumbo, the choice of which will depend on how big your labrador is and also how much extra room you want to give them.
The base and the bolster sides of the bed provide optimal support and comfort for your lab, whilst the memory foam will offer a cushioned surface which will be great for your pooches joints as they get older.
The bolsters are generously filled so they won't lose their plumpness after your dog's head has leaned on it.
The PetFusion bed comes in 3 neutral colors including chocolate brown, sandstone, and slate grey, all of which will blend seamlessly into your home whatever color scheme you may have already.
There are also replacement covers that you can buy separately if something happens to yours, which is handy because you won't have to buy an entirely new bed again.
The cover of the bed is also water and tear-resistant and features a non-skid bottom. The Cover fabric is also certified as skin contact safe, so won't be irritating your dog's skins as they sleep.
The cover is machine washable and can also be put in the tumble dryer on gentle settings, so maintaining your bed won't be difficult.
The PetFusion dog beds offer a 12-month warranty for manufacturer defects and poor workmanship and are always happy to replace defective parts or replace the bed itself if needed.
Pros:
3 neutral colors available
Large sizes are very spacious for labs
12-month warranty
Water and tear-resistant
Non-skid bottom
Memory foam is great for joints
Washing machine & tumble dryer friendly
Has bolsters for your dog to lay its head
Cons:
Zippers are not the strongest
PetFusion Ultimate Dog Bed, Orthopedic Memory Foam, Multiple Sizes/Colors, Medium Firmness Pillow, Waterproof Liner, YKK Zippers, Breathable 35% Cotton Cover, Cert. Skin Contact Safe, 3yr. Warranty
PREMIUM COMPONENTS & BETTER HEALTH: (i) SOLID 4 inch MEMORY FOAM base for superior overall comfort, reduced joint pain (arthritis) and improved health, mobility, & energy. (ii) Calming bed for dogs...
SMART DESIGN: (i) Base & bolsters provide optimal support & security. (ii) Water resistant & tear resistant cover. (iii) Non-skid bottom. (iv) Blends in seamlessly with your home. (v) Replacement...
PEACE OF MIND: (i) Certi-PUR-US Memory foam. NO mercury, lead, formaldehyde, phthalates, & ozone depleters. (ii) Low VOC emissions for indoor air quality. (iii) Passes stricter European REACH safety...
IDEAL FOR MEDIUM / LARGE OR MULTIPLE SMALLER DOGS: (i) 36 x 28 x 9 inches. Can easily hold 100+ pounds. (ii) [Search Pet Fusion large pet blanket for new matching Blanket]
WHAT YOU SHOULD KNOW: (i) 'Bolsters' pre-loaded into cover, simply insert memory foam base & zip closed. (ii) EASY TO CLEAN, cover is machine washable. (iii) Simple to spot clean & remove hair. Tumble...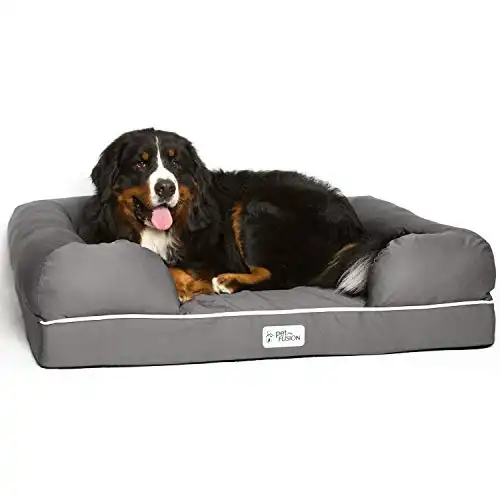 We earn a commission if you make a purchase, at no additional cost to you.
The design of the bed is so well suited for labradors with its contoured foam cushions your lab in ergonomic comfort, it's also open unlike some dog beds so gives them plenty of room to sleep in whatever position they like.
The solid orthopedic foam is thick and dense providing support for the neck, back, hips and joints.
The bed comes in various sizes but notably the Large, Jumbo, and Jumbo Plus are the most suited for a comfortable snoozing space for your lab.
The sleep surface is also lined with ultra-plush faux fur so your dog will not be able to resist snuggling down for a nap.
The bed comes in three colors, cream, chocolate, and gray so will suit all colorings of labradors if you want a bed that doesn't show their shed fur.
The Furhaven orthopedic bed has a cover that is suitable for putting in the washing at your convenience.
However, there is not additional waterproof lining and the cover is also not water-resistant, so if your dog is prone to accidents then you'll have to wash the cover every time.
The bed is best suited for well behaved and developed dogs who don't have destructive chewing behavior or excessive teething issues as the material is not tear-resistant and will end up splitting if continuously gnawed at.
The Furhaven bed comes with a 90-day limited coverage against material defects, so you'll have a solid amount of time to try out your new bed and make sure that it works perfectly well.
Pros:
Removable dog cover
Good colors which will blend with the home
Comes in 3 huge sizes suited for labs
Orthopedic cushion for labradors joints
Ultra-plush faux fur sleep surface
90-day limited warranty
Cons:
Not suitable for dogs who chew
Furhaven Ultra Plush Luxe Lounger Supportive Orthopedic Foam Dog Bed - Gray, Jumbo (X-Large)
DESIGNED FOR PETS: The sloping contoured form factor promotes superior ergonomic comfort and provides optimum orthopedic support for dogs and cats; the open mattress design also gives pets plenty of...
SLEEP SURFACE: The main sleep surface is lined with thick, cuddly soft, plush curly faux fur that is gentle on noses and paws for enhanced snuggling comfort
EASY ON JOINTS: The solid orthopedic foam is dense and thick for maximum loft and sturdy comfort; the contoured form factor provides enhanced orthopedic support for the neck, back, hips, and joints to...
PRODUCT DETAILS: Gray; Jumbo, 30" x 45" x 6" (2.5" Center; 6" Edges)
AVAILABLE VARIANTS: The bed comes in Cream, Chocolate, and Gray; it's also available in Small, Medium, Large, Jumbo, Jumbo Plus, and Giant
We earn a commission if you make a purchase, at no additional cost to you.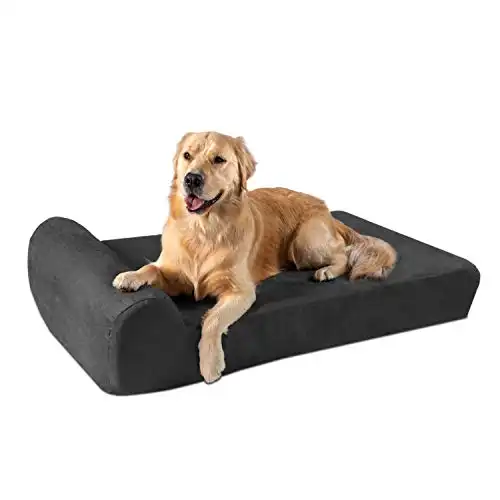 The Big Barker orthopedic bed is specially designed for larger dogs to enjoy their downtime in ultimate comfort.
The bed comes in sizes large, extra-large, and giant, all of which will fit your labrador (and more) easily.
The dog is calibrated for big dogs so will be too powerful for anything smaller than a full-grown labrador, so if you've got yourself a little labrador puppy or smaller dog breed then they should use a different bed as this will feel too stiff for them.
The bed is made up of therapeutic foam which will support and comfort your dog's joints whilst they sleep and provide better mobility for when they're enjoying life day-to-day.
The bed also features a 7" orthopedic pillow where your dog can rest its head comfortably.
The bed is offered in the 3 traditional colors of labrador dogs but also in an attractive burgundy red color.
The micro-suede cover is soft to the touch but is also conveniently machine washable so will be easy to remove and clean as often as you like.
The cover is also durable against wear and tear but is not completely water-resistant against accidents, although there is a water-resistant lining on the interior of the cover which will prevent some fluid from going into the foam.
Big Barker prides themselves on the quality of materials they use for the orthopedic foam and that's why they offer a whopping 10-year warranty to guarantee that your dog bed won't platen or lose its shape or support.
Pros:
Huge 10-year warranty
Specialized for bigger dogs
Machine washable
Comes in 4 homely colors
Made in America
Micro-suede cover is soft to touch
Durable against wear and tear
Cons
Not suitable for labrador puppies
Big Barker 7" Orthopedic Dog Bed with Pillow-Top (Headrest Edition) | Dog Beds Made for Large, Extra Large & XXL Size Dog Breeds | Removable Durable Microfiber Cover | Made in USA
Dog Beds for Large Dogs: Finally, your big furry friend can stretch, curl up, and rest comfortably all on one bed; Thick, quality-assured foam and soft microsuede make Big Barker beds the only...
Clinically Shown to Reduce Joint Pain: Study data has shown that our raised dog beds help ease joint pain and improve mobility; The headrest supports your pet's head while they sprawl across the...
Washable Microsuede Cover: Big Barker's covers are machine washable & smell-resistant; The fabric is designed to withstand rubbing, digging & nesting; Easily remove the zippered cover for...
Intuitive Zippered Design: We've designed our beds with the zipper tucked in & seams sleekly incorporated to keep your pup comfortable; Not only is the microfiber material durably woven, it's...
Elevated Foam Dog Bed: Our foam dog furniture is made in the USA, sustainably sourced & quality-assured to not flatten or pancake over time; Let your best friend rest easy in a soft & durable raised...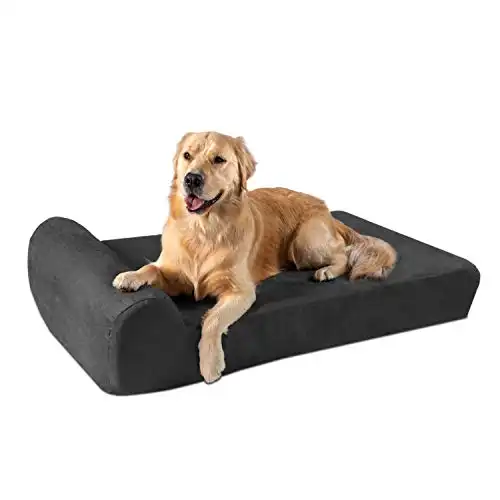 We earn a commission if you make a purchase, at no additional cost to you.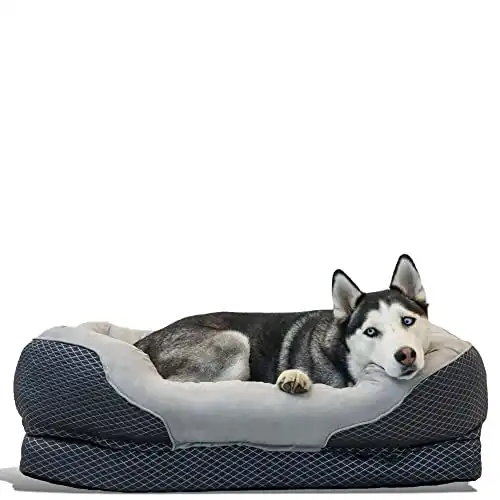 The large orthopedic BarksBar bed measuring 40" x 30" x 10" is a good comfortable size to fit the average labrador, however, if they prefer to stretch out completely whilst they sleep then they may find this bed a bit too restrictive.
The bed is made out of premium materials and is built to provide the ultimate sleep experience with superior overall comfort.
The base consists of solid orthopedic foam to reduce joint pain and improve the health and mobility of your beloved lab.
It also features an extra comfy cotton-padded rim cushion to contour and supports your dog's neck whilst they lounge. The bed is built to withstand up to 100lbs of dog and won't lose its shape or cushioning as time goes on.
The bed is not completely water-resistant however so any accidents may leak through to the foam.
Many customers have recommended placing a pee pad or a trash bag around the foaming cushion to protect it from any leakage and it works a charm.
The bottom of the bed features a non-slip rubber material to prevent it from sliding on wooden or tiled floors.
It also has a removable and machine-washable cover so you can easily maintain the cleanliness of your new dog bed. The bed is easy to spot clean with a vacuum and dog-friendly cleaning spray in case of accidents.
Pros:
Non-slip on bottom
Machine-washable cover
Orthopedic foam for ultimate comfort
Rim cushion to provide support
Made out of premium materials
Strong zippers
Cons:
Dog can't spread out fully
BarksBar Snuggly Sleeper Large Gray Diamond Orthopedic Dog Bed with Solid Orthopedic Foam, Soft Cotton Bolster, and Ultra Soft Plush Sleeping Space - 40 x 30 Inches
Large Orthopedic Sleeper: 40" x 30" x 10" - Ideal for Medium to Large size dogs and also great for multiple smaller dogs. Can easily hold up to 100+ lbs and fitted for pets up to 36" in length.
Inner Dimensions of Sleeping Space: 36" x 24" - Crafted with top-of-the-line workmanship and premium materials, it is built to both provide the ultimate sleep experience with superior overall comfort...
Premium Materials include: (1) Ultra Soft Polyester Cover with a luxurious quilted design, (2) 3.5" of Solid Orthopedic Foam base for the optimal balance of comfort, reduced joint pain and improved...
Sleek and Luxurious quilted design to improve any family's home decor. Comes with a built-in nonslip rubber backing on the bottom side of the cover to prevent any sliding on wooden and tiled floors.
Easy to clean & maintain: Removable and Machine-Washable cover. Simply put it on gentle / delicate cycle. Even easier to spot clean and remove hair.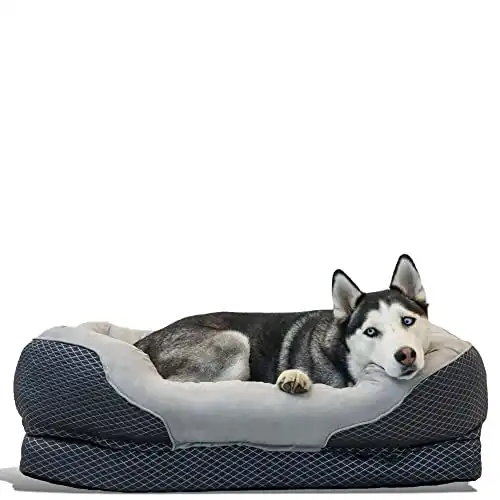 We earn a commission if you make a purchase, at no additional cost to you.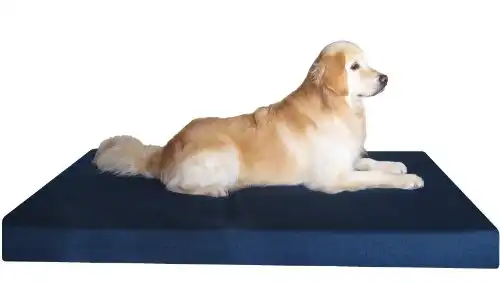 The dog Dogbed4less memory foam bed comes with a handy waterproof liner and 2 external covers, to make sure the memory foam pad is always protected from accidents.
The memory foam padding is orthopedic for your lab's joints and relieves pains of arthritis and will not flatten overtime.
The denim cover that comes originally on the bed is heavy-duty and will be able to withstand even the strongest of diggers.
However, the denim fabric may not be to every customer's taste and it doesn't blend as seamlessly into the home.
There is an extra micro-suede brown cover included in the price though so you can swap it over if that is more to your liking.
The covers are machine washable and feature strong zippers and extra stitching to prolong the life of the dog bed,
The gel-infused memory foam will regulate the temperature to keep your dog cool in the summer and warmer in the winter.
The foam interior is non-toxic and won't cause any allergic reactions for your dog.
The bed comes in a variety of sizes up to 55" x 47" x 4" which will be able to accommodate whatever sleeping positions your dog favors.
The bed does not feature a raised pillow for your dog's head and is pretty basic in design.
Pros:
Huge size so your dog can spread out when sleeping
Memory foam
Machine washable cover
Does come with additional cover
Non-toxic and hypoallergenic
Cooling gel-infused memory foam
Cons:
Choice of denim as the fabric won't be to everyone's taste
Doesn't feature a pillow or bolsters for your dog's head
Dogbed4less Jumbo Orthopedic Memory Foam Dog Bed for Large Dogs with Durable Denim Cover, Waterproof Liner and Extra Pet Bed Case, 55X47X4 Inches
SMART DESIGN - This bed comes with x1 gel cooling memory foam pad, x1 Water proof internal zipper cover, x1 Denim external zipper cover + x1 Free bonus MicroSuede brown external case. Ideal for the...
EASY TO CLEAN DENIM COVER - Machine washable heavy weight jeans denim cover in navy blue color. Second layer waterproof liner easily combat accidents and keep your dog's bed looking and smelling...
TRUE ORTHOPEDIC MEMORY FOAM DOG BED - Unlike other lower cost multi-layer partial memory foam, we do not cut corners and only offer 3.2 lbs high density solid memory foam similar to high end human...
SUPERIOR MATERIALS - Better than your average human grade mattress with conforming therapeutic comfort to reduce joint pain (arthritis) and improve health, mobility, & energy. Pad will not flatten...
GIFT THE BEST - Full layer of true therapeutic memory foam + heavyweight cover, quality construction and smart features providing many years of comfort and support with excellent value for your money....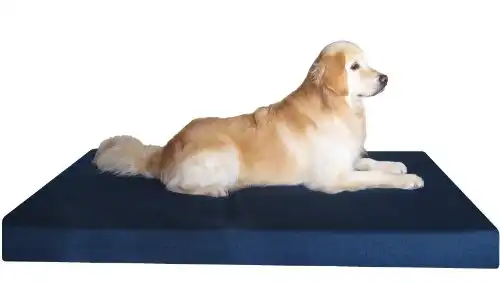 We earn a commission if you make a purchase, at no additional cost to you.
Best Dog Beds For Labs Buyer's Guide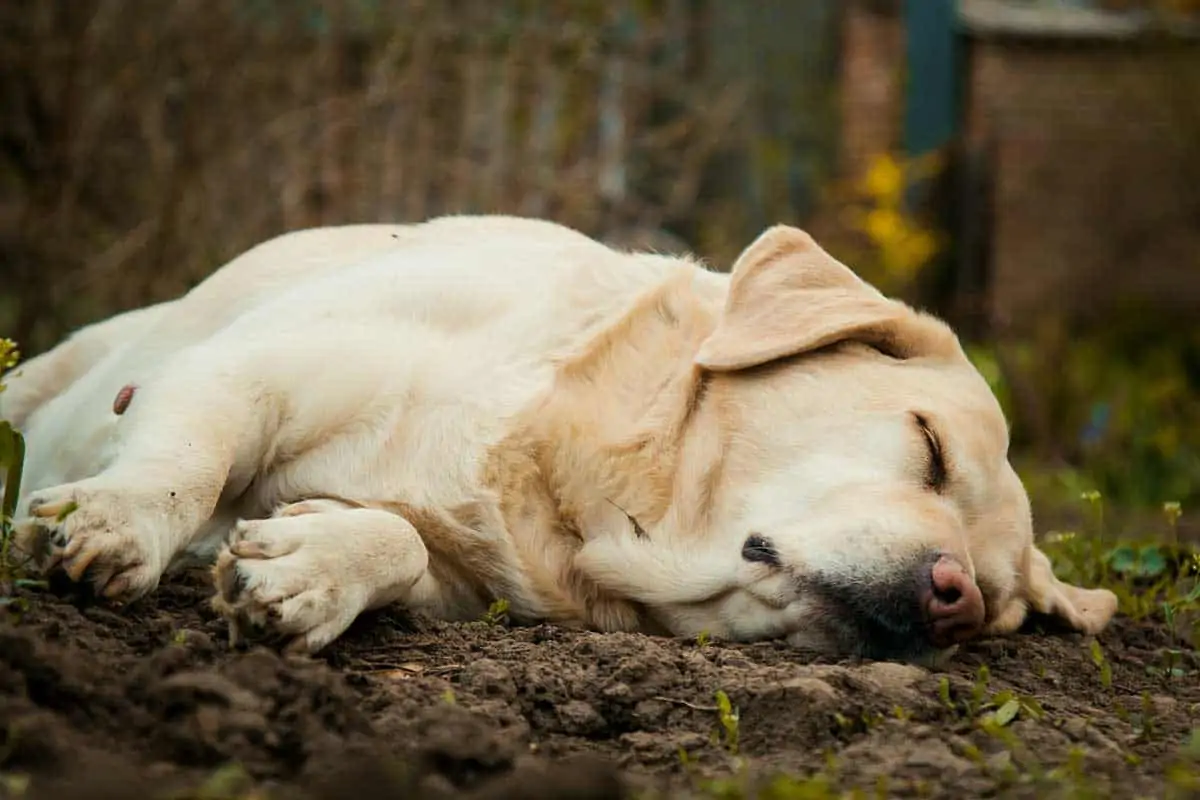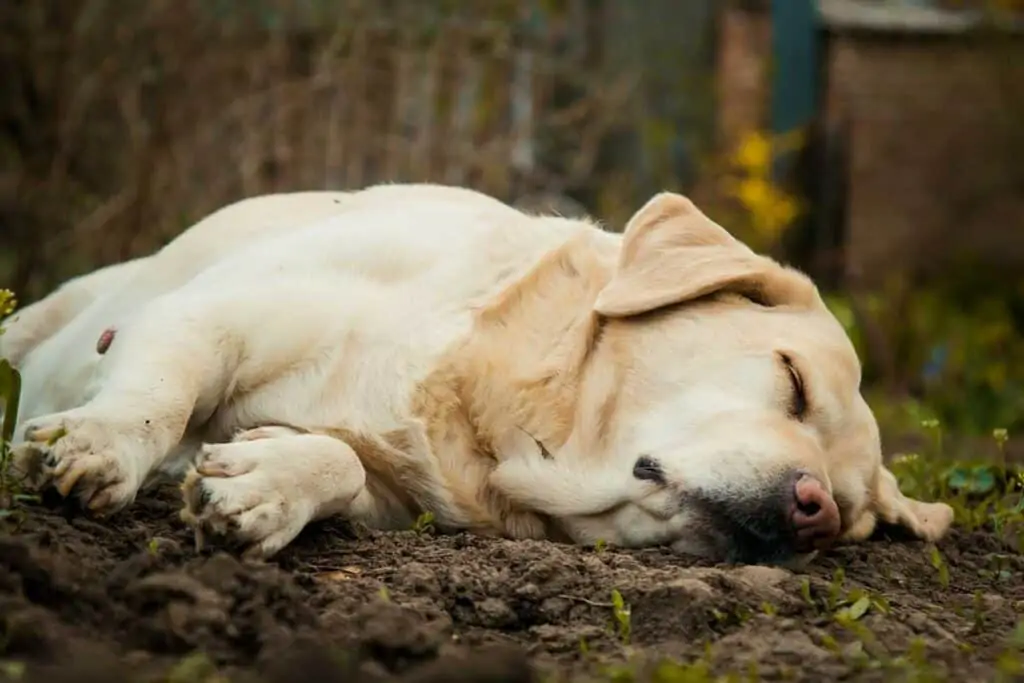 Size
Labradors can grow to be pretty big, so you'll want to find a bed that fits them comfortably without being squished.
Dogs often like to switch up their sleeping positions, so finding something that will fit your labradors sleeping horizontally on their side is imperative.
You might also want to find something that'll fit in their crate. Labrador puppies are small when you first get them but don't be tempted to buy a smaller bed for them as they'll grow out of it within a matter of weeks.
Dog beds that are suitable for fully grown labradors are often the ones advertised as Large or Extra Large.
Durability
Labradors are full of energy and love playing, which can end up resulting in disaster. Try and find a dog bed that'll withstand the wear and tear of your labrador's play sessions.
That being said, no dog bed can hold out against the strength of a labrador but you can at least try to find something that will last you a bit longer.
However, dog beds that have been ripped up and the stuffing pulled out are not uncommon in the canine world.
Synthetic materials like leather will become easily damaged and scratched by your dog's claws and won't stay in top condition.
Try to find a bed that is made out of cotton or polyester as they'll be able to withstand the strength of the washing machine.
A waterproof lining around the cushioning of your dog bed would be a bonus as it'll protect the lining inside the cushion free from bad odors and moisture.
This is handy when you first get your pup and they are prone to toilet accidents.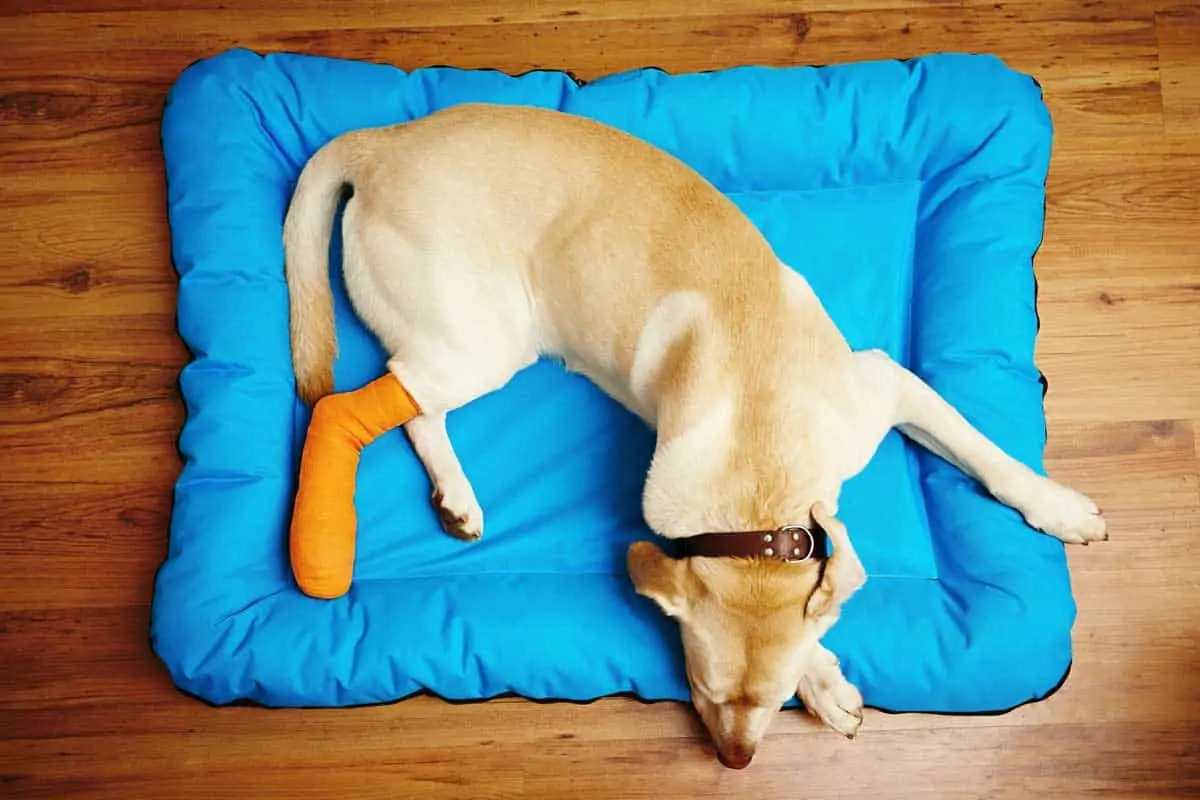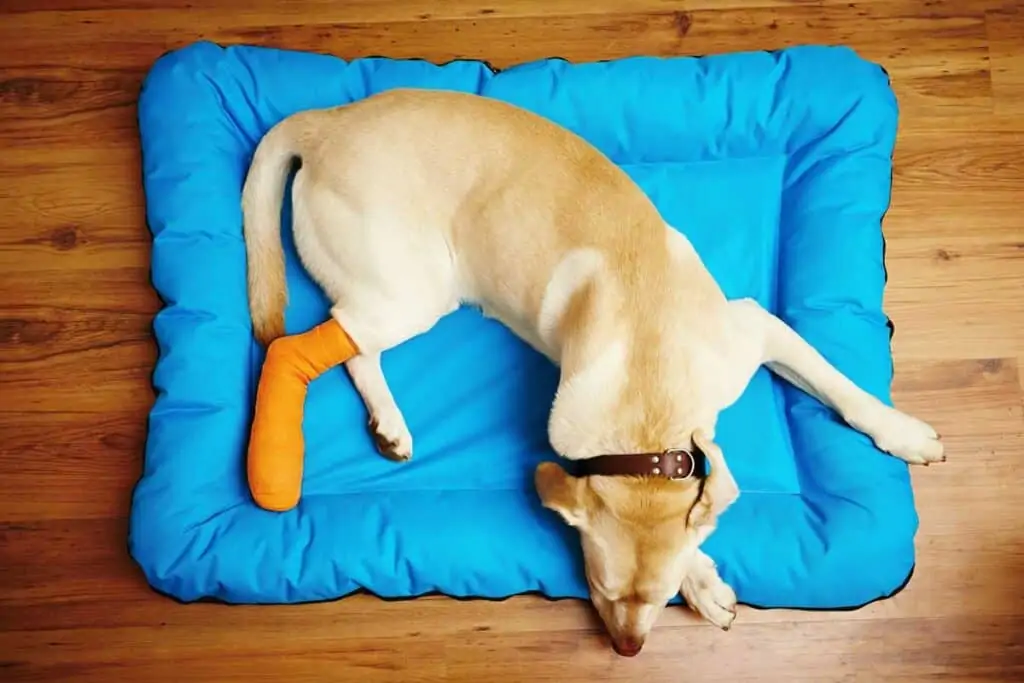 Convenience
Find a dog bed that has a removable cover so you can easily put it in the washing machine to keep everything fresh and hygienic.
Labradors love playing in the mud and running around, so they'll often be bringing in dirt and the outside materials directly into their bed, so you'll want something easy to take on and off to wash frequently.
Orthopedic beds
If you've got a dog who suffers from joint pain or one who is getting on in age, you could consider getting an orthopedic bed to ensure maximum comfort and support for their body.
They contain memory foam and ease the pressure on their joints.
Labradors do commonly suffer from joint and hip problems as they get older due to their size, so you must find something that will keep them as comfortable as possible in their downtime.
However, these beds aren't just for older dogs or dogs with problematic joints, they can be the perfect option for dogs who are fussy and don't like sleeping on thin beds on the hard surface of the floor.
Non-slip
If your dog is full of beans or is going through that crazy puppy stage, then you'll want to consider getting a non-slip dog bed that'll stay in place even when your dog is doing their daily zoomies around your house.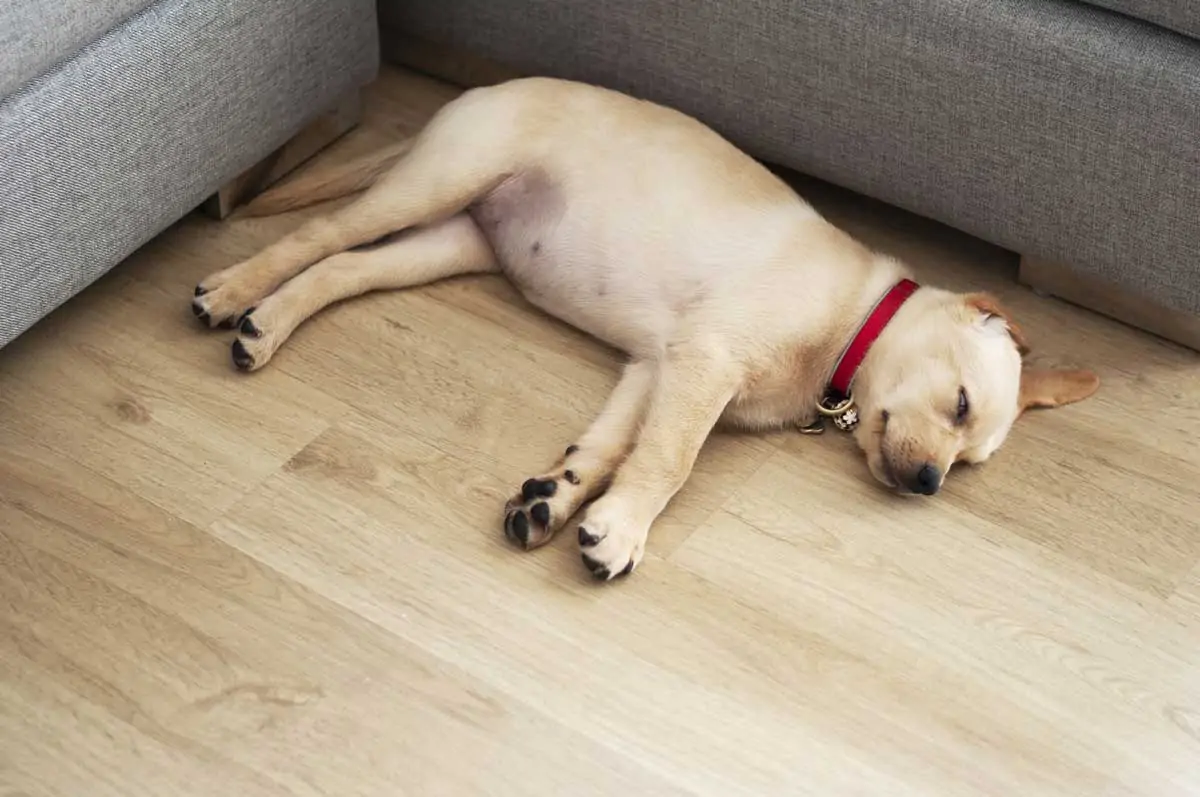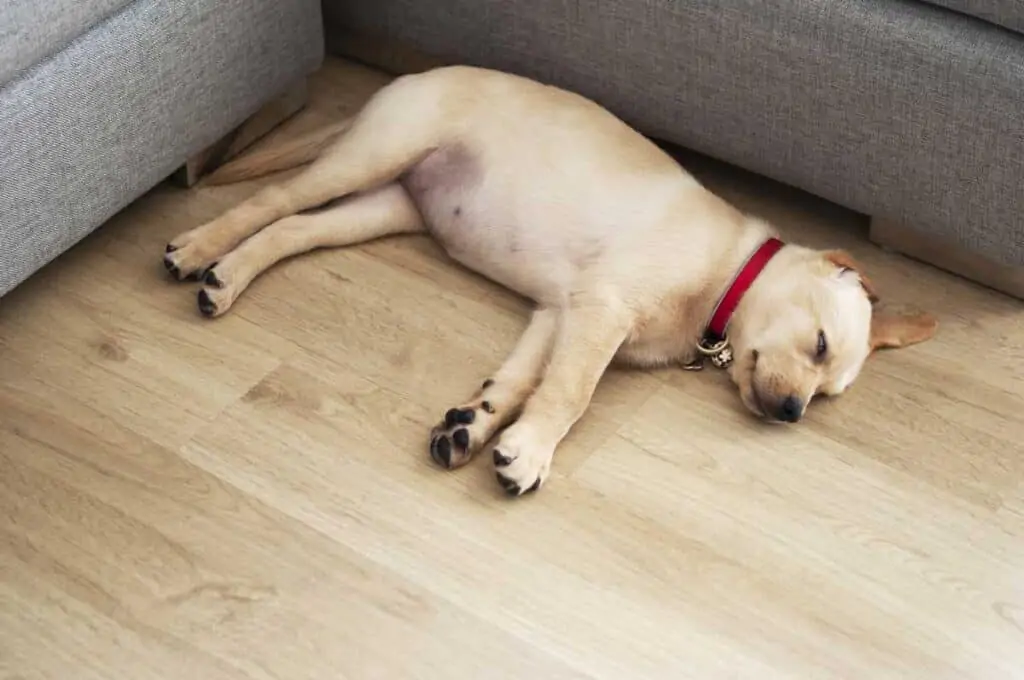 Style
This should not be the major factor in choosing your lab's dog bed, but it can be important to find something that will blend in nicely with your home.
There are so many styles nowadays that there'll be sure to be something that will fit in any room of your house.
If your dog bed will sit in a place where guests will always be able to see it, then why not find something that looks like it belongs in the room instead of looking out of place.
One of our top tips would be to not go for a cream or white dog bed, as it will only show the dirt all the time.
Frequently Asked Questions
Do labradors need a bed in their crate?
Some dogs prefer to sleep on a hard surface and we can't imagine why.
However, you should at least provide a soft, comfortable bed or cushioned mat for your labrador to sleep on in their crate.
Dogs like to feel secure and safe in their den so having a designated dog bed will make it more appealing for them to spend time there.
Where should I keep my dog's bed?
You should try and keep your dog's bed in a warm, draft-free, and quiet place for them to sleep without being disturbed.
That being said, dogs like to be near you and the rest of the family to feel at ease, so don't place their bed in places where you don't spend any time, otherwise, you'll find them just sleeping on the hard floor in the room you're in. I
f you work from home, you could always put a dog bed near your work area to keep them company during the day.
If you've got a new dog or puppy and aren't quite sure where they'd want to keep the bed, then you can always observe their behavior for the first couple of weeks and see where they spend most of their relaxation time.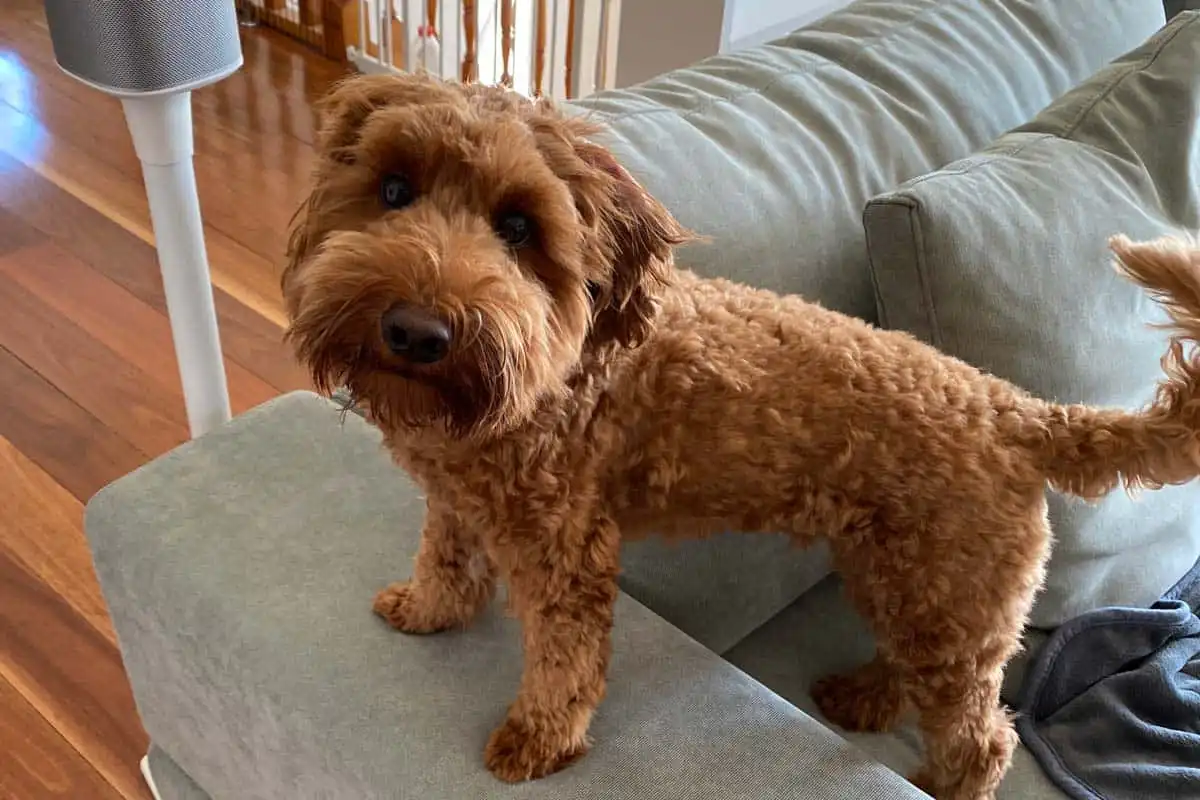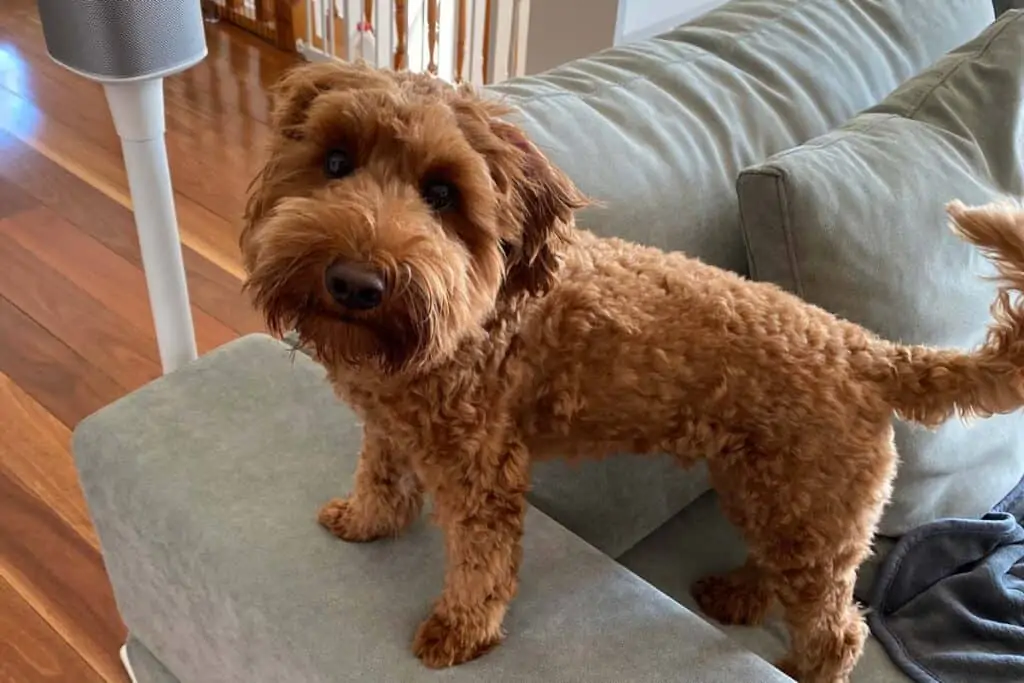 Do labradors need blankets to sleep with?
Labradors and any kind of dogs like to cuddle up in their beds, so it would be nice for them to have some blankets or some small cushions for them to lie on in their bed.
However, most dogs do not need to sleep covered up in blankets like humans do as they have thick fur coats to keep them warm during colder weather.
Is it bad for my dog to sleep in my bed?
There are no rules to where your dog should sleep. However, it is advised for them to have their own designated bed away from yours.
Human allergies can be aggravated by your dog sleeping in the bed with you.
Dogs can be restless and move around at night which can result in you not having quality sleep and waking up constantly feeling unrefreshed.
You've also got to be aware of the dirt from outside and possible diseases that your dog can carry, which will be coming into your bed.
Once you start allowing your beloved pooch to sleep in your bed with you, it'll be a hard habit to break, so it's best to set boundaries from the get-go.