5 Best Dog Clippers for Poodles (2023 Update)
Everybody loves a beautifully groomed Poodle! But beyond beauty, it's important to frequently groom a Poodle's fur as it is shorter, curlier, and thicker than most dog fur and can quickly form mats. In the hotter months, you also want them to be as comfortable as possible.
A clean cut can help regulate their temperature.
Decent Cut
Long Battery
Easy Handling
All Rounder
Decent Cut
Long Battery
Easy Handling
All Rounder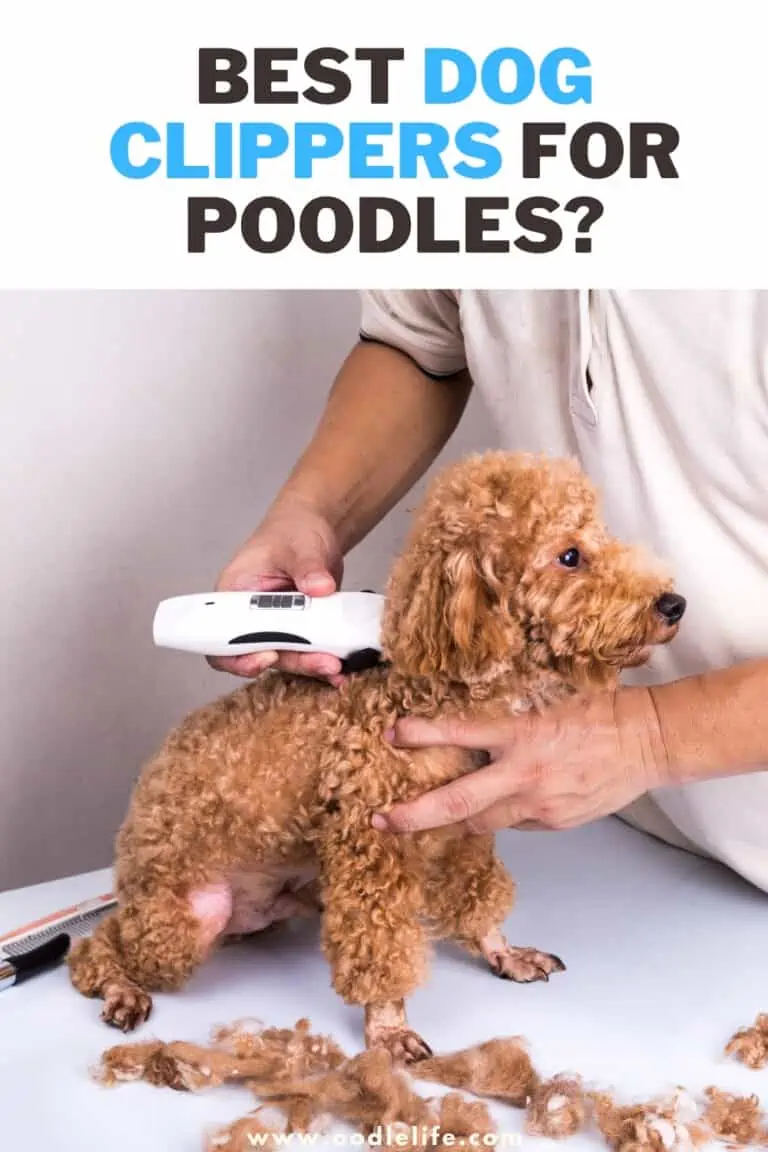 Save money by doing the maintenance grooming yourself. Looking at the market, these are the five best dog clippers for Poodles.
Before buying, you should know your pup's coat type, length, and thickness. It's also important to consider whether they are sensitive to sounds and if they will sit still while you are grooming them. With this information, you can narrow down your choices.
Best Clippers for Poodles
All of the clippers listed, except the professional-grade clipper, include scissors, comb, and cleaning brush to give your pup a complete trim at home. Some clippers come with a USB cord but do not supply the adaptor charger. This is something to consider when looking at the price, as buying the charger will be an additional cost to you.
Oneisall Dog Clippers
This kit includes a clipper and a separate paw trimmer. The clipper uses sharp double blades: one fixed stainless steel and one moving ceramic blade. Both blades are detachable, which makes for easy cleaning.
Remarkable Value
oneisall Dog Shaver Clippers Low Noise Rechargeable Cordless
Built-in Batttery. Rechargeable dog trimmer with built-in battery is good for exceptional flexibility. It can also be used when charging so you don't have to worry that it will stop working and have half groomed dog.
Safe and Sharp Blade. Upgrade stainless steel fixed blade and ceramic moving blade can provide excellent cutting performance. The blade sharp enough for a long time using. Detachable blades, easy to change and clean.
Low vibration and ultra quiet design.The noise when working is only about 50 db, to help the pet feel at ease, not afraid cut hair any more.
Please Note: if your pets get long and thick hair, you need to use scissors cut shorter at first, otherwise the clippers may jam up and don't work properly.
With that said - I have used this many times on Max the Labradoodle without having to trim first. A workhorse at remarkable value!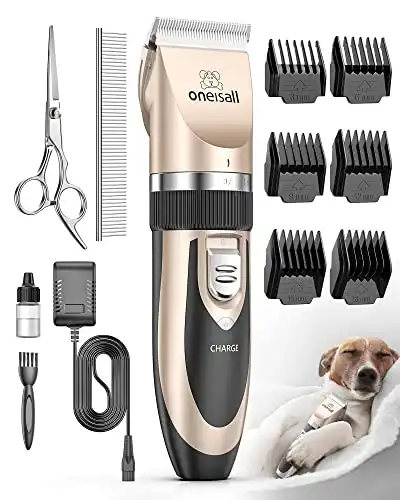 We earn a commission if you make a purchase, at no additional cost to you.
The paw trimmer has a small stainless steel blade. This part of the apparatus can be removed and washed as well.
On both the clipper and the trimmer, you can adjust between two speeds depending on your pet's comfort level and cutting needs. The LCD light alerts you of low battery charge. The clipper takes about a 2.5-hour charge and lasts for the same amount of time, while the trimmer takes less time to charge.
The clipper comes with six guide guards (3mm/6mm/9mm/12mm/15mm/18mm). The kit includes a cleaning brush, comb, scissors, a small bottle of oil, brush, USB cord, and charger. Because of the range of combs, it is suitable for big and small pets alike.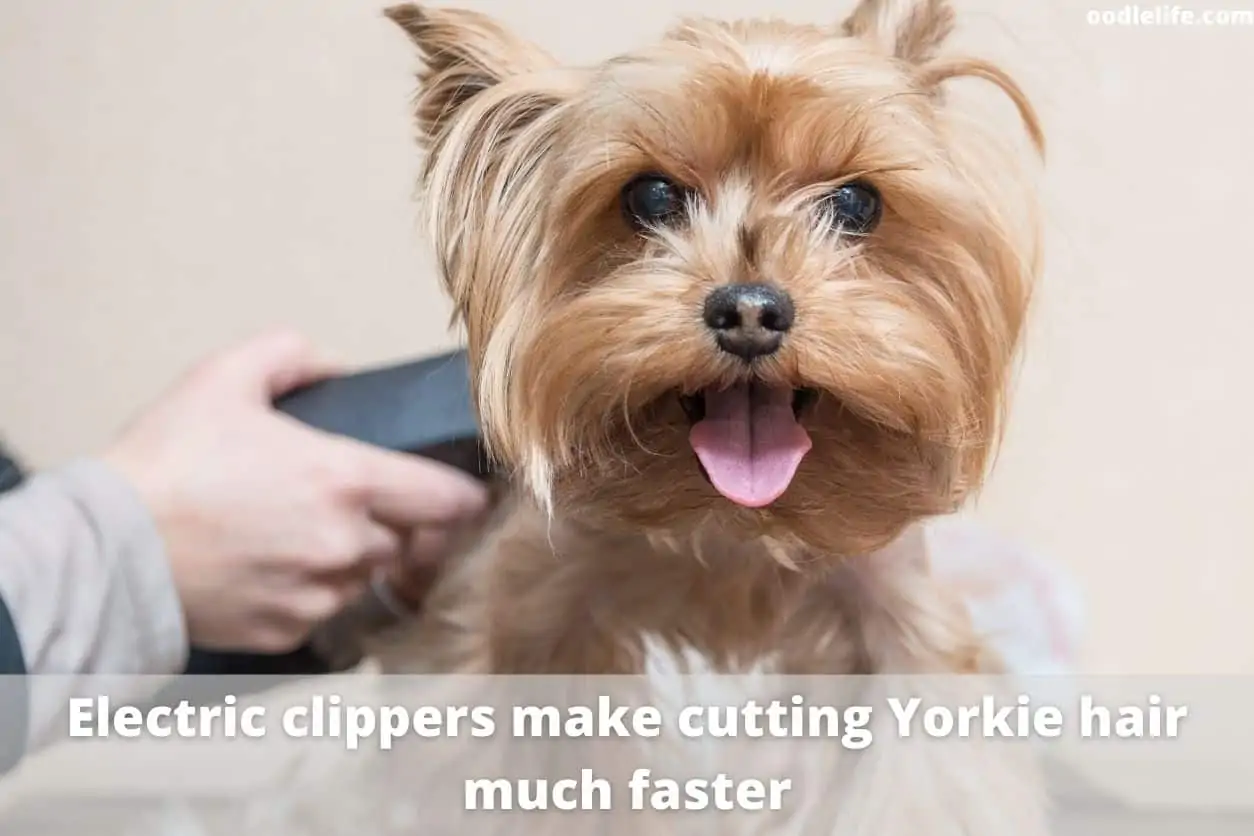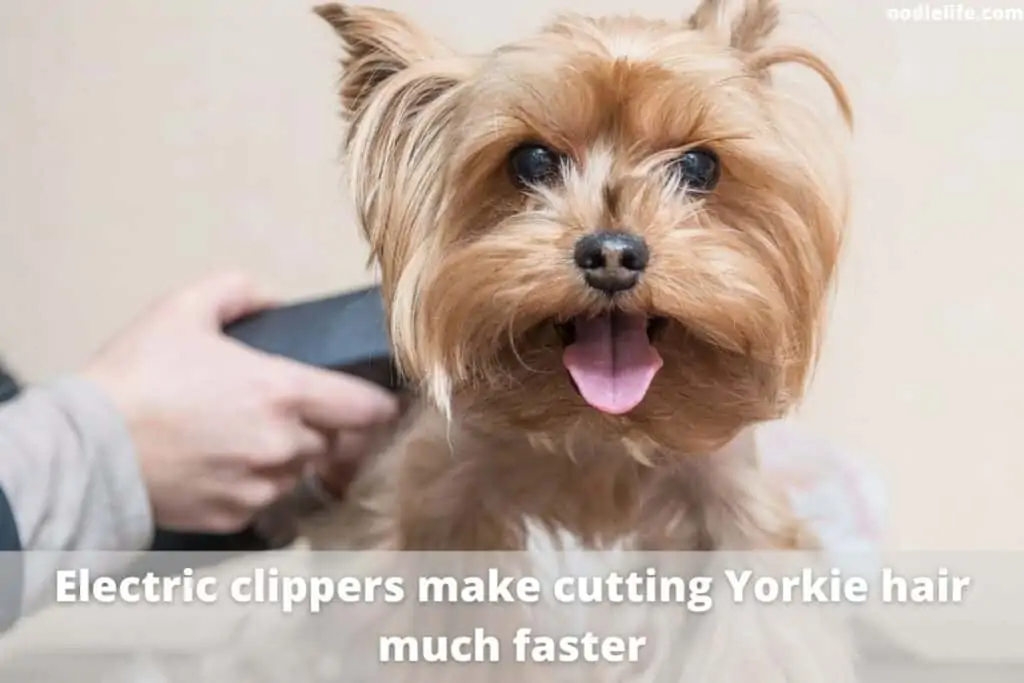 Pros
It can be used as cordless or corded while charging
It can be used with all sizes of pets
A secondary paw trimmer is ideal for hard-to-reach places
Easy maintenance
Cons
Material quality is slightly less than others
Not as comfortable to hold
Holdog Pet Grooming Clippers
The detachable titanium-ceramic blade combination makes this a uniquely solid and smooth clipper that is easily cleaned. The option of three speeds, all of which keep the noise level under about 50 dB, is nice. Another worthwhile feature is the LCD display indicating battery power level and maintenance needs, letting you know when the blades need oiling.
Dog Clippers Professional Heavy Duty Dog Grooming Clipper 3-Speed Low Noise High Power Rechargeable Cordless Pet Grooming Tools for Small & Large Dogs Cats Pets with Thick & Heavy Coats
【Detachable Titanium-ceramic Blade】Our dog grooming clipper is a new type of 33 teeth titanium-ceramic blade combining with the ceramic movable blade , including a curly wavy coat and long coat...
【Low Noise & Low Vibration】Usually a part of pets get stressed and uneasy by the sound and the vibration of the pet clippers. But our pet grooming tools are only about 50 db when they work, to...
【Powerful & Long Use Life】Heavy-duty gear for proper powerful cut, with stable and steady control. This dog hair clipper provides substantial power and speed without producing additional heat or...
【New User Friendly】The 4 adjustable(3mm/6mm/9mm/12mm) clipping combs are applicable for clipping the hair of different lengths; Go with the 5 precisely(0.8mm/1.1mm/1.4mm/1.7mm/2.0mm) trimmer...
【Why Choose us】Our dog grooming kit comes with 365 days technical support. We hope our product will creat an easier and happer experience for both you and your pet
We earn a commission if you make a purchase, at no additional cost to you.
It requires approximately a 3-hour charge and lasts about the same.
The clippers include four adjustable combs (3mm/6mm/9mm/12mm), a stainless steel scissor and comb, an oil bottle and cleaning brush, and a USB cord. Note that this does not come with the actual adaptor.
Pros
Low noise and vibration
Sharp and unique blades (titanium) for smooth, clean cutting
3-speed motor
Good performance for the price
Cons
Guide combs can be tedious to put on
Comes with a USB cord but not the actual adaptor
Eccomas Dog Grooming Cordless Clipper
This clipper has stainless steel double blades, making for a clean, steady cut. It is a bit heavier than the others but is quiet and stays cool. One of the best qualities of this clipper is its long battery life, lasting up to 5 hours on a 3-hour charge.
Dog Clipper Cordless, Heavy Duty Dog Trimmer, Cat Dog Grooming Kit Low Noise, USB Rechargeable Pet Hair Shaver, Professional Electric Pet Clipper with LCD Display for Small Large Breeds for Thick Coat
DOUBLE CUTTER BLADES: Unlike other pet clippers with only one layer of blade, our dog grooming clippers have double blades, with 27 teeth on the upper blade and 21 teeth on the lower blade. And with...
SAFE&DURABLE: the R-shaped blades are skin-friendly and will not hurt furry friends' skin. With the stainless steel and aluminum alloy, the body of the pet trimmer is more durable and resistant than...
IDEAL FOR HEAVY COATS: Our high-carbon blades are sharper than ceramic and titanium blades, more effective against thick hair or double-layered hair. Dog fur trimmer with precision motor, low noise,...
8 GUARD COMBS & 2 BLADE LENGTHS: The professional dog grooming kit comes with 8 different sizes of guide combs (3mm/6mm/10mm/13mm/16mm/19mm/22mm/25mm) for different parts of the grooming needs. The...
We earn a commission if you make a purchase, at no additional cost to you.
You can use this clipper with or without the cord plugged in. The LCD display alerts you to low battery power and when oil is needed.
The clipper comes with adjustable blade lengths (.8mm/2mm), an extensive assortment of 8 guide combs (3/mm/6mm/10mm/13mm/16mm/19mm/22mm/25mm), a USB power cord, stainless steel comb and scissors, blade lube, cleaning brush, and an instruction book.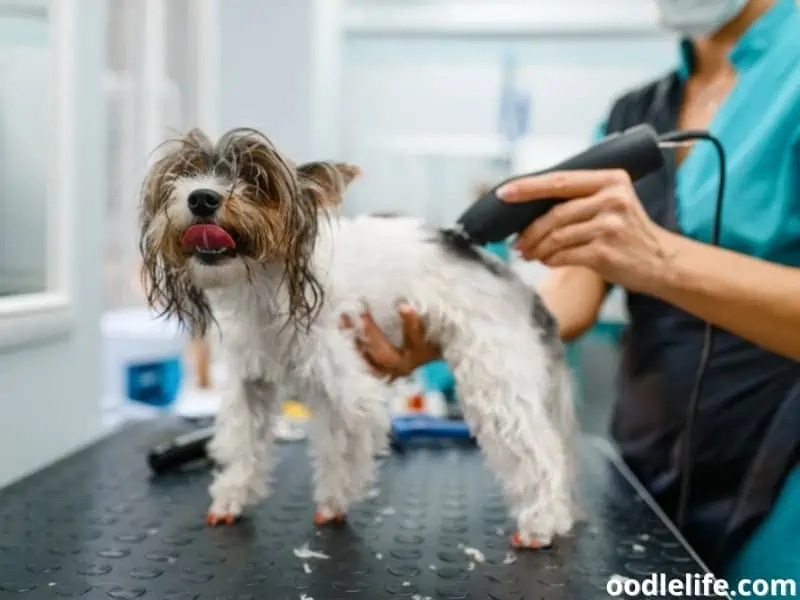 Pros
Longer battery life
Assortment of combs
Adjustable blade length
High-powered
Cons
Does not come with an adaptor charger
Heavier than the others
Ferrisa Dog Clippers
The best part of these clippers is their small size. The blades are stainless steel and ceramic, which provides a smooth and clean cut. The three replacement heads and four guide combs allow for versatile grooming.
FERRISA Dog Clippers with 3 Blades, Cordless Small Pet Hair Grooming kit, Low Noise for Trimming Dog's Hair for Eyes, Ears, Face, Rump
★【3 Replacement Heads + Upgraded Version Higher Power】: This FERRISA Dog Clippers offer you the best solution when it comes to grooming your pets. Made of ceramics blade , this sharp and safety...
★【Low Noise Dog Hair Grooming Kit】: The noise of our low noise dog hair grooming kit at work is only about 60 decibels, ensuring that your pet feels comfortable during the entire grooming...
★【Cordless dog clippers for grooming】: Our low noise rechargeable cordless dog hair grooming kit is light weight, cordless design, and easy to use. The cordless dog grooming kit rechargeable....
★【Easy to use and clean】:Our dog clippers are very easy to cut around the small paw pads. The blade part of dog clippers for grooming can be removed for cleaning and underwater cleaning. The pet...
★【What you get 】: Dog clipper *1, Standard size trimmer *1, Narrow size trimmer *1, Detail trimmer *1, Guide combs for standard size trimmer *2, Guide comb for Narrow size trimmer *1, Guide comb...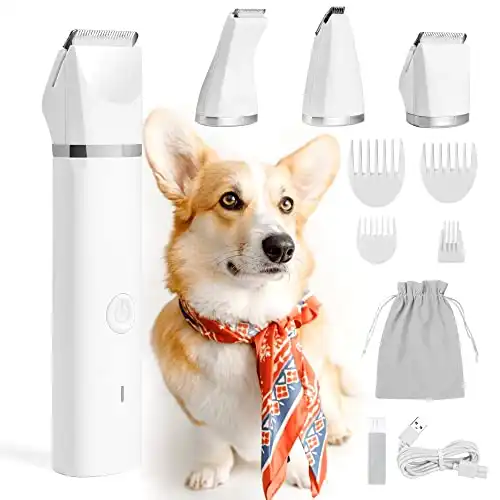 We earn a commission if you make a purchase, at no additional cost to you.
It has a low noise level and vibration. The clipper is cordless, but can also be used while plugged in. The blade of the clipper can be removed and completely immersed in water for thorough cleaning.
This clipper comes with a standard size trimmer, narrow size trimmer, and detail trimmer, all with guide combs, a cleaning brush, USB cable, storage bag, and instruction manual.
Pros
Small size and easy to use
The blade can be immersed in water for cleaning
Low noise
Good value
Great spot clipper
Cons
Not as good for full grooming on large dogs
Does not come with an adaptor charger
Andis 22690 EasyClip Pro-Animal Clipper
We included this professional-grade model to give you at least one option for a more durable clipper that is made for long-lasting use. This is a corded clipper with a powerful motor. It comes with a ceramic blade (#10) which is detachable for easy cleaning.
We earn a commission if you make a purchase, at no additional cost to you.
A hard case is included, as well as four guide combs (⅛", ¼," ⅜," ½") and blade oil.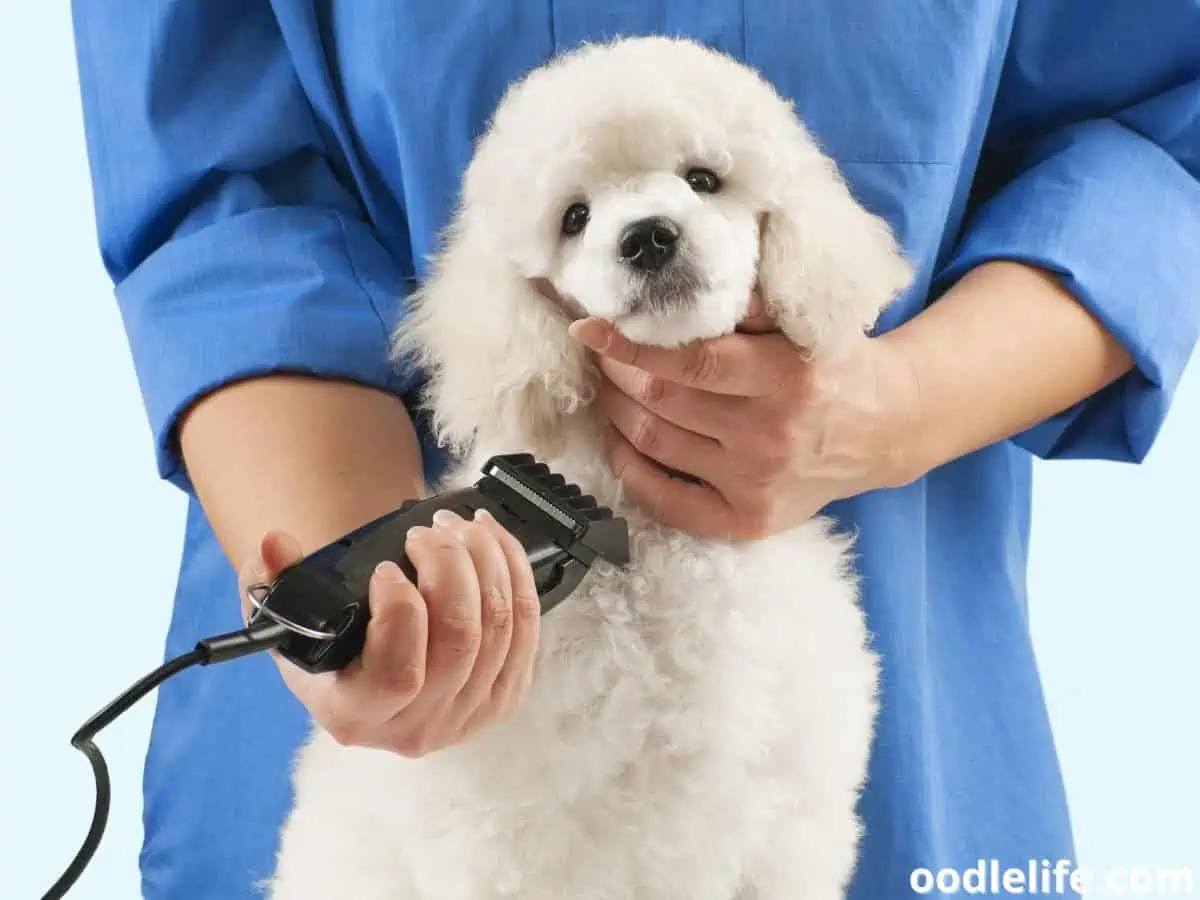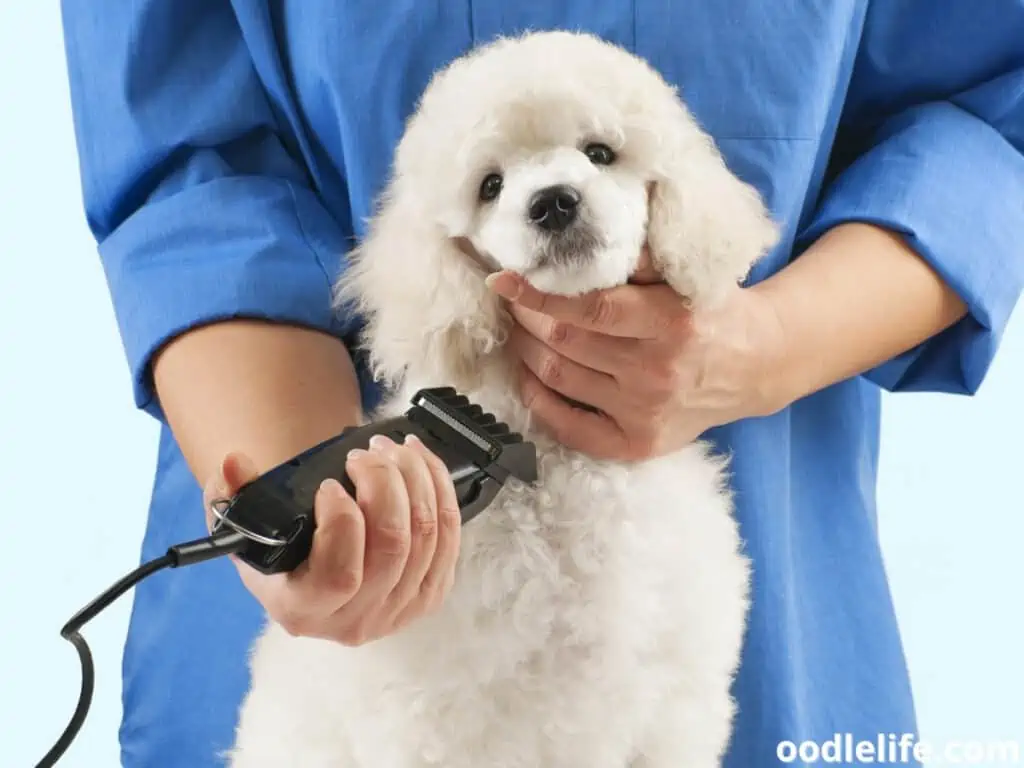 Pros
Powerful motor for stable grooming of heavy hair
Durable
Can use a variety of Andis brand CeramicEdge and UltraEdge blades
Comfortable to hold
Cons
Expensive compared to consumer-grade clippers
Needs additional blades
Things To Consider
Because the hair on a Poodle is prone to matting, it is best to groom them regularly. There are a few considerations to keep in mind when looking for clippers.
For most people, a professional-grade clipper may seem like an unnecessary expense. But if your pup has thick hair or needs frequent grooming in the hotter months that you plan to do yourself, you may want to consider the purchase. Professional grade clippers tend to be a bit more durable, making them worth the money spent.
Suppose you plan to let your professional groomer do the full and trickier cuts, and you will take care of the maintenance grooming. In that case, a regular consumer model will suffice.
Of course, you will have specific requirements based on what you know about your pup. Still, it's worthwhile to look at blade quality, noise control, versatility with power, charging and running time, convenience, and maintenance requirements.
Blades
You'll want to consider that the blend of steel and ceramic blades lead to a smooth cut. Full stainless steel blades are a bit sturdier. Additionally, having a variety of shapes and sizes will help you with trimming different parts of your dog's coat.
Noise and Vibration
We don't want to scare the pup when grooming, so a quiet model is essential. The range should be under 60dBs. Low vibration is also important as you may be holding the clipper for extended periods of time.
Finding the balance between vibration and power is important for both your dog and their coat.
A Powerful Motor
The stronger the motor, the steadier the cut. Having varied speeds can help ensure your pup is comfortable and that you can do a continuous cut. It can also help speed up the process for a quicker grooming session.
Cordless or Corded
Corded models are more durable and tend to last longer with frequent use. Cordless models range in charging and run time, and some can be used while plugged in. Cordless models tend to be a bit quieter.
Having the ability to use the trimmer while plugged in is also a consideration to make.
Maintenance
You won't want to use the clippers if it takes just as long to clean them as it does to use them. Evaluate how much time you're willing to invest as well as the quality of clipper you're seeking. A higher quality clipper may require less maintenance over time.
Most importantly, you should know your dog's hair and temperament when it comes to grooming. This will help you decide which blades, combs, power, and noise controls you'll need. Then you'll need to think about the convenience factor.
If your pup stays relatively steady, you may want to use a corded clipper, but if they move around, a cordless one may work better. Be sure to check the charging and running times on cordless models.
Our Top Choice
We can recommend all of the above clippers based on the considerations applied. Our top pick would be the Eccomas Dog Grooming Cordless Clipper. With its long battery life, quiet motor, adjustable blade length, and a large assortment of guide combs, this clipper offers good value and performance for the cost.
If you have further questions about which clipper is the best for you and your pup, don't be afraid to ask a professional dog groomer. They can help you to determine the exact needs of you and your pup.