Best Cordless Dog Clippers (2023 Update) 
Grooming is a fact of life for some dog breeds. And while there are groomers who can do it for you, they can be expensive, especially if your dog needs routine grooming.
However, it's possible to do the job yourself, and with the right equipment, that can reduce your expenses and allow you to bond with your dog.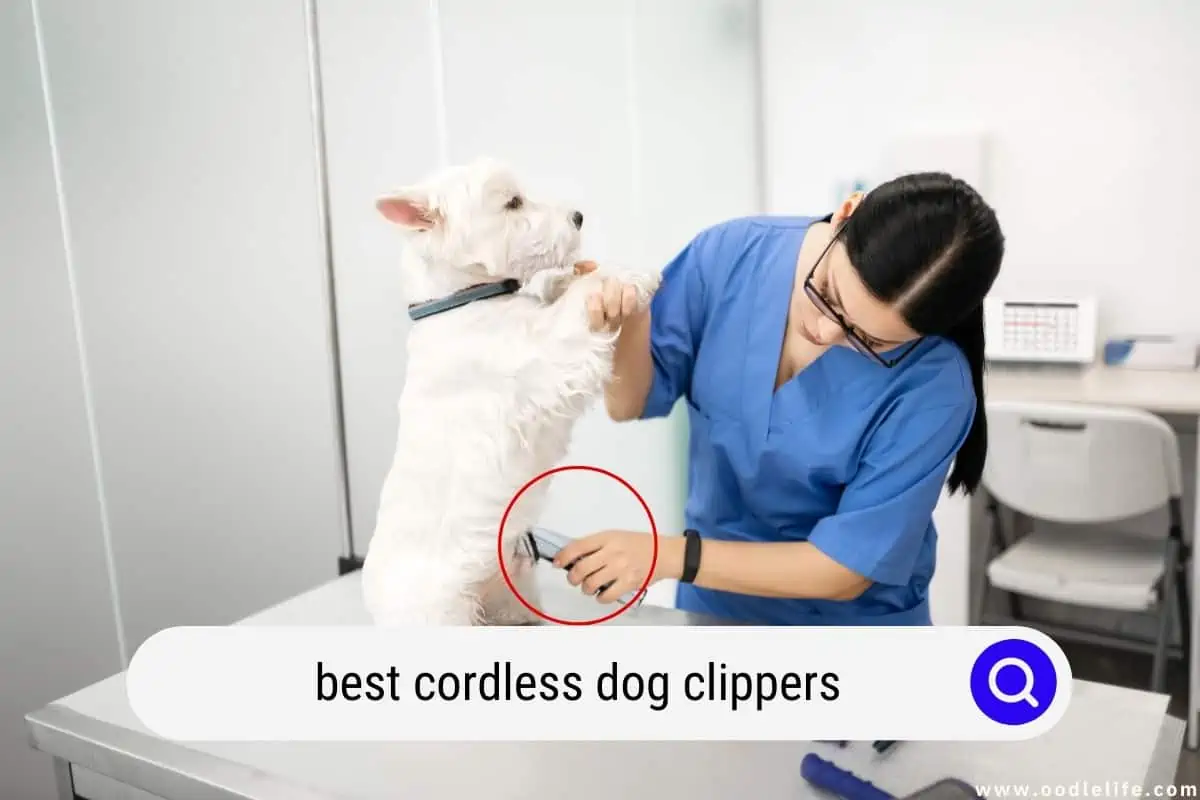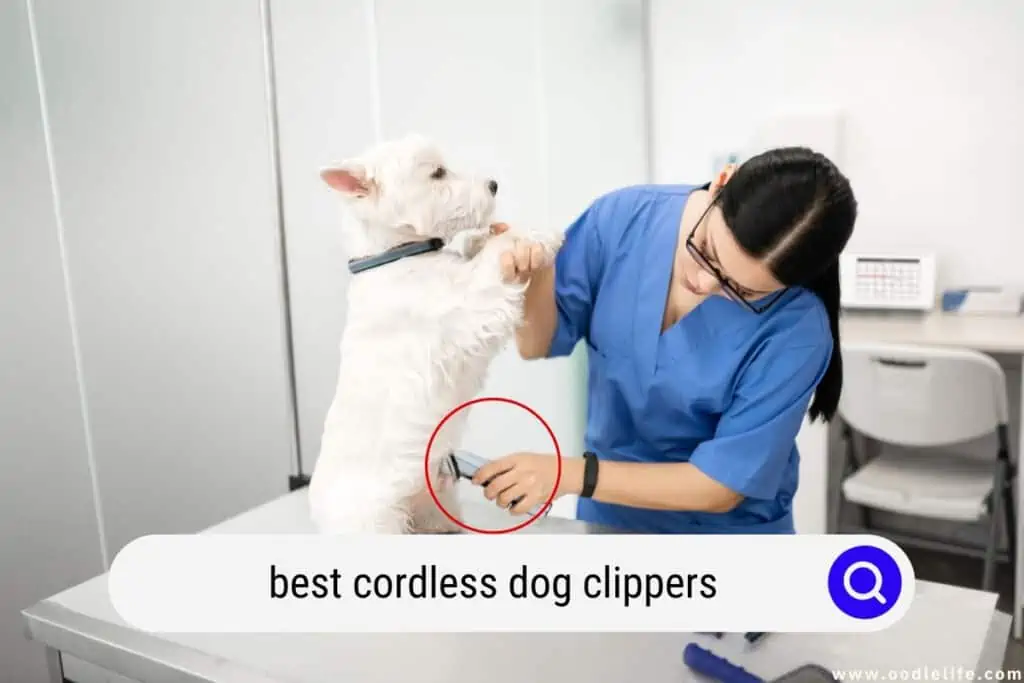 But what is the right equipment? I've done my share of home grooming, and one of the most helpful tools is a cordless dog clipper. There's no cord to wrap around you or the dog, no need for an extension cord, and you don't have to be proximate to an electrical socket to make them work.
That said, not all cordless dog clippers are created equally. Here are what I consider the best cordless dog clippers.
Wahl Professional Animal Cordless Dog Clippers
If you are looking for safe, high-quality cordless dog clippers, the Wahl Professional Animal Chromado is the place to start.
Wahl Professional Animal Chromado Lithium Pet, Dog, Cat, & Horse Corded/Cordless Clipper Kit, White & Rose Gold (#41871-0435)
The Chromado dog and pet clipper gives professional groomers everything needed in a lightweight, cordless clipper for grooming the feet, face, and finish work on all dog breeds
This lightweight clipper can also be used for light body clipping on small and medium dog breeds; cat grooming; bridle path, ears, muzzle, and fetlocks on horses; and trimming and show cuts for goats,...
The lithium ion battery provides 90 minutes of run time while constant speed control deliver more power and torque in tough grooming areas; Wahl's versatile 5-in-1 blade is included and easily adjusts...
Measures 7 inches long by 1 44 inches wide, weighs 10 2 ounces Made in Germany Made for use in electrical outlets in the United States only; not designed for international use
Includes one cordless clipper, 5-in-1 fine blade set (#9, #10, #15, #30, and #40), a soft storage case, charge stand and charger, six attachment guide combs, cleaning brush, blade oil, and instruction...

We earn a commission if you make a purchase, at no additional cost to you.
It's more expensive than other cordless dog clippers available, but I find they allow you to give your dog a professional cut at home. And the longevity and durability of the product justify the expense.
One of the Wahl Professional's most noteworthy features is the consistency of the speed it has. You can alter this as necessary, but the inbuilt steadiness enables the clipper to tackle mats and tangles at standards other products struggle to match. 
Given how painful tangles and mats can be to your dog, this is an invaluable resource.
Another reason to consider these cordless dog clippers is that they can hold a charge for 90 minutes. That gives you ample time to trim your dog's coat thoroughly. Not only that, but the clippers charge quickly.
They take an hour to charge, but once completed they're ready for use again. That makes them particularly well-suited to multi-dog households.
If you are still unsure about the cost, each kit comes with:
Five blades in varying sizes
Charging port
Storage case
Cleaning supplies
Clipper maintenance supplies
Although these professional-grade dog clippers can be purchased through Amazon, availability can be limited.
Pros:
Charges quickly
Different blades accommodate a variety of dog coats and fur densities
Lasts up to 90 minutes
Gives professional cut/trim
Cons:
Expense
Availability can be limited
Wahl Bravura Dog Clippers
In my opinion, Wahl's products are too good to mention once. The Wahl Bravura Dog Clippers, while still expensive, offer a more affordable but still high-quality solution to owners who want to groom their dogs themselves.
Professional Grade
Wahl Professional Animal Arco Cordless Clipper Kit
The original 5-in-1 clipper, the Wahl ARCO is the tried-and-true cordless option for precise trimming in hard-to-reach spots such as ears, faces, and paws to give groomers, animal professionals, and pet owners everything needed in a lightweight cordless clipper
The 5-in-1 fine blade adjusts between sizes #9, 10, 15, 30, and 40, offering a convenient variety of cutting lengths
With a rechargeable battery, this clipper has an 80-minute cordless run time and 75 minute charge time; it's easy to clean with a no-maintenance motor
Wahl's pet clipper can be used on small and medium-sized dogs such as Bichons, Shih Tzus, Terriers, and Spaniels, as well as cats; can also be used as a horse clipper and is great for trimming and touch-ups on the muzzle, face, ears, legs, fetlocks, and bridle paths
The slim, lightweight design fits comfortably in your hand while reducing wrist fatigue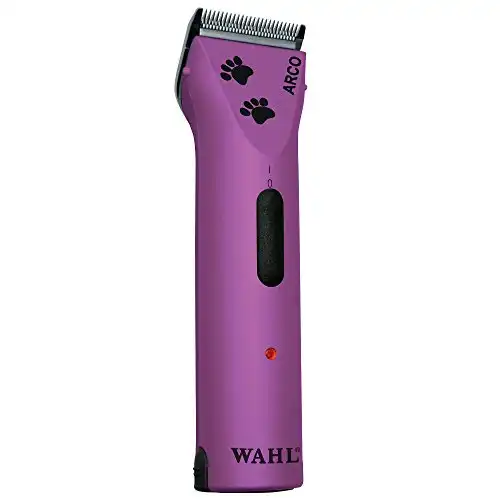 We earn a commission if you make a purchase, at no additional cost to you.
These are lightweight clippers designed to fit comfortably into the most inexperienced hands. Like other Wahl products, they can cut through hair and fur on a variety of coats. Crucially, they ably deal with matting and tangling.
They can safely shave your dog on several body parts, including:
Face
Ears
Paws
Joints
Hips
The ergonomic design helps prevent human as well as canine discomfort during long grooming sessions. Additionally, they are quiet, which is ideal for more skittish dogs. That's not to say they make no noise whatsoever, but the low hum they produce shouldn't spook your dog, either.  
Although the Wahl Bravura dog clipper is wireless, it also operates while charging. That's not a guarantee with all models. That the Bravura does enables you to finish grooming your dog, even after the charge runs down.
You may need to relocate to complete the session, but you won't have to wait an hour, either.
In addition to an instruction manual, the Wahl Bravura clippers include:
Charging cable and port
Storage case
Cleaning brush
Blade oil
Several blade sizes
Like other Wahl products, the Bravura dog clippers also include a one-year warranty.
However, some customers found that this pair of dog clippers struggled to cope with dogs with double coats or more wiry fur.
Pros:
Can use while charging
Several sizes of blade
Ergonomic design
Cons:
Excellent build quality means greater expense

Struggles with thicker dog coats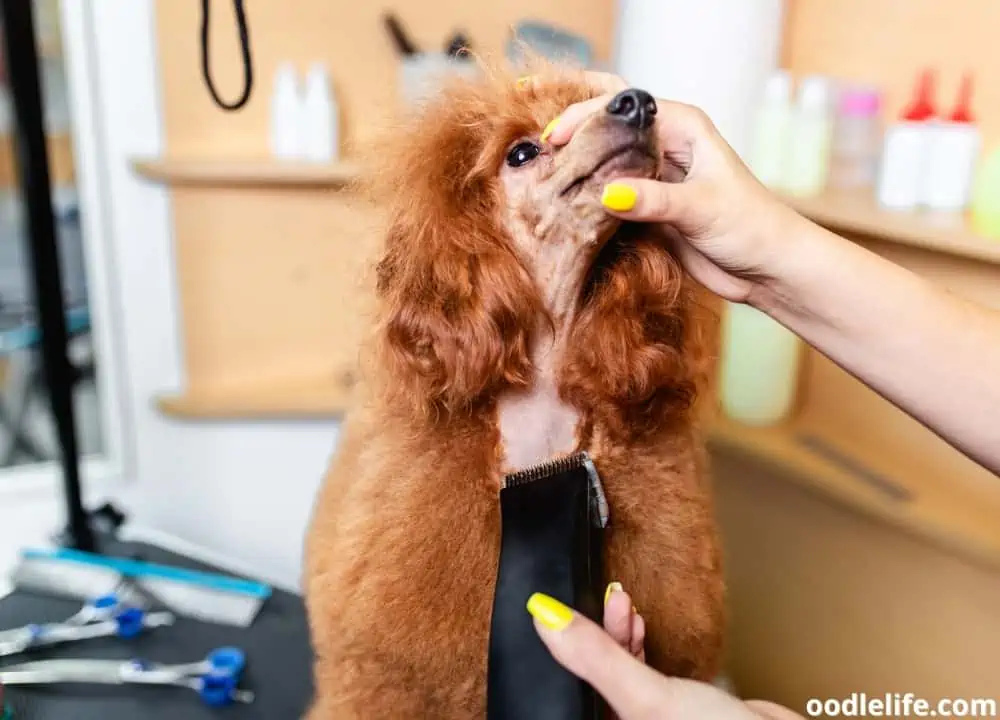 Oster Clipmaster Grooming Machine
The Oster dog clippers are such high-quality products that many professional dog groomers swear by them.
Oster Pro 3000i Cordless Pet Clippers with Size 10 CryogenX Blade (078003-100-000)
Cordless design offers freedom of movement to groom anywhere
Powerful 3,000 SPM motor for versatile grooming of dogs, cats, horses, and livestock
Rechargeable lithium-ion battery works continuously for up to two hours
Compatible with all Oster A5 detachable blades, including wide blades
Includes battery, charging stand, and Size 10 CryogenX blade
We earn a commission if you make a purchase, at no additional cost to you.
I admit, they are at the more expensive end of the price range when considering home grooming equipment, but they have several features that justify the range. 
One of these is their run time. At 120 minutes, they allow for longer grooming sessions than other dog clippers on the market. That enables you to take your time grooming a single dog or even get through grooming several dogs, depending on coat type.
But that's another reason Oster makes some of the best dog clippers on offer. They're a heavy-duty product that can handle the grooming requirements of dogs with multiple coats or dense, wiry fur. Not every pair of dog clippers is up to that challenge, and it's an important consideration when you start doing your own dog grooming.
This high-caliber clipper can also cut through mats quickly and efficiently.
However, while other dog clippers we discussed include several blades and speeds, this version of the Oster Clipmaster only has one. Depending on the kind of cut you want to give your dog, or the area that needs grooming, that may make it unsuitable for your purpose.
Pros:
Can cut thick, dense coats
Eliminates painful mats quickly
Long-lasting battery
Cons:
Cannot use while charging
Only has one speed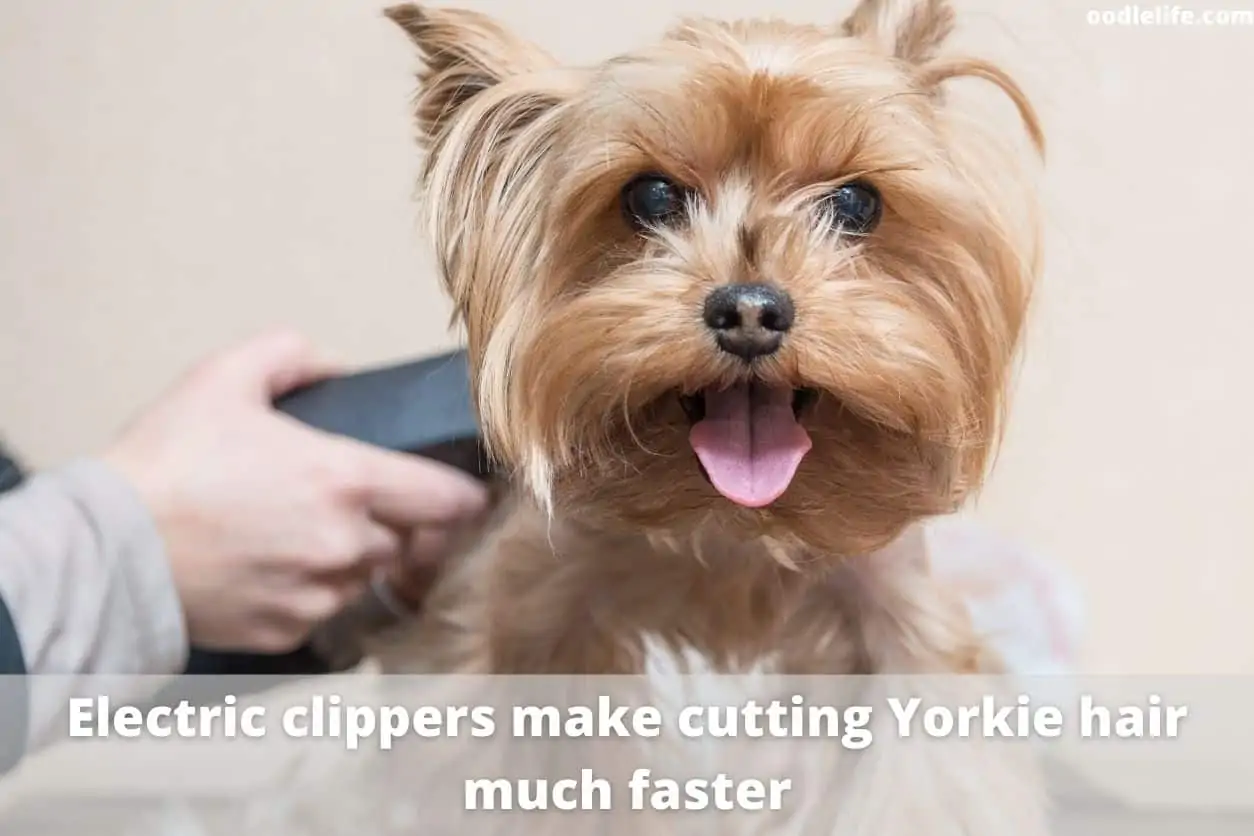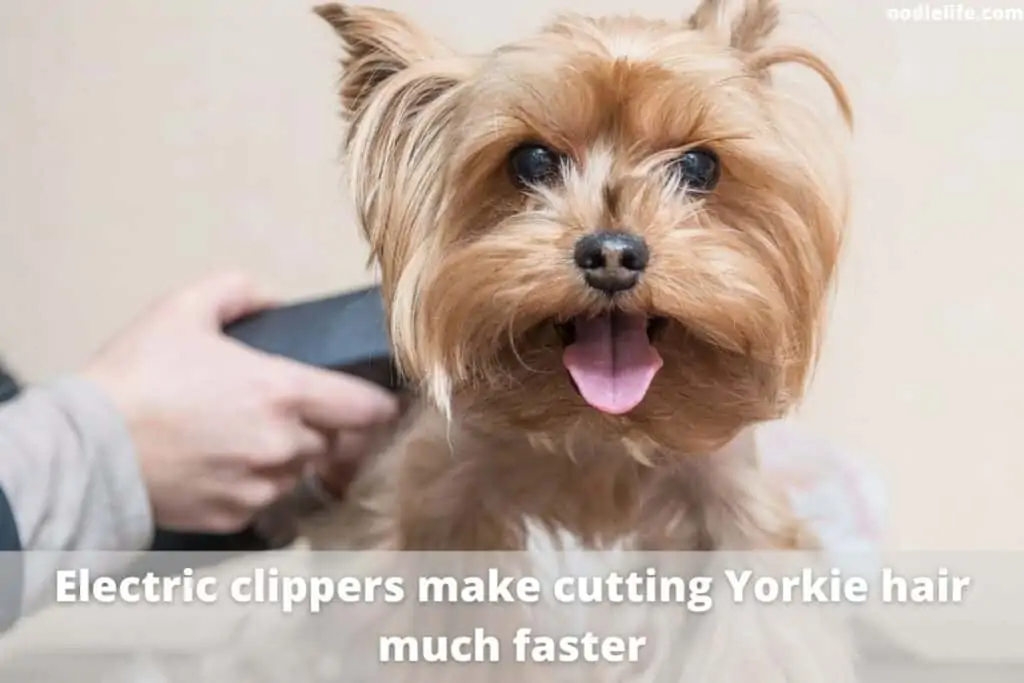 Andis Supra ZR II Dog Clippers
The Andis Supra ZR II is another of the best cordless dog clippers available. It has a two-hour charge time, and like other models on this list, can successfully trim coats of various thicknesses and densities.
Andis 79005 Supra ZR II Cordless Rechargeable Hair & Beard Trimmer, Detachable Blade Clipper, Lithium-Ion Powerful Battery, Black - Pack of 1
HIGH-SPEED MOTOR: The high-speed motor gives an exellent sharp performance with minimal noise for you and preserves long-term availability, with 5 speeds adjustable between 1800 to 3,800 spm.
CORDLESS TRIMMER: It is compact and lightweight for better flexibility, and provides consistent power without the use of a cable.
LITHIUM-ION BATTERY: It is detachable for easy replacement and can be charged individually. With an operational voltage of 100-240V / 50-60 Hz and a 2-hour charge, it provides 3 hours of run time.
EASY TO CLEAN: These detachable blades effectively remove debris and oil. Wipe it down with a damp tissue for a fast clean or a brush to thoroughly clean the blade.
PRODUCT DETAILS: Andis 79005 Supra ZR II Cordless rechargeable trimmer measures 3.3 x 8 x 10 inches and weighs 2.8 pounds, includes a charging stand, charging adapter, additional blade drive, and...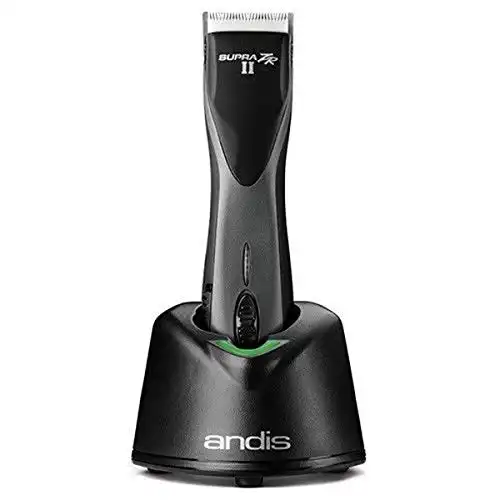 We earn a commission if you make a purchase, at no additional cost to you.
It has a range of speeds, running at between 1,800 and 3000 strokes per minute. The multiple blades make it easy to adjust the Andis to accommodate your styling needs while keeping your dog safe as well as groomed.
Unlike other cordless dog clippers we've discussed, the Andis Supra is battery-powered. The battery is easily replaceable and provided you have one on hand, you won't have to wait for the clippers to recharge.
Customers find the Andis Supra easy to clean, especially when removing excess hair. However, they add that the release mechanism can be counterintuitive if you are used to using other Andis models. That's because the button gets triggered by pushing upward.
It's a change from other versions of these dog clippers, and the unfamiliar groomer can accidentally release the blade while grooming their dog, especially when combatting knots.
Pros:
Multiple speeds
Easy to clean
Batteries easy to replace
Cons:
Blade release easily and unintentionally triggered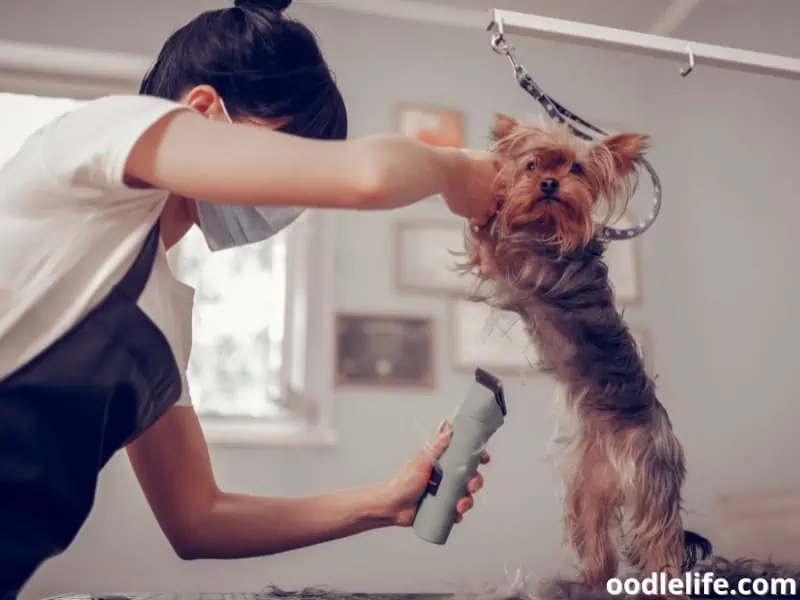 Onesisall Dog Shaver Clippers
Oneisall is another of the best cordless dog clippers that many dog owners consider. It's also one of the most budget conscious cordless clippers you are likely to encounter. 
Remarkable Value
oneisall Dog Shaver Clippers Low Noise Rechargeable Cordless
Built-in Batttery. Rechargeable dog trimmer with built-in battery is good for exceptional flexibility. It can also be used when charging so you don't have to worry that it will stop working and have half groomed dog.
Safe and Sharp Blade. Upgrade stainless steel fixed blade and ceramic moving blade can provide excellent cutting performance. The blade sharp enough for a long time using. Detachable blades, easy to change and clean.
Low vibration and ultra quiet design.The noise when working is only about 50 db, to help the pet feel at ease, not afraid cut hair any more.
Please Note: if your pets get long and thick hair, you need to use scissors cut shorter at first, otherwise the clippers may jam up and don't work properly.
With that said - I have used this many times on Max the Labradoodle without having to trim first. A workhorse at remarkable value!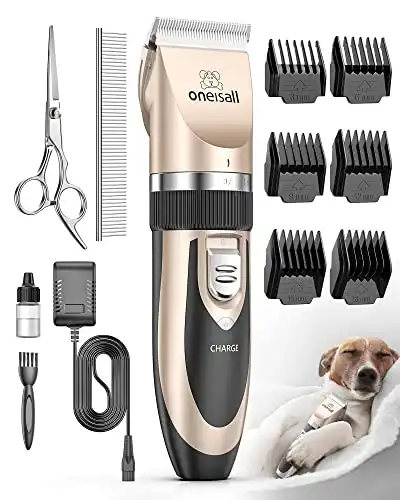 We earn a commission if you make a purchase, at no additional cost to you.
These clippers are battery-powered, eliminating the need for an electrical cord. But unlike other battery-powered clippers, the lithium batteries for Oneisall are rechargeable, ensuring you get extensive use out of the batteries that come with the clippers.
And if the battery life runs out while grooming, these dog clippers remain usable while charging. So, you'll never have to rush to finish grooming your dog.
These dog clippers have one fixed blade. That's frustrating if you are used to interchanging blades for different lengths and cuts but also makes these an excellent choice for first-time dog groomers.
The kit includes six guard combs to accommodate a range of coat lengths and thicknesses.
Additionally, it's an extremely quiet set of dog clippers. As ever, they aren't completely silent, but the noise they generate is minimal.
One drawback is that while these cordless dog clippers can handle trimming the face and hindquarters of wooly-coated dogs like Poodles, they struggle to tackle more expansive parts of the body. However, it's still possible to use the guard combs to deal with tangles on these types of dogs.
Pros:
Can use while charging
Six guard combs
Good for beginners
Affordable
Cons:
One fixed blade
Not suitable for trimming all parts of certain dogs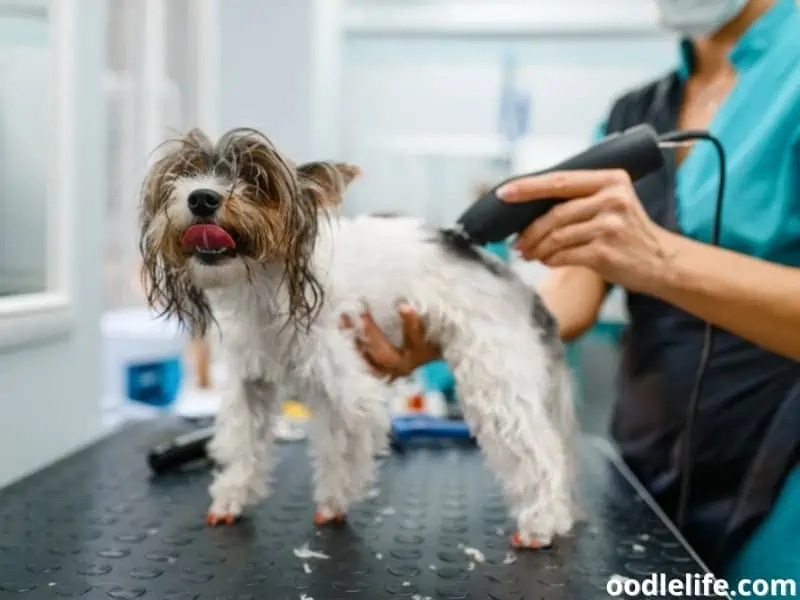 Summing Up
When it comes to choosing the best cordless dog clippers for your dog, what you need depends on:
Type of dog
Thickness/layers of hair or fur
How often you groom
And without exception, it's going to be an expensive undertaking. That said, grooming a dog yourself offers a wonderful way to bond with your pet. It can also save on grooming expenses in the long run. 
So, think carefully before you settle on a pair of dog clippers. And don't be surprised if it takes time to get the hang of grooming. I can attest that you and your dog will learn how the process works together.