Best Dog Food for Tear Stains (2023 Picks)
Tear stains are a particularly irritating flaw on your dog's lovely face. Just when you clean them off, they rear their annoying head in a few hours and are back in your pooch's eyes just when you think you have them beat. Urgh.
Dog parents frequently seek advice on the inconvenient problem of tear stains and how to remove them. If you look online for solutions, you'll undoubtedly run into a plethora of various products and ideas on how to remove those stains. However, there is no one-size-fits-all solution to anything.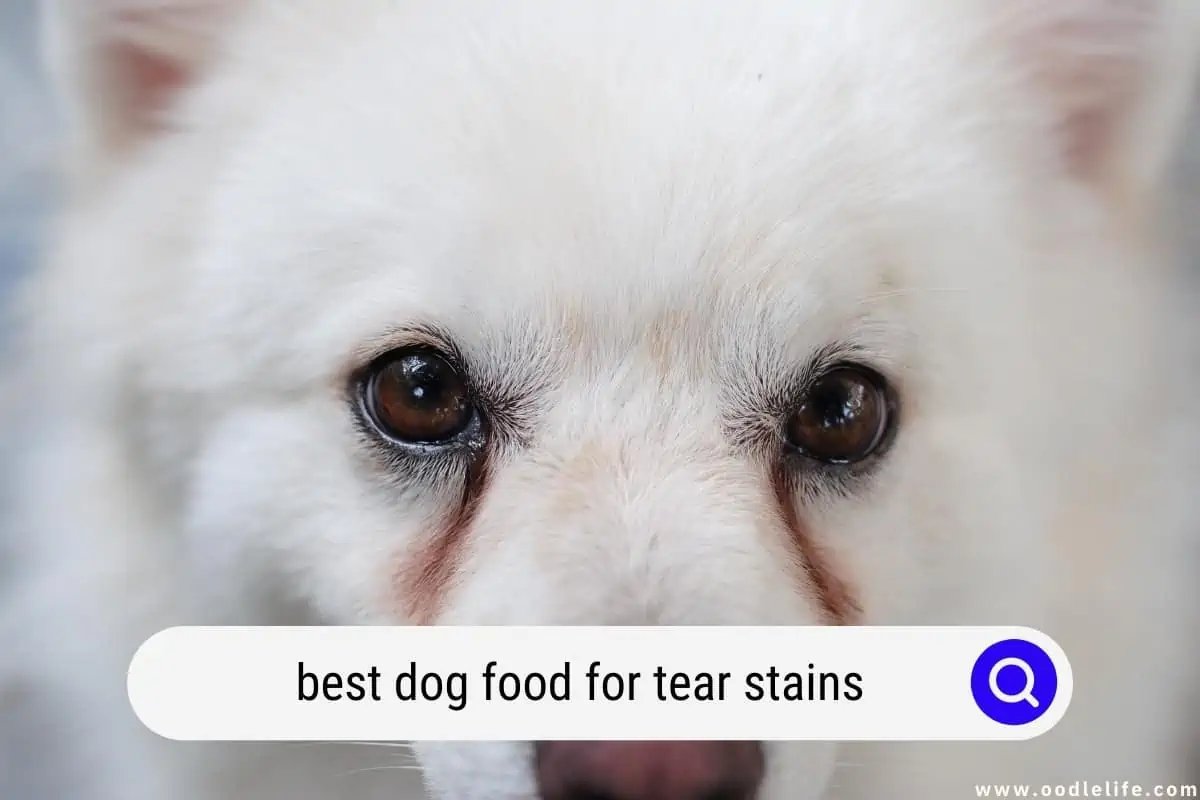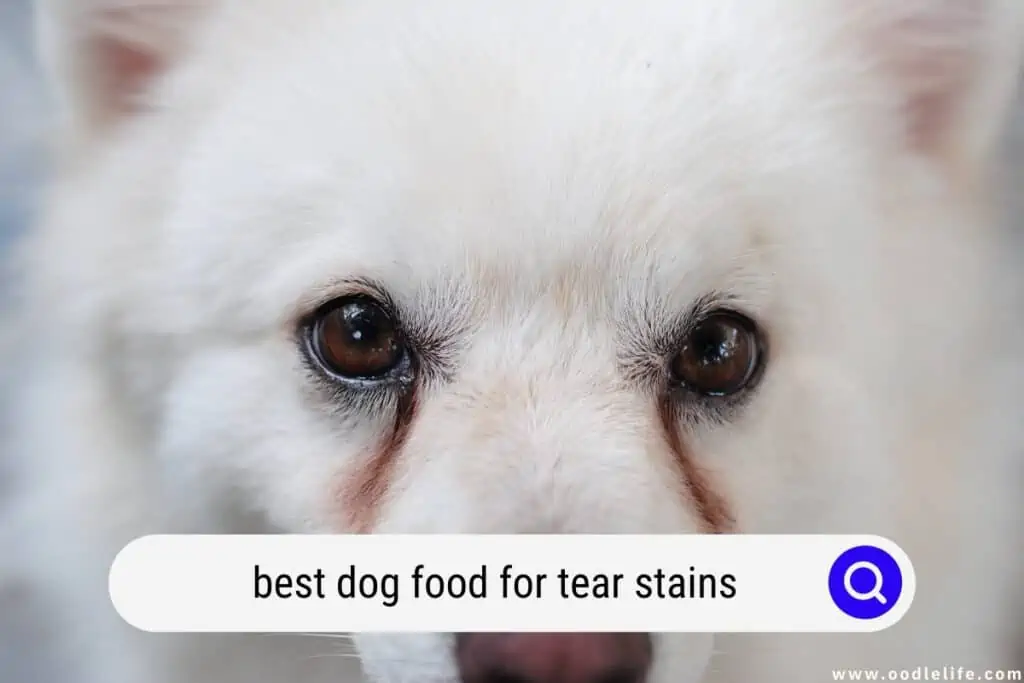 To remove those stains, first, we'll have to understand what causes them so we can fit the problem at its core.
What Are Tear Stains?
Tear stains appear as dark brown or reddish markings somewhere around the inside corner of a dog's eyes. The stains are frequently, but not always, followed by discharge. Needless to say, they're usually more noticeable on dogs with white or light-colored fur.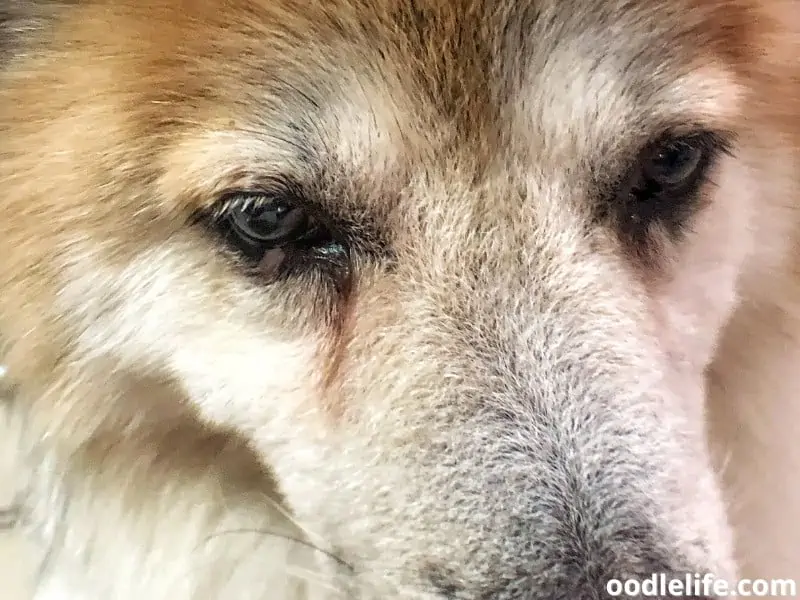 What Causes Tear Stains?
It is a prevalent misperception that tear staining is only caused by excessive tear production in the ducts. However, the majority of dogs with tear staining have normal tear production and no underlying eye issue.
The stains might cause by overgrown hair or eyelash, clogged tear ducts, dog teething, ear infection, and allergies. In addition, if you were over-zealous with cleaning your dog's eyes, it might have caused a few microscopic scratches and irritation, so be gentle!
The most common and frequent cause of these stains is epiphora, a disorder caused by excessive tear production or an inability to drain tears adequately. Tears from your dog usually flow through the eyelid into a region known as the nasolacrimal duct and then drain from the nose.
If this duct gets clogged for some reason, or if it fails to grow normally, tears become backed up and flow from the eyes instead. This residue subsequently settles into the fur around the eyes, giving it a dark brown or reddish appearance. Porphyrin, a waste byproduct of red blood cell disintegration, is commonly responsible for the rusty hue.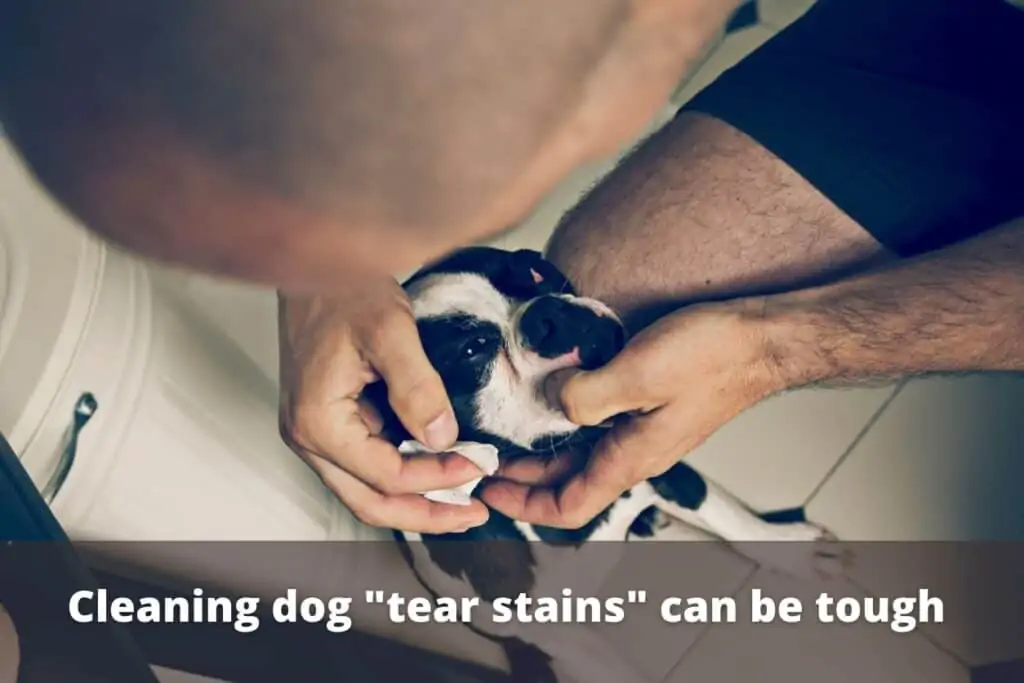 Which Breeds Are More Prone To Tear Stains?
Tear stains are more apparent in dogs with white or light fur than in dogs with dark fur but are not necessarily more frequent.
Some breeds are more prone to eye diseases due to heredity and genetics. Smaller dogs with longer hair coats are the most usually afflicted. Toy breeds most commonly affected by tear stains include the Shih Tzu, Lhasa Apso, Bichon Frise, Maltese, and Toy Poodle.
In addition, brachycephalic dogs are dogs with flat faces and short muzzles like Pugs, Boxers, and Bulldogs. The shallow eye sockets of brachycephalic dogs can cause the eyes to protrude and the eyelids to not fully shut, exposing the eyes to irritants, dryness, and injury. 
Likewise, Poodles and Cocker Spaniels, among other breeds, are more genetically predisposed to imperforate puncta, a disorder in which the openings around the eyes that drain tears do not develop properly, causing tears to accumulate and form stains.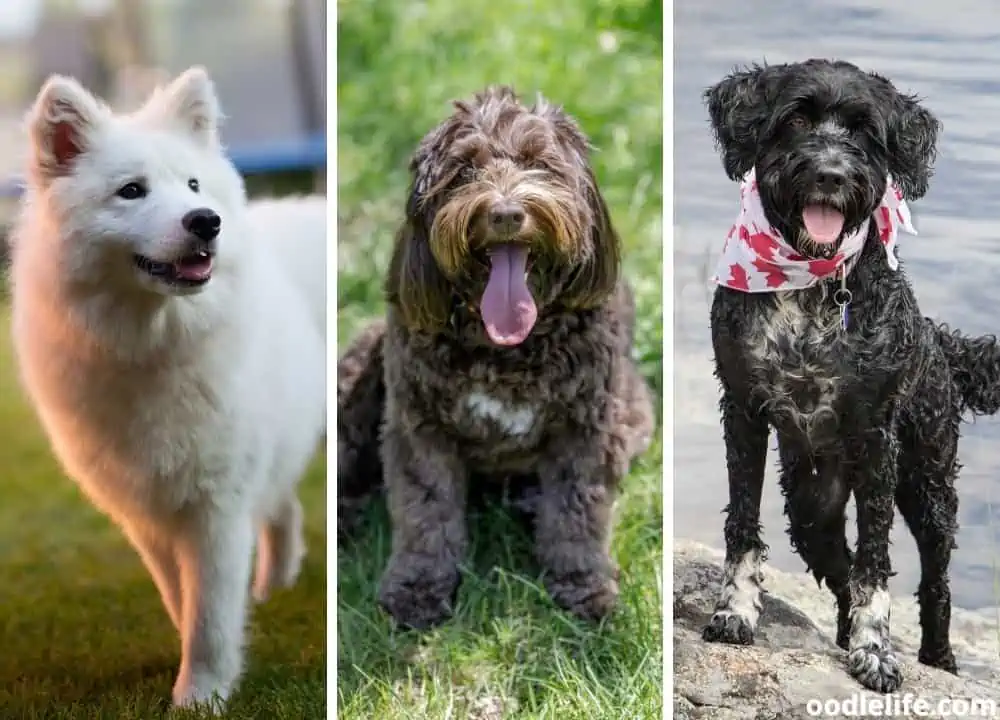 Can Dog Food Cause Tear Stains?
While tear stains are not hazardous to your dog, these unappealing lines frequently indicate underlying problems.
If you've struggled with everything to treat your dog's tear stains and they've reappeared, something in their diet might be at fault.
Did you know that additives and preservatives in food create chemical waste accumulation in canine eyes, resulting in excessive tearing and tear stains?
Yep! Chemicals and allergies in your dog's food might be the cause of these tear stains. This is only one of several nutritional and underlying health reasons why these unsightly markings emerge.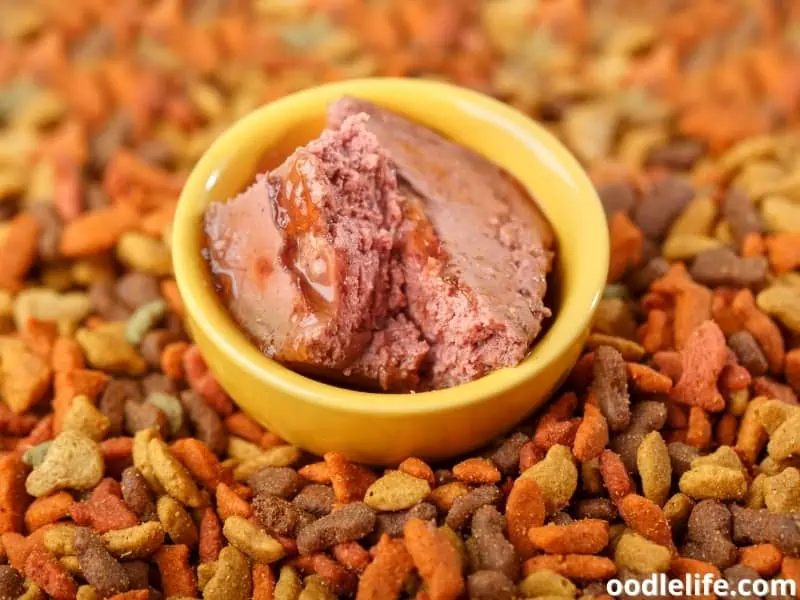 What Dog Food Can Help With Tear Stains?
We've seen many owners jump from product to product in the hopes of finding food that will benefit their dogs. To us, the finest dog food for tear stains will have all-natural ingredients that are free of fillers and artificial preservatives.
It should be simple to digest and contain ample amounts of vitamins, minerals, and antioxidants.
Check out our recommendations below for the most nutritious, wholesome dog foods!
FORZA10 NUTRACEUTIC SENSITIVE TEAR STAIN PLUS GRAIN-FREE DRY DOG FOOD
Forza10 Nutraceutic Sensitive Tear Stain Plus Grain-Free Dry Dog Diet is a nutritious and well-balanced food that would give your dog an added boost.
Sensitive Tear Stain Grain Free Dry Dog Food, Healthy Dry Dog Food Formulated to Reduce Tear Stains, Dog Eye Care and Tear Stain Remover - 9 lb Bag
DOG FOOD FOR TEAR STAIN REMOVAL - this dry dog food will help eliminate and prevent tear stains on your furry friends. It will help free your pet from unsightly tear stains, keeping the eyes and face...
GRAIN FREE DOG FOOD FOR ADULT DOGS - the formula is grain free and is made primarily with wild-caught anchovy meal, among other natural ingredients, making it rich with omega-3 and omega-6 fatty...
IMPROVES EYE HEALTH - this dry dog food is made to improve and supplement ocular health and reduce excessive tearing in your dog's eyes.
VETERINARIAN APPROVED - developed as a part of a healthy diet in order to support the immune system and lubrication to help with tear stains.
NUTRIENT RICH - this food is packed with nutrients, including crude proteins, fiber, and fats. With this well-rounded dry food formula, dog owners can rest easy knowing their canine companions are...
We earn a commission if you make a purchase, at no additional cost to you.
This dry dog food is designed to improve ocular health and assist in removing and preventing tear stains on your canine companions.
Despite being grain-free, this product is made with pasture-raised lamb to give an alternative source of protein that supports lean muscle and performance. Forza10 meals use delectable anchovies, which satisfy his taste buds and are also rich in omega-3 and omega-6 fatty acids. To promote eye care in dogs, natural extracts of melon, pomegranate, citrus pulp, oregano, and turmeric are used in this dog food.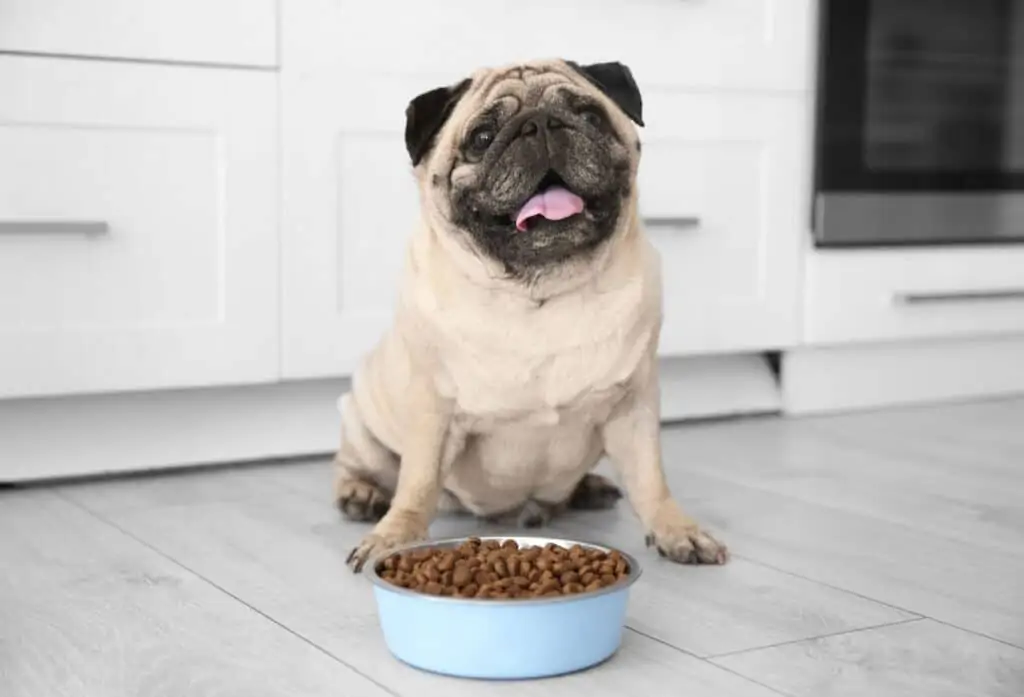 This premium recipe is manufactured with all-natural components and is comfortable to digest due to the absence of added preservatives.
This is a grain-free food that relies on potatoes as the primary source of carbs and energy. Blueberries, raspberries, and cranberries are added to provide a variety of vitamins and minerals for an overall good oxidative condition. Vitamin and mineral supplements have also been included in this product to ensure that he gets all he requires from this food.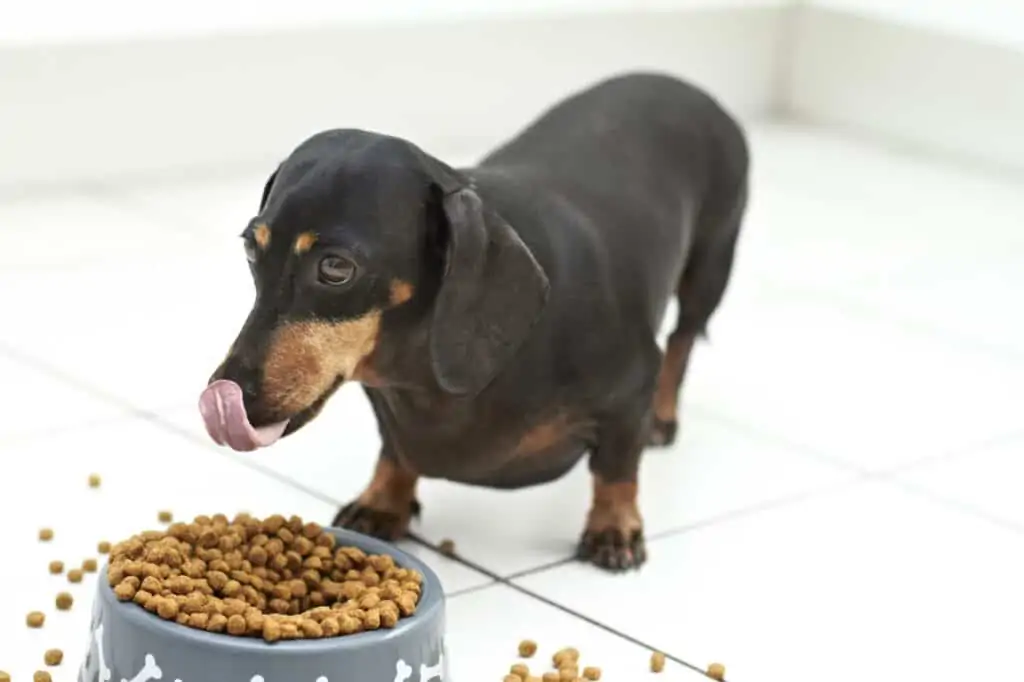 LUCY PET LIMITED INGREDIENT DUCK & POTATO DOG FOOD
When it comes to avoiding and treating tear stains, this simple food contains just a few ingredients with everything you need. Lucy Pet meals have no grains, soy, corn, chemical preservatives, or dyes. This formula is vital for natural immunity and incorporates all-natural protein sources.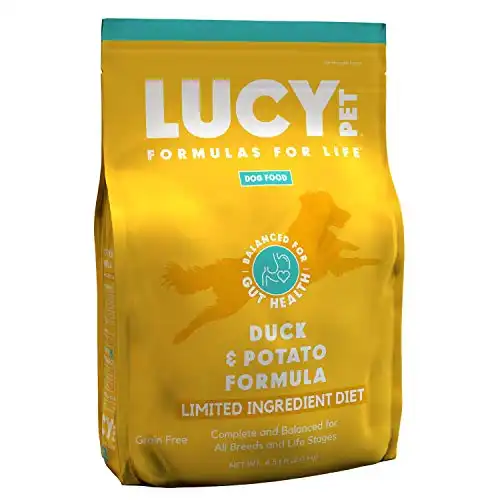 We earn a commission if you make a purchase, at no additional cost to you.
The proprietary blend of Prebiotic Balanced Fiber (PBF) contains superfood ingredients like chickpeas, quinoa, flaxseed, and kelp, all working towards boosting your dog's immunity and preventing allergic reactions.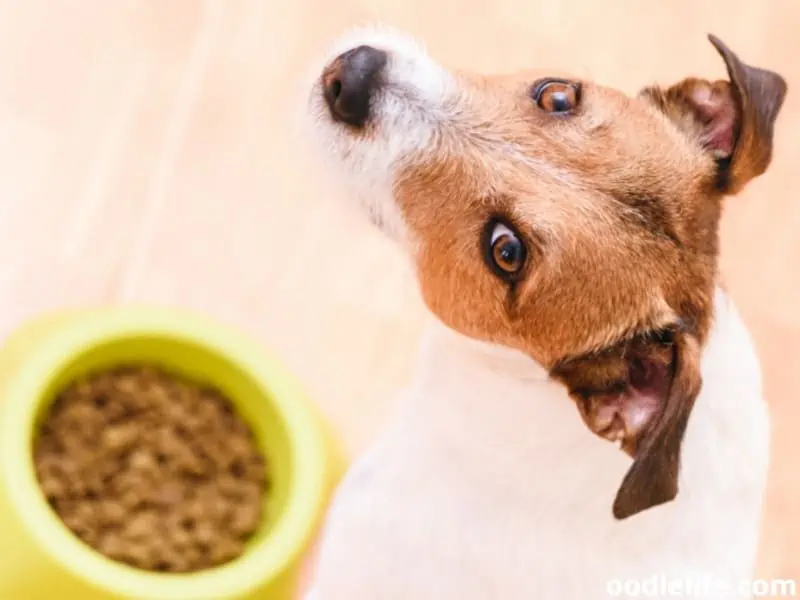 WELLNESS CORE GRAIN-FREE SMALL BREED TURKEY & CHICKEN RECIPE DRY DOG FOOD
Sadly, certain dog breeds seem to be more likely than others to produce tear stains. If your little dog has issues with tear stains, Wellness CORE for small dog breeds is your best option.
Wellness CORE Natural Grain Free Dry Dog Food, Small Breed, 12-Pound Bag
SMALL BREED DRY DOG FOOD: Optimal protein levels and calorie content to help support the higher energy needs of small breed dogs
ENJOY A LIFETIME OF WELLBEING: High quality proteins and wholesome grains are expertly balanced to deliver a complete diet packed with the nutrients small breed dogs needs to thrive; no meat...
WHOLE BODY HEALTH: Supported by omega fatty acids, antioxidants, glucosamine, probiotics and taurine for a healthy heart
FIND THE RIGHT FOOD: Wellness offers a full range of foods to support your dog's specific needs, including grained and grain free options, high protein recipes and limited ingredient diets for dogs...
Made in the USA using only the finest globally sourced ingredients, we prepare each of our diets in our own state of the art facility; we craft delicious natural recipes with wholesome, non GMO...
We earn a commission if you make a purchase, at no additional cost to you.
Its grain-free, protein-focused option includes many lean meat alternatives such as chicken, turkey, and salmon, as well as fruits and vegetables to satisfy dogs' energy requirements. It contains the ideal combination of antioxidants, vitamins, and minerals chosen by vet nutritionists to promote the body's immunity, digestive health, oxidative balance, and heart health.
It also contains a fish and flax omega fatty acid combination for healthy skin and coat, which may aid in the removal of spots beneath the eyes.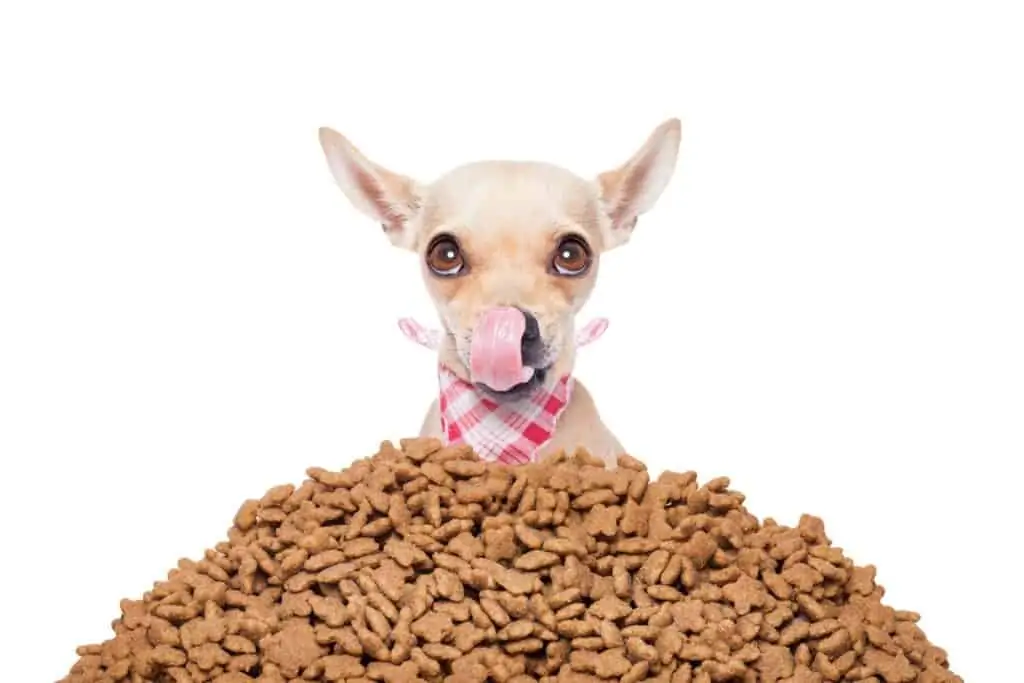 NATURE'S RECIPE GRAIN-FREE EASY TO DIGEST DRY DOG FOOD
The Nature's Recipe Grain-Free Easy to Digest Dry Dog Food is a simple meal for your dog at any stage of growth. As the name implies, it is free of grains such as wheat and maize. It has no artificial flavors or colors, avoiding any allergens and making it stomach safe.
Containing salmon, pumpkin, and sweet potato, this kibble is an excellent source of high-quality protein that is gentle on the stomach.
Dogs seem to love the salmon-like smell of the kibble, which satisfies hunger, avoids indigestion, and helps with tear stains.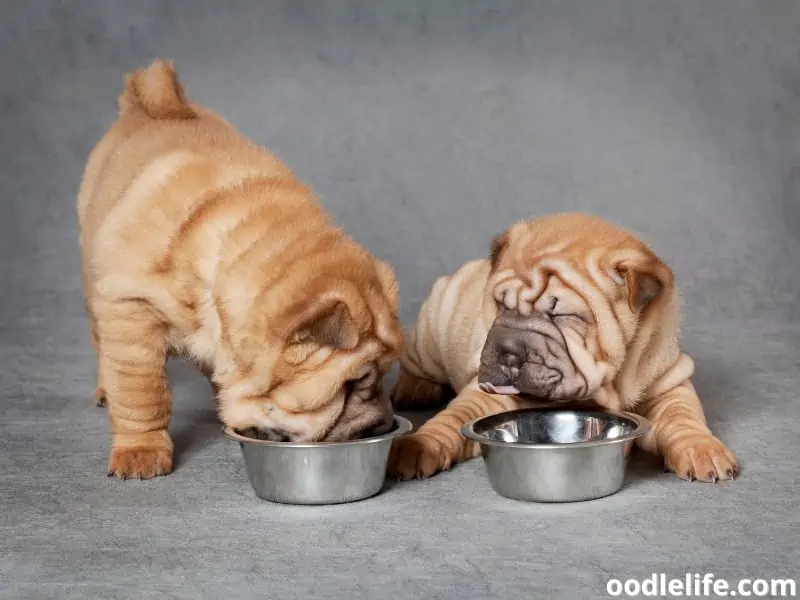 ZIGNATURE DUCK LIMITED INGREDIENT FORMULA GRAIN-FREE DRY DOG FOOD
Is your dog teething? Puppies tend to shed more tears during teething, and tear stains may develop. You can relieve your puppy by feeding him a restricted diet that is easy to chew and gentle on his digestive system.
Zignature Dog Food, Duck, 25 Pounds
Made with high-quality Duck as the first ingredient which is high in protein.
Limited ingredient formula
Rotational diet designed to allow your dog to switch between select Zignature formuals with ease.
At Zignature, our mission is to make the very best food for your pup. So, we do that by using high-quality meats first and pairing that with a limited ingredient list of healthy and wholesome...
Single Protein Source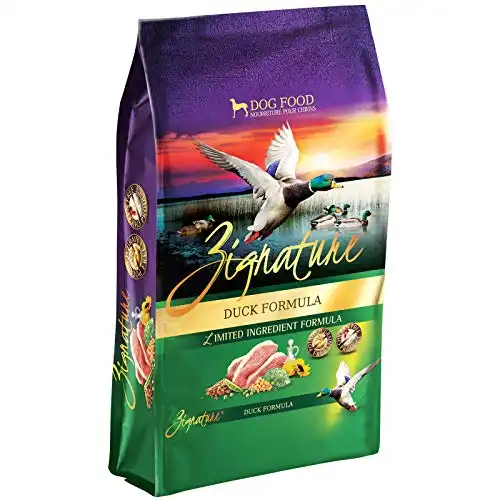 We earn a commission if you make a purchase, at no additional cost to you.
For pups with tear stains due to teething issues, we recommend Zignature Duck Limited Ingredient Formula. They eliminate potentially irritating ingredients while providing nothing but pure deliciousness for your beloved companion. Made with farm-raised ducks, this grain-free hypoallergenic dog food has low-glycemic nutrition, promoting blood sugar stability and providing useful dietary fiber.
Natural Cures To Prevent Tear Stains
Once your dog is on a top-quality diet, you can do several more things to help with tear stains if you don't want to buy commercially made stain removers.
White vinegar or apple cider vinegar – Mix one teaspoon of vinegar with your dog's water daily to increase the acidity of your pooch's pH.
Hydrogen peroxide – Mix one part peroxide with ten parts water and carefully clean the stained area with a cotton pad. Be careful not to get any in your dog's eye!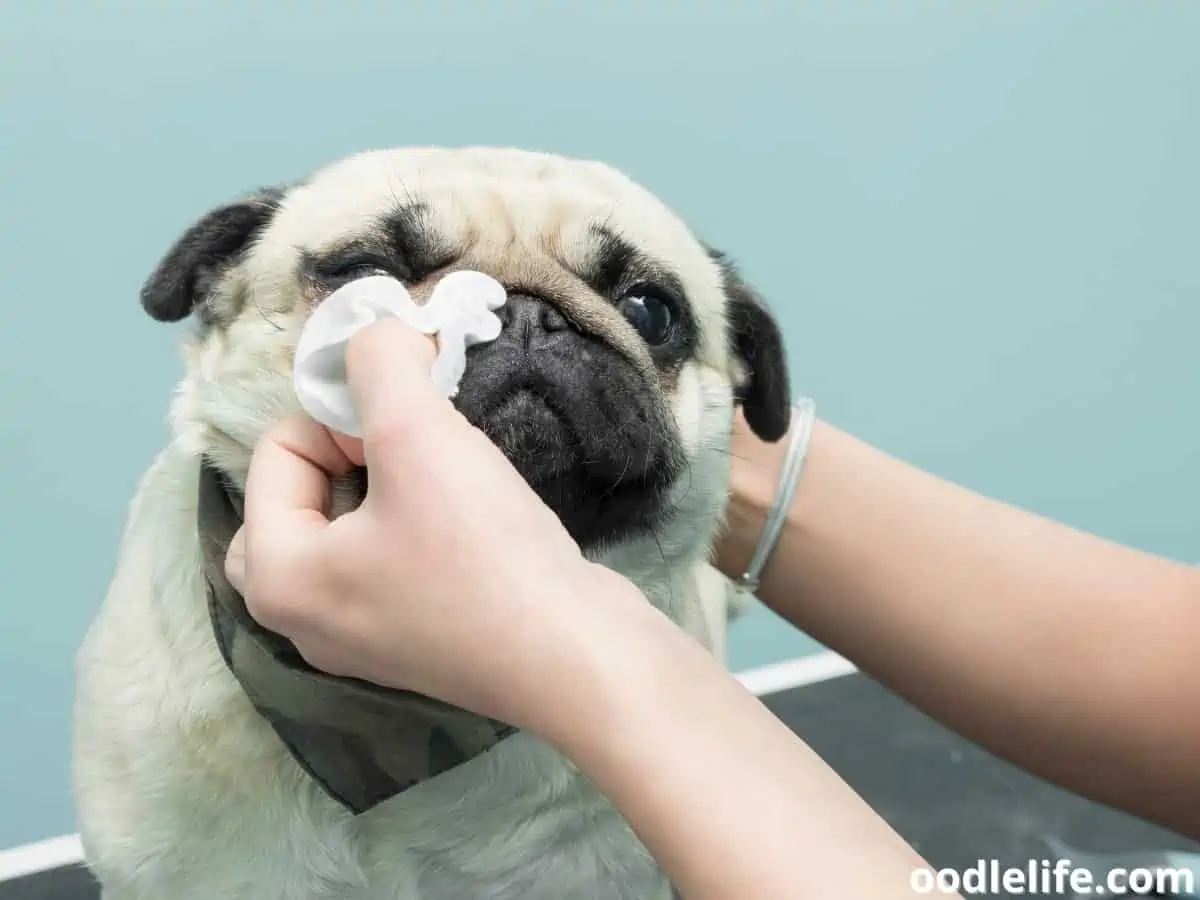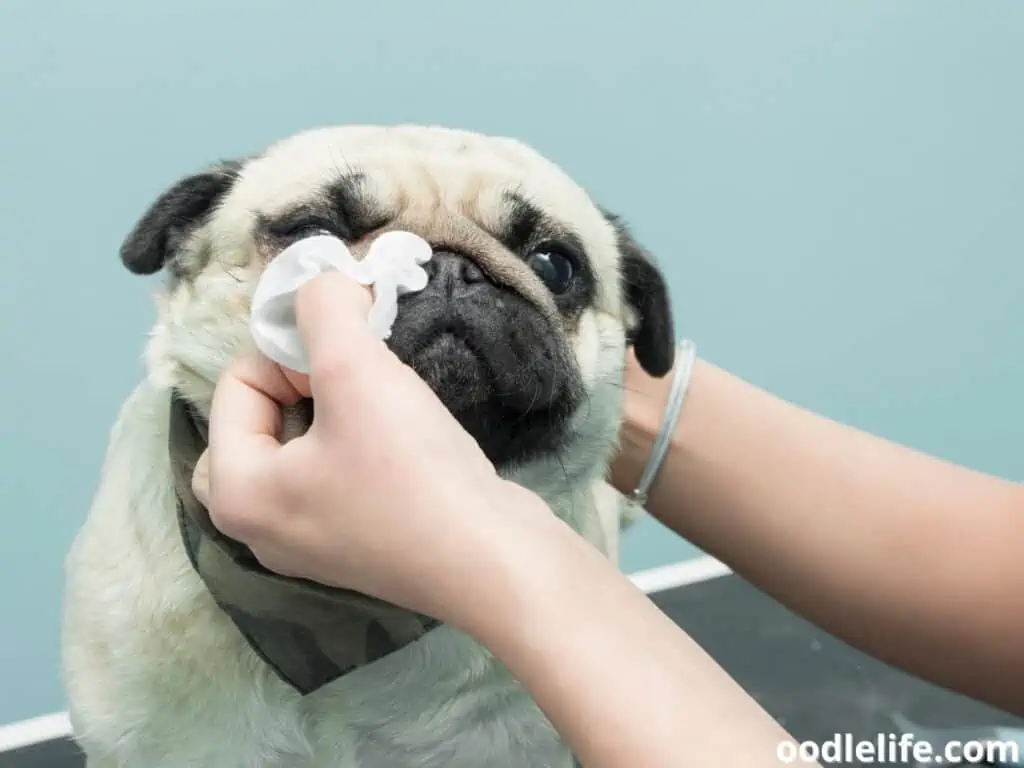 Final Thoughts
Tear stains on dogs can be a nuisance, but some simple home remedies can help prevent them. One of the most effective ways to avoid tear stains is to keep your dog's face clean. Regularly wiping away any discharge from the eyes with a damp cloth can help to prevent staining.
There are also some commercially available products that can help to prevent tear stains. These products typically contain ingredients that help break down the pigment that causes staining.
Some dog breeds are more prone to tear stains than others, but all dogs can benefit from a healthy diet.
We hope this article has been helpful for you in managing your dog's tear stains. Good luck and all the best to you and your pooch!