3 Best Dog Bowls for Flat Faced Dogs [11 Tested] 2023
Brachycephalic breeds are adorable with their flat facial features, but these dogs require a few accommodations. Breeds like French Bulldogs, Pugs, Boxers, or Cavalier King Charles Spaniel can sometimes struggle with drinking from a regular bowl.
We tested different bowls to find the best dog bowls for flat-faced dogs. Read on to learn more about the products we recommend for keeping your pet healthy and hydrated.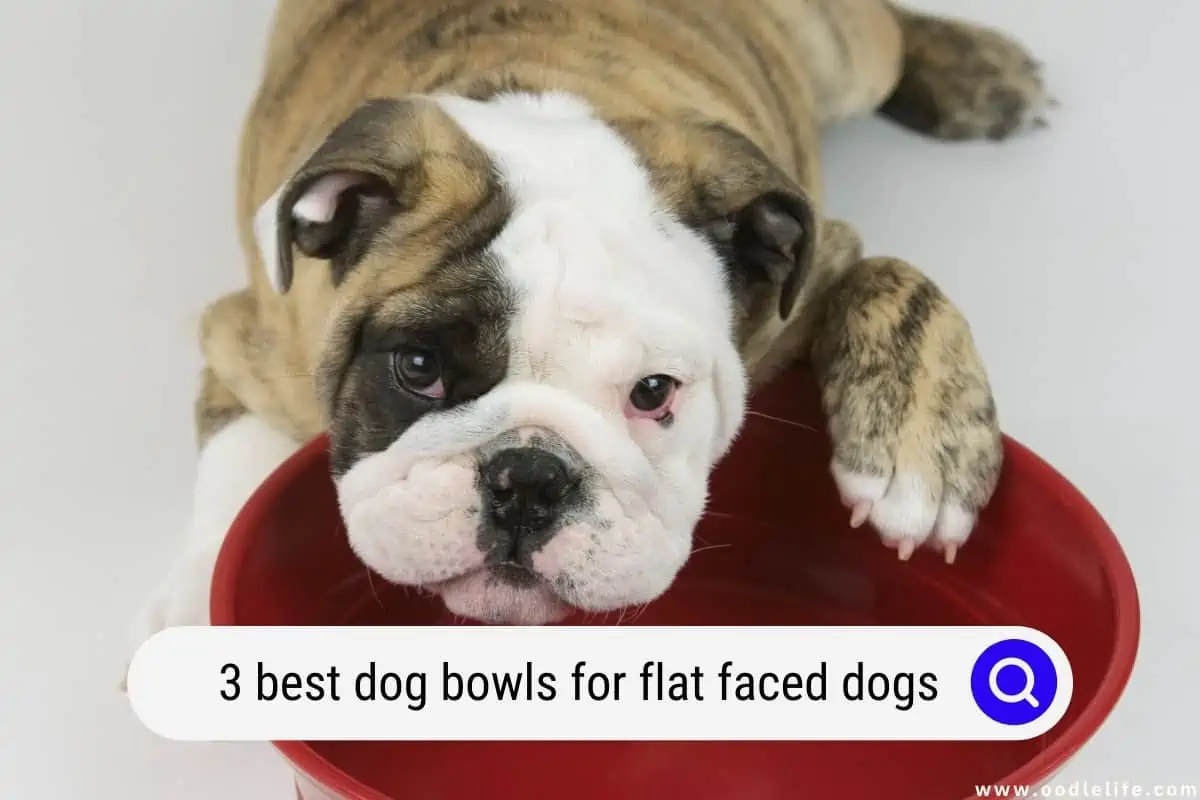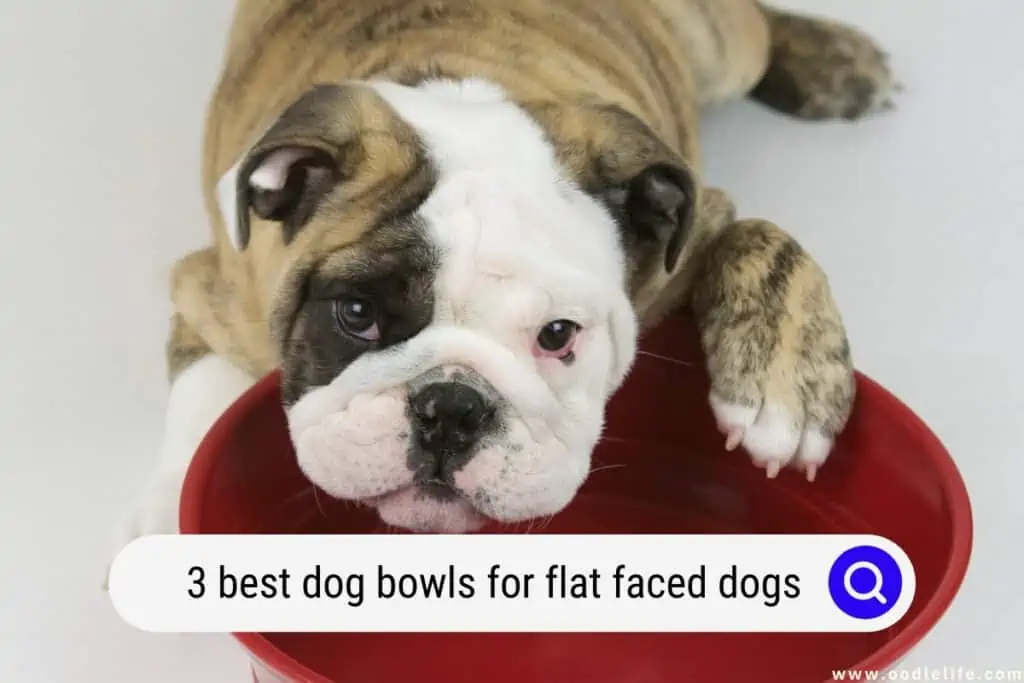 Top 3 Best Dog Bowls for Flat-Faced Dogs
The following drinking bowls are the best products we found. Their design makes it easy for brachycephalic dogs to drink.
Upsky Dog Bowl
The Upsky Dog Bowl is a slow water feeder that uses a floating disc to dispense a small quantity of water at a time.
UPSKY Dog Bowl Dog Water Bowl No Spill Pet Water Bowl No Drip Slow Water Feeder Dog Bowl No-Slip Pet Water Dispenser 35oz Slow Drinking Bowl for Dogs and Cats
Extreme Large Capacity: With the dimension 8.8 x 7.2 x 2 inches, the bowl has a pretty large and practical capacity, about 35oz in total, which is enough for dogs to drink a whole day.
Splash-proof Water Bowl: The waterproof edge strip and floating disk dual design can effectively prevent water from overflowing, keeping your floor dry and tidy at all times.
Slow Water Feeder: The automatically adjustable floating disk design slows down the drinking speed of your pet. When your pet's tongue touches the floating disk, it sinks and the water undulates.
Prevent Wet Mouth: The floating disk of no drip dog water bowl can control water easily and then prevent large areas of water from wetting pet's mouth hairs. Keep your pet's hair dry and tinted.
Keep Water Clean: The separable 2-pieces disk welded design helps prevent the dust, dirt, and pet hair from falling into the water to affect water quality. Provide clean water for your pets all day.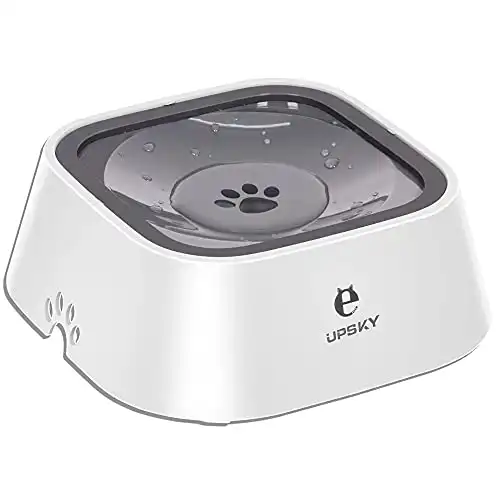 We earn a commission if you make a purchase, at no additional cost to you.
A common challenge for brachycephalic dogs is to drink without immersing their nose in the water. This bowl makes it easy for your dog to keep their face out of the water since the floating disc limits the depth of the water. It's also a great feature for keeping your pet's face dry and preventing messes.
The raised design of this bowl will also help your dog adopt a comfortable posture when they drink. Plus, the 35 oz capacity means your dog will have access to fresh water all day long. Since dogs need about a cup of fresh water per 10 lbs. of body weight, this bowl is ideal for small and medium breeds.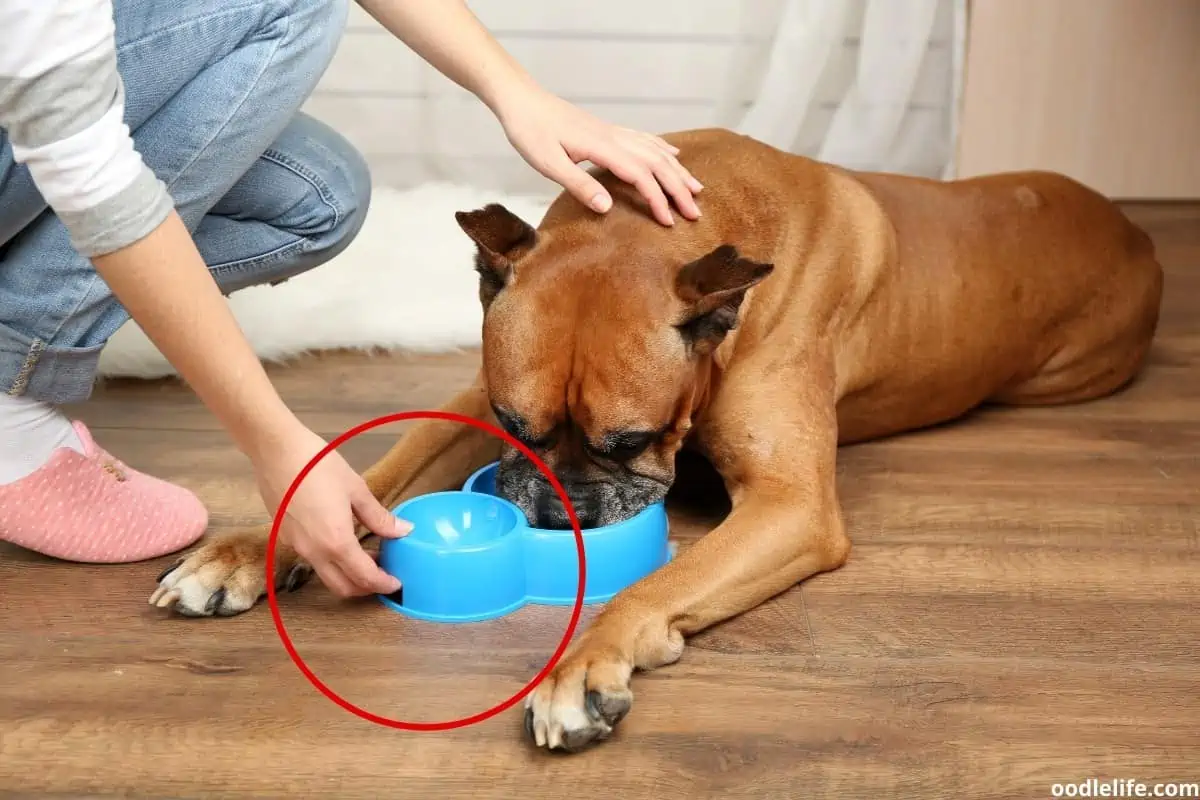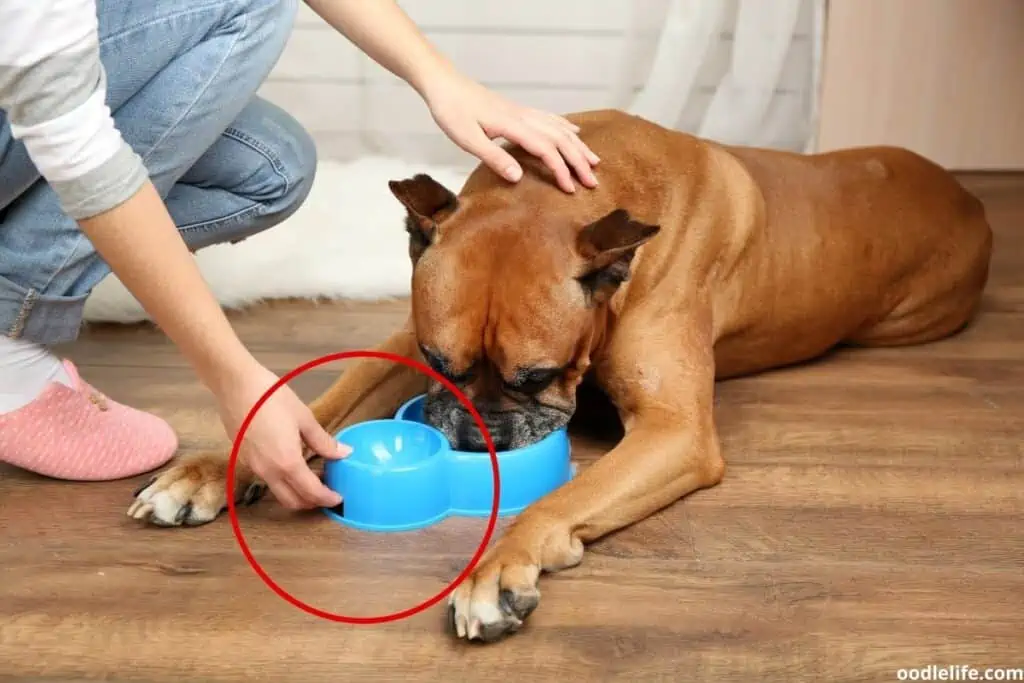 Petkit Cybertal Elevated Dog Bowls
This stylish set of two elevated bowls is another great choice for owners of Bulldogs and other dogs with flat faces.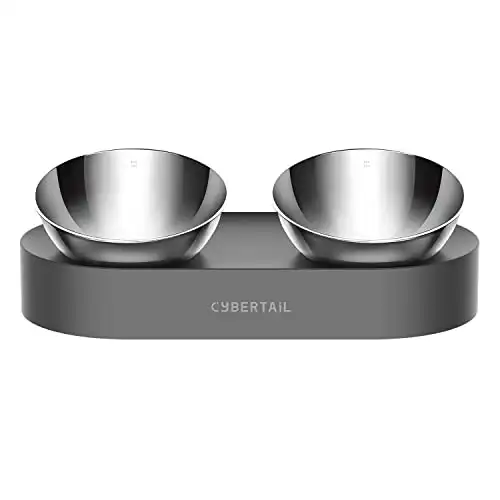 We earn a commission if you make a purchase, at no additional cost to you.
The bowls feature a 15° angle that makes it easier to drink and grab food kibbles for dogs with short faces. The non-slip platform raises the bowls 2" off the floor so the food and water sits directly in front of a small dog for a more comfortable posture.
PetFusion Food Bowl
Even though the manufacturer advertises this product as a food bowl, it makes a great drinking bowl for dogs with flat faces.
PetFusion Premium 304 Food Grade Stainless Steel Dog & Cat Bowls. Cat Bowls Shallow & Wide for Relief of Whisker Fatigue
Shallow dish helps prevent over feeding/eating. High grade stainless steel 304 used in U.S. food industry.
Corrosion and superior hygiene, stainless steel also helpsShallow & wide design HELPS PREVENT WHISKER ; a stressful & painful condition when your cat's sensitive whiskers brush up against the side of...
Dishwasher safeFits 4" PetFusion Elevated Pet Feeders sold with brushed finish bowls13 ounce bowls (1;6 cups each); 1;1 inches deep; All materials tested using international safety standards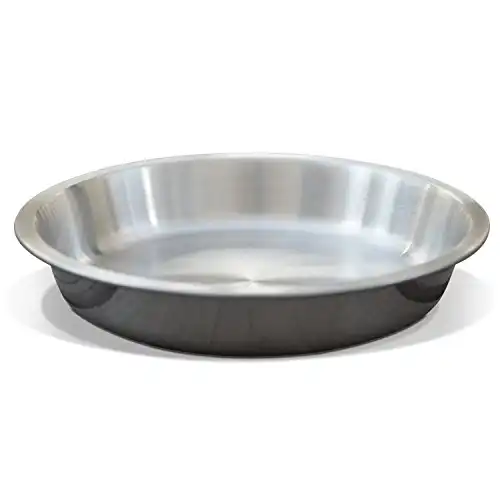 We earn a commission if you make a purchase, at no additional cost to you.
The PetFusion Food Bowl features a shallow design that is ideal for brachycephalic breeds. It's a quality stainless-steel bowl with sides that are only 2" high to make food or water easy to access. We recommend the 13 oz bowl since the other sizes have taller sides.
This bowl is a no-frill option if you're looking for a durable drinking bowl your dog can use comfortably.
Other Drinking Bowls We Tested
We tested a total of 11 drinking bowls to choose the best products for dogs with flat faces. The following bowls didn't make it to the top three, but they have some redeeming qualities.
Americat Company Bowls
Americat Company is a brand that makes pet products for cat owners. We recommend these drinking bowls for brachycephalic dogs because of their small size and rounded edges.
Americat Company Stainless Steel Cat Bowls – Made in The USA from U.S. Materials – Prevent Whisker Fatigue – Dishes for Cat Food and Water (Set of 2)
MADE IN USA: All Americat Company cat products are made in the USA from U.S. materials for safety, quality, and durability. We are a cat-loving, woman-owned business. Our products appeal to cats'...
STAINLESS STEEL BOWL: American 18/8 304 (premium kitchen grade), 22 gauge (heavy, tip-proof) stainless steel cat bowls. Veterinarian recommended over plastic or ceramic cat dishes. Dishwasher safe and...
LEAD-FREE, HUMAN GRADE & FOODSAFE: Stainless steel cat bowls are tested and certified free of lead, mercury, cadmium, and radioactivity by independent U.S. product safety lab. No toxins or allergens
WHISKER FRIENDLY: Wide, shallow, and sloped to prevent whisker fatigue and stuck food. Makes eating and drinking more comfortable
INCLUDES 2 BOWLS: Each bowl is 5.75 inches in diameter and 1.5 inches deep. Holds up to 16 ounces. Perfect size for dry kibble, wet food, and water. Pair with Americat Company raised cat bowl stands
We earn a commission if you make a purchase, at no additional cost to you.
These bowls have a wide and shallow design that is perfect for flat-faced dogs who need to get their face close to the water to lap it. The bowls are only 1.5" deep and have a capacity of 16 0z.
You can also get a matching stand to accommodate a taller dog.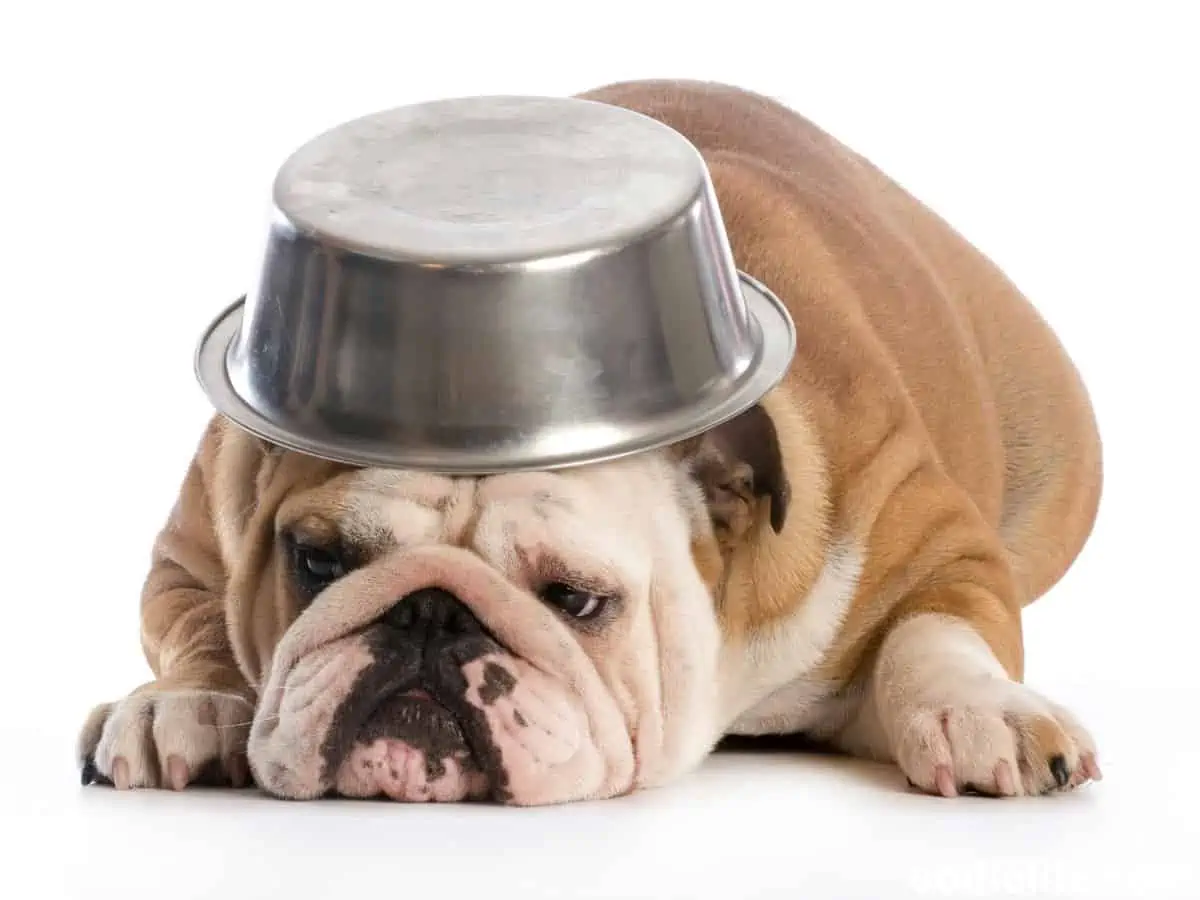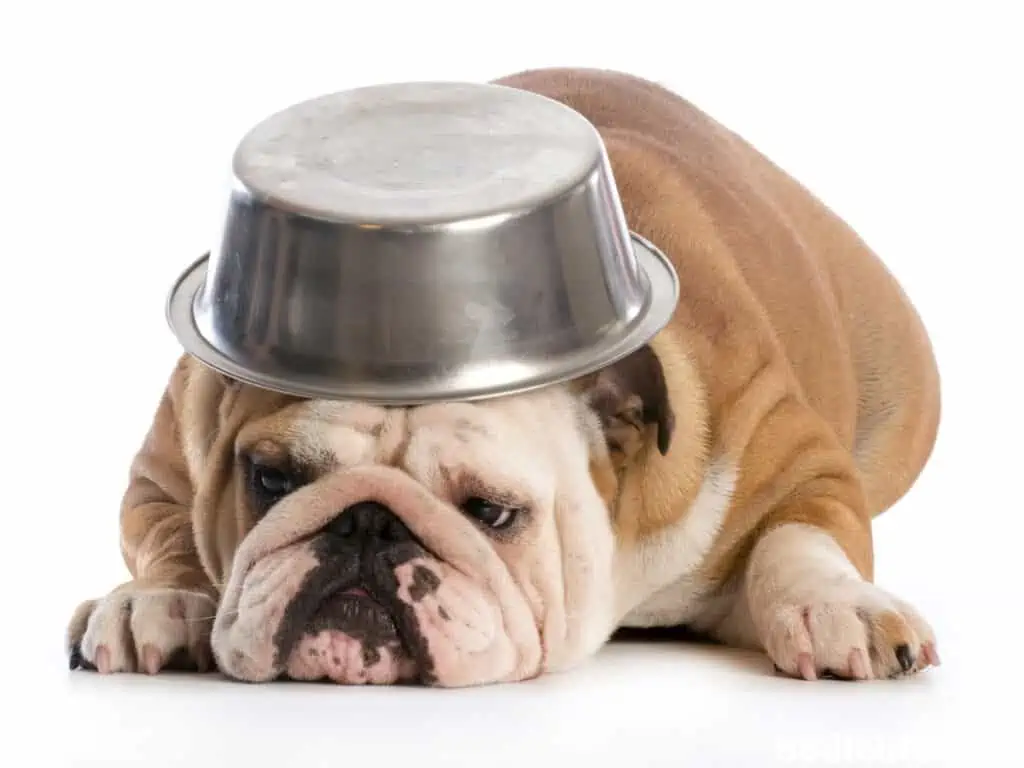 Max and Neo Heavyweight Non-Skid Dog Bowl
This sturdy dog bowl is great if you have a pet who either plays with their drinking bowl or who pushes the bowl around when they drink.
Max and Neo Heavyweight Non-Skid Rubber Bottom Stainless Steel Dog Bowl - We Donate a Bowl to a Dog Rescue for Every Bowl Sold (Medium - 50oz - 8" Diameter)
YOUR PURCHASE HELPS A DOG RESCUE: For every dog bowl sold, we donate a dog bowl to a dog rescue. Dog rescues are in constant need of dog supplies. We donate 1 for 1 for every bowl purchase. By...
DOG RESCUES: Each month we donate to different rescues throughout the USA. At the end of every month, we tally up the number of products sold. Based on the number, we determine how many rescues we can...
QUALITY STAINLESS STEEL: Our dog bowls are made from high quality 204 thick stainless steel. They are thicker and heavier than other bowls. The small bowl weighs 9 oz, the medium bowl weighs 16 oz and...
FULL NON-SKID RUBBER BOTTOM: All bowls have a full rubber bottom, not just a rubber ring on the outside. Because of this and the fact that they are heavier, they are harder for dogs to flip and push...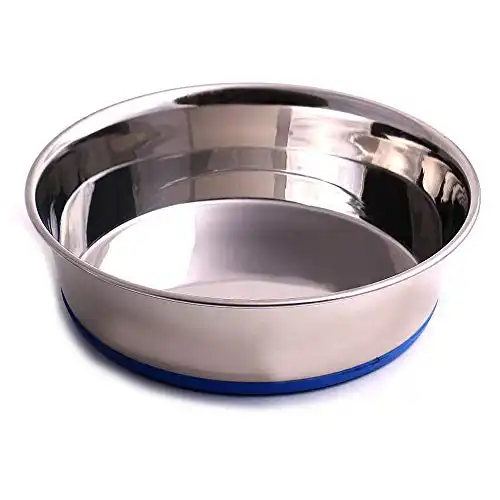 We earn a commission if you make a purchase, at no additional cost to you.
The non-skid bottom ensures the bowl stays safely in place. We recommend the small size for a brachycephalic dog since this model has low edges and still holds 32 oz of water.
It's a durable option thanks to the stainless-steel construction, and the non-skid bottom is a great addition for dogs who tend to flip or push their drinking bowl.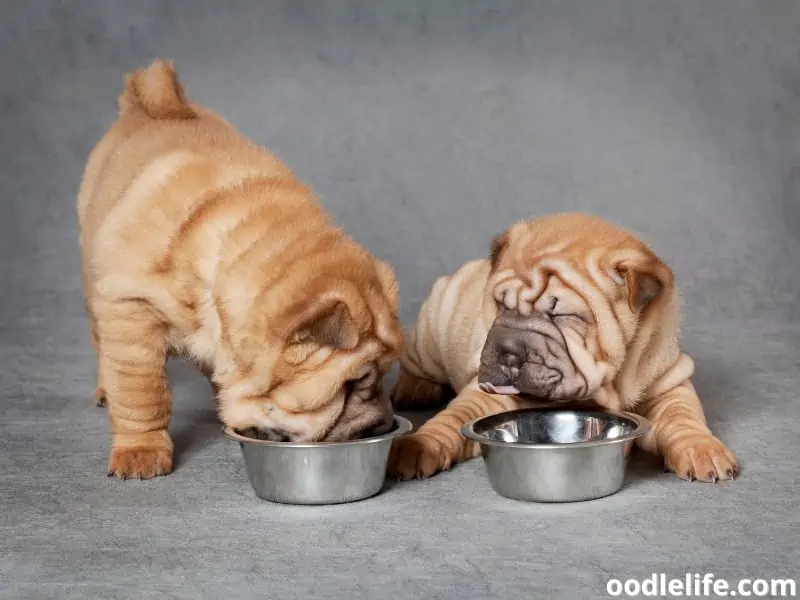 Neater Pet Brands Stainless Steel Dog Bowls
Neater Pet Brands makes affordable pet products. These stainless-steel drinking bowls are perfect if you're shopping on a budget and want a durable product.
You'll get a simple drinking bowl with a classic design and sturdy stainless-steel construction. We recommend these no-frill drinking bowls for Bulldogs and other dogs with a flat face because the smaller size is only 1.25" deep and still holds a cup of water.
Plus, the 5.25" diameter is wide enough to accommodate a flat-faced dog who will need to get close to the water to drink.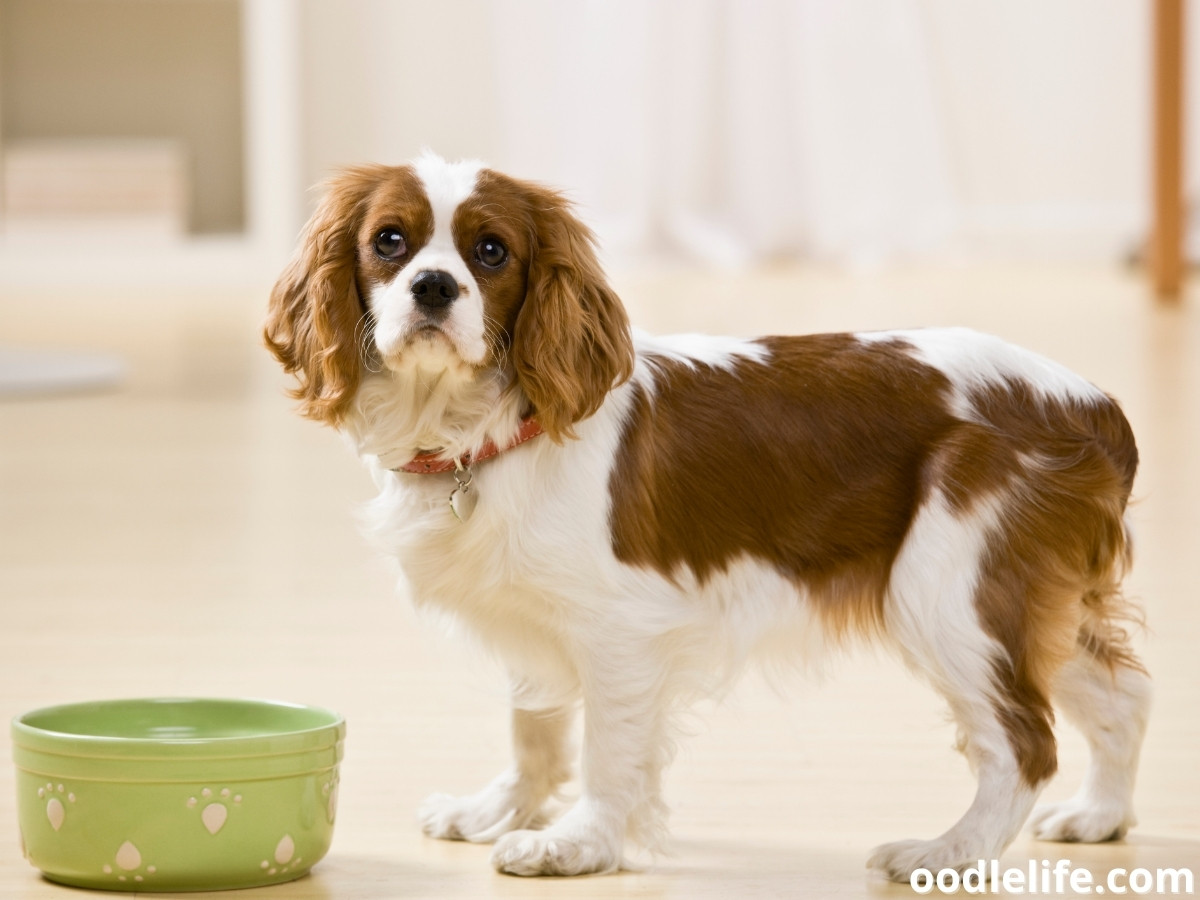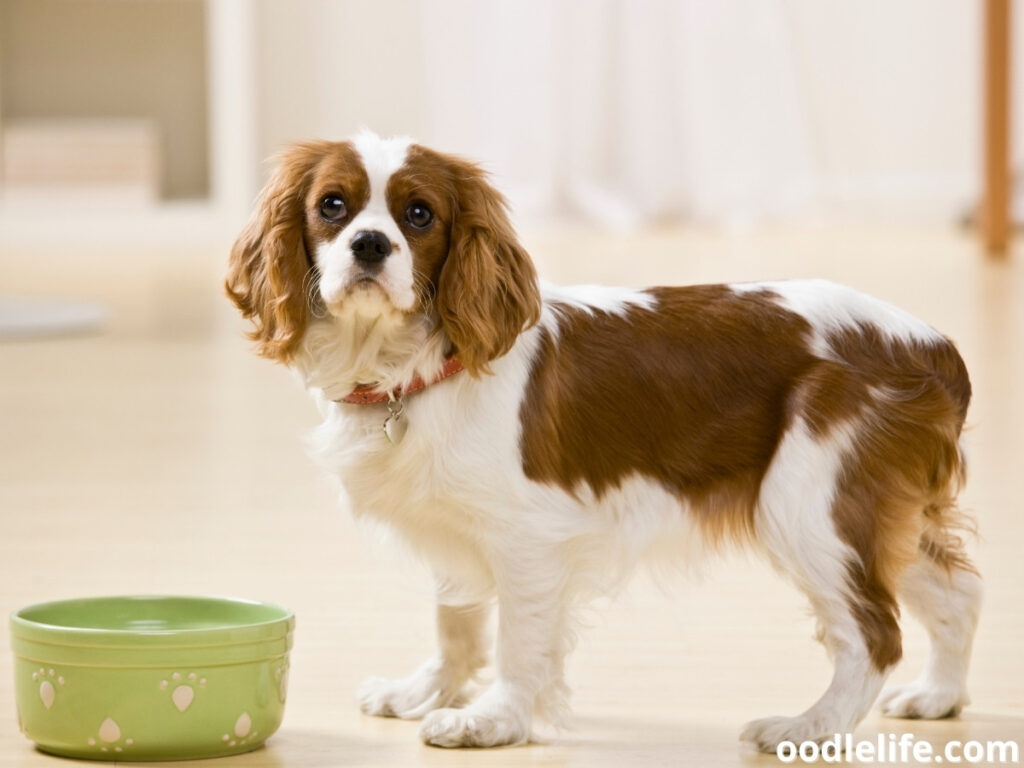 JWPC Bulldog Bowl
We like the JWPC Bulldog Bowl because this drinking bowl features an adjustable tilted design. You can try different angles to find one that is comfortable for your pet.
JWPC Bulldog Bowl Anti-Slip Dog Cat Dish Detachable Rubber Dog Bowl Pet Sterile Tilted Pet Feeder Slope Base / White
Material- Well manufactured with top-quality Rubber, super safe, non-toxic, scratch-resistant and durable in use.
Considerate Design- Adjustable base height allows your pet to eat food with maximum comfort and handiness.
Special raised bowl that prevent food and drink from spilling by the food falling towards the center
This durable and easy to use pet bowl is made of high quality resin material that is 100% safe and eco-friendly for your pets with zero toxic material. The base is full of elasticity, anti-slip and...
It can be used in so many types of small cat and dog especially once with flat face such as French bulldog and pug dog. It is divided into two parts. food bowl and the bottom base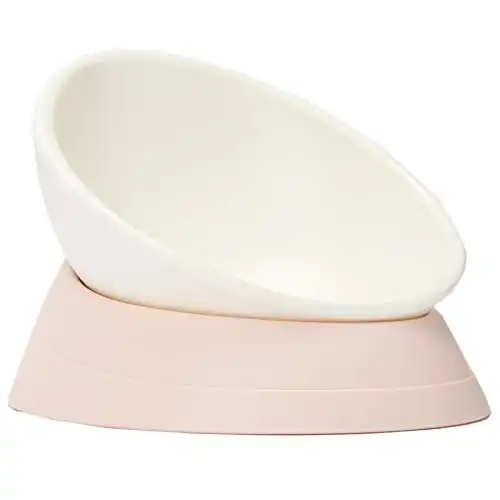 We earn a commission if you make a purchase, at no additional cost to you.
The rubber construction is also an interesting feature. While stainless steel is more durable, some dogs don't like this material.
The main downside of using a rubber bowl is that materials like plastic and rubber can cause dog acne in the muzzle area if your pet has sensitive skin, which is why we didn't include this drinking bowl in our top three. It's a somewhat common issue in Pugs and Pug mixes.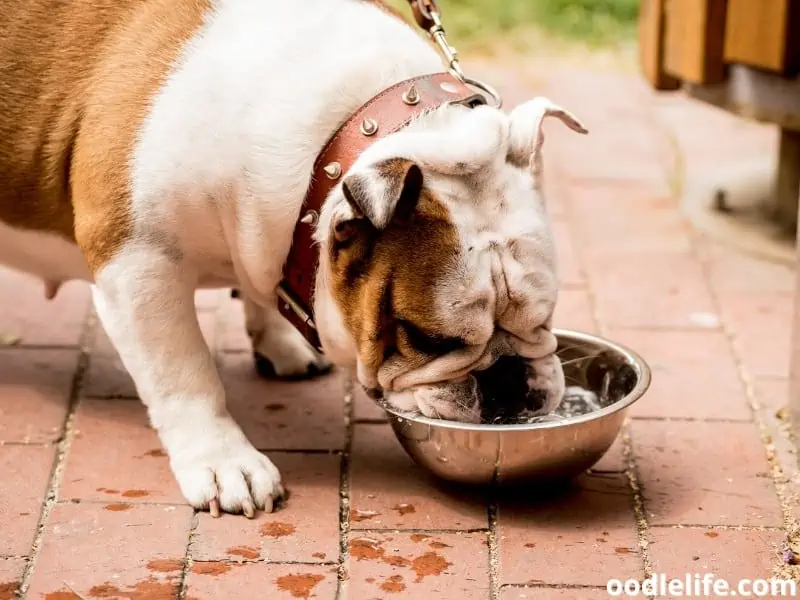 Our Pets Durapet Tilt-A-Bowl
This tilted drinking bowl can accommodate dogs with a flat-faced thanks to its wide edges that have a diameter of approximately 7". It's an affordable option, and the stainless-steel construction makes this bowl durable.
Our Pets Durapet Tilt-A-Bowl
Patented rubber bonded ring
Sloping style provides easy Feeding for pets
Dura pet Technology
Hygienic stainless steel easy to clean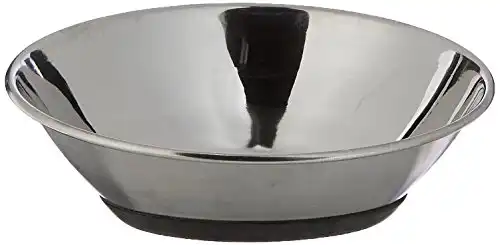 We earn a commission if you make a purchase, at no additional cost to you.
There is a non-skid bottom to prevent the bowl from moving, and the tilted design makes the water easier to access for brachycephalic dogs.
We didn't include this drinking bowl in our top three because of the size of the sides. The wide opening is a plus, but it also means that dogs with short necks might have a hard time reaching the bottom of the bowl. It's still a good option if you have a larger breed like a Boxer.
Super Design Mess-Free Slanted Bowl
We like this slanted bowl because the design makes food and water easy to access while reducing messes. The bowl has a slightly elevated design that allows your pet to keep their back and shoulders straight when they drink or eat.
SUPER DESIGN Mess Free 15 Degree Slanted Bowl for Dogs and Cats 0.5 Cup Cream White
Slanted Dog Bowl - Ergonomic 15 Degree Tilted Dog Bowl makes the food concentrate on the bottom and makes your pet easy to empty the food, as well as reduces risk of "bloat" and indigestion
Non Spill Dog Food Bowl - Dogs tend to stack food to the edge, higher round arc design makes food not easy to overflow the edge
Stable and Non-slip Puppy Bowls - This pet food bowls hard to turn over, heavy duty stand with non-slip feet
Easy to Clean Cat Bowls - Both Melamine Stand and Stainless Steel Bowl are Dishwasher Safe, super easy to clean and wipe
Small Dog Bowls - Dog bowls for small size dog and cats less than 6.6lbs, hold around 1/2 Cup particle food; SS Bowl: Diameter - 4", Depth - 2.25"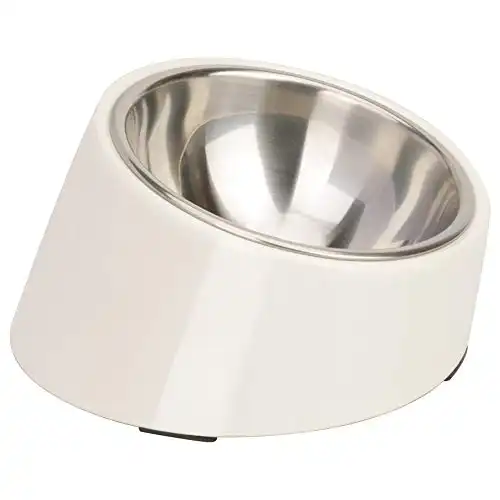 We earn a commission if you make a purchase, at no additional cost to you.
The 15° tilt will help your dog get their face closer to the water, and the base features a sturdy design that makes the bowl difficult to flip over.
Lewondr Adjustable Elevated Dog Bowls
These elevated dog bowls are the best dog bowls for flat-faced dogs if you own a medium to large breed like a Boxer or Bullmastiff.
Lewondr Adjustable Elevated Dog Cat Bowls, 4 Heights (3",9",10",12") Adjustable Raised Dog Bowls Stand with Double Stainless Steel Food and Water Bowls for Small Medium Large Dogs,...
🐶【Adjustable Elevated Dog Bowls】With height-adjustable design, Lewondr raised dog bowl can be adjusted to 4 different levels of height, suitable for all dogs in growth periods, 11.8" for large...
🐱【Reduce Dog's Joint Pressure】With moderate height, this elevated dog feeder can help reduce pressure on joints and bones. Lewondr elevated dog bowl provides your pets with a healthy feeding...
🐶【Premium Materials and Large-capacity】Lewondr Raised dog bowl stand is made of high-quality and durable plastic material, and the detachable dog food bowl is made of premium stainless steel,...
🐱【Stable Anti-slip Design】Designed with rubber anti-skid pads at the ends of the legs prevent the elevated dog bowls stand from moving around while eating, or spilling water while drinking....
🐶【Easy Assemble and Storage】With a foldable design this adjustable dog bowl stand is very easy to install, only need to raise the horizontal bar under the feeder to fold the feeder for storage...
We earn a commission if you make a purchase, at no additional cost to you.
We like these bowls because they come with a frame that you can adjust to match the height of your pet. The lowest setting is 3", but you can elevate the bowls up to 12" to keep your pet comfortable.
The dogs lack the tilted design that can be useful for brachycephalic breeds, but they are shallow with a depth of 2.6".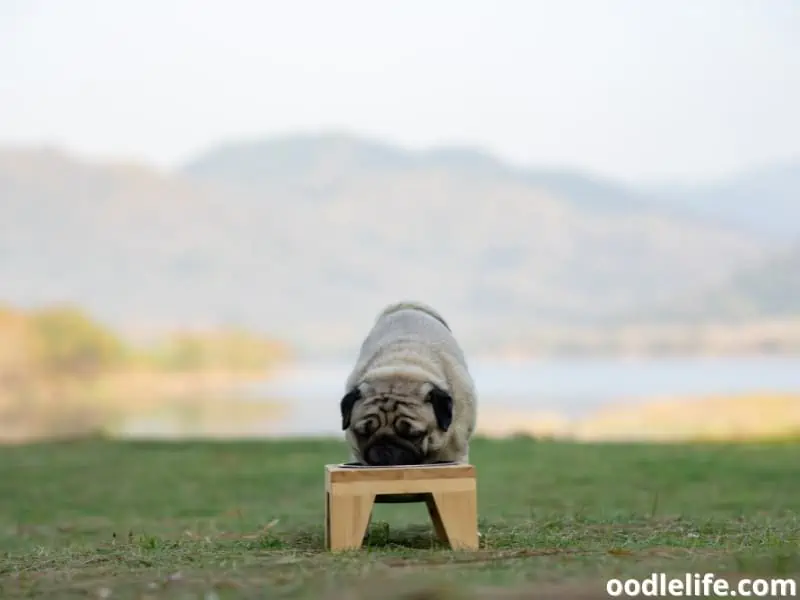 COMSUN Collapsible Dog Bowl
These inexpensive collapsible dog bowls aren't durable enough to make it to our top three, but they're a convenient accessory for drinking on the go.
COMSUN 2-Pack Collapsible Dog Bowl, Foldable Expandable Cup Dish for Pet Cat Food Water Feeding Portable Travel Bowl Blue and Green
PORTABLE & CONVENIENT: Collapsible dog bowl is 5.1 inches wide, 2.1 inches height, each bowl holds up to 12 fluid ounces of water or 1.5 cups of dog food. - 0.5 inches when compact - simply Pop-Up and...
SAFE MATERIALS AND ECO-FRIENDLY: Made with high quality silicone. You also can rest assured that when your pet is enjoying food or water from one of our bowls they're completely safe
DURABLE AND REUSABLE: The bowl's durable construction means that they can be rinsed or wiped clean after use. also gives the bowl greater longevity over other similar products
EASY FOR STORAGE AND TRANSPORTATION: Non-Slip collapsible dog bowl set great for travel dog bowl, pet travel bowl and cat food bowl - The Bowls include color-matching carabiners clip it or collapse it...
BRIGHTNESS COLOR: Color-a set with mixed color: Blue and Green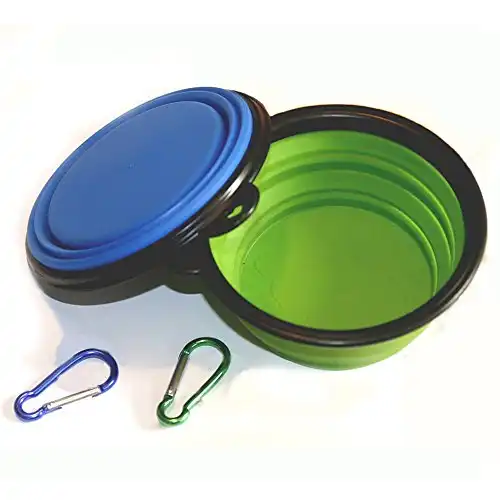 We earn a commission if you make a purchase, at no additional cost to you.
We recommend grabbing a couple of these silicone dog bowls so your pet can stay hydrated on long walks, an afternoon at the beach, or during road trips. The collapsible design means you can adjust the depth of the bowl to accommodate a flat-faced dog if the total 2" depth is too much for your pet.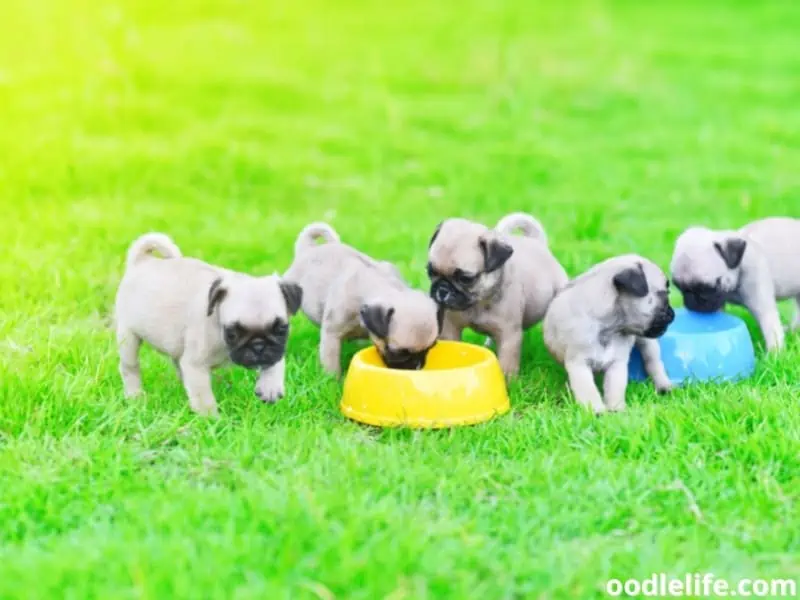 Final Thoughts
After testing different products, we recommend the Upsky Dog Bowl with its floating disc that reduces the depth of the water, the Petkit Cybertal Elevated Dog Bowls because the tilted and elevated design will keep your pet comfortable, or the PetFusion Food Bowl if you want a simple, shallow drinking bowl.
These products are the best dog bowls for flat-faced dogs since their design makes water easier to access for brachycephalic dogs.