Best Dog Treadmills [Safe and Not Motorised]
Treadmills are an excellent way to exercise a dog. They're ideal for dogs that need to lose weight But they're also the perfect way for energetic dogs to expend some of that pent-up energy without taking them on long, rambling hikes all day, every day.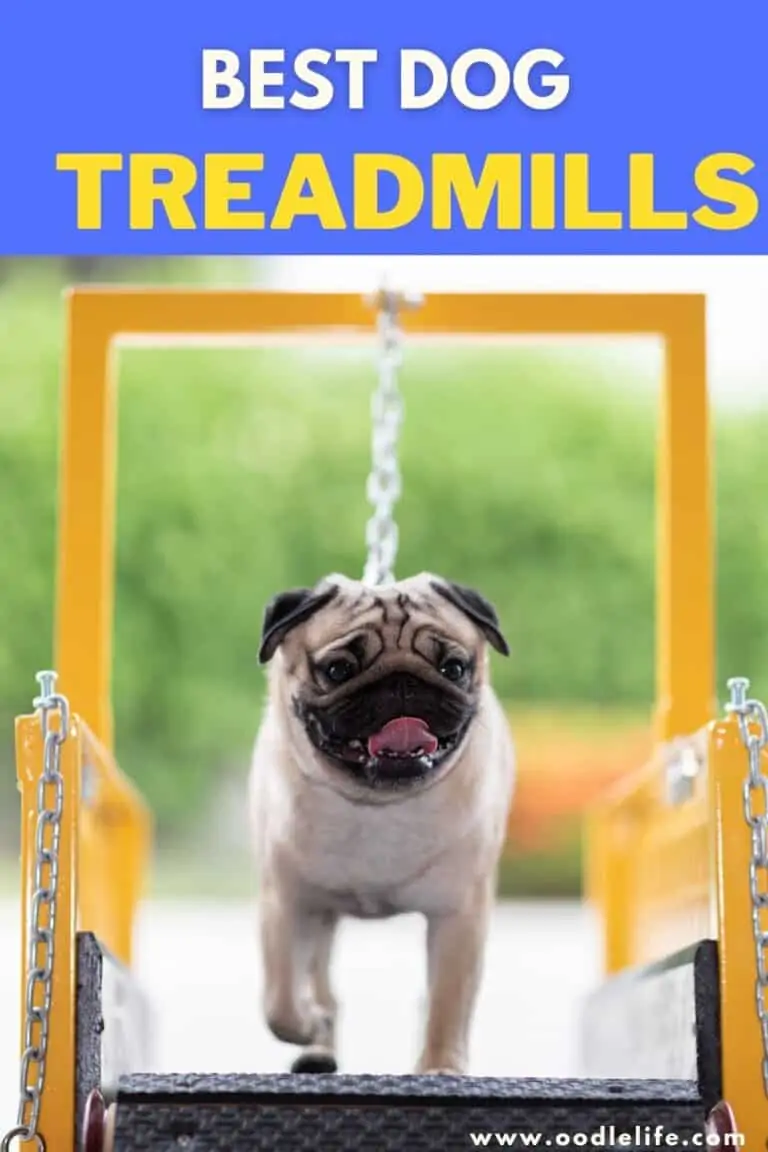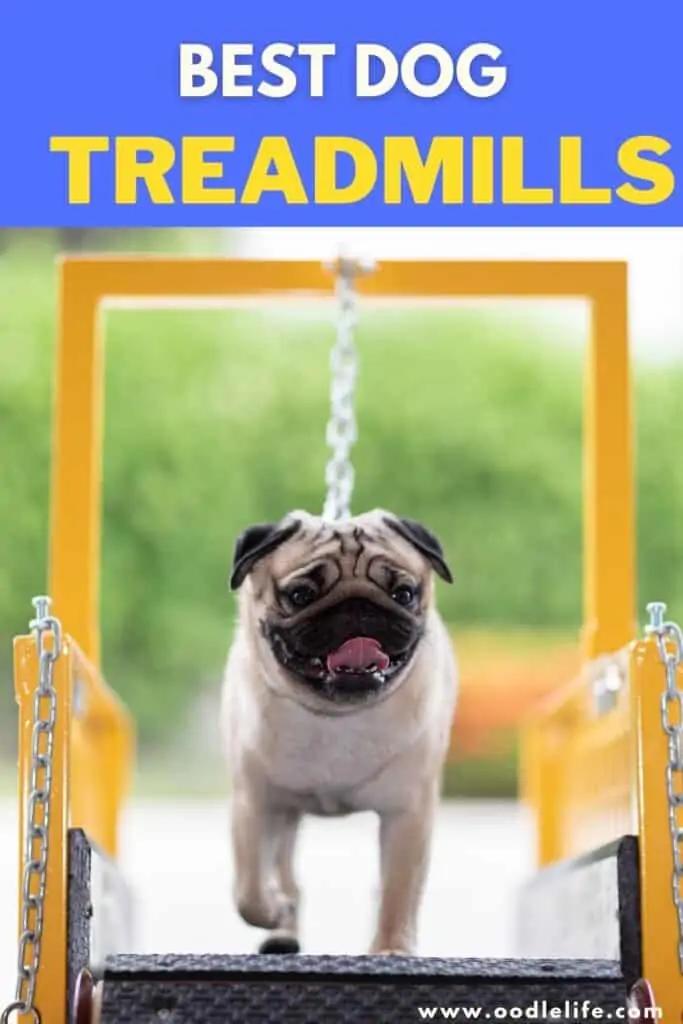 However, skittish or anxious dogs may find motorized treadmills off-putting, which can make persuading them onto the treadmill a challenge.
It's understandable, but it's also frustrating for owners that have paid for equipment their dog won't use.
Treadmills that aren't motorized are the ideal solution. Rover still gets the energy he needs but doesn't spook when the treadmill starts moving, or humming beneath him.
Here are some of our favorite treadmills that aren't motorized.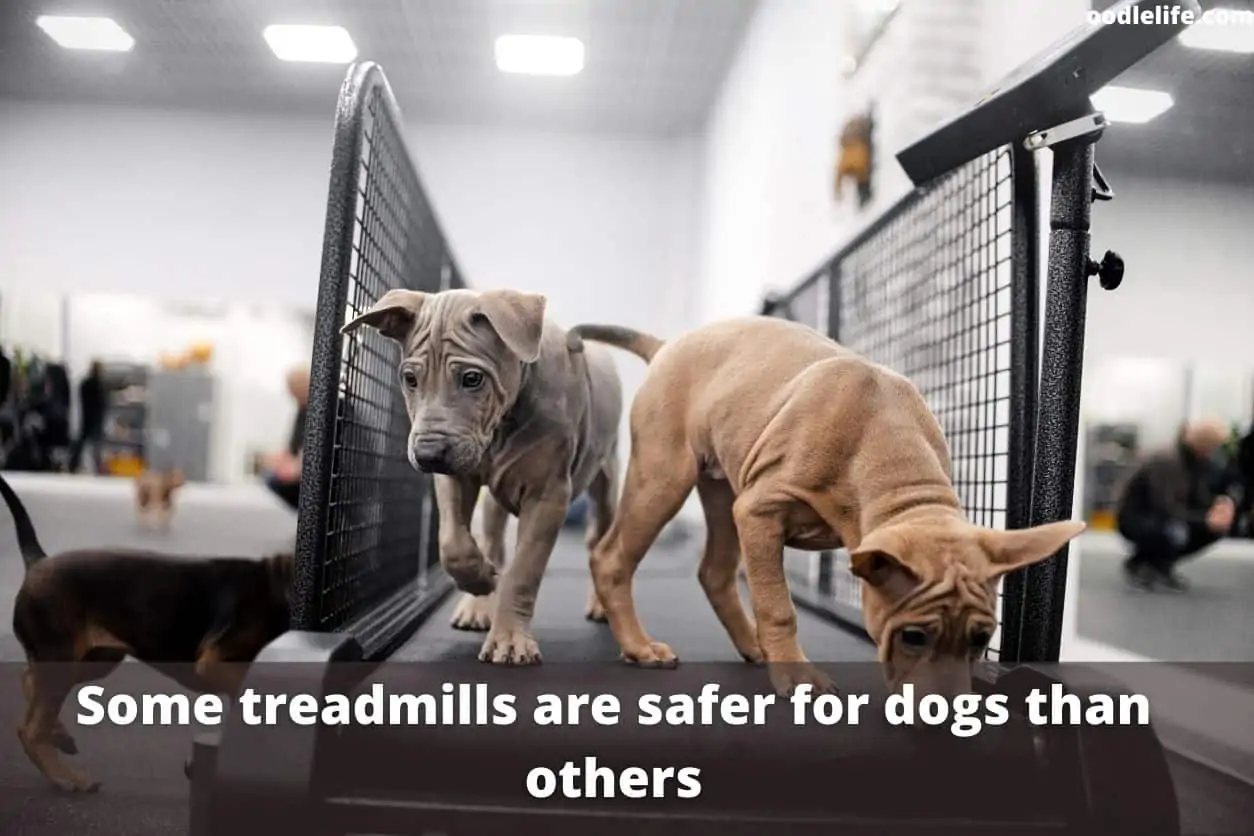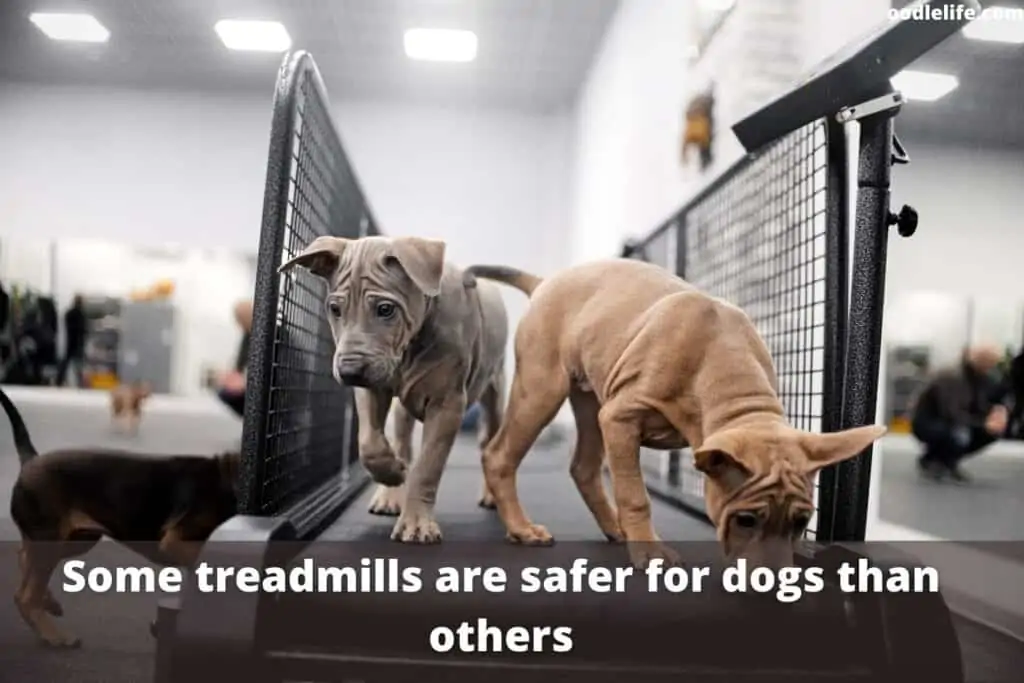 Best Pick: Dog Pacer Treadmill Not Motorized
Despite the lack of motor, the Dog Pacer non-motorized treadmill comes with several programmable workouts. It also includes various pre-set exercises for your dog.
dogPACER 91641 LF 3.1 Full Size Dog Pacer Treadmill, Black and Red
SPECIFICATIONS - Dimensions folded: L-42.28" W-22" H-8.5" | Dimensions open: L-76.77" W-27.16" H-46.18" | Treadmill Height: 46 In | Overhead Bar Height: 36.5 In | Running area: 71" X 16.5" | Computer...
HEALTHY WEIGHT – A consistent regiment of exercise and diet will lead to a healthier, happier and longer life for your dog.
TIME – Because of busy and hectic schedules, we often find it a challenge to walk our dogs after a long day spent in the office.
SAFETY – No worries about walking your dog at dawn or late at night or on a busy street. Exercising your dog indoor eliminates these issues.
IT FOLDS! - Our patented folding technology makes this the worlds only folding treadmill for dogs!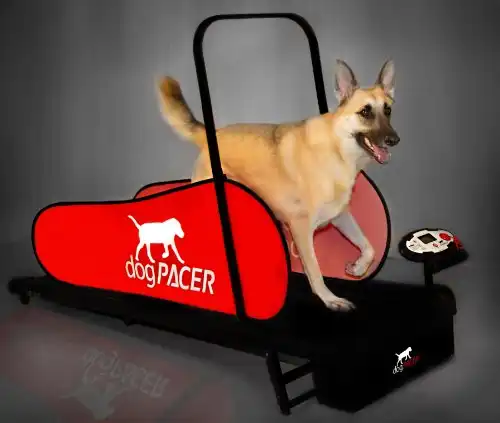 We earn a commission if you make a purchase, at no additional cost to you.
But one of the best features of this treadmill is its versatility. While it requires some assembly, it can hold dogs that weigh as much as 180 lbs.
That might make it sound bulky, but not so. The self-propelled Dog Pacer Treadmill is lightweight and can fold up for easy storage. That makes it ideal whether you're planning to travel with the treadmill or want to save space.
The design includes sidewalls to give nervous pets the security they need to exercise in comfort. If your dog prefers his treadmill unenclosed or suffers from claustrophobia, the sidewalls are removable.
Another stand-out feature is the DogPacer's magnetized stop. When clipped to your dog's collar, the magnetized stop triggers if your dog:
In these scenarios, the magnet detaches, the machine immediately stops, and your dog can safely recover.
While the DogPacer, not -motorized treadmill accommodates dogs of various sizes, there is also a smaller size that more diminutive dog breeds may prefer.
Pros:
Lifetime warranty
Foldable
Portable
Lightweight
Accommodates dogs of all sizes
Cons:
Sunny Health Treadmill
The first thing you'll notice is that this treadmill is for humans.
However, a manual treadmill for humans can be used safely by man's best friend.
Sunny Health & Fitness Asuna High Performance Manual Treadmill with Heavy Duty Dual Flywheels, Tablet Holder, Incline, 440 LB Max Weight, 8 Level Resistance - 7700
PERFORMANCE: Dual flywheel design for controlled performance for quicker response with every step. 51L X 17.75W in large heavy-duty deck, designed to stand up to low - high-intensity workouts. . A...
DESIGN: Heavy-duty frame made with high-grade steel and a maximum weight capacity of 440 pounds. Handlebars are sweat and slip-resistant coated for a secure grip.
CONVENIENCE: Large device holder conveniently located for easy access. Storing is easy with the foldable design and no power chords to place virtually anywhere in the home. Integrated transportation...
INCLINE LEVELS: Static incline position of 6 - 10 degrees is optimal for cardiovascular fitness.
FLYWHEELS: Sweat guard covers help protect fly wheels, keeping them free of sweat and debris. Solid steel dual fly wheels for maximum velocity and minimal maintenance.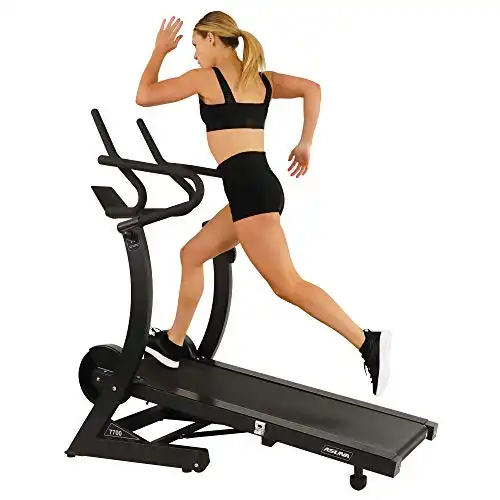 We earn a commission if you make a purchase, at no additional cost to you.
That's because, while an electric treadmill has to have the speed set, manual treadmills can only go as fast as your dog. That puts them in complete control of the non-motorized treadmill's speed.
Since the Sunny Health treadmill stands up to intensive exercising sessions, the weight of a medium or large dog is nothing it can't handle.
That said, you should never tie your dog to the support rail. This poses all kinds of safety hazards, especially if your dog trips over her feet or gets tangled in his leash.
Instead, keep hold of the leash. That gives you better control of your dog, and you can intervene if something goes wrong.
But since the Sunny Health Treadmill not-motorized is manual, you won't have to worry about stopping the machine if there's an accident. Instead, it stops when your dog stops.
The manual design also reduces not only your energy bill each month but the number of cords and wires in your extension cables and sockets.
Pros:
Heavy-duty material
Holds up to 440 pounds
Lets dog set treadmill pace
Cons:
Must hold leashed dog
No sidewalls
The GoPet Treadmill for small dogs is another treadmill that's not motorized.
It also puts Fido's comfort first, as well as his fitness, by cushioning the treadwheel with a durable matted surface.
This reduces the friction on your dog's paws as he exercises.
The exercise wheel is 40 by 12 inches and can hold a dog with a maximum weight of 25 lbs. In practice, it works much the way a hamster wheel does, but on a larger scale, giving your pet a safe, not motorized place to burn off excess energy.
Another benefit is that, whereas a human treadmill requires you to hold the leash end of your dog, GoPet's treadwheel without a motor for small dogs allows your dog to run safely and independently.
However, it doesn't have the lifetime warranty of some non-motorized dog treadmills, and it can be awkward to store.
One of our favorite things about GoPet's "treadwheels" is that they understand that exercising dogs takes training. With that in mind, they include a training assist to help your dog acclimatize to her wheel until she feels comfortable enough to use it voluntarily.
Pros:
Dog can run independently
Cushioned exercise surface reduces friction
Includes training assist
One year warranty
Cons:
Takes up space
Limited availability
GoPet TreadWheel for Large Dogs
GoPet Treadwheel for Small Dogs
For Dogs up to 25 pounds. Running Area: 40 D X12 W. Easy to clean. GoPet TreadWheels give your dogthe equipment he needs to exercise. The free standing GoPet TreadWheelprovides an unlimited running...
Training Door Included. Running Mat for added comfort. Many dogs will use the treadwheel to relieveboredom and get some exercisewhile their owners are gone. Be sure to check our our Video - If you...
off-leash exercise so your dog can run at his ownnatural pace.
Can be used anytime - even if your dog is home alone. Secure and Stable.
Provides a physical outlet for high energy dogs.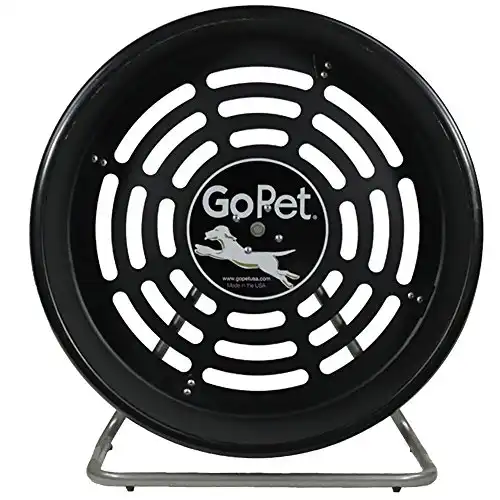 We earn a commission if you make a purchase, at no additional cost to you.
Like its smaller cousin, the GoPet TreadWheel for large dogs encourages exercise and reduces friction on paws by padding and cushioning this treadmill without a motor.
It includes many of the same features as the smaller GoPet wheel but caters to larger dogs. This includes the training assist, which offers a safe alternative to holding onto your leashed dog. Since this can be challenging for smaller owners with large and strong dogs, we particularly appreciate this feature.
However, the wheel shape can and does take up significant space in your home, and you'll have to plan ahead where you want to put it. It also costs significantly more than other treadmills not motorized for dogs.
But it makes up for this by giving your large dog the safety and freedom he needs to run unsupervised despite:
Not sure you have the space? Look in your garden. The wheel offers UV protection, so your dog can burn off energy out-of-doors without exposure to excessive amounts of UV light.
Pros:
Suitable for large dogs
Can be used independently by dog
UV protection
Tension control
Cushioned running area
Cons:
Large, space dominating design
Expensive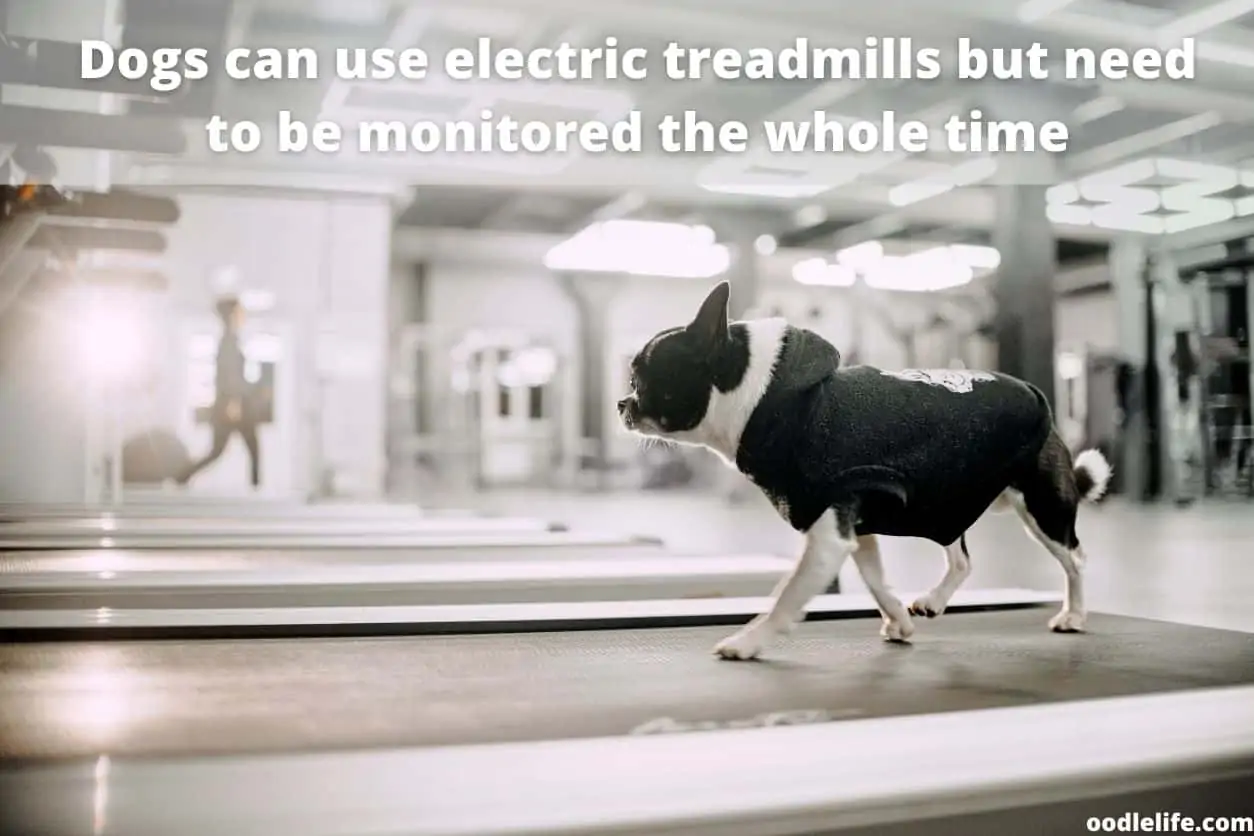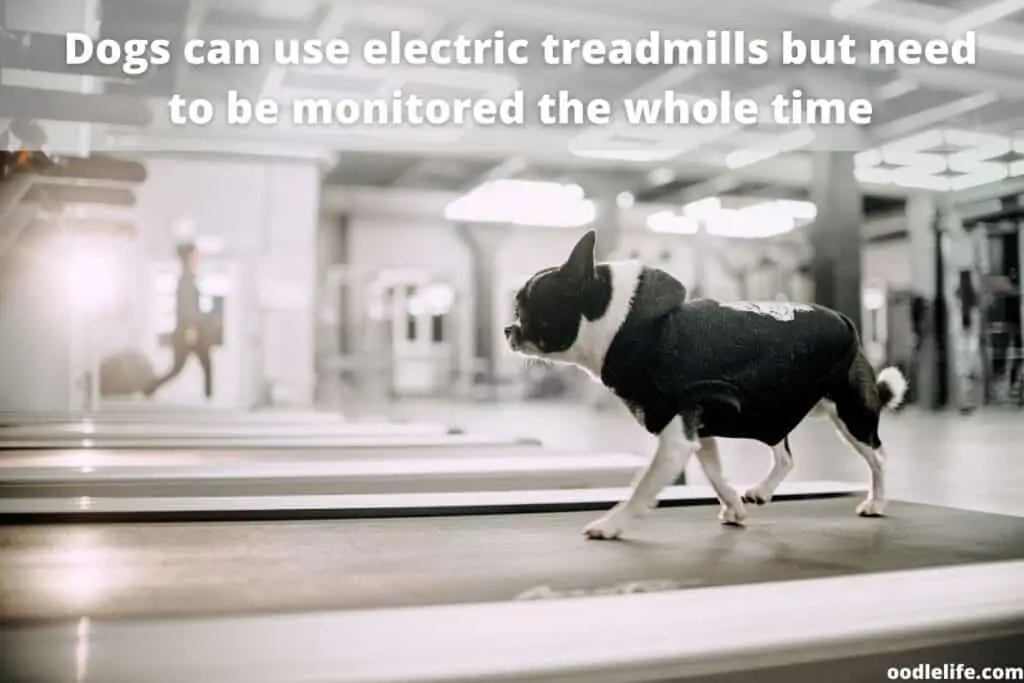 Do It Yourself Treadmills Not Motorized
It's hard to find treadmills not motorized or electric for dogs. But one way around that problem that can save you money and keep Fido active is to create your own treadmill.
Since you're building it yourself, this precludes the dog treadmill from having a motor unless you have engineering expertise.
You'll need:
Wood (smooth)
Lumber
PVC pipe
Copper pipe
Metal wire (thin)
Carpeting
Framing nails
Screws
Drill
There are excellent and straightforward instructions here.
Start by building the frame.
When you've done that, you can start work on the ramp that will work as your dog's treadmill. Keep in mind that the thicker the wood you choose, the heavier your self-propelling dog treadmill will be.
When it's assembled, it's time to paint the frame. While this is optional, it does help improve the dog treadmill's aesthetic. For the fastest finish, spray paint works best.
Now it's time to make the rollers. This is where you want to use the lumber. Fit it securely into a PVC pipe, and you have improvised rollers.
You can work on the rollers while the paint on the frame dries.
With the rollers finished, your dog's treadmill needs legs. This gives the unmotorized treadmill its angle and provides an additional challenge for your dog.
When the dog treadmill is angled to your satisfaction, take time to sand the wood you've earmarked for the running area. This will smooth the wood and reduce friction. Later you can cover it with carpet for a more comfortable surface.
Once the ramp's attached, you want to add the rollers. Ensure they spin effectively before adding the legs.
Legs in place, it's time to put the carpet over the ramp. You want to cover it thoroughly but allow enough give that it spins when your dog starts running. Also, make sure you sew it in place just enough that it can't slip off its tract or trips up your dog.
Finally, cover any sharp corners to guarantee your dog's safety.
That done, you have your dog's treadmill not motorized and ready to go. You'll have to leash your dog since there's nowhere to secure her, but as discussed, hooking a leash to a support strap has its dangers.
Conclusion
There are all kinds of reasons you might want a dog treadmill not motorized. Maybe your dog has what we in our house call Wet Belly Syndrome and refuses to walk in wet or cold weather.
Or perhaps you have a highly energetic dog, and they can't burn off enough energy on their daily walk.
Whatever the reason, a dog treadmill not motorized is a fantastic way to keep your dog active. Our favorite dog treadmill is the DogPace treadmill, not motorized, but it's not the only option.
So find one that meets your needs and your dogs, and enjoy the results.