Do Cavapoos Like Snow? Cold Weather Guide
As the winter months approach, you might consider taking your dog outside to enjoy the snowfall and play in the cold. This experience is monumental for dogs when they see it for the first time.
But do small dogs like the snow and cold? Do Cavapoos like snow?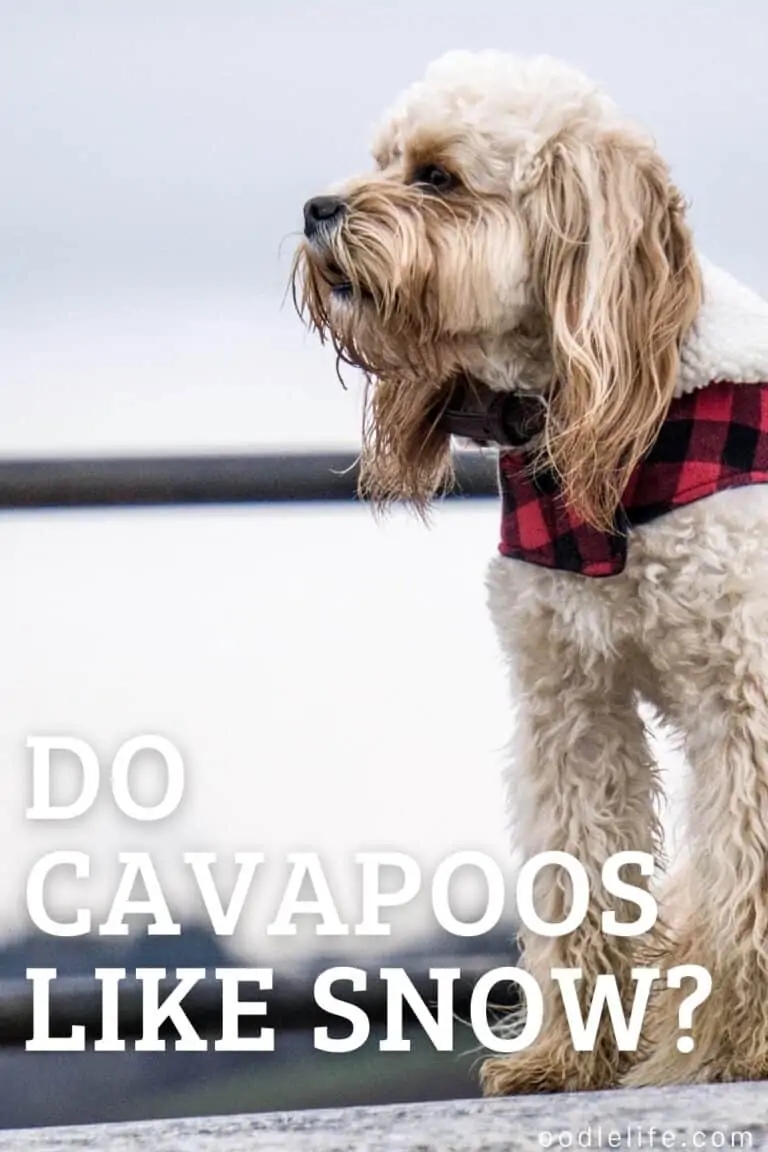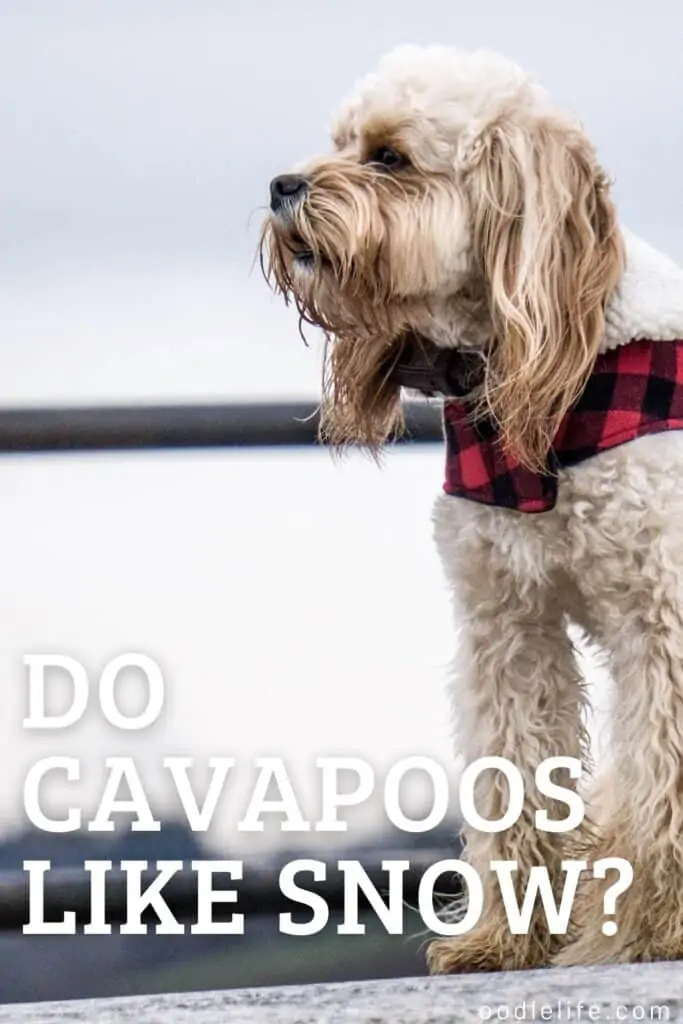 Several dog breeds enjoy the cold weather (Bernese Mountain Dog, Alaskan Malamute), while others might prefer spending less time outdoors and more time sitting on their blanket near the fireplace. I'm not a fan of the cold, so we share much in common.
Cavapoo dog owners might look at their dog and have this question on their minds: do Cavapoos like snow? While the answer might differ for some Cavapoos, they generally enjoy spending some time in the snow.
How Long Can I Take My Cavapoo Outside in the Snow?
Most Cavapoos can tolerate colder temperatures due to their thick-layer coats. The outer guard hairs protect their undercoats that provide warmth and temperature regulation.
Although they can withstand winter temperatures, keeping them outside for too long isn't the best idea. Their small size makes them get colder more quickly than larger breeds. Spending extended periods in the snow might leave these dogs susceptible to frostbite, hypothermia, and other harmful medical conditions.
Typically, Cavapoo puppies and seniors are more prone to getting affected by winter weather. Their fur is thinner than most adult cavapoo coats and don't tolerate most wet or cold conditions.
One solution you can consider when letting your Cavapoo enjoy the winter snow is by limiting their time outdoors. By implementing these methods, you can reduce their chances of getting too cold.
For example, if you walk your Cavapoo around a few blocks in 20 minutes, you can reduce this time to 10 minutes at most. If your dog starts shivering after spending half an hour in the yard with you, you should take them inside to warm them.
Protecting My Cavapoo From the Snow
The winter weather intensity might differ based upon where you live. Spending winters on Long Island are so harsh, and in some harsh placed the frigid winds you can feel even to April.
If you recently moved to a colder state with your Cavapoo, your dog might need some time to adjust to the area's climate. Without proper protection, they might damage their paws and skin.
Thankfully, you can find plenty of canine snow gear designed for keeping your Cavapoo puppy safe. The sooner you get your dog accustomed to these solutions, the more they'll enjoy preparing for winter playtime.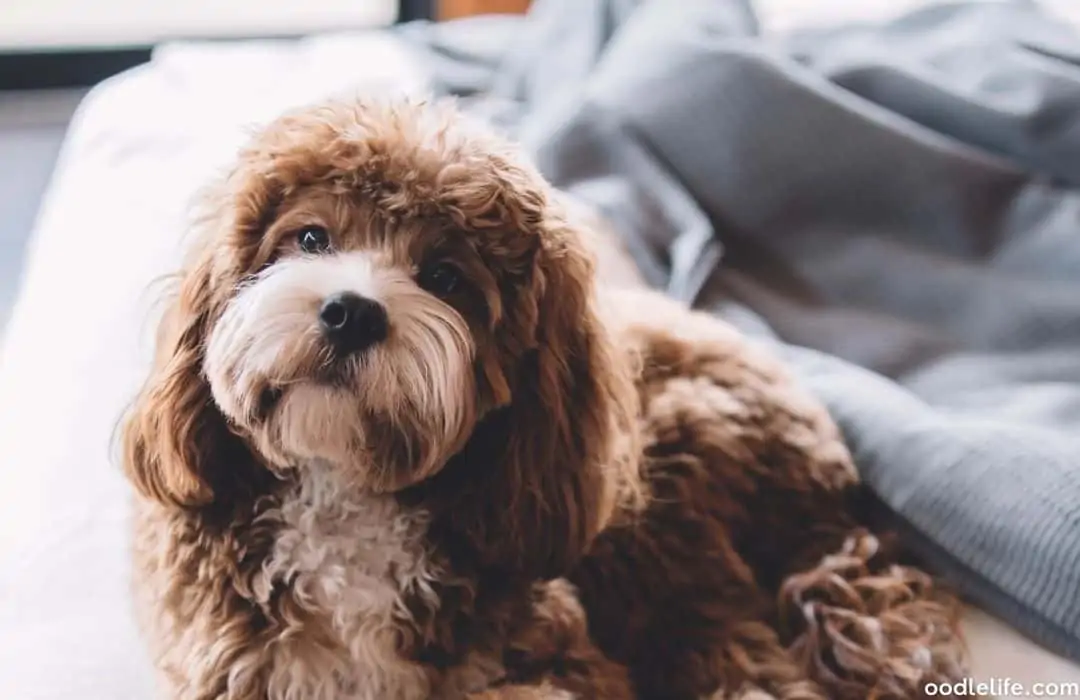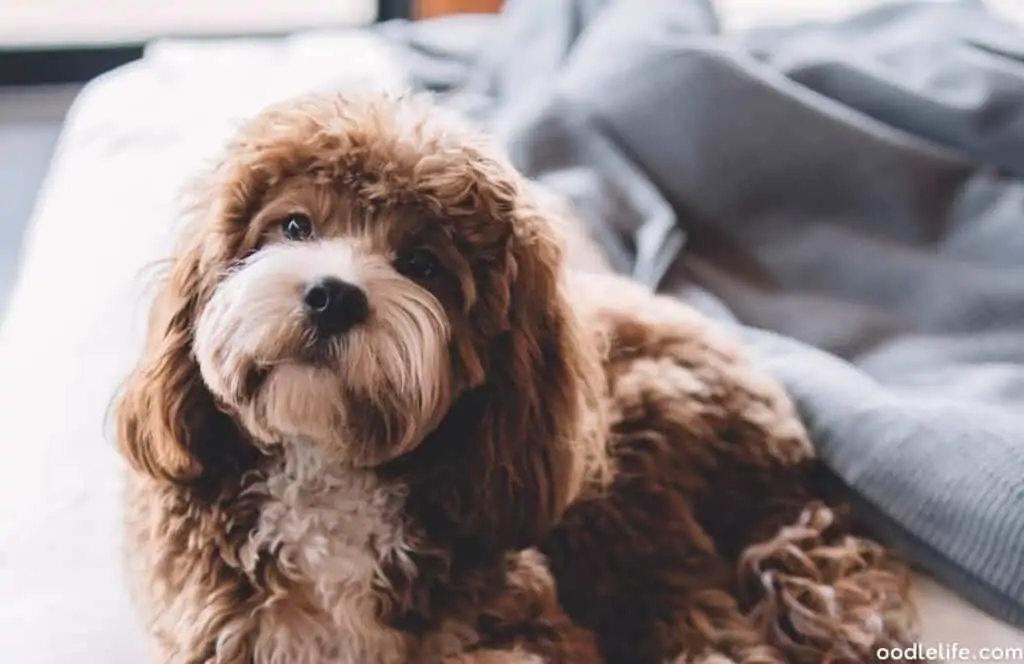 Protecting Their Bodies
Since cavapoos are a smaller teddy bear dog breed, you might want to consider buying them a winter coat for extra protection against the elements. Several of them are waterproof, windproof, and cover most of a dog's both to preserve their body heat.
Its thickness should depend on your local weather conditions. I recommend getting your Cavapoo a thicker coat lined with fleece to keep them warm and cozy, such as the Hurtta Summit Parka. These coats might be more suitable for temperatures below freezing as long as you monitor your cavapoo's activity in the snow.
Dressing your dog appropriately for this weather allows you to answer ABSOLUTELY when a stranger asks you if your Cavapoo enjoys the cold.
Protecting Their Paws
Another area on a Cavapoo's body that's sensitive to cold surfaces is its paws. Snow and ice can dry out a Cavapoo's pawpads, leaving them cracked or chapped. Several solutions are available to prevent this pain and are easy to apply to their feet.
Winter Dog Boots
Some Cavapoo owners prefer keeping their Cavapoos stylish whenever they go outside. What better way to do this than pairing their winter coat with matching puppy boots?
QUMY Dog Boots Waterproof Shoes for Dogs with Reflective Strip Rugged Anti-Slip Sole Black 4PCS (Size 3: 2.5"x1.9"(LW), Black)
Please be sure to measure the width of your dog's paws carefully, it is key to choosing the correct size for your dog, weight can only be used as an additional reference; Size 1: 1.7''x2.2''(W*L) for...
SECURE and ADJUSTABLE: Easy to put on / off. These dog shoes expands with a wide split seam opening and two adjustable and reflective straps to ensure a tight fit, also make your dog safe at night
RUGGED: Tough anti-slip sole of dog boots provides stability and traction, protection from sharp thorns and hot pavement
QUALITY: The dog boots have a rugged sole and high quality fabrics that are then sewn together to ensure they are ready for your adventure
FASHIONABLE: QUMY dog boots are with cute pet paw embroidery, paws side is the outside, soft and hand washable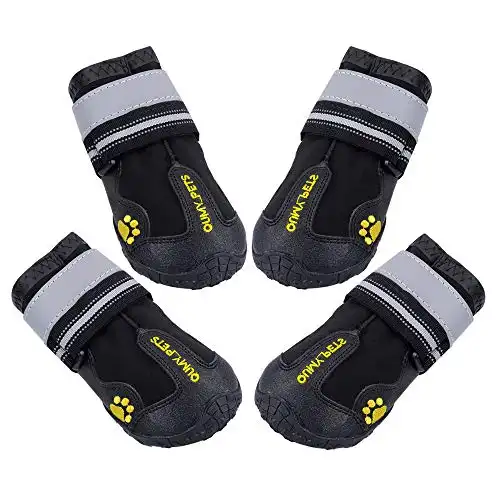 We earn a commission if you make a purchase, at no additional cost to you.
Boots (dog booties) provide the most coverage for keeping snow and debris off Cavapoo paws. They also provide extra warmth when snow or ice isn't present.
It would be wise to measure your dog's feet accordingly to ensure they fit securely inside of each boot. If your Cavapoo's paws grow as they age, size up their boots to prevent them from becoming too tight. They also shouldn't fly off your dog's feet while running.
Some Cavapoos might not be comfortable wearing winter dog boots, so it would be best to let them adjust to wearing them. I like giving my dog treats whenever he runs around the house wearing his boots.
Watch Max try out some new dog booties!
Use Paw Balm
Another alternative you can consider if your dog isn't comfortable wearing boots is paw balm. Placing it on your dog's paws creates a barrier that prevents excessive snow, ice, and salt from getting stuck between their toes. It also keeps their paw pads hydrated in cold and hot conditions.
Natural Dog Company Paw Soother Trial Stick, Heals Dry, Cracked, Irritated Dog Paw Pads, Organic, All Natural Ingredients, 0.15oz Stick, 1 Count, Packaging May Vary
EFFECTIVE DOG PAW BALM: Includes (1) 0.15oz Trial Stick of Natural Dog Company Paw Soother Balm that is specially formulated to heal rough, chapped, dry dog paw pads. You will see noticeable results...
HEALS DRY, CRACKED & IRRITATED PAWS: Paw Soother is crafted to treat, heal, and protect your pup's paws. It's ideal for protecting against extreme weather conditions and treating and healing scars,...
MOISTURIZING & SOOTHING FORMULA: This vegan dog paw wax is formulated with nourishing ingredients like Jojoba Oil, Coconut Oil, Cocoa Butter and Natural Vitamin E which leave paws smooth, hydrated and...
ALL NATURAL & ORGANIC INGREDIENTS: Paw Soother is ideal for dogs of all ages and breeds. It is plant based, fragrance free, and handcrafted with no artificial preservatives or harmful ingredients. We...
EASY TO APPLY & ABSORBS QUICKLY: Clean paws and then gently rub onto paw pads. Paws will be slick right after application, so allow a few minutes to dry. Repeat one to three times daily and decrease...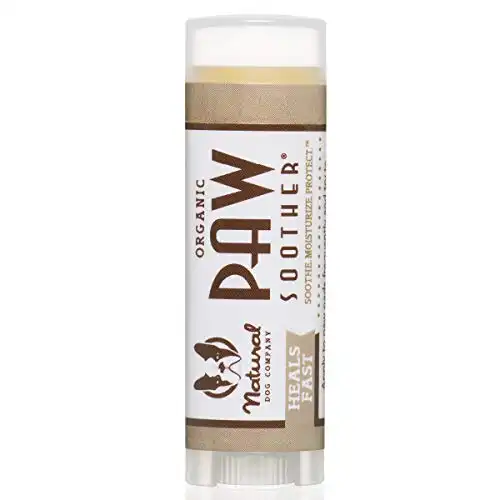 We earn a commission if you make a purchase, at no additional cost to you.
After bringing your Cavapoo inside, it would be best to wash the residue from their paws. Doing this prevents your dogfrom licking its paws and ingesting salts and ice melts that can harm them. Using warm water and dish soap should be enough to remove the substances. (Paw balm also helps with dog sunburn or irritation after your Cavapoo goes swimming in Summer)
Wash your Cavapoo's dog's paws after every time you're out, so following this routine doesn't disrupt a schedule.
Keeping Your Cavapoo Warm and Healthy in the Winter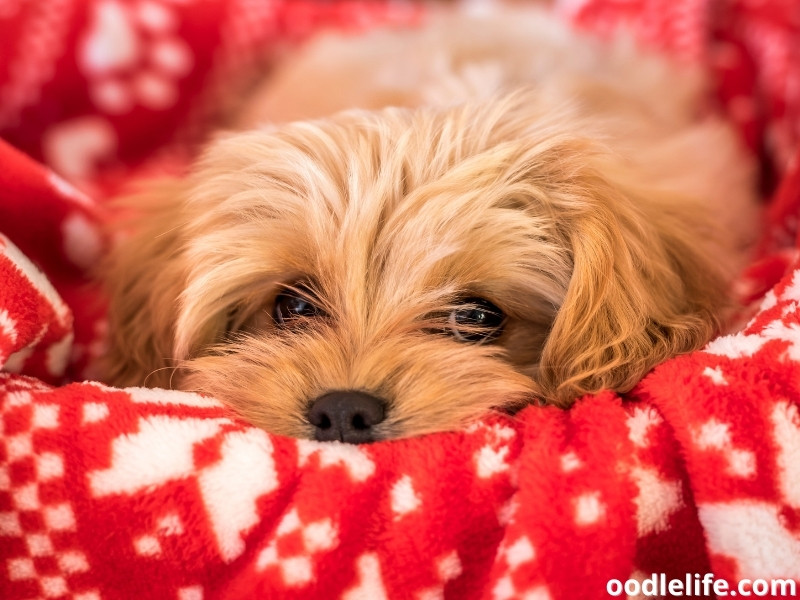 During the winter, you might find yourself having trouble keeping your Cavapoo's fur in top condition due to its high maintenance. If you take them outside and inside all the time, your dog's fur skin and fur can become affected by the intense temperature fluctuations.
One way to counter these issues is by brushing their layered fur every day to reduce matting and remove dead hair. You may also have to monitor how you trim their fur to keep it from becoming too short and vulnerable to colder temperatures.
Placing humidifiers throughout your house can prevent your Cavapoo's skin from becoming too dry. Frequent bathing can dry out a small dog's skin, so it would be wise to bathe your pet only when necessary. I usually wash my dog once or max twice a month (unless they are dirty). Using moisturizing shampoo can keep their skin hydrated.
Conclusion
When people ask, "do Cavapoos like the snow," their owners typically respond with, "They sure do." Although they can't spend countless hours in the snow, they do enjoy it in moderation.
By taking responsibility for how you prepare your Cavapoo for winter, you can ensure your fluffy companion remains warm and ready for next time. Despite their small size, most of them are ready for new experiences.