Top 4 Best Dry Dog Food for Loose Stools
Wellness Core Natural Grain
Hill Science Sensitive Stomach
Blue Wilderness High Protein
Holistic Blue Buffalo Life Protection Formula
Wellness Core Natural Grain
Hill Science Sensitive Stomach
Blue Wilderness High Protein
Holistic Blue Buffalo Life Protection Formula
Although it's common for dogs to have loose stools, you should still look into any possible causes if it's a regular occurrence.
Luckily a simple switch to a new dry food can help overcome a frequently upset stomach.
Dogs may have loose stools from time to time, which doesn't exactly mean they have severe diarrhea. Sometimes just a change in their food will make the problem go away.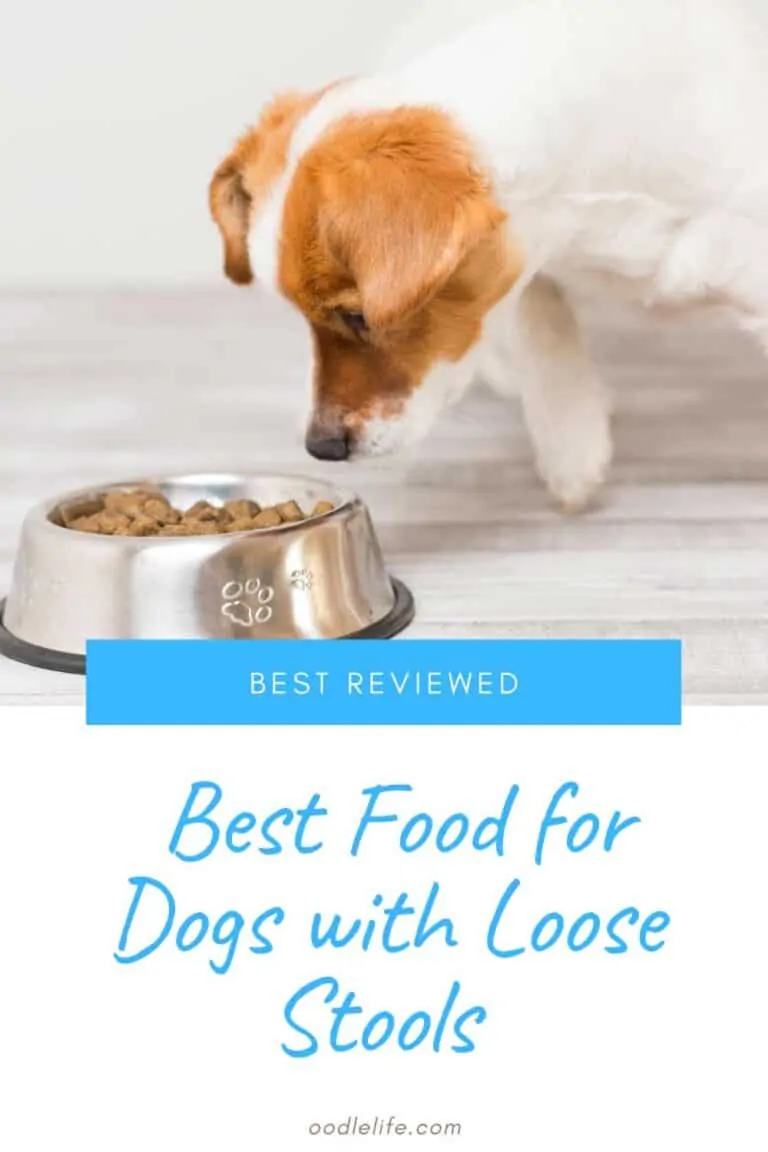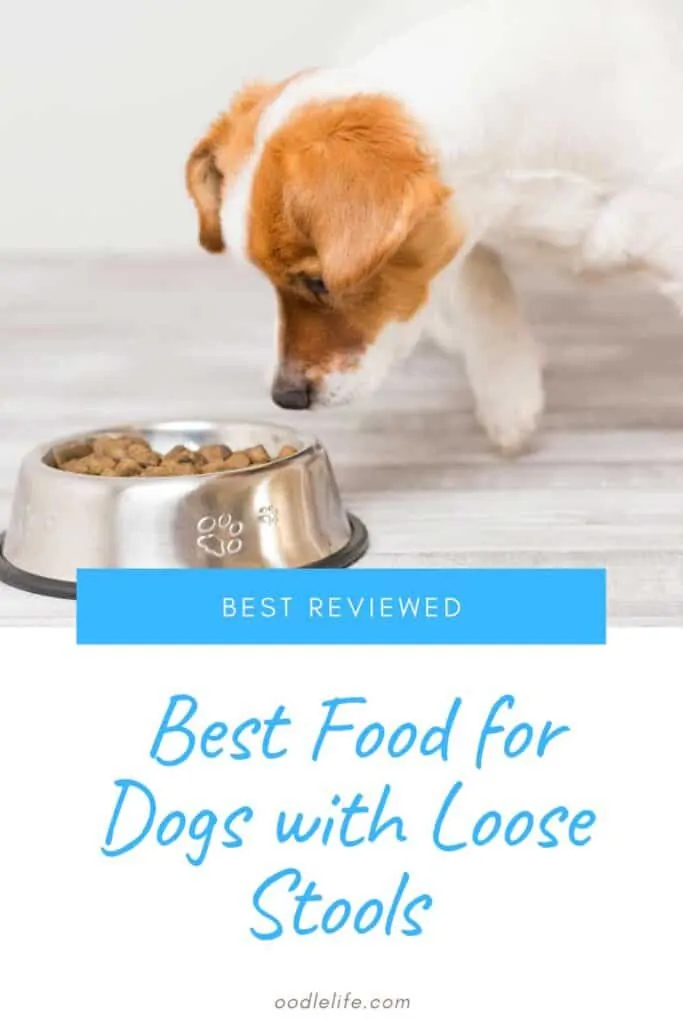 According to top Veterinarians in most cases, diarrhea and loose stools are not a severe health issue (source). It may occur depending on the dog's age, routine, and nutrition.
So, if you're continually dealing with loose stools, finding a good quality dry dog food may be the real solution.
Many manufacturers are aware of their most popular products sometimes causing loose tools. That's why now they're investing in creating minimal ingredient formulas, which causes less digestive problems or allergies.
We chatted with Tacoma-based Vet Tech Sakura Davis about the causes of loose stools in dogs – and a few tips on how to deal with it.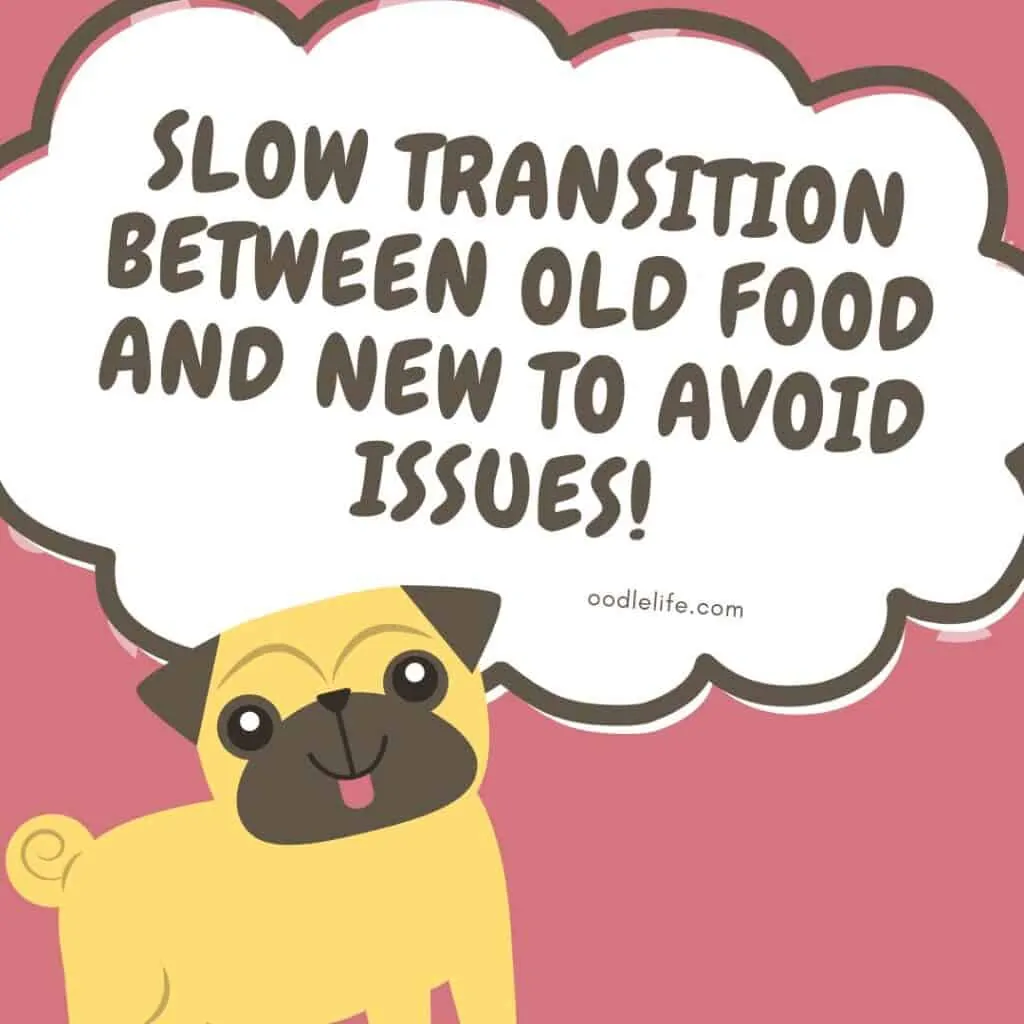 What is best to feed a dog that has loose stools?
Sakura: Loose stools in dogs can be caused by various issues. It can be due to something as minor as a diet change or something as serious as an intestinal disease.
When your dog has loose stool, it's recommended to switch to a bland diet. The go-to meal is rice and chicken/turkey. You can also try white bread. You can again do smaller meals such as 4 times a day.
How often are loose stools okay to occur?

Sakura: As important as the diet is, while your dog has an episode of loose stools, it's essential to know the reasonings. Suppose your dog is continuously having loose stools for more than a couple of days, especially with other symptoms such as vomiting, lethargy, low appetite, low water consumption, and blood in the stool. In that case, it is recommended to see medical attention.

Your dog could have loose stools a couple times out of the year. If you notice your dog having loose stools repeatedly, a visit to the veterinary clinic may be needed.

Loose stool treatments can be simple when not related to a more serious complication. A bland diet is definitely helpful, especially if they are just dealing with an upset stomach.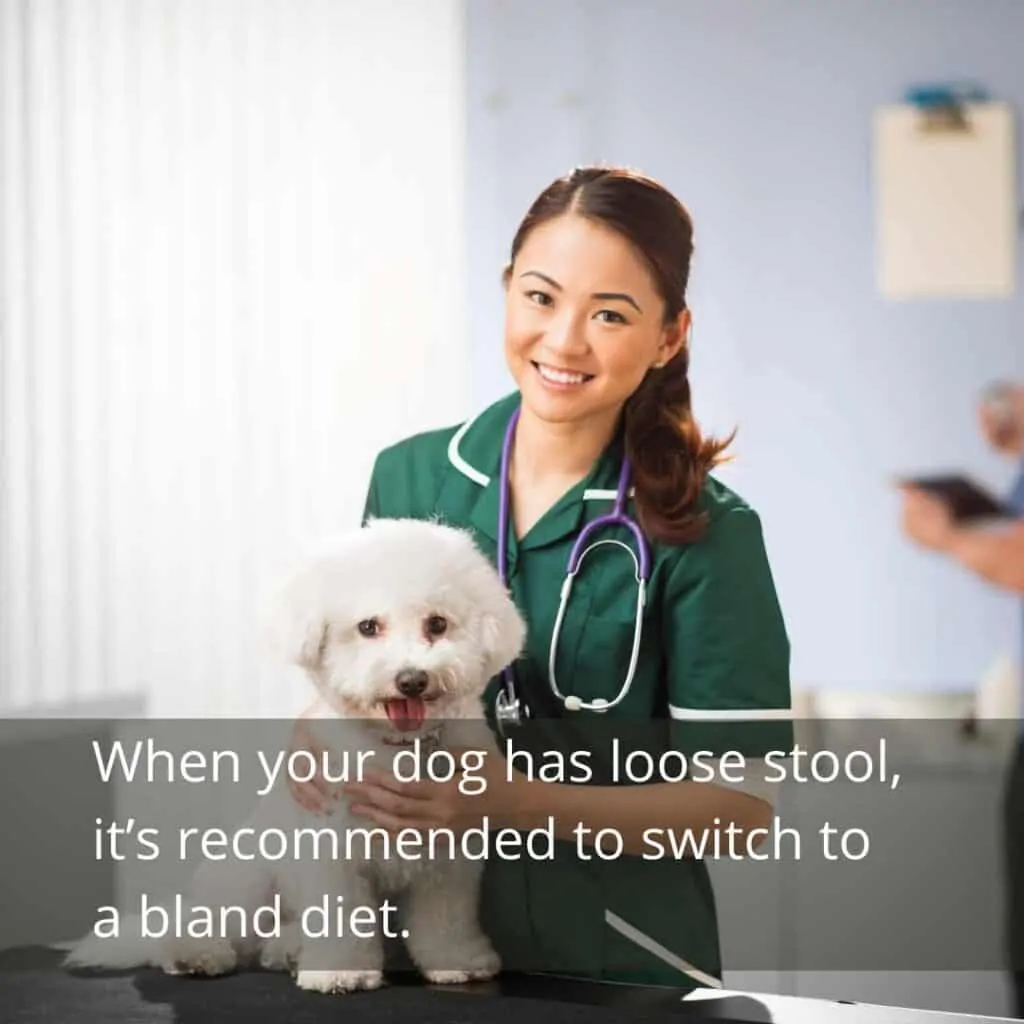 Is there a best type of dry food if there are loose stools?

Sakura Recommends: If your dog is highly in favor of dry food, you can try Hills Science Diet sensitive stomach product.

Although these dry foods target sensitive stomachs, switching their regular food to these diets RAPIDLY may cause loose stool to worsen. When changing dog food, it is recommended to add a little bit of the new food into the old for an easy transition for their GI tracts.
We found and detailed the best dry dog food for loose stool to help you get the best possible product for your pet.
Wellness Core Large Dog Food Breed
The Wellness Core Natural Grain Free-Dry Dog Food is a natural and healthy option for adult, large breed dogs. The product is made with turkey, chicken, fruits, and vegetables, that'll help the dog stay healthy and strong.
It's shaped in larger kibble sizes to fortify the large breed dogs' chewing and digestive system. It has vitamins, minerals, antioxidants, probiotics, and other ingredients to elevate the dog's protein levels.
Wellness CORE Natural Grain Free Dry Dog Food, Large Breed, 26-Pound Bag
GRAIN-FREE LARGE BREED ADULT DRY DOG FOOD: Premium protein from responsibly sourced chicken is expertly balanced with nutrient rich superfoods for a complete and balanced dog food, with optimal fat...
LEANER BODY MASS AND MUSCLE TONE: Based on the nutritional philosophy that dogs thrive on a natural diet mainly comprised of meat, this dog food is made with 45% high quality protein ingredients.
SUPPORTS DIGESTIVE HEALTH & STRONG JOINTS: Guaranteed levels of omega fatty to support healthy skin and coat, glucosamine for strong joints, high fiber and probiotics for digestive health, and taurine...
NO CORN, WHEAT, OR SOY: Contains only premium, all natural ingredients with no poultry by-products, wheat, wheat gluten, corn, soy, artificial colors, or preservatives.
MADE IN USA: Using only the finest globally sourced ingredients, we prepare each of our diets in our own state of the art facility; recipes crafted with wholesome, non-GMO ingredients chosen for their...
We earn a commission if you make a purchase, at no additional cost to you.
The high-quality proteins provided are based on the fact that dogs develop more on diets constituted of meat. The Wellness Core Large Dog Breed can be your dog's main meal since the simple and plain formula will be easily digested and provide just enough balance to his diet.
The grain-free formula ensures no gluten, artificial flavors, and colors or preservatives of any kind. If your dog has a sensitive digestive system, this highly digestible probiotic will eliminate the loose stools in no time.
Why you should buy the Wellness Core Large Dog Food Breed:
The healthy source of proteins will fuel your large dog breeds just enough. This dog food has the right amounts of nutrients that your pet needs to grow and stay healthy.
A grain-free and gluten-free formula will guarantee that dogs with food allergies or limitations can get all the necessary daily nutrients.
The high number of health proteins will help tone the dog's muscles and body mass.
It keeps the dog's heart healthy.
Hill's Science Sensitive Stomach
Hill's Science Diet sensitive stomach dry food is specifically designed for dogs that need more cautious food.
Hill's diet takes for sensitive dog stomachs to use prebiotic fiber to nourish the microbiome. This aims to improve overall digestive health and reduce instances of loose stools or nutrition-related issues.
This densely nutrient-packed dry food can be transitioned to slowly from your previous food.
Hill's Science Diet Dry Dog Food, Adult, Sensitive Stomach & Skin, Chicken Recipe, 30 Lb Bag
$86.99
$79.99 ($2.67 / lb)
This adult dry dog food promotes digestive health while nourishing skin
A source of prebiotic fiber to support a balanced gut microbiome in your grown dog
This dog food is formulated to be highly digestible for optimal nutrient absorption & easier stool pick-up
Packed with vitamin E & Omega-6 fatty acids to help your grown dog get a lustrous coat and healthy skin
Made in the USA with global ingredients you can trust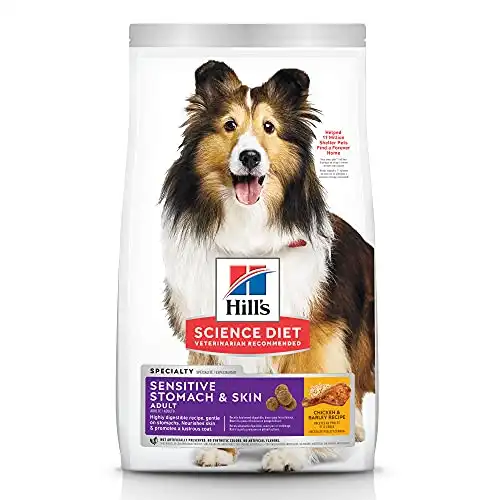 We earn a commission if you make a purchase, at no additional cost to you.
Why purchase Hill's Science Sensitive Stomach?
The solution is all in the name. Specifically designed for dogs with a sensitive stomach.
The dry food is packed with Vitamin E, omega-6 fatty acids, and other nutrients.
Larger kibble sizes available – but also smaller chunks are possible in this range.
Optimized to be quickly and highly digestible to avoid stomach problems and maximize nutrient absorption
Made in the USA (from global ingredients)
And highly recommended by many Vet professionals – the Hill's Science Diet company claims to be the #1 recommended dog food brand in the USA
Blue Wilderness High Protein
The Blue Wilderness High Protein is a natural dry dog food that provides your dog with the meat they enjoy the most. The formula is grain-free, with a high-protein source from salmons, which provides antioxidants properties.
This formula was made for adult dogs with high-quantity and high-quality proteins from meat and carbohydrates from fruits and vegetables. This way, your dog will have a balanced diet with digestive friendly nutrients and vitamins and a healthy source of energy.
Blue Buffalo Wilderness High Protein, Natural Adult Dry Dog Food, Salmon 24-lb
MORE SALMON IS COMING: An evolution of your dog's formula with more salmon than ever, plus wholesome grains
PACKED WITH REAL SALMON: A recipe made to satisfy your dog's natural love for meat, this high protein dog food features real salmon to help build and maintain lean muscle mass
HEALTHY INGREDIENTS: BLUE Wilderness grain free dog food, made with healthy carbohydrates including sweet potatoes and peas, helps fuel your adult dog's active lifestyle; It also contains omega 3 &...
ANTIOXIDANT-RICH LIFESOURCE BITS: A precise blend of antioxidants, vitamins and minerals carefully selected by holistic veterinarians and animal nutritionists to support immune system health, life...
A NATURAL DOG FOOD: BLUE dry dog food is made with the finest natural ingredients enhanced with vitamins and minerals; BLUE contains NO chicken (or poultry) by-product meals, corn, wheat, soy,...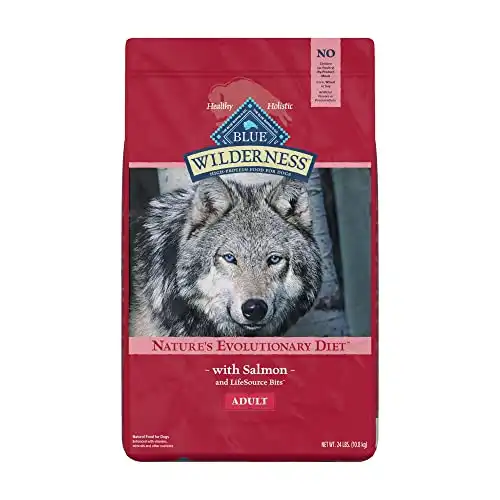 We earn a commission if you make a purchase, at no additional cost to you.
Why you should buy the Blue Wilderness High Protein:
The recipe is made with real salmon, a healthy protein source to help your dog grow while building and maintaining lean muscles and body mass.
Healthy ingredients to fuel your dog through the day. The grain-free formula ensures only high-quality carbohydrates from sweet potatoes and peas with properties that will support the dog's skin.
The Blue Wilderness brand developed an exclusive mix of antioxidants, vitamins, and minerals called LifeSource Bits. This healthy blend supports the dog digestive and immune system.
All the ingredients are natural with no poultry, chicken, corn, soy, or other artificial ingredients or preservatives.
The calcium and phosphorus properties will guarantee strong bones and teeth.
Holistic Blue Buffalo Life Protection Formula
The Holistic Blue Buffalo Life Protection Formula was created thinking about the dog's health and well-being. All the ingredients are loved by dogs while being 100% natural with the number of vitamins and minerals needed to grow healthy and happy.
The manufacturers' goal was to reduce any digestive or immune system problems and keep your dog away from possible allergies with wholesome whole grains, real meat, healthy fruits, and vegetables.
Blue Buffalo Life Protection Formula Natural Adult Dry Dog Food, Lamb and Brown Rice 30-lb
$76.99
$64.98 ($2.17 / lb)
REAL MEAT FIRST: Blue Buffalo foods always feature real meat as the first ingredient; High-quality protein from real lamb helps your dog build and maintain healthy muscles; Plus they contain wholesome...
FOR ADULT DOGS: BLUE Life Protection Formula adult dog food contains essential proteins and carbohydrates to help meet the energy needs of adult dogs, and features omega 3 & 6 fatty acids to promote a...
ANTIOXIDANT-RICH LIFESOURCE BITS: A precise blend of antioxidants, vitamins and minerals carefully selected by holistic veterinarians and animal nutritionists to support immune system health, life...
A NATURAL DOG FOOD: BLUE dry dog food is made with the finest natural ingredients enhanced with vitamins and minerals; BLUE contains NO chicken (or poultry) by-product meals, corn, wheat, soy,...
Contains one (1) 30 lb. Bag of BLUE Life Protection Formula Adult Dry Dog Food, Lamb and Brown Rice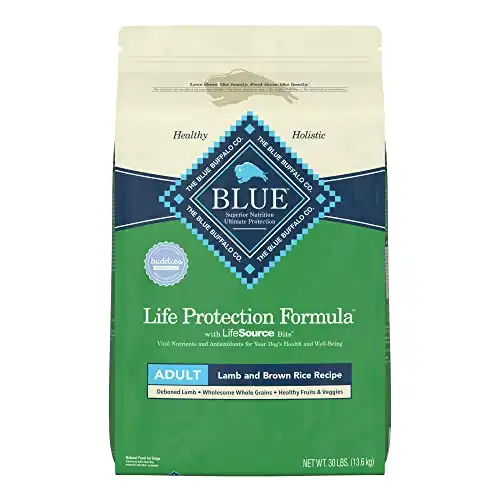 We earn a commission if you make a purchase, at no additional cost to you.
Why you should buy the Holistic Blue Buffalo Life Protection Formula:
Made with real meat, the Holistic Blue Buffalo always prioritizes a high-quality protein as the first main ingredient, helping your dog's growth and maintenance of healthy lean muscles.
Adult dogs have special needs when it comes to proteins and carbohydrates to keep their energy levels high. The formula was thought to meet all those needs while featuring omega 3 and acids that help with healthy skin.
Great super soft coats rely on such ingredients to shine.
Blue Buffalo created a special and unique blend of vitamins, minerals, and antioxidants called LifeSource Bits. The mix contributes to the dog's digestive and immune system.
The wholesome grains, vegetables, and fruits provide the best source of carbohydrates.
All dog foods from Blue are made with the best natural ingredients, with high vitamins and minerals. There are no additions of chicken, poultry, preservatives, artificial flavors, or colors.
Which Dry Dog Food to Choose
Those dry dog foods options mentioned above are all made with minimum ingredients. A simple recipe helps avoid problems of the dog's digestive system and reduces developing allergies.
The grain-free options are perfect for dogs with gluten allergies or irritations or prone to develop them in the future. All three dry dog foods offer high-quality proteins from different sources.
Take time to analyze your dog's routine and see how much protein and carbohydrates it may need to completely fulfill its energy spend. Consider the age, size, and weight. But all those good quality dry foods will help to solve the loose stools problems.
How Dry Dog Food Can Help Avoid Loose Stools
A well-balanced diet is the main secret to avoiding loose stools or diarrhea in dogs. It's essential to check with your vet if your dog has any serious problems with the digestive system that may be causing it.
In most cases, the loose stools are just a consequence of lousy dog food formulas, so just correcting the dog's nutritional intake can balance his health and ensure a long life for your pet.
They Were Made to Firm the Stool
The dry dog foods with minimal ingredients and simple formulas are the recommended types to avoid loose stools. They provide an adequate quality protein, healthy sources of carbohydrates to maintain the energy levels, vitamins, minerals, and acids.
These formulas work as stool hardeners since the ingredients were carefully chosen to avoid stomach upset.
They Keep Allergies Away
The blends of dry dog foods do not contain soy, corn, or any other type of gluten source. Also, they don't have any preservatives or artificial colors and flavors.
If consumed by the dogs for an extended period, those ingredients can increase the chances of developing allergies while affecting his health in the long term.
How to Keep Loose Stools Away from Your Dog
Switching your dog's feed habits to dry foods may solve the problem completely. But sometimes the loose stool is being caused by multiple factors. These tips, combined with the dry food for loose stool, can help you keep your dog always health:
Don't give your dog human food. The nutrients and vitamins that the dog needs are different from the ones we consume and need. Do not feed them human food, as it may cause them digestive distress.
Keep a consistent diet. When you find a type of dog food that's working well, stick to it. The dog's digestive system doesn't adapt well to many diet changes and can get unbalanced if you don't keep it always the same. If one of the dry dog foods mentioned here works for your pet, keep feeding them what works.
Make sure that the dog is drinking enough water. Clean water has to be accessible to them all the time. Hydration plays a crucial role in keeping the dog in good health.
Don't let the dog eat too fast. The speed in which the dog is eating and chewing directly affects his stomach and ability to digest the food. Control the portions — so don't let all the food accessible and in an open place — or get a maze bowl that slows down their eating.

If eating too fast is a endless problem – consider freezing a Kong and making a slow to consume treat
Conclusion
Finding the perfect dry dog food for loose stools may take you some time and require a little bit of research, but it'll solve your pets loose stool problems.
The products recommended above were created to avoid loose stool, with a minimum of ingredients, all of which are healthy and whole. Those are all great options for you to choose from that will keep the dog on a balanced diet while ultimately fulfilling his needs for proteins, carbohydrates, and many other minerals and vitamins.
And be patient when changing his diet to one of the dry dog foods. The right approach will improve your pet's health.