How To Stuff A Kong: Complete Guide and Recipes
Are you looking for things to stuff into a Kong? Want your dog to be entertained for longer than a few minutes? Trying to figure out a fancy treat for your very good puppy?

Welcome to the world of Kong stuffing! In this article we go deep on the best possible Kong stuffing recipes, and have some special Kong-tail treat cocktails you can whip up at home.
Fresh or frozen, here is how to stuff a Kong for your dog. We list what to stuff in a Kong, and how to stuff a Kong for puppies.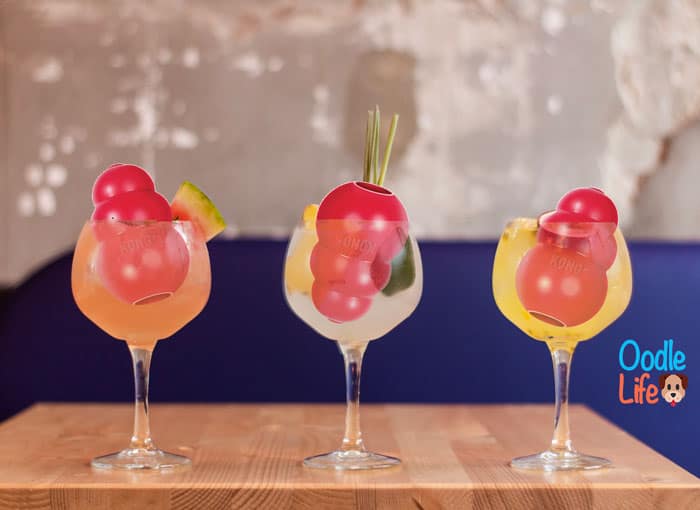 Why Do People Stuff Kongs?
Deep down all dogs are related to wolves. Just like wolves dogs used to need to hunt for their food. Centuries of domestication has changed the way dogs are fed and seek food. 
The genetics are clear though, dogs still have some desire to work or hunt for their food.
A common cause of problematic dog behaviours is a dog that is not being mentally exercised. The brain of a dog is not stimulated when we just give them their daily food on a plate. 
Solving Behaviour Problems With Kongs
Problems such as excessive barking, destructive chewing, or excessive grooming or paw licking can all arise due to lack of mental enrichment.
By giving our dogs a challenge at meal time, you may be able to improve their mental wellbeing and overall quality of life. These challenges are also time consuming which helps to reduce incidents of anxiety triggered by loneliness.
A puzzle or challenge standing between your dog and it's lunch will give your dog a thoroughly enjoyable task to perform. The slow unpacking of hidden or frozen foods can burn mental energy and also help a dog pass time.
Packing a Kong correctly and creating a delicious Kong-tail of flavours goes beyond the time killing and mental stimulation. Thoughtful and well executed Kong stuffing technique can distract and calm an anxious dog. It can burn excess physical energy, and even be included as a part of crate training.
Kong stuffing really boils down to a simple premise, get a Kong and stuff the toy with food to keep your dog occupied and mentally engaged. If you do it correctly is it a thrilling and joy filled experience for your dog.
Which Kong Should I Buy?
KONG - Classic Dog Toy
Durability

Versatility

Stuffability

Value
Summary
The KONG Classic is the gold standard of dog toys and has become the staple for dogs around the world for over forty years. Offering enrichment by helping satisfy dogs' instinctual needs, the KONG Classic's unique natural red rubber formula is ultra-durable with an erratic bounce that is ideal for dogs that like to chew while also fulfilling a dog's need to play. Want to extend play time? Be sure to stuff with tempting bits of kibble and entice with a dash of peanut butter.
Check Price and Reviews on Amazon
Pros
The KONG Classic red rubber toy helps satisfy dogs' instinctual needs and provides mental stimulation. Healthy play is important for dogs' physical and mental development, emotions and behavior.

By encouraging healthy play and satisfying instinctual needs, this toy helps solve chewing, separation anxiety, teething, boredom, weight management, crate training, digging, barking and more!

Fetch: The KONG Classic's unpredictable bounce makes for exciting games of fetch and other interactive play with your pet.
Tough: The KONG Classic red rubber formula is created for average chewing dogs.
Stuff it: The stuffable KONG Classic is even more enticing when stuffed with kibble, peanut butter, treats and snacks. Dishwasher safe for easy clean up. BONUS: For an added challenge, freeze stuffed KONG for 4-6 hours before giving to your dog.
Vet Approved: Veterinarians and trainers worldwide recommend the KONG Classic. Made in the USA. Globally Sourced Materials.
Cons
No toy is bulletproof, and this one is designed specifically for your dog to chew. Kong's are hearty but for very heavy chewers you may need to check the more expensive heavy duty Kong
Can be washed in dishwasher, but rubber will eventually deteriorate
Although very tough, can over time become damaged and bits of plastic can fall away
Check Price and Reviews on Amazon
You should look to the medium or large Kong for pretty much every dog. A puppy may need a smaller Kong but will soon outgrow it. Even our miniature Labradoodle has been on the medium or large sized Kong since he was around 6 months only.
These toys can get smelly if you do not clean them. Some dish soap will get rid of any debris without damaging the plastic. Rinse thoroughly of course.
Lots of owners put their Kong's through the dishwasher, but you would need to be aware of plastic degradation and also rinse them after a cycle to ensure no detergents remain on the Kong.
One of my favourite things about this Kong is that is also just works well as a throw toy. It bounces at wild angles, and unless you pelt it at something is unlikely to damage and floors or walls.
Dogs even like just chewing an empty clean Kong. The USA based company stumbled upon the formula for a really dynamic, hardy and excellent shaped dog toy decades ago. There is a reason why pretty much every dog household in the world has something similar!
Check Price and Reviews on Amazon
How To Stuff a Kong
A basic Kong stuff is simple, but your regular dog food inside a Kong, place some peanut butter or cottage cheese over the ends. You are done!
This one is simple doggy entertainment 101 – stuffing treats into Kongs is a surefire fun dog distraction device.
You can freeze the Kong to make the game last longer. Lots of people make up a few Kongs and give them to their puppy or dog when they leave home. This distracts the dog and can reduce separation anxiety.
More advanced Kong stuffing offers much more variety and fun for your dog.
More Advanced Kong Stuffing: A Kong treat cocktail!
To make it more fun for your dog, let's spice things up!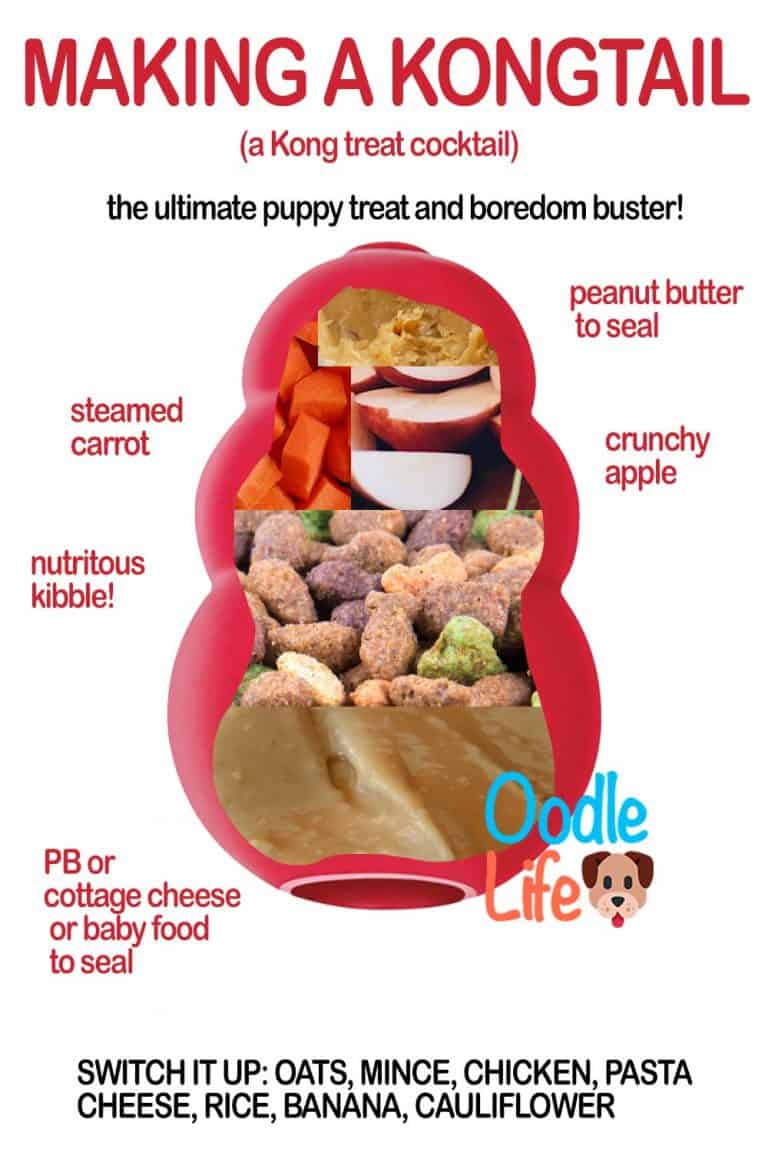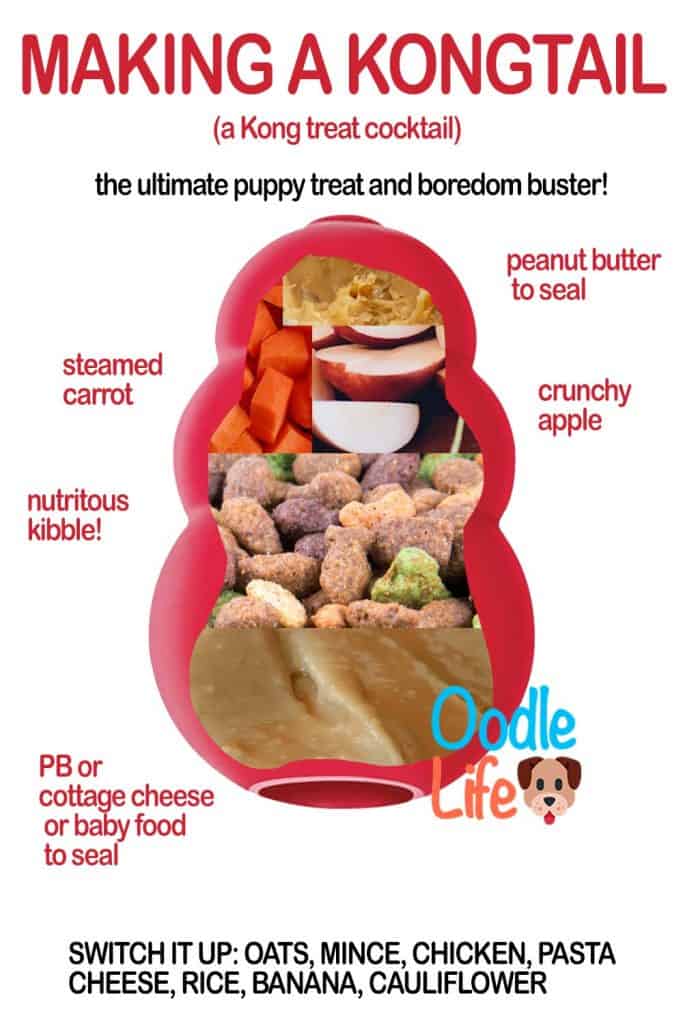 Pick the right Kong-tail ingredients and your dog can be entertained for hours in style!
There is really no end to the types of dog sage foods you can fill a Kong with. You can even mix and match for a more challenging and delicious Kong! Try out a 3 layer approach.
You can keep it simple and fill a Kong with any of these staples
Kibble
Oats
Pasta
Meat Scraps
Carrots
Fish (cooked, like Tuna)
Rice (cooked)
Then you can spice it up with a layer of
Apple
Cauliflower
Banana
Hot Dog (small amounts only, not healthy)
Cheese
Treats (watch the calorie count)
Baby foods (natural with no preservatives)
Then seal it all in with the top layer of a mushy sealant. We use a very small amount of peanut butter because it drives our puppy CRAZY with excitement.
It also has excellent glue like sealant properties to create a closed system to keep your puppy entertained.
Kong Stuffing Tips
If your dog is lazy, then you need to keep your Kong stuffing simple. Some dogs just.. Five up in the face of mild resistance. For dogs like this use easier ingredients for them to get to. Smaller pieces that fall out easy (treats and kibble) is probably the way to go. 
Do not freeze Kongs for dogs that have this relaxed approach (lazy).
Other dogs are going to be headstrong and determined, ready to go to town on a Kong-tail. Give them larger or stickier ingredients, and freeze the Kong to make it last even longer.
Increase the difficulty over time. They will become an expert in time, but this will not be a rush.
PRO TIP – You can hide Kong's around the house (if you can distract your dog for long enough) for a tasty delayed game of Hide and Seek. See more indoor dog games and activities in our article of 35 simple and DIY home games and activities.
How to Stuff a Kong for Puppies
A puppy can get started with a Kong early. Large and medium dogs can go straight for the recommended Kong toy, but you can start smaller if you have a miniature or toy breed. Our Mini Labradoodle started with the smaller size but by 6 months old was switched to a normal size Kong.
You fit a lot more treats and different varieties in the normal Kong than the small one.
When stuffing a Kong for a puppy consider everything as a choking hazard.
Also remember that the stomach health of a puppy is… temperamental. You gotta be really careful when you introduce new food groups to a puppy because of the risk of vomiting or a sloppy poo-nami. Gross but part of puppy life!
Ideas for stuffing puppy Kongs
Their regular dry food/kibble
Small pieces of apple that will not choke
Small pieces of carrot
Puppy treats (softer)
Peanut butter or cottage cheese as glue in small amounts
Kong Stuffing Conclusions
Your dog will love eating a challenging Kong – and can learn to love the frozen challenge even more! Try out some of the different ingredients and hit it with a three layer approach.
We hope your dog enjoys their sophisticated Kong-tail!
If you have recently got a puppy or are planning and are thinking about dog names, check out our ultimate list of 51 actually awesome Star Wars inspired dog names. Cool and subtle ones, and also Chew-barker level puns!