The Best Food for Dogs with Skin Allergies (2023)
Caring for our furry friends is a big responsibility to take on. Much like when you have children, adopting a dog requires that you do everything you can to keep it happy and healthy.
Dogs require a lot of maintenance to keep healthy and happy, much more so than cats. You must take them outside several times a day, feed them at least twice, and play with them regularly. Most dogs are not picky with their food, but it can be challenging if they have skin allergies.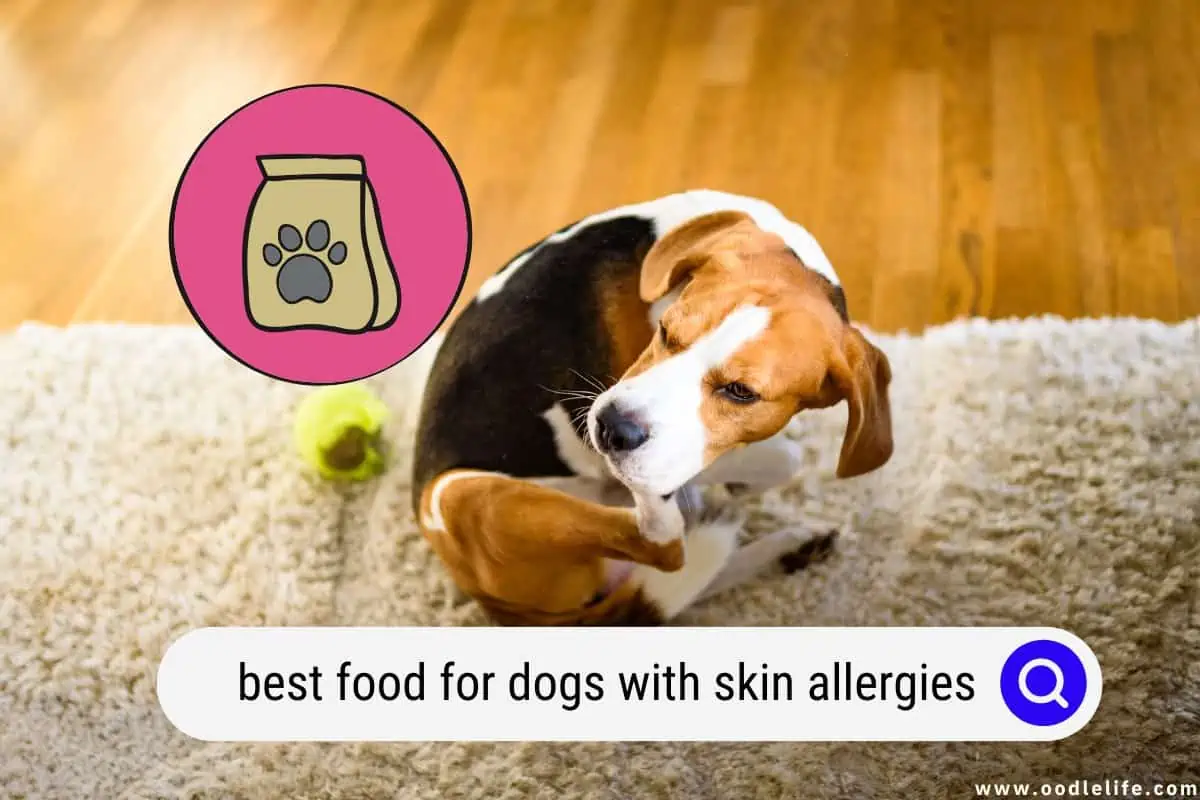 Dogs with skin allergies cannot eat all the food dogs would traditionally eat. As a result, you must adapt and find the best food for dogs with skin allergies.
Fortunately, a lot of progress has been made on this front, so there are several options. Your dog should be able to live a normal life with skin allergies.
How Can You Tell If Your Dog Has Skin Allergies?
Before you can identify dog food for your dog with skin allergies, you must first learn that they have skin allergies. Fortunately, skin allergies have symptoms that are easy to spot.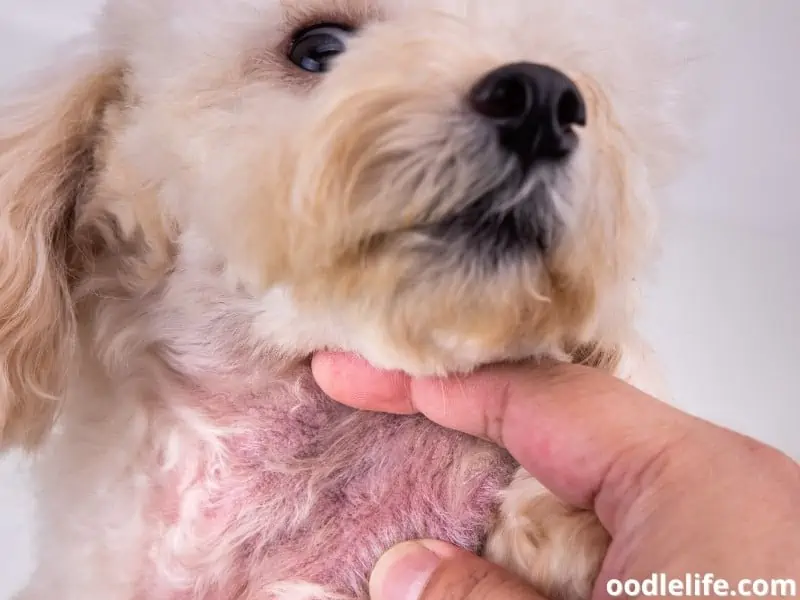 Common symptoms include irritated and flakey skin, rubbing on surfaces, sores, hair loss, rubbing of face or ears, excessive scratching, excessive licking, and biting of the skin.
Skin allergies in dogs cause extreme discomfort, and as a result, they typically rub and bite their skin excessively. These reactions can lead to secondary infections developing. So, if you notice any of these symptoms, you should take your dog to the vet to get advice on how to proceed.
Food Allergies Can Result in Skin Irritation
It is also possible for food allergies to manifest themselves with skin irritation. Dogs will experience itchy skin following most allergic reactions. So, if your dog is allergic to its food, it will likely have several skin irritations.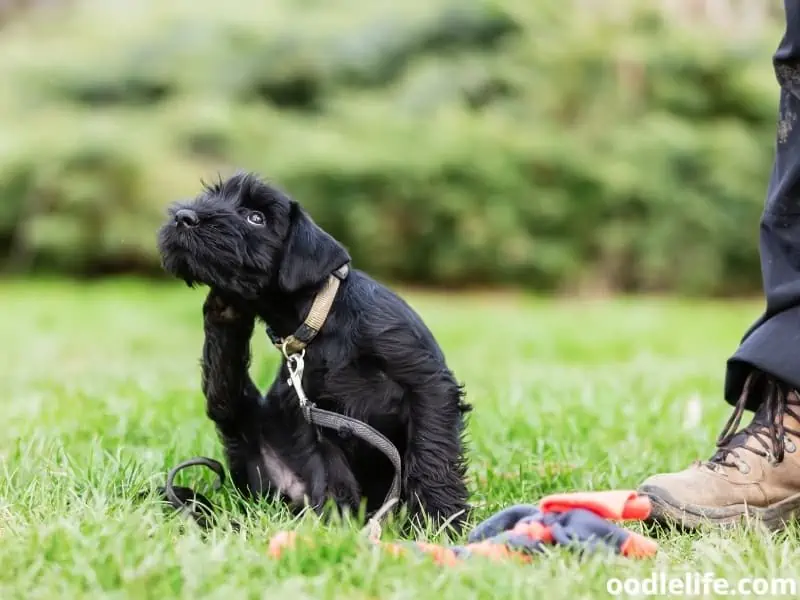 If the symptoms are not treated, they will get progressively more severe.
Work with Your Vet To Identify the Main Cause of Skin Allergy Symptoms
Once skin allergies have been identified, it is crucial to identify the root cause. Foods contain several chemicals that can cause skin irritation, and as a result, it is often possible to remove certain foods from their diet to stop symptoms. However, food is not the only cause of skin allergy symptoms popping up in dogs.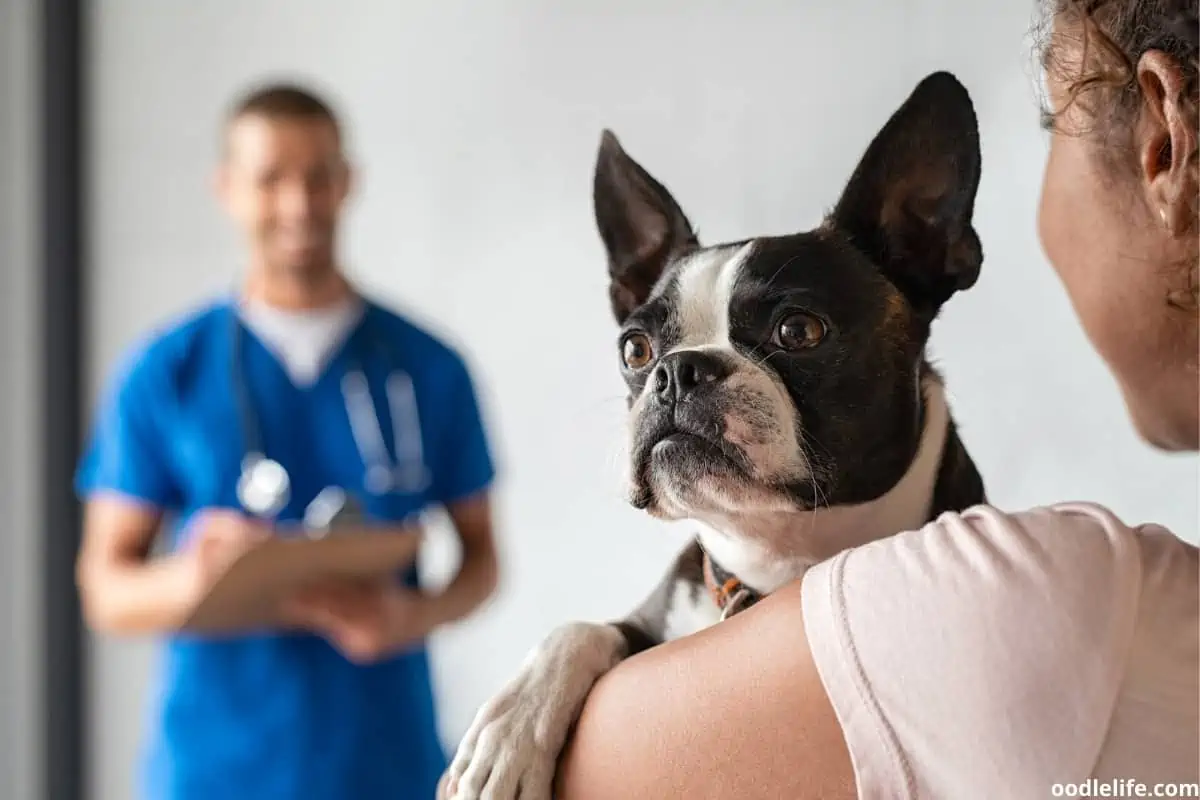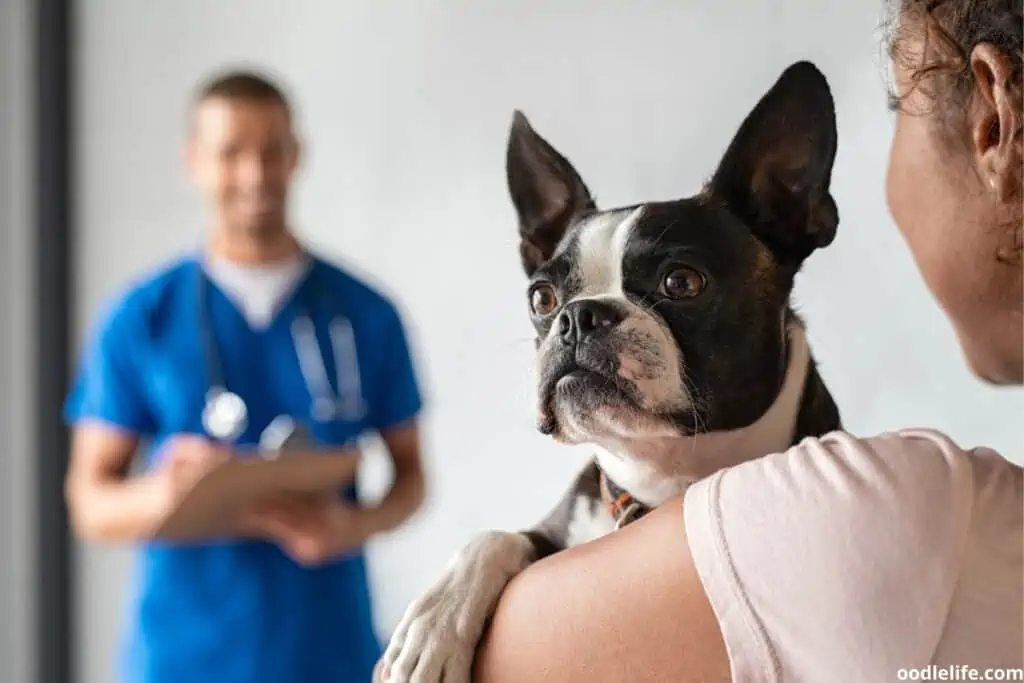 So, it is crucial to consider those factors before proceeding.
Other things that could cause your dog to have an allergic reaction to its skin include stress, parasites, environmental allergies, and diseases.
With that in mind, it makes sense to bring your dog to a veterinary dermatologist. They can run tests and determine the cause of skin irritation in your dog. Once you have that information, you can establish a plan for how to proceed.
The Best Diets for Dogs with Skin and Food Allergies
Skin and food allergies often go hand in hand with dogs. As a result, the diets they should use are usually similar. Here we will look at a few common diets veterinarians recommend to owners of dogs with skin and food allergies:
Change the Meat Source
If you think your dog is allergic to food that is causing an allergic reaction on the skin, one of the easiest things you can do is switch their protein source. Most dog foods have a meat-based protein source, whether it be chicken, beef, or fish.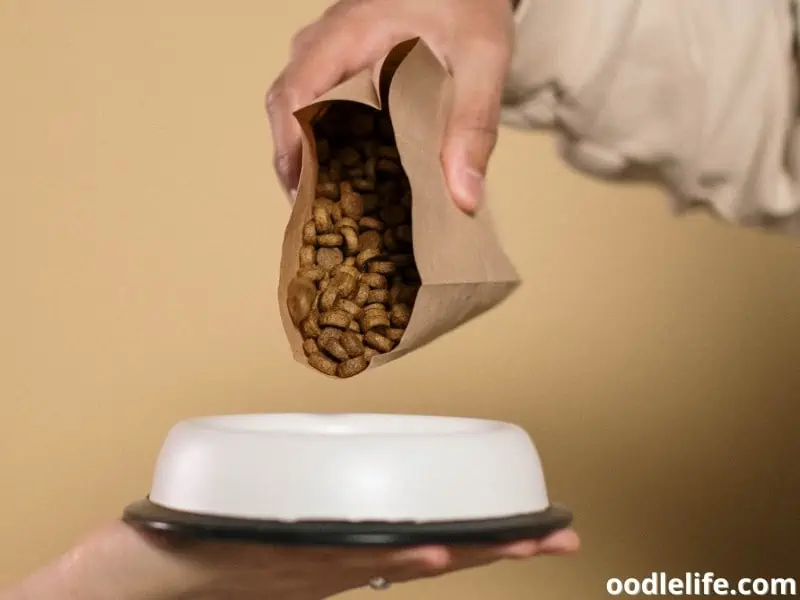 A good option is to switch their diet to a different protein source that only includes one protein type. So, do not feed them food that includes chicken and beef. Pick one that includes one or the other.
Once you switch to a food source that only contains one protein, you can easily determine if that protein is the cause. You can then keep switching foods until your dog no longer has an allergic reaction after eating.
New Protein Diet
Unfortunately, your dog can have an allergic reaction to more than one thing. As a result, it might be necessary to switch your dog to a diet that includes a completely new protein.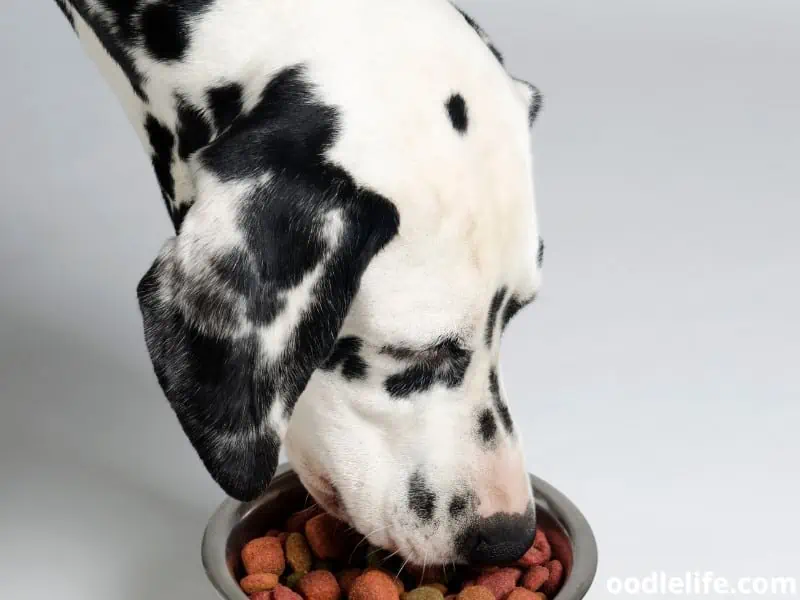 A new protein diet involves introducing your dog to a protein they have never ingested. Doing so decreases the risk of an allergic reaction on the skin.
However, it is crucial to note that many foods are cross-reactive. What this means is your dog might be allergic to something they have never eaten before because it has a similar composition to the food they are allergic to. For example, many dogs which react to beef also react to lamb.
Fortunately, several proteins most dogs have never eaten before are not typically cross-reactive. Some of those proteins include kangaroo, goose, duck, and venison. Some of these proteins will be harder to find in dog food than others, but you should be able to have them delivered.
Limited Ingredient Diet
Unfortunately, it can be challenging to determine the source of the allergic reaction in dogs. As a result, one of your best options is to limit the ingredients your dog ingests.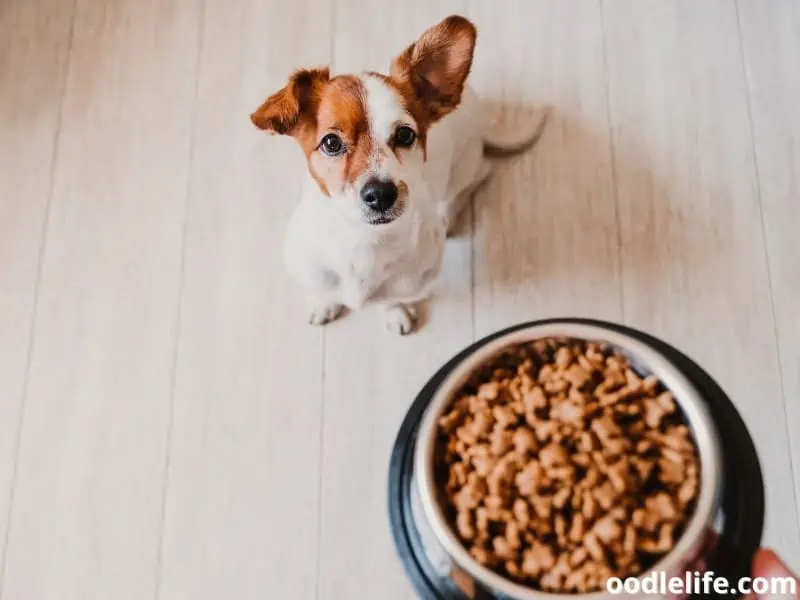 Limit them to one source of protein and carbohydrate. You can purchase one of these diets with a prescription from a veterinarian.
The advantage of putting your dog on one of these diets is the manufacturing lines are more controlled. As a result, there is less risk of cross-contamination that could cause unexpected allergic reactions. You can also prepare one of these diets at home as long as it is balanced.
Hydrolyzed Protein Diet
If your veterinarian is having trouble identifying the food causing an allergic reaction on your dog's skin, they might prescribe a hydrolyzed protein diet. This diet is more complex than others we have looked at because to understand, you must understand protein structure.
Proteins look like strands of beads, where each bead is an amino acid. Long strands of beads are more likely to seem like an allergen to the body. This type of diet uses proteins that are shorter strands.
As a result, dogs' bodies will not react to them as they would to allergens.
Proteins often used in these diets include soy, chicken, and fish. You'll find chicken and soy listed as allergens. However, hydrolyzed chicken and soy are not as allergenic.
Unless your vet prescribes this diet, do not feed it to your dog. Feeding it to a dog that does not need it could cause them to become malnourished.
Amino Acid Diet
The last diet you can give your dog to combat skin allergies is an amino-based one. This diet takes the strands of beads and cuts them into smaller pieces because proteins include amino acids.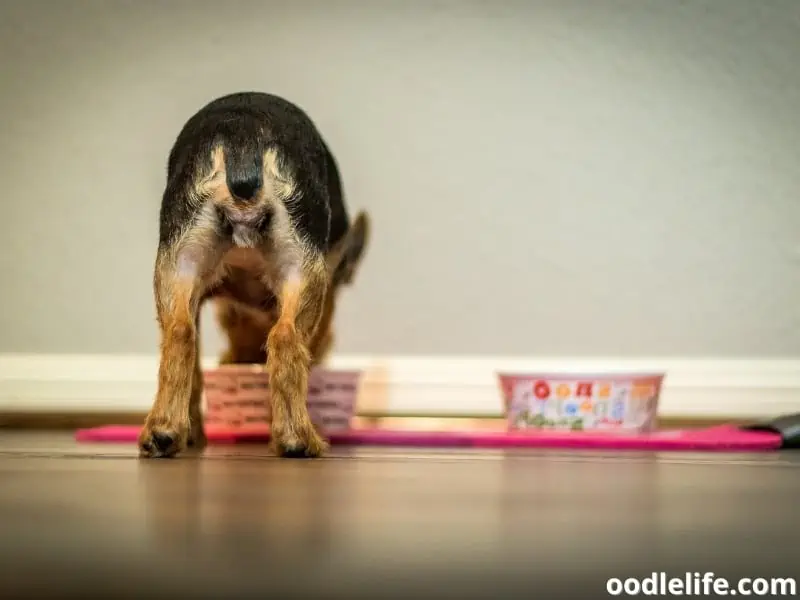 As a result, the chance of an allergic reaction is nearly zero. If this diet works, it should be administered for 14 weeks or more. However, you should only use it if it is recommended by your veterinarian.
Specific Dog Foods for Dogs with Skin Allergies
Here are a few specific dog foods you can feed your dog with skin allergies:
Wellness Simple Limited Ingredient Diet
This food from Wellness Simple follows the limited ingredient diet. It is best for adult dogs and contains deboned turkey, turkey meal, potatoes, peas, and dried ground potatoes. It has 29% protein, 14% fat, and 49% estimated carbohydrates.
Wellness Simple Natural Limited-Ingredient Grain-Free Dry Dog Food, Easy to Digest for Sensitive Stomachs, Supports Skin & Coat (Turkey and Potato, 26-Pound Bag)
LIMITED INGREDIENT ADULT DOG FOOD: All natural, limited ingredient recipe crafted with a single source of protein from turkey, and expertly balanced with easily digestible carbohydrates from potatoes,...
SUITABLE FOR DOGS WITH FOOD SENSITIVITIES & ALLERGIES: This limited ingredient recipe nourishes simply and completely, with high quality ingredients your dog needs to thrive.
SUPPORTS DIGESTIVE HEALTH AND SKIN & COAT HEALTH: Contains natural prebiotics for a healthy digestive system, vitamins for a strong immune system, taurine for a healthy heart and omega fatty acids for...
NO CORN, WHEAT, OR SOY: Adult dry dog food doesn't contain poultry by-products, wheat, wheat gluten, corn, soy, dairy, eggs, artificial colors, or preservatives. Manufactured in a facility that also...
MADE IN USA: Using only the finest globally sourced ingredients, we prepare each of our diets in our own state of the art facility; recipes crafted with wholesome, non-GMO ingredients chosen for their...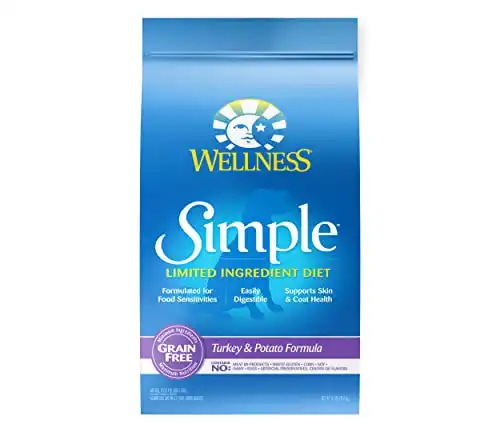 We earn a commission if you make a purchase, at no additional cost to you.
Nom Nom Fresh
Another great limited-ingredient food is Nom Nom Fresh. It contains ground pork, russet potatoes, green beans, squash, and kale. It has no grains and is a good option for dogs of all ages.
Even large breeds can safely eat this food. It contains 32% protein, 20% fat, and 40% carbs.
Canidae Grain-Free Pure Limited Ingredient
The last food we want to recommend is one from Canidae. This food contains salmon, salmon meal, menhaden fish meat, sweet potatoes, and peas. It is grain free and only safe for adult dogs.
Finally, it contains 36% protein, 20% fat, and 36% carbs.
Canidae Pure Limited Ingredient Premium Adult Dry Dog Food, Real Salmon & Sweet Potato Recipe, 22 lbs, Grain Free
Contains 1- 22 Lb. Bag of Canidae PURE Salmon and Sweet Potato Recipe Dry Dog Food
Real food ingredients for the taste your dog will love. Crafted with real salmon as the first ingredient, paired with whole ingredients like manhaden fish meal, peas and sweet potatoes
Complete and balanced goodness for adult dogs. This recipe is made using 10 or fewer key ingredients that are easily recognizable, perfect for sensitive dogs
Formulated with antioxidants and probiotics to support a healthy digestive and immune system, along with a nutritious blend of vitamins and minerals to support healthy joints, skin and coat
Canidae is creating a world of goodness for pets and the planet. Premium proteins and regeneratively farmed ingredients nourish pets and planet in every bowl, setting a new standard for pet food....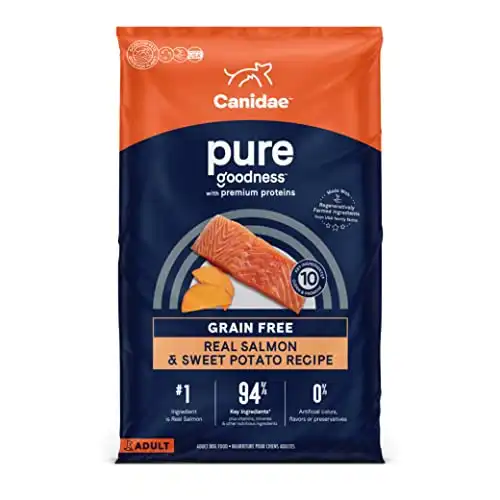 We earn a commission if you make a purchase, at no additional cost to you.
Final Thoughts
There is a lot that goes into taking care of a dog. You must feed them, take them outside regularly, and play with them. These things are all important, but the work does not stop there.
You also must look out for when they appear sick.
Many dogs have skin allergies that can be problematic. One of the easiest ways to solve allergy problems in dogs is to change their diet. Fortunately, there are several dietary options for dogs with allergies.