7 Best DIY Dog Toilet Solutions (Indoor or Porch Potty)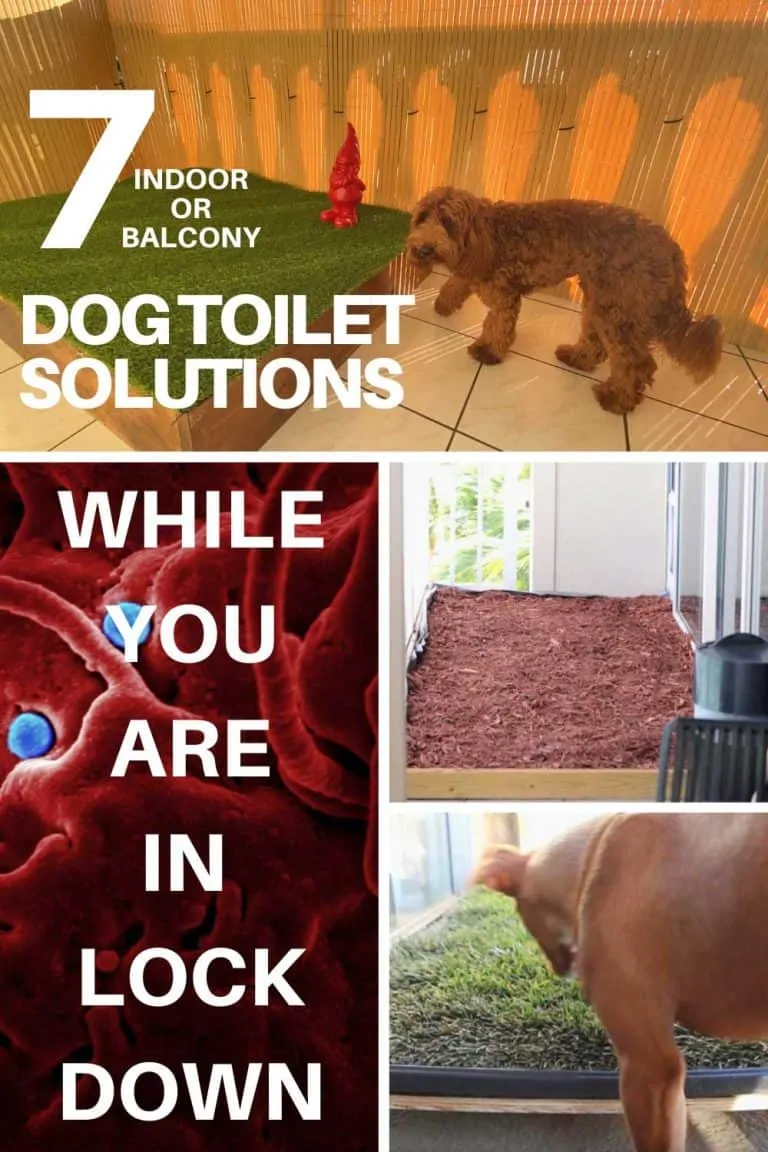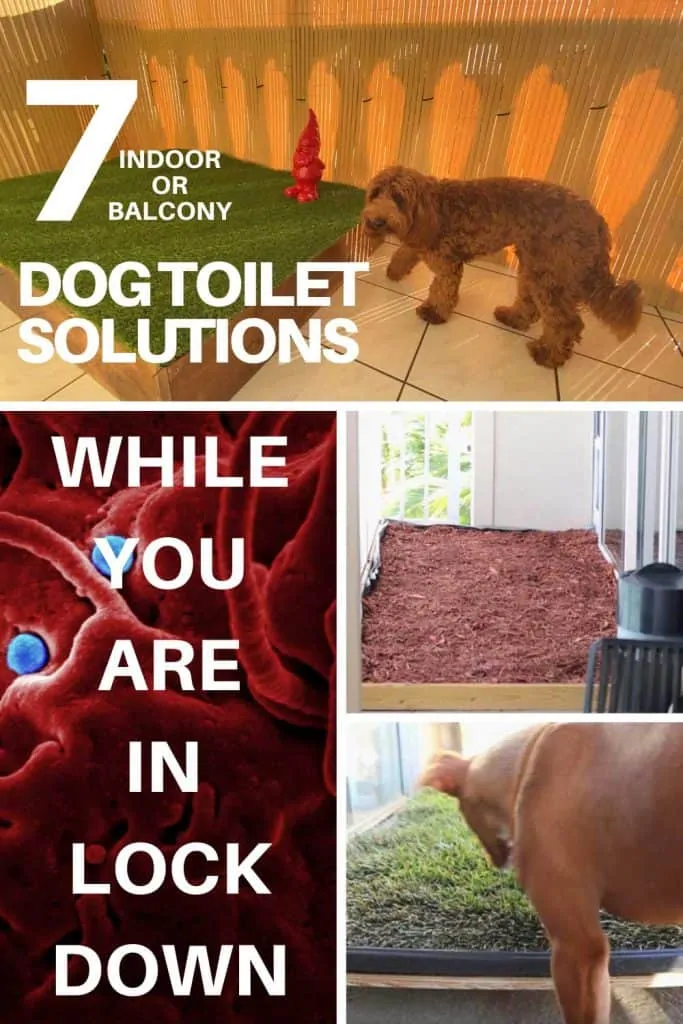 How can you take your dog outside to toilet if you are stuck inside? How can you dog find a toilet solution without going outsideevery time? Are there DIY indoor solutions that can mean you dog can control their own toilet time?
The solution? Simple – a DIY dog toilet that can be used on the balcony OR inside.
Whether you live in an apartment or house – you can create a DIY dog toilet or DIY porch potty to create a safe regular easy-to-clean spot for your dog to toilet.
We have gathered the 7 best DIY (or cheap alternatives) indoor porch potty toilet options for your dog to comfortably and smell-free toilet.
DIY Dog Toilet with Real Grass and Drainage System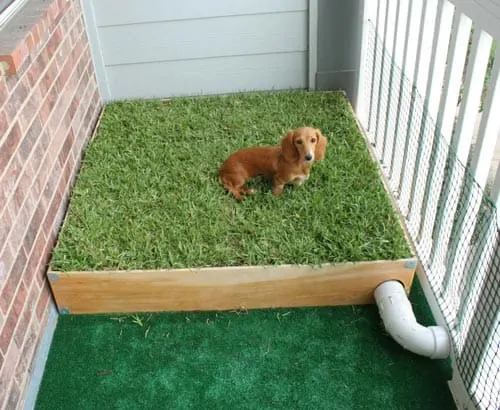 This ingenious solution does require some tools and DIY knowhow. It has real grass! Your puppy won't notice a difference while you are trapped indoors.
The instructions are detailed. The grass is held up by a lattice framework made of wood. The drain is large and clean. You will need to replace the grass fairly often however.
Because the dog gets to sit on natural grass it means there is less chance of confusion when you transition back to outdoor toilet times.
Find out details on the build here
Self Draining DIY Porch Potty with Durable Artificial Turf
This (luxurious) self draining puppy potty is a surprisingly quick build! It uses durable (but easily replaceable) artificial turf. You can just hose it down at it is good to go!
A combination of metal lattice and a PVC sheet are used to create the draining slope and support the grass.
There is even a red gnome for your puppy to aim at! You can find out more about the build here. (I build this one for our Labradoodle puppy Max!)
The nifty angled PVC sheet allows gravity to pull away the urine and naturally drains it out through the lowest corner. An extra spray down in summer with a nearby hose helps ensure everything stays super fresh and eliminates and chance of a urine smell.
Cheap Artificial Grass Bathroom Mat for Puppies and Small Pets
Artificial Grass Puppy Pad for Dogs and Small Pets – Portable Training Pad with Tray – Dog Housebreaking Supplies by PETMAKER (20" x 25")
DOG GRASS PAD WITH TRAY - This artificial turf dog pee pad provides a sanitary place for your pet to relieve themselves inside or on your balcony or patio. It's a reusable alternative to disposable...
EASY PUPPY TRAINING - Potty training your new best friend just got easier, even if you live in an apartment or work long hours. This dog grass pad helps avoid accidents while enforcing your pup's...
THREE-LAYER SYSTEM - The artificial dog grass mat sits on top of a secure plastic drainage insert that allows liquid to empty into the durable collection puppy pad holder to avoid messes and spills.
EASY CLEAN-UP - Cleaning this reusable grass pad for dogs is quick and easy. Rinse the three layers of the dog potty tray with soapy water and clean-up is complete.
PRODUCT DETAILS - Materials: Synthetic Plastic (Grass Mat) and Hard Plastic (Tray and Insert). Dimensions: (L) 25" x (W) 20" x (H) 1.25". Color: Green and Black.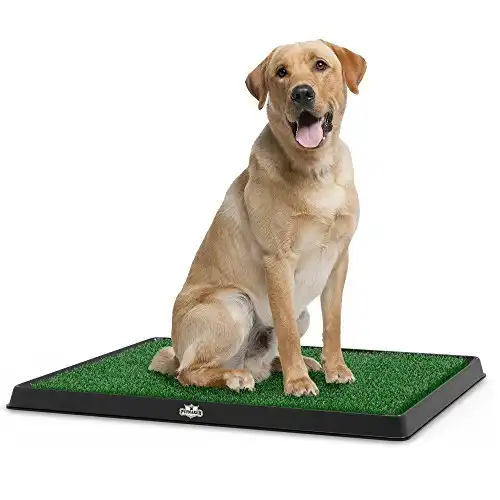 We earn a commission if you make a purchase, at no additional cost to you.
Well maybe not all options need to be complex or DIY. This Artificial Grass Bathroom is a cheap and cheery option to get you and your Pup through a week or two of indoor or porch potty toiletting.
Its flexible plastic, and gets delivered fast. This is great option for a temporary porch or indoor potty.
Check out the price and reviews here.
This is a great short term solution – and could even be appropriate for travelling or staying at a pet friendly holiday rental.
Extra Large DIY Porch Potty Contraption for Big Dogs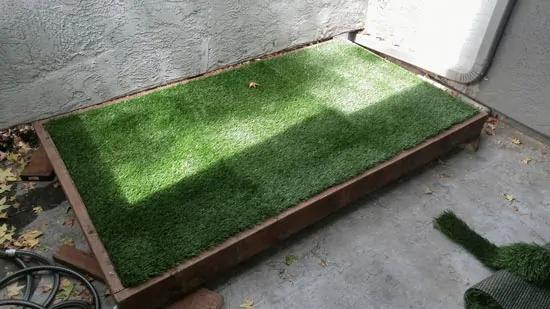 This is a more complex and extra large DIY Porch Potty contraption to suit larger dogs. It also features artificial grass and a degree of drainage.
This is a fairly complex project that will require tools, hardware and time. The result will last much much longer than a plastic solution! A great option for a porch potty toilet.
Even though it looks simple from the surface this is a fairly complex and heavy build. Not one you want to move by hand too often. The weight aline makes this build a semi-permanent structure.
See the full plans to build here
Simple Balcony Potty on Wheels
This one is a little different – a potty on wheels! It is a super simple and easy to make option. You don't need many supplies or DIY skills to whip up this cool contraption!
A Disposable Fresh Patch of Grass!
We earn a commission if you make a purchase, at no additional cost to you.
It's so cool that you can literally just buy a box of fresh grass and get it delivered ASAP. The company Fresh Patch offers this service and distribute via Amazon. So it arrives real fast!
Your dog will have a temporary indoor or outdoor toilet in no time! Once the grass goes, you simple dispose of the box and grass.
And once your quarantine is over – your dog will be back outside on the real stuff in no time!
Ditch the grass – Try a Simple DIY Dog Toilet made from MULCH!?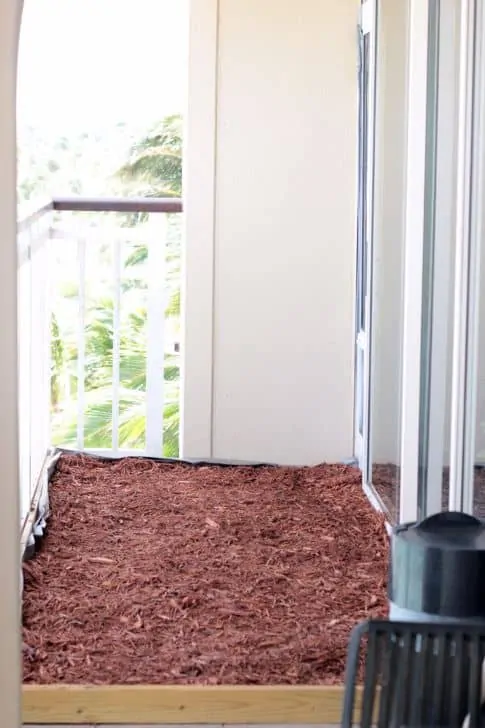 How interesting is this idea! They used liner and mulch instead of grass. This is simple and easy and you don't need to worry about changing any real turf.
They use a pond liner (like you would use if you were making a pond in your backyard) as a waterproof liner to contain any excess liquid.
Using bark that is not dyed is better. In the unlikely event that your dog decides to eat some mulch – certain colorants can be toxic to dogs.
See how The Space Between made this unique temporary dog toilet
This one intrigued me – but does seem a little like it might smell after a while particularly in warm weather. Some dogs also chew everything so make sure your dog does not like to eat mulch.
DIY Indoor and Porch Dog Toilet Conclusions
There can be many other reasons sometimes we need a temporary indoor or balcony dog toilet solution. Whether we are trapped inside for health, the weather or just need to leave out dog alone for a while – there are comfortable and budget-friendly DIY dog toilet solutions.
If you follow some of the guides of any of these 7 best DIY dog toilet – you might end up with a permanent solution!
Regularly clean your dog and remember just because they have not gone outside, does not mean they won't need grooming.
See why your Goldendoodle might stink, or find out the best 5 shampoos for Bernedoodles young and old.
Make the most of it, be safe – and feel free to have a look at these super cute Teacup Goldendoodles to feel a little bit better.