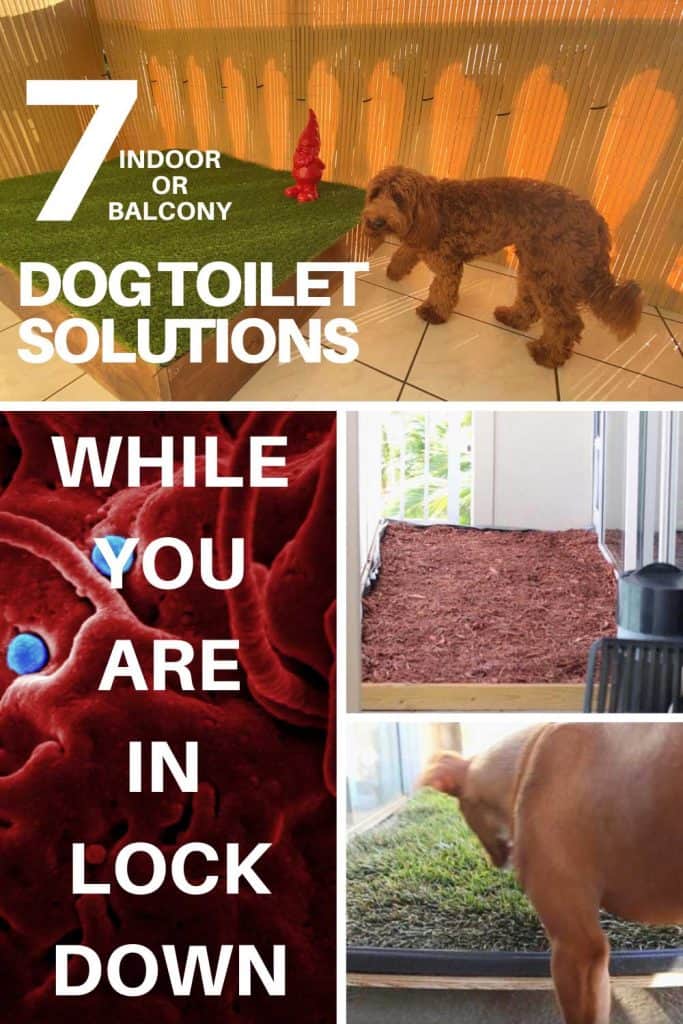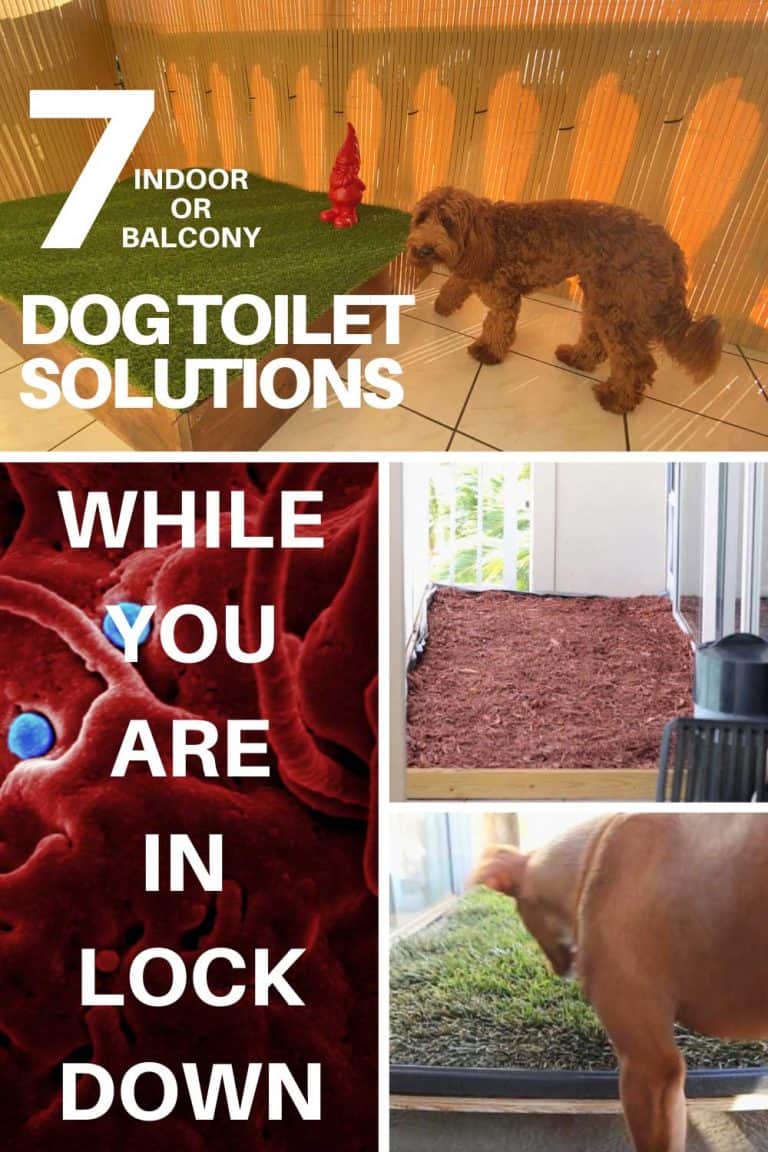 If you are quarantined with an illness (like COVID-19 coronavirus) then you and your puppy can have a bit of a problem. How can you take your dog outside to toilet if you are quarantined!
If you have an infectious disease – taking your dog outside could expose others to your infection. The solution? Simple – a DIY dog toilet that can be used on the balcony OR inside.
Whether you live in an apartment or house – you can create a DIY dog toilet or DIY porch potty to create a safe regular easy-to-clean spot for your dog to toilet.
We have gathered the 7 best DIY (or cheap alternatives) indoor porch potty toilet options for your dog and you to comfortable survive quarantine
DIY Dog Toilet with Real Grass and Drainage System
This ingenious solution does require some tools and DIY knowhow. It has real grass! Your puppy won't notice a difference while you are trapped inside on virus isolation.
The instructions are detailed. The grass is held up by a lattice framework made of wood. The drain is large and clean. You will need to replace the grass fairly often however.
Find out details on the build here
Self Draining DIY Porch Potty with Durable Artificial Turf
This (fairly luxurious) self draining puppy potty is a surprisingly quick build! It uses durable (but easily replaceable) artificial turf. You can just hose it down at it is good to go! A combination of metal lattice and a PVC sheet are used to create the draining slope and support the grass.
There is even a red gnome for your puppy to aim at! You can find out more about the build here
Cheap Artificial Grass Bathroom Mat for Puppies and Small Pets
Well maybe not all options need to be complex or DIY. This Artificial Grass Bathroom is a cheap and cheery option to get you and your Pup through a week or two of isolation.
Its flexible plastic, and gets delivered fast. This is great option for a temporary porch or indoor potty.
Check out the price and reviews here
Extra Large DIY Porch Potty Contraption for Big Dogs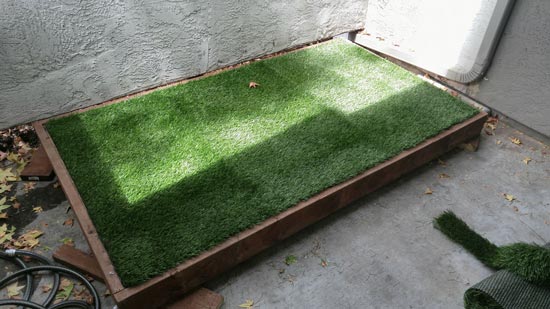 This is a more complex and extra large DIY Porch Potty contraption to suit larger dogs. It also features artificial grass and a degree of drainage.
This is a fairly complex project that will require tools, hardware and time. The result will last much much longer than your quarantine! A great option for a porch potty toilet.
See the full plans to build here
Simple Balcony Potty on Wheels
This one is a little different – a potty on wheels! It is a super simple and easy to make option. You don't need many supplies or DIY skills to whip up this cool contraption!
A Disposable Fresh Patch of Grass!
It's so cool that you can literally just buy a box of fresh grass and get it delivered ASAP. The company Fresh Patch offers this service and distribute via Amazon. So it arrives real fast!
Your dog will have a temporary indoor or outdoor toilet in no time! Once the grass goes, you simple dispose of the box and grass.
And once your quarantine is over – your dog will be back outside on the real stuff in no time!
Ditch the grass – Try a Simple DIY Dog Toilet made from MULCH!?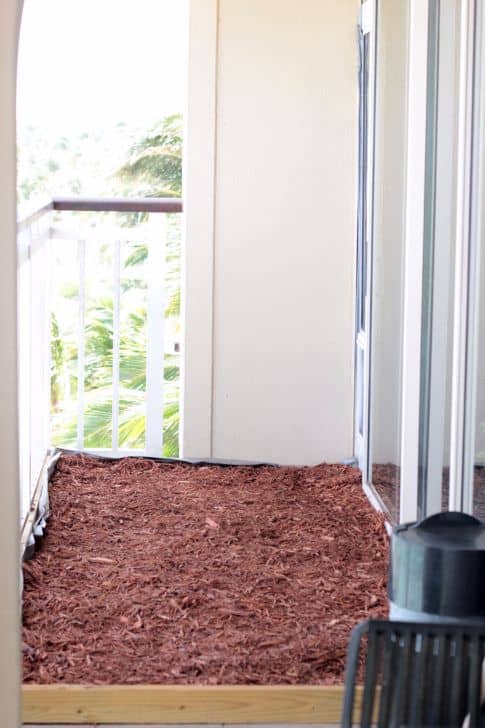 How interesting is this idea! They used liner and mulch instead of grass. This is simple and easy and you don't need to worry about changing any real turf.
Using bark that is not dyed is better. In the unlikely event that your dog decides to eat some mulch – certain colourants can be toxic to dogs.
See how The Space Between made this unique temporary dog toilet
Conclusions
Luckily dogs can't catch COVID-19 Coronavirus (at the moment see here for updates) but humans can. For that virus and many other reasons sometimes we need a temporary indoor or balcony dog toilet solution.
If you follow some of the guides of any of these 7 best DIY dog toilet – you might end up with a permanent solution that outlasts your quarantine or lock down!
Regularly clean your dog and remember just because they have not gone outside, does not mean they won't need grooming. Viruses cannot be washed away – but bacteria can be killed by shampoo. The best antibacterial shampoo for Poodle cross coats works well for all dogs.
See why your Goldendoodle might stink, or find out the best 5 shampoos for Bernedoodles young and old.
Make the most of it, be safe – and feel free to have a look at these super cute Teacup Goldendoodles to feel a little bit better.