Top 5 Best Shampoo for Bernedoodles (and our favourite)
Cutting straight to the chase – these are the three best shampoo for Bernedoodles on the market. Complete reviews and the two runner ups are listed in the article below.

The three best Bernedoodle Shampoos based on our extensive testing and research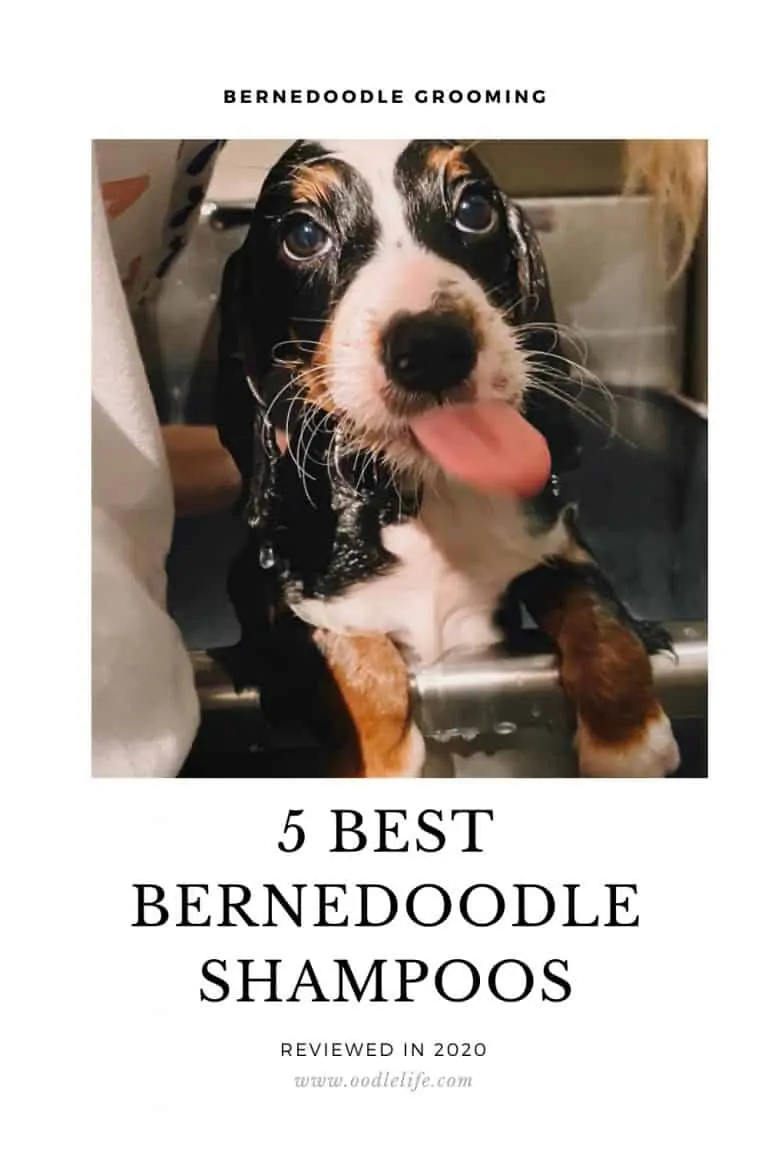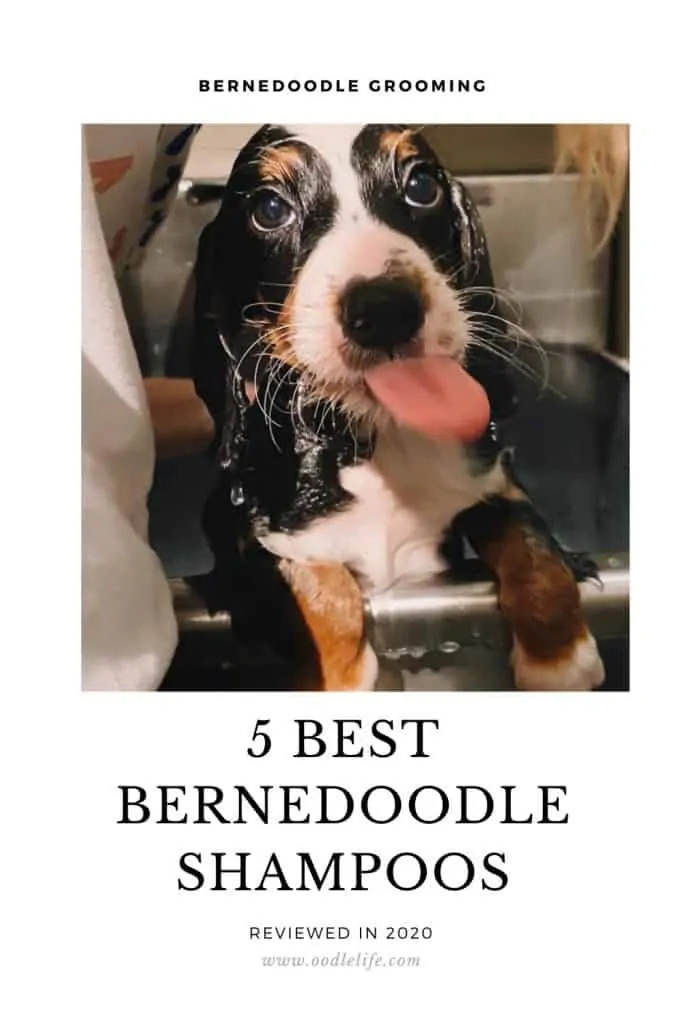 The low shedding fur of the Bernedoodle can be incredibly soft. The distinctive tri-colour markings that many Bernedoodles have are striking and beautiful. A breed with such an iconic and non-shedding coat deserves the best advice and products to look after it. Finding the best Bernedoodle shampoo on the market is important.

In this article we will cover the full process of bathing and shampooing the Bernedoodles coat. From puppyhood to adult, using the correct shampoo will protect and preserve the beautiful Bernedoodle fur. All generations of Bernedoodle from F1 to F1b or F2 all need good quality shampooing.

Our impartial top 5 recommendations are compared to give you all the information needed to keep owner and Bernedoodle happy.

3 Tips For Bernedoodle Coat Care
Non-shedding Bernedoodle coats are low allergy and easy to maintain day to day – but do require some increased grooming. Poodle-like ear hair also requires some special care. We've conducted research talking to Bernedoodle owners, trainers, and groomers to determine which are the hands down best Bernedoodle shampoos on the market.

Regular bathing using correct Bernedoodles friendly shampoos is important.

Appropriate pH shampoos can actually avoid the worst of the matting that can occur
Brushing the dog before you bathe it is a great idea. This will relieve the worst of the tangles before the water and shampoo make it too difficult to brush out.

Every 4-6 weeks is an appropriate timeframe to bath most Bernedoodles. Individual dogs may need more or less frequent bathing depending on the amount of oil produced.
The types of food that you feed your Bernedoodle can have a significant impact on the shininess and health of the coat .

Studies have found that Omega-3 containing pet food contribute a lot to coat health
We narrowed the field down to the 5 best shampoos for Bernedoodles. Some have strengths that make them ideal for certain situations.
An older Bernedoodle with no allergies has slightly different shampoo requirements to a Bernedoodle puppy with sensitivity.

Oodle Life is impartial and is not affiliated with any brands or organisations. I took a deep dive on Bernedoodle shampoos and hit up forums, owners and breeders to get their advice. Links to Amazon are affiliate links and may result in small commission on purchase – at no additional expense to you.

The Best Shampoo for Bernedoodles 2020
The Best Shampoo for Bernedoodles in 2020 is the Nootie Pet Shampoo (specifically the Japanese Cherry Blossom smell). The brand Nootie came up over and over again when I discussed the best Shampoo and grooming with Bernedoodle owners and breeders. It is a strong favourite!
Nootie Pet Shampoo (Japanese Cherry Blossom)
Price

Gentle to skin

Cleaning Power

Fragrance
Summary
The exotic scent of Japanese Cherry Blossom combined with Rosemary stimulates the senses while promoting a healthy soft coat. Rosemary stimulates the hair follicles, resulting in a strong healthy coat.
It is made with natural ingredients and is soap and paraben free. No sulfates or harsh chemicals for gentle cleansing
It's long lasting fragrance remains on your pet for days. Safe to use along with topical flea & tick products
Check Price and Reviews on Amazon
Pros
Natural Ingredients
Paraben free
Soap free
Safe with flea and tick products
Cons
Although cost effective, not the cheapest option
Popular scent might not be for all
The deep and thorough cleaning offered by the Nootie shampoo is remarkable given how safe and natural the ingredient list is. Owners and groomers are massive fans of the scent.
The shampoo strikes an excellent middle ground between premium hypoallergenic ingredients and cost effectiveness. While all five our the top shampoos are popular, only Nootie was highly recommended as the first choice from owners and breeders interviewed.
I loved the feel of the Nootie shampoo, and when washing with it I was impressed with the lather. It didn't feel like I had to use an extreme amount of the shampoo to get good deep cleaning.
The remarkable success of this extremely popular review is due to its natural ingredients, amazing smell, and long term loyal fanbase.
Of all the shampoos I researched, tested, and discussed with Bernedoodle owners – Nootie had the most consistent fanbase.
The Best Shampoo for Bernedoodles with Allergies
The best allergy shampoo for Bernedoodles is Burt's Hypoallergenic Puppy Shampoo. This shampoo wins because it strikes the perfect balance between being allergy friendly and effective at cleaning. It washes comfortably and is suitable for allergic skin. It also gives a deep and thorough clean.
Burt's Bees All Natural Oatmeal Shampoo & Conditioner for Dogs
Price

Gentle to Skin

Cleaning Power

Fragrance
Summary
MADE WITH THE HIGHEST QUALITY INGREDIENTS — This gentle formula includes ingredients like colloidal oatmeal, honey, and beeswax for sensitive skin
DIRECTIONS — Apply to dog's wet coat. Work from head to tail and rinse, carefully avoiding eyes. As is typical with natural formulas, this shampoo will only have a light lather
SUITABLE FOR ALL DOGS AND PUPPIES — This mild tearless shampoo is pH balanced especially for all dogs and puppies
100% SAFE — Veterinarian recommended formula, free of fragrances, sulfates, colorants, and harsh chemicals
Check Price  and Reviews on Amazon
Pros
Safe and Veterinarian approved
High quality colloidal oatmeal
Natural ingredients
Inoffensive smell
Cons
May need some further coat products for ultimate shine
Just like humans, Bernedoodles can be affected by allergies. Sometimes these are seasonal allergies (think hay fever but for dogs) or it can be an all year concern. Choosing an appropriate everyday shampoo for an itchy Bernedoodle can help improve the health of your dogs skin and coat.
If your Bernedoodle is prone to allergies a typical shampoo that you might seek would have ingredients like hypoallergenic colloidal oatmeal.
Natural ingredients are a must for an allergy-prone Bernedoodle. Given that Burt's Best Hypoallergenic Shampoo contains 97% natural ingredients – it is a dynamite option for your dog.
The shea butter and pH-balance will moisturise and protect your dogs skin. There are no allergy inducing artificial fragrances, colours, or sulphates.
This shampoo was extremely popular when I posed the question to Bernedoodle forums and owners groups. Owners of dogs with allergies (and those who are budget conscious) really valued this hydrating, soothing Bernedoodle shampoo.
The Best Shampoo for Bernedoodles Puppies
Bernedoodle puppy shampoo needs to meet the follow
Smell good to remove odour and cover puppy accidents
Be gentle to puppy coats and make them shine
Be cost effective for larger breed puppies like Bernedoodles
Based on our testing and reviews the best shampoo for Bernedoodle puppies is Buddy Wash Dog Shampoo & Conditioner for Dogs (the one with Botanical Extracts and Aloe Vera).
Buddy Wash Dog Shampoo & Conditioner for Dogs
Price

Gentle to Skin

Cleaning Power

Fragrance
Summary
DOG SHAMPOO AND CONDITIONER – Pet shampoo & conditioner made in the USA with ingredients from the garden, lavender & mint scent
WITH HYDRATING OILS – This 2-in-1 pet wash cleans and moisturizes with herbs and botanical extracts such as lavender, mint, sage and tea trea oil.
EASY PET GROOMING FOR DOGS – Dirty dogs don't stand a chance. One application means easy, gentle, and safe dog grooming that leaves your dog soft, fluffy and smelling great.
SOOTHING & SAFE SHAMPOO – Dog shampoo with a soothing formula safe for frequent use.
SPECIALLY FORMULATED – Made with a coconut base, aloe vera and vitamin E to nourish skin and make coats velvety soft.
CUSTOMER SATISFACTION – As pet parents ourselves we take pride in making people happy and their pets even happier! We look forward to hearing from you if you have any concerns with your order
EVERYBODY LOVES BUDDY – We know your dogs will love Buddy because he is fun, healthy, tasty, and made in the USA
Check Price and Reviews on Amazon
Pros
Combination of Shampoo and Moisturizer
Puppy safe with a great smell
Can be used for Puppies AND as adults
Made in the USA
Soothing coconut base, aloe vera AND Vitamin E for velvety smooth puppy fur
Hydrating
Cons
The best value comes with buying the larger jug, which means higher initial cost (but less cost in total)
Lavender smell is pleasant, but not everyone loves lavender
Puppies can have an amazing smell – but they sure can be stinky sometimes. While they are learning Bernedoodle puppies can be affected by odour. Choosing a great puppy shampoo helps avoid the stinky puppy problem, and also protects and nourishes the Berendoodle puppy coat.
Buddy Wash is made in the USA from natural ingredients. The coconut base is supplemented with other soothing and puppy friendly ingredients. The Aloe helps nourish and protect the coat. The botanicals have a lovely inoffensive aroma.
While you should only wash your Bernedoodle when appropriate, puppies sometimes go through a large volume of shampoo. Finding cost effective larger volume option like Buddy Wash helps you greatly when dealing with a growing, active (and inquisitive) puppy.
Finding a cost effective puppy shampoo for large Bernedoodle puppies is difficult. Owners and trainers recommended a shampoo that would work through puppyhood and the beginning of adult life. Buddy Wash protects and moisturises the Bernedoodle puppy coat.
The Two Runner Up Bernedoodle Shampoos (That are still GREAT)
The other two runner-up shampoos from our reviews and testing are great shampoos. They both have long-term amazing track records and can work perfectly for your Bernedoodle.
Wahl Oatmeal Shampoo (Great VALUE for Budget Conscious Oatmeal Shampoo)
Wahl Oatmeal shampoo is made any the massive grooming products manufacturer Wahl. It comes in a super large value pack which means more bang-for-the-buck.
A groomer I spoke to while researching Bernedoodle coats says she uses this specific shampoo for almost all of her grooming clients. It provide an excellent clean fur to work with when grooming or style cutting.
It is a super simple, natural dog shampoo that works very effectively with Bernedoodle coats. Oatmeal is of course great, and the shampoo also contains coconut and aloe for low allergy, highly effective cleaning.
Wahl Oatmeal shampoo also boasts higher concentrate of the coconut based products. This means a smaller volume of shampoo is necessary to create an excellent lather. A great budget conscious Oatmeal shampoo that we highly recommend.
Check Price and Reviews on Amazon
This shampoo has rave reviews and is a favourite of many Bernedoodle owners. The only drawback is that it does have a natural oil Lavender scent. It is not too strong, most will love – but for some it can be a dealbreaker.
Check Price and Reviews on Amazon
8 FAST Steps to Make Shampooing Your Bernedoodle Easy
Use warm water (not cold, not hot) to keep your Bernedoodle comfortable
Shave problem areas – keep the fur to a minimum around the butt to prevent matting and poop accumulation
Get rid of the matting first – brush tangles out before your dog gets wet
Start with a really small amount of Shampoo – you can always add more
Pat the shampoo on – if you try to rub it in you can tangle and knot the fur
Don't shampoo too often or you will strip the coat of its natural oils
Keep the shampoo OUT of the ears – see how to clean Poodle Cross breed ears here
Floors are SLIPPERY! Be careful when your wet Bernedoodle exit the tub – as the ground can get very slippery. If they lose their footing there is a chance that a serious leg injury can occur.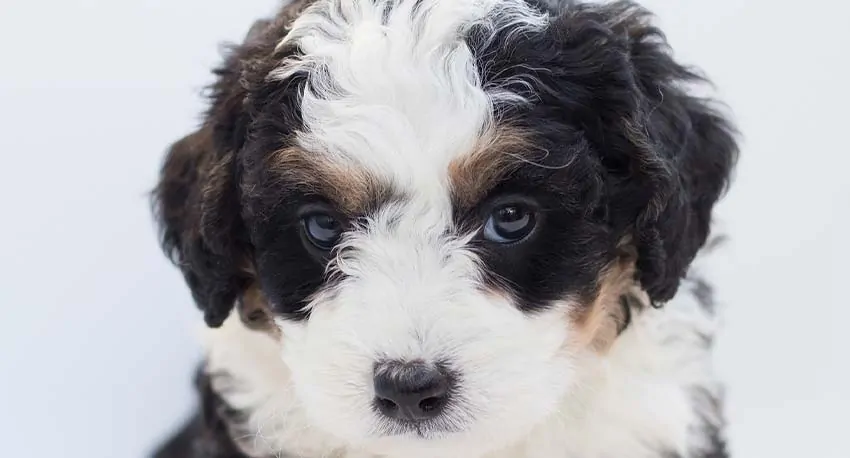 Frequently Asked Questions
How often to bathe a Bernedoodle
In the absence of dirt or matting, once every four weeks is adequate. Be careful not to over bathe your Bernedoodle. Use a good quality shampoo with natural ingredients and a Poodle Mix appropriate pH level.
How often to bath a Bernedoodle Puppy
Bath your Bernedoodle puppy whenever it gets dirty. Otherwise once every 3-4 weeks using a puppy appropriate shampoo is adequate. Use the best shampoo for Bernedoodle – natural ingredients, hypoallergenic. Colloidal oatmeal is a great option.
How can I make my Bernedoodle Smell better?
Regular bathing and grooming tends to help your Bernedoodle smell better. Trimming excess hair from the paws and around the butt will also reduce odour. You should also check the ears of the Bernedoodle for smell. It is common for Poodle cross breed dogs to experience wax or oil build up in the ears. Gentle regular ear cleaning is effective to improve the smell.
Conclusion
All of the Bernedoodle shampoos that we have discussed today are going to give an excellent result. A clean, healthy, and great smelling puppy! We only included shampoos that provide value for money AND excellent performance.
No shortcuts, but also no overpriced shampoos. Any of the products listed will give a great result and leave Bernedoodle and owner feeling good. We hope our comprehensive testing has helped you find the best shampoo for Bernedoodle.
Thinking of getting a Bernedoodle? Check out our quiz Should I Get a Bernedoodle?
Otherwise you can find out the difference between Australian Bernedoodles and Bernedoodles here, see if a Bernedoodle would make a good running companion, or compare a Bernedoodle vs Goldendoodle.