4 Best Labradoodle Breeders in California
Labradoodles are adorable designer dogs that are a cross between a Labrador and a Poodle. These dogs are friendly, intelligent, and have an excitement for life. Their sociability and willingness to please make them excellent family pets and great dogs for first-time dog owners.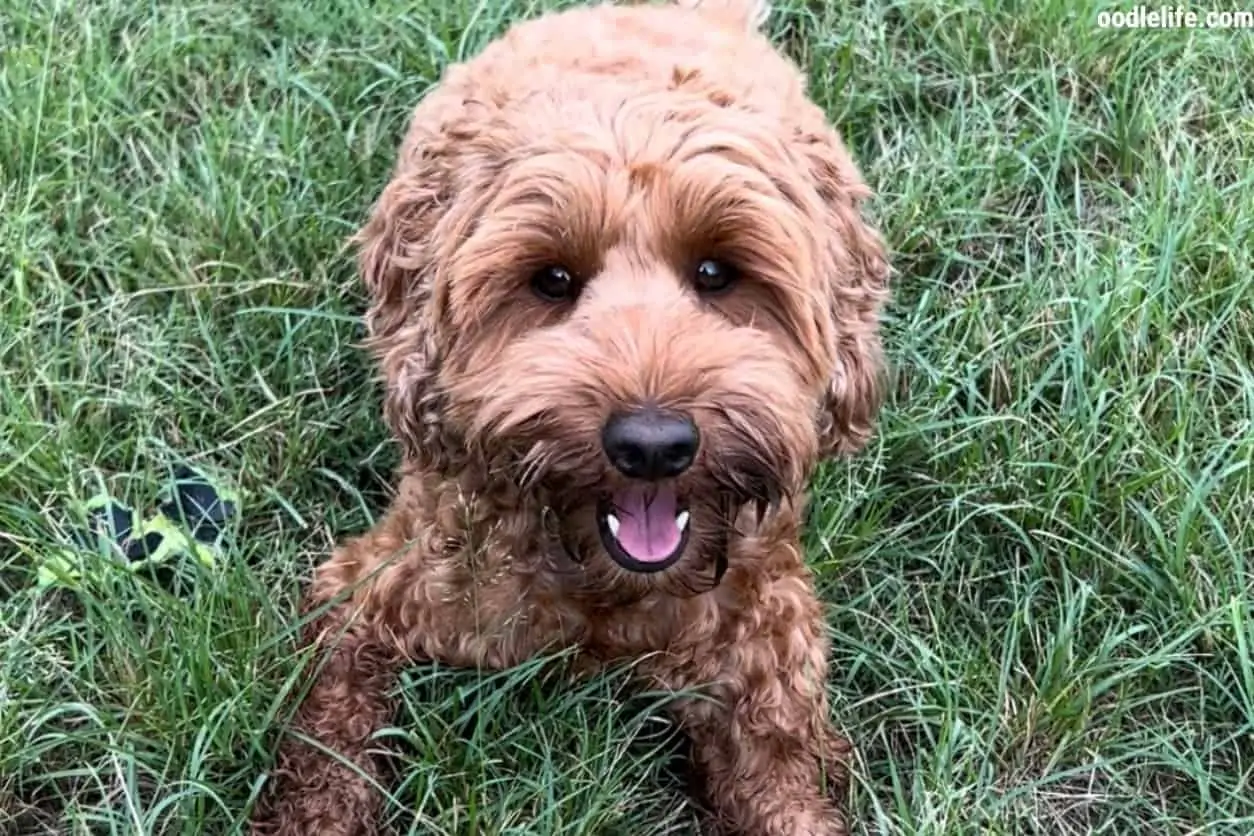 $300 2023 Discount!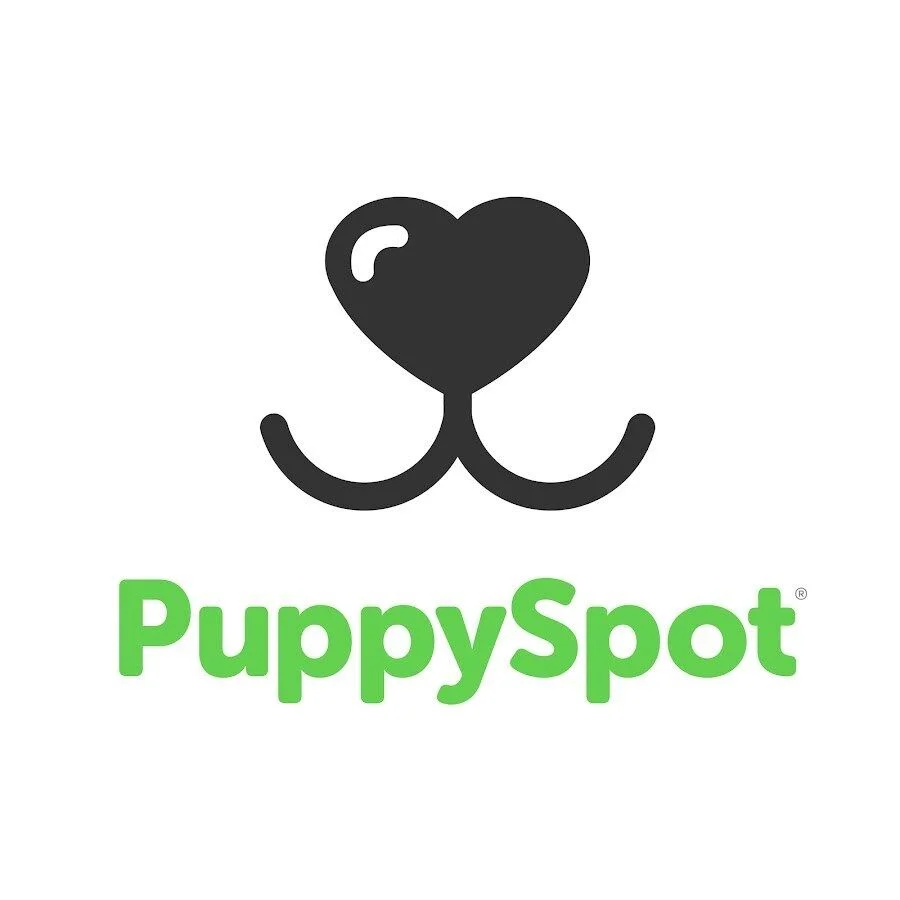 PuppySpot Adoption
PuppySpot is a reputable dog marketplace where you can browse and find compatible puppies right from the comfort of your home. They have placed over 200,000 puppies into homes in the US!
Click through and use the code PUPPY300 for $300 off any puppy adoption.
See Puppies and Save $300
If you're looking to bring home a Labradoodle puppy, it's essential to work with a reputable breeder. You'll want to find a healthy puppy with a healthy pedigree to avoid the risk of bringing home a Labradoodle with significant health concerns.
Make sure to read through our list of four reputable breeders in California. We've chosen to highlight these specific breeders based on the following criteria:

Puppy's Health
Puppy's Living Conditions
Breeder's Experience and Knowledgeability
Customer Service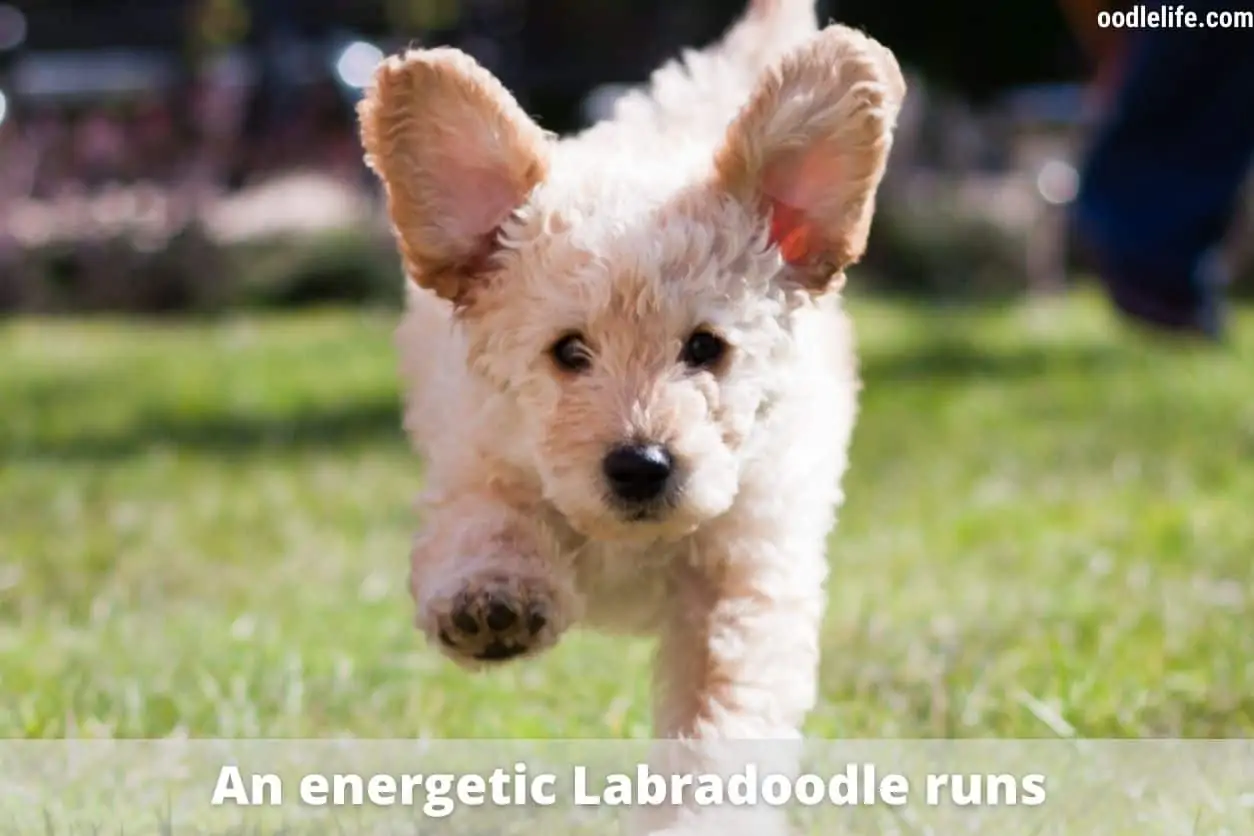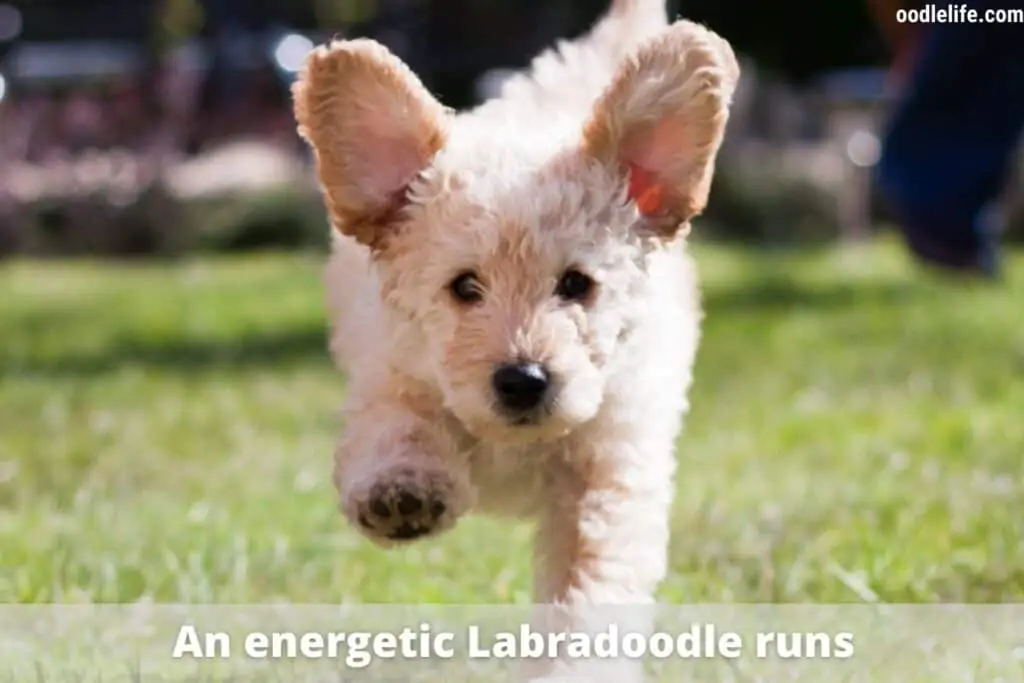 Elite Blend Labradoodles
Elite Blend Labradoodles is a very reputable breeder located in Citrus Heights. This family business has a reputation for providing the best care level to their breeder dogs and puppies.
To begin with, they use a Guardian Home program to provide loving care and attention to their breeder dogs when they're not breeding. This program puts their breeder dogs in the care of another family so that Elite Blend can raise litters from various dogs without keeping these dogs in overcrowded quarters or kennels.
Elite Blend breeds various sizes of Labradoodles, and you can get on their waitlist after completing their online application and submitting a reservation fee. All the new puppies receive age-appropriate vaccinations and wormings and get microchipped. They'll also have a prepaid life-long AKC Reunite Registration.
This breeder also provides excellent customer service and has a well-established puppy selection system in place. All future puppy parents receive emails for several weeks leading up to bringing home the puppy so that they're well-prepared and up-to-date on their puppy's care.
Elite Blend Breeder Information
Elite Blend Puppy Information
Generation: F1, F1b, multi-generation, American
Breeds: Labradoodles, American Labradoodles, Australian Labradoodles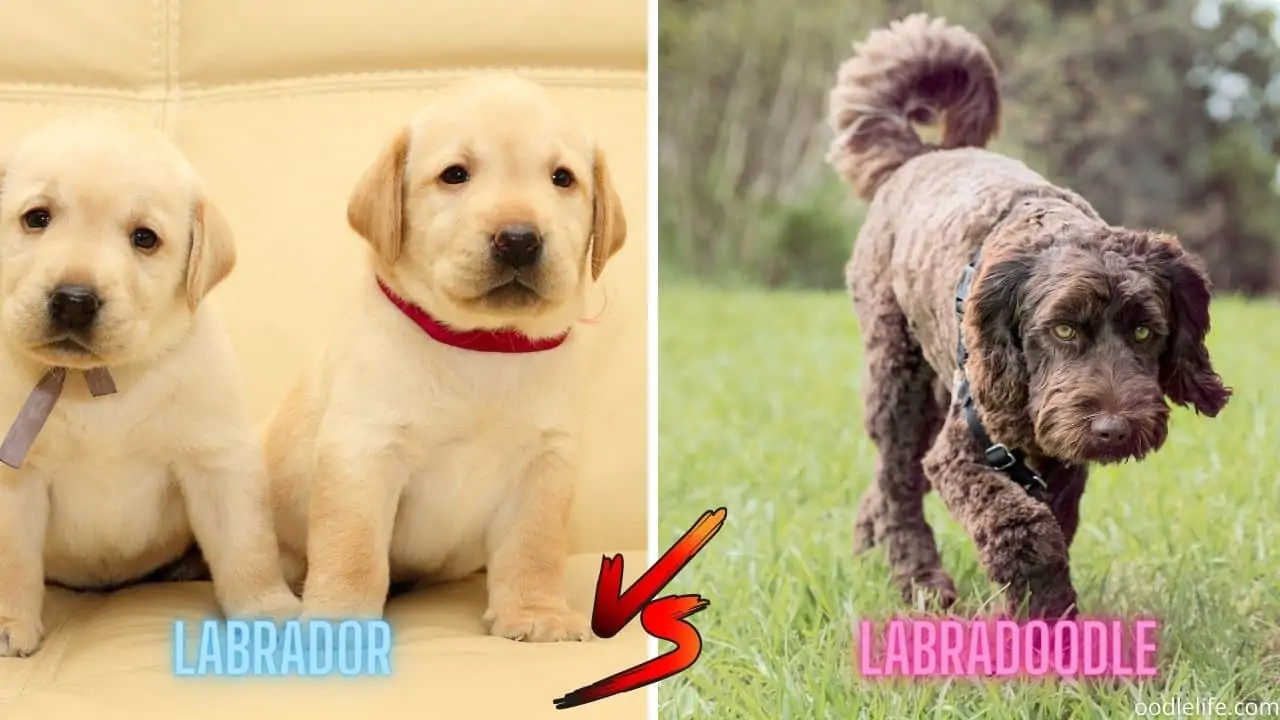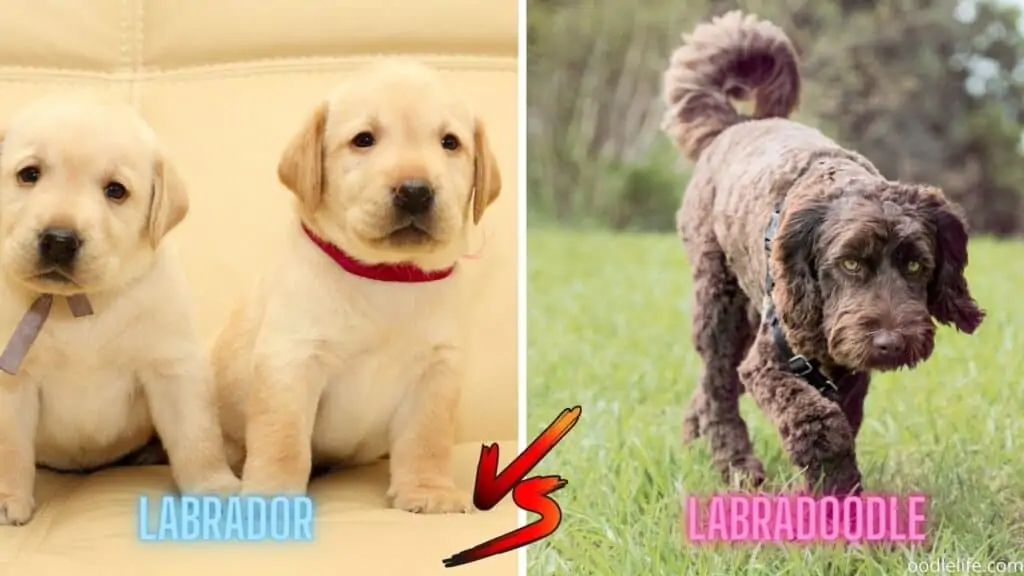 Love A Labradoodle
Based in Wrightwood, the team at Love A Labradoodle breeds Labradoodles that are perfect for families, service work, and therapy work. The founder, Cindy, started breeding Labradoodles in 2003, and she has extensive experience in training and working with Labradoodles and German Shepherds.
Love A Labradoodle also has a Guardian Home program so that the breeder dogs that they work with receive special care and attention.
All the new puppies receive socialization from day one and get handled and held every day. They also engage in daily age-appropriate enrichment activities. The puppies also get introduced to:
Potty training
Crate training
House rules
No nipping training
The puppies receive a thorough health check. They get microchipped and dewormed when they're two, four, six, and eight weeks old. They receive all the required vaccinations for puppies up to eight weeks old.
You'll also receive a one-year health guarantee, and all the puppies come with CKC Registration Papers. If applicable, you'll also receive one free Vet Well Check Examination coupon.
When you work with Love A Labradoodle, you'll bring home a healthy puppy that comes with a solid foundational background in socialization and training. You'll also receive an initial Puppy Starter Kit and continued lifetime support, including training and behavior modification advice.
Love A Labradoodle Breeder Information
Email:

[email protected]

Phone: 951-295-9393
Website: https://lovealabradoodle.com/home. You will need to call or email, as their website is often down.
Location: Wrightwood, CA
Love A Labradoodle Puppy Information
Generation: F1b, F1bb, Multigeneration, F2b Labradoodles
Breeds: Small, Medium, and Standard Labradoodles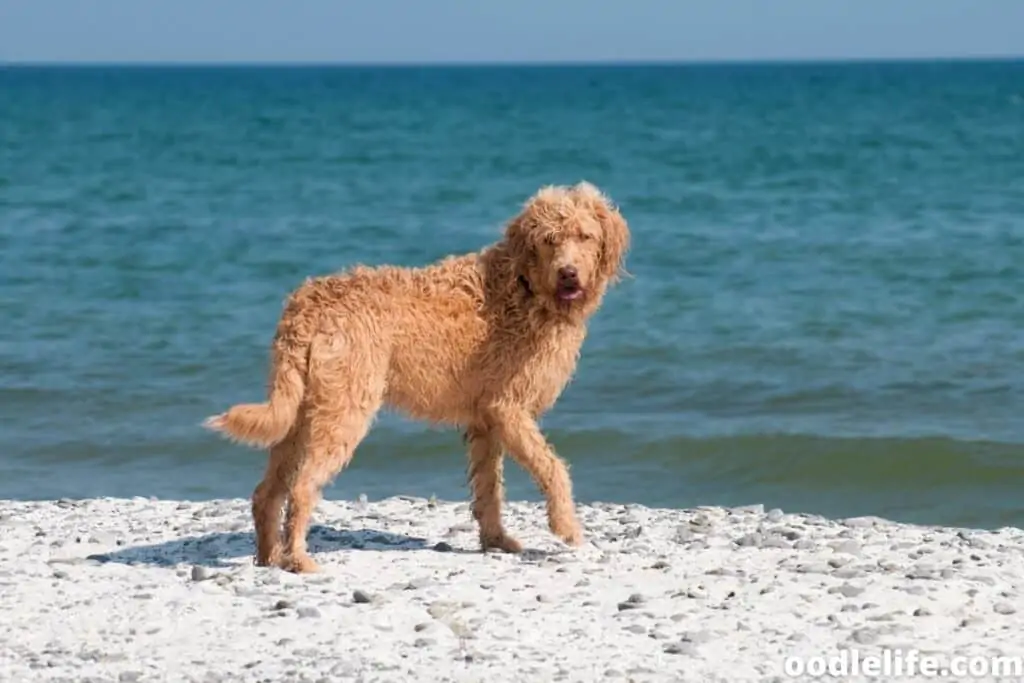 Sierra Vista Labradoodles
Based in Orangevale, CA, Sierra Vista Labradoodles' goal is to breed great family dogs. They work on producing healthy, allergy-friendly dogs with kind and friendly temperaments. Most of their dogs are medium and standard-sized.
Sierra Vista Labradoodles' breeder dogs all live in Guardian Homes with families that have prior experience raising and training dogs. All the puppies receive socialization and get handled and held daily. They also get introduced to cats and children at an early age.
The puppies come microchipped, get dewormed twice, and receive their first set of puppy shots before being given to you. They have a 26-month Genetic Health Warranty and come with one month of pet insurance with Trupanion.
Sierra Vista Labradoodles loves all their dogs and sees the relationship with their customers as a partnership. They offer ongoing support by answering any questions as new dog parents raise their puppies.
If a family can no longer keep a Sierra Vista Labradoodle for some reason, they request that the family return the dog to them. This request is to ensure that the dog continues to receive quality care.
Sierra Vista Labradoodles Breeder Information
Location: Orangevale, CA
Sierra Vista Labradoodles Puppy Information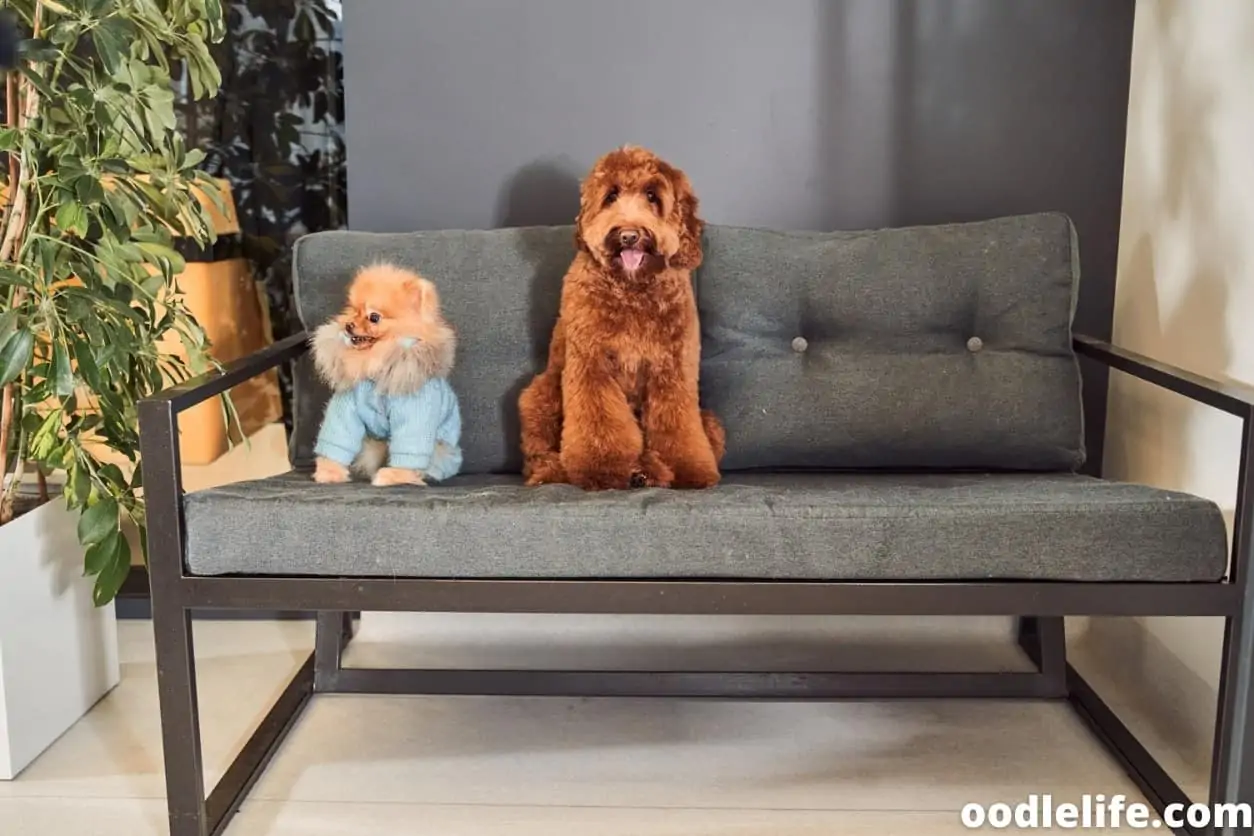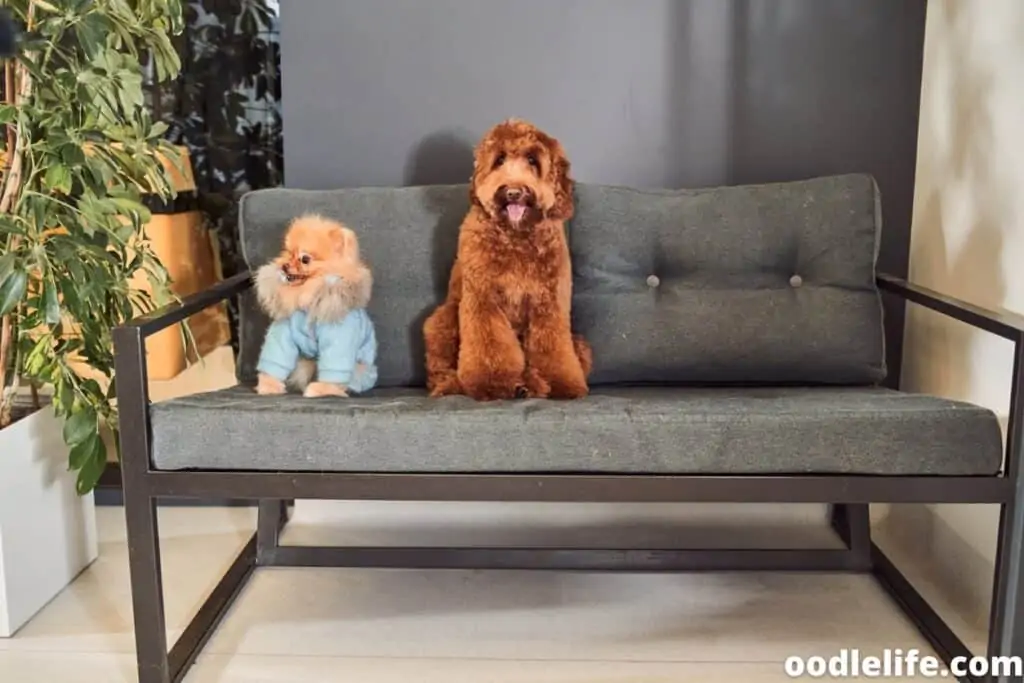 Big Dog Labradoodles
Big Dog Labradoodles is a family-owned business that breeds Labradoodles, Goldendoodles, Doubledoodles, and Poodles. All their dogs receive familial love and care, and the puppies are well-socialized with children and other dogs as they grow up.
This breeder has mini, medium, and standard Labradoodles available, but they specialize in standard-sized dogs. All their puppies receive a complete health exam and their first vaccinations, and they get dewormed.
They also come with a three-year health guarantee and eat high-quality food as they grow. The puppies don't necessarily leave potty-trained, but they're all introduced to some crate and house training.
When you work with Big Dog Labradoodles, you'll receive all the information you need leading up to the date you pick up your puppy, along with life-long support for times when you have some questions as you raise your Labradoodle.
Big Dog Labradoodles also offers doorstep delivery for California residents and out-of-state delivery to the airport nearest you for an additional cost.
Big Dog Labradoodles Breeder Information
Big Dog Labradoodles Puppy Information
Generation: F1, F1b, F1bb,
Breeds: Labradoodles, Goldendoodles, Doubledoodles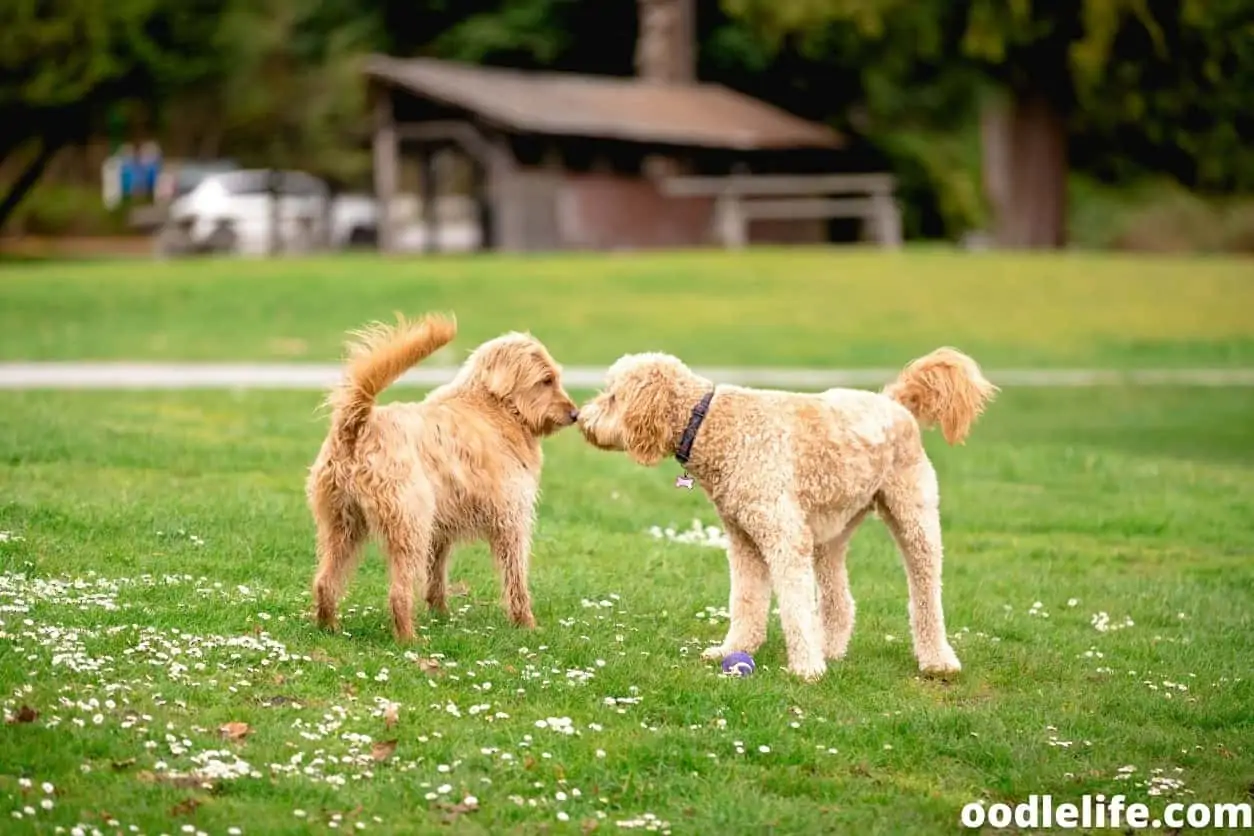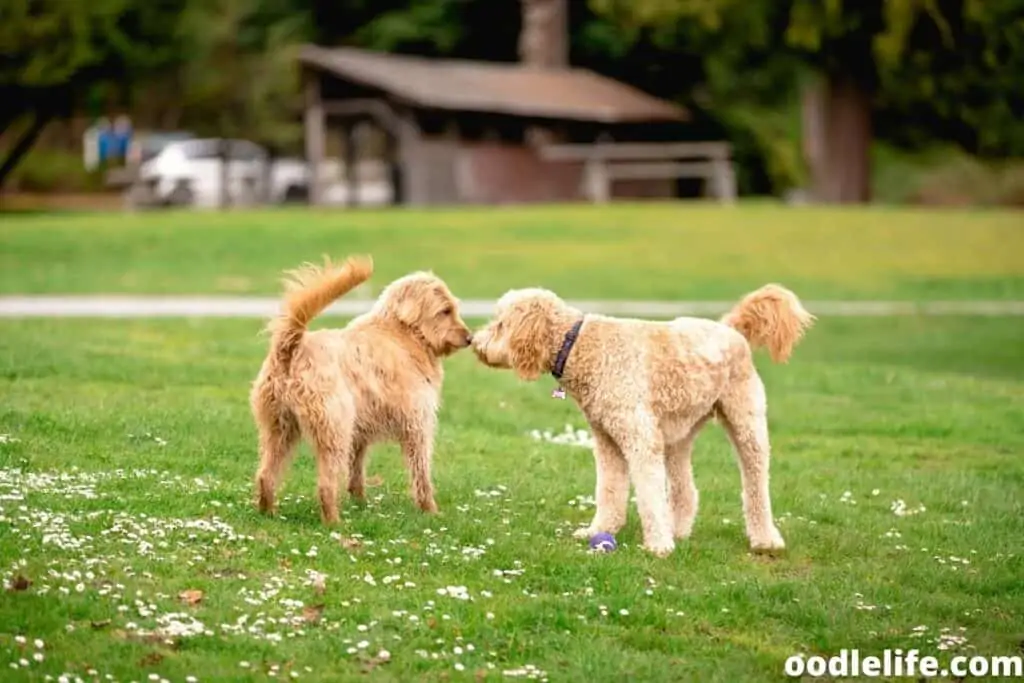 How to Choose a Labradoodle Breeder in California
It's essential to work with a reputable Labradoodle breeder in California to lower the risk of bringing home an unhealthy puppy. Here are some qualities of a reputable and trustworthy breeder.
Extensive Knowledge
Make sure that you work with an experienced breeder who has a lot of knowledge about breeding programs and Labradoodles. A good breeder should be capable of answering any questions you have and be welcoming and willing to answer your questions.
You can ask breeders questions about their breeding practices or the kind of care their puppies receive. A good breeder will also provide extended support after you bring one of their puppies home. Although they won't provide training or medical advice for your puppy, they'll be a lifelong reference for you if you have any basic questions.
Love and Care for All Their Dogs
Look for ways that breeders show love and care for all their dogs. For example, many reputable breeders participate in Guardian Home programs so that their breeder dogs grow up in loving families and safe homes.
Responsible Labradoodle breeders will also provide early socialization for their puppies and handle and hold them daily.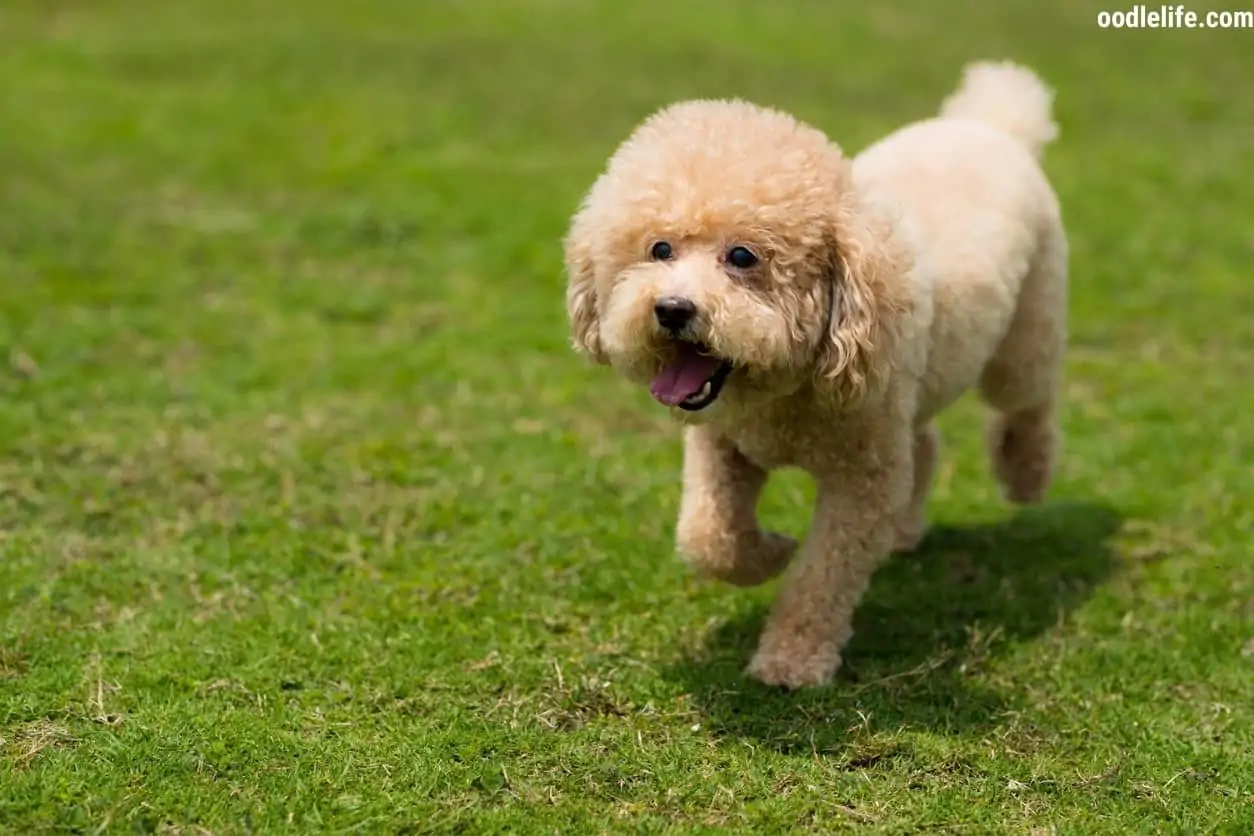 Quality Health Care
Always ask the breeder about their puppies' health records. Look for breeders that work with a trusted veterinarian to properly vaccinate and deworm their puppies and do a complete health exam.
Although most puppies from a reputable breeder are healthy, there may be rare instances where they have a significant health condition. Therefore, a good breeder should have some sort of health guarantee and return warranty.
Wrap Up
Labradoodles can brighten up your life and bring a lot of joy to your family. Make sure to work with a reputable breeder so that you can have an enjoyable and rewarding experience from beginning to end.