5 Best Muzzles for Yorkshire Terriers (Snout)
Although Yorkshire Terriers are generally friendly and intelligent, some Yorkies can show signs of aggression if they don't receive quality training.
Although some people might frown upon muzzling a dog, it can be helpful if used properly. They're a useful tool for preventing Yorkies from biting if they're prone to anxiety or keeping them from eating trash during walks.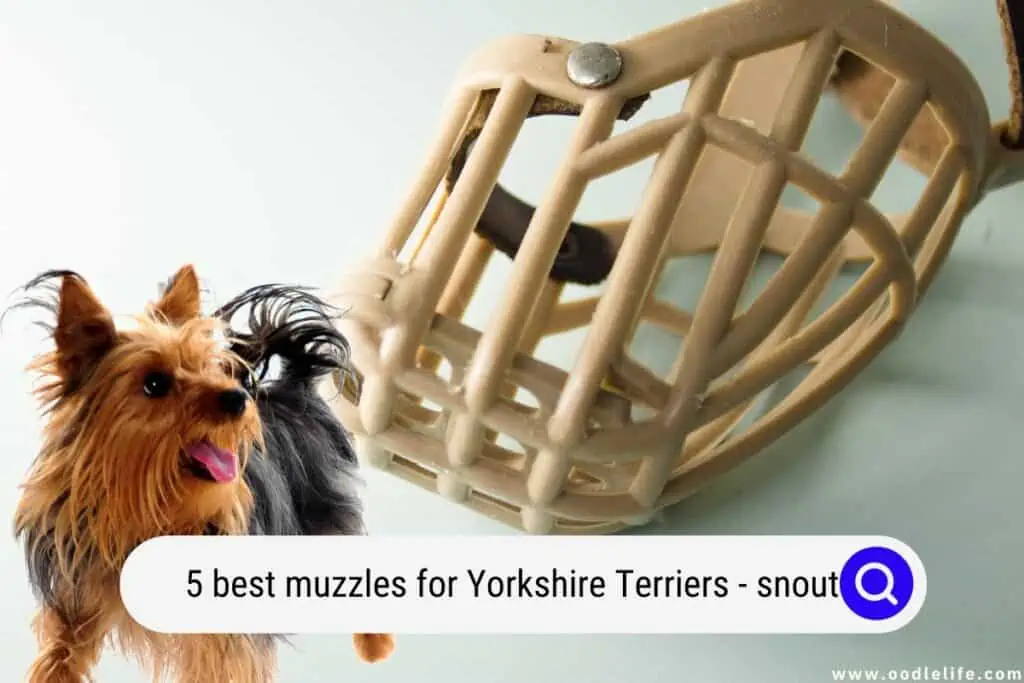 Check out my list of the top options for the best Yorkie muzzle if you need help finding one matching your dog's needs.
Best Overall – Mayerzon Soft Mesh Dog Muzzle
First up on this list is our best overall pick for the best Yorkie muzzle, the Mayerzon Soft Mesh Dog Muzzle. Its breathable mesh provides enhanced comfort for your Yorkie, giving them plenty of ventilation while they pant. In addition, its open-snout design lets dogs eat and drink without any obstructions.
Dog Muzzle, Soft Mesh Muzzle for Small Medium Large Dogs Chihuahua Poodles Beagle Dachshund Corgis Labrador Golden, Puppy Muzzle for Biting Chewing Grooming, Allows Panting Drinking (Grey, XXS)
Ultra-Breathable Mesh Dog Muzzle: Compared with other fabric dog muzzles and bulky muzzles, our soft dog muzzle made of 3D Ultra-breathable Mesh is softer and more lightweight, which can provide dogs...
Multiple Size Options: This pet muzzle is available in 7 sizes. The XXS dog muzzle (Snout circumference between 4''-5'') is suitable for Chihuahua, Yorkshire Terrier and so on. But not...
Adjustable & Easy to Use: Features with durable and adjustable nylon strap, our soft muzzle is easy to ensure a snug fit for your dogs. A contoured slide buckle makes muzzling and removal quick and...
Great Helper in Your Life: If used properly, this humane muzzle can help to prevent dogs from nipping, destroying, fighting, and digging. Since it is quite lightweight and highly carry-on, it is ideal...
Notice & Warranty: To fit your dog better, please measure twice before buying. When you receive your muzzle, make sure that it is large enough to allow your dog to pant and that it is secure while...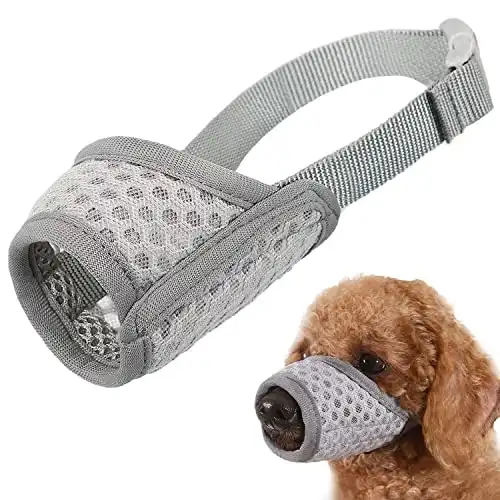 We earn a commission if you make a purchase, at no additional cost to you.
The Mayerzon's XXS-size model is ideal for breeds like Yorkies. If you're worried about it being too snug on your dog's snout, you can adjust it with its durable, premium-stitched nylon straps. Its quick-release buckle makes it easy to equip and remove after a walk or a trip to the vet.
Despite the muzzle's soft and comfortable properties, it doesn't tear easily, ensuring long-time use.
Although it has excellent adjustability, this model isn't 100% escape-proof, no matter how much you tighten it.
Pros:
Adjustable strap.
Quick-release buckle.
Breathable, lightweight mesh.
Lets dogs eat and drink while wearing it.
Tear-resistant.
Cons:
It isn't 100% escape-proof.
Best Budget-Saving Option – MIDOG Dog Muzzle
Finding the best Yorkie muzzle that's affordable and functional can be challenging on a tight budget. However, the MIDOG Dog Muzzle's lightweight and soft properties won't irritate your Yorkie's snout if they need to wear it to prevent chewing and biting.
Dog Muzzle,Print Pet Muzzle for Small Medium Large Sized Dogs Anti Biting Barking Chewing,Air Mesh Breathable Drinkable Nylon Pattern Puppy Muzzle with Adjustable Loop Anti-Dropping -Pink Flower,XS
🐶MUZZLE FOR LAGER MEDIUM SMALL DOG : Are you still worried about your dog scavenging, barking, and biting frequently? MIDOG muzzle for large dog is an expert specializing in solving such problems....
🐶MORE COMFORTABLE FABRIC : Made from soft breathing air mesh and soft fabric around the edges, the dog muzzle cover is a humane way to limit your dog biting, barking, chewing and other bad habits...
🐶MORE HUMANIZED DESIGN : Compared with traditional dog masks, Our soft muzzle for dogs can leave dogs more breathing, panting, and drinking space, which solves the inconvenience of drinking water...
🐶ADJUSTABLE SIZE : The velcro design allows the dog muzzle to be adjusted to the most appropriate size depending on the shape of the dog mouth. And the adjustable loop connecting the collar helps...
💕【24H CUSTOMER SERVICE】: Please measure twice before buying. If our pet muzzle doesn't work for your pet, please contact us in time, we provide free return or refund after-sales service for our...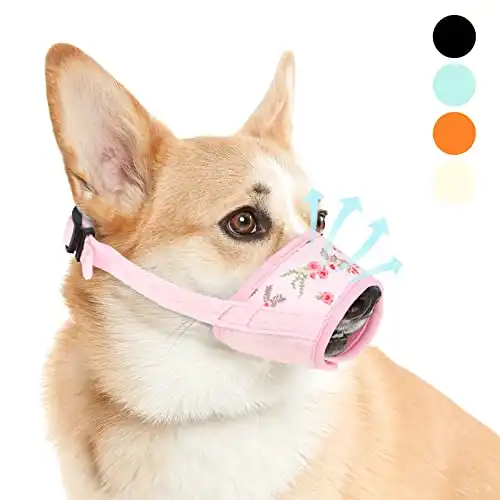 We earn a commission if you make a purchase, at no additional cost to you.
Its design has a breathable mesh with excellent ventilation year-round and has enough mouth space for drinking and eating. It's available in five colors with unique patterns: pink, beige, black, orange, and cyan.
It incorporates two adjustable sections for a secure fit with its nylon head strap and velcro around the snout. It's easy to clean and machine-washable.
Although the MIDOG's extra-small model is great for Yorkies, its sizing can be off if you don't measure their snout beforehand. Its nylon material isn't dryer-safe, so it might take a while to air-dry.
Pros:
Affordable.
Excellent color options.
Adjustable snout velcro.
Machine-washable.
Breathable mesh.
Cons:
Sizing can be off.
It isn't dryer-safe.
Best Fully-Covered Design Option – Starpetgo Soft Dog Muzzle
This Starpetgo muzzle is the best Yorkie muzzle for dog owners who prefer using a fully-covered basket muzzle on their Yorkie's snout for enhanced bite prevention.
Dog Muzzle, Soft Dog Muzzle for Small Medium Large Size Dogs Mesh Printed Full Coverage Muzzle Health Guard Dog Muzzle Prevent Biting Chewing Licking Breathable Dog Mouth Cage for Large Breed Dog S
【Health Guard for Dog】---Our full-coverage dog muzzle for medium sized dog completely protects your dog from licking, snorting bait or other toxic substances, quick removal, and picking up sticks...
【Thoughtful Materials And Design】---Unlike the rubber or silicone material, our small dog muzzle use a newly developed odorless mesh fiber cloth, which is soft and durable, and can be folded and...
【Humane Dog Muzzle】---The soft, full coverage muzzle for large breed dogs allows your dog to breathe, drink and pant naturally. The comfortable muzzle edge fits perfectly into the dog's mouth,...
【Excellent training muzzle】---This dog muzzle that allows drinking is very light and easy for dogs to accept, the smallest is only 30 grams and the largest is only 50 grams. The mesh of small...
【Cleaning and After-Sales Service】---Our mesh dog muzzle for grooming is easy to carry, folds into pocket, easy to clean, machine washable and hand washable. Please refer to the size chart...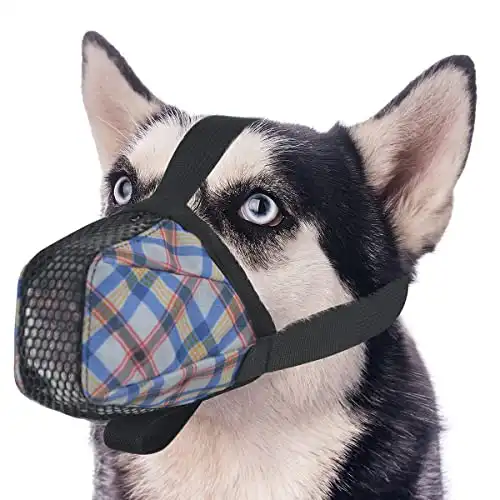 We earn a commission if you make a purchase, at no additional cost to you.
This muzzle has a durable, odorless fiber mesh that doesn't restrict drinking and panting. Its spacious snout design is ideal for your dog to wear for an extended period. The Starpetgo incorporates durable overhead straps and a flexible elastic collar band to prevent it from falling off.
Size-wise, the small model is the best option for Yorkies. It's available in a blue or yellow plaid color scheme and is hand and machine-washable.
Consider measuring your Yorkie's snout before choosing this model since it can run a bit small on some dogs. Also, its spacious design isn't suitable for owners looking for a muzzle that prevents excessive barking.
Pros:
Durable and odorless fiber mesh.
Hand and machine-washable.
Secure overhead straps.
Spacious for panting.
Stylish plaid design.
Cons:
Runs a bit small.
Doesn't prevent barking.
Best Option with Durability in Extreme Temperatures – OmniPet Italian Basket Muzzle
The OmniPet Italian Basket Muzzle is an excellent option for Yorkies to wear any season. Its sturdy polyethylene material withstands intense temperatures, ensuring it won't break after extended use. It's odorless and non-toxic, making it one of the safest options on this list.
OmniPet Leather Brothers Italian Basket Dog Muzzle, Tan, Size 2
These flexible polyethylene basket dog muzzles feature adjustable leather straps and removable front grills that allow added comfort and access
The muzzles are designed to withstand extreme temperature changes without breaking
With sizes ranging from 1 to 10, there is sure to be something in this line to fit virtually every dog
Measurement around snout and leave 1/2" to 1" more room so that dog can pant
Available in tan and black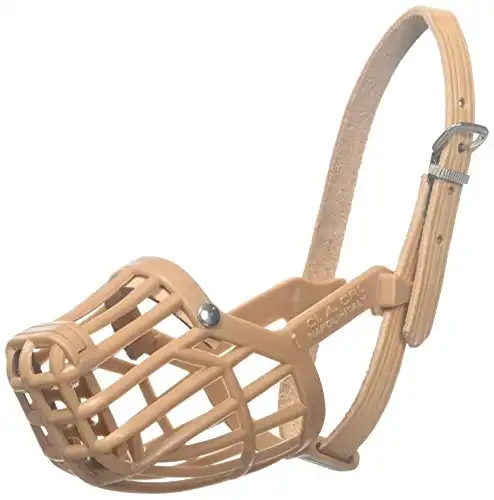 We earn a commission if you make a purchase, at no additional cost to you.
Like many basket muzzles, the OmniPet offers plenty of space for your Yorkie's snout. Its design accommodates panting and drinking without the need to remove it every time. It has an adjustable leather strap to ensure a snug fit that matches your Yorkie's comfort and snout measurement.
This model doesn't incorporate thick mesh padding into its build, and its sizing can be off for some dogs. It's only available in black or tan, so it might not be the best option for Yorkie owners looking for something stylish.
Pros:
Spacious basket design.
Withstands extreme temperatures.
Made with odorless, non-toxic polyethylene.
Easy to adjust.
Cons:
Sizing can be off.
Limited color options.
It lacks thick padding.
Best Lightweight Design – Four Paws Quick Fit Dog Muzzle
The Four Paws Quick Fit Dog Muzzle is perfect for dog owners looking for a muzzle model that isn't too bulky for their Yorkie. It's made with a lightweight nylon fabric that won't chafe a Yorkshire Terrier's snout because of its built-in, padded noseband.
Four Paws Quick Fit Dog Muzzle, Black, Size 0
HELPS PREVENT NIPPING, BITING, BARKING, AND CHEWING - Muzzle ideal for excitable dogs and stress-inducing situations such as meeting new people or pets
WASHABLE - Soft dog muzzle made from breathable nylon that is easy to clean
STRONG & COMFORTABLE - Pet muzzle stays securely on dog while allowing for panting and drinking
ADJUSTABLE - Designed with a buckle to customize fit as needed
SIZE XX-SMALL - Ideal for toy and teacup dog breeds such as Chihuahuas, Pomeranians, and Yorkshire Terriers
We earn a commission if you make a purchase, at no additional cost to you.
Like many other muzzles for small breeds like Yorkies, it has adjustable straps to help it stay secure. It has a quick-release buckle to simplify removing and equipping it. The Four Paws is easy to clean by hand and is machine-washable.
Although it's available in several sizes suitable for smaller breeds, its sizing can be off, so you should consider measuring your Yorkie's snout before choosing one. The straps can become prone to slipping through the buckle, so you should consider checking if it's secure before taking your Yorkie outside.
Pros:
Washable nylon material.
Lightweight.
Padded noseband for enhanced comfort.
Quick-release clasp.
Cons:
Sizing can be off.
Strap slips through the buckle.
What To Look for When Choosing the Best Yorkie Muzzle
Before choosing the best Yorkie muzzle that meets your dog's needs, there are several components you'll need to consider to ensure it's the right fit. Here are a few ideas to help you during your search.
Design
One of the core components people consider when choosing a dog muzzle for their Yorkies is its design. Most brands offer muzzles in a basket or soft design.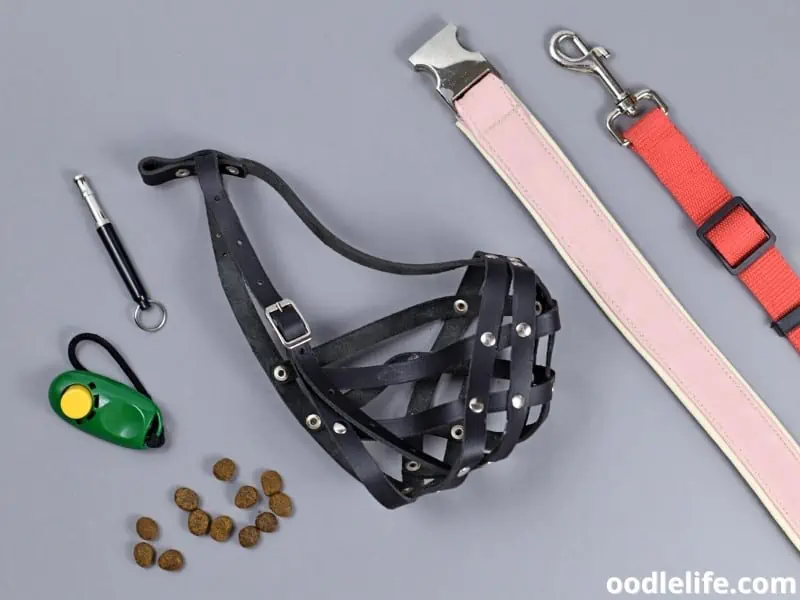 Soft muzzles are ideal for Yorkies for short periods because they restrict their jaw movement when barking, panting, or biting. Basket muzzles offer more freedom for a dog to drink and pant without interference but can be bulky for some dog owners.
Size
Another essential factor to consider when choosing the best Yorkie muzzle is your Yorkie's size. It must fit over the dog's mouth without slipping off or feeling too tight. Consider measuring your Yorkie's snout precisely because one muzzle brand's sizing chart can differ from another's.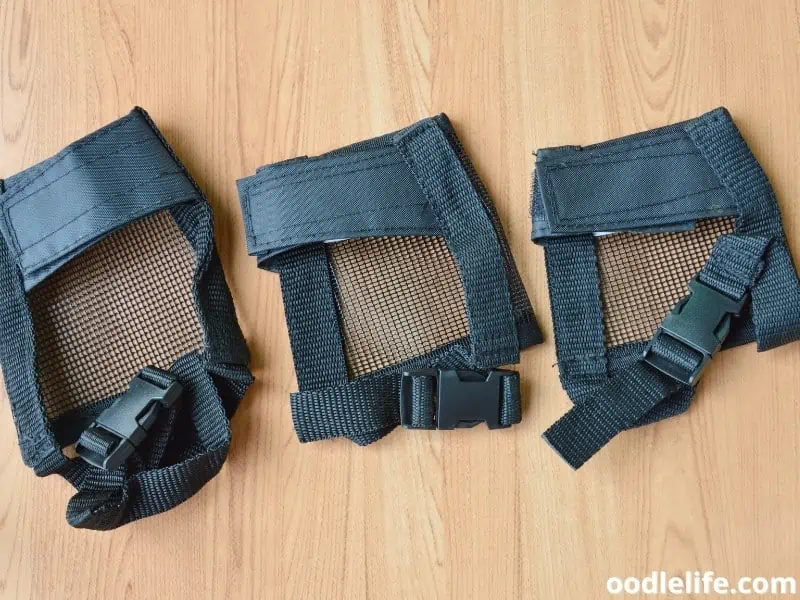 Material
The best Yorkie muzzle should be made with durable and non-toxic materials to ensure longevity and safety when your dog wears it. Many models are made with nylon, leather, or polyester.
Adjustability
Many Yorkie muzzles have adjustable straps to keep them secure around a dog's head. The maximum snout circumference for each muzzle varies between size and brand.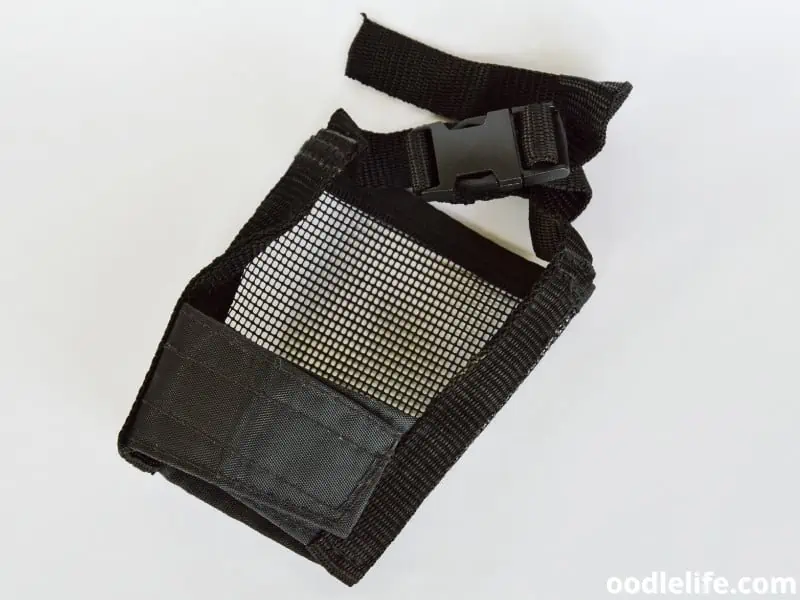 Although many models have a few adjustment straps, others might incorporate adjustable velcro to keep it secure around a Yorkie's snout.
Comfort
Every Yorkie's comfort needs can vary, so it's essential to find a muzzle model accommodating these needs. Several models incorporate mesh padding to prevent chafing snouts, while others have more space for panting, eating, and drinking.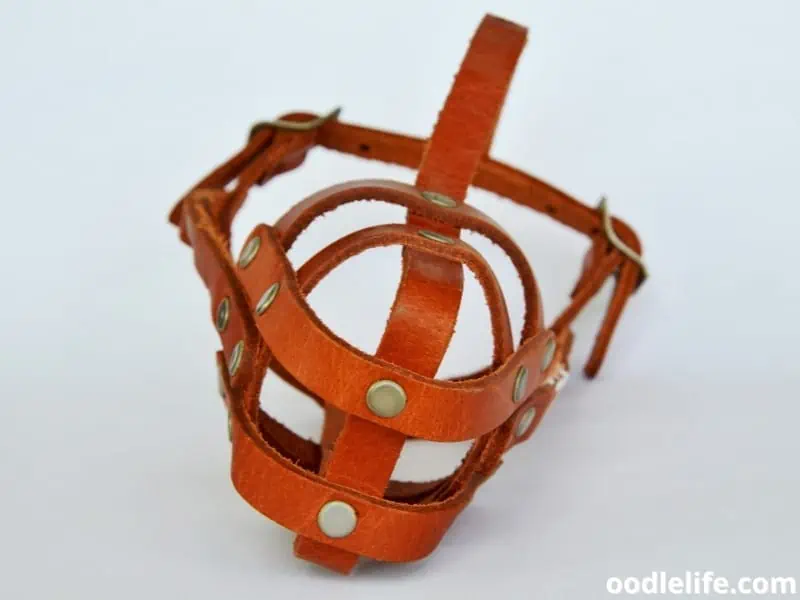 Final Thoughts
The best Yorkie muzzle should be snug yet comfortable, regardless of how long your dog has to wear one. Finding the perfect model can take some time, but once you know what to look for, it will be the perfect equipment for minimizing biting while training your dog.
Don't forget to monitor your Yorkie when they're wearing a muzzle to avoid them from escaping or feeling uncomfortable if it's too tight.