Best Puppy Food for a Cockapoo (4 Best and Reasons Why)
Quality Pick
NUTRO WHOLESOME ESSENTIALS Natural Dry Dog Puppy Food Farm-Raised Chicken, Brown Rice & Sweet Potato Recipe, 15 lb. Bag
Popular Diet
Hill's Science Diet Adult Small & Toy Breed Dry Dog Food, Chicken Meal & Rice Recipe, 15.5 lb. Bag
Active Gut Health
IAMS Adult Minichunks Small Kibble High Protein Dry Dog Food with Real Chicken, 30 lb. Bag,(Packaging may vary)
Premium Brand
Royal Canin Small Puppy Dry Dog Food, 13 lb bag
Quality Pick
NUTRO WHOLESOME ESSENTIALS Natural Dry Dog Puppy Food Farm-Raised Chicken, Brown Rice & Sweet Potato Recipe, 15 lb. Bag
Popular Diet
Hill's Science Diet Adult Small & Toy Breed Dry Dog Food, Chicken Meal & Rice Recipe, 15.5 lb. Bag
Active Gut Health
IAMS Adult Minichunks Small Kibble High Protein Dry Dog Food with Real Chicken, 30 lb. Bag,(Packaging may vary)
Premium Brand
Royal Canin Small Puppy Dry Dog Food, 13 lb bag
Your Complete Guide for Choosing the Best Puppy Food for Your Dog
Having a small puppy around the house is so much fun and exciting. However, choosing the best food for them can be overwhelming. It can be confusing to choose from the endless wall of pet food in your local pet store.
So which one should you choose for your puppy and what should you look for in a Cockapoo puppy food?
Here, we will spare you from the confusion and help you find the best pet food for your Cockapoo.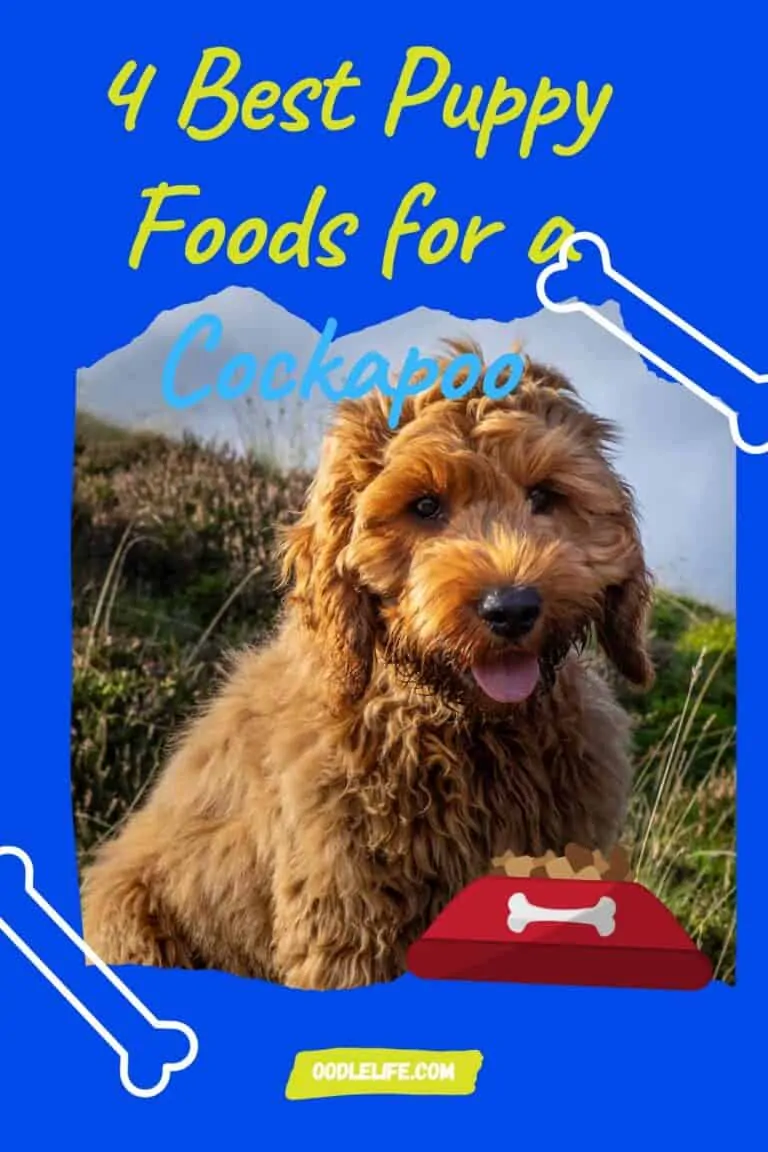 What to Look for in Cockapoo Puppy Food?
Before going on your quest to find the best puppy food for a Cockapoo, you can discuss your dogs specific nutritional needs with your vet. Cockapoos are energy packed (sometimes even a little hyper) and have high nutritional; needs.
Once that is sorted – here are a few things to look for in puppy food:
High Nutritional Value
A good diet should be balanced and formulated for your growing puppy. It should have all the essential nutrients your dog needs to build strong bones and muscles.
Fruits, grains, vegetables, and meat should all be included in a healthy dog diet. The diet should consist of sufficient amounts of ingredients that are safe for your dog's digestive system. Picking incorrectly can result in a smelly Cockapoo.
Your Dog's Size and Weight
You need to put your Cockapoo's size and weight into consideration when choosing a suitable diet for them.
Different dogs of different sizes and ages require additional nutrients to grow and stay healthy. That's why you need to choose a diet specially designed for your puppy's size.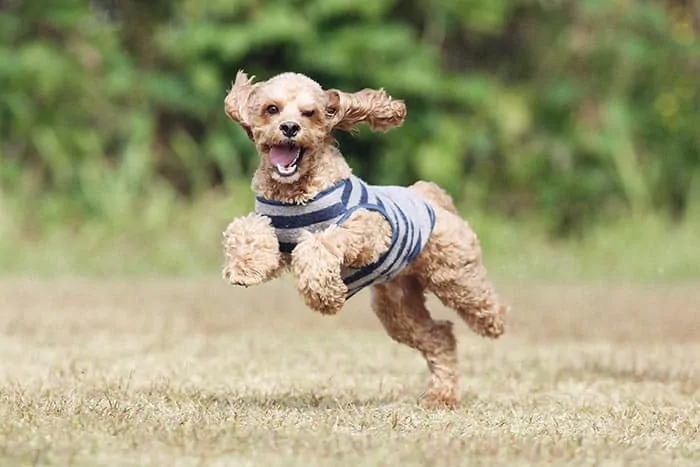 Calories
Contrary to popular belief, small puppies often require more calories than adult ones. Puppies are much more energetic than adult dogs by nature, so they expend a lot of energy playing and growing up.
So, if you own a puppy Cockapoo, you need to consider a diet that fulfills their calorie needs. Healthy diet means a vibrant happy puppy with less behavior issues.
Balance
You need to keep everything at balance while feeding your dog. It is your responsibility to provide your puppy the right way and make them neither underweight nor overweight.
Underweight puppies will not grow and develop bones properly, and they will end up as unhealthy adult dogs.
On the other hand, overweight puppies can develop many harmful diseases such as diabetes, heart diseases, high blood pressure, arthritis, and more.
That is why you need to choose the right diet for your puppy to keep them healthy and help them grow properly.
Tips to Make Your Cockapoo Eat New Food
Some tips you need to keep in your mind are:
1. Make it Gradual
Bring the new diet slowly and gradually. If you want your Cockapoo to entirely shift without any transition from one diet to the next, they will surely refuse the new meal.
Do not give them the new food out of a sudden and ask them to eat. Instead, give your puppy small bits of it every day along with their old food until you make the full transition.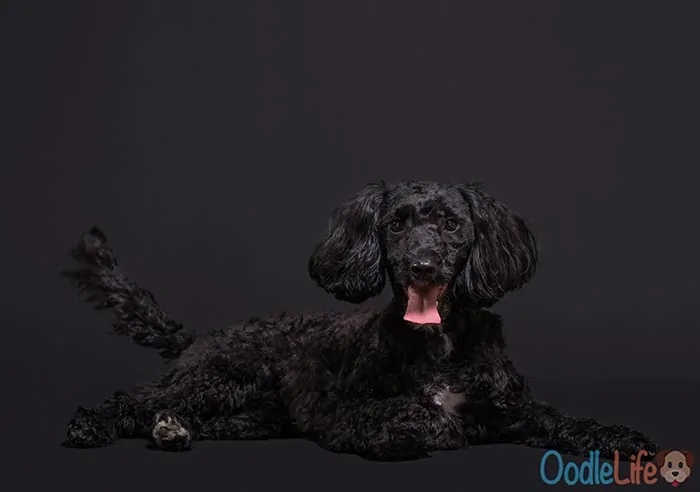 2. Give Less Treats
Some dog parents keep giving their dogs a lot of treats all day long for no reason. This is wrong since dogs get the calories they need from the treats and refuse to eat their main, essential meal.
So, you need to only give out treats when your puppy obeys you. They will link their good behavior with the treats, and they will start following your commands.
3. Boost Their Appetite
You need to make sure your puppy's appetite is ready before you give them their meal.
One way to boost their appetite is by exercising before mealtime. Play with your dog or take them out for a walk to burn enough calories. They will be ready to eat with a good appetite to compensate for the lost calories.
Also consider energy burning indoor dog games that you can play with your Cockapoo to make them more tired, and hungrier.
4. Time for a New Diet
If your Cockapoo keeps rejecting the new meal you give them, there is a good chance that they simply do not like it.
Try different types of foods that provide the same nutritional value that your puppy needs. This will help you find which type of food your dog is into.
While treats are amazing, stick with the basics. Some owners experiment with healthy snacks like coconut milk for dogs– but in general with a Cockapoo puppy the simpler you keep the diet – the less issues you will have.
5. Check With Your Vet
If your puppy is not eating at all, they could be suffering from a medical condition. Do not hesitate to check up with your vet so the problem would not get any worse.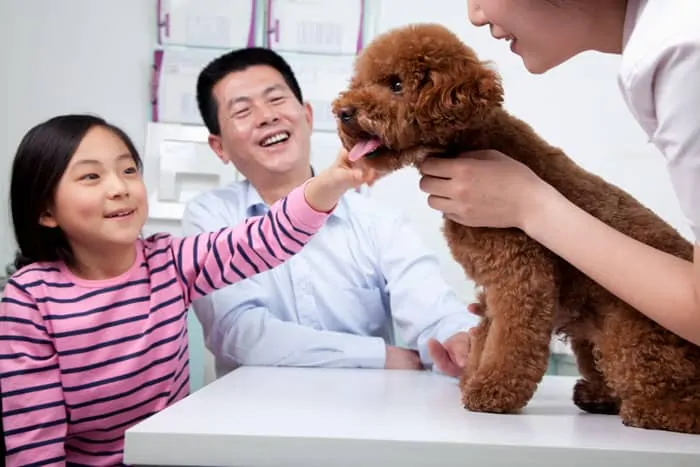 Best Puppy Foods For a Cockapoo
To make it easier for you, we have found the five best puppy foods, rich in healthy nutrients, for the growth of your cockapoo puppy.
So, let's dig in, shall we?
1. Nutro Wholesome Essentials Puppy Dry Dog Food – Best Overall Pick
Brand: Nutro
Where to Buy: Amazon
Nutro Wholesome Essentials puppy food is definitely the best out there that you could get.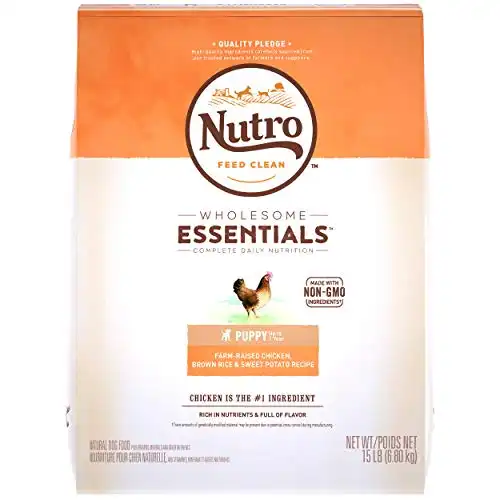 We earn a commission if you make a purchase, at no additional cost to you.
First of all, this product is present in two sizes – five pounds and fifteen pounds. You can choose either one depending on your requirement. It is also available in two different options, such as a chicken one and a lamb one. However, the lamb one is now discontinued.
Talking about the chicken flavor, it is really a storehouse of nutrients! From essential vitamins to minerals, this puppy food has it all!
If that is not enough, Nutro Wholesome Essentials also contains unique ingredients such as Omega-3 fatty acids (like DHA) that can help in the development and efficient growth of your puppy.
Additionally, it also contains Omega-6 fatty acids that help in promoting healthier and shinier fur. The calcium inside the puppy food ensures that your dog's joints and bones remain fit and flexible.
Lastly, one more amazing thing to note here is that this puppy food is all organic without any GMO-ingredients. There aren't any added flavors or artificial colors that may cause damage to your puppy.
So, Nutro Wholesome Essentials definitely lives up to its name with wholesome and organic ingredients, specially made for your puppy.
2. Hill's Science Diet Dry Dog Food – Best For Flavor Options
Brand: Hill's Science Diet
Where to Buy: Amazon
The second to our list is Hill's Science Diet Dry Dog Food. It is also quite a fantastic option for your Cockapoo puppy due to its beneficial nutritional properties.
Hill's Science Diet Adult Small & Toy Breed Dry Dog Food, Chicken Meal & Rice Recipe, 15.5 lb. Bag
$55.99
$51.99 ($3.35 / lb)
An adult dog food made with highly digestible ingredients that are easy on your small dog's stomach
Nourishing omega 6 fatty acids and vitamin E help promote healthy skin and a shiny coat
Provides high quality protein to maintain lean muscle in small breed dogs
Uses an antioxidant blend specifically for lifelong immune support in toy and miniature dogs
Made with natural ingredients
We earn a commission if you make a purchase, at no additional cost to you.
This dry dog food is also available in two quantities, namely, 4.5 pounds and 15.5 pounds. Thus, you can opt for either one of them. Additionally, it is available in two different flavors, such as chicken meat and lamb; rice. This is good news for those who want variety in their dog food.
When it comes to the size and nutrients, Hill's Science Diet food comes in small kibbles. This will make it easier for your Cockapoo to eat it as well as digest it.
There are plenty of nutrients you will find in this dog food. For example, it contains Omega-6 and Vitamin-E. These two nutrients are beneficial for the growth of shiny and silky fur. Now, you may already know how essential it is to look after the hair of a Cockapoo!
Moreover, it contains proper proteins that will help develop your puppy's muscles and body. The antioxidants present in this dog food ensure healthy immunity in smaller breeds to fight off diseases easily. That's definitely a huge relief!
Again, if you're worried about artificial flavors and nutrients in your dog's food, don't worry! Hill's Science Diet Dry dog food only contains organic nutrients.
One more interesting thing about Hill's Science is that they say some share is contributed to the animal shelter homes whenever you purchase any product from their store.
Thus, Hill's Science Diet Dry Dog Food is an excellent buy for those looking for puppy food!
3. IAMS PROACTIVE HEALTH Minichunks Dry Dog Food – Best For Fiber and Digestion
Brand: IAMS
Where to Buy: Amazon
IAMS Proactive Health consists of dry pellets specifically made for your little puppy. It is available in chicken flavor and mainly available in two sizes – 7 pounds and 30 pounds. You can choose your pick!
IAMS PROACTIVE HEALTH Adult Minichunks Small Kibble High Protein Dry Dog Food with Real Chicken, 30 lb. Bag
Adult Dry Dog Food: Give your dog the nutrition they need in the small kibble size they prefer, with real, farm-raised chicken as the first ingredient to promote strong muscles with premium-sourced...
Veterinarians Recommend IAMS: This tasty kibble supports healthy digestion with a wholesome blend of fibers and prebiotics, plus antioxidants to support a strong immune system
Complete and Balanced Nutrition for Adult Dogs: IAMS Dog Food is made with high quality animal protein and no artificial preservatives, flavors or fillers, for complete and balanced nutrition
Tailored to Your Dog: We carry a full line of foods for your dog's age, size and dietary needs from puppy to adult to mature, small breeds to large, and with recipes to support healthy weight and...
IAMS Super Premium Dog Food: Choose the nutrition that brings out your dog's best, tailored for their unique needs; Our high-quality, premium recipes are made in the USA with the finest ingredients...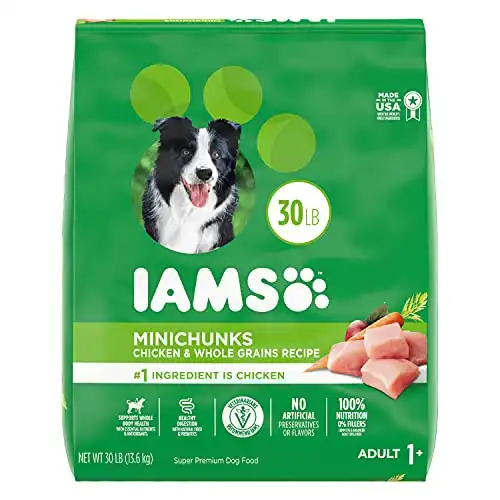 We earn a commission if you make a purchase, at no additional cost to you.
This dry puppy food also contains plenty of rich nutrients that can enrich your puppy's health and increase their growth too.
Firstly, it contains a high-quality organic protein that can ensure your dog's overall muscle growth and strength.
The food is also made up of only organic nutrients, without any fillers, that can give your little one a properly balanced diet. The antioxidants present in the food strengthen your little warrior's immune system and protect them against harmful diseases.
Additionally, if your puppy faces digestion problems, this particular puppy food is extremely rich in fiber and prebiotics. They help in the easy and quick digestion of food.
So, we definitely recommend using IAMS Proactive Health Minichunks Dry Dog Food!
4. Royal Canin Small Puppy Dry Dog Food – Cockapoo Appropriate
The last to the list is Royal Canin Dry Dog Food! This puppy dry dog food is a suitable match for many owners and is a long standing trusted brand.
Royal Canin Medium Puppy Dry Dog Food
FORMULATED FOR MEDIUM BREED PUPPIES: Royal Canin Medium Puppy Dog Food is tailor-made for puppies up to 1 year old with an expected adult weight of 23-55 lb
HEALTHY ENERGY: Key nutrients meet the high energy needs of medium breed dogs during their short growth period
IMMUNE SUPPORT: An exclusive blend of antioxidants and vitamins promotes healthy development of immune systems
BONE AND JOINT: A specialized mineral blend supports bone and joint health
HEALTHY DIGESTION: Highly digestible proteins and prebiotics promote healthy digestion and optimal stool quality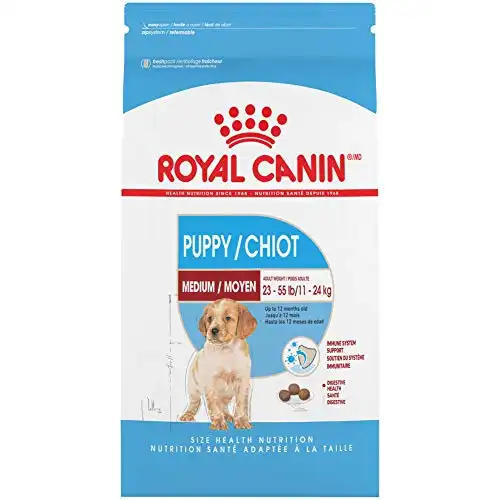 We earn a commission if you make a purchase, at no additional cost to you.
This dog food is available in two options – 2.5 pounds and 13 pounds. Mostly, it is only available in chicken flavor with plenty of nutrients. These bites are shaped in extra-small kibble sizes and are great for dogs with smaller jaws or digestion problems.
Royal Canin puppy food is rich in vitamins, minerals, and antioxidants that strengthen the immune system. Additionally, it also contains prebiotics and proteins for increasing muscle growth and strength.
It is always important to consider sustainable budgets when picking ongoing expenses like puppy food.
Final Thoughts
For any Cockapoo puppy – in order to grow up healthier and more robust, you need to find a suitable puppy food. Just tike teaching potty training giving your Cockapoo their first haircut – you need to make the right decisions.
Cockapoo puppy food food needs to have rich ingredients, along with being digestible for your dog.
Hence, we have only suggest quality products to you for your Cockapoo.