The Best Retractable Dog Gates (Plus Front Door and Car Gates)
Let's face it, some pet gates can be difficult to operate when moving around your home, especially for one-handed use. However, some retractable dog gates could fit the lifestyle of you and your dog. So how can you find the best retractable dog gates?
Indoor Outdoor TALL Retractable Gate
Classic Safety Retractable Pet Gate
Indoor Outdoor TALL Retractable Gate
Classic Safety Retractable Pet Gate
With retractable dog gates, one-handed operation is now entirely possible. You can carry a load of laundry or take your adorable pup outside after an unfortunate accident in the house, all using just one hand!
Retractable dog gates come fully assembled and easily mount to a wall, outdoor decking, or even a door frame. Many manufactures also provide additional wall attachments so you can use the retractable gate in at least two locations in your home.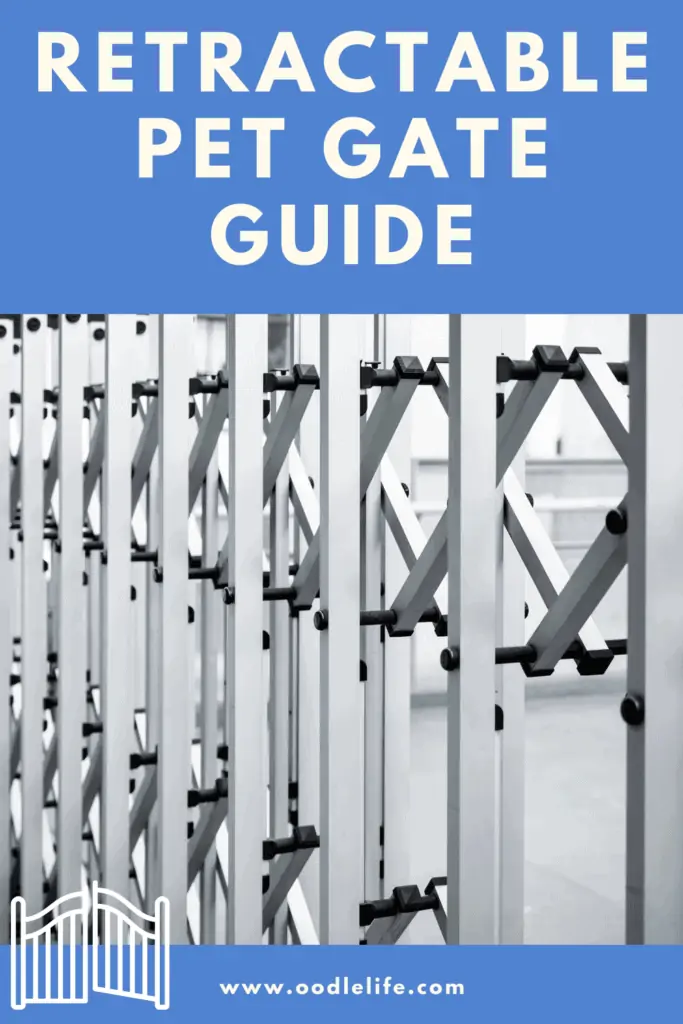 If your goal is to find the best dog gate, then a retractable dog gate is a huge win. It allows you to keep your dog safe while you go about completing your task, like scrubbing floors that you want completely clean and dry before your dog walks on the floor. Pet-owners appreciate retractable dog gates because the gates can hide in plain sight while they're not being used.
When shopping for a retractable dog gate, it helps to be knowledgeable of the features. Measure the width of the space or spaces you want to divide, such as the top of a staircase or blocking off a kitchen.
Something else to think about that is not as apparent as positioning the gate above a baseboard is how the wall mount fits flush and securely against a wall for efficient and effective operation without causing damage.
After considering all these factors, you may need to examine a few more form and function options individually.
Reasons for a Retractable Dog Gate
There are many things to consider initially when thinking of dog gates. Many pet-parents get dog gates for many different reasons. No matter what room or area you intend to block off in your home, the goal is simple-find an affordable, high-quality retractable gate that is durable, portable, and easy to operate.
Suppose your goal is to find a retractable dog gate that you can open with one hand and be sturdy enough to hold up against your energetic Cockapoo, as well as have a durable and sound construction that will last many years. In that case, it can help you prioritize what you want most out of a retractable dog gate. The questions below should help guide you on what might be on your list of wants and needs in a retractable gate for your dog.
Do you need a tall gate for your lovable Great Dane?
Would you prefer to step over a retractable dog gate?
How about an extra-wide entrance to keep that teacup Chihuahua out of the kitchen while you cook?
Are you hoping to secure that adorable fur-baby from getting into your newborn baby's room?
Do you want the retractable gate to lock?
Material and Quality Construction
With the number of pet gate options available on the market today, manufacturers use various materials to construct gates, including some of the oldest indoor dog gate designs built from wood. Newer gates, like retractable ones, are made with a mesh reinforced polymer.
Some gates offer additional options like UV protection, BPA-free materials, lead-free, and non-toxic, chemical-free materials to protect your home, your family, and your beloved dog from the harmful effects associated with some manufacturing and industrial textiles. Retractable dog gates house the fabric material that is often transparent in a lightweight aluminum housing.
The reinforced brackets add stability to wall-mounted dog gates, which can withstand the push force (the amount of energy pushing against a resisting force) of up to 200-pounds, which was independently tested and certified.
Additional Considerations Before Buying
There is a lot to contemplate when looking at the nuts and bolts of a retractable dog gate and its features. Up until this point, we've touched on several steps, ranging from organizing what you want and need in a retractable gate, right down to what material the manufacturer used to build the gate. Let's explore some additional innovations on retractable dog gates before reviewing some product and brand options.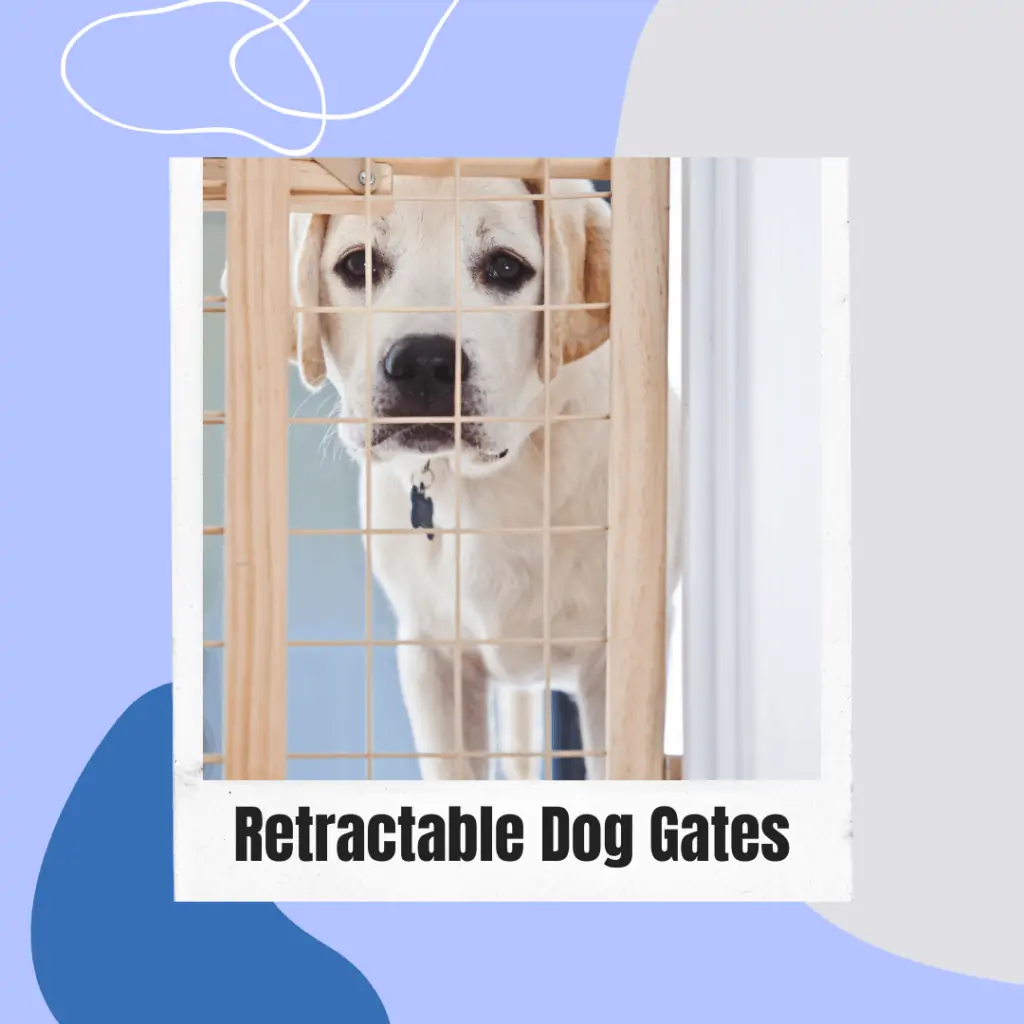 Portable
One of the most significant selling points for many dog owners is the portability of the retractable gate. That means manufacturers supply additional mounting brackets to install in more than one location within your home for you and your dog. This is super important if your safety gate is going to be used as a stair gate.
You can also buy additional mounting brackets directly from the manufacturer if you have a third or possible fourth location in your home. You can also look into whether manufacturers offer discount purchases when buying two gates at once.
Given you can transfer the dog gate quickly from indoors to outdoors or back again, this might be a good time to look out for discounts and sales for purchasing two gates if you want to save money. Discount offers differ from one company to the next, so be sure to do a thorough search by comparing prices across resellers, fulfillment houses, or distributors like Amazon and Google Shop. You may also want to look into purchasing directly from the manufacturers themselves.
Indoor or Outdoor
Suppose you and your family love yard work and want to keep the new puppy out of the way while mowing the lawn or working in the garden; the transparent woven fabric and the retractable housing work great outside, and don't worry if it gets wet – it's waterproofed.
The tight weave of the gate can give you confidence as a pet-parent that your pup is secure and safe, while the visual transparency can help lower your dog's stress. So, for you dog owners that work from home or love to barbeque but don't want to kennel your pup, a retractable dog gate is ideal.
Tall Retractable Dog Gate
We touched on retractable gate portability and the resistance to hold back large dogs, like a St Berdoodle. But when they're intelligent and agile, like the Goldendoodle, you're probably in search of something a bit higher and more difficult for a dog to clear.
Thanks to enhanced technology, manufacturers have given dog owners the necessary tools to keep their dogs confined within the barriers, especially those who have phenomenal jumpers and "escape artists."
Retractable dog gates have surpassed the old standard height of 29-inches to reach new heights of 34 and 41 inches. With measurements like these, your dog will likely find it more difficult to escape a small room, such as a bedroom, in your home.
Retractable Gate Widths
Retractable dog gate manufacturers have also improved upon their retractable gates' width or length, giving dog owners a litany of new options for large indoor spaces.
That means retractable dog gates can go beyond the confines of a door frame and extend to lengths of 52 or 72 inches. No matter the room's width, the gate can open as little or as far as the gate's width.
If you're looking for something longer than 72 inches, some companies offer sensible solutions to accommodate more expansive spaces, something we'll touch on later.
Some of the Best Retractable Dog Gates
If what you're looking for is a retractable dog gate that helps safely secure your malamute or agile border collie, here are some specific brand manufacturers of the best retractable dog gates.
Retractable Dog Gate for Awkward Entrances
Retractable Baby Gate Extra Wide,PRObebi Mesh Safety Gate for Babies and Pets 34" Tall Extends up to 71" Wide, Retractable Mesh Gate for Stairs/Doorways/Indoor/Outdoor/Hallways
👶【Extra Wide Retractable Baby Gate 】 This retractable baby gate for stairs extends up to 71" wide and is 34" tall; Can be installed at top and bottom of Stair, Doorways, Hallways, Deck,...
👶【One Handed Operation】 The one-handed operation allows you to open and close retractable safety gate while holding your child. All make it super convenient to use when you're carrying toys,...
👶【Easily Move to 2 Different Place】 Package include 2 sets of Installation hardware. This retractable dog gate extra wide can be easily moved and de-attached from the gate mount hardware, to...
👶【Durable Structure for Safety Use】This retractable mesh gate designed by the strong and soft mesh to prevent your baby from any hurt when they accidentally bumped into the door. And the...
👶【2 Years Quality Assurance】-We provide lifelong technical consultation and 24/7 customer service. Always put customer experience first. Your satisfaction is our # 1 priority. If you have any...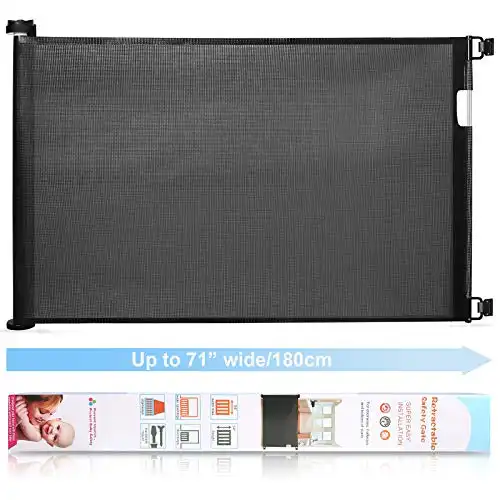 We earn a commission if you make a purchase, at no additional cost to you.
Propebi retractable dog gates secure awkward entrances and extra-wide spaces, making this gate versatile. Its structure has a maximum width of 72 inches and a height of only 34 inches. The locking mechanism allows you to lock the gate using only one hand, which gives dog owners greater confidence to enter and exit the gate using one hand readily.
The retractable mesh fabric is durable enough to extend the use of a retractable gate anywhere inside your home.
Features
Indoor and outdoor use
One-hand operation
A locking mechanism
PROS
Retractable gate (think retractable baby gate style) and aluminum casing weigh just four pounds, six ounces.
Two sets of wall-mounts to move the gate from room to room.
Lifelong 24/7 customer support services.
CONS
Safety warnings state to use only at the bottom of a staircase.
For safety reasons, Propebi does not recommend their retractable gate for children under six months and over 24 months.
Tallest Retractable Dog Gate
Perma Child Safety Indoor/Outdoor Ultimate Retractable Baby Gate 39" Tall Extends to 71" Wide, Black w/Aluminum Casing
PRODUCT DETAILS: This Extra Tall and Extra Wide Outdoor Retractable Gate extends up to 71" wide and is 39" tall and includes components for easy installation: screws, catch mounts, wall spacer shims...
DURABLE ALUMINIUM CASING: This Extra Tall & Wide Ultimate Outdoor Retractable gate features an aluminium casing, ensuring long-term durability, increased weather resistance and stylish...
RETRACTABLE DESIGN: This Extra Tall & Extra Wide Outdoor Retractable Gate is a versatile home safety solution, allowing easy use in high traffic areas without the trouble of disassembly and designed...
ONE HANDED OPERATION: The simple 2-step operation allows you to open and close while holding your child: 1. Push, twist and release button; 2. Pull the handle to extend the gate, when the handle is...
CHILDREN & PETS: Built for functionality, the Extra Tall & Extra Wide Outdoor Retractable Gate works as both an infant gate and a pet gate to keep mischief contained by providing a safe, closed off...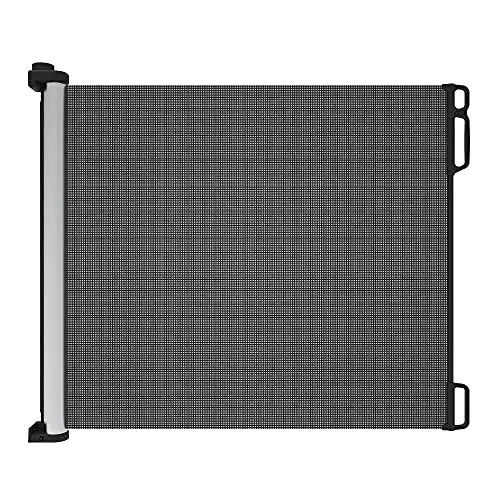 We earn a commission if you make a purchase, at no additional cost to you.
Perma Pet Safety room divider is ideal for those more expansive spaces of 70 inches or more. Although not the widest retractable dog gate available on the market, the Perma Pet Safety retractable dog gate is among the tallest. Perfect for large dog breeds or a small dog who likes to jump.
At the height of 39 inches, Perma's gate is well-suited for dog breeds that are agile jumpers. Its lightweight aluminum encasing allows it to be swiftly removed and transferred to another room. With proper installation of the wall-mount brackets, it will fit any space as wide as 71 inches.
Features
39 inches tall and 71 inches wide
One-handed manual operation
Retractable indoor and outdoor usage
PROS
"Independently tested and certified by the American Society for Testing and Materials (ASTM) and EN standards."
Well-suited for taller dog breeds
Easy to use in high traffic areas inside the home
CONS
Suited only for pets of up to 40 pounds.
Scratch Resistant Meshing
Retract-A-Gate 52" White by Smart Retract: Retractable Baby, Dog, & Cat Gate
Retract-A-Gate is the original, 100% USA-made retractable safety gate that can be installed at any angle. Whether you decide to block off a hallway, a staircase, a patio, or something else,...
Retract-A-Gate is certified for up to 200 pounds of push out force and for top and bottom stair use by the Juvenile Products Manufacturers Association (JPMA). Wherever Retract-A-Gate is installed, it...
Retract-A-Gate has smooth, one-handed operation and is quiet when opening and closing. The gate extends out to 52" and the durable mesh is 34" tall. The mesh fabric is easily locked in place with...
Retract-A-Gate is certified for both indoor and outdoor use. It has been extensively tested in wet, rainy seasons and hot, dry summers. To top it all off, Retract-A-Gate has undergone exposure testing...
To install Retract-A-Gate, use the included screws to mount the brackets to your wall or post at 3-4 inches and 30.5 inches from the floor. The brackets require a level surface that is 2.5 inches wide...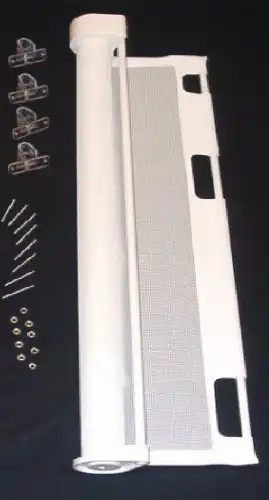 We earn a commission if you make a purchase, at no additional cost to you.
Retract-A-Gate designs and manufacturers a wide variety of retractable devices. Their products offer unique engineering to expand safety gates beyond just doors.
The designers have gone the distance to ensure their product is independently tested and certified by ASTM. Additionally, the Juvenile Products Manufacturers Association (JPMA) approved gates for use at the top and the bottom of the stairs. 
The mesh fabric is powerful enough to withstand scratching, adding to the design's strength and durability. The locking mechanism ensures the gate is securely in place and less likely to retract unexpectedly. The easy one-handed retraction makes unlocking and locking smoother, allowing you to enter and exit quickly.
Features
The total product weight is four pounds, 10 ounces
Maximum expansion is 72 inches
One-handed manual operation
PROS
Unique scratch-resistant mesh material
Independently tested and certified by two industry-recognized testing facilities.
CONS
Gates are only available in three colors: dark grey, tan, and white.
Frequently Asked Questions
As with anything on the market, we always have questions prior to committing to a specific product. Below we address those sensible inquiries on operation, manufacture design, and other forms of retractable gates.
What Solution is There for Opening Front Doors?
If you've ever lived in an apartment, you know that front doors don't often come with a screen. Unless you live in an apartment with an interior entrance, there's no second barrier to secure your dog if they get past you out the front door.
Smart Products offers a product they call the Bow Wow Barrier, and the best part is it's completely hands-free. The retractable gate extends no further than 28 inches. The innovative barrier opens and closes with front and patio doors.
Essentially, the retractable gate mounts to the door frame, and two mounting brackets attach to the door. The retractable barrier extends from the door frame's edge, linking to the two mounting brackets on the door. Great option when there is no pet door possible in the doorway.
When the door is open, the retractable gate expands across the opening, blocking your pet from escaping your home through the front door.
Is There a Company that Makes Custom Retractable Dog Gates?
We didn't find any companies that customize retractable gates above 72 inches.
There are plenty of other solutions, such as:
Hinged and lockable walk-through gates
Expandable, accordion-like partitions with hinged walk-through doors.
Freestanding block gates
Expansive interlocking room dividers
Tension gates
Using steel barriers as a freestanding pet gate
Utilising a wireless dog fence or invisible fence as an alterantive
Are There Any Retractable Dog Barriers Available for Cars?
There are no retractable barriers yet, but there are plenty of mesh barriers that are well-suited for sedans, SUVs, trucks with king-cabs, and vans.
Conclusion
To conclude, manufacturers continue to invest in retractable gates to expand their horizons for keeping dogs safe. The improvements in fabric strength allow manufacturers to extend height and length, accommodating various spaces in a home.
Portability is another vast improvement that helps pet owners extend one gate from one room to another. So, be sure to give lots of thought to what you want to achieve by purchasing a retractable dog gate.