Best Shampoo for a Yorkie [5 Best Shampoos for Yorkshire Terriers]
Yorkies have been a beloved and popular breed since their origins in the English countryside. They are smart, affectionate, and lively, and their small size and hypoallergenic coat make them a favorite breed for urban owners. Their most sought-after and defining characteristic is their long, silky coat.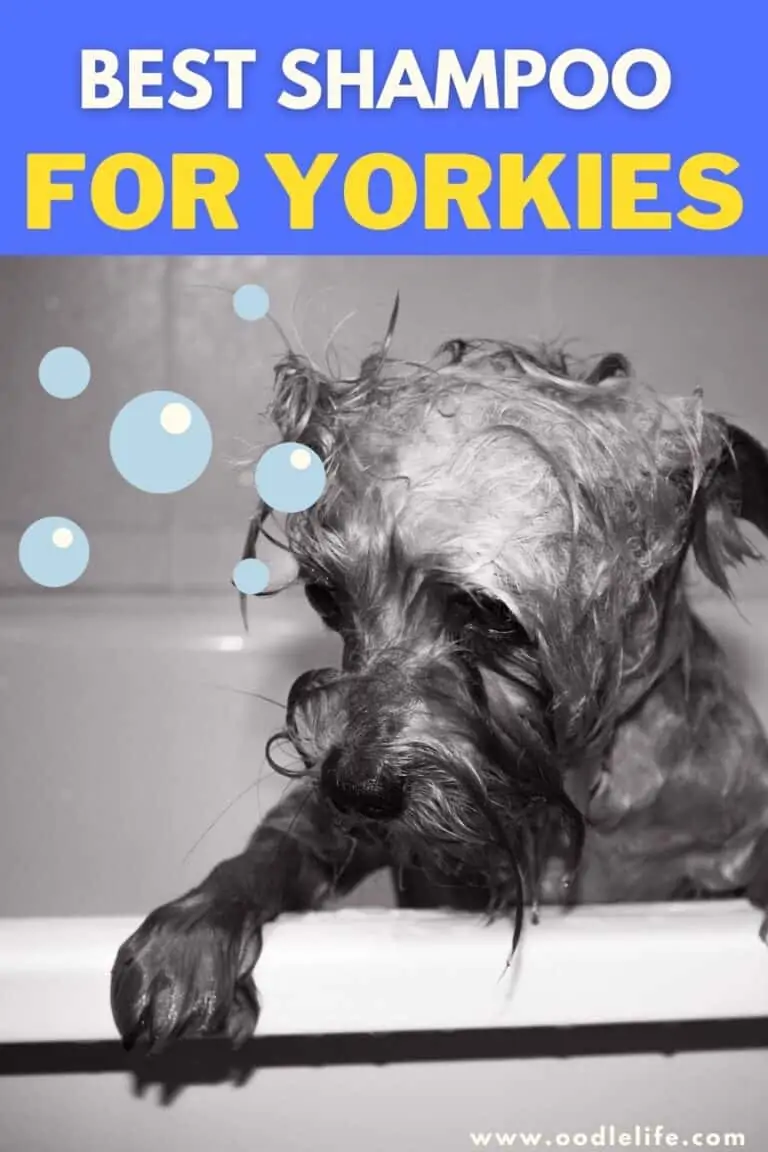 They are a long-haired breed whose coat is soft and shiny, appearing more like human hair than dog hair. Consequently, they require a lot of grooming and bathing to ensure their coat remains clean, tangle-free, and lustrous.
Here, we will look at the best shampoo for a Yorkie, and we will give you a thorough buying guide that explains what to look for when you purchase a dog shampoo.
Our Top 5 Picks for Yorkie Shampoos (Easily Available)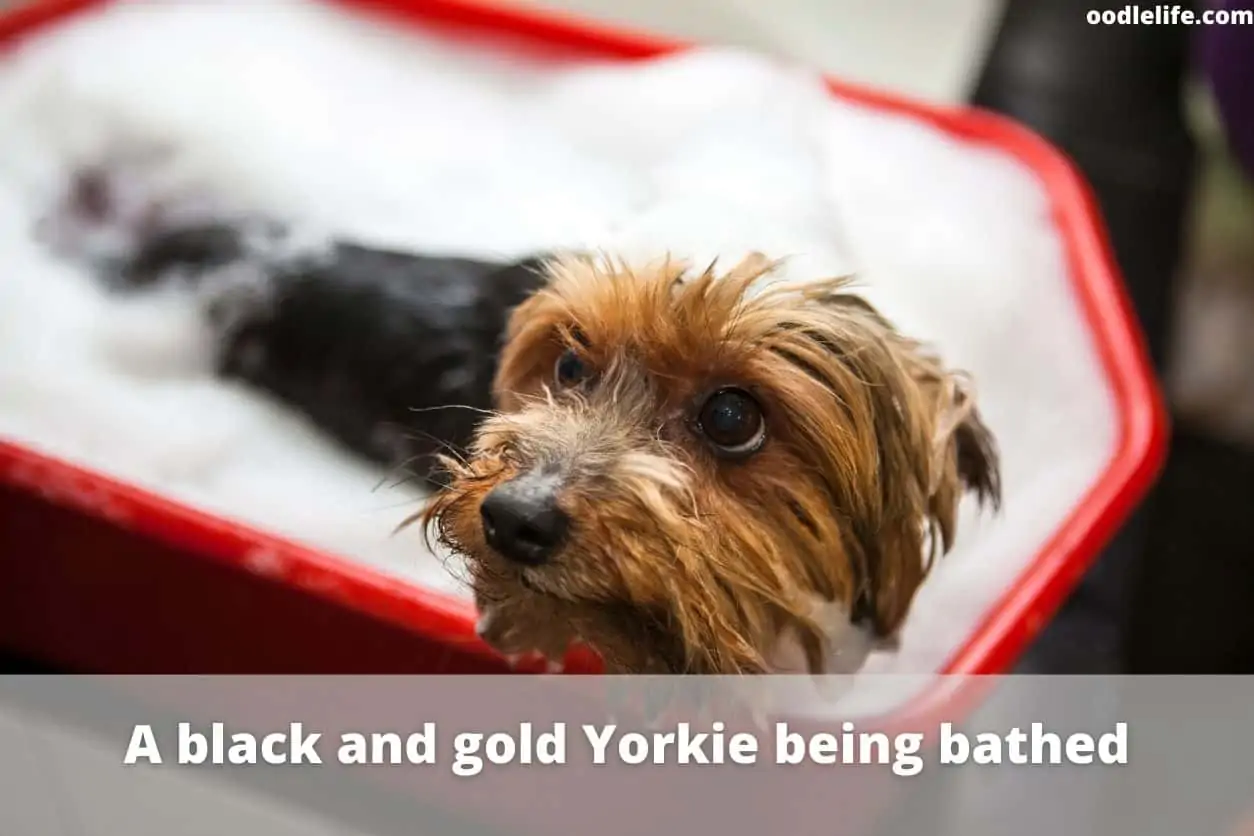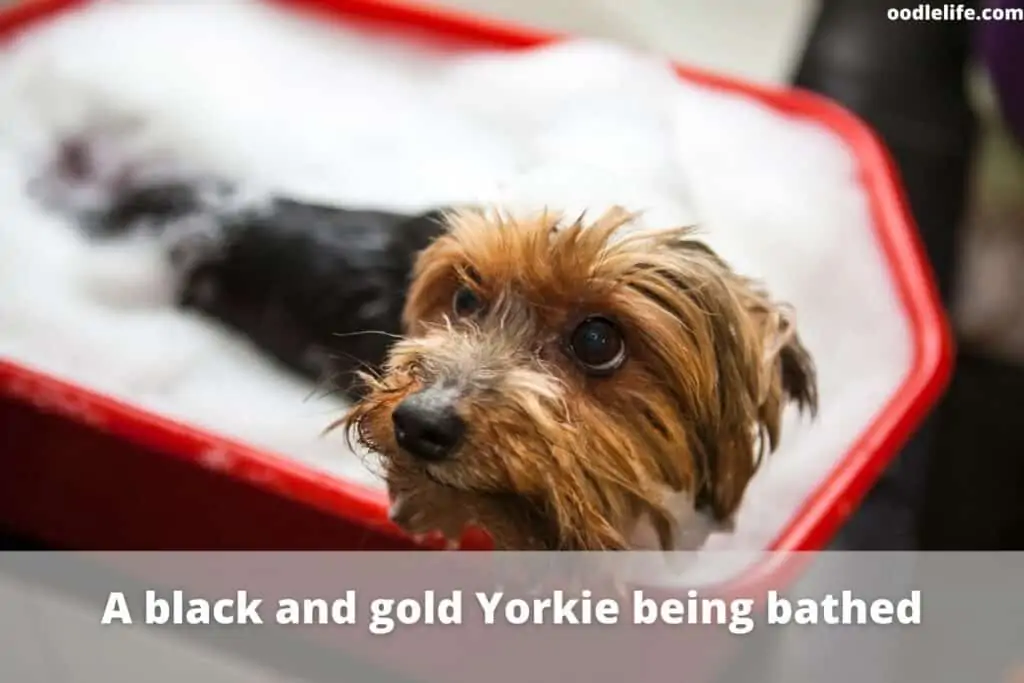 1. Best Overall: 4-Legger Certified Organic Hypoallergenic All-Natural Aloe Dog Shampoo
4-Legger is a brand with a cause. They ensure that all ingredients in their products are natural, sustainable, and USDA certified organic. Made with a slew of beneficial and nicely smelling essential oils and extracts, plus aloe vera for sensitive skin, 4-Legger Aloe dog shampoo is the safest, non-toxic product on our list.
4Legger Unscented Aloe Dog Shampoo (16 fl oz)
NATURAL INGREDIENTS THAT MAKE SENSE: 4Legger usda certified organic dog shampoo is a true all natural dog shampoo handcrafted in small batches using real plants, not synthetic chemicals. Our aloe dog...
GREAT SENSITIVE SKIN DOG SHAMPOO: Formulated for animals with sensitivities, aroma sensitivities, or you want to add your own essential oils. 4-Legger dog shampoo contains all natural organic oils to...
THE CHOICE FOR ECO-CONSCIOUS PET PARENTS: 4-Legger dog shampoo is made from sustainably sourced, all natural ingredients. All true all natural small dog shampoo, large dog shampoo, and puppy shampoo!...
MAKE THE SWITCH TO A TRUE ORGANIC DOG SHAMPOO: Only 2% of dog shampoos are certified organic. Synthetic shampoo can build up on a dog's fur, whereas a natural gentle dog shampoo like 4-Legger...
TRUSTED, AWARD WINNING PRODUCTS: Since 2015, pet parents, holistic vets, and natural groomers have trusted 4Legger dog shampoo. 4Legger products have won the EcoExcellence Award for Best Grooming...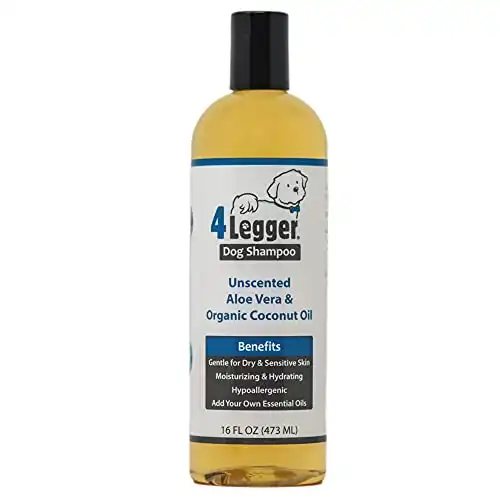 We earn a commission if you make a purchase, at no additional cost to you.
Since the product is highly concentrated, you only need to mix a small amount with water to create a nice lather and an effective clean. Thus, one bottle of 4-legger can last a lot longer than you think, especially for small pups like Yorkies. If you have any other furry pets, you can also use 4-legger Shampoo to wash them.
Why we love it:
Fragrance-free
Biodegradable and eco-friendly
USDA Organic
All-natural ingredients
Safe for puppies and other pets
Shampoos and Conditions
Cons
Thin, oily consistency
Might have to use more than the recommended amount to clean sufficiently
2. Best for Sensitive Skin: Zesty Paws Oatmeal Anti-Itch Shampoo for Dogs featuring Aloe Vera & Vitamin E
If your Yorkie has sensitive skin, prone to itching, then Zesty Paws Oatmeal Dog Shampoo is the best cure and preventative measure. Not only does the anti-itch oatmeal formula soothe and fortify the skin, but the Vitamin E and Aloe Vera also moisturize skin.
Zesty Paws Dog Shampoo with Oatmeal & Aloe Vera - Natural Grooming Pet Wash for Itchy & Sensitive Skin + Dandruff & Coat Odors - Gentle Anti Itch Formula - Vanilla Bean Scent - 16 OZ
A SOOTHING SHAMPOO DOGS LOVE - Zesty Paws Dog Shampoo features Oatmeal, Aloe Vera, Vitamin E, and a blend of gentle ingredients that can help your dog's skin and coat feel soft, shiny, clean, and...
NOURISHING ANTI-ITCH BLEND - If you see your pet itching and scratching, it could be due to dry and irritated skin or a food allergy. This formula features Oatmeal, which can provide a protective...
CLEAN & TANGLE-FREE RESULTS - This tearless odor eliminating formula contains deodorizing properties and a soft vanilla scent to help your pets smell their best, as well as getting rid of pesky knots...
NO MORE HOT SPOTS - This scented moisturizing shampoo also contains a mixture of Oatmeal, Aloe Vera, Vitamin E, and Vitamin C as a solution for neutralizing hot spots on the body of your pet, while...
GREAT FOR ALL AGES & BREEDS - Whether they're big or small, a puppy or senior, or have long or short hair, this blend of Sweet Almond Extract and Quinoa will keep your four-legged companion feeling...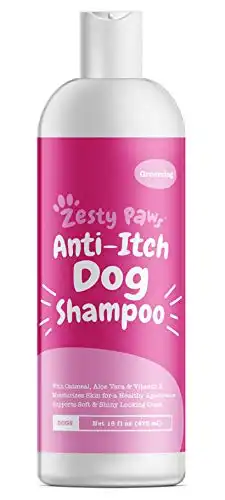 We earn a commission if you make a purchase, at no additional cost to you.
Most dogs scratch or bite themselves due to dry skin, so the anti-itch, moisturizing formula alleviates itching and keeps skin hydrated to prevent further irritation. Oatmeal is an age-old skin relief remedy that works as well on dogs as it does on humans.
The vitamin E content also helps dogs' coats stay shiny and soft, and combined with a pleasant vanilla bean odor, makes your Yorkie's coat irresistible to caresses and cuddles.
Why we love it:
Deep thorough clean
Cures itchy and dry skin
Cons
You'll need to purchase a conditioner apart
3. Best Odor Eliminator: Nature's Miracle Supreme Odor Control Natural Puppy Shampoo & Conditioner
While many dog shampoos seek to cover odors with overpowering synthetic perfumes, Nature's Miracle Supreme Odor Control formula seeks to eliminate the odor by using a pH neutralizing agent along with an odor-neutralizing formula.
Nature's Miracle Odor Control Shampoo, 16 Ounces, Lavender Scent
FOR DOGS ONLY: Specially formulated shampoo is pH balanced for dogs.
LAVENDER SCENT: Freshens with a light scent, leaves your dog smelling nice and clean.
ODOR NEUTRALIZING FORMULA: Helps neutralize odors and leaves no wet dog smell.
ENRICHED WITH ALOE AND VITAMIN B5: Provides moisture and shine.
CONTAINS KERATIN: Safe for pets when used and stored as directed.
We earn a commission if you make a purchase, at no additional cost to you.
In addition to neutralizing wet-dog odors, Nature's Miracle also adds a lavender oil scent that is pleasant and natural.
Nature's Miracle Supreme Odor Control also has aloe vera, keratin, and vitamin B5 to fortify and provide shine for the dog's coat and moisturize the dog's skin. We like that it is a 2-in-1 shampoo and conditioner product, which will save you money and time.
Why we love it
Eliminates odor without overpowering shampoo smell
Lavender scented
Cons
Takes a lot of shampoo to get a thorough clean comapred with other concentrates
4. Best Smelling: Vermont Soap Pet Magic Dog Shampoo
Vermont Soap Pet Magic dog shampoo has every possible tasty smelling oil and extracts including olive oil, coconut oil, jojoba oils, rosemary extract, and many more.
Vermont Soap Organics Pet Shampoo - Infused with Organic & Natural Olive Oil, Coconut & Aloe Vera Dog Shampoo for Sensitive Skin - USDA Certified Grooming Pet Shampoo - 16 Fl.oz
INFUSED WITH ORGANIC OLIVE OIL & COCONUT: Vermont Soap dog shampoo for sensitive skin is made from organic coconut, olive and jojoba oils, organic aloe vera, a combination of natural and organic...
SUITABLE FOR DOGS WITH SENSITIVE SKIN: Vermont Soap USDA organic dog shampoo is made of a gentle yet effective formula that can be used on dogs with sensitive skin. The extraordinarily milk based...
USDA CERTIFIED: After passing all the federal guidelines, our Vermont Soap coconut dog shampoo is Certified by the USDA organic food standards. It means Vermont Soap only sells products that are...
NO HARSH CHEMICALS: Vermont Soap never uses chemicals such as Sulphates, Paraben, enzymes or Phosphate in it's aloe vera dog shampoo. Our plant based formulation which is free of petroleum or animal...
MADE IN THE USA: Maintaining our uncompromising quality standards across the entire process of ingredient selection, manufacturing thru to packaging, all Vermont Soap range of products are...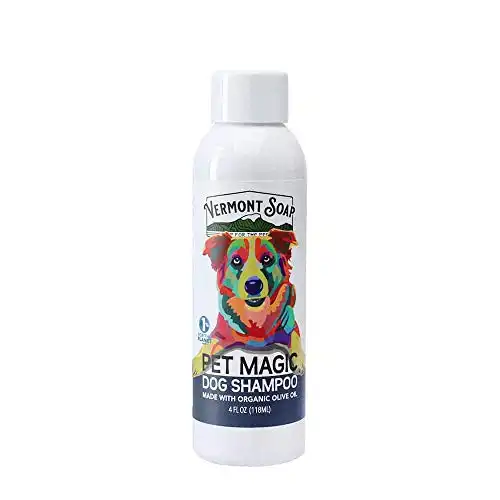 We earn a commission if you make a purchase, at no additional cost to you.
This shampoo is rich in essential oils and aloe vera, which makes it a great shampoo for sensitive and dry skin.
There are no harsh chemicals that can make dog allergies flare up, and all ingredients are USDA certified organic. Another key ingredient is baking soda, which helps absorb any unwanted odors. Vermont Soap has every angle covered, from luster and shine to skin sensitivity and odor absorption, and the best part is how wonderful your Yorkie will smell for days after his bath.
Why we love it:
Smells wonderful
USDA Certified
Chemical-free, plant-based formula
Cons:
Some reports of eye inflammation – a calm Yorkie should be fine
5. Best Budget-Friendly: Wahl 4-in-1 Shampoo
The Wahl 4-in-1 Shampoo is the best bang for your buck, as it comes in a large 24-oz bottle that is cheaper than most 16 oz bottle shampoos. They claim that their alcohol and paraben-free, balanced pH formula will clean, condition, moisturize and detangle your Yorkie's coat.
Wahl 4-in-1 Calming Pet Shampoo – Cleans, Conditions, Detangles, & Moisturizes with Lavender Chamomile - 24 Oz
Made in the USA - Our lavender chamomile pet shampoo is pH balanced, alcohol free, paraben free, PEG-80 free and is highly recommended for cleaning, conditioning, detangling, & moisturizing coats
Calming Formula – This lavender scented pet shampoo is great for cleaning dirty coats, coat conditioning & detangling, & skin moisturizing short to long coats. The thick lather rinses off clean &...
Less is More - Wahl has a higher concentrate of coconut derived sodding agent, which means you don't have to use as much as other dog shampoos. A little bit of shampoo goes a long way and provides a...
Allergy Friendly - Our dog icon, Rocket, was designed in the image of our family dog Cooper – a golden doodle, who has severe allergies. This is the only shampoo we have found safe and effective. He...
The Brand Used by Professionals - Wahl has been serving professional vets and groomers for over 50 years. clean, condition fur & hair for a smooth, soft coat. We are a company of animal lovers that...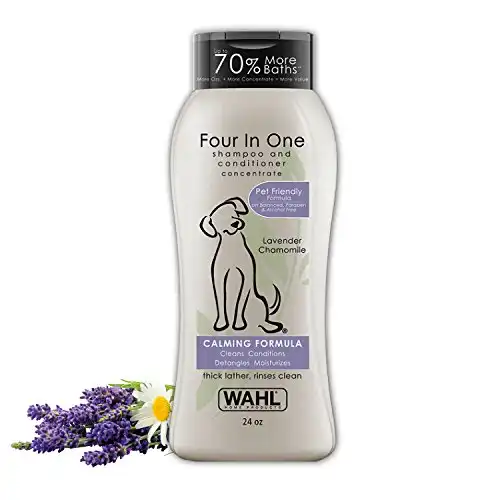 We earn a commission if you make a purchase, at no additional cost to you.
Wahl Shampoo is a great product for long-haired dogs with its conditioning and detangling formula. This shampoo has a great lather, and a little bit goes a long way.
Manufacturers also use lavender extract to instill a pleasant but not overpowering scent.
Why we love it:
Big bottle
Good lather
Shampoos and Conditions
Nice lavender scent
Cons:
Can cause skin irritation (some reviews claim this – I use this specific shampoo all the time with no issues for my dog max)
Yorkie Shampoo Buying Guide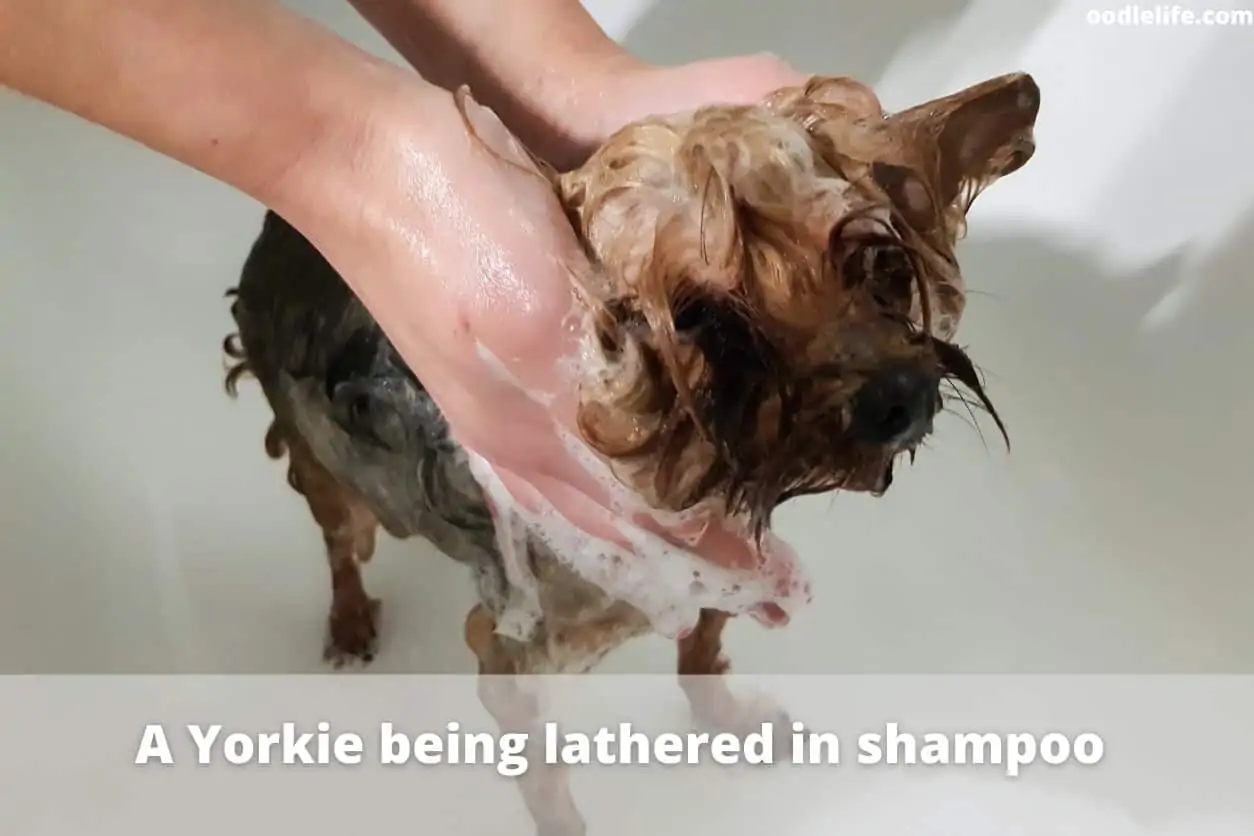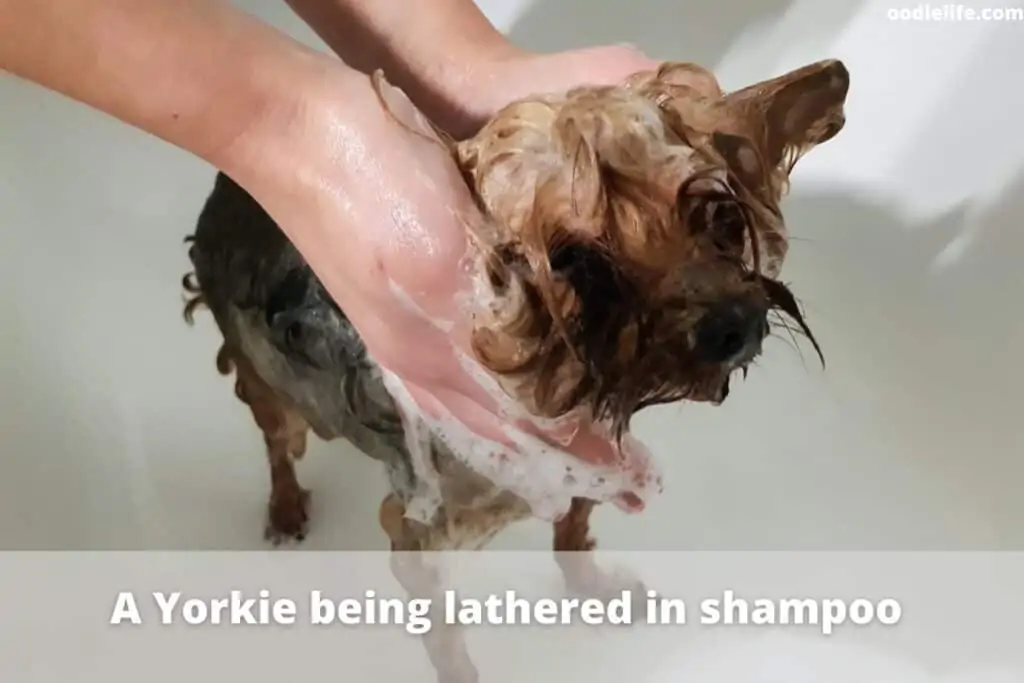 Like most of us, we're sure you have a strong opinion about your favorite shampoo brand, whether it's due to fragrance or the way your hair feels after a shower.
However, when buying shampoo for your Yorkie, you will want to consider multiple important factors. We'll go over each factor in detail to give you the best buying guide for your Yorkie's shampoo.
Shampoo Formula
You should look for a product that has a two-in-one Shampoo and Conditioner formula for your Yorkie because Yorkies are a long-haired breed that is more susceptible to matting and tangling. Buying a shampoo and conditioner combo will save you money and be enough to prevent tangling.
That said, owning a Yorkie requires daily brushing and grooming sessions to maintain the silky and soft coat we all love about them.
Skin Sensitivity
Yorkies require a lot of grooming and bathing due to their long, human-like hair. Bathing a dog often does increase the risk for skin irritation, and Yorkies often suffer from dry, itchy skin.
There are plenty of dog shampoo brands that use ingredients specifically for sensitive skin. We recommend looking out for shampoos labeled "for sensitive skin" to evade discomfort from consistent baths.
Bottle Size
Logically, if you're satisfied with a certain shampoo product that fits the criteria for your Yorkie's coat, then you should look for the largest bottle possible to save you multiple trips to the pet store. Yorkies need consistent baths, so if you buy small bottles, you're likely to run out quickly.
Frequently Asked Questions on Yorkie Shampoos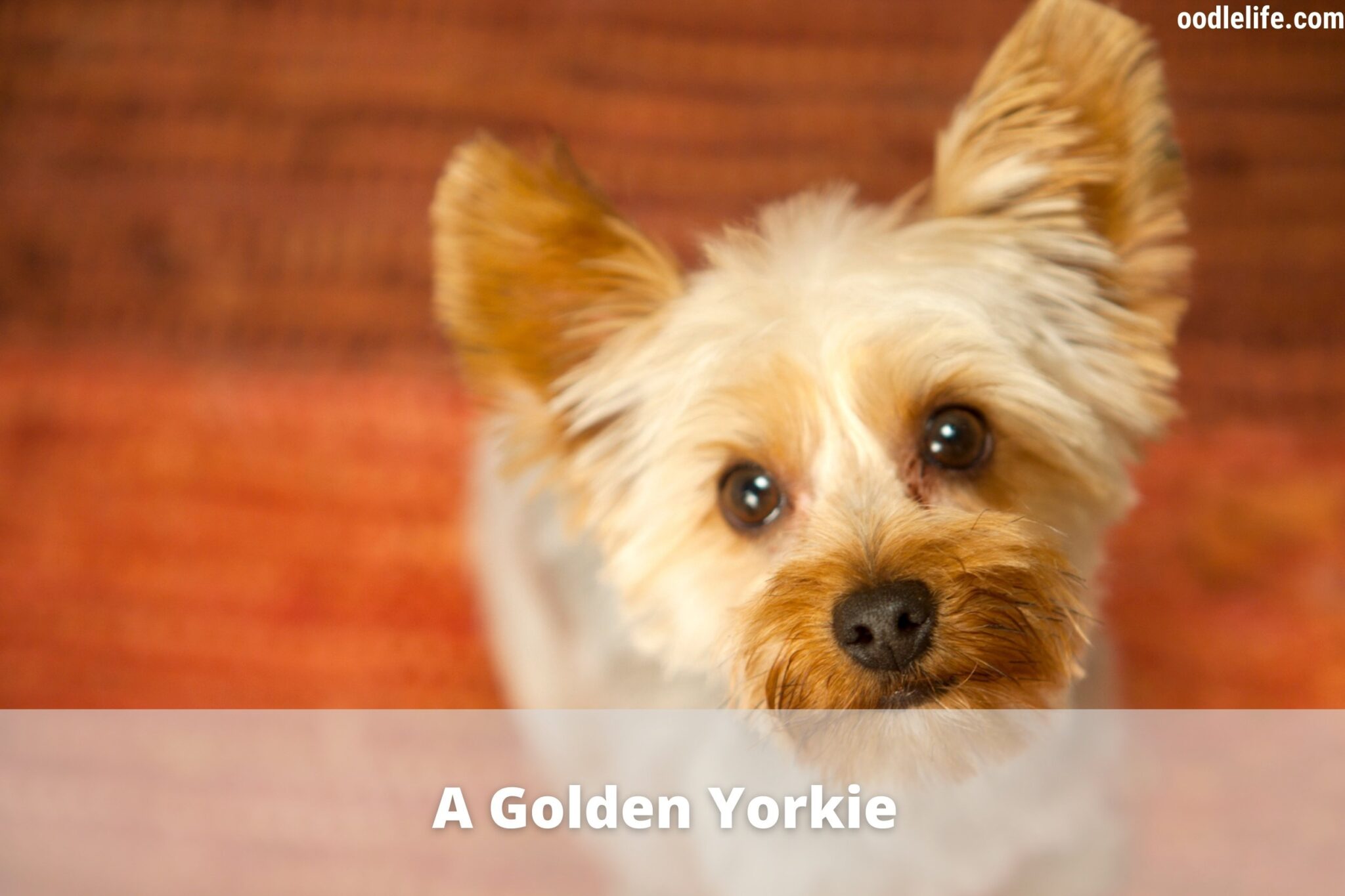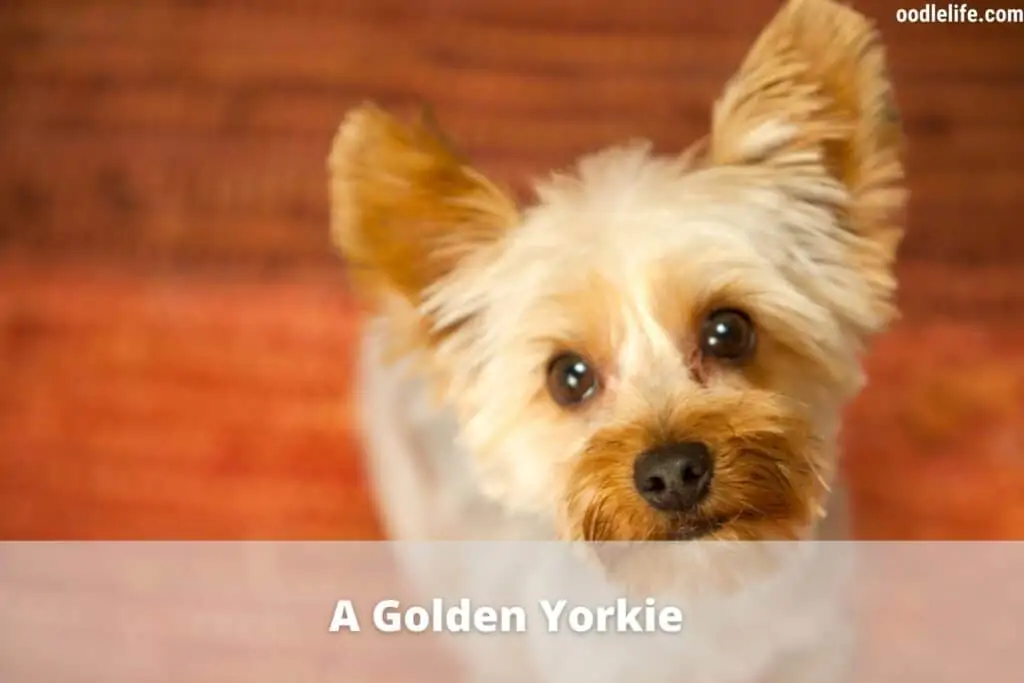 How often do I bathe my Yorkie?
Yorkies need a bath a lot more than most breeds due to their long hair. Some clubs recommend weekly baths – this is often far too frequent for the health of your Yorkies coat.
However, it also depends on you and your Yorkie's lifestyle. If your pets spend a lot of time outside in muddy areas or playing with other furry friends, then you might want to wash them more often. (Same goes for trips to the beach).
Can I use human shampoo on my Yorkie?
There's a reason that animal testing for human shampoo products is a source of contention within the animal rights community. Human shampoos are not safe to use on Yorkies, period. While baby shampoo formulas may be less of a threat, we still advise you to buy shampoos made for dogs.
How do I wash my Yorkie?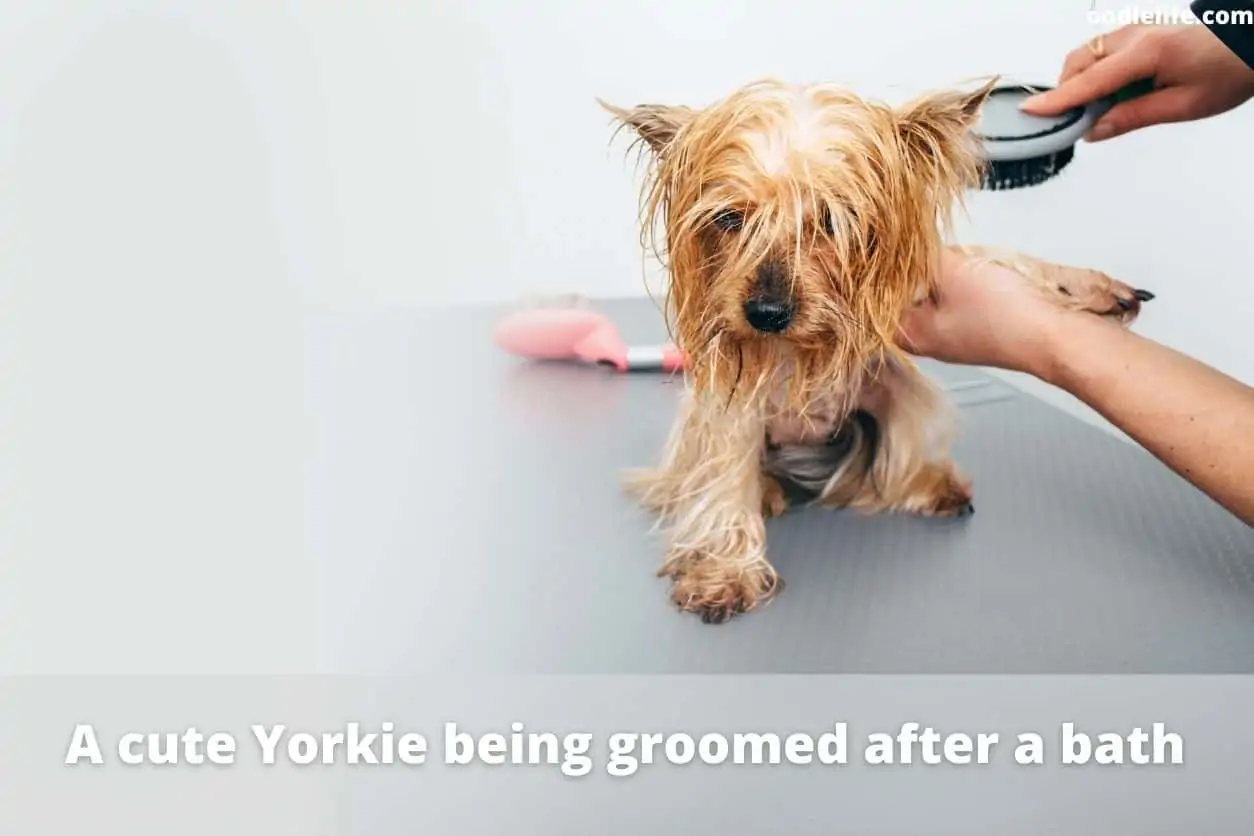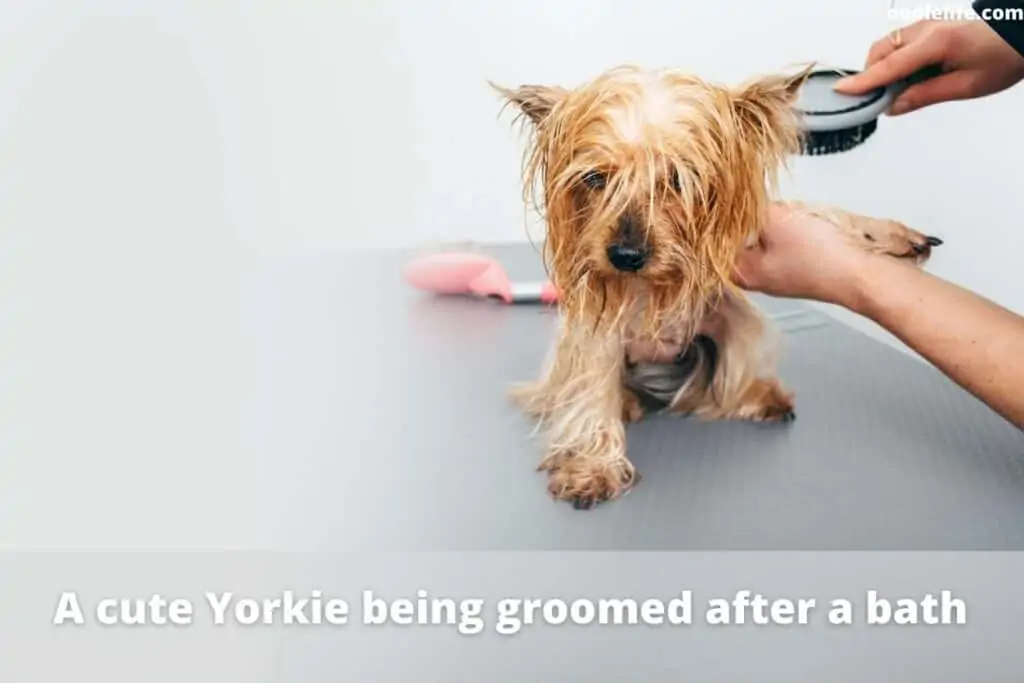 Some Yorkies are more cooperative than others, but by following the below instructions, it should be a relatively painless process for you and your Yorkie:
Use a dog brush to dry brush your Yorkie before starting to bathe him. That way you'll get rid of excess hair, dirt, and dust particles.
Wet your dog thoroughly with a hose or showerhead.
Apply the dog shampoo gently, starting from the top of the head down the back to the tail, then under the neck to the belly, legs, and paws. Ensure there's a good lather, but you don't need to excessively scrub. Also, ensure you don't get shampoo in your pup's eyes.
Wash the shampoo off as thoroughly as possible with water.
Use a large towel to dry off your Yorkie as thoroughly and quickly as possible. Otherwise, you and your surroundings will be drenched from your dog shaking himself off.
Once dry, run the brush through your Yorkie's hair one more time to make sure it dries without tangling or matting.