The 3 Best Brushes for a Yorkie Coat (2023) 
Regular grooming is one of the best ways to keep your Yorkie's coat healthy and clean. Unfortunately, brushing can be very stressful for your Yorkie, especially if you don't have a brush that your dog likes.
So if your Yorkshire Terrier whimpers at the sight of a hair brush, it may be time to try something new.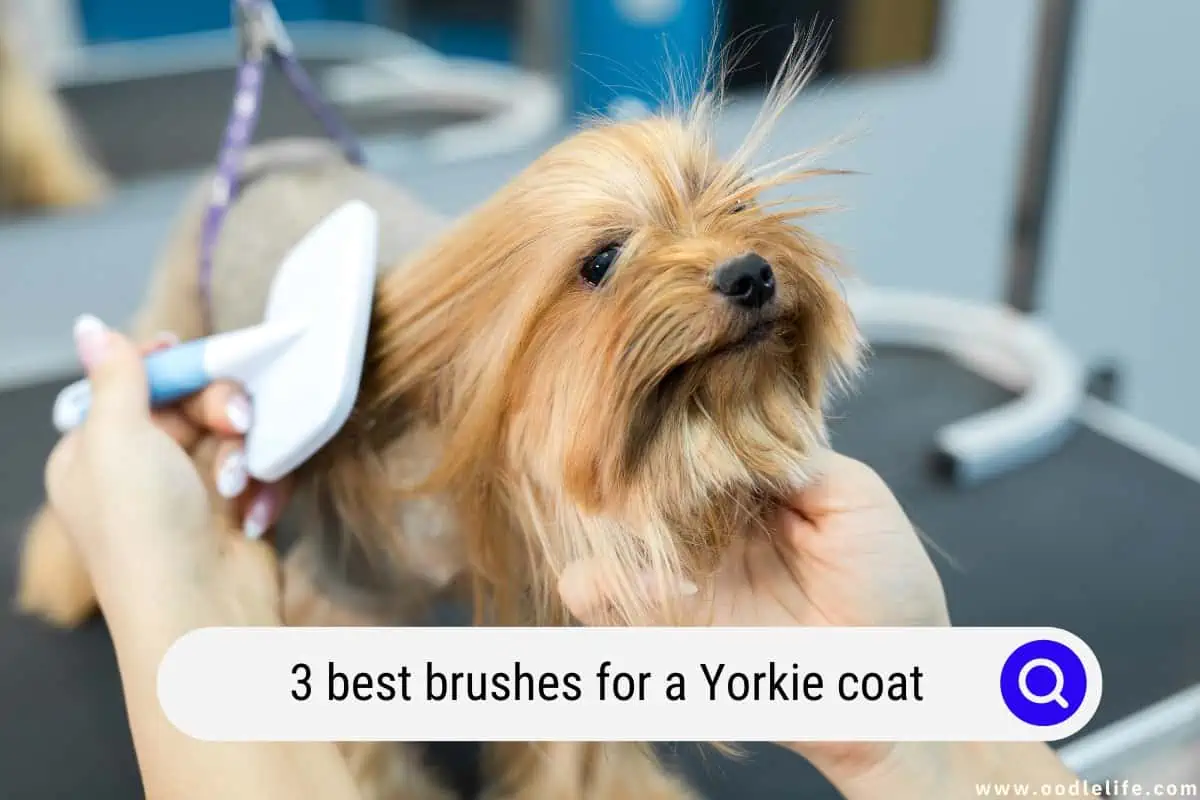 When it comes to brushes for dogs, you should always take their breed into account. A suitable brush for a Husky or a Golden Retriever may be a poor choice for a Yorkie. Other factors, such as your Yorkie's fur length and health conditions, are helpful to keep in mind.
For your convenience, I have narrowed down three of the best brushes for a Yorkie's coat. I've also included a handy shopping guide to help you make the best choice for your furry friend. Let's begin!
Why You Need a Suitable Brush for Your Yorkshire Terrier?
Grooming your Yorkie is essential for their well-being. When you brush your dog's fur regularly, you can prevent painful knots and mats. Brushing can help keep your Yorkie's fur clean, too.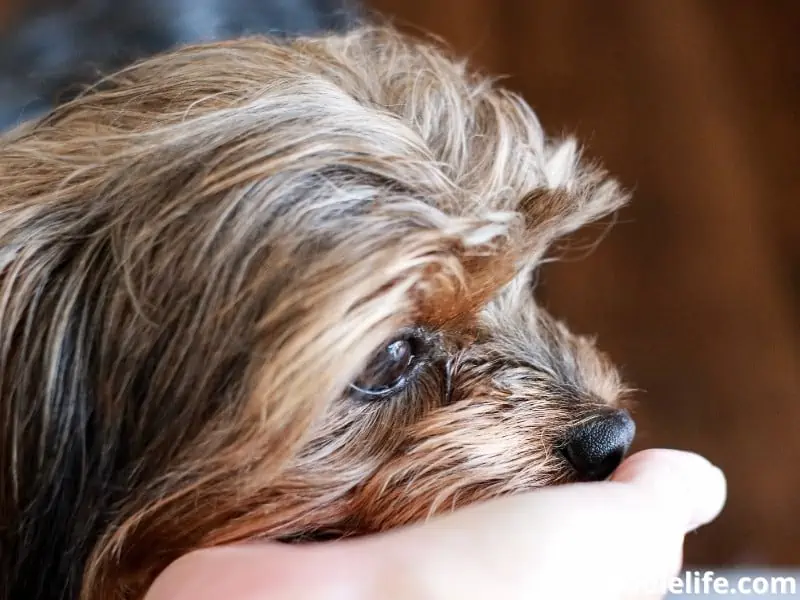 So if you want a healthy, clean, and happy dog, you will want to find a brush that does the job.
Brushing Yorkies can be difficult, especially if your dog makes a fuss every time you get their brush out. When you choose a high-quality brush that your Yorkie likes, you can make grooming time much easier for everyone.
Not just any brush will work on your Yorkies, either. The wrong brush can potentially damage your dog's fur and skin. Always choose a product that's suitable for Yorkies.
Fortunately, all of the products on this list are ideal for Yorkshire Terriers' coats. Read on to determine which one is right for your dog!
Chris Christensen Oval Pin Brush
If you want a high-quality hair brush for Yorkies, this Oval Pin Brush from Chris Christensen may be the perfect match. This product is super easy to use and feels pleasant on your dog's skin.
Chris Christensen Dog Brush, 27 mm Oval Pin Brush, Original Series, Groom Like a Professional, Stainless Steel Pins, Lightweight Beech Wood Body , Ground and Polished Tips
GROOM LIKE A PROFESSIONAL - A high quality brush for those who demand quality and perfection. Ideal for delicate and fragile coats!
QUALITY MATERIALS - Made of lightweight, durable Beech wood body, Made in Germany.
PINS - High quality stainless steel pins with ground and polished tips are the smoothest available, has 30% more pins than traditional pin brushes.
EFFORTLESS - Ground and polished stainless steel pins glide through the coat with ease, 30% more pins than traditional pin brushes makes for a finer brush stroke, ergonomic handle feels wonderful in...
WHY CHRIS CHRISTENSEN - It all started in 1996 when Chris Christensen developed the first true color correcting shampoo for canines and felines. White on White was a catalyst in the evolution of...
We earn a commission if you make a purchase, at no additional cost to you.
The long bristles glide through your Yorkie's fur with ease, especially if they have a long coat. Using this brush can leave your Yorkie's coat silky, smooth, and shiny.
The small size of this brush is ideal for a tiny dog like the Yorkshire Terrier. You can easily maneuver it in your hands as you style your Yorkie's coat.
Grooming your Yorkies with this brush can feel just like a massage. The bristles provide a soothing sensation that many dogs enjoy!
This brush is lightweight, so if you're sick of getting sore wrists after grooming your dog, this may be the right product for you.
Pros
Suitable for all coat types
It comes in two different bristle lengths.
Can prevent tangles and matting
Cons
The most expensive option on this list.
The pins may fall out over time.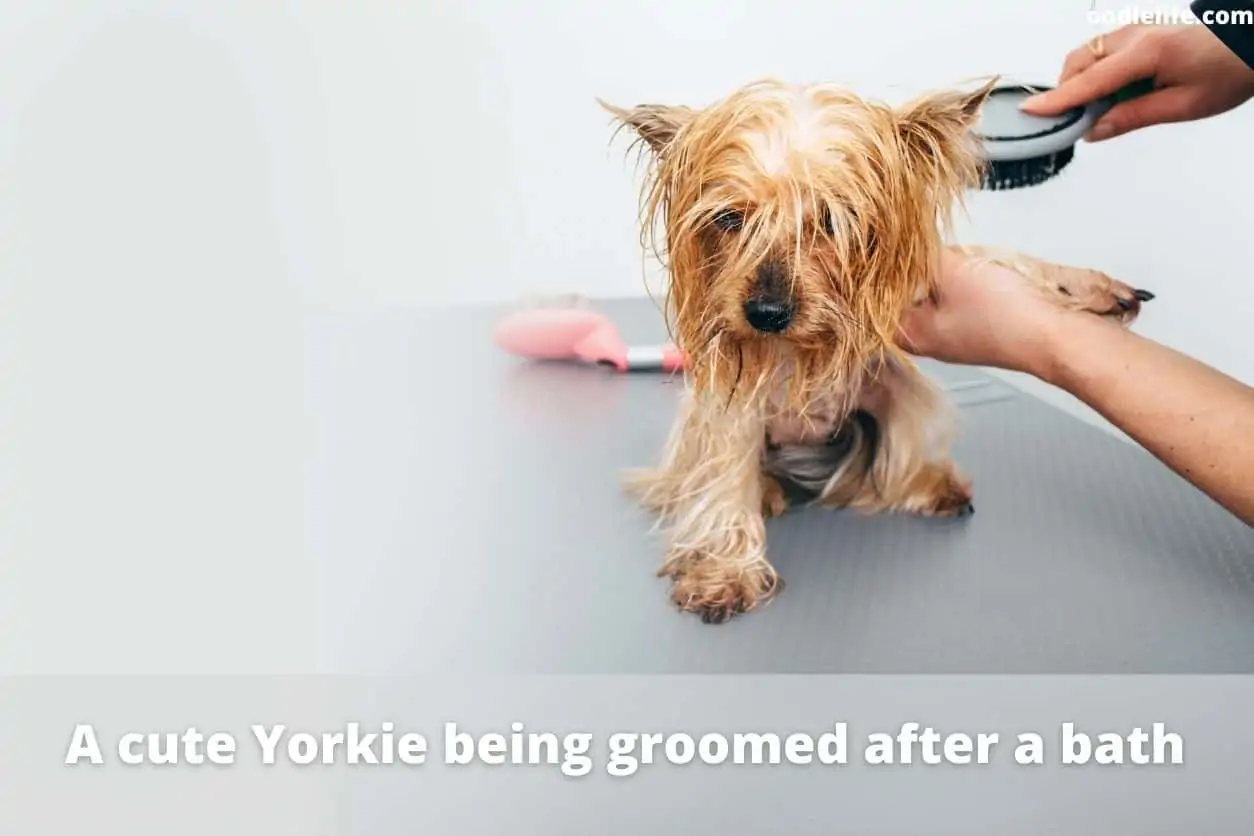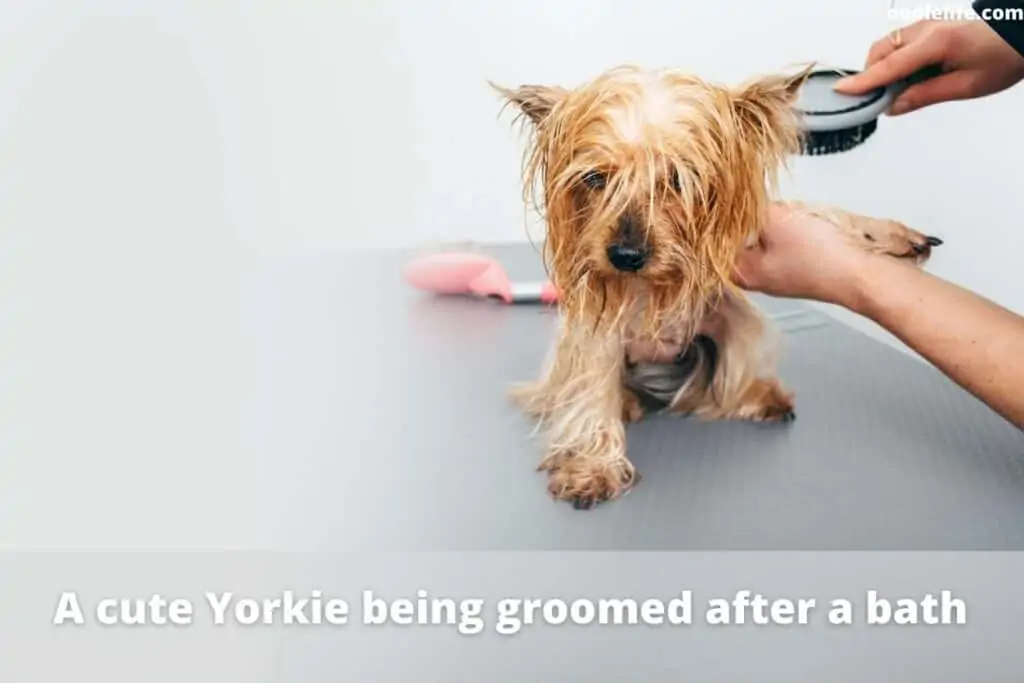 Hartz Groomer's Best Combo Brush
The Hartz Groomer's Best Combo Brush is two products in one, so there's a great chance your Yorkie will like this option.
Groomer's Best Small Combo Brush for Cats and Small Dogs
Developed with pawfessional groomers for everyday de-shedding, detangling and removing small mats on cats of all coat types
Features two brushes and grooming actions in one! One side contains stainless steel tips with a protective coating to remove lose hair and detangle coat; the other side has dense nylon bristles to...
Ergonomically designed handle allows for maximum comfort and control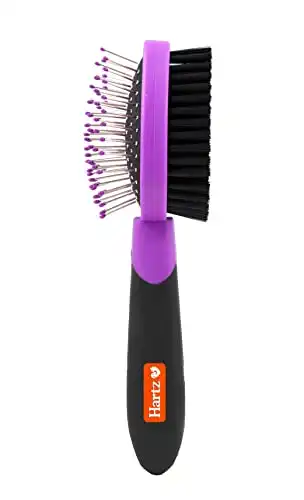 We earn a commission if you make a purchase, at no additional cost to you.
One side of this brush has stainless steel bristles that are perfect for detangling fur. It includes coated tips, which are gentle on your dog's skin. If your Yorkie has sensitive skin (which is quite common in this breed), you'll want to give this brush a shot.
The other side has a dense bristle design that can smooth out your Yorkie's fur. These bristles help distribute the oils in your dog's coat as well, which can make your Yorkie look extra shiny and clean!
Whether your dog has soft or wiry hair, this product from Hartz is a smart purchase.
Pros
Multi-purpose design
The cheapest option on the list.
Long-lasting material
Cons
Difficult to clean
Not ideal for Yorkies with long hair
JW Pet GripSoft Slicker Brush
Do you need a suitable brush for your long-haired Yorkshire Terrier? The JW Pet GripSoft Slicker Brush could be just what you're searching for.
JW Pet Company GripSoft Slicker Brush Dog Brush, Small
The JW GripSoft Slicker Brush is ideal for daily brushing to remove dead and shedding hair.
The brush features an ergonomically designed rubber-sheathed handle with Gripsoft technology that provides you with extreme comfort and precision when grooming.
Metal teeth in two different lengths lift shedding hair from the undercoat and loosen lightly matted portions of fur. The teeth are turned 90 degrees away from the skin keeping them parallel to the...
The Slicker Brush is very effective when used on double-coated breeds with thick fur. When grooming, remember to brush in the direction of your pet's hair growth; taking care to use gentle strokes.
Remove hair from the grooming tools weekly and wash with warm; soapy water. Rinse thoroughly and dry.
We earn a commission if you make a purchase, at no additional cost to you.
This brush is the perfect size for a small breed like your Yorkie. It's ideal for styling their fur and even grooming their face.
You can use this brush to give your Yorkie smooth and shiny fur. Cleaning it is incredibly easy, too.
The angle of this brush prevents scraping and chafing, which means it's an appropriate choice if your Yorkie has sensitive skin. It also has a soft-grip handle, making this brush super comfortable on your wrists.
Pros
Suitable for many types of fur
Removes dead skin and loose hair
A very affordable option.
Cons
Not a good product for dogs with thin fur
Can scratch your dog's skin if you aren't careful
How To Choose the Best Brush for a Yorkie?
The best brush for a Yorkie will vary depending on a lot of factors. Even if a product has high ratings and positive reviews, it still may not be a good fit for your dog's unique needs.
Here are a few key factors to remember before adding a new hairbrush to your cart.
Consider Your Yorkie's Needs
Yorkies can have many types of coats, from short and wiry to long and silky. Certain brushes work better with specific types of fur, so it's helpful to know your Yorkie's fur type when choosing a brush.
Long-haired Yorkies will need brushes with long bristles, which can prevent tangling. Short-bristled options such as slicker brushes, on the other hand, are better for short-haired Yorkies.
You should also consider your Yorkie's health conditions when choosing a brush. Skin allergies are common in this breed, for instance. So if your Yorkshire Terrier has sensitive skin, choose something soft and gentle to prevent irritation.
Ensure the Best Quality
A durable brush is a must-have for grooming your Yorkie. These dogs need frequent brushing, so unless you want to frequently replace their brush, you'll want to choose something that will hold up.
Long-lasting brushes are often more expensive than flimsy ones. But since you won't need to replace them often, they can save you money in the long run.
If possible, try shopping for your Yorkie's brush in person rather than online. Shopping in person can allow you to feel the brush for yourself and better understand its quality and durability.
Compare Your Options
One of the best ways to find the perfect brush for your Yorkie is to try several options. Unfortunately, you cannot know what type of brush your Yorkie likes until you use it on them.
The trial and error phase may initially be a little frustrating. But once you know what kind of brushes your Yorkie likes, choosing the best product will be a breeze.
Tips for Brushing Your Yorkie
Once you get your hands on a good brush, you may wonder: what is the best way to brush my Yorkshire Terrier?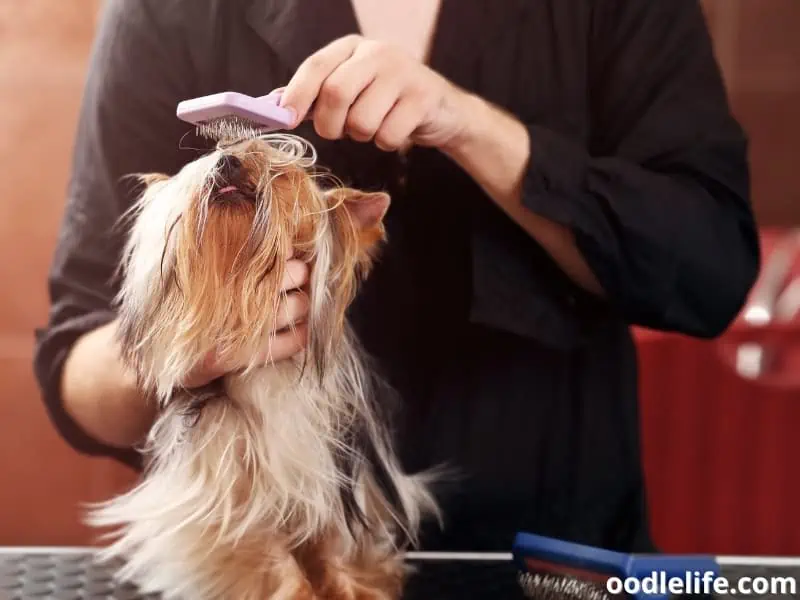 Your brushing technique matters as much as the brush you use. Here are a few tips to brush your Yorkie like a professional!
Brush gently and carefully. Many dog owners press down too hard when brushing, which can be uncomfortable and even painful for your Yorkie.
Brush your dog's fur before you bathe them, not afterward. When your dog's fur is wet, brushing it can be more difficult and painful.
Even the best brush may not successfully remove stubborn knots. If your Yorkie frequently gets knotted fur, make sure you have a detangling comb nearby when you are grooming them.
Stick to a grooming routine. You should strive to brush your Yorkie's fur every day, if possible.
Guide the brush in the direction in which your Yorkie's fur grows, not against it.
Once you're done brushing your Yorkie, give them a treat! Rewarding your dog can encourage good behavior in future grooming sessions.
With a good brush and these tips in mind, you can keep your Yorkie's coat in top shape.
Final Thoughts
Yorkies have a reputation for their soft, beautiful fur. While they don't shed very much, it's still important to groom them often.
So, what is the best brush for a Yorkie's coat? Overall, it will depend on your dog's needs—but the three products on this list are some pretty safe bets!
It may take some trial and error to find the best option, but it will be worth the effort. A suitable brush is incredibly important for your Yorkie's health.
If any of these brushes seem like a good fit for your Yorkie, head on over to the product page and give it a try today!