Best Dog Shampoo for Dry Skin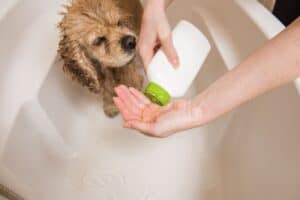 Our dogs are both our children and our best friends, and the last thing that you want is to see them in discomfort.
Unfortunately, due to how dense the coat of some dog breeds is, it is common for many dogs to experience dry skin.
As human beings, this is something that we also experience, and we all know how unpleasant it can be.
Dry skin causes discomfort and excessive itching which could damage not only your dog's skin but also their beautiful fur coat.
Thankfully, in most cases, dry skin can be treated simply by regularly washing your dog's fur with a shampoo designed to tackle dry skin problems.
The market for dog shampoo is incredibly saturated which leaves you with lots of options to choose from.
Unfortunately, this also makes it difficult to pick out the one that is best for your furbaby.
But there's no need to worry because we've put together this handy guide to the best dog shampoo for dry skin.
It's packed with suggestions of some of the best options on the market, and lots of information which you should know before you buy shampoo for your furry friend.
In a hurry?
If you need a dog shampoo that will soothe your dog's dry skin in a hurry we'd recommend the ProPet Works All Natural Oatmeal Pet Shampoo.
This pet shampoo is packed full of excellent ingredients that are guaranteed to leave your dog's skin and coat in better condition.
It's also packed with excellent features which we think make it the best option on the market, including:
It includes both almond oil and aloe vera to naturally hydrate your dog's skin beneath their coat.
It contains no alcohol or animal by-product and is made solely with natural ingredients.
It can be used alongside flea treatments and does not reduce their effectiveness.
Additionally, it eliminates the dreaded wet-dog smell and makes brushing tangled fur much easier.
Our favorite shampoo for dry skin is the ProPet Works All Natural Oatmeal Pet Shampoo.
This oatmeal shampoo also contains both almond oil and aloe vera as both of these natural ingredients are guaranteed to soothe your dog's sore skin.
While this dog shampoo is an excellent choice for any dog which is suffering from dry skin, more specifically it is designed for dogs that have allergies including food, grass, and flea allergies.
As its name suggests, it is made entirely with natural ingredients and contains no alcohol or animal by-product which could cause harm to your dog.
It is also paraben and cruelty-free ensuring your dog, and no other animals, come to any harm through the purchase of this product.
It is suitable for use alongside flea treatments and will not impact their effectiveness or wash the treatment off.
Finally, it also helps eliminate the smell of wet-dog and can make brushing your dog's fur much easier, so it is evident why we think this is the best option on the market.
Pros:
Contains almond oil and aloe vera to soothe your dog's skin
Made for pets with food, grass, and flea allergies
Paraben and cruelty-free so your dog or any other animals are not at risk
Contains no alcohol or animal by-product, only natural ingredients
Can be used alongside flea treatments
Helps eliminate wet-dog smell and makes brushing tangled fur easier
Cons:
Sale
Organic All Natural Plant Based 5 in 1 Oatmeal Dog Shampoo & Conditioner-Made in USA for Dandruff Allergies & Itchy Dry Sensitive Skin-Puppy Grooming for Smelly Dogs & Cats-Soap & Sulfate Free 17oz
🐶ORGANIC ALL NATURAL PLANT BASED FORMULA: Featuring ingredients like Aloe Vera Gel, Organic Almond Oil, Oatmeal, and Vitamins A, D, E, and B12, our unique and special blend was carefully formulated and expertly crafted to be safe for pets with sensitive skin. Our solution works as a detangler to detangle hair for easy brushing, is safe for daily use, and helps eliminate that oh-so-familiar wet dog smell. Give your pet relief from hot spots and itching with our effective shampoo and conditioner.
🐱PREMIUM QUALITY: Made using only the finest ingredients available, our formulation is paraben-free, cruelty-free, sulfate-free, alcohol-free, and soap-free. The Aloe Vera Gel in our formula contains twenty (20) of the twenty-two (22) amino acids that pets need that usually only come from the food they eat. To top it off, our products are made right here in the USA!
🐕MULTIPET USE: Our one-of-a-kind, 5-in-1 oatmeal shampoo and conditioner is not just great for dogs - use our blend on your cat/kitten, rabbit, guinea pig, or ferret. Preserving the natural oil production of your pet, continuous use of our formula will provide your pet with a long-lasting, beautiful coat that you'll absolutely love!
🐈UNIQUE INGREDIENTS: What sets our blend apart are the ingredients we use. Soothing Aloe Vera Gel and Almond Oil synergistically work together to effectively help relieve skin issues and treat your pet's dry skin by keeping it hydrated. It's even good for deshedding for a healthier coat for your pet!
🐶GREAT FOR GROOMING: Our moisturizing shampoo and conditioner help keep skin cells healthy, protect the skin against UV damage, and help the skin repair itself quickly thanks to the Vitamin E found in the Almond Oil. Fatty Acids in our formula help skin retain moisture to assist in healing chapped and irritated skin. Give your fluffy friend the gift of beauty and relief with our cutting edge solution!
Another excellent option is the Earth Bath All Natural Pet Shampoo.
Similar to the ProPet shampoo, this product is also made entirely from natural ingredients and excludes all artificial ingredients from its recipe.
It is both soap-free and PH-balanced so that it can thoroughly clean and deodorize your dog's skin and fur safely.
It also does not wash off any flea treatment so can be used alongside this.
It is a cruelty-free product meaning that it has been designed and tested without any chemical testing on animals making it an ethical option.
More importantly, it successfully soothes dry, itchy, and flaky skin, so it is clear why this is one of the best options for your dog.
Pros:
Contains colloidal oatmeal and organic aloe vera to soothe sore skin
Soap-free and PH-balanced to clean and deodorize skin and fur safely
Does not wash off flea treatment application
Contains absolutely no artificial ingredients
Designed and tested without any chemical testing on animals
Soothes dry, itchy, and flaky skin with natural ingredients
Cons:
Earthbath Oatmeal & Aloe Pet Shampoo - Vanilla & Almond, Itchy & Dry Skin Relief, Soap-Free, Good for Dogs & Cats, 100% Biodegradable & Cruelty Free - Give Your Pet that Heavenly Scent - 16 fl. oz
ADDRESS DRY, ITCHY, AND FLAKY SKIN - Collodial Oatmeal and Organic Aloe Vera help combat skin irritation, promote healing, and re-moisturize sensitive, dry skin
BRILLIANTLY CLEAN & SOFT - This luxurious shampoo is soap free and pH-balanced to clean and deodorize safely and thoroughly, leaving your pet's coat and skin plush and smelling better than ever before
SAFETY FIRST - Our Oatmeal & Aloe Shampoo with Vanilla & Almond scent will not wash off topical flea applications and is safe for all animals over 6 weeks
KNOW WHAT YOU'RE GETTING - What goes into our products is just as important as what doesn't. This product contains no soap, gluten, DEA, parabens, synthetic dyes, sulfates, or phthalates, and is animal cruelty free, for a better bath every time!
100% MONEY BACK GUARANTEE - We are so sure you will love this product that we will refund your money if you are not satisfied for any reason. You have nothing to lose
We also love the Paws and Pals Natural Oatmeal Shampoo. This is a great option if you like to get an expert's opinion, as this product by Paws and Pals is regularly recommended by vets for dogs who have poor coats.
It contains a delicate balance of essential oils and natural ingredients which can help relieve symptoms of allergies, heat spots, and dry skin in your dog.
It contains both aloe vera and pro-vitamin B5 which are well known for their healing and hydration properties.
Additionally, these ingredients protect your dog's skin from any further damage in the future.
It excludes ingredients that could inflame your dog's eyes and nose while thoroughly washing and deodorizing your dog's skin and coat, making it easily one of the best options available.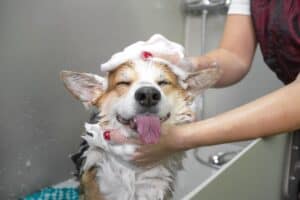 Pros:
Regularly recommended by vets to improve your dog's coat
A delicate balance of essential oils and natural ingredients
Helps relieve symptoms of allergies, spots, and dry skin
Thoroughly washes and deodorizes your dog's coat
Contains aloe vera and pro-vitamin B5 to hydrate, heal and protect your dog's skin
Excludes ingredients that could inflame your dog's eyes and nose
Cons:
Bad choice for dog breeds with incredibly sensitive skin
Paws & Pals 5-In-1 Oatmeal Dog Shampoo, Conditions, Detangles, Moisturizes, Anti Itch, Odor Control - Made in USA w/Medicated Clinical Vet Formula - Best for Dog, Cat & Pets w/ Dry Itchy Skin | 20 oz
THE MOST EFFECTIVE NATURAL PET SHAMPOO FOR YOUR LOYAL COMPANION: Our Pet Wash Shampoo is a premium coat and skin treatment that comes directly to you and your pet without sacrificing vegan and organic principles or quality. Our delicate balance of essential oils forms the foundation of a veterinarian recommended coat care regimen.
QUALITY SHAMPOO FOR YOUR DOG WITHOUT COMPROMISE: Your dog is a loving member of your family, does he or she not deserve the best when it comes to caring for their coat and skin. At Paws & Pals, we have developed a cleansing shampoo that not only respects the environment as well as nature but ensures that in doing so your pet has the best possible skin care and coat treatment available.
NOURISHING FORMULA: Our shampoo includes oatmeal, which will help moisturize and soothe itchy skin. It may also help relieve symptoms of allergies, hot spots, dry skin, and will also clean, deodorize, and soften your pet's coat. Our pet wash cleaner also contains all natural ingredients such as aloe & ingredients which occur organically such as pro-vitamin B5. They assist in hydrating, healing and protecting your pet's coat and skin.
TEAR-FREE SOAPLESS FORMULA TURNS BATHTIME INTO PLAYTIME: Our tear-free formula is the result of natural oils, vitamins, and extracts that do not irritate or inflame your dog's eyes or nose, ensuring that bath time is a fun and playful experience for you both. (we cannot guarantee a splash, free experience.)
MADE IN THE USA – Please note that sensitivities vary for each pet. Please monitor your dog for any adverse reactions caused by allergic or unexpected occurrences.
You should also consider the 4Legger Organic Dog Shampoo.
Just like the other shampoos on this list, this product is made entirely of non-toxic, natural ingredients.
However, this product differs as it is also made of organic ingredients.
It is hand-crafted and uses ingredients that are all plant-based making it a suitable option if you live a vegan lifestyle.
It contains absolutely no artificial or synthetic ingredients, and it doesn't need to as the formula naturally moisturizes your dog's fur by utilizing their natural oils.
It is easy to lather and easy to rinse, leaving your dog's skin hydrated and their fur shiny and soft.
With all this in mind, there's no doubt that this is one of the best options available.
Pros:
100% non-toxic, natural ingredients
Handcrafted using plant-based, vegan ingredients
Contains no artificial or synthetic ingredients
Naturally moisturizes your dog's fur by utilizing natural oils in their skin
Easy to lather and rinse off of their fur
Leaves your dog's skin hydrated and their fur soft and shiny
Cons:
A poor seal on the bottle means it always has to be stored upright
4-Legger Organic Dog Shampoo - All Natural and Hypoallergenic with Aloe and Lemongrass, Soothing for Normal, Dry, Itchy or Allergy Sensitive Skin - Biodegradable - Made in USA - 16 oz
DOG SHAMPOO MADE WITH USDA CERTIFIED ORGANIC OILS AND ESSENTIAL OILS: Our 100% non-toxic natural hypoallergenic pet wash is handcrafted in small batches using plant based vegan ingredients like organic coconut oil, organic lemongrass essential oil and soothing aloe vera. You have our promise of no synthetic or artificial chemicals! A little goes a long way to get rid of that wet dog smell!
#1 CHOICE FOR HOLISTIC VETERINARIANS AND NATURAL GROOMERS - Since 2015, industry leaders have recognized 4-Legger organic dog shampoo as the most dependable dander reducing hypo-allergenic shampoo for normal / dry / itchy / allergy / sensitive skin. See all our certifications in the images to see why we are not only great for our pets but also our planet. Contains NONE of the synthetic artificial or toxic chemicals found in OTHER dog shampoo.
WE DON'T COMPROMISE PET HEALTH FOR ATTRACTIVENESS – Our easy to lather and rinse lemongrass citrus shampoo naturally moisturizes by utilizing your pet's natural oils to maintain a soft and shiny coat without artificial thickeners that add toxicity to your dog's bath. Unfortunately, most other brands still depend on harmful artificial and toxic ingredients to achieve this. 4 Legger is safe for newborn pups, senior dogs, and even humans to use!
ONLY 2% OF DOG SHAMPOOS REALLY ARE CERTIFIED ORGANIC - Don't fall for common marketing gimmicks used by pet grooming brands to fool you into buying the same harmful formulations while paying a premium for "organic" and biodegradable We proudly display all of our ingredients and are USDA certified to food standards; we aren't just making this up!
RISK FREE 30 DAY GUARANTEE - You have absolutely nothing to lose and everything to gain by trying 4Legger shampoo. We've dedicated our lives to extending the precious time we have with our beloved pets by reducing environmental toxins in pet grooming products. Try it on your pets and even take it to your groomer or veterinarian for their input. If you find any reason to stop using our shampoo, simply return it for a 100% refund!
Finally, we cannot forget the Tropiclean Oatmeal and Tea Tree Shampoo.
This product is similar to the others we have looked at as it contains both oatmeal and tea tree to naturally hydrate your dog's skin.
It is proven effective in stopping your dog's itching and does so by exfoliating their dry skin and moisturizing, making their skin and coat healthier.
It is the only medicated formula on this list and contains beta-hydroxy for itch relief.
It is solely made of natural ingredients and excludes soap, parabens, and dyes from its formula.
Due to this, this shampoo is suitable for all dogs over the age of 12 weeks, so there is no question that this is one of the best options available.
Pros:
Contains oatmeal and tea tree to naturally hydrate your dog's skin
Effectively stops your dog itching by exfoliating and moisturizing their skin
Medicated formula with Beta-hydroxy for itch relief
Made with natural ingredients
Suitable for all dogs aged 12 weeks +
Soap, paraben, and dye-free so it is safe for your dog
Cons:
Tropiclean Oatmeal and Tea Tree Pet Shampoo, 20oz
EFFECTIVE ITCH RELIEF – TropiClean Oatmeal & Tea Tree Medicated Itch Relief Dog & Cat Shampoo exfoliates, moisturizes and conditions your pet's skin and coat, effectively soothing dry, itchy and irritated skin
MEDICATED FORMULA – This medicated formula is enhanced with beta hydroxy to help provide long lasting itch relief
SAFE SOLUTION – Soap Free, Paraben Free and Dye Free. Made with naturally derived ingredients and safe when used as directed on dogs and cats 12 weeks or older
SOOTHING BLEND – Formulated to soothe dry, itchy skin
MADE IN THE USA – We proudly manufacture and ship our products with only the highest quality, naturally derived ingredients
Best Dog Shampoo for Dry Skin Buyers Guide
If your dog is suffering from dry skin, we understand that you want to do everything in your power to make it better for them, and to relieve their suffering.
The best way to do this is through the use of a shampoo designed for dry skin, and regular brushing.
But we understand that finding the shampoo that's best for your furbaby can be difficult, as there are an endless amount of companies offering shampoo for dry skin, all of which comes with its own benefits.
With so many options, it can be hard to identify which is the best, which is where we come in.
The pet shampoos that we have looked at above are some of the best on the market, but if you still aren't sold, we've put together this handy buyer's guide.
It's full of all the information you need to know about dog shampoo to ensure that you make the purchase that is best for you.
So let's take a look at everything you should know before you buy.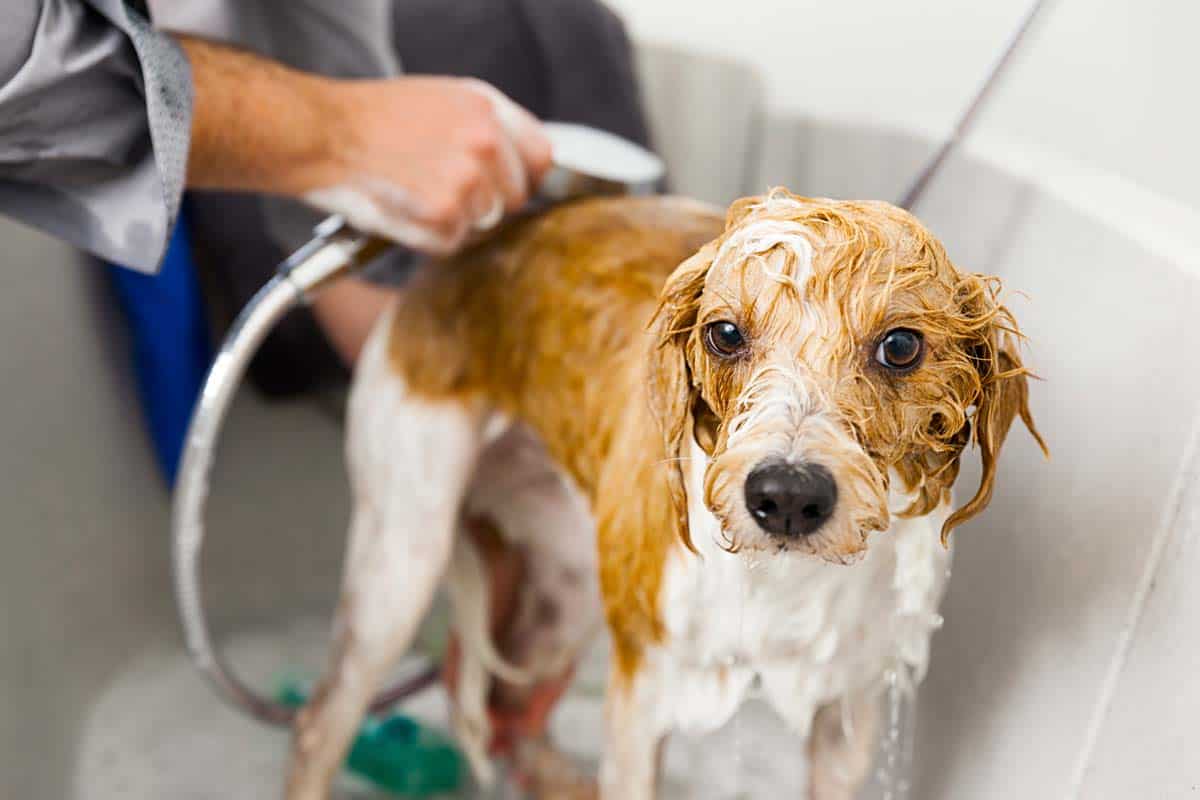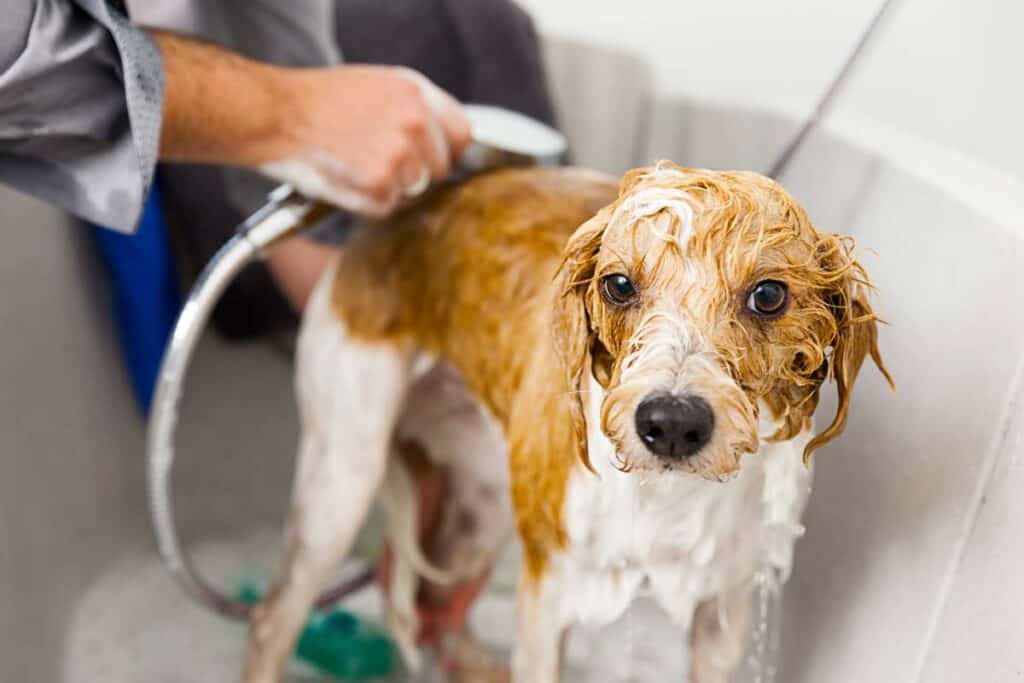 Spotting Dry Skin
Every dog is different, so just like human beings, every dog will display different symptoms of dry skin.
This can make it difficult to spot in your dog, and it is made harder by how dense the fur of some breeds are.
However, there are some common symptoms of dry skin which you should look out for.
Your dog may display all of these symptoms or they may only display one or two.
But in general, there is a good chance that your dog is suffering from dry skin, if they display any of these symptoms:
Flaking skin or dandruff
Hair loss or excessive molting
Inflammation or scaling
Pimples or scabbing
Increased bad odor
Some dogs may experience all of these symptoms, others may just experience an increased sense of itchiness.
It is important that you keep an eye on your dog, and upkeep regular maintenance on their fur.
If their dry skin does not improve through the use of shampoo, you should take your dog to the vet so that they can diagnose the underlying cause of your dog's skin problems.
Dry skin is associated with a lot of different conditions in dogs, from alopecia to dermatitis, so if your dog's skin does not improve through the use of shampoo, you should consult with your veterinarian.
Dry Skin or Allergies?
If your dog starts to suffer from dry skin out of the blue, there is a fair chance that they are suffering an allergic reaction rather than a bout of dry skin.
Allergies in dogs often lead to dry skin and increased scratching, but the cause of the allergy is often overlooked as owners believe their dog is simply suffering from dry skin.
There are a variety of common allergens in dogs, all of which could cause them to begin to scratch their skin obsessively.
Allergies are usually solved by switching out your dog's food or using a different flea/worming treatment if they seem to be experiencing allergies.
However, some other allergens will require your dog to take tablets regularly or use a special shampoo, so you should consult with your dog if you think they may have an allergy.
Formulas to Look For
If your dog needs shampoo to help with their dry skin, there are two main formulas that you should look for to help alleviate their distress.
These are organic or hypoallergenic shampoos.
Both of these shampoo formulas are made with sensitive ingredients that will stop your dog from scratching, while also ensuring that they do not suffer an allergic reaction from the shampoo.
Some shampoos will be solely organic, others will be solely hypoallergenic, while others might include properties.
Organic shampoos are made with only natural ingredients and are considered safe for all dogs as they don't include anything artificial or any bad chemicals which could cause harm.
This generally means that it will not cause your dog to experience any allergic reactions.
Organic shampoos also tend to include a variety of nourishing ingredients that will soothe your dog's dry skin and naturally rehydrate it which will help remove the discomfort.
Some dog breeds are more prone to skin conditions than others so you should try and use organic shampoo if your dog is one of these breeds. This includes popular cross breed dogs like Bernedoodles and Labradoodles.
The other option you have is hypoallergenic shampoo. This is the perfect option if you know your dog suffers from allergies.
Hypoallergenic shampoo is made with ingredients that are known not to cause allergic reactions but are different from organic shampoo.
Organic shampoo is made with only natural ingredients, but hypoallergenic shampoo is made with natural and artificial ingredients.
Some artificial ingredients are also known not to cause allergic reactions, so some shampoos will also include these. That is why not all hypoallergenic shampoos are organic.
But it is worth noting that a hypoallergenic shampoo is not guaranteed to not cause an allergic reaction.
In most cases, it will not, however, there is always a very small chance that your dog could be allergic to one of the ingredients if they have never encountered it before.
Frequently Asked Questions
Does brushing a dog help with dry skin?
Regular grooming of your dog's fur is guaranteed to improve their skin and coat.
Some breeds will require brushing more regularly than others, but in general, you should aim to brush your dog's fur as often as possible.
To keep your dog's fur in the best condition, you should brush them every single day. However, regular brushing is meaningless if you do not use the right tools.
For the best results, you should brush your dog's coat every day using a slicker or bristle brush to prevent dry skin from building up.
How do you clean a dog's dry skin?
Just like human beings, dogs also suffer from dry skin. But unfortunately for our canine friends, their fur often covers the dry skin which can prevent you, the owner, from noticing it.
You will usually notice that your dog has dry skin because it will be itchy and begin to suffer from dandruff.
The best way to clean your dog's dry skin is by using a shampoo that is designed to alleviate the pain and discomfort that dry skin causes.
Most of these shampoos include soothing ingredients like tea-tree or oatmeal, and we've looked at some of the best options available above.
Some breeds like French Bulldogs, Poodles and even Cockapoos can suffer from dry skin.
Do dogs feel better after a bath?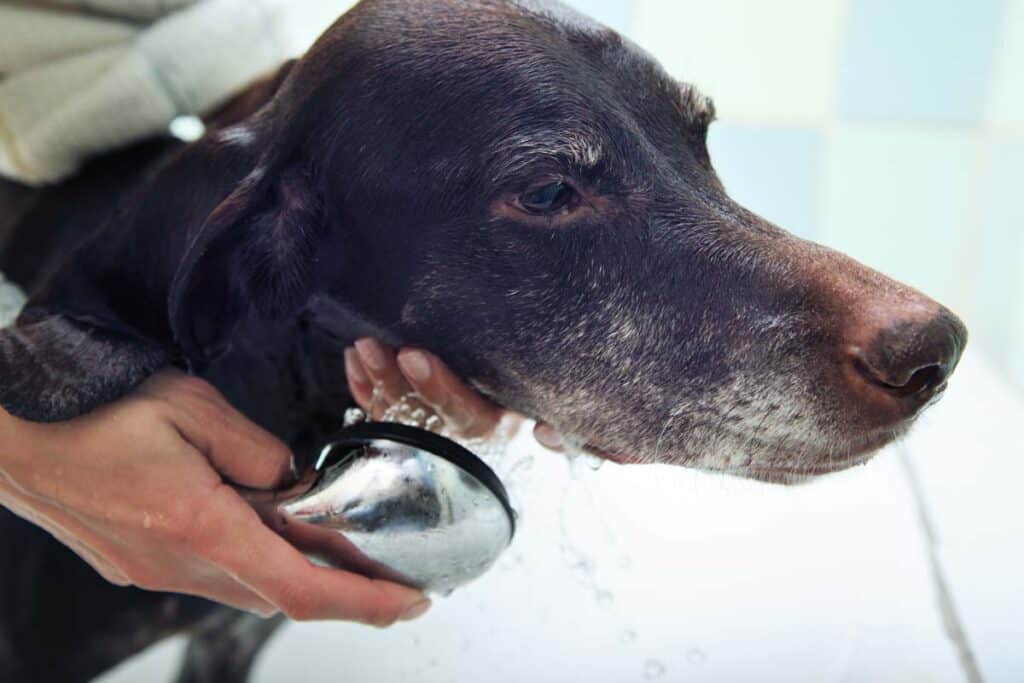 For a lot of people, a bath is a relaxing thing to do and it is guaranteed to make any situation better. Any dog owner will know that most dogs seem to dislike the bath.
They often grow uncomfortable, and with some bigger breeds, it can be very hard to get them to stay still while you wash them.
In some cases, having a bath makes dogs very nervous which is why they may shake a lot, roll around or run about like they've gone mad after they have been bathed.
This is because the dog is nervous about the scent of their shampoo and wants to try and get rid of it.
However, when your dog has a habit of rolling in smelly things, or suffers from dry skin, having a bath is a necessary evil. For both you and for them.