7 Best Shampoos for Huskies (2023 Update)
Being the owner of a Husky has plenty of perks! They have tons of personality, are incredibly loyal, and are one of the sweetest, most loving breeds you will ever find. As a Husky owner, you are also aware of the constant battle against the blowout and the fact that hair gets everywhere!
Siberian Huskies are a longer-haired, thick double coat breed of dog, so keeping their coats healthy and cared for is essential.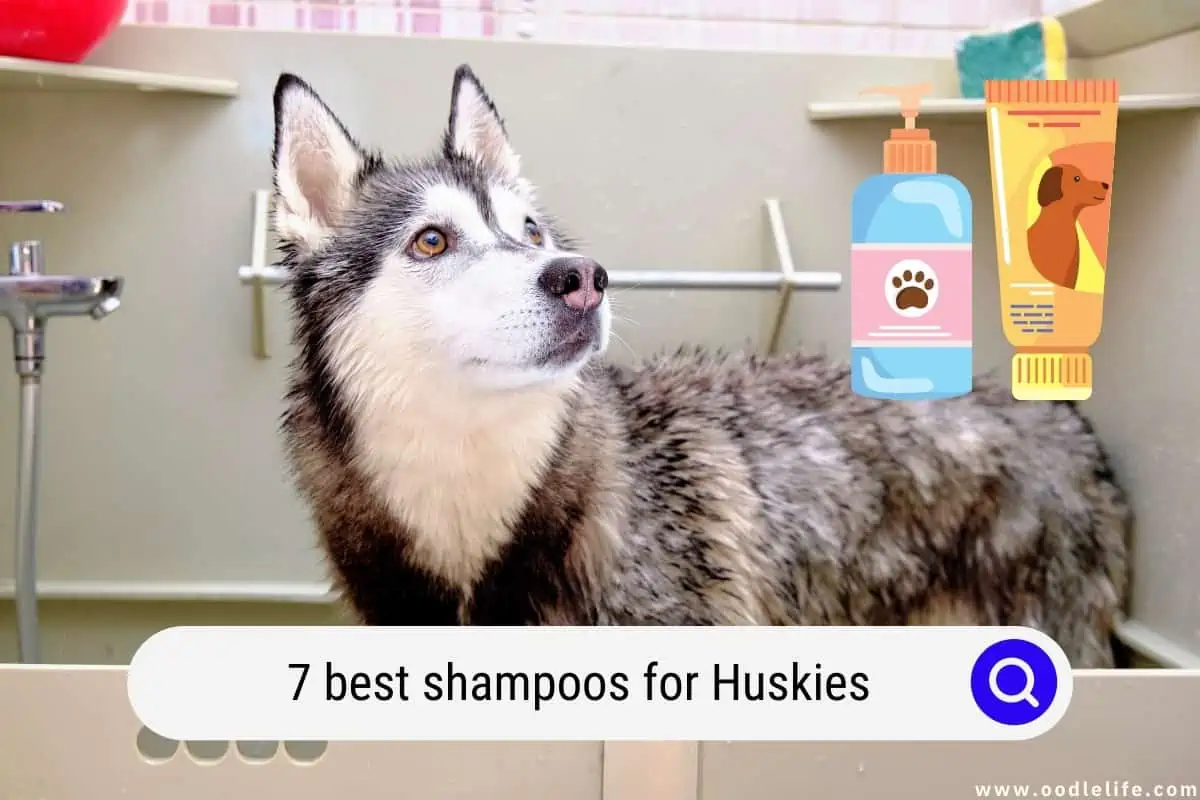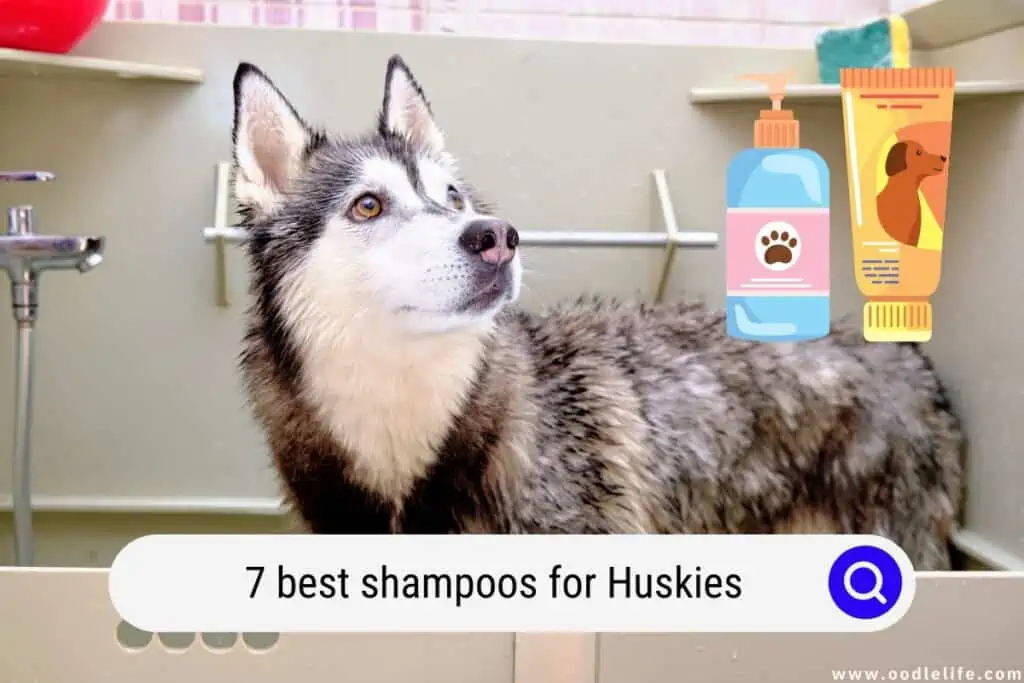 So how do you pick the right shampoo for your Husky fur baby? There are so many options available that it can be overwhelming to determine which one will be the most effective for your Husky's needs. We can help.
This article will review seven products to help you choose the right product and determine which is the best shampoo for a Siberian Husky.
Overall Best Shampoo for Siberian Huskies
Buddy Wash Original Shampoo tops our list for the best overall shampoos for Huskies. Its formula uses excellent natural ingredients, such as sage, aloe vera, and chamomile, that leave your Husky smelling great while being sensitive to his skin.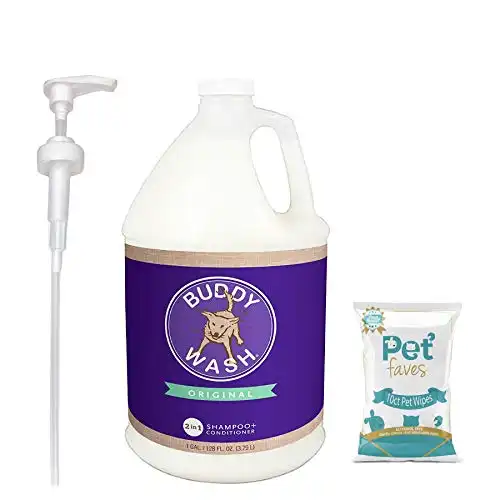 We earn a commission if you make a purchase, at no additional cost to you.
The pure botanical extracts will help rejuvenate your Husky's coat as it maintains the delicate pH balance. Talk about an at-home spa day for your fur baby!
Buddy Wash starts with a coconut-based liquid and then adds lavender and mint to make bathtime a calming experience—it smells so good! The formula includes aloe vera to help soothe irritated skin and is entirely alcohol-free. All of its natural ingredients are safe for frequent use, even on puppies.
It creates a decadent lather that rinses effortlessly, leaving your Husky's coat silky soft and lustrous. Also, since Buddy Wash uses wheat protein as a natural deodorizer, your pet will continue to smell fresh and clean.
Buddy Wash Original Shampoo is our best overall shampoo for Huskies because it fits everyone's budget while providing premium ingredients to make your Husky look and feel like a king!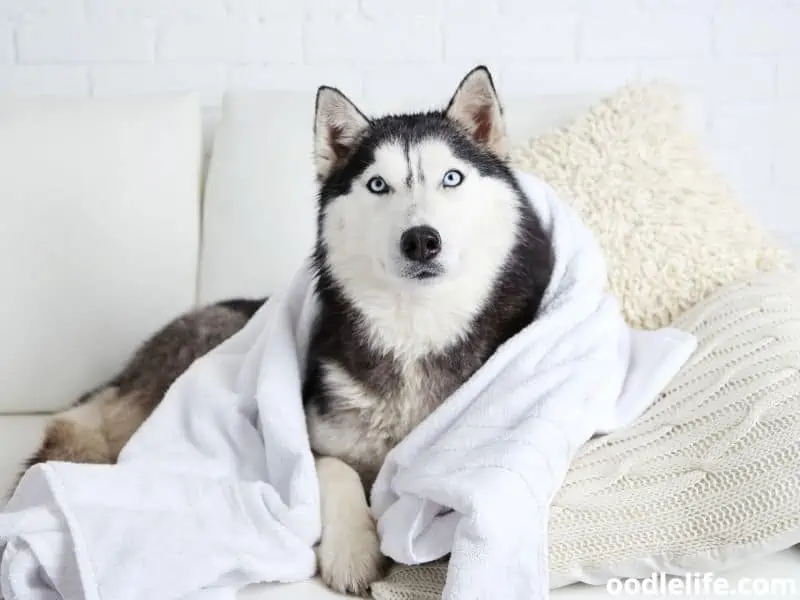 Best Shampoo To Help Get Shedding Under Control for Your Husky
Let's face it, the most challenging part of owning a Husky is all the shedding. Without a long-term solution, dander is liable to accumulate in a Husky's household. That is why we love the FURminator deSHEDDING Ultra Premium Shampoo.
FURminator® deShedding Ultra Premium Shampoo for Dogs, 16 Oz.
DESHEDDING FORMULA: Helps reduce excess shedding.
FORMULATED WITH MULTIPLE CONDITIONING AGENTS: Helps strengthen and nourish skin and coat.
FEATURES ODORCAPTURE 360 TECHNOLOGY: Helps remove the wet dog smell.
FORMULATED WITHOUT PARABENS AND CHEMICAL DYES: This is a shampoo you both can love. Wash your pup's coat thoroughly without the parabens and chemical dyes.
GROOMING CONFIDENCE: When used with the complete FURminator line of products, this bathing product offers a complete system for deShedding, cleansing and conditioning. For best results, use with...
We earn a commission if you make a purchase, at no additional cost to you.
It is the ultimate in de-shedding and cleansing for Huskies. Using the FURminator will disentangle knotted loose fur to decrease excess shedding.
This product is supplemented with Omega 3 and 6 fatty acids and vitamins, which are beneficial for restoring and retaining more water in the skin and coat of your Husky. The result is a coat that is healthier and more vital.
The FURminator is developed without sulfate or chemical dyes and is pH-balanced making it perfect for reducing irritation and drying while working gently.
Another plus to choosing the FURminator is the product's exclusive Odor Capture 360 feature, which helps eliminate that wet dog smell and neutralizes other odors.
The extraordinary combination of natural ingredients in the FURminator deShedding shampoo makes it an excellent option for coating and releasing the undercoat of your double coat Husky during the bath.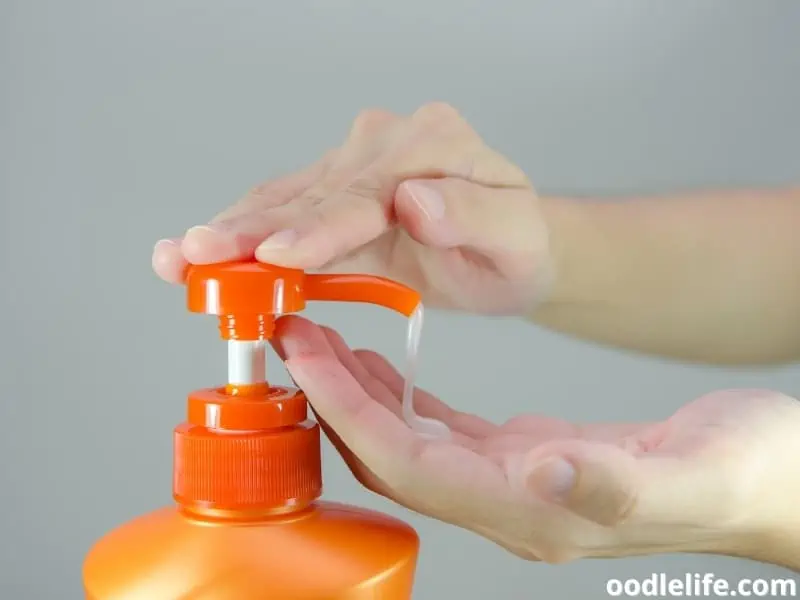 Best All Natural Shampoo
Just like us, your Husky's largest organ is his skin. But unlike humans, a dog's skin is considered much thinner than ours. That is why we adore Friends Forever's dog shampoo, the best shampoo for a Siberian Husky that's all-natural.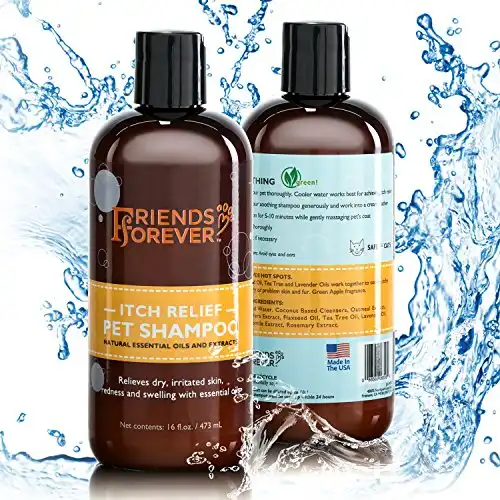 We earn a commission if you make a purchase, at no additional cost to you.
They take extensive efforts to protect your Husky's skin. Created with all-natural unique elements such as flax seed oil, tea tree oil, and lavender, Friends Forever's shampoo offers invaluable support for pets that suffer from dry, scratchy skin.
Indeed, the shampoo's ingredients are an effective tool for helping your Husky stop scratching from fleas, yeast infections, and other allergies. Plus, the smell is fantastic.
This product has a soft green apple scent with chamomile extract that releases odors in the fur and endures long after bathtime is over.
We love Friends Forever's shampoo because every ingredient comes from a natural source, creating a nourishing and environmentally friendly product for you and your Husky.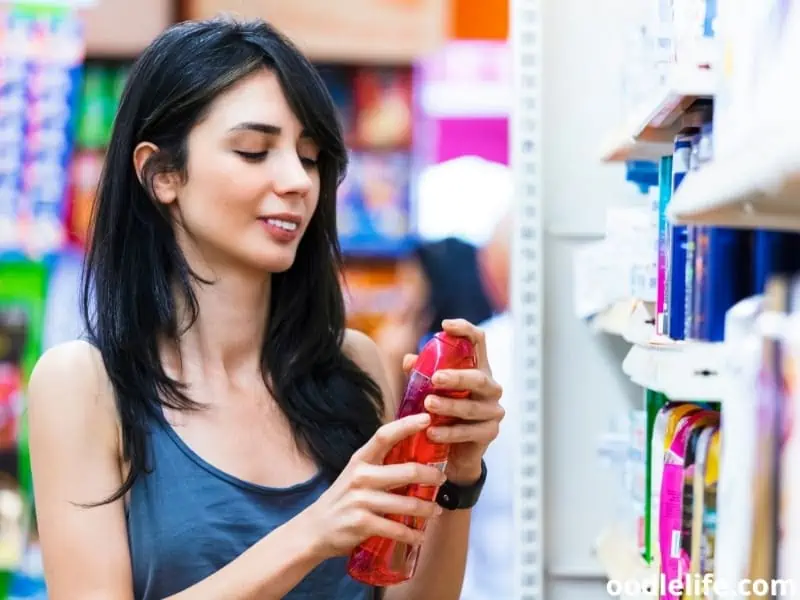 Best Shampoo to Combat Dog Smell
Dealing with a persistent doggie smell will require more than a standard dog shampoo. After all, the wax and oil secretions on your Husky's skin can hold that musty dog odor. Since you know your Husky has an impressive coat of fur, you need a product that balances and releases to clear the smells.
Healthy Breeds have a shampoo that is gentle and hypoallergenic. This soap-free shampoo incorporates a sweet pea vanilla deodorizer that will leave your Husky with a soft, silky, and shiny coat.
Healthy Breeds Siberian Husky Deodorizing Shampoo 16 oz
Keep Your Dog Fresh And Clean With The Delicious Sweet Pea Vanilla Scent! Get Rid Of The Wet Doggy Smell!
Ph Balanced! The Best Shampoos Are Between 5.00-7.00 On The Ph Scale In Order To Keep The Vibrant Color, Shine And Health! The Shampoo Also Contains Essential Fatty Acids That Nourish And Aid In The...
Hypoallergenic Formula Is Safe For Use With Topical Flea Control Treatments. Healthy Breeds Deodorizing Shampoo Is Gentle And Soap-Free Leaving Your Dog'S Coat Silky And Lustrous!
Buy With Confidence! Made In The Usa! All Shampoos Made In Federally Regulated Manufacturing Facilities! Excellent Customer Service And Return Policy. 100% Satisfaction Guaranteed!
Healthy Breeds Offers An Assortment Of Dog Healthcare Products, Grooming Products And Treats For Over 200 Breeds! Make Sure To Search For Your Breed! Click The Healthy Breeds Hyperlink Above To See...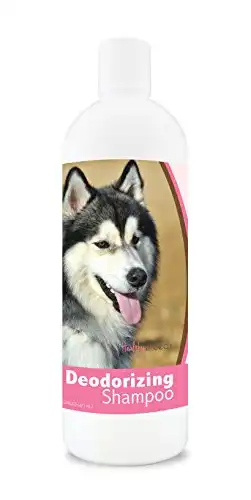 We earn a commission if you make a purchase, at no additional cost to you.
The shampoo utilizes specific emollients designed to boost the hydration of your Husky's skin and coat. In addition, the fatty acids in the shampoo nurture your pup's skin and help control flaking and scaling of the skin. 
Of course, its main appeal is its ability to counter musty smells. It is pH balanced, lathers nicely, rinses effortlessly, and provides deep conditioning leaving your Husky's coat velvety soft and glowing.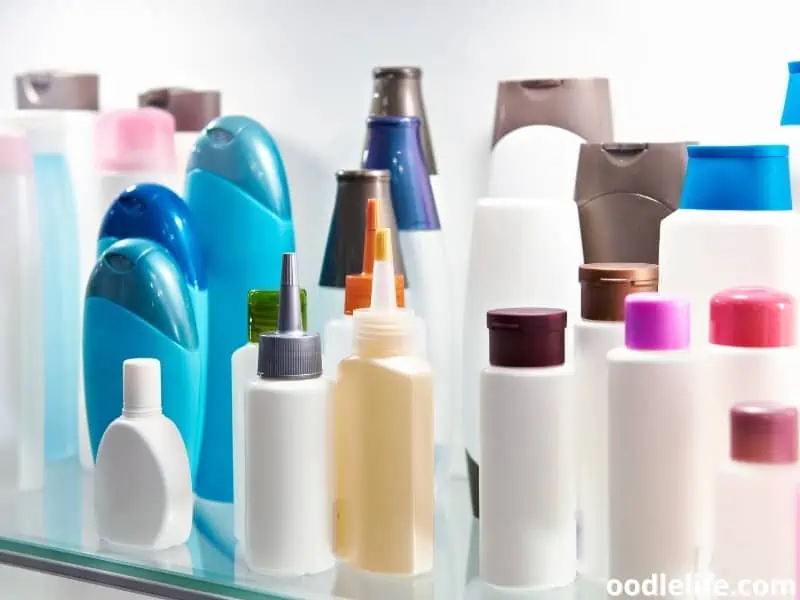 Best 2-in-1 Shampoo
If you are searching for a product that streamlines your Husky's bath experience but still keeps them looking fabulous and smelling fantastic, consider CHI. They have produced a gentle 2-in-1 dog shampoo and conditioner that delivers a luxurious and pH-balanced recipe for the ideal maintenance of your dog's fur and skin. 
Designed with similar outstanding technologies as employed in the professional salon CHI human products, CHI contains balanced, moisturizing ingredients. These will sink deeply into your Husky's coat's cuticle, fortifying the strands of the fur as they nurture it from the inside out.
The shampoo cleanses while the conditioner softens your Husky's coat and skin. It will effortlessly remove dirt while revitalizing the brilliance, gloss, and softness of your Husky's coat and skin.
Overall, Chi has formulated a product that is not compromised by being a 2-in-1. It will provide superior luster and supplies essential moisture for a silkier, healthier-looking dog.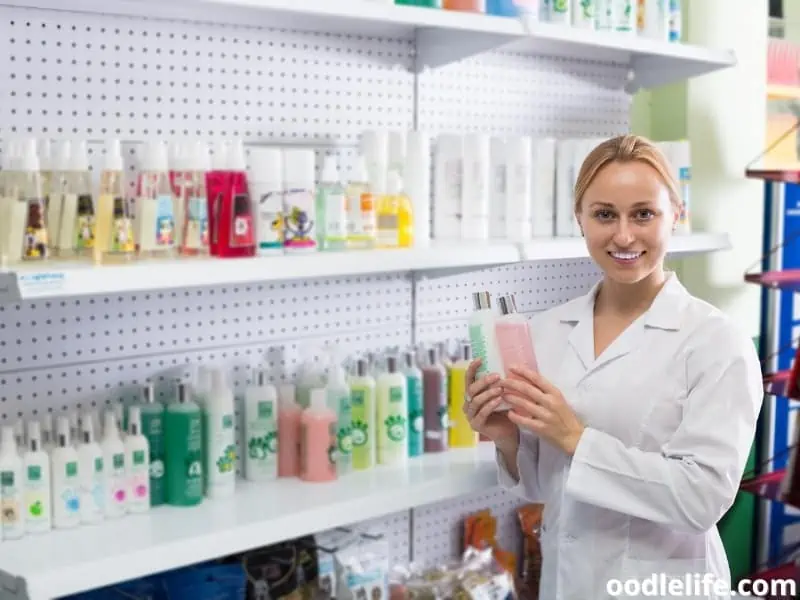 Best Shampoo for Keeping Your Husky's Coat White and Bright
Husky owners know that if their pooch's fur is not taken care of properly, it will lose its brilliance, particularly in the white sections. Indeed, the fur can become dirty-looking or sometimes actually stained, ​​resulting in a hue of white that is not up to the state that your Husky deserves.
Using Bio-Groom's Super White Shampoo can restore that fantastic glow to their fur, making it as white as it was when they were a mischievous puppy!
Bio-Groom Super White Pet Shampoo, 12-Ounce
Designed to enhance white and light-colored coats
Rich formula cleans thoroughly while adding luster and body
Leaves hair smooth, manageable and shiny
controls matting
Dilutes 4:1
We earn a commission if you make a purchase, at no additional cost to you.
In addition to the color revitalization, this shampoo will also assist in controlling matting and tangling. Bio-Groom utilizes a decadent formula that thoroughly cleanses while adding sheen and shine to your Husky's coat.
Its rich lather rinses out effortlessly and leaves fur silky, smooth, and shiny. What's more, this product is safe for use with topical flea control products, so cleanings won't undermine essential treatments.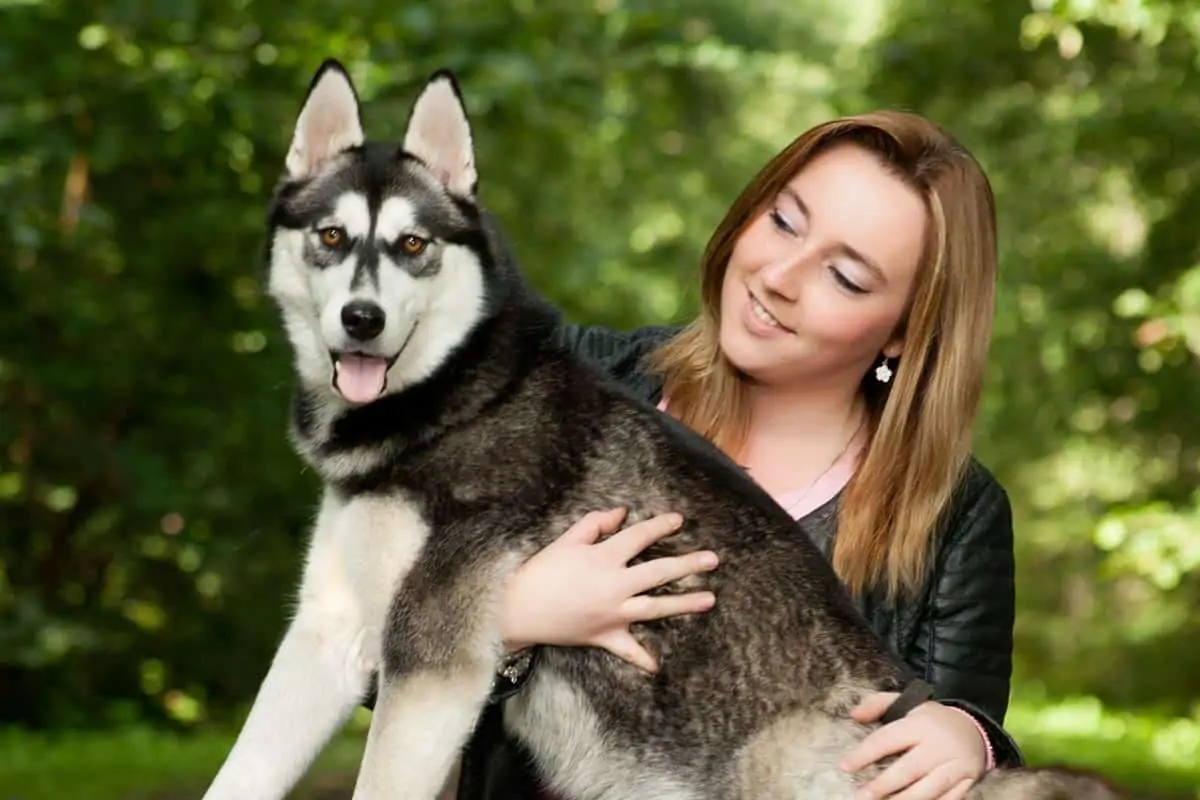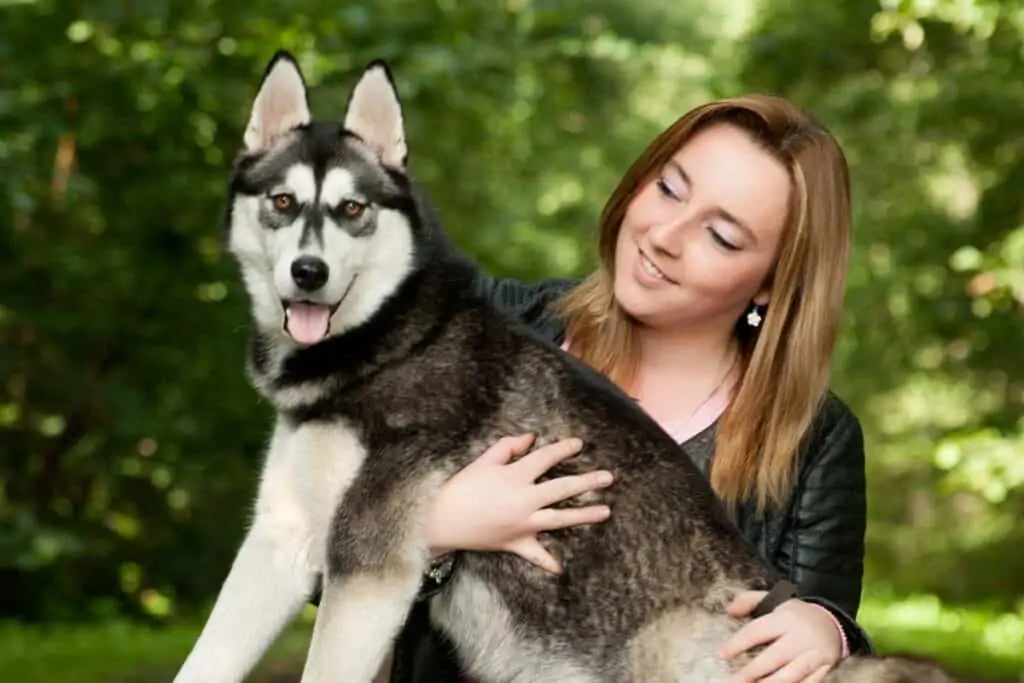 Best Shampoo for Husky Puppies
When puppies are younger than 12 weeks old, you only need a gentle cloth and warm water to groom your fur baby. But as your doggo gets older, they get into tons of dirt and messes.
Finding the right puppy shampoo optimized for your puppy's distinctive fur is vital. You also need a shampoo that provides a calming scent and gentle feeling to begin to teach your Husky that baths can be a fun experience. The scent itself, while pleasant, is not strong, so your puppy won't be overwhelmed or irritated if they are not a fan of fragrances.
TropiClean's hypoallergenic shampoo is the ideal choice for a Husky puppy. This shampoo has a delicate coconut cleanser that gently bathes your pup's coat while leaving the fur feeling soft and healthy.
We earn a commission if you make a purchase, at no additional cost to you.
What's more, the tropical scent of coconut will leave your Husky puppy smelling clean and adorable! It is pH balanced and made with only natural ingredients. Besides its practical use for cleaning, TropiClean's product is an effective option for allergy relief because its calming suds wash and nourish, providing gentle respite from itching and scratching.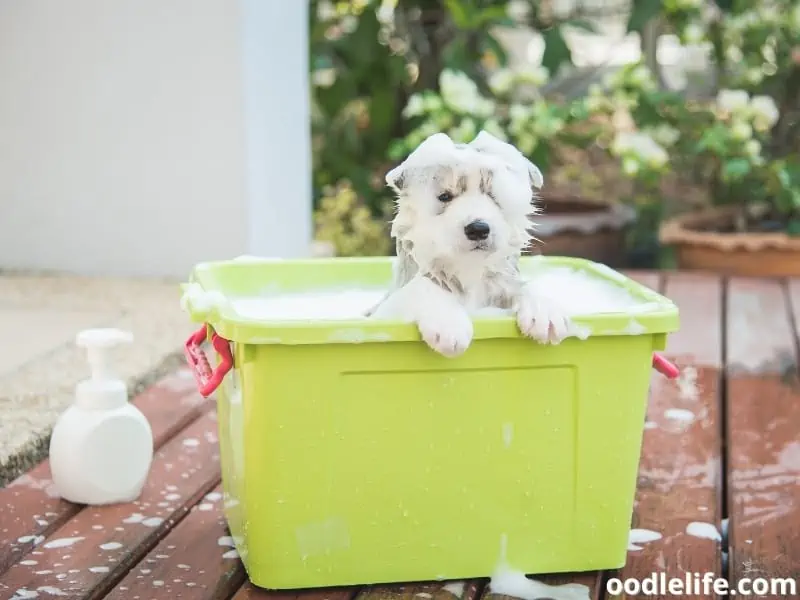 Summary
A Husky's thick double coat demands extra time for bathing and grooming. While the best shampoo for a Siberian Husky is from Buddy Wash, your pup may have other needs. Discovering the ideal shampoo for your Siberian Husky can be overwhelming and exhausting.
Nevertheless, once you find the perfect one, you and your furry baby will be forever grateful at bath time being transformed.