What Kills Fleas on Dogs Instantly?
Fleas are an itchy annoyance for our beloved pups. Pet owners often try to find different ways to get rid of them. The thought of one of our beloved pups being eaten alive by fleas is unbearable. It makes us do anything to get rid of them fast.
They are very hardy pests. So getting rid of them fast is difficult, but you can do it. Let's find out what kills fleas on dogs instantly.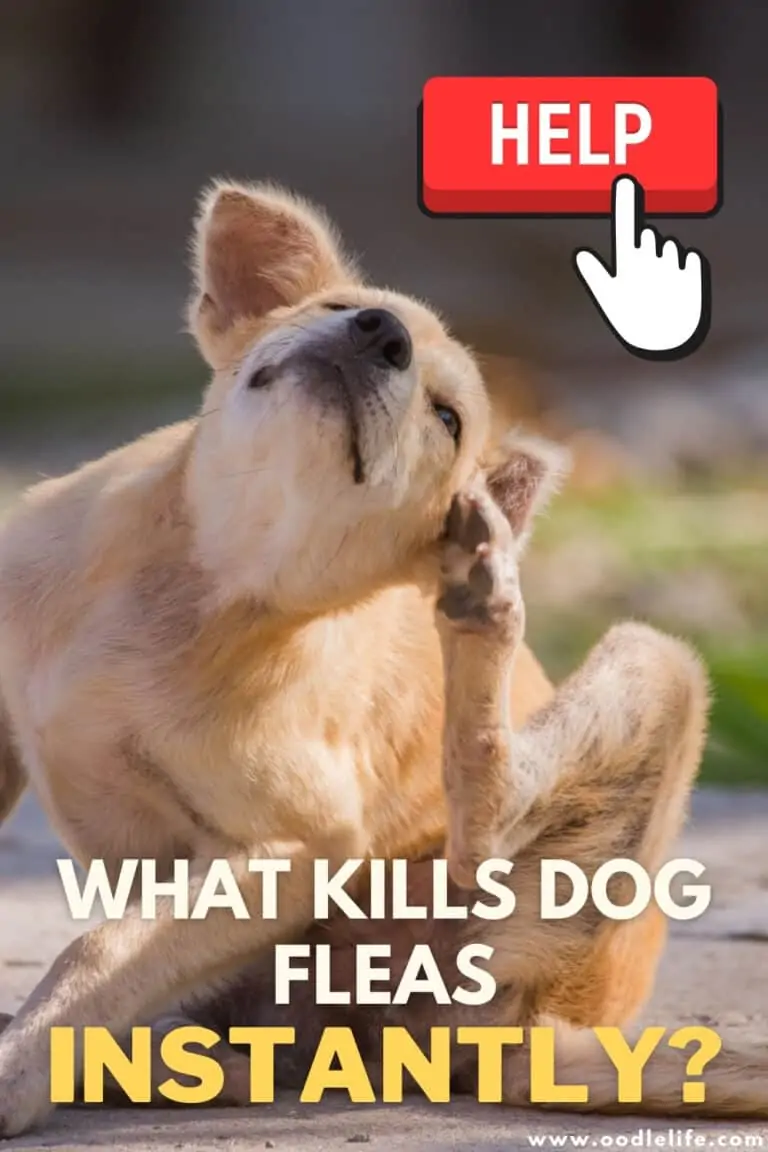 What Are Dog Fleas?
Fleas are insects that feed on the blood of hosts. They can range in size and species but for this article, we will focus on dog fleas.
The life cycle of a flea has three stages:
Egg – Laid by the female after feeding
Larva – Feeds off any organic matter such as rotting flesh, poop, or discarded food. It will pupate into an adult if conditions are right for it to do so.
Adult – Ready to reproduce once more once it has finished pupating
A female can lay around 40 eggs per day and over thousands during a lifetime. Some species like the oriental rat flea carry and spread Yersinia pestis (bubonic plague) and can be life-threatening to humans. So treating your home and dog for parasites is not just for their health but yours too!
Treating Your Dog for Fleas and Other Parasites
Let's review the quickest and safest options for killing fleas on your pets.
Pyrethrin
One way to kill any adult fleas and ticks is by using a dog shampoo with pyrethrin in it. Do not use shampoo with permethrin in it. It will not help get rid of adult fleas or their eggs. Pyrethrin is a natural pesticide made from the chrysanthemum plant that will help kill off larva and adult Fleas, ticks, mites, lice, and other parasitic insects.
Frontline Plus
Frontline Plus Flea and Tick Treatment for Dogs (Large Dog, 45-88 Pounds, 3 Doses)
Waterproof flea and tick treatment for dogs: Frontline Plus for Dogs provides waterproof, fast-acting, long-lasting flea and tick treatment and control for your dog. This product is approved for use...
Break the flea life cycle with Frontline: Frontline flea and tick treatment for dogs kills adult fleas plus flea eggs and larvae to stop existing infestations and prevent establishment of new...
Kills fleas and ticks: Frontline flea and tick treatment for dogs kills fleas, flea eggs, lice, and ticks. This flea and tick treatment kills ticks, including those that may transmit Lyme disease.
Trusted flea and tick protection for dogs: Frontline has been trusted by veterinarians for nearly 20 years. Made with 2 tough killing ingredients, fipronil and (S)-methoprene – one to kill adult...
Lasting flea and tick protection: Frontline's long-lasting formula is stored in the oil glands of the pet's skin to give non-stop flea and tick protection for a full 30 days. Frontline flea and tick...
We earn a commission if you make a purchase, at no additional cost to you.
Frontline Plus is a monthly flea and tick treatment that kills adult fleas, ticks, chewing lice. The fastest way to kill these harmful mites is by using Frontline Plus on your pet. It's the best on the market. It costs more than other products and is made by Boehringer Ingelheim/Merial, a company known for making some of the top veterinary solutions.
Advantix
K9 Advantix II Flea and Tick Prevention for Medium Dogs 6-Pack, 11-20 Pounds
K9 Advantix II Medium Dog 30-day treatment & prevention protects dogs 11-20 lbs. from fleas, ticks, mosquitoes, biting flies and lice
Kills fleas within 12 hours of application
Vet-recommended formula kills & repels on contact so fleas don't have to bite your dog to die
Easy-to-apply topical treatment is fragrance-free and waterproof after 24 hours
No prescription needed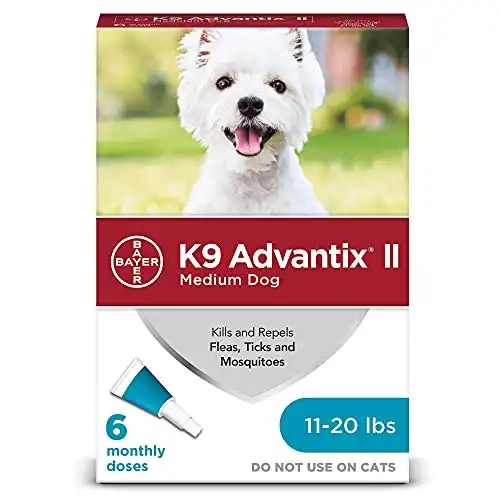 We earn a commission if you make a purchase, at no additional cost to you.
Advantix is another monthly topical treatment. It kills ticks, fleas, mosquitos, and other nasty insects as Frontline Plus.
There are some downsides to these products. It can cause skin irritation and rashes on your dog, itchiness, vomiting, lethargy, diarrhea, and behavioral changes. So test a small patch first.
Flea Comb
Correct use of a flea comb is an effective way to get rid of larva and adult fleas. Use the brush side first, then move over to the comb part. Use short strokes gently through their fur until it is completely free of pests.
Bleach (NOT on dogs, just for surfaces)
You can use bleach to get rid of the rest of the larva and adult fleas. You can pour it into a bucket or container, then mix it with warm water until it's diluted enough. Use a cloth in the mixture to wipe down furniture, carpet, and floors in your home. Please don't use bleach on the dog itself!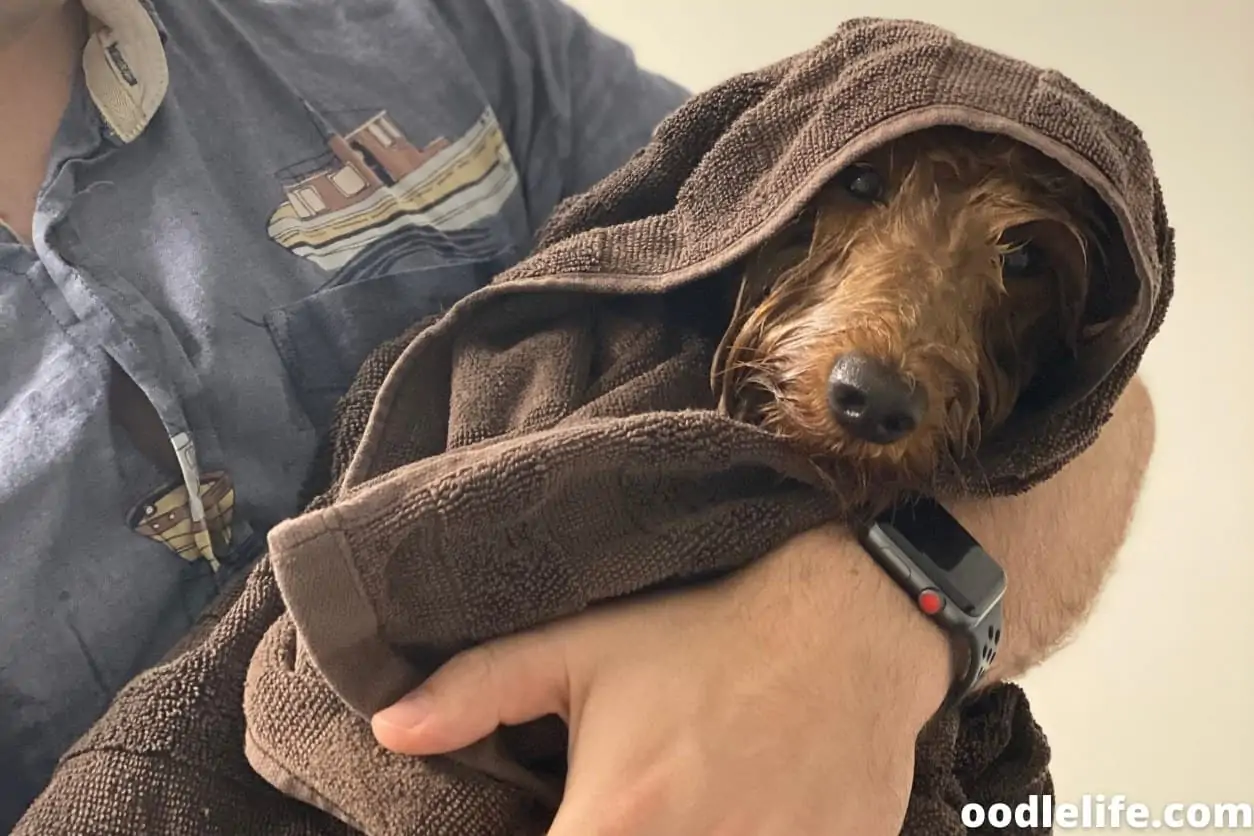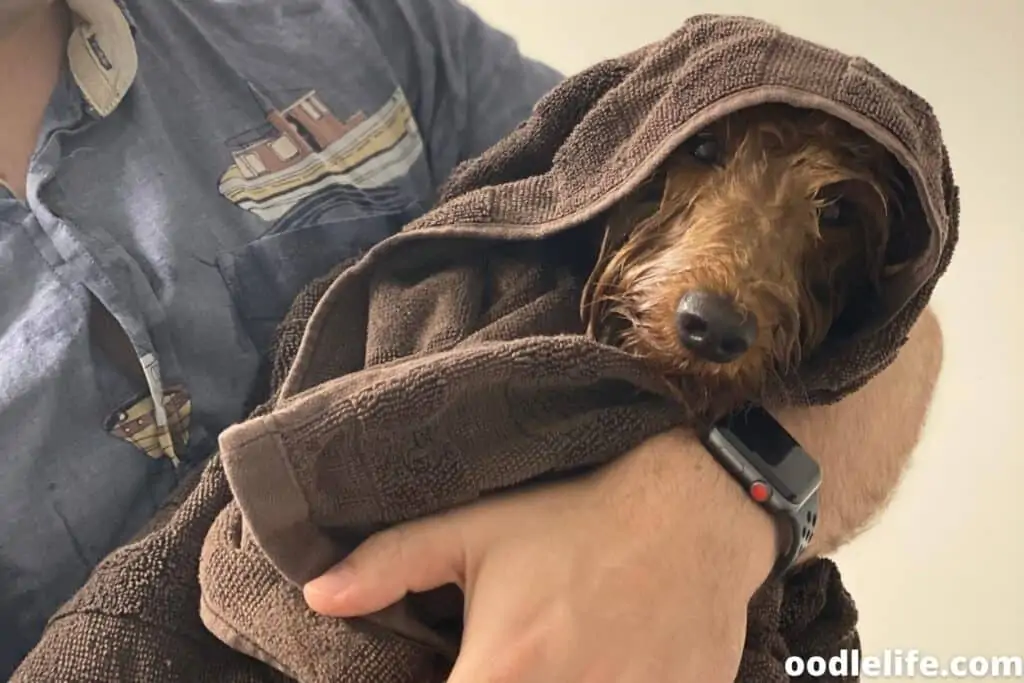 Dish Soap
You can also use dish soap (not a laundry detergent) to kill fleas. Add 2 to 3 tablespoons of dish soap to a sink filled with warm water. Dunking your dog's entire body completely into the solution should be enough to get rid of adult fleas.
If you have a few stubborn spots that just won't go away, use a sponge to apply the soap onto those areas directly. The fleas should die almost instantly.
Vinegar
Pour a little of the vinegar into a spray bottle and add water. Shake well to mix, then spritz onto your dog's fur. The vinegar kills the adult fleas and their larva – as well as leaves a light scent.
Preventing Fleas on Your Dog
The best way to prevent fleas is by keeping them off, to begin with. If your dog goes outside, the best way to keep them off is by using a flea collar or spot treatment on your pet. If your dog goes outside in the colder months and comes in at night, treat them with shampoo containing pyrethrin every two weeks.
So when your dog goes out for a walk, be sure to check them for fleas and ticks when they get back inside.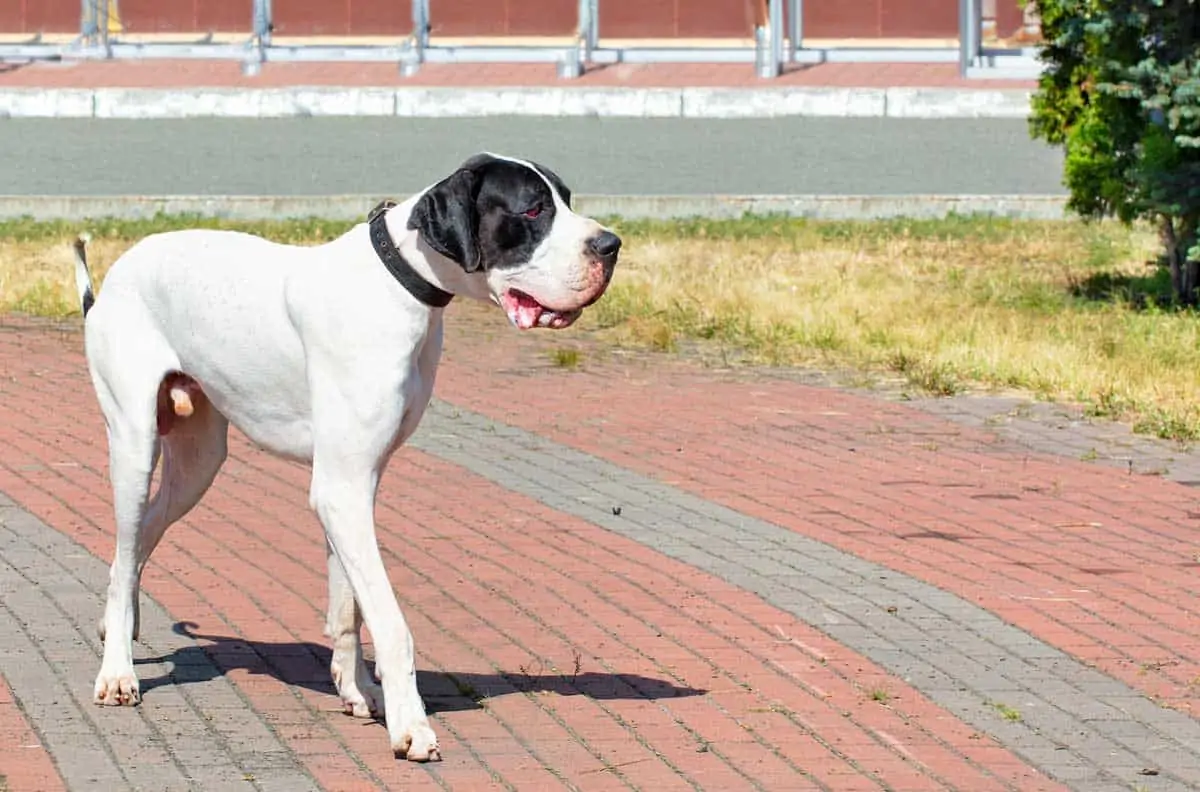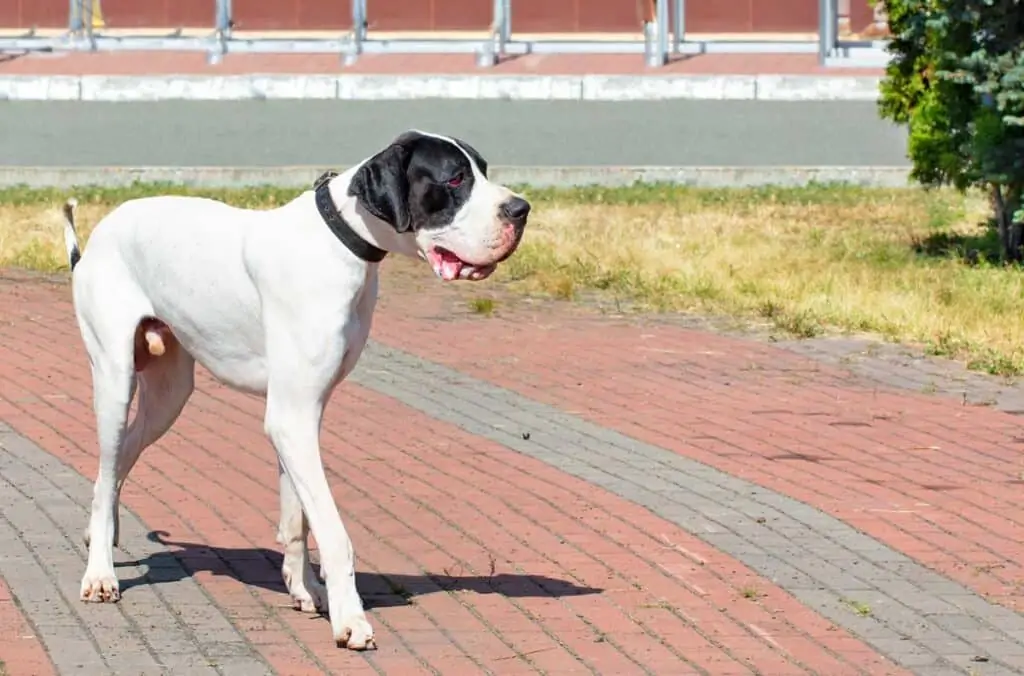 Removing Fleas From the Rest of Your Home
Fleas cause not just allergies but tapeworms and even anemia. They feed on your pet's blood. If you live in an area with lots of trees and plants, there's a good chance the fleas will come directly from them onto your dog. The fleas will then spread from your dog to the rest of the house, so you'll need to remove them from your other belongings.
Killing Off Larva in Your Carpet
Carpets and other fabrics in the home become a breeding ground for fleas and eggs. Just walking on them can lead to your dog picking up fleas. To kill larvae in carpets, use a high-quality carpet shampoo and follow the directions on the bottle. You can also use Borax which will kill any larva that has become adult fleas.
Electronic Devices
You could buy an electronic device that emits high-frequency sound waves designed to repel all types of insects, including fleas. If you have other pets or young children, using these might not be advised.
Treat Clothes and Bedding
Use a powerful laundry detergent and hot water. Wash your dog's bedding and any other clothes they come into contact with regularly. Adult fleas will live no more than a couple of days without a host. If you're getting rid of them from your dog, they'll be looking for a new home in no time!
To keep the adult fleas from coming back, you'll need to treat your dog's entire home. If your dog gets exposed to lots of other animals like at a doggy daycare or kennel, stay on the lookout for fleas.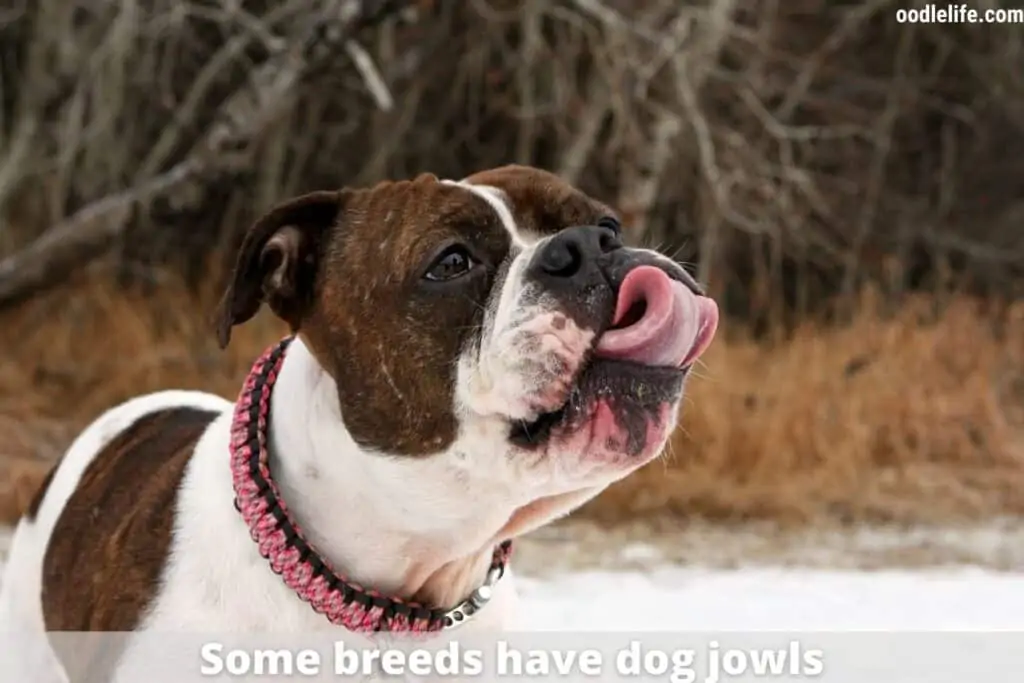 Wrap Up
In conclusion, there are many different ways to kill fleas on dogs. Some are easier than others, but all provide the instant result of killing these nasty bugs. If you're looking for something that can kill them instantly, then Frontline Plus and Advantix are your best options.