Best Bike Basket For Dogs (Are Any GOOD?)
People who love riding bikes may find it tough to leave their dog behind every time they head out. And although it is fun to take your dog on runs alongside your bike, many tire easily, and some are so adorably tiny that their small paws can never keep up the pace.
However, with bike baskets, bikers no longer need to feel guilty about enjoying bike rides. They can take their furry friends along on the adventure.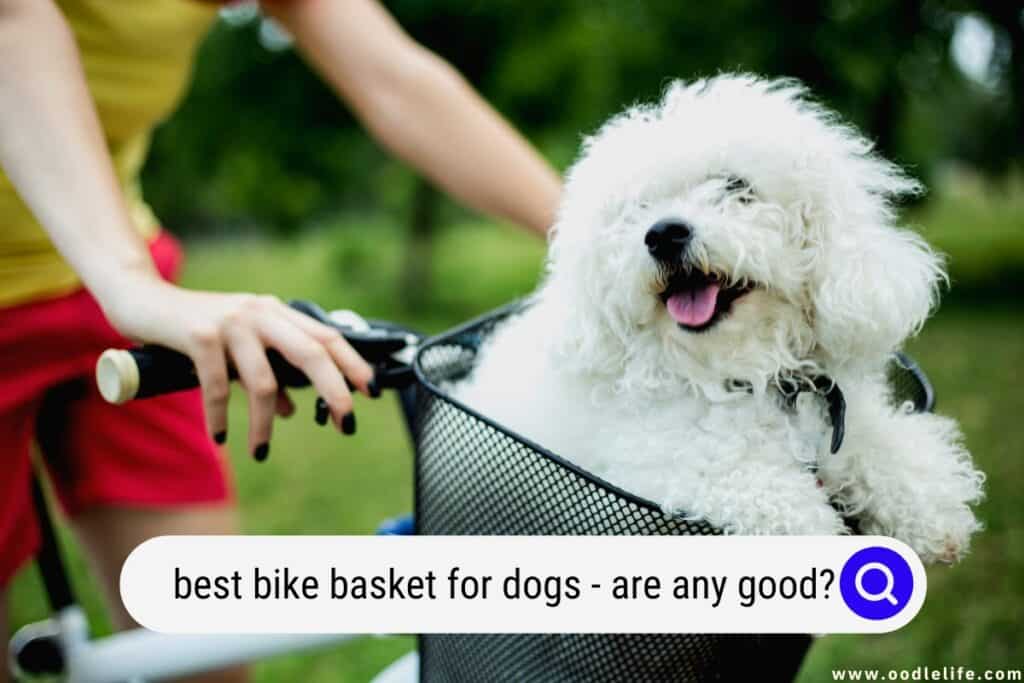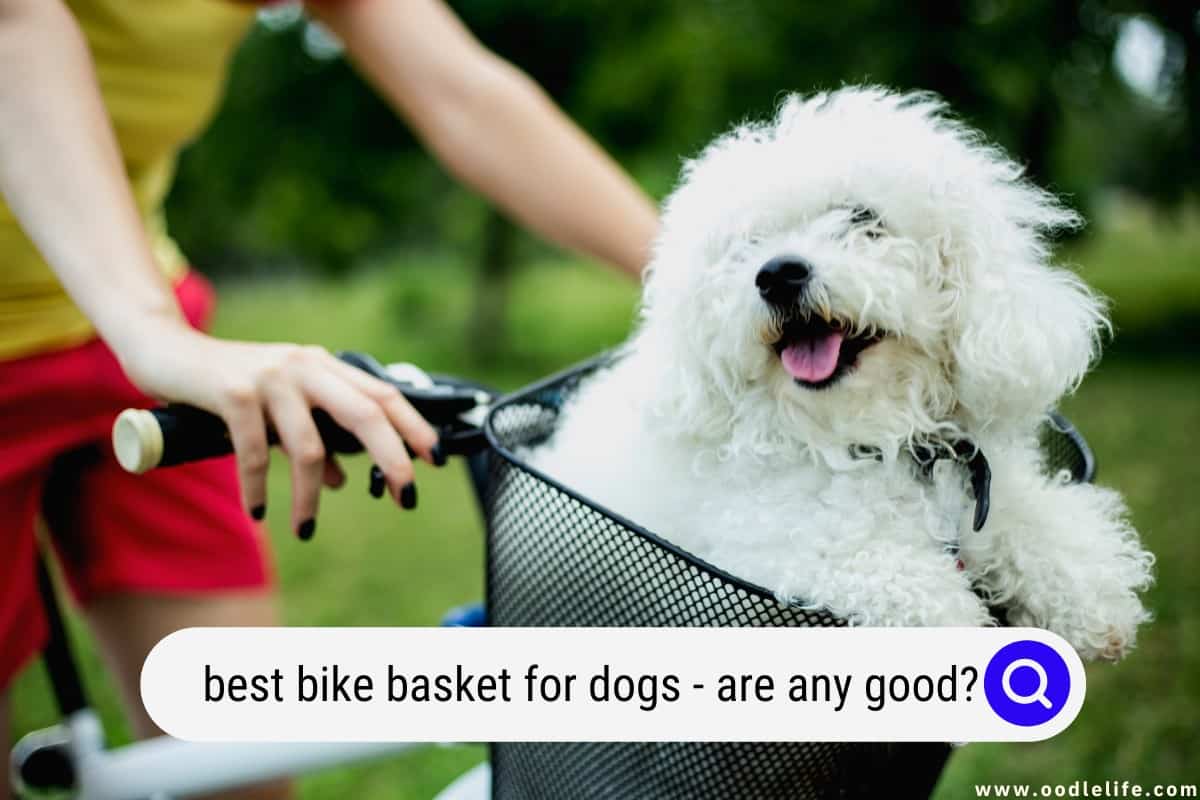 But are bike baskets any good? Let's find out more about some of the best baskets available on the market.
Are Bike Baskets Any Good?
Putting your dog in a basket can come in very handy and offers an amazing way of spending some quality time together. Dogs are not just pets; they are lifelong companions who want to be a part of everything we do. They are adventurous and don't like being left out.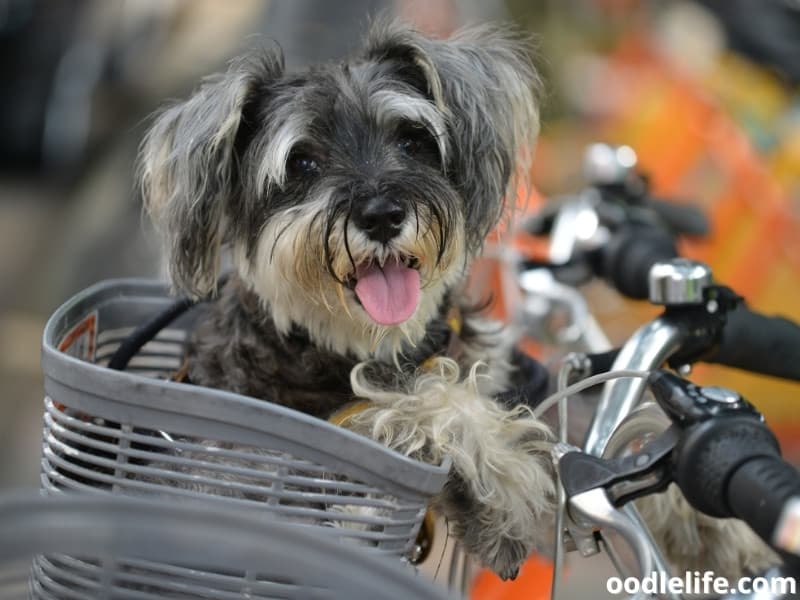 However, whether a bike basket is good for your dog will depend on its temperament and how well it adapts to the basket.
Here are some things to keep in mind when buying a bike basket:
Consider the weight limit: Most baskets are appropriate for small breeds. And while some baskets house larger dogs, maneuvering the bike may become an issue.
Biking is not for anxious or skittish dogs: Some dogs get nervous on bikes. It may be because of the height or because they feel exposed. In such cases, bike rides are not safe as the animal may try to jump out and may even distract the biker or disrupt the balance.
Bike rides are not for unhealthy pets: Taking animals for a bike ride may not be safe if they have any congenital health conditions or respiratory issues.
Consider the positioning: Whether the basket is installed in the front or rear will also determine how well the dog accepts it. While it is good to have the dog directly in sight, it is not possible to do that with large dogs. But if your large dog refuses to ride at the back, biking may not work.
Consider comfort: Some baskets are crafted from naturally comfortable fabric. Others might be made of materials that are too hard for extended rides. So keep an eye out for comfortable liners that guarantee your pet has a cozy place to sit.
Securing your dog: Some baskets come with harnesses that hook the dog to the basket. Others have domed or meshed tops that form a closed enclosure. Both prevent the dog from jumping out, but the ideal one will depend on whether your dog is comfortable being harnessed or kept in a closed box.
Easy cleaning: Your dog may have a peeing accident during the first few rides. This is only natural. It is a good idea to have a bike basket that is easy to clean so it is not a host for bacteria and who knows what else. Look out for washable baskets to make cleaning easy. If not, look for easy-to-clean liners that are removable and machine-washable.
Weather-resistant: Opt for a water-resistant basket and one with sunshades.
Multipurpose function: Many baskets come with convertible functions. They double as carriers, car seats, and sometimes, even as a dog bed. However, if you regularly detach and attach it for other uses, make sure its disassemble/reassemble function is straightforward.
Tips To Keep Your Dog Safe In A Basket
Biking is fun, but it can soon go downhill if you do not take precautions. Keep the following tips in mind when biking with your fur buddy:
Firmly secure your pet: Make sure your dog is firmly tethered so it does not jump out and get hurt.
Invest in some dog goggles: Wind brings with it foreign elements, some of which can hurt your dog's eyes. Get your dog some protective glasses for your special dates.
Obey road and bike laws: Follow road and bike rules to avoid unnecessary inconveniences.
Opt for reflective material: Reflective material makes you more visible, which is necessary in low-light conditions.
Stay hydrated and take breaks: You and your fur friend need hydration, especially during summer. Carry clean drinking water for both of you, and do not push too hard. Take breaks and go slow.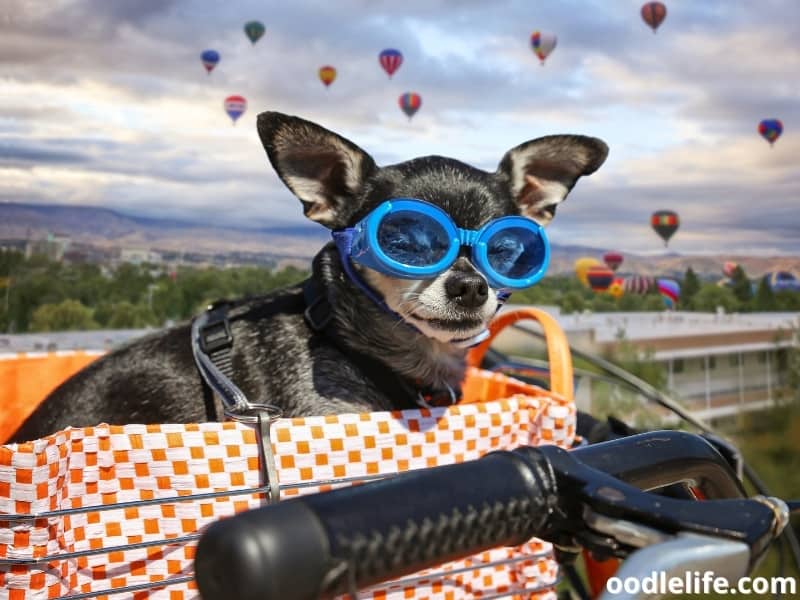 It is also worth noting that you need to test your friend first. Put your dog in the basket and see how it reacts. If it is skittish, do not proceed further.
If your dog reacts well, give it a slow ride around the driveway. Once it is stable, take it for longer rides.
8 Best Bike Basket For Dogs
1. PetSafe Happy Ride Wicker Bicycle Basket (Best Overall)
The PetSafe Wicker basket is stylish, comfortable, and classic. The basket comes in gender-neutral colors, and the basket's shape and in-built shoulder strap beautifully convert the basket into a carrier.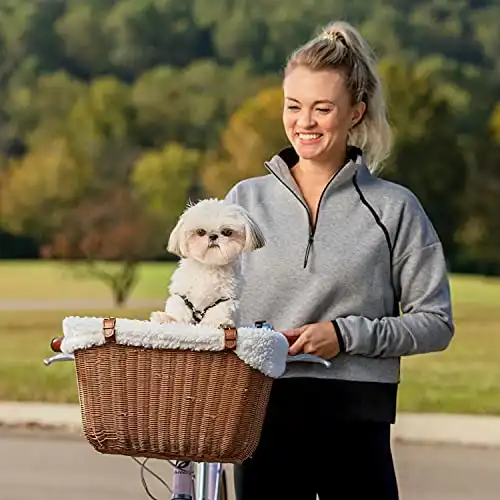 We earn a commission if you make a purchase, at no additional cost to you.
The basket is made of synthetic weather-resistant resin. It has a sheepskin liner that is machine washable and keeps the dog comfortable. The basket also has a removable sun shade for extra comfort.
The basket is installed with brackets. With the 3-way adjustability of the bracket system, you can attach the basket to any bike. The basket also includes safety tether clips that you can attach to your dog's harness for additional security.
Pros
Easy to install
Easy one-hand removal ability
Weather-resistant wicker basket
Washable liner
Removable sunshade
3-way adjustable brackets
Safety tether clips
Available in a cloth version as well
Converts to carrier
Cons
Only for small dogs weighing 13 pounds or less
Some customers complain that the traps securing the basket to the cycle broke after a couple of uses.
Insufficient storage space
2. ANZOME Bike Basket (Most Affordable)
The ANZOME Bike basket is the best budget-buy pet basket that can hold small dogs under 11 pounds. The basket is compact and offers easy storage as it is foldable. It is easy to install and remove with a quick-release handlebar mount.
ANZOME Bike Basket, Folding Small Pet Cat Dog Carrier Front Removable Bicycle Handlebar Basket Quick Release Easy Install Detachable Cycling Bag Mountain Picnic Shopping
REMOVABLE & FOLDABLE - This multifunctional bicycle basket attaches via a quick-release handlebar mount, making removal a snap. Remove the basket, and carry food or other stuffs for a day of sun,...
LIGHTWEIGHT & DURABLE – This handlebar cycling bag are all about convenience. Made of a sturdy metal frame, with a solid oxford fabric, a modern quick release handlebar adapter. The bike basket...
STYLISH & PRACTICAL - Our bicycle baskets are not just stylish, but also incredibly practical. Whether you shop daily at the market, or commute into work by bike, our bicycle front baskets are on hand...
WATERPROOF & EASY TO CLEAN – Would you like the freedom to be able to leave your bike outside without worry? Our bicycle handlebar basket range can be left in drizzly conditions with no worries...
IDEAL FOR SMALL SIZED DOGS - Holds pets up to 11 pounds. When you use it as a dog bike basket, it easy to disassemble and reassemble quickly for convenience sake so you can constantly take the bike...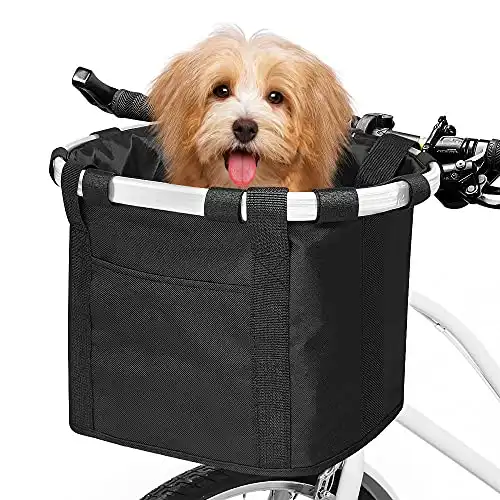 We earn a commission if you make a purchase, at no additional cost to you.
The basket is durable and made of a sturdy metal frame and waterproof fabric. Thanks to the built-in handles, the basket is stylish and can serve as a picnic basket or carrier. It has a minimalist, sleek styling that appeals to many customers.
Pros
Removable and foldable
Affordable
Sleek style
Includes storage pocket
Quick release handlebar mount
Waterproof
Lightweight
Converts to carrier
Cons
The bottom drops onto the tire
Cheap material
Only for small dogs weighing up to 11 pounds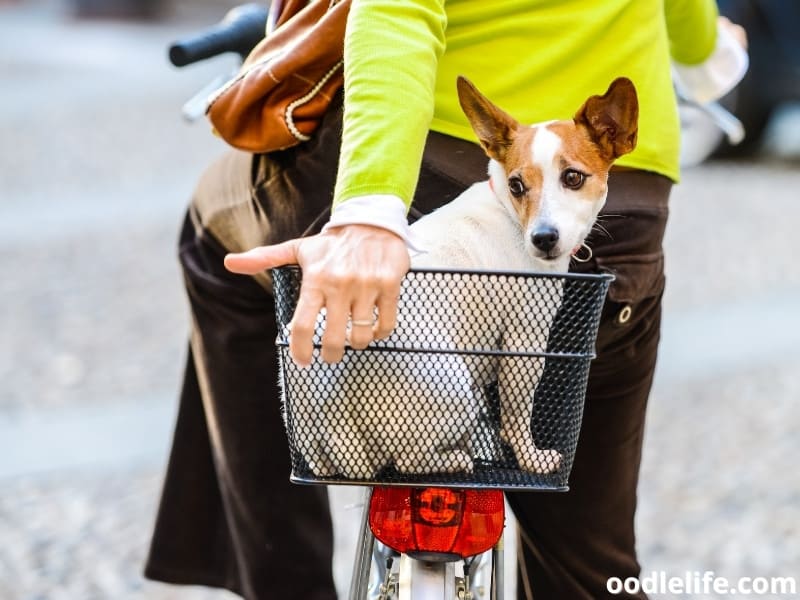 3. BARKBAY Pet Carrier Bicycle Basket (Best For Big Dogs)
The BARKBAY pet carrier is a multi-use item that converts to a dog backpack, a dog shoulder bag, and a pet car seat booster. The basket has a removable sheepskin liner that is soft, comfortable, and easy to clean.
Pet Carrier Bicycle Basket Bag Pet Carrier/Booster Backpack for Dogs and Cats with Big Side Pockets,Comfy & Padded Shoulder Strap,Travel with Your Pet Safety(Grey)
Easy To Install:Quick-release buckles allow it to easily disassemble and reassemble quickly for convenience sake.Padded soft, cream sheepskin liner bottom provides a comfy ride, and the floor board is...
SAFE & SECURE PET CARRIER: Tether attaches to collar/harnessto prevent jumping out, and for extra security, a draw string mesh cover closures that gives you the option to cord your pet in and out...
Multi Use: converts to Pet Car Seat booster Carrier,dog backpack,dog shoulder bag with included shoulder strap,All-in-one basket.Measures 11"L x 12"W x 14.5"H,deep and safely holds pets up to 19lbs...
Mesh Venting:The physical basket features mesh material with rolled up front window that acts as a cooling air vent, making sure that your pup doesn't get overheated
Storage Pockets &Convenient For Storage:Mesh pockets for easy storage. Carry dog treats, toys, your cell phone, snacks, training kits and waste bags.Also Collapsible so that you can store it flat in...
We earn a commission if you make a purchase, at no additional cost to you.
Installing and removing the basket is easy with quick-release buckles. The dog is harnessed to the basket with a tether. For additional security, you can close the drawstring mesh, which is also a convenient way to put in and remove your dog from the basket.
It also has a roll-up front window that provides access to mesh venting. So, your dog has extra relief during those hot days. The basket also has mesh pockets on the sides, giving you a little storage space.
Pros
Can carry dogs up to 19 pounds
Multi-use basket
Comfortable sheepskin liner
Tether and drawstring mesh to secure the dog
Storage
Collapsible–easy to store
Enough ventilation
Easy to install and remove
Cons
Not waterproof
Not very durable
The interior leash is long
Steering is a bit difficult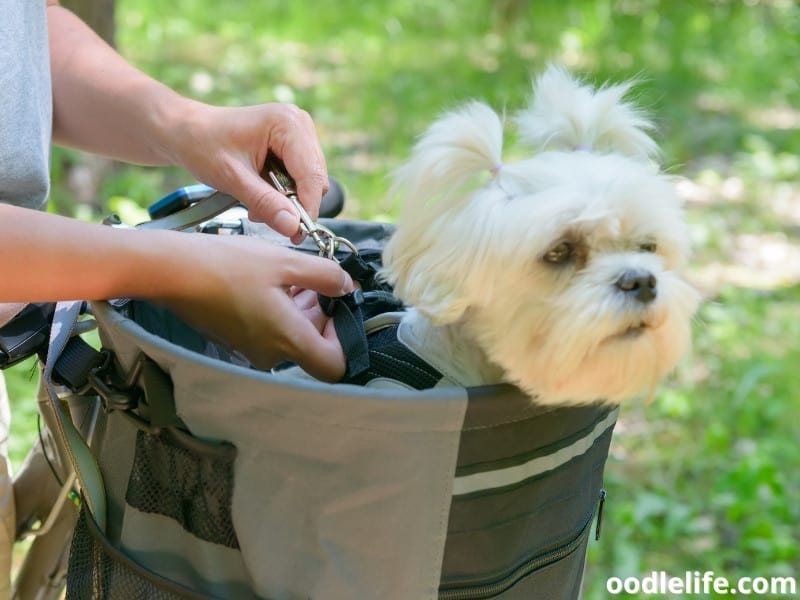 4. Travelin K9 Pet Pilot (Most Sturdy)
Travelin K9 Pet Pilot is a super sturdy pet basket, and unlike other baskets, it has a size limit instead of a weight limit. So, if your dog can fit in the basket, its weight will be supported. Customers claim to have comfortably traveled with their 15-pound pets with this basket.
The basket is mounted two inches away from the handlebar, so it does not sway or tip. It has a 2-point, chrome clasp safety leash that attaches to the dog's harness. The basket has a front mesh and small storage pockets on either side.
Pros
Patented handlebar mount ideal for skittish dogs
2-point tether
Mesh ventilation
Storage pockets
Comfortable
Comes in 5 colors
One-step easy installation
Cons
Expensive
Not compatible with e-bikes
No padding on the sides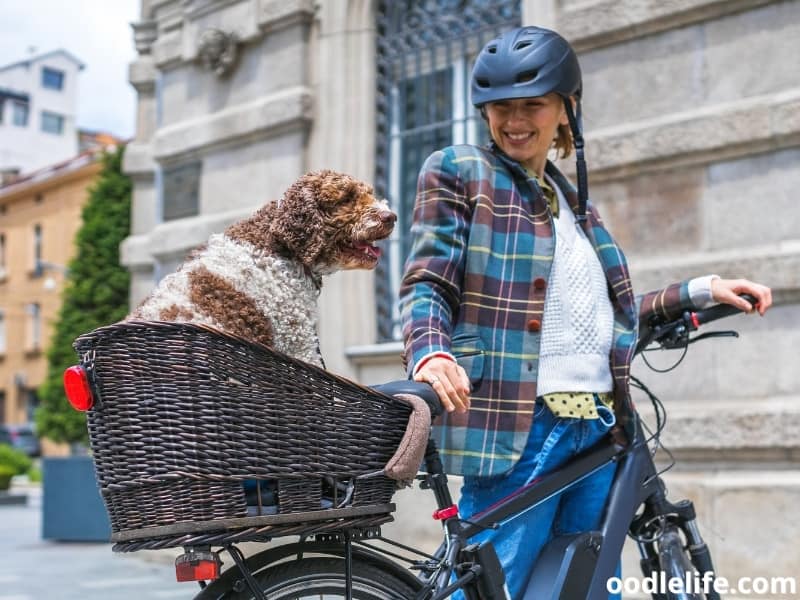 5. PetSafe Happy Ride Trailer (Best For Large Dogs And Senior Dogs)
This trailer is perfect for large dogs, dogs that are nervous in a handlebar basket, and older dogs that have trouble getting in and out. The trailer is available in 2 sizes: medium, for dogs weighing up to 50 pounds, and large, for dogs weighing up to 110 pounds.
PetSafe Happy Ride Steel Dog Bicycle Trailer - Supports up to 110 lbs - Easy to Connect and Disconnect to Bikes - Includes Three Storage Pouches and Safety Tether - Collapsible to Store - Large
DURABLE STEEL: A strong, steel constructed frame lets you go for bike rides with your best friend in tow
A RIDE WITH A VIEW: Let your pet enjoy the view while looking out the back, front and side ventilated windows while give them shade from the sun
SAFE AND SECURE: A safety tether inside the trailer attaches to your furry friend's harness to keep them safe when hitting the trails; weather-resistant trailer has reflectors for added visibility
EASY TO CONNECT: The trailer hitch quickly connects to your bicycle; at the end of your adventure with your best friend, easily disconnect the hitch and collapse the trailer for storage
STORAGE POUCHES: 3 pockets on the outside of the trailer allow you to bring your pup's leash, treats, water and poop bags along on your adventure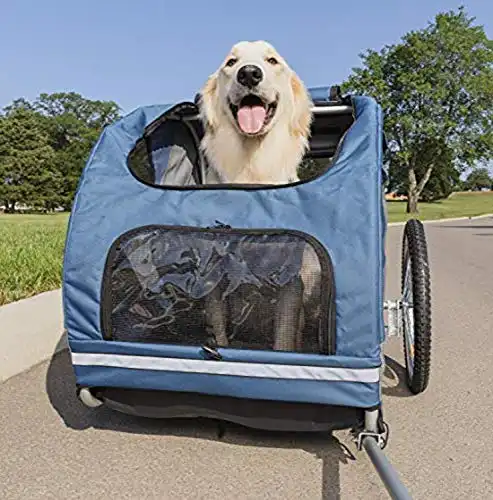 We earn a commission if you make a purchase, at no additional cost to you.
The trailer connects to the rear wheel hub. Assembly is quick and easy. It is strong with a steel frame and has a safety tether that attaches to the dog's harness.
The trailer is weather resistant and has reflectors and front and side ventilation for improved visibility and air-flow.
The trailer offers a fantastic view and flexibility for dogs to ride with their head bobbing in the wind. The trailer protects your dog from weather and wind while providing ample space and ventilation. However, as the trailer is expensive, it is not worth the investment if your outings are limited.
Pros
Removable and collapsible
Ventilation
Storage pockets
For large dogs
Comes in two sizes
Closer to ground
Weather resistant
Reflectors
Cons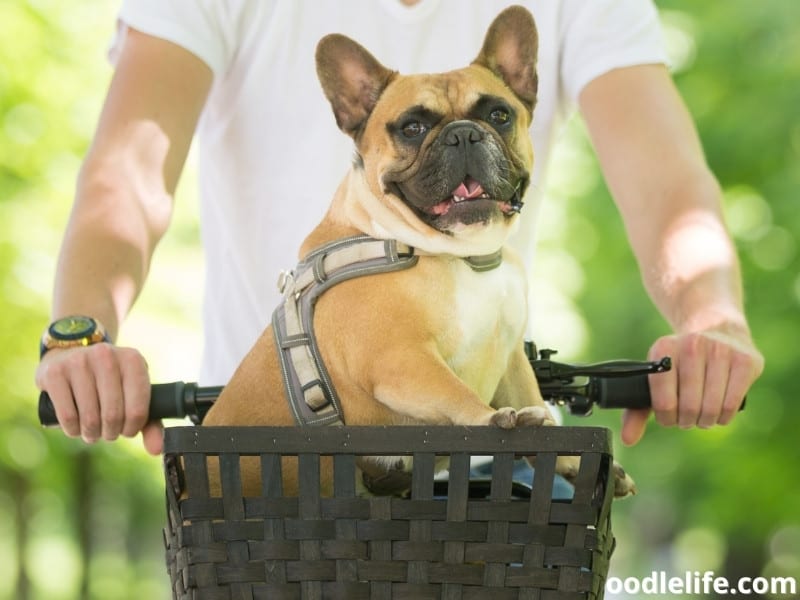 6. SUNLITE Racktop Bike Basket (For Excited Dogs)
The basket has a cage top, so you do not have to worry about your easily excitable dog jumping out. The basket is sturdy as it is made of steel, so you do not have to worry about the basket sagging and drooping on the tire. The steel mesh is also great for ventilation and cleaning.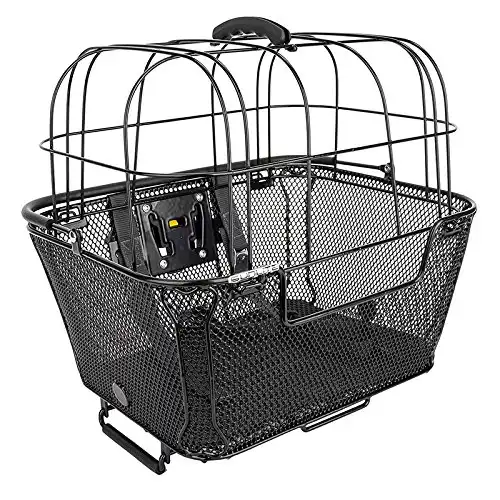 We earn a commission if you make a purchase, at no additional cost to you.
It has a handlebar mounting system that is easy to assemble and disassemble. The basket also has two spring-loaded clamps that allow you to mount the basket to the rear of the bike as well.
The basket is very stylish, durable, and spacious. However, it does not have any padding at the bottom. If you want your dog to be more comfortable, you will need to spread something soft for it to sit on.
Pros
Sturdy, durable, spacious
Front and rear mounting
Easy to install and disassemble
Cons
No padding at the bottom
Expensive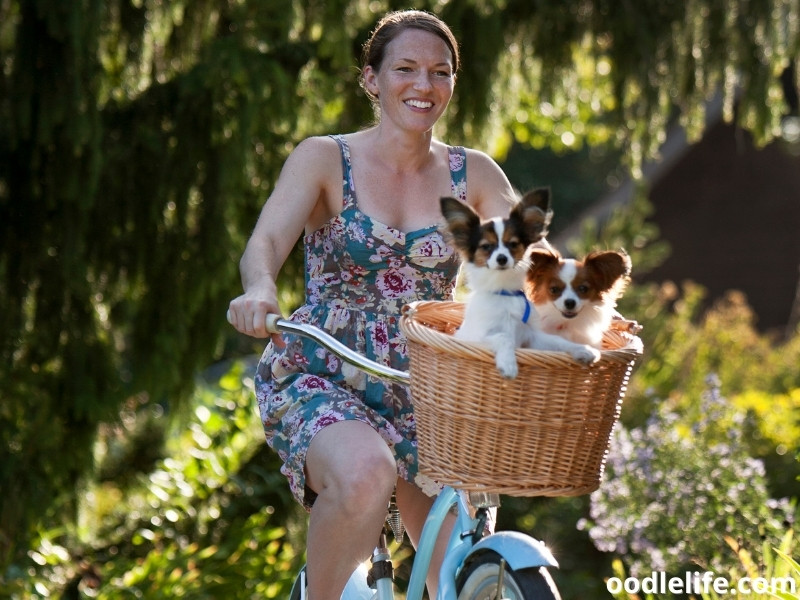 7. Snoozer Rear Dog Bike Basket (Best Rare Mount Basket)
If you have a large dog that won't fit in most front mount baskets, the Snoozer rear bike basket is the perfect solution for you. It can carry dogs weighing up to 24 pounds and sits snugly and securely on most standard rear bike racks with its multiple buckles.
Snoozer Pet Rider Rear Bicycle Seat, Black
Suggested for pets up to 24-pounds/Exterior dimensions: 19"x16"x10"; Interior dimensions: 15"x12"
Installed on rear bike rack (not included)/Foam form with plywood reinforced base
Cover is removable and machine washable, but requires some disassembly and removal of straps to do so.
Three point safety strap secures pet inside/High visibility reflective strip on rear
Patented/1- Year limited warranty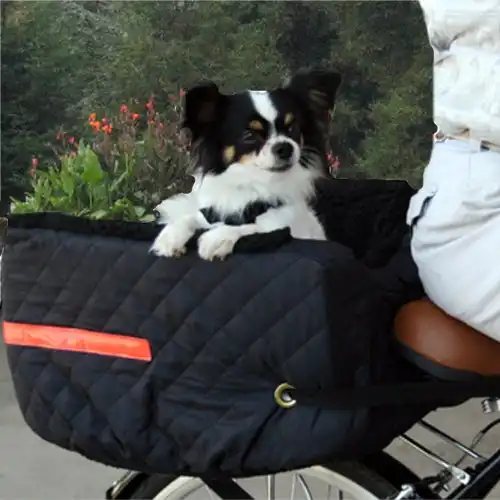 We earn a commission if you make a purchase, at no additional cost to you.
The black basket is stylish and spacious and has a reflective strip and a 3-point security strap taking care of the safety requirements. It has a plywood base and foam sides. The basket comes with a removable and machine washable fleece cover.
Pros
Fits large dogs up to 24 pounds
Secured with 3-point safety strips
Removable and washable liner
Reflective strip
Spacious
Easily installs on most bikes' existing rack
Cons
Expensive
As with rare baskets, you cannot see your pet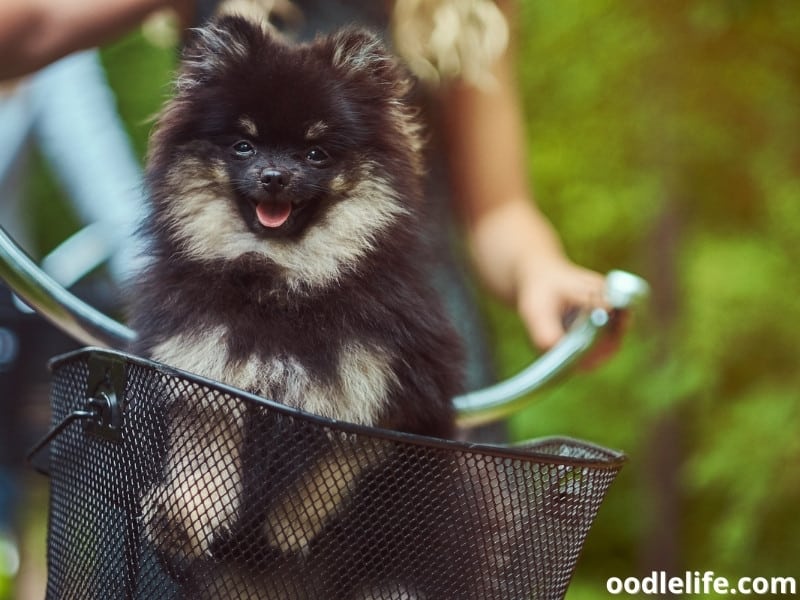 8. RuffLyfe DIY Crate Conversion Kit (Best Front And Rear Mount)
This is a unique DIY kit that helps you convert your milk crate into a dog basket. The resulting basket can carry dogs weighing up to 45 pounds and can be mounted to the front or the rear of the bike. However, dogs weighing more than 20 pounds must be rear mounted.
RuffLyfe DIY Crate Conversion/Bike Dog Carrier Package (Crate NOT Included) Padded Liner is 2 Sizes in One + 4 Point Safety Harness & Crate Fasteners Holds Pets 20lb+ for Safe Pet Bicycle Travel
✅SAFELY SUPPORTS PETS UP TO 45LBS –Designed because not every dog or pet is able to be tossed into a flimsy bike handlebar basket or backpack, that is why we made sure that all furry shapes and...
✅2 SIZES IN ONE + FRONT OR REAR MOUNTING - For more choices to our customers the CrateMate can be mounted on either the front or rear bike rack. Make sure to check the max load for the rack and be...
✅WATER-RESISTANT WASHABLE & CUSTOM-BUILT CUSHION - Cleanup is a breeze with CrateMates' water-resistant soft contour cushion and design. Simply use soap and water on a damp washcloth or paper...
✅4 POINT UNIVERSAL HARNESS- Safety first! With our custom made adjustable one size fits all four-point safety harness you can rest assured that your pet will be safe and secure on your adventures....
✅NO TOOLS REQUIRED FOR ASSEMBLY - With our customer in mind RuffLyfes' CrateMate Pet Carrier Package does not require any tools to assemble and comes with an easy to follow instruction manual to...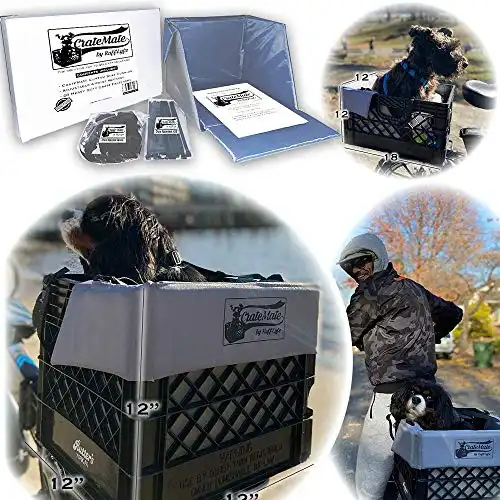 We earn a commission if you make a purchase, at no additional cost to you.
The kit comes with 20 heavy-duty fasteners that secure the crate to your bike, a water-resistant seat, side cushions, and a four-point safety harness.
Pros
Sturdy and comfy
For dogs weighing between 15-45 pounds
20 heavy-duty nylon fasteners
4-point universal harness
Water-resistant
No tools required
Cons
Not for dogs weighing under 15 pounds
No sun shade
Additional expenditure if you need to buy a crate or bike rack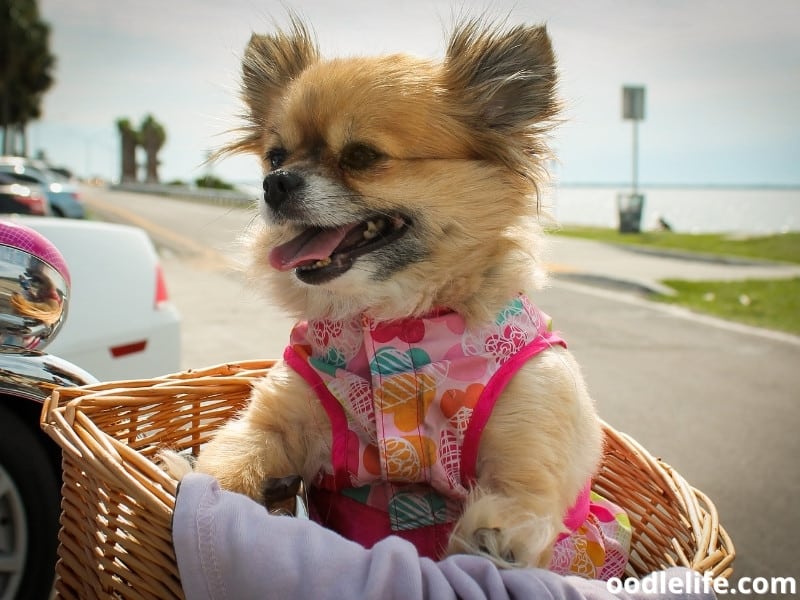 Conclusion
Take your furry friend along on your bike adventures with bike baskets. Bike baskets are a safe and secure way to enjoy a ride with your dog without a fuss. There are many types of baskets available that are versatile in several aspects.
Take your pick from our list of 8 best bike baskets for dogs.