Can You Use Human Clippers on Dogs?
When you're desperate to get your dog's hair trimmed, it can be pretty tempting to consider doing it yourself to save money.
At first glance, your dog groomers' clippers may look pretty close to what you already have at home. The question is, are they the same?
Well, not exactly. Besides similar names and appearances, dog grooming clippers are pretty different from those used for human hair. Like humans, dogs need specific clippers to suit their hair/fur type to avoid snagging the fur or nicking the scalp.
So while human clippers can undoubtedly get the job done, the risk may outweigh the benefits for your furry friend.
In this article, we'll answer the question:
Can you use human clippers for your dog?
Why using human clippers is possible, but not a great ideal
Explain the differences between pet and human clippers. 
So, Can I Trim My Dog's Fur with Human Clippers?
Simply put, the answer is no. Human clippers are just not designed with dogs in mind. From the blade down to the motor, human clippers may very well cause your pup more pain and discomfort than necessary.
If you're trying to save money or just cannot make it to the groomers this month, human clippers will accomplish the goal at hand, but it is undoubtedly a little risky.
Dog Clippers vs. Human Clippers
If we examine both dog clippers and human clippers side by side, they seem to be quite similar in appearance. However, they are designed entirely differently for many reasons.
Like human clippers, pet clippers are explicitly created around the type of hair they are intended to trim. Unfortunately, not every pair of clippers is suitable for every type and length of hair. The same applies to your pet's fur.
Here are some of the differences not evident at first glance: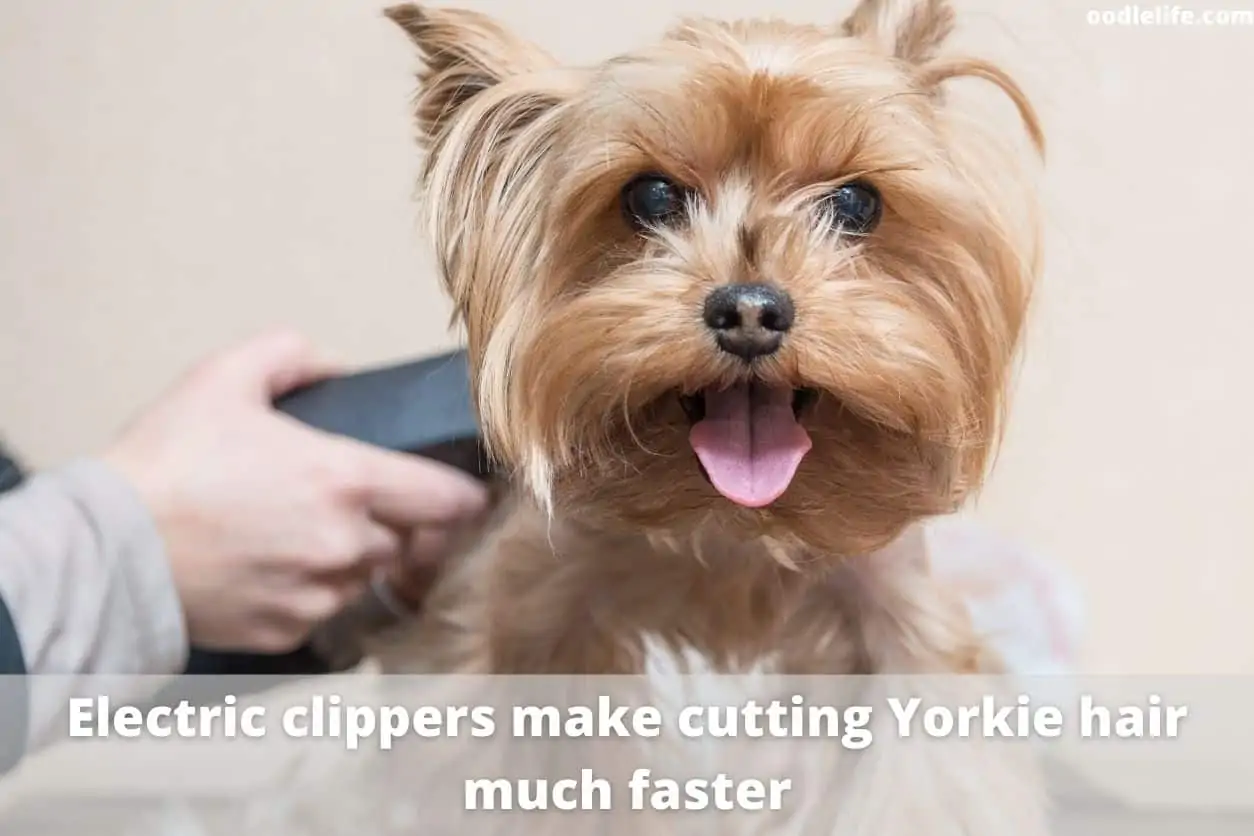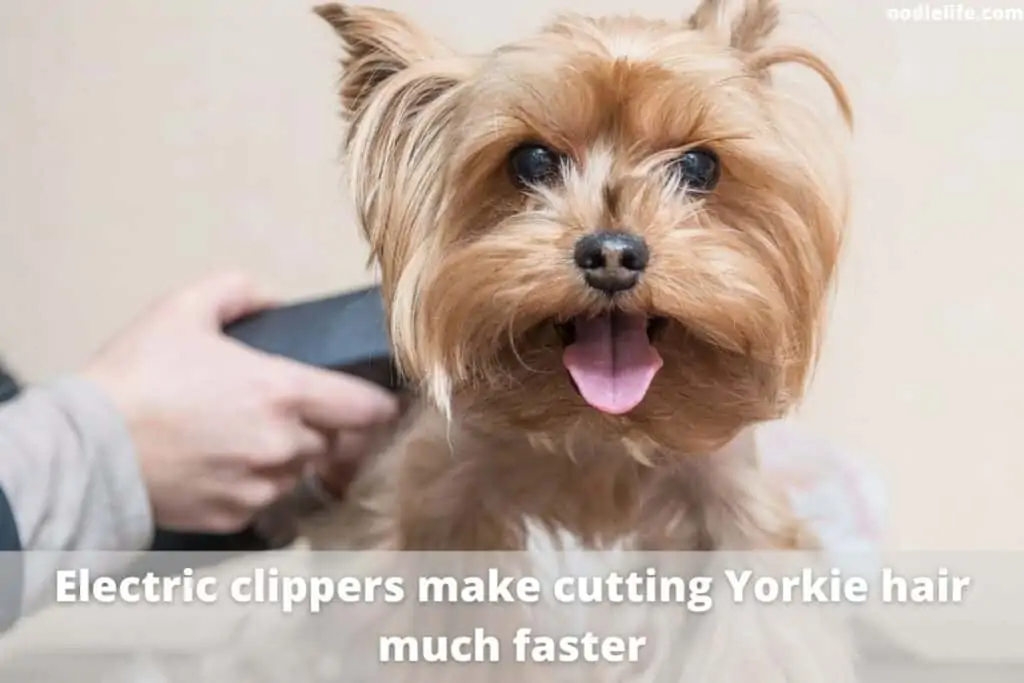 The Motor
Animals tend to be more skittish and more easily frightened than even the tiniest human client, making the motor a significant difference to note when choosing the right clippers.
Regardless of the brand you choose, the motors used in pet clippers are designed to last much longer without overheating. Pet grooming is no quick task and can be daunting for both your pet and yourself. It can take hours to cut your dog's hair, and the last thing you need is a heavy, overheated motor burning your hand.
Dog clippers are also much lighter than human clippers because of the motor. This lightweight motor makes for less noise and harsh sounds while cutting.
When considering motor sounds, remember that dogs have very sensitive hearing compared to humans. So human clippers can sound much louder to a dog than they would to us. Depending on your dog's temperament, the loud sounds of your clippers can startle your pet, resulting in nicks, bleeding, and skin irritation.
The Blade
Since dogs have extra layers of fur to protect them from the elements, their hair is thicker than most human hair—requiring sharper blades to cut through those layers.
Believe it or not, sharper blades are a necessary safety measure to avoid tangling your pet's fur or pulling too much of their skin. This allows for a cleaner, smoother cut.
Human clippers tend to have more delicate blades and smaller gaps between the teeth, causing thick fur to get stuck or caught. This is definitely not ideal for any grooming experience and can cause your dog a great deal of discomfort.
A thick-coated breed can break a pair of human clippers as the fine blades get jammed with fur, causing them to stall and burn out. Not only will this be a stressful situation, but it will also mean that you'll be minus your clippers. 
What Are the Risks of Using Human Clippers on Pets?
While most clippers may indeed serve the same purpose, there are a few risks associated with using human clippers on your pet:
Your dog's hair may get caught or tangled in the teeth of the clippers.
Trapped fur can cause uncomfortable pulling of the skin.
Potential injuries due to your pet jerking or moving away from the clippers.
Your dog may experience burns on the skin resulting from an overheated motor or hot blades.
Using dull blades can cause your pet's skin to become irritated.
Choosing the Right Clippers
Cutting your dog's hair at home requires a bit of planning and a little investigation.
When shopping around for clippers, remember that you get what you pay for. Cheap clippers may work for taking a little bit off the top but probably won't hold up to full-body pet grooming.
Consider the size and the breed of dog that you're grooming. For example, if you have a smaller dog, buying the biggest, most potent clippers on the market may not be necessary.
Depending on the breed of dog, the thickness of their fur will determine the best type of clippers for them. Also, not all hair or fur is created equal. Specific dog coats may require sharper blades, different speeds, or just more precision.
Try searching for clippers that have your dog's fur in mind. Most brands will advertise their clippers as excellent for certain breeds, specific hair types, or just overall professional quality. 
Customer reviews are one of the best ways to help narrow down your options. See what groomers and other pet owners recommend and why.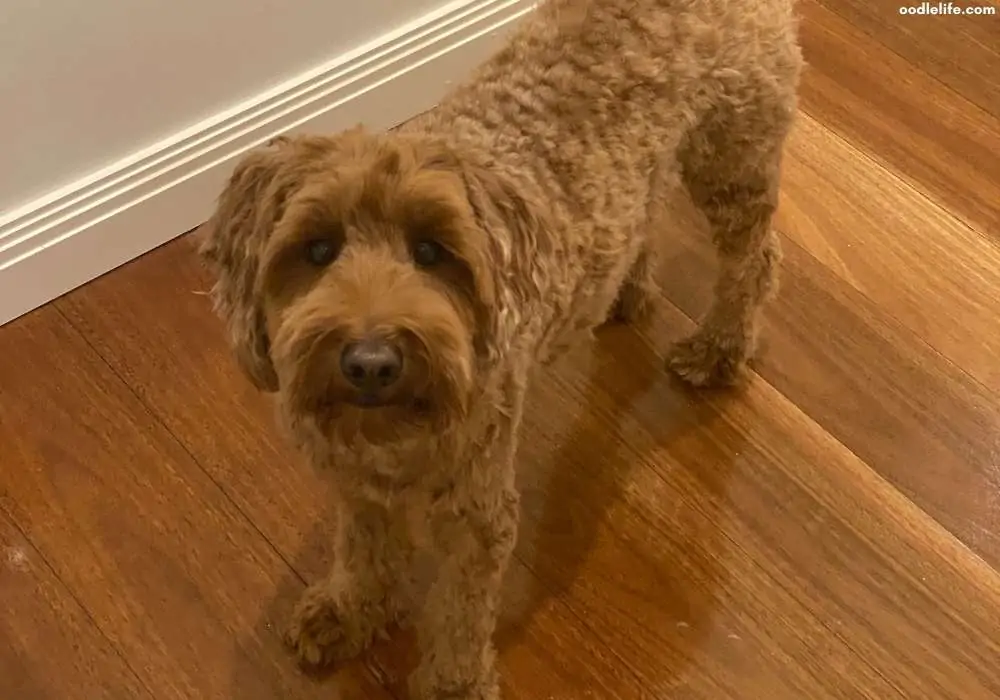 What To Look For
Power- The best professional dog clippers often have a lot of power and high RPM (rotation per minute), resulting in more noise or vibration. Powerful motors are a faster and more efficient choice for an experienced professional, but maybe not for a beginner.
RPM/Speed- Some clippers have various speeds, necessary for different fur types and hair lengths. Slower speeds may be ideal for precision, but a faster speed is needed to cut through thicker fur.
The Grip- This factor is more critical for the groomer's comfort than for the pet.
Blade Type– Dog Clippers have two different types of blades: Fine tooth blades and skip-tooth blades. Fine tooth blades achieve a more finished look, while skip-tooth blades are great for long, matted fur.
Cord or Cordless– Cordless clippers tend to be a bit more expensive but can keep you from fumbling with a cord around an already nervous pup.
Noise- Like human clippers, even some pet clippers can be loud. Check reviews to see which clippers can achieve your goal without frightening your friend.
Price- Remember, you get what you pay for. There are a lot of good clippers available at a reasonable price. Shop around to see what you can find that best fits your needs.
Blade Material- Consider using ceramic blades if you are concerned with your clippers getting too hot. Ceramic blades stay cooler longer, while stainless steel blades stay sharper longer. You can also sharpen stainless steel blades versus ceramic blades, which tend to break.
Top-Rated Pet Clippers of 2022
Bottom Line
Cutting your dog's hair can be stressful for everyone, especially if you don't have the right tools, to begin with. If you are going to commit to grooming your pet at home, try to become an expert.
It's best to learn as much about your dog's breed as possible. Find out what makes your dog's fur unique and the best way to trim and cut them properly. If you genuinely want to get good at this skill, ask your groomer for some pointers.
The idea is to reduce the amount of stress typically involved in-home grooming while making it a more enjoyable yet bonding experience for you and your pet.
So, there you have it! Now that you have a better idea of what tools to buy, you're ready to groom your pet at home. Not only will your job be easier, but your pet will be more comfortable and safe when you use dog clippers!