5 Best Dog Clippers for Goldendoodle – DIY Grooming Guide
Think about how soft the glorious thick coat of a Goldendoodle is. Glorious! From Chewbacca to teddy bear to Poodle-esque catwalk – there is Goldendoodle haircut to match every personality!
Picking the best dog clippers for Goldendoodle coats will make your DIY grooming and styling much easier.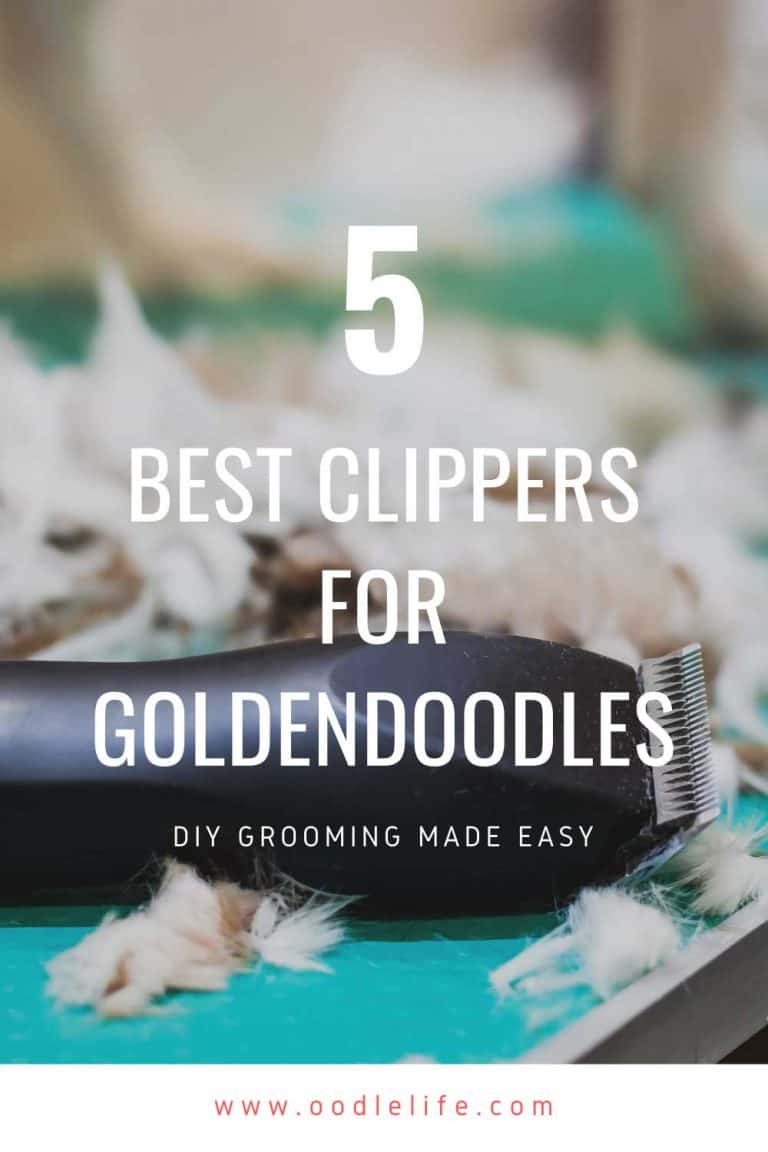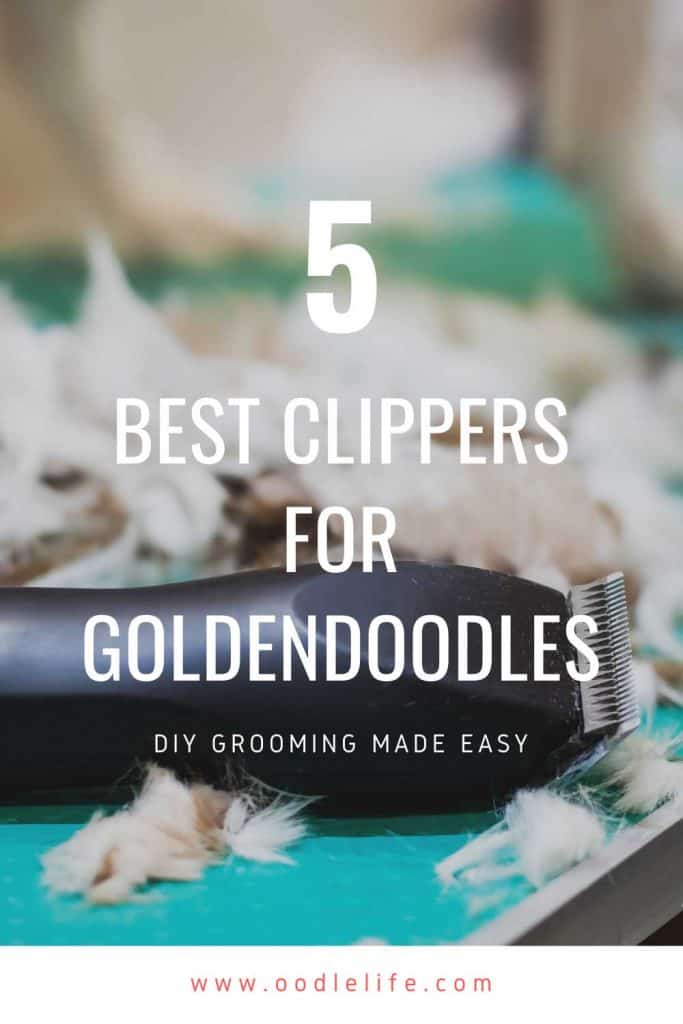 All coat types of Goldendoodle need to be clipped sometimes. Even straight coated Goldendoodles will require a hygiene clip (or a touch up to look super fresh for a special occasion) 
One of the best things about Goldendoodles' even temperament and enthusiastic, positive nature is that you can groom at-home with ease. With the right equipment, DIY Goldendoodle grooming is a breeze.
Besides brushes and shampoos, picking the right electric dog clippers for your Goldendoodle is one of the most critical steps. Here are our 5 best dog clippers for Goldendoodles PLUS some tips for Goldendoodle that are scaredy-cats when it comes to grooming.
Wahl Professional Animal Bravura Pet, Dog, Cat, and Horse Corded/Cordless Clipper Kit, Gunmetal (#41870-0425)
Ceenwes Pet Clippers (Upgrade Version) Low Noise Professional Dog Clippers Rechargeable Cordless Pet Clipper Trimmers Pet Hair Grooming Kit for Cats Dogs and Other Animals
Oster Golden A5 Two-Speed Animal Grooming Clippers with Detachable CryogenX Size 10 Blade (078005-140-002)
BOUSNIC Dog Clippers 2-Speed Cordless Pet Hair Grooming Clippers Kit - Professional Rechargeable for Small Medium Large Dogs Cats and Other Pets
Scaredy Cut Silent Pet Grooming Kit for Dog, Cat and all Pet Grooming - A Quiet Alternative to Electric Clippers for Sensitive Pets (Right-Handed Pink)
Wahl Professional Animal Bravura Pet, Dog, Cat, and Horse Corded/Cordless Clipper Kit, Gunmetal (#41870-0425)
Ceenwes Pet Clippers (Upgrade Version) Low Noise Professional Dog Clippers Rechargeable Cordless Pet Clipper Trimmers Pet Hair Grooming Kit for Cats Dogs and Other Animals
Oster Golden A5 Two-Speed Animal Grooming Clippers with Detachable CryogenX Size 10 Blade (078005-140-002)
BOUSNIC Dog Clippers 2-Speed Cordless Pet Hair Grooming Clippers Kit - Professional Rechargeable for Small Medium Large Dogs Cats and Other Pets
Scaredy Cut Silent Pet Grooming Kit for Dog, Cat and all Pet Grooming - A Quiet Alternative to Electric Clippers for Sensitive Pets (Right-Handed Pink)
Why DIY Groom a Goldendoodle at Home
A Goldendoodle is a cross between a Poodle and a Golden Retriever. That means that these dogs make lovely companion dogs and have the most adorable waves or curls! On the other hand, all of that curly, thick fur can quickly get out of hand.
This leads to the fur being matted, getting dirt and debris stuck in it, and putting your furry friend at risk for bacterial skin infections.
You need the best dog clippers for Goldendoodle dogs on hand to save yourself money. The skills you pick up will ensure your little one is taken care of in between trips to the groomer.
Best Clippers for Goldendoodle: Groomer Quality at Home
Sale
Wahl Professional Animal Bravura Pet, Dog, Cat, and Horse Corded/Cordless Clipper Kit, Gunmetal (#41870-0425)
Combines the power and durability of lithium ion battery innovation with Wahl's adjustable 5-in-1 blade to give groomers, animal professionals, and pet owners everything needed in a lightweight cordless clipper
Ideal for the feet, face, and all finish work on all dog breeds, light body clipping on small- and medium-sized dogs, and cat grooming. The 5-in-1 blade adjusts between sizes #9, 10, 15, 30, and 40, offering a convenient variety of cutting lengths.
The rechargeable battery has a 90-minute cordless run time of cool running, low vibration, and quiet operation; the clipper will operate at full power until the battery is completely depleted; recharge the battery in 60 minutes or plug in the cord.
The Bravura can also be used for trimming horse's bridle path, ears, muzzle, and fetlocks as well as trimming show cuts for goats, pigs, and cattle
Includes one Bravura clipper, 5-in-1 fine blade set, 6 plastic attachment guide combs, cleaning brush, blade oil, instruction book, charge stand and charger, soft storage case
When you trim your Goldendoodle, you don't want it to look like a DIY job. You want the same high quality that groomers offer without having to pay groomer prices. This is why a professional brand like Wahl is our number one choice for Goldendoodle electric clippers.
These clippers will help you smash a sophisticated look or quick summer haircut in no time.
They are the same high-quality clippers that professional groomers use, guaranteeing that you can do a spectacular job.
Long Battery Life
These are high quality, but one of the best things about these clippers is also the long battery life. The battery will last approximately seventy-five minutes when fully charges. This makes it ideal for getting those hard to reach places like the underside of the legs.
It also makes them perfect for areas that require going slow and carefully, such as the face. You'll never have to worry about accidentally injuring your dog because you're in a hurry.
Extra Batteries Available
If you find that you need extra time with your Goldendoodle to get the look perfect, there are extra batteries available.
Simply pick up an extra battery pack and keep them all charged. Then, if you need a few more minutes to get their coat even, you'll have plenty of time. Keep in mind that this product does not come with extra batteries in the box.
Adjustable Blade
The blade is adjustable to make their fur as long or as short as you would like to. The adjustable blades easily clip into place at the desired length to guarantee that the entire coat is pleasant and even.
These are the best clippers on the market, and highly recommended, but being cordless can be a significant downside.
If you run out of charge with your batteries, you're instantly stuck waiting on them to charge again to finish your personal grooming session. This makes having extra batteries charged and ready to go a necessity.
Best Balanced Budget Grooming Clippers
Ceenwes Pet Clippers (Upgrade Version) Low Noise Professional Dog Clippers Rechargeable Cordless Pet Clipper Trimmers Pet Hair Grooming Kit for Cats Dogs and Other Animals
★【ALL-IN -ONE】This pet grooming clippers also come with 12 tools: 1 × Pet clipper( included Battery),1 × AC Power Adapter,1 × Cleaning Brush,4 × Comb Attachments(3-6-9-12mm),1 ×Comb,1 × Nail Clipper Kit,1 × Nail File,1 x Manual. fit for All HAIRY PETS!
★【LOW VIBRATION & NOISE】Pet clippers for dogs with Precision motor, low vibration and ultra quiet design, free it from work noise with only about 50 db, to help the pet feel at ease, not afraid haircut any more. Powerful motor of professional dog clippers (the spindle of which is made of fine copper), not to clamp and hurt pet hair.
★【SHARP&ADJUSTABLE BLADE】Cat clippers with Titanium acute-angle blade combining with the ceramic movable blade for smooth and efficient cutting,the fine-tuning knob offers five level of length (0.8-2mm)for precise adjustment on hair length.With 4 attachment guide combs: thinning-out, (3mm/6mm/9mm/12mm,) skin-friendly contour-following combs make it safe, easy, comfortable.
★【CORDLESS DESIGN】Light weight and cordless design for easy use. The pet grooming kit is equipped with a charger. Charging for 3-4hrs, pet grooming clippers can sustain uses of 3-4hrs . With the cordless clipper, you can no longer be bothered by the trouble of replacing batteries or boring wires.but also available for cord.
★【SATISFACTION】 keeps your pets always looking good, it's very useful both in home and profession salon use!
Meanwhile, with the small and delicate clipper body, your kids also can join with you to dress up your pet.
This dog grooming kit is your all in one grooming kit to ensure you never need to take your Goldendoodle to the groomer again. It's the ultimate solution for DIY groomers. 
It comes with multiple extra tools. That makes it instantly appealing for those that are working with a budget.
All-Inclusive Grooming Kit
This grooming kit comes with more than just a set of clippers. You also get a set of shears, a nail file, nail clippers, a comb, and everything needed to give your Goldendoodle the perfect makeover!
The dog shears are ideal if your furry friend is in desperate need of a grooming session. They easily cut through thick Goldendoodle puppy fur so that the clippers will run over it with no problems. 
The nail file is also perfect for making sure that nails don't scratch the kids in the house, furniture, or the floor.
Quiet Clippers
If your dog hates the sound of clippers, this pair is a substantial investment. Not only are they budget-friendly, but they're also quiet.
No more holding the dog down because he's scared. No more messing up a trim because the dog keeps flinching. On top of that, owners will have the opportunity to train their dogs to sit still for a grooming session, thanks to the low noise level.
Cordless Clipper
This is a good thing as well as a bad thing. On the positive side, this cordless clipper plugs right into the charger. There is no need for extra batteries, and not having to use the cord makes it easier to complete grooming sessions.
Owners can focus on the task at hand instead of having to struggle with the cord.
On the downside, once you run out of battery – you are stuck waiting on the clippers to charge again. Owners don't have the option of plugging it into the wall or switching to a fully charged spare battery.
This can be inconvenient for those that need a little extra time during grooming sessions. For puppies and dogs that sit still for grooming sessions, this won't be a problem. Smaller Goldendoodles like the Teacup Goldendoodle are easier to restrain then large standard Goldendoodles!
High-Quality Cutting Blades (for curly Goldendoodles) – The Oster Golden Clippers
These pet grooming clippers are known for their ability to cut through coarse, thick fur, making them the best dog clippers for Goldendoodle dogs. They come with a few features that make them stand out from other clippers on the market for pets.
Dense (or 'kinky') Goldendoodle curls? This is the best dog clipper for your Goldendoodle. Unsure what coat your Goldendoodle puppy will have?
Two Speeds
If your Goldendoodle flinches at the clippers' sound, a set with low noise is a must-have. The two speeds available can comfortably accommodate that.
Put them on the lowest setting for almost no noise to make the next grooming session run smoothly. If your Goldendoodle doesn't mind the sound of clippers, set in on a higher setting to get it done faster.
Chew-Proof Housing
Anyone that has ever had a dog knows that they will chew on anything, especially a pair of clippers if they do not like them.
That will never be a concern with a chew proof housing. If the clippers are accidentally left out around the dog, they will still be in good condition when you return home. If your dog keeps chewing up clippers, the chew proof housing will save you money in the long run.
Compatible with Oster Accessories
These clippers don't come with a wealth of additional accessories, but that's part of their charm. Pay for the clippers that you need, and then only pay for the extra accessories that you want.
Additional accessories, such as guide combs and blades of various lengths, are available through the Oster brand. Most are compatible with these clippers. Perfect for more advanced (tiger cut!) Goldendoodle haircuts as your DIY grooming skills hit the next level.
Whisper Quiet Clippers for Scared Goldendoodles – Bousnic Whisper Quiet Clippers
Sale
BOUSNIC Dog Clippers 2-Speed Cordless Pet Hair Grooming Clippers Kit - Professional Rechargeable for Small Medium Large Dogs Cats and Other Pets
COMPLETE SET OF DOG GROOMING KIT: Why spend a fortune on a pet salon when you can groom your pet's hair at home? This dog clippers includes everything you need to trim your dog's or cat's hair – an dog grooming clippers, 4 combs with different lengths, a cleaning brush, stainless steel scissors and comb, an oil bottle, a USB cable.
DO YOU HAVE AN ANXIOUS PET? Many pets get stressed and uneasy by the sound and the vibration of pet grooming clippers. However, the Bousnic skin-friendly pet clippers is whisper-quiet and has a very low vibration, so your pet won't get scared and you'll be able to trim its coat with ease and much faster!
PRECISION CUT AND CORDLESS DESIGN: It doesn't matter if your dog has straight or short hair – these dog hair clippers with the 2 speed levels and the ultra-sharp stainless steel and ceramic blades are going to groom its fur and create a flawless result! Our cordless dog hair trimmer also has an ergonomic design that allows to groom even the hardest-to-reach areas.
POWERFUL RECHARGEABLE BATTERY: Our pet clippers for dogs and cats have a built-in 2200mAh Li-ion battery that you can easily charge it with the USB cable. Once the dog trimmer are fully charged, the digital battery indicator will let you know that the device is ready for use!
Sometimes you will just need a set of electric clippers to properly groom a Goldendoodle, even if the dog is concerned with the noise. A grooming table for your Goldendoodle is a hefty investment BUT worth its weight in gold for regular grooming or anxious dogs. Without one, you will need to look for the most advanced quiet solutions (that still cut well).
The Bousnic Whisper Quiet clippers take the noise reduction about as low as you can while still being electric. (See below for a non-electric alternative)
If you have a dog that still runs away with low noise clippers, these whisper-quiet clippers are the perfect solution. They have a virtually non-existent noise level, making them the best clippers for Goldendoodle dogs that are scared of grooming sessions and loud noises.
Complete Trimming Kit
This set of clippers comes with all of the accessories needed. There are several different lengths available, eliminating the need to purchase additional attachments.
This kit comes with a comb, a small bottle of oil for the clippers, and a small brush to get the hair out of the clippers. Easily trim thick fur to make it manageable, and then use the clippers to get the perfect length.
USB Charger
This set of clippers comes with a USB cord that charges them. Not only is this a bit more modern, but it's also convenient. Owners will never have to sit on hold with customer service to order a new charger. Instead, they can run to the local store to pick up another USB cord and quickly charge clippers.
This is perfect for anyone that loses chargers or has a dog that likes to chew through them.
It's important to note that a power bank is not included. The charger is compatible with any standard USB port, however. This means that they can be charged on laptops, phone chargers, or standard phone charger boxes in the wall.
Digital Battery Indicator
The digital battery indicator lets owners know when the battery is fully charged and running low. This is one more way that these clippers are more convenient than others. The battery indicator eliminates the guesswork behind figuring out whether they are fully charged. It takes away the chance to find out the clippers are only halfway charged when they die in the middle of a grooming session.
Most Goldendoodles have enough tolerance for one well run DIY grooming session. Waiting for a charge and then continuing with round two a few hours later is a recipe for trouble.
Skin Friendly
These clippers come with a built-in guard to guarantee that they will never accidentally snag your pet's skin. Regardless of what blade is on them, the integrated skin guard stays perfectly in place. This makes them ideal for pets that are skittish or typically squirm during trimming sessions.
There are not a lot of downsides to these clippers. They will work wonderfully for a Goldendoodle, are affordable, and are built to last.
However, they do not work well with heavily matted fur. Before using clippers for a Goldendoodle that may have mats, it's essential to bathe the dog and brush the hair. Consider using detangling spray before brushing. Find out more in our detailed Goldendoodle brushing and de-matting guide.
This can make it a pain for those who recently picked up a rescue dog that is in desperate need of a grooming session.
Quiet Clipper Alternative – When Electric Just Doesn't Work for a Scaredy-Dog
Scaredy Cut Silent Pet Grooming Kit for Dog, Cat and all Pet Grooming - A Quiet Alternative to Electric Clippers for Sensitive Pets (Right-Handed Pink)
GENTLE GROOMING FOR SENSITIVE PETS: A buzz-free alternative to clippers. Scissors + Clipper Combs = a safe, relaxed grooming session.
16 PCS: (1) Scissor, (7) Combs, (2) Comb Organizers, (4) finger inserts, (1) Grooming Guide, (1) Storage Bag. PATENTED
CHOOSE YOUR LENGTH: Includes seven combs for cut lengths from 1/2 inch to 1 inch. MADE IN USA of Domestic and Imported Parts
CUSTOMIZE THE FIT, Choose: SNUG, with soft gel finger inserts, MEDIUM with thin smooth inserts or LOOSE with no inserts.
GENTLE GROOMING PROMISE: Not completely satisfied with Scaredy Cut? We'll replace parts or issue a refund on request. GUARANTEED
Sometimes, it doesn't matter how quiet the clippers are, they just aren't working out for your Goldendoodle. Whether it's because of matted fur or your dog only gets scared at the sight of clippers, you need an alternative.
This complete kit is the perfect solution. Take your time with guards and scissors, use safety scissors for delicate areas, such as the paws, and enjoy a job that looks like it was done by a professional groomer.
Several Options Available
There are several different options available to ensure that owners have what they need. There are both left-handed and right-handed options available.
Both come with scissors and guards. Other options include a de-matting comb and a tiny trim safety pair of scissors. Customers can also purchase the small trim safety scissors separately if they like.
No Noise Or Clippers
These are the ideal alternative for dog owners that have a pet that is scared of the groomer. If your dog has been rejected from the groomer, they'll likely sit still for a noise-free session that does not involve a pair of clippers.
Because there are no clippers involved, there is also no waiting on a pair of clippers battery to charge for additional convenience.
Detailed Instructions
Most people attempting a DIY grooming job for the first time are afraid that they will cut their pets. This is understandable, but it's important to note that these instructions are full of tips regarding how to get the job done safely.
For example, they recommend not pulling on the fur before cutting. This is because this also pulls the skin out, which can lead to cutting the skin.
Five tips to make using electric dog clippers on a Goldendoodle easy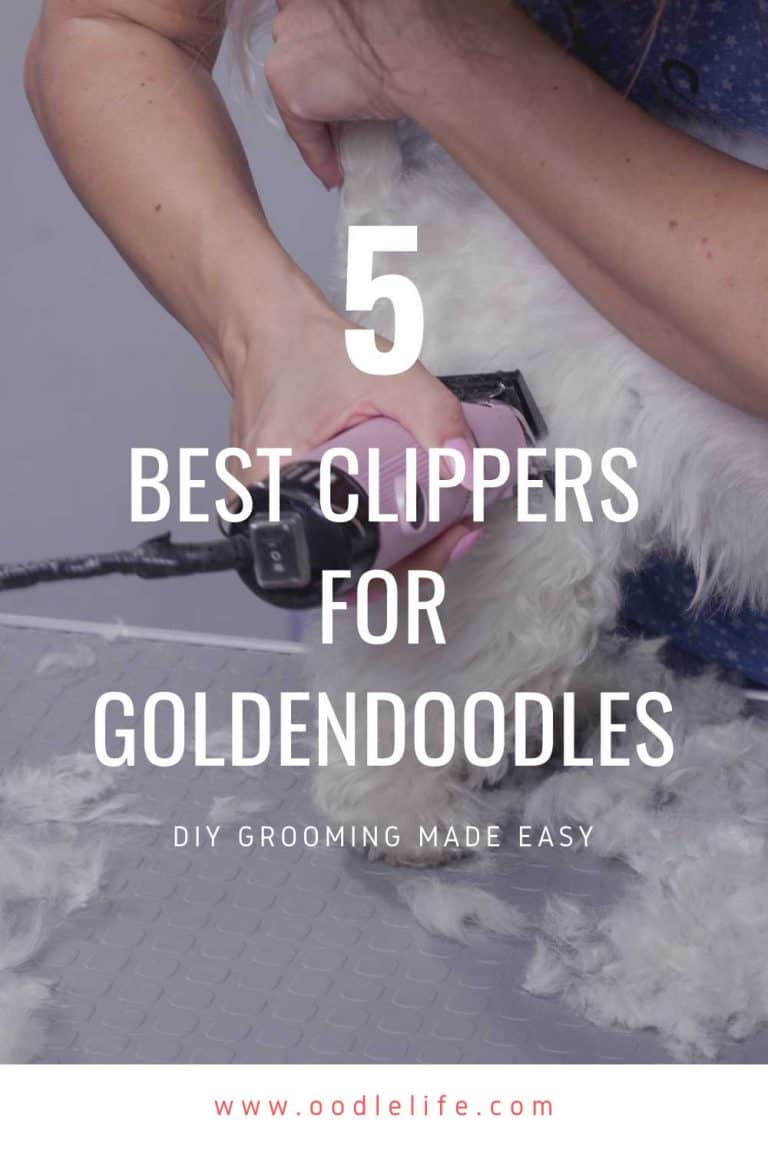 Groom bathe and dry your Goldendoodle BEFORE you attempt a new haircut.

Using the high-quality Goldendoodle friendly shampoo and then drying your Goldendoodle and brushing using a quality comb and slicker brush will reveal any matted or problem areas before you get started 
Goldendoodle hair is natural to brush away – they won't often need a shower after a standard groom

Frequency is key

Once you have a style you like, groom MORE often to make each groom less intense
The more frequently you use the electric clippers, the less work you (and the clippers) need to do every time

Make a note of what works

Our memories are great, but a pen and paper are better
Make a note in your phone or on paper of the lengths of grooming shears/cutting lengths that work
Note down anything your dog does not like
Note any sequences/steps that worked particularly well in order (e.g., paws hygiene cut first)

Clip-in the right direction

Although it can be confusing with the single coated or curly Goldendoodle coat – try to clip in the direction of the hair growth
You will get more consistent and predictable results over time

Consider a grooming table

A grooming table with restraining noose will make grooming even a large Goldendoodle relatively easy
There is one standout grooming table to consider when picking one to match a Goldendoodle
We reviewed our favorite sturdy grooming table here
Consider buying with friends, family or even for a building! Make use of excellent equipment by sharing
One bonus tip is to take your time when grooming. It can be hard to find the balance between the excited impatience of a Goldendoodle (puppy or adult!) and also trying to get a great cut.
Slower is typically better for using electric clippers. It means you have more time to think. You don't pull the dog hair (imagine your hair being pulled – ouch!). Also, there are fewer issues with the clipper overheating due to being overworked.