8 Best Dachshund Breeders in the UK (2023)
These days, Dachshunds, lovingly called Doxies by their owners, are everywhere. You see them on everything from cushions to tea towels.
They're famous for their long backs, disproportionately loud bark, and their charming disposition.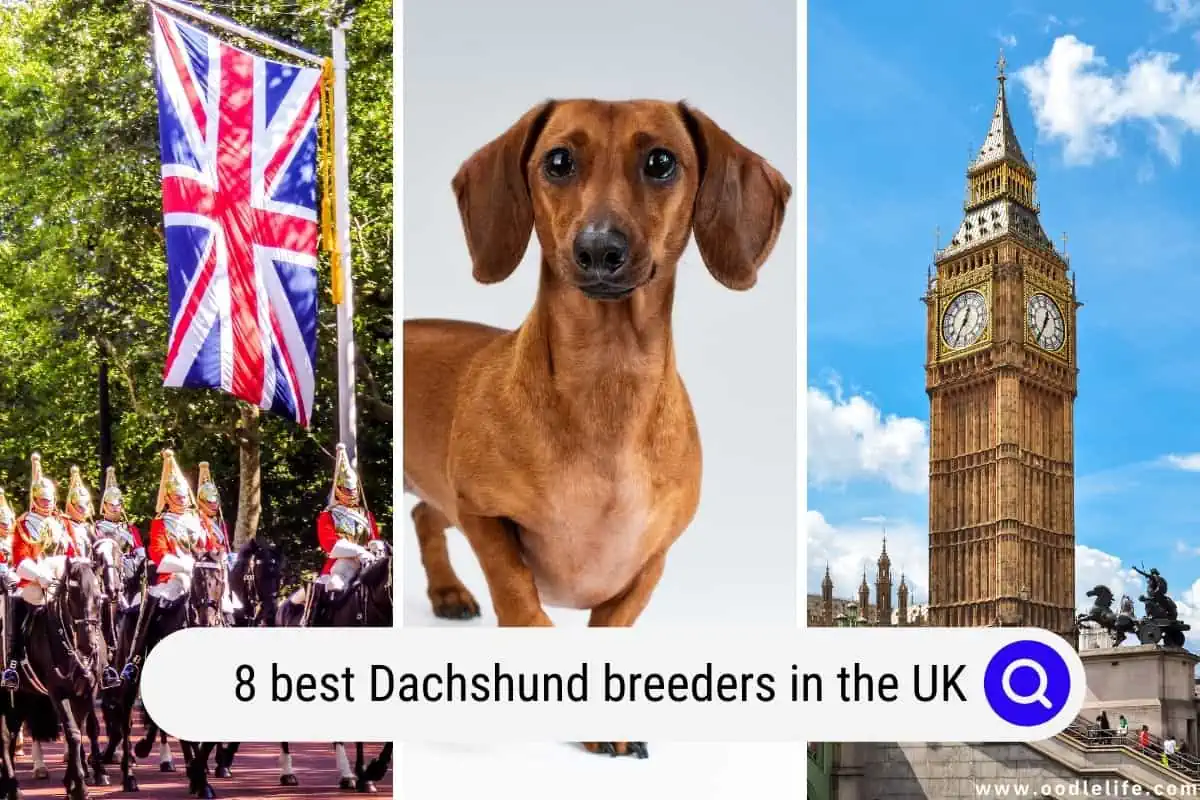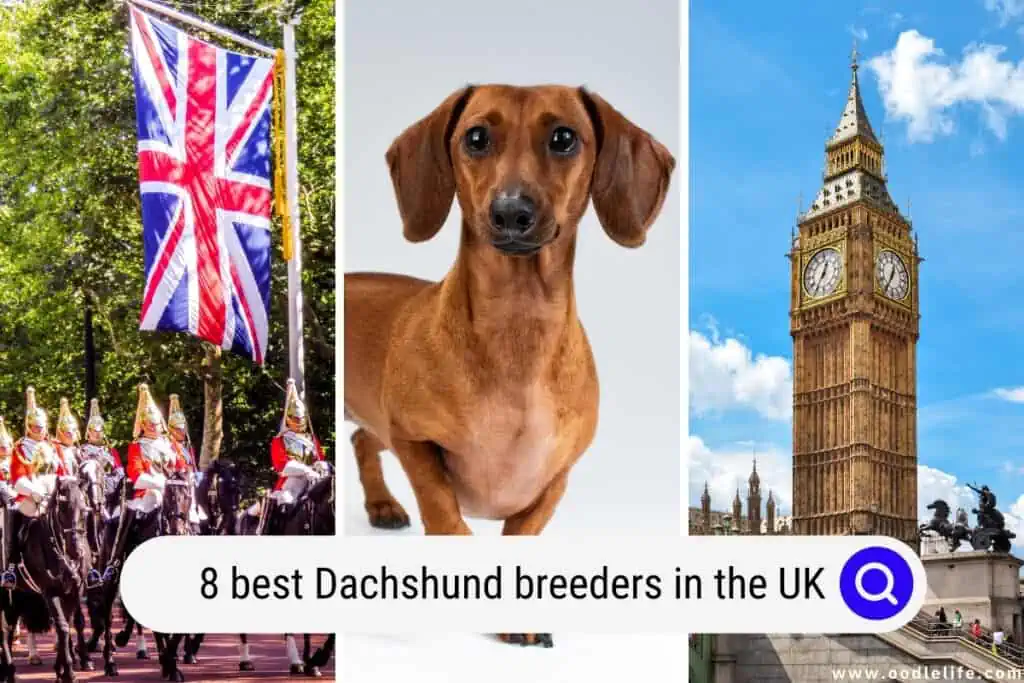 $300 2023 Discount!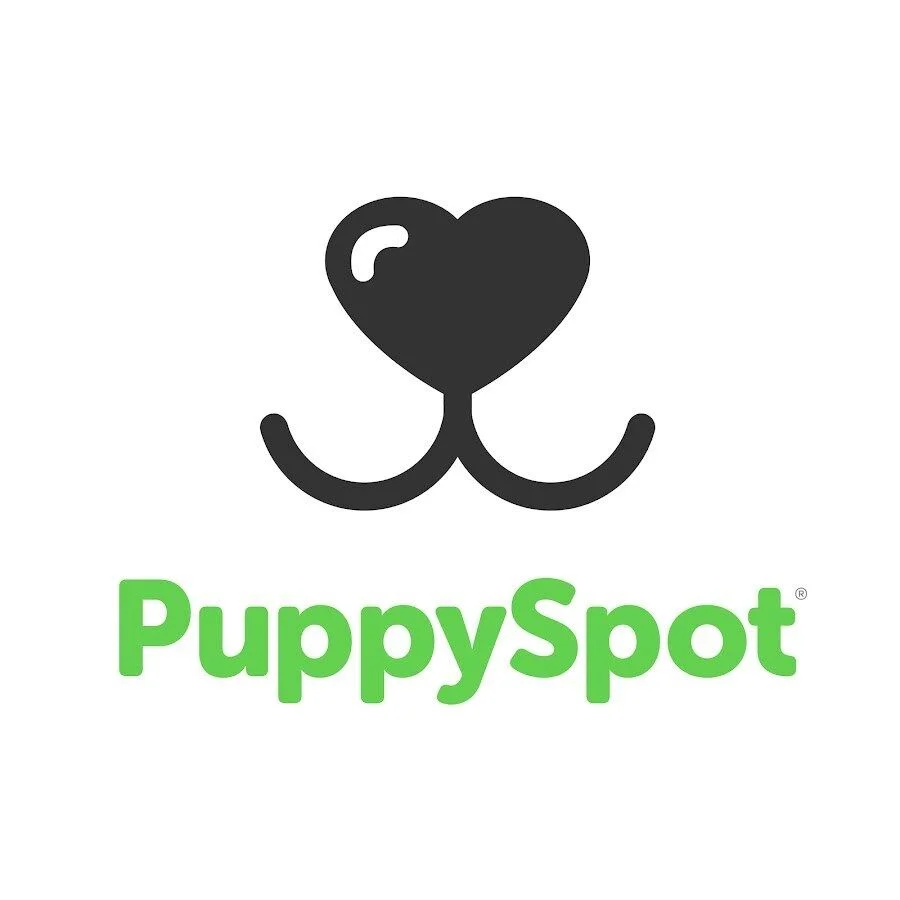 PuppySpot Adoption
PuppySpot is a reputable dog marketplace where you can browse and find compatible puppies right from the comfort of your home. They have placed over 200,000 puppies into homes in the US!
Click through and use the code PUPPY300 for $300 off any puppy adoption.
See Puppies and Save $300
After thorough research, we compiled a list of the eight best Dachshund breeders in the UK to help you find the Dachshund that's right for you.
1. Country Style Dachshunds
Country Style Dachshunds is a husband-and-wife-run enterprise in rural Dorset. It's the ideal place for Dachshund puppies to start their lives because there are many rolling green lawns to tumble around on.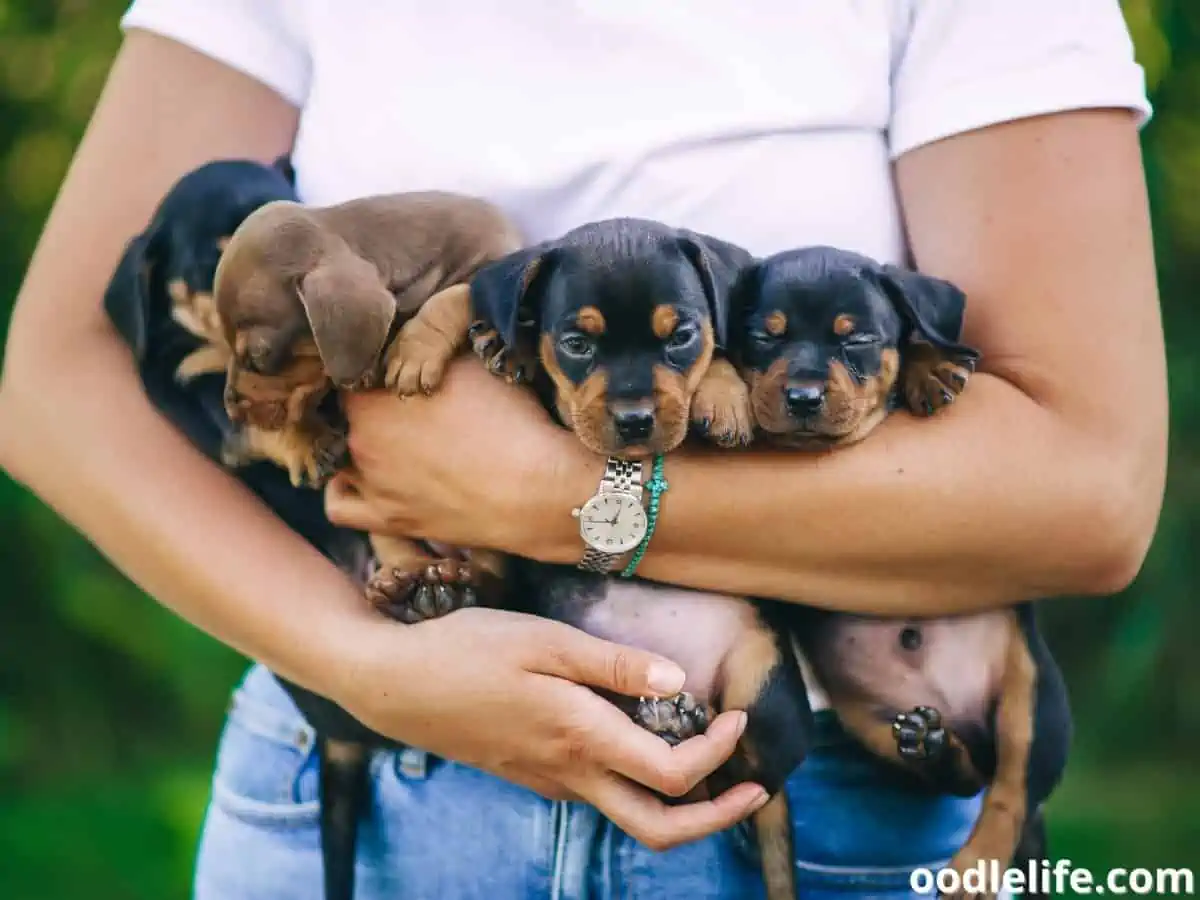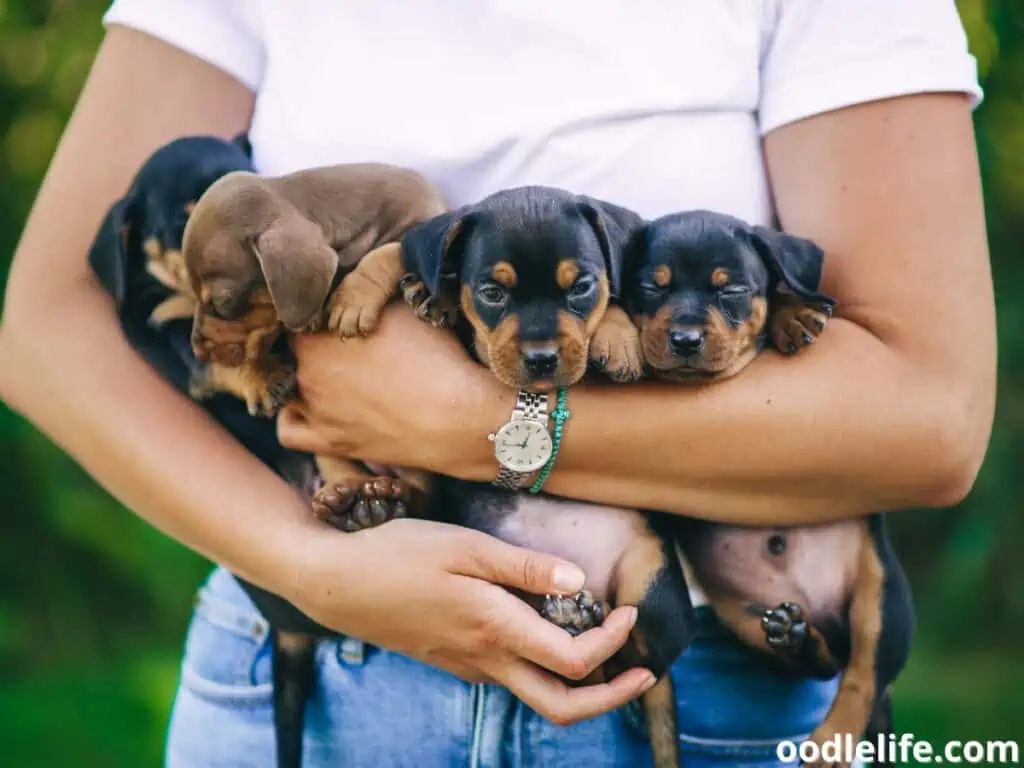 The breeders have extensive knowledge of Dachshunds, and their current studs emphasize Blue and Isabella coats. These are recessive and require care and attention to produce healthy and happy Dachshund puppies.
Country Style Dachshunds have done their homework, and the result is some beautiful Dachshunds. Puppies get rehomed at the eight-week milestone once it's safe to remove them from their mother and home environment.
The puppies come with five weeks of kennel club insurance and the option to opt into a free puppy supply box from Royal Canine. This includes things like treats and dog food to help you transition your Dachshund puppy to its new home as happily as possible.
If you've never owned a Dachshund before, Country Style Dachshunds are the perfect choice of breeder. They can talk you through what to expect with a Dachshund and offer advice on grooming requirements, training techniques, and how to resist those wide, hopeful eyes.
Contact Details:
Website: https://countrystyledachshunds.co.uk/
Phone: 07976 565 285
Email: [email protected]
Location: Dorset, United Kingdom
2. Douglas Hall Kennels
Situated in Lancashire County, Douglas Hall Kennels breed several different dog types, from small dogs like Dachshunds to larger dogs like Labradors.
As licensed Dachshund breeders, they're one of the best Dachshund breeders in the UK. In keeping with their licensed status, their dogs receive weekly visits from the vet. Accordingly, they keep their facility scrupulously clean and encourage prospective owners to come and visit.
While the kennels are always open to visitors, appointments can be helpful during busy times like weekends or holidays.
They're knowledgeable about their many dog breeds and happy to coach first-time Dachshund owners through the puppy experience. All puppies leave with a microchip and care package.
Douglas Hall Kennels also recognizes that Dachshund puppies aren't for everyone. They're infamously stubborn, and they shed more than some hypoallergenic breeds. If you find your Dachshund puppy doesn't work out, Douglas Hall Kennels will take the dog back and rehome it quickly and efficiently to minimize distress to the puppy.
Contact Details:
Website: https://www.douglashallkennels.co.uk/
Phone: 07779 956 076 or 01282 694461
Email: [email protected]
Location: Lancashire, United Kingdom
3. PiggleFairy Puppies
PiggleFairy Puppies is another of the best Dachshund breeders in the UK. Its name is as appropriately whimsical as the dogs they specialize in.
Like other breeders on this list, PiggleFairy is licensed to breed Dachshunds; their specialty is smooth-coated Miniature Dachshunds.
All their dogs are thoroughly wormed and vaccinated before rehoming them at eight weeks. Additionally, the parent dogs receive routine vet visits to ensure the kennels meet breed health and hygiene standards.
Another reason PiggleFairy stands out as one of the best Dachshund breeders in the UK is the owner's expertise. They previously trained as a veterinary nurse, giving them a healthy amount of knowledge about canine health independent of routine vet visits.
That enables them to work with vets and fertility experts to produce the healthiest Dachshund puppies possible. And like any reputable breeder, they're always happy to talk to you about their Dachshunds' history so you know what, if any, genes the puppies might inherit.
Contact Details:
Website: https://www.pigglefairy.co.uk/
Phone: 01945 595 017 | 07852 777 140
Email: [email protected]
Location: Cambridgeshire, United Kingdom
4. Emeraldax
Another of the best Dachshund breeders in the UK is Emeradax. Like other breeders mentioned, Emeraldax is a family-run enterprise.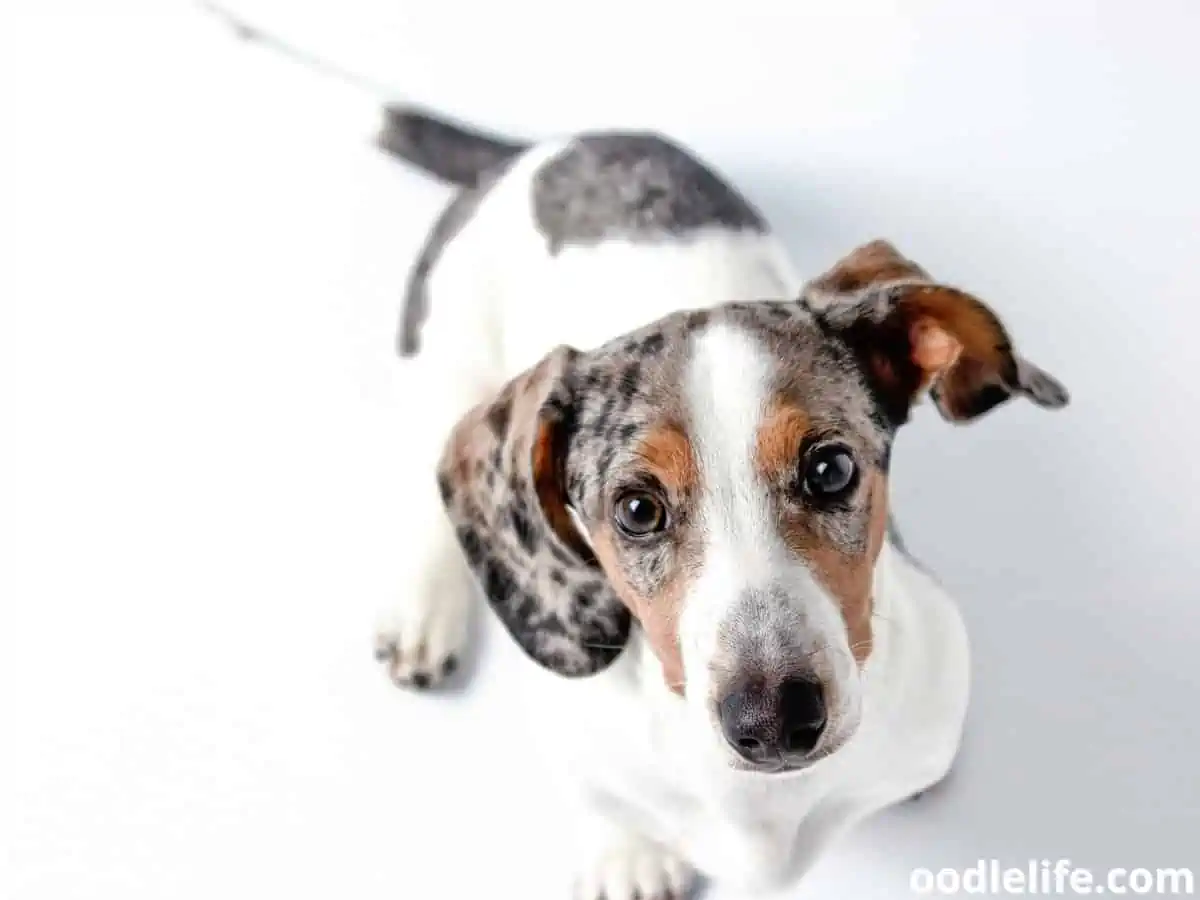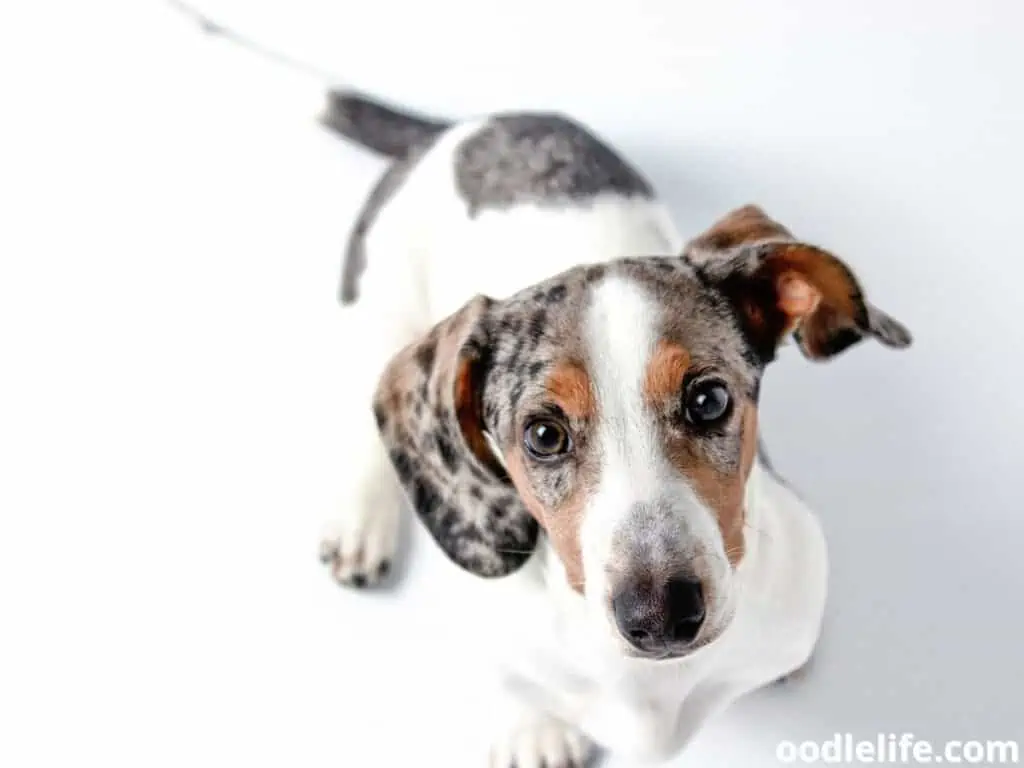 They're Dachshund-devoted and pride themselves on producing long and smooth-coated Dachshunds that are as healthy as possible. For that reason, you're less likely to encounter unusual coat patterns like Blue or Isabella at Emeraldax. But the Dachshund puppies you see are PRA-clear and as healthy as possible.
They're also thoroughly integrated into the Emeraldax family, guaranteeing the puppy you take home is well-socialized and acclimatized to many different people, noises, and situations.
Despite their love of Dachshunds, Emeraldax recognizes that circumstances change. Your puppy may not suit your family, or you may need to rehome your Dachshund. For that reason, Emeraldax is always happy to rehome any puppies.
Contact Details:
Website: https://emeraldax.co.uk/
Email: [email protected]
Location: Essex, United Kingdom
5. Zarcrest Dachshunds
Another of the best Dachshund breeders in the UK is the fully-licensed Zarcrest Dachshunds. They specialize in long-haired Miniature Dachshund puppies.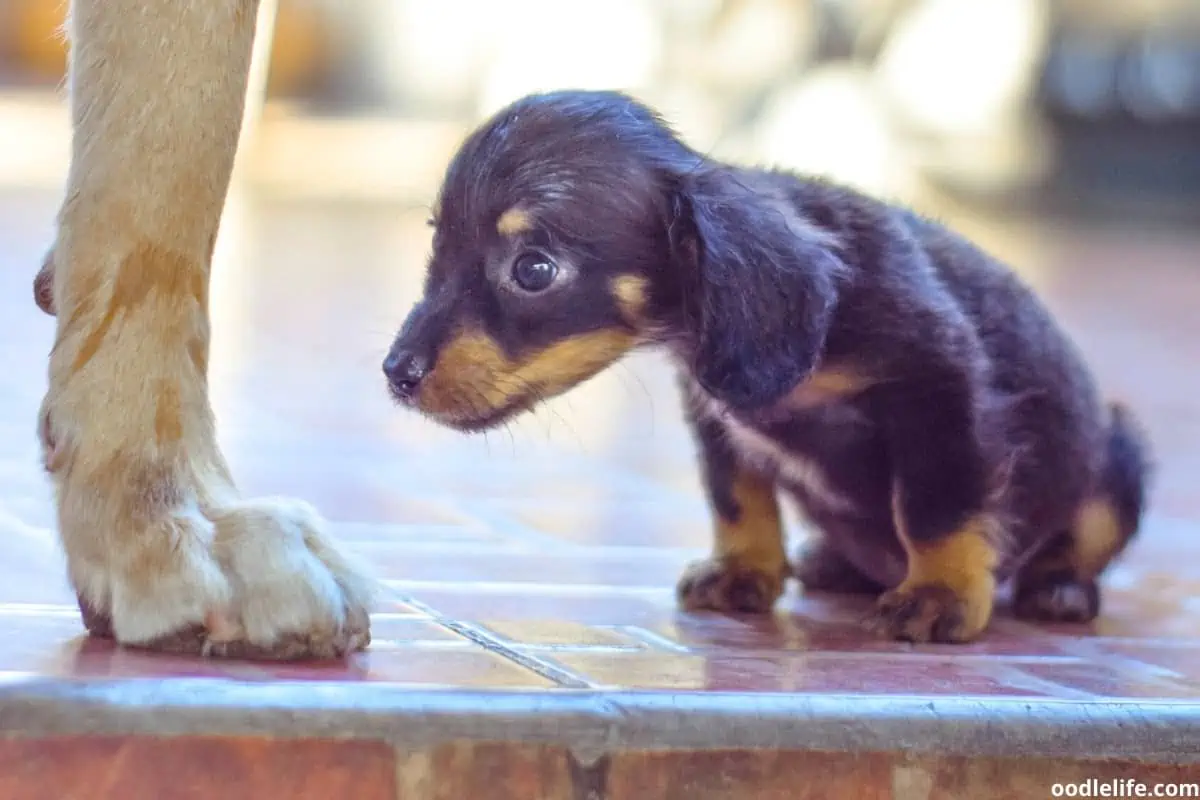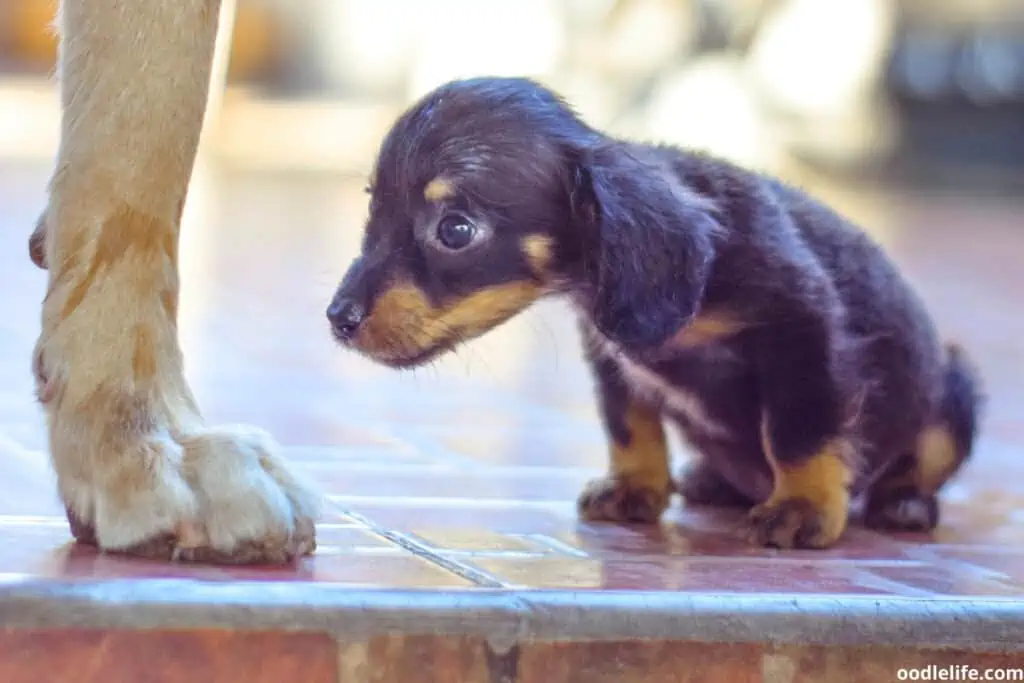 Zarcrest is a hobby breeding program that enjoys showing its Dachshunds and Spaniels as much as it does breeding them. Consequently, Zarcrest always breeds for:
Health
Temperament
Quality
Dachshunds come with all kinds of health risks, from IVDD to PRA. Consequently, Zarcrest goes to great lengths to breed the healthiest dogs possible. They are always happy to reassure prospective owners about their dogs' pedigree and lineage and disclose any mutations that might lead to health issues in later life.
Zarcrest also has the distinction of being one of the most established UK breeders on this list since they started breeding Dachshunds in 1965. Their extensive knowledge ideally positions them to help new owners with their Dachshund puppy.
Contact Details:
Website: https://zarcrest.com/
Phone: 07415 344 704
Email: [email protected]
Location: West Midlands, United Kingdom
This highly recommended breeder may not be producing puppies at the moment, reach out to them and let us know if you have any luck!
6. The Gravelous Dachshund
The Gravelous Dachshund is another of the best Dachshund breeders in the UK. They're a licensed breeder with over ten years of experience breeding Dachshunds.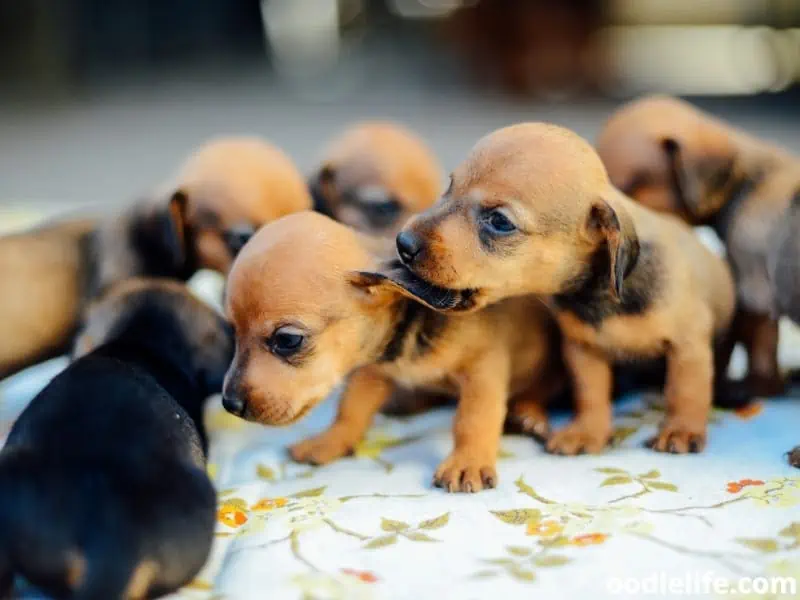 All their dogs are show-quality, and thoroughly health checked. Because the breeders also enjoy hiking and an active lifestyle, their parent Dachshunds are similarly active.
The Gravelous Dachshund specializes in smooth-haired Dachshunds. The puppies are brought up as part of the family, leading to healthy, happy, and well-socialized dogs.
More than that, they are trained by experts in canine behavior, using a particular and effective socialization technique. The result isn't just a happier Doxie; it's a demonstrably more tractable one.
Contact Details:
Website: https://thegravelous.co.uk/
Email: [email protected]
Location: Doncaster, United Kingdom
7. OrchDachz
OrchDachz is a council-licensed, kennel-assured Dachshund breeder that takes Doxie health seriously.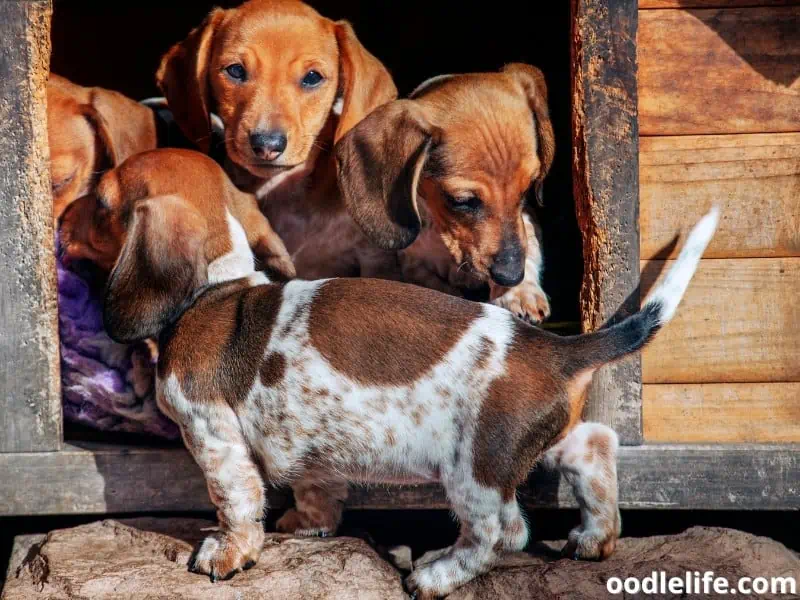 That's one of the many reasons they rank as one of the best Dachshund breeders in the UK. But their puppies are also extremely well socialized, making the transition to a new home as easy as possible.
Because of the rigorous health checks for PRA and IVDD, these smooth-haired Dachshunds continue to be successful in shoes, as many as five generations into their canine lineage.
OrchDachz is happy to discuss their dog pedigree with prospective owners and advise new Dachshund owners on what to expect. They recommend spending as much time as possible visiting the puppies before taking one home so that you become used to Dachshund antics.
Contact Details:
Website: https://orchdachz.co.uk/
Phone: 07733 524 460 or 01208 832 091
Email: [email protected]
Location: Cornwall, United Kingdom | Saint Austell, United Kingdom
8. Marvale Dachshunds
Last but not least is Marvale Dachshunds, a Merseyside breeder of Miniature and Standard Dachshunds.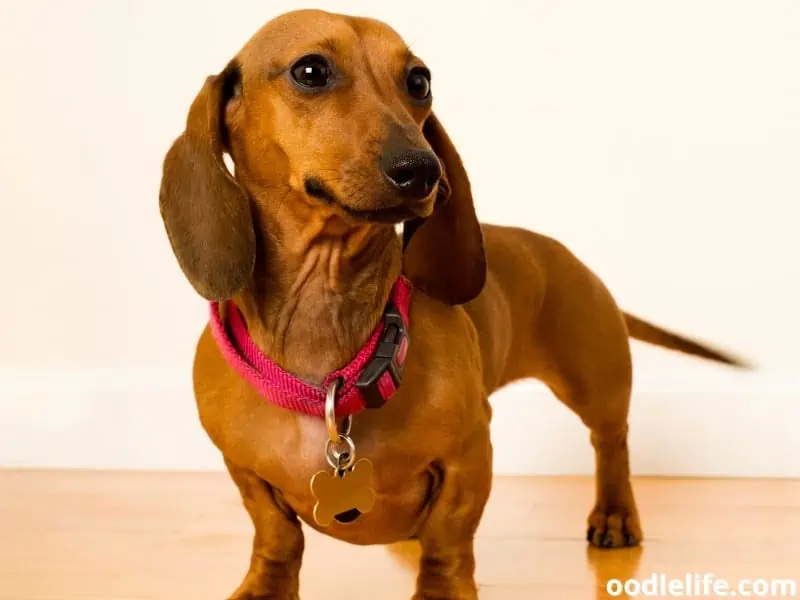 They pride themselves on their Dachshunds' health and go to great lengths to reduce complications like IVDD and luxating patella.
While not all their Dachshunds are show standard, they all make wonderful pets and exhibit beautiful temperaments.
Contact Details:
Website: https://www.marvale.co.uk/
Phone: 01517 212 772
Email: Unlisted but see this email submission form
Location: Merseyside, United Kingdom
Final Thoughts
Dachshunds make delightful companions. But finding a reputable breeder is important to ensuring your Dachshund's long-term health.
Hopefully, this list of the best Dachshund breeders in the UK gives you somewhere to start your search.
Remember, never be afraid to ask about the parentage of a prospective puppy. And do your research so you can ensure the puppies get all the health checks and testing they need.
But the most important thing to remember is that you take time to visit the puppies. Dachshunds are fun-loving, energetic dogs, and they'll run rings around an unsuspecting owner. A reputable breeder can help you acclimatize and provide the authority your Doxie needs to come to heel.