Best Dog Clippers for Thick Hair (2023)
Living with a thick-haired, double-coated dog can be tricky! Your dog is likely to shed. A LOT!
One thing's for sure; fur will get EVERYWHERE. You'll wake up with doggy hair in your mouth, you'll find fur in your food, and it seems that no corner of the house is spared from collecting the little tufts.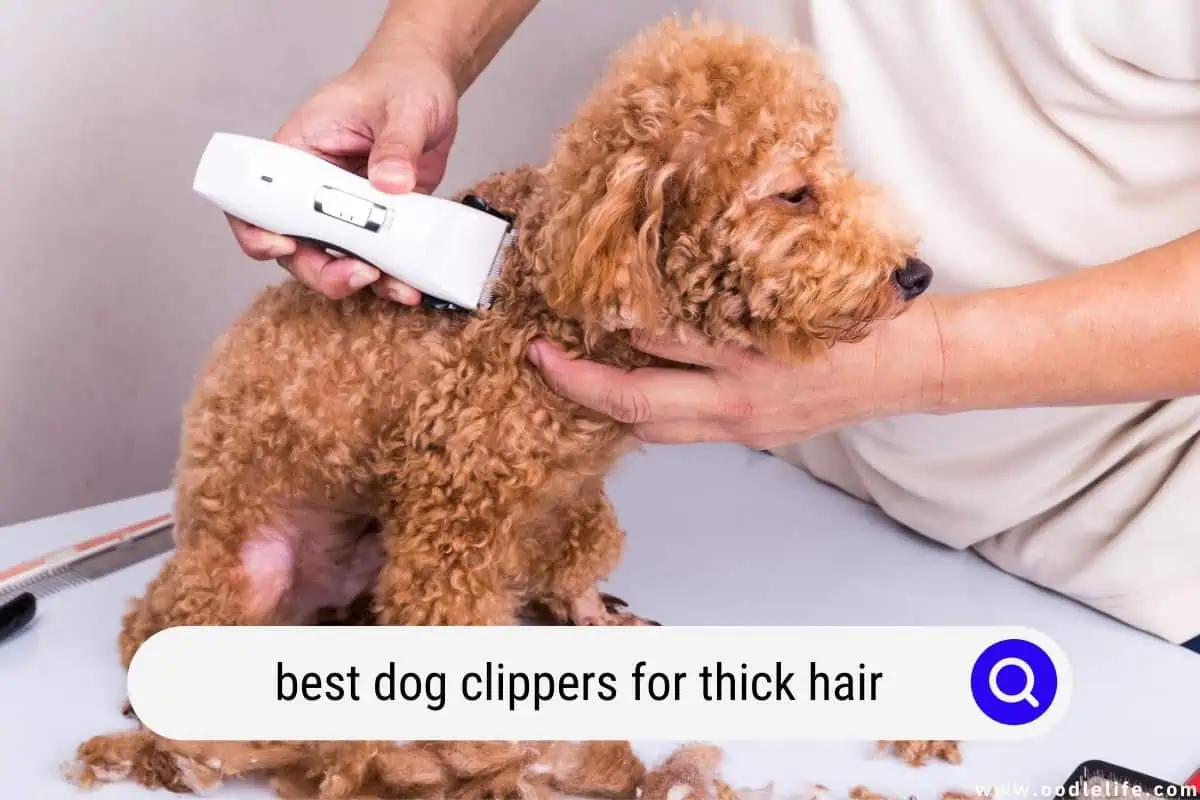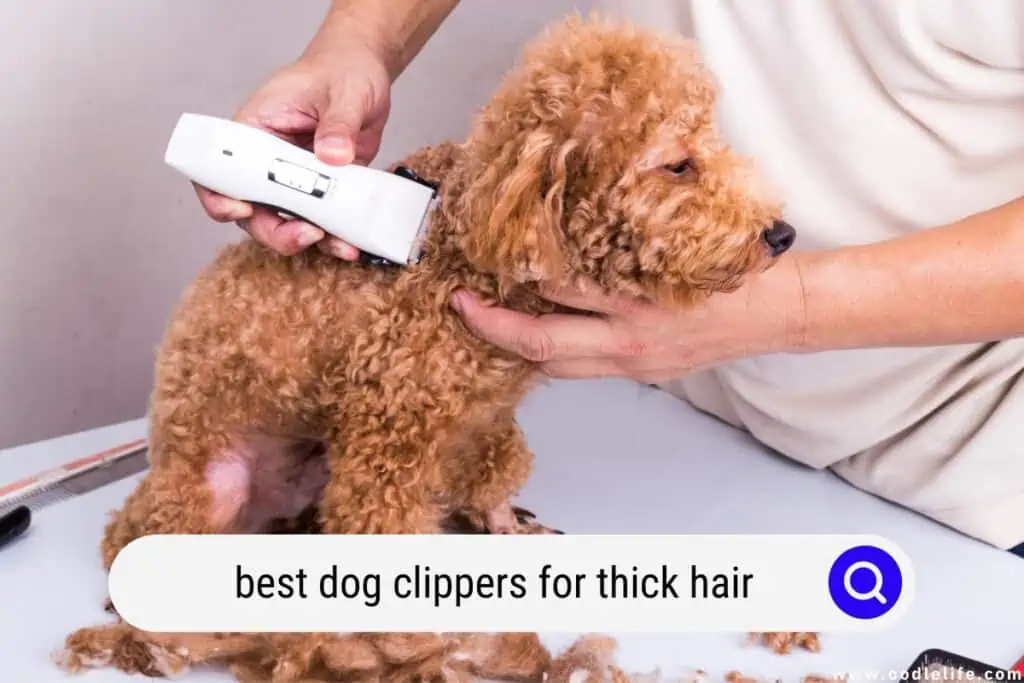 One of the most important things we can do for our furry friends is to groom them regularly. For dogs, this typically means regular baths and brushing, as well as the occasional haircut. 
Why Cut A Dog's Hair?
While cutting a dog's hair is a nice way of keeping your dog cooler and your home a little more fur-free, completely shaving your dog is strongly NOT recommended.
However, little trim every once in a while wouldn't hurt. First of all, it helps to keep the dog clean and free of tangles. Matted fur can harbor dirt and parasites, and it can be uncomfortable for the dog.
Secondly, grooming can help to prevent skin problems by promoting circulation and keeping the skin healthy. Finally, regular grooming is essential for bonding with your dog; it's a great opportunity to show your affection while also getting to know your pet better.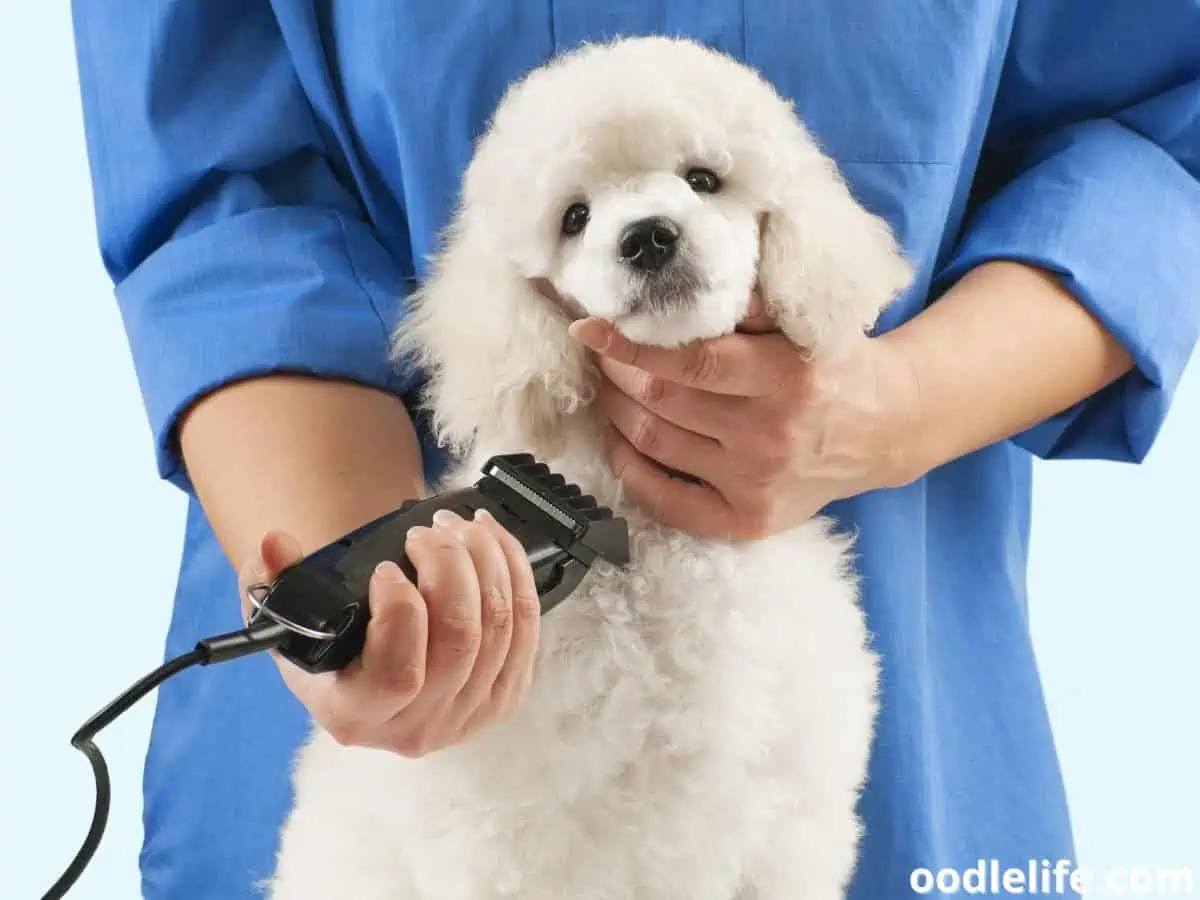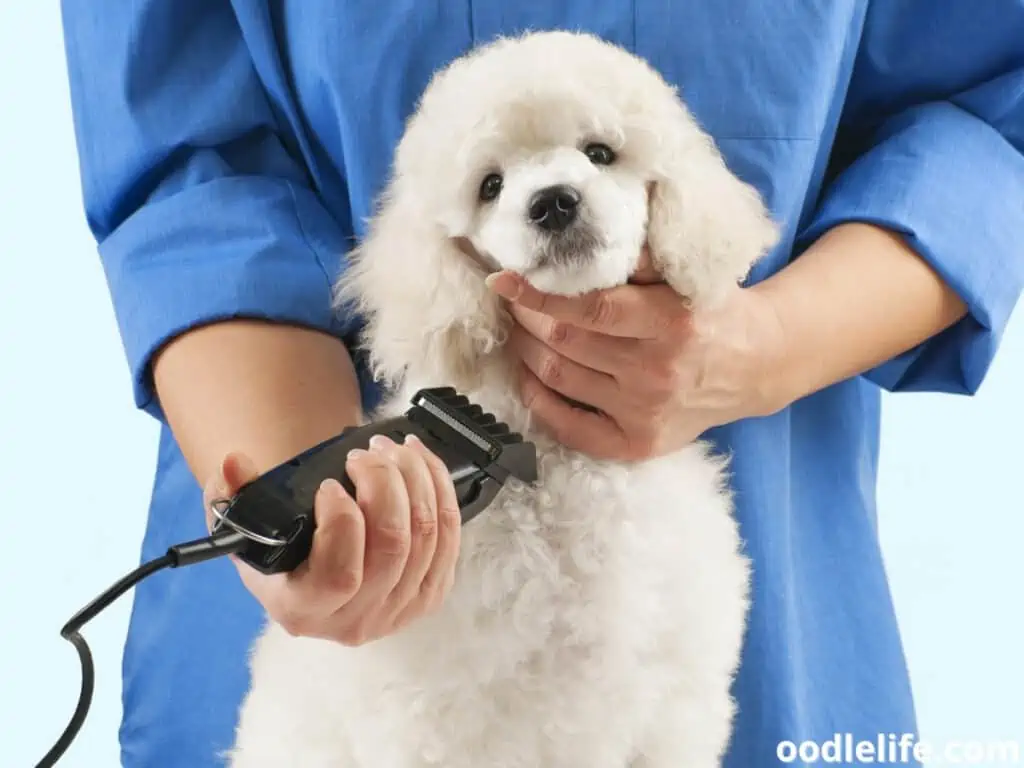 Best Clippers For Thick Hair
If you're looking for clippers for your big ball of fluff, you've come to the right place. Let us show you our favorites!
1. Oster A5 Golden Pet Clipper
Easy to use and efficiently smooth, this high-quality clipper is an excellent choice.
Oster Golden A5 Two-Speed Animal Grooming Clippers with Detachable CryogenX
Versatile pet grooming clippers with two-speed switch.Two Speed motor Hi - 2,700 SPM, Lo - 2,100 SPM
Great for precision and general-purpose grooming
Great for thick coats (like Goldendoodles and Doodle dogs)
Detachable Size 10 CryogenX blade included
Virtually unbreakable chew-proof housing
Compatible with all Oster A5 detachable blades
We earn a commission if you make a purchase, at no additional cost to you.
A versatile clipper that has a detachable blade for advanced quick, and easy cutting, this durable product comes with two speeds; single, and double.
The Oster A5 has a smooth motor that helps the clipper to give a high-speed performance. The single-speed model provides 2,100 spm (strokes per minute), while the double-speed mode delivers 2,700 spm.
Pros:
Blade guard and oil ensure safe grooming.
Supports varieties of blades that can be used on long, thick hair.
Durable workhorse suitable for larger dogs.
Cons:
Has been known to overheat.
2. Andis AGC2 2-Speed Detachable Blade Pet Clipper
This classy clipper comes with detachable blades and a removable drive cap. The versatile "Ultra Edge" blade suits all kinds of fur and coat types, while the motor provides two speeds; 2,700 and 3,400 strokes per minute.
Andis 22340 Professional Grooming 2-Speed Detachable Blade Clipper
ROTARY MOTOR: The trimmer's powerful two-speed rotary motor clipper with 120V voltage performs on par with that of pros. It can swiftly trim thick animal hair.
COMPATIBLE: For all livestock and breeds, the trimmer is ideal. Additionally, it has an animal-compatible enclosure with a sturdy frame and detachable drive cap.
LOW NOISE: The animal cutter makes relatively little noise while operating. Low noise won't frighten your pet, and you'll be able to quickly and easily trim its coat.
DETACHABLE BLADE: The trimmer comes with a detachable blade that can be removed & put back easily. The design makes it easier to clean & change the blade.
USAGE IS SIMPLE: ON = ON and OFF = OFF By turning the clipper on, a fresh blade will be applied. Turn the clipper off before removing the blade. The 14' heavy-duty cable makes it easier to move around equipment and animals.
We earn a commission if you make a purchase, at no additional cost to you.
The safety feature is an easy on-off locking switch, and the clipper works with many blades such as the Ultra Edge and the Ceramic Edge.
Pros:
Can be used for a wide variety of dog sizes.
Locking switch ensures your dog's safety.
14 ft long, durable cord provides maximum maneuverability.
Cons:
Can get hot after even short periods.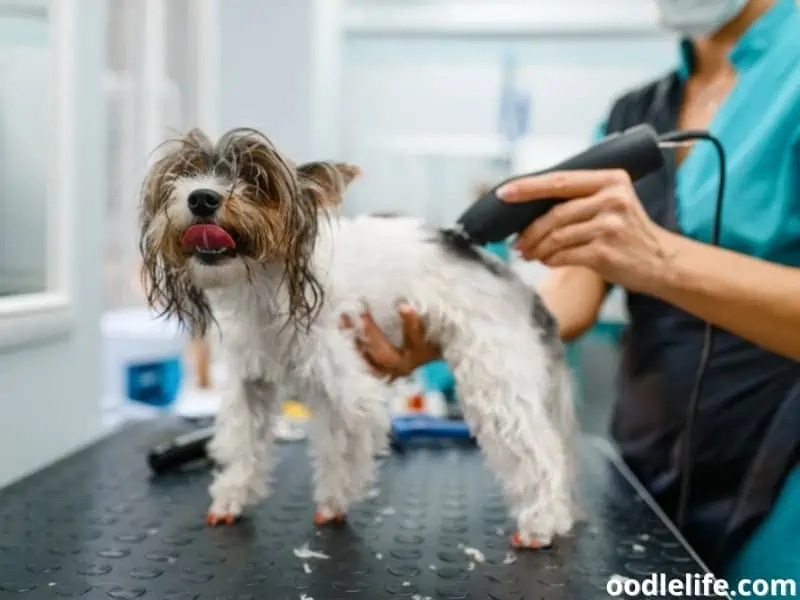 3. Wahl Professional Animal ARCO
German engineering at its best! The Wahl wireless clipper is built ergonomically for optimal grip and will make an excellent addition to your dog's grooming arsenal.
Professional Grade
Wahl Professional Animal Arco Cordless Clipper Kit
The original 5-in-1 clipper, the Wahl ARCO is the tried-and-true cordless option for precise trimming in hard-to-reach spots such as ears, faces, and paws to give groomers, animal professionals, and pet owners everything needed in a lightweight cordless clipper
The 5-in-1 fine blade adjusts between sizes #9, 10, 15, 30, and 40, offering a convenient variety of cutting lengths
With a rechargeable battery, this clipper has an 80-minute cordless run time and 75 minute charge time; it's easy to clean with a no-maintenance motor
Wahl's pet clipper can be used on small and medium-sized dogs such as Bichons, Shih Tzus, Terriers, and Spaniels, as well as cats; can also be used as a horse clipper and is great for trimming and touch-ups on the muzzle, face, ears, legs, fetlocks, and bridle paths
The slim, lightweight design fits comfortably in your hand while reducing wrist fatigue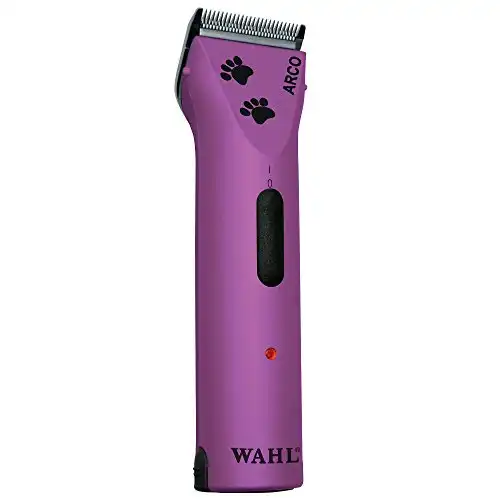 We earn a commission if you make a purchase, at no additional cost to you.
Durable, lightweight, and convenient, the clipper smoothly glides over the fur without hassle. Easily cleaned and maintained, the product has a 5-in-1 blade system that can be adjusted to various sizes, offering a wide variety of cutting lengths.
The whole package includes:
Clipper
Blade set
Two rechargeable battery packs
Storage case
Charging tools
Guide combs
Cleaning brush
Blade oil
Instruction booklet
Pros:
Variety of colors.
Lightweight, weighing only 0.5 pounds.
Comes with a charger and standing case.
80 mins run time.
Cons:
Low charge retaining capacity.
4. Oneisall Dog Shaver Clippers Low Noise Rechargeable Cordless
Made of stainless steel and ceramic, the Oneisall dog clipper comes with detachable blades which make cleaning a breeze.
Remarkable Value
oneisall Dog Shaver Clippers Low Noise Rechargeable Cordless
Built-in Batttery. Rechargeable dog trimmer with built-in battery is good for exceptional flexibility. It can also be used when charging so you don't have to worry that it will stop working and have half groomed dog.
Safe and Sharp Blade. Upgrade stainless steel fixed blade and ceramic moving blade can provide excellent cutting performance. The blade sharp enough for a long time using. Detachable blades, easy to change and clean.
Low vibration and ultra quiet design.The noise when working is only about 50 db, to help the pet feel at ease, not afraid cut hair any more.
Please Note: if your pets get long and thick hair, you need to use scissors cut shorter at first, otherwise the clippers may jam up and don't work properly.
With that said - I have used this many times on Max the Labradoodle without having to trim first. A workhorse at remarkable value!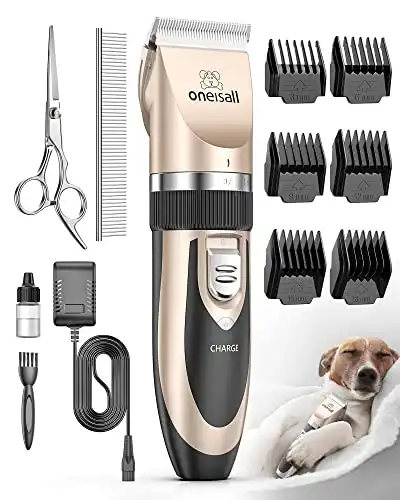 We earn a commission if you make a purchase, at no additional cost to you.
The package comes with a pair of stainless steel scissors, comb, oil bottle, and 6 guide guards ranging from 3mm to 18mm. It is recommended to trim long fur down before using the clipper to prevent the clippers from jamming.
Pros:
Flexible and smooth working.
Wireless and rechargeable.
Cons: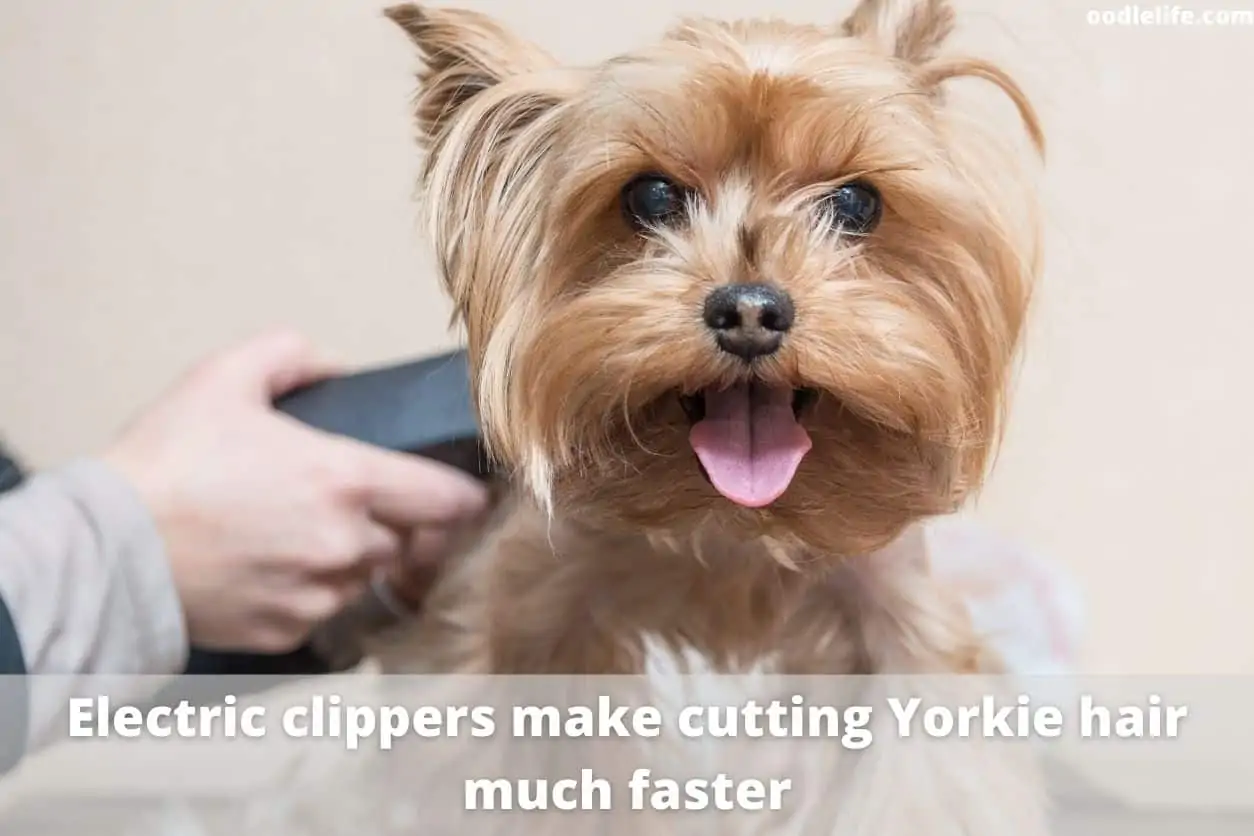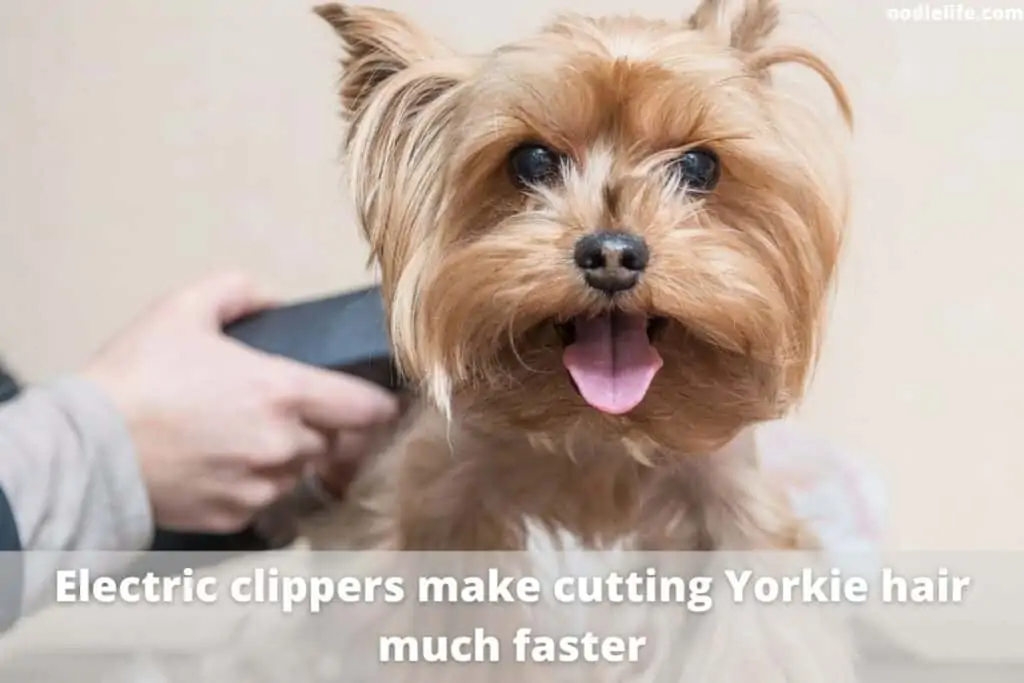 5. Wahl KM10 Brushless 2-Speed Professional Dog & Cat Clipper
This clipper is suitable for use for furballs of any size, from big dogs to cats! With an extended motor that runs up to 10,000 hours that delivers only a subtle vibration, this professional 2-speed clipper can deliver more power when encountering mats.
Wahl Professional Animal KM10 2-Speed Brushless Motor
The KM10 Pet Clipper Kit is ideal for body clipping and trimming all animal coats including dogs, cats, horses, and livestock.
This clipper offers enhanced performance with an extended motor life and quiet operation.
Operating at two powerful speeds of 3, 000 and 3, 700 strokes per minute, the Constant Speed Control feature automatically delivers more power and torque in challenging areas.
Measures 7. 5 by 2 by 1. 75 inches (H x W x D); weighs a lightweight 12. 3 ounces to help reduce wrist fatigue.
Designed with a rounded front housing to prevent hair clogging.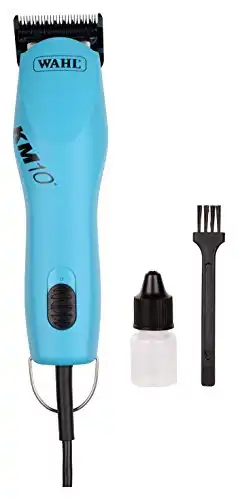 We earn a commission if you make a purchase, at no additional cost to you.
Ergonomically designed to reduce strain on the wrist, this clipper is an excellent choice for households that have pets of multiple sizes.
Pros:
Works on all fur types.
Quiet.
Versatile and flexible.
Cons: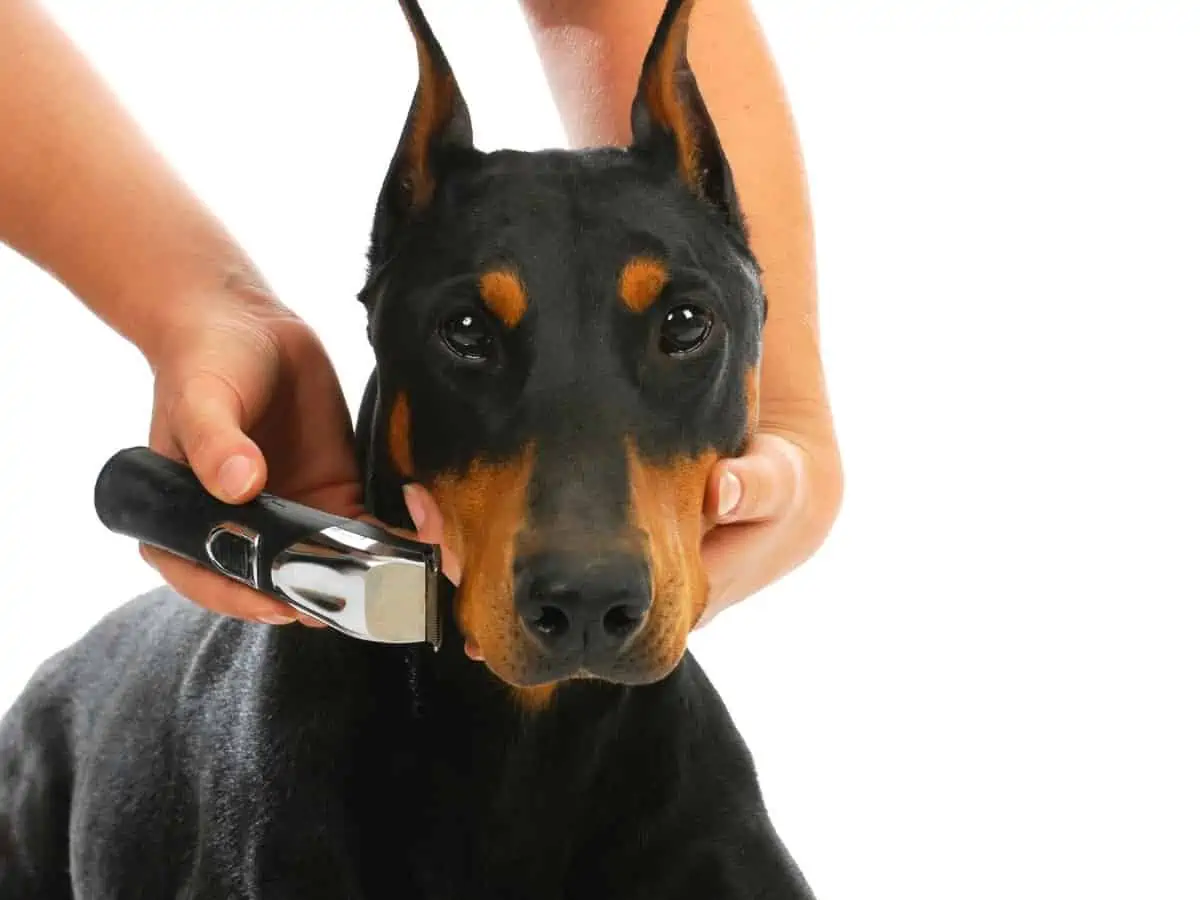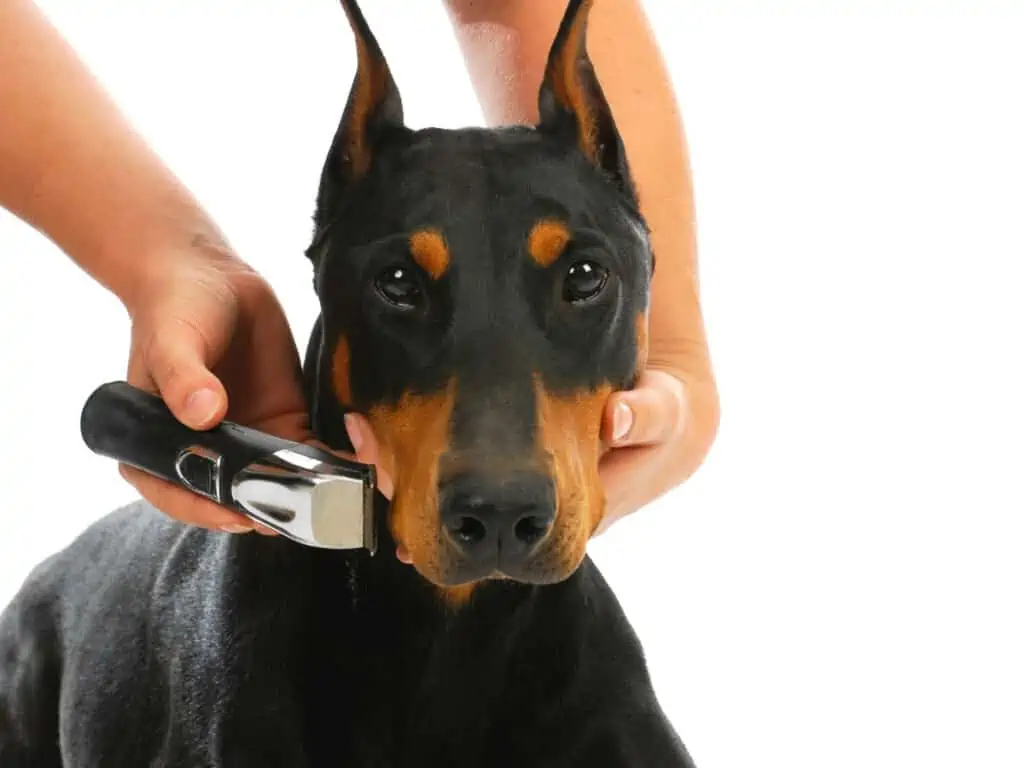 6. Wahl KM5 Rotary 2-Speed Professional Dog & Cat Clipper Kit
Another Wahl product, this clipper is known to produce salon-quality haircuts for dogs, cats, horses, and any other animal with fur it seems!
Wahl Professional Animal KM5 2-Speed Pet Clipper Kit
Wahl Professional Animal's KM5 Pet Clipper is a two-speed professional clipper that's ideal for students and grooming beginners for body clipping and trimming dogs, cats, horses, and livestock.
Wahl's Constant Speed Control feature automatically delivers more power and torque when needed.
Designed for extended durability, balance and control, low vibration, and comfort to reduce wrist fatigue, the KM5 is ideal for all over grooming and complete shave downs.
Includes Wahl's #10 Ultimate Competition Series Blade Set for optimal clipping performance and faster, smoother clipping.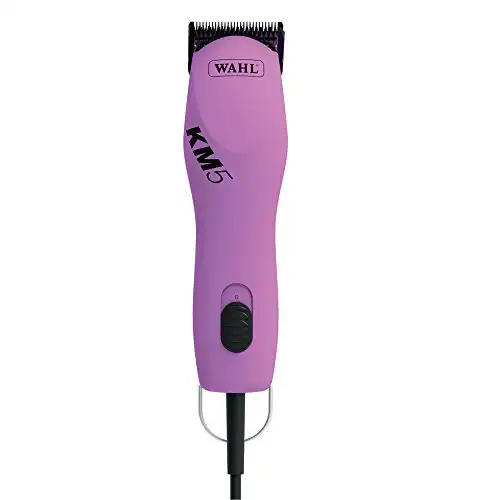 We earn a commission if you make a purchase, at no additional cost to you.
Featuring a two-speed motor that goes at 3,000 and 3,500 strokes per minute, the constant speed control makes it safe even if your pooch has matted or thick fur.
With a chord of 14 feet, you'll get loads of movement space and the weight of a mere 13 ounces belie its exceptional durability and performance.
Pros:
Minimum vibration.
Works in all fur types.
Lightweight.
Powerful.
Cons:
7. PATPET P730 Removable Blade Dog & Cat Hair Grooming Clipper, Rose Gold
The PATPET ergonomically designed clipper features LED lights to improve visibility, top-quality blades, and a ceramic cutter head with four-level adjustment options.
The package includes the blade oil, charger, and adapter. The motor allows for three different speeds; 5,500, 6,000, and 7,000 RPM. An alarm warns when the blade oil or battery runs low, and the battery runs about 5 hours on a 3-hour charge.
The ergonomic grip is gentle on your wrist even for long grooming sessions and if you are cutting the fur of a thick, double-coated dog, you might want to trim the hair down slightly before using the longest attachment guard to take just a little length off.
Pros:
Three lengths of 3mm, 6mm, 9mm, and 12mm.
It can be used on dog sizes.
Cons:
Battery can drain if not in use for long periods.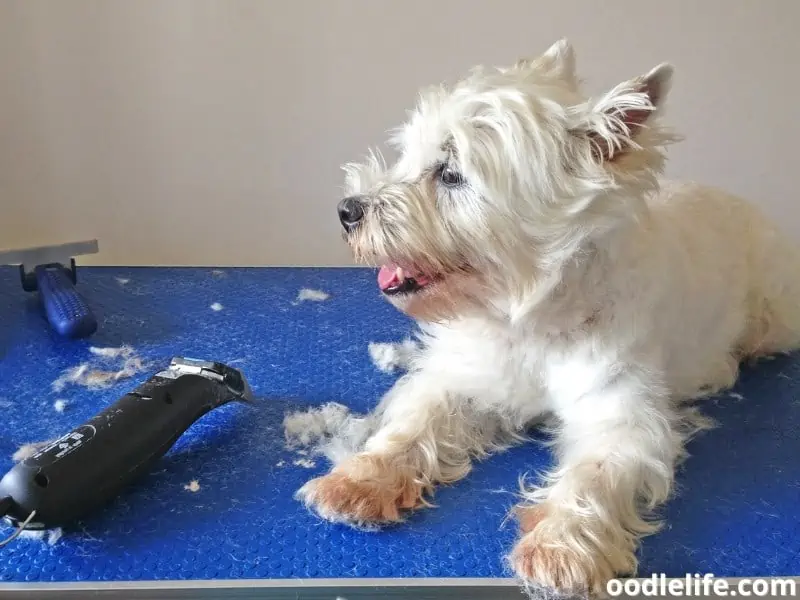 8. Oster Pocket Cordless Dog & Cat Trimmer, Silver
This compact cordless trimmer gives a convenient, clean trim to your dog. It has a tug-free blade system that gives a pain or snag-free cutting experience.
Travel Option
Oster Cordless Pocket Trimmer
Perfect for trimming around your dog's face, ears, paws and sensitive areas
Compact cordless design weighs less than 0.5 lbs. and fits in the palm of your hand
Fast 5,800 rpm Rotary Motor is 2x faster than leading competitive units
Runs for up to 3 hours on 1 AA battery (sold separately)
Comes complete with Safety Guide Comb Attachment, Blade Cleaning Brush and Cleaning Oil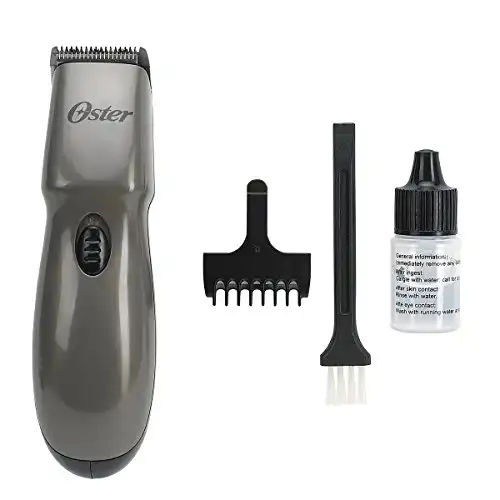 We earn a commission if you make a purchase, at no additional cost to you.
This half-pound, compact clipper can trim ears, paws, face, and other areas of the dog with pinpoint accuracy. The product is handy and comes with an AA battery that runs up to three hours, and the 5,800 RPM motor is significantly faster than other similar trimmers.
The pack comes with a cleaning comb, oil, and a brush, and the product is made of stainless steel for maximum durability.
This trimmer is best used for elegant, fine work to trim around the delicate areas, and not so much for full-body trimming. The package comes with a blade brush, oil, and a comb attachment.
Pros:
Has a 5,800 RPM rotary motor.
Easy to hold and precise control.
Weighs only one-half pound.
Cons:
Not the longest battery life.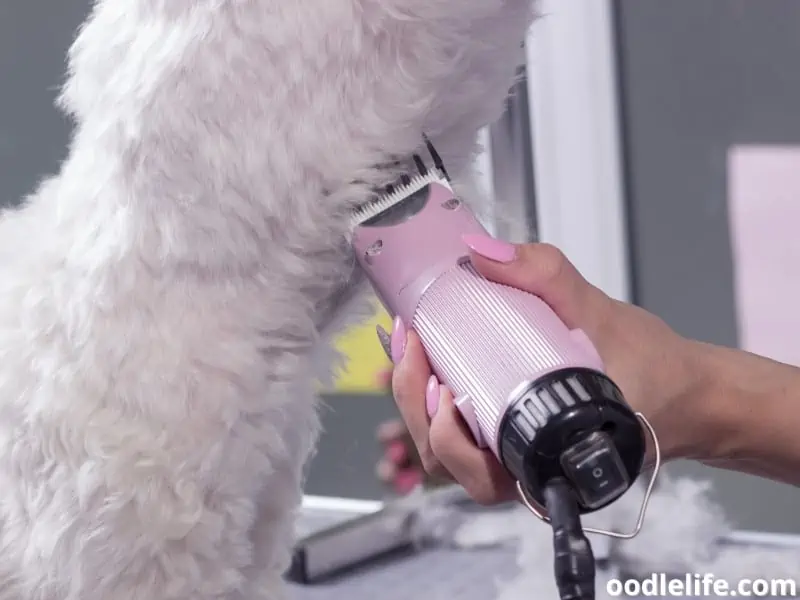 Should You Shave Your Dog With Thick Hair?
As the temperatures climb, you might look at your beloved pooch panting in the heat and feel sorry for him. You might then think about shaving his hair off completely to help him stay cool. Well, DON'T!
There are several reasons why you shouldn't shave your dog.
Firstly, thick-haired dogs often have double coats. Their coarse, wiry topcoat repels dirt and grime while their soft, downy undercoat insulates them in cooler weather.
When the days heat up, dogs will shed their undercoats, which is why you'll see tufts of little furballs bouncing all over your house in the summer. The topcoat then is responsible for catching the breeze and directing it back onto your dog's skin, where it will cool your dog.
Without the topcoat to catch that breeze, your dog could be most easily overheated and as a result, be more susceptible to heat-related illnesses like heat stroke and heat exhaustion.
In addition, exposing your dog's skin leaves them open to bug bites, sunburn, and all kinds of cuts and abrasions that he was previously protected from by the dense, tough topcoat.
Lastly, the topcoat and undercoat don't grow at the same rate. The undercoat is shorter and typically grows much faster than the topcoat, which will cause all kinds of mats and tangles when both coats are growing out at the same time.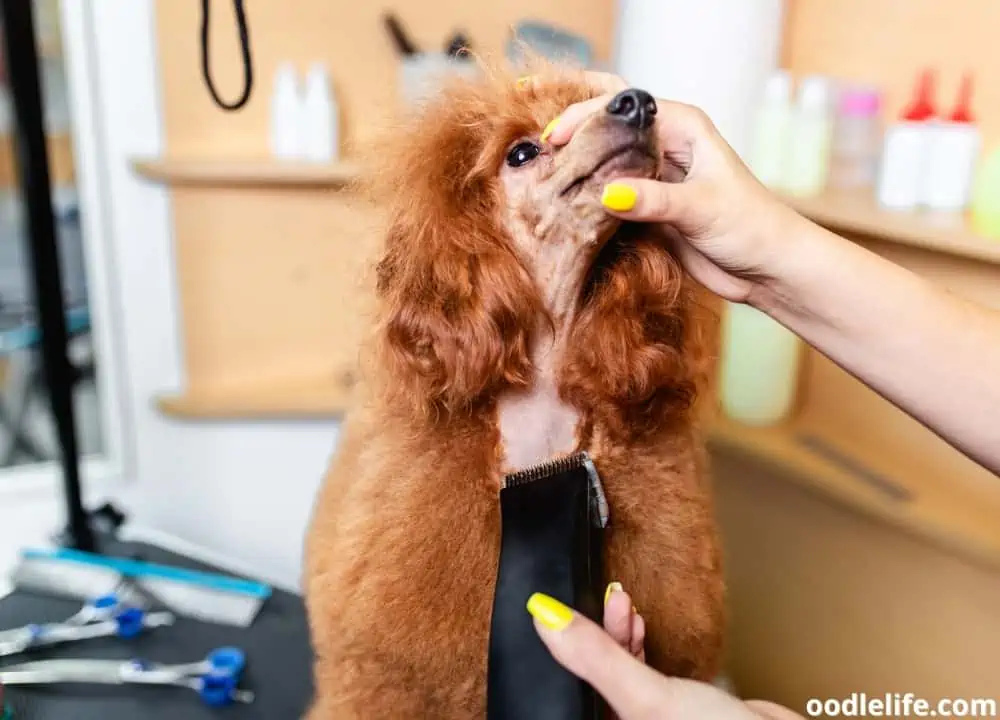 How Else To Reduce Shedding?
For many dog owners, the daily struggle with pet hair is all too real. In addition to the mess it makes, pet hair can also be a trigger for allergies and asthma.
Fortunately, there are a few simple things you can do to reduce shedding and help keep your home clean.
Instead of shaving your thick-haired dog's coat completely off, you can trim it down a notch, especially if the hair around the legs and tail are excessively long.
Regular brushing can also help to remove loose hair before it has a chance to fall on the ground. And finally, be sure to feed your dog a healthy diet. A well-nourished dog is less likely to shed excessively than one who is not getting the nutrients they need.
By following these simple tips, you can help to reduce shedding and keep your home clean and comfortable.