The 7 Best Silent No Squeak Dog Toys In 2023
Squeaky toys are an excellent diversion for dogs of all ages. They're ideal for teething puppies and successfully entertaining your adult dogs while you work. The only catch is that there's only so often you can hear the squeak of your dog's favorite toy before your sanity wavers dangerously.
There are other good reasons for seeking out no-squeak dog toys, too. Maybe you don't want to wake an infant or need to work from home without subjecting colleagues to the sound of the squeaky sheep your dog loves. Whatever the reason, there are a variety of silent squeaky dog toys.
Here are seven of the best to save your sanity and preserve peace and quiet.
7 Best Silent Dog Toys
Silent dog toys provide the same level of entertainment as normal squeaky toys but squeak at a decibel that humans can't hear. Given the pitch of the average squeaky toy and the gusto a dog can put into gutting one, they're a godsend to owners everywhere.
But not all silent dog toys are created equally. Here are our favorites.
Hear Doggy Flattie Ultrasonic Dog Toy
There are lots to recommend Hear Doggy's range of ultrasonic squeaky toys. For one thing, as their name suggests, they're flat. That means that if your dog is an aggressive chewer and successfully shreds the toy in minutes, you'll be spared the explosion of fluffy guts.
Hear Doggy Flattie Brown Beaver Ultrasonic Silent Squeaker Dog Toy, 58519
HEAR DOGGY! Flattie Beaver is a soft plush dog toy with a brown body, and without the messy stuffing inside.
FEATURES an ultrasonic, silent squeaker that dogs can hear, but humans cannot, providing squeaker fun without the squeak - as it's out of human hearing range!
MADE with Chew Guard Technology and a tough, durable liner to withstand rough play.
REINFORCED seams to ensure our plush toys are long-lasting.
PERFECT for the office and won't disturb your friends at work!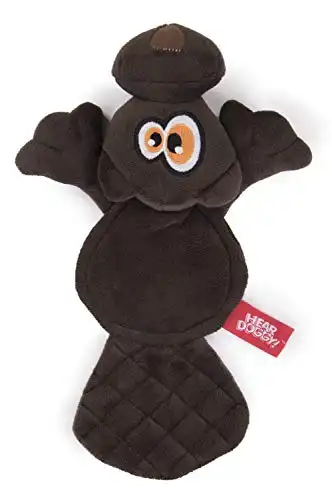 We earn a commission if you make a purchase, at no additional cost to you.
But another appealing feature is that they can be used by more aggressive chewers. Some pooches have a high prey drive that prompts them to eviscerate the still-squeaking heart of any toy that makes a noise, whether humans can hear the sound or not. Take it from me, it can be challenging to find something that holds up to cuddly toy carnage.
But Hear Doggy holds up, if not for months, then for several days. That doesn't sound like much, but it is when you find yourself buying new toys every week or two.
The chew guard technology Hear Doggy integrates into their toys protects the seams and makes it difficult for your dog to access the squeaker too quickly. It also helps keep your pup safe. Fun as squeaky toys can be, they pose a choking hazard if your dog tries to swallow the squeaker.
Crucially, this silent dog toy lives up to its name. It may make noise, but only at a decibel your dog can hear.
Not only that, Hear Doggy's ultrasonic toys are affordable. So, if your pup does manage to eviscerate it faster than advertised, you can replace it without denting your bank account.
Chuckit Indoor Dog Toy
The Chuckit balls are another excellent no-squeak dog toy that promises to keep your dog entertained.
ChuckIt! Indoor Ball Dog Fetch Toy For Medium To Large Dogs, Orange/Blue One Size Only
INDOOR SAFE DOG TOY: At 4.7 inches in diameter, this durable dog ball plush dog toy is slightly larger than a softball, featuring a lightweight design that protects surfaces in the home
DURABLE DESIGN: For long-lasting use as an indoor fetch toy, the indoor dog toy features a durable multilayer construction, making them durable dog toys for light to medium chewers
PET TOYS: Get ready for bonding fun with your dogs cats Check out a variety of our pet toy products such as frisbees, perches mirrors for birds, prey wand toys for cats, plush toys, light-up...
CHUCKIT FETCH TOYS: Chuckit creates toys that enrich the human-animal bond bright colors help dogs puppies stay engaged Checkout Chuckit for ball launchers, bouncy balls, frisbees, indoor dog toys,...
JUST FOR PETS: Petmate makes a variety of pet products for dogs, cats, chickens other small furry friends Check out our brands such as Aspen Pet, Arm Hammer, Booda, Chuckit, Jackson Galaxy more
We earn a commission if you make a purchase, at no additional cost to you.
Sometimes, it can seem like even the most well-behaved pup will eat their way through hundreds of squeaky toys over the years and decimate reams of tennis balls. I've certainly felt that way, but not with the Chuckit ball.
Like Hear Doggy's cuddly toys, Chuckit is affordable. It's also as sturdy as the brand guarantees on the box.
Chuckit is a variation on the standard tennis ball. It has a soft chenille exterior that makes it easy for dogs to pick up. Moreover, it's also gentler on your floors than the standard Chuckit ball.
It is well-suited to small dogs and teething puppies because the fabric is soothing against their gums and mitigates teething pain.
The eye-catching blue and orange color scheme will appeal to dogs as they have limited color perception.
However, keep in mind that aggressive chewers may eat through the chenille exterior quickly. If that sounds like your pup, they may be better suited to the standard Chuckit ball, which is still effective indoors.
The other thing you need to consider before buying the Chuckit dog toy is size. It comes in several sizes, designed to accommodate small and large dogs. Ensuring you get a ball appropriately sized for your dog makes playtime more enjoyable and reduces the risk of choking.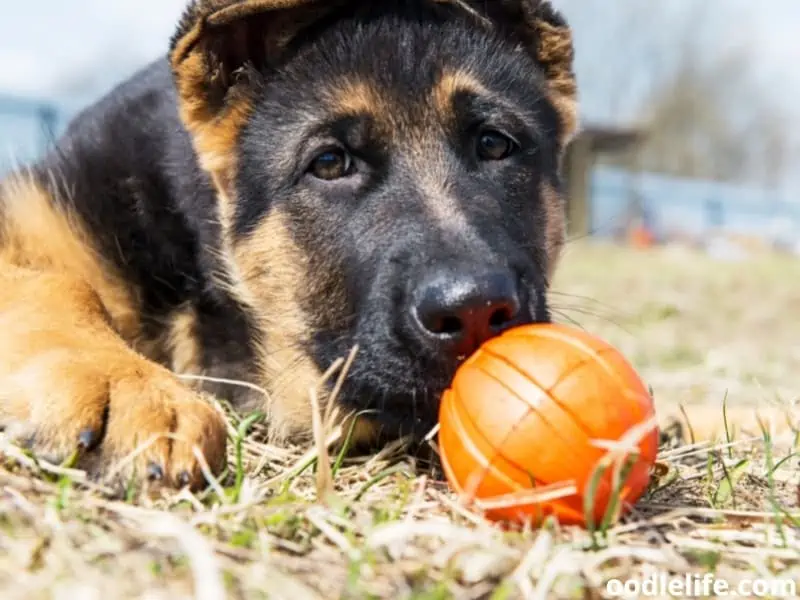 Fluff 'N Tuff Red Squirrel
Fluff 'N Tuff is another favorite of mine when it comes to no-squeak dog toys. While some of the company's dog toys do have squeakers, this isn't one of them.
Fluff & Tuff SQUEAKERLESS Red Squirrel
SQUEAKERLESS Red Squirrel is a large toy measuring 12" in length
Fluff & Tuff's unique, ultra-plush outer fabric and thick, durable Tuffweb mesh liner
All seams are concealed, generously folded and double stitched
New, non-toxic polyfill placed for optimal shaping and playability
For safety, the eyes are embroidered. Please always supervise your dog's playtime. While our toys are made out of high-quality materials to be more durable, they still are a plush toy and therefore...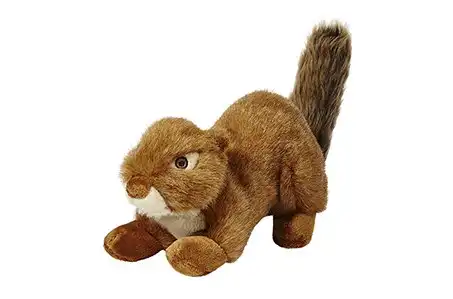 We earn a commission if you make a purchase, at no additional cost to you.
Instead, this realistic-looking red squirrel is nothing but stuffing, seams, and a cuddly exterior.
In addition to being completely silent, you can expect this toy to be impressively durable. It doesn't matter how aggressive the chewer, Fluff 'N Tuff creates toys that stand up to months of hard playing.
They reinforce and conceal the seams, making them harder to shred. Additionally, there's a mesh web interior to protect the stuffing.
Another feature we appreciate about Fluff 'N Tuff's toy design is the embroidered eyes. Many toys glue on eyes that a playful pooch can pull off and swallow. It's a little thing, but it can lead to internal blockages.
The embroidered eyes, like much of Fluff 'N Tuff's carefully considered design, ensure hours of safe, silent play.
FGA Marketplace No Squeak Dog Toy
FGA Marketplace's no-squeak toys range from frogs to ducks, but one thing they have in common is that their squeakers are ultrasonic. So, while your dog can hear the noise, you don't have to.
FGA MARKETPLACE Flat NO Stuffing NO Squeak Plush Dog Toy, Funny Style Will Entertain Your Dog for Hours, Recommended for Small and Medium Dog 21 INCH Long (Duck)
Keep Your Sanity - Say goodbye to annoying and noisy squeaky dog toys that drive you crazy. With its no-squeak design, this dog toy will stay quiet as your little pooch plays or chews on it.
More Fun, Less Clean Up - Designed with no stuffing that can leak, your dog won't create a mess when they bite or toss our funny dog toys. You can just sit back, relax, and watch your pup have fun.
Soothe Your Pooch - Give your best bud this no stuffing dog toy to chew on to help with teething, calming them down, or simply for having fun. The toy's soft, durable fabric won't harm your dog's...
Lasts For Years - Made of a thick fabric material with minimal seams, this dog chew toy is built for your playful doggy. The faux fur will stay bright, helping alleviate your dog's boredom.
Easy Cleaning - Keep your dog's fuzzy buddy neat and tidy! Our indoor and outdoor dog toys are machine washable. Just wash them with cold water and hang them to dry to preserve their fluffy texture.
We earn a commission if you make a purchase, at no additional cost to you.
One core benefit of these silent dog toys is that they are made from material that helps reduce plaque and tartar on your dog's teeth. This is ideal for breeds prone to dental disease.
As a bonus, FGA Marketplace's toys lack stuffing. This is something I've found appealing given that an eviscerated toy tends to build up what I call a "fluff collection." Plus, having a toy like this means not having to clean stuffing off the floor.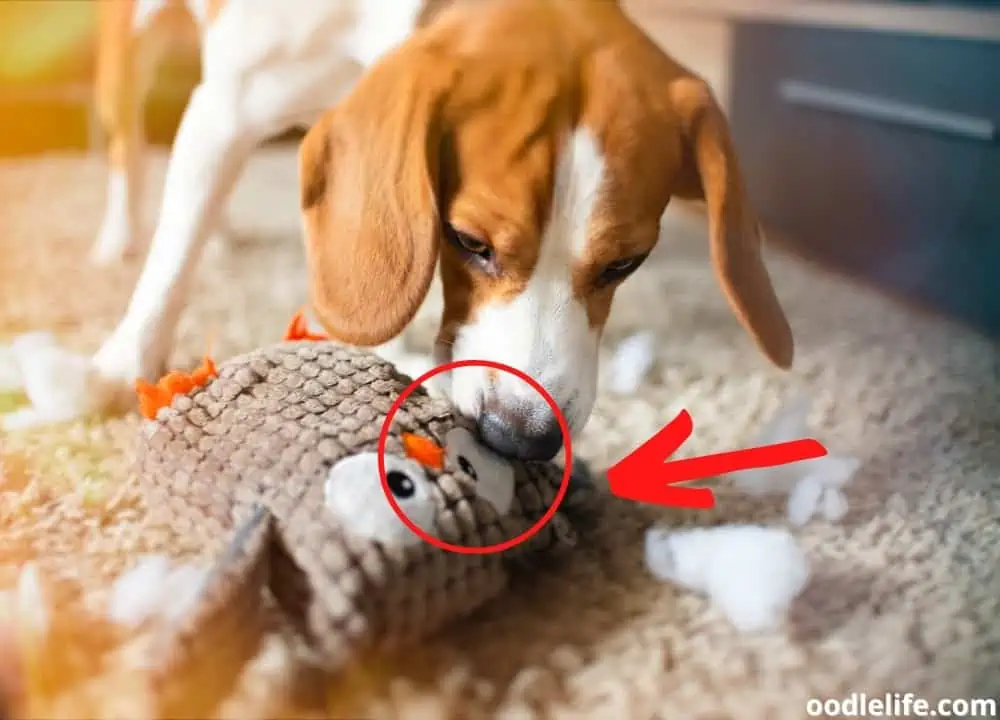 SPOT Ethical Pets Dog Toy
The SPOT Ethical dog toy isn't necessarily a no squeak dog toy. It does squeak, but it also features an off-switch that enables you to mute it when you need a reprieve from the noise.

We earn a commission if you make a purchase, at no additional cost to you.
Ethical Pets do several dog toys, but this one is a ball made of highly durable and dog-safe material. It's an excellent option for interactive and independent play.
The toy is available in several colors and shapes. Its options range from owl-shaped to a more traditional ball design. No matter which you choose, the sizes are designed to suit all dog types.
However, some buyers found the off-switch difficult to manipulate and found it easier to leave the toy switched on.
TrustyPup No-Squeak Dog Toy
TrustyPup is another brand that does first-rate silent dog toys. They come in a range of sizes and animal types, allowing you to find one that suits your dog's tastes.
TrustyPup Penquin Plush Dog Toy with Silent Squeaker, Black and White, Medium, Model Number: 71136-99997-012
SOFT & DURABLE: Penguin is a fun and super cute ultrasonic squeaky toy made with irresistibly soft plush fabric that dogs love to cuddle with; featuring reinforced seams and chew-resistant lining for...
SILENT SQUEAKER: Designed with a patented squeaker tuned to an ultrasonic frequency out of human hearing range, but still perfectly audible to dogs; provides the same fun and excitement to your pup as...
PERFECT FOR CUDDLING: This dog toy is the perfect cuddle buddy; it's a great choice for pets that love to curl up and snuggle with soft, plush toys
PRODUCT DETAILS: Strong 'N Silent Penguin, Black/White; Medium, 6" x 5" x 3"
DESIGNED TO LAST LONGER: Our soft plush dog toys are made with Chew Guard Technology, which adds a tough, heavy-duty, chew-resistant lining to our soft plush toys, making them a little more durable...
We earn a commission if you make a purchase, at no additional cost to you.
The ultrasonic squeaker is only discernable to dogs, ensuring that your house remains quiet while your dog plays. Additionally, TrustyPup toys are designed for rough play and are made of durable material.
Additionally, TrustyPup uses chew-guard technology to increase durability. That protects the squeaker and the stuffing.
Nothing lasts forever, of course, but TrustyPup goes out of its way to ensure your dog gets as much play out of their silent squeaky toys as possible.
The plush material is also ideal for less aggressive chewers. And we further appreciate the embroidered eyes for safer play.
Another feature I like is that if and when your puppy does shred its new toy, there's a rope toy in the middle. So, a dog can still get hours of silent entertainment out of the purchase long after you put the penguin part of the toy to rest.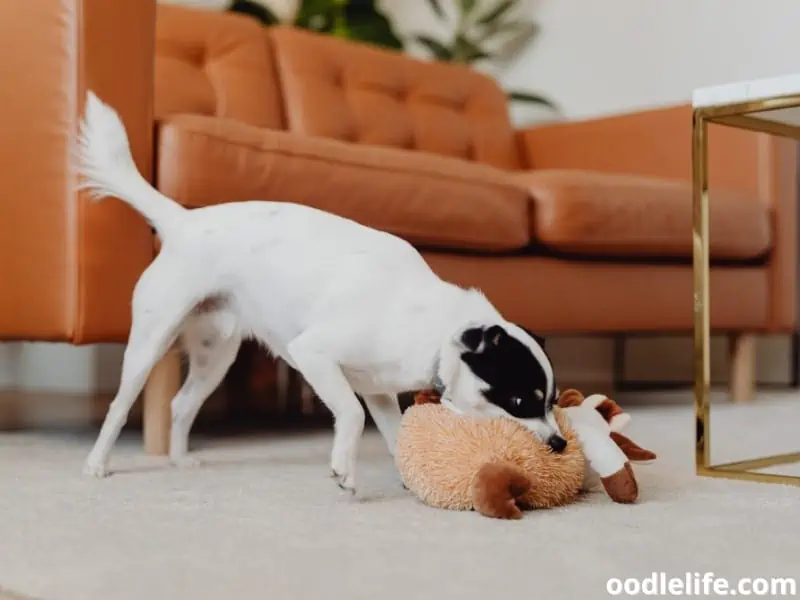 Snuggle Puppy Tender Tuffs Dog Toy
For an excellent compromise between dog and human, consider the Snuggle Puppy Tender Tuffs dog toy.
We earn a commission if you make a purchase, at no additional cost to you.
Instead of a squeaker, this toy uses a crinkly surface material to engage your pet. It makes a bit of sound but does not have the intrusive sound of a squeaker. Not only is it easier for you to ignore, but the computer audio is less likely to pick it up during Zoom meetings.
If the crinkling noise becomes too much, you can remove the interior bottle and be left with a mostly silent cuddly toy that will still keep your dog entertained.
Additionally, it uses Tear-Blok technology to ensure the toy's longevity. That said, it's better suited to small and medium-sized dogs.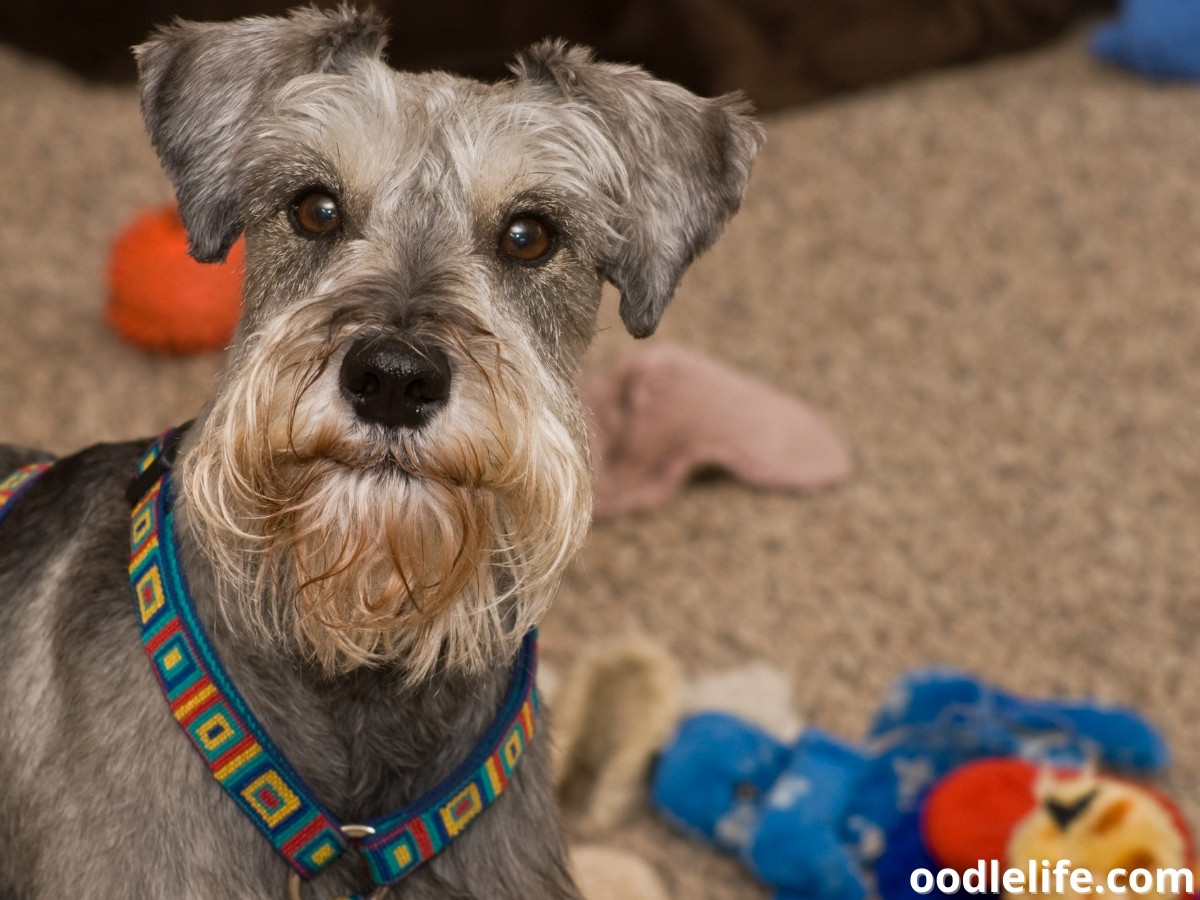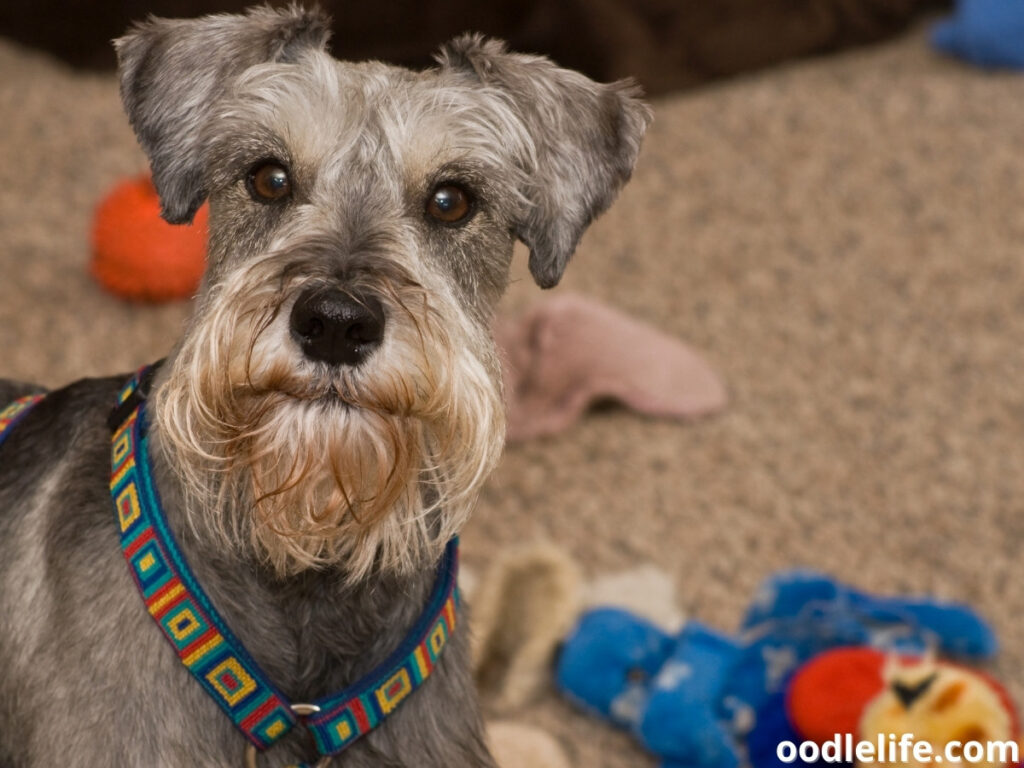 Final Thoughts
Providing environmental enrichment is important if you want a happy, healthy dog. It's also essential if you want to keep your furniture unchewed and the carpets ungnawed.
But that doesn't have to come at the cost of your sanity. Squeaker toys rapidly get on anyone's nerves. Luckily, there's a variety of no-squeak dog toys to keep your pooch entertained and give you the quietude you need to ensure a happy household.