4 Best Golden Retriever Breeders in Connecticut CT (2023)
All doe-eyed and floppy-eared with a winning personality, Golden Retrievers are the third most popular breed in the US. However, just like any dog, they are prone to several genetic health issues like heart disease, hip dysplasia, and hypothyroidism.
That's why it is crucial to seek the knowledge of a breeder well-versed in these problems and test regularly for them in order not to pass them on to future generations.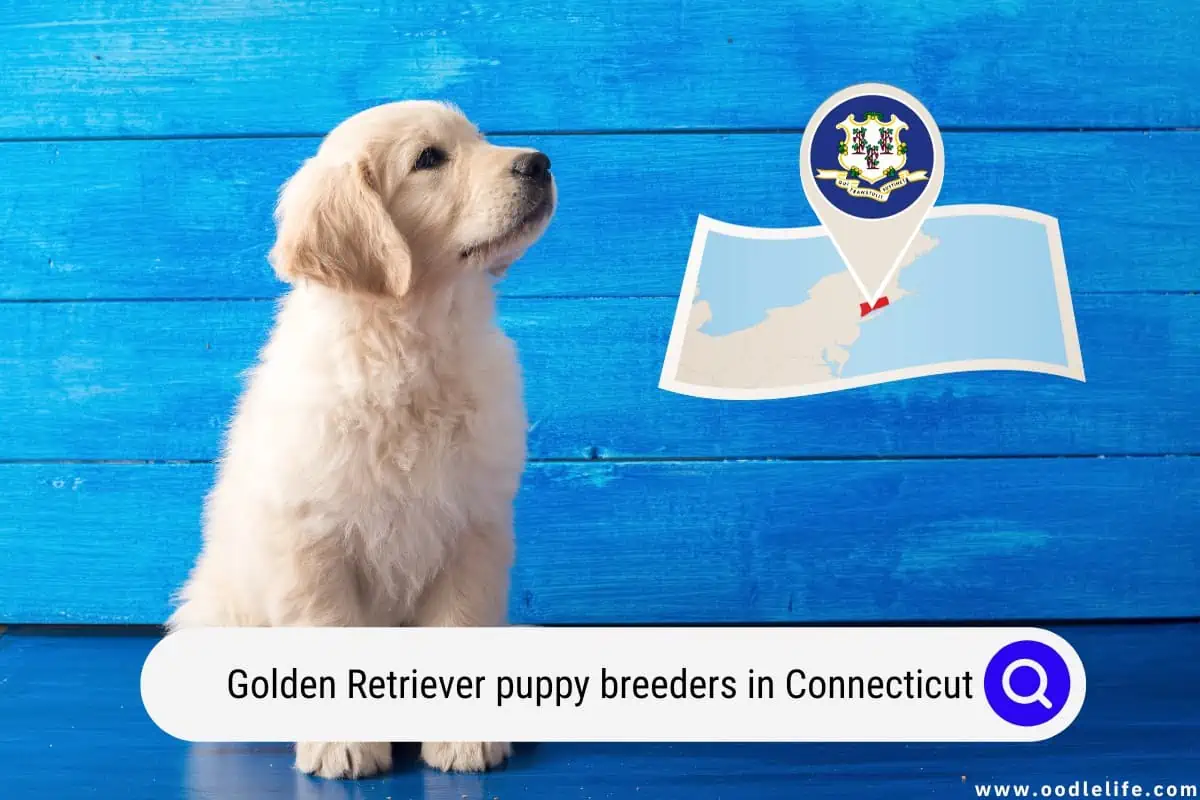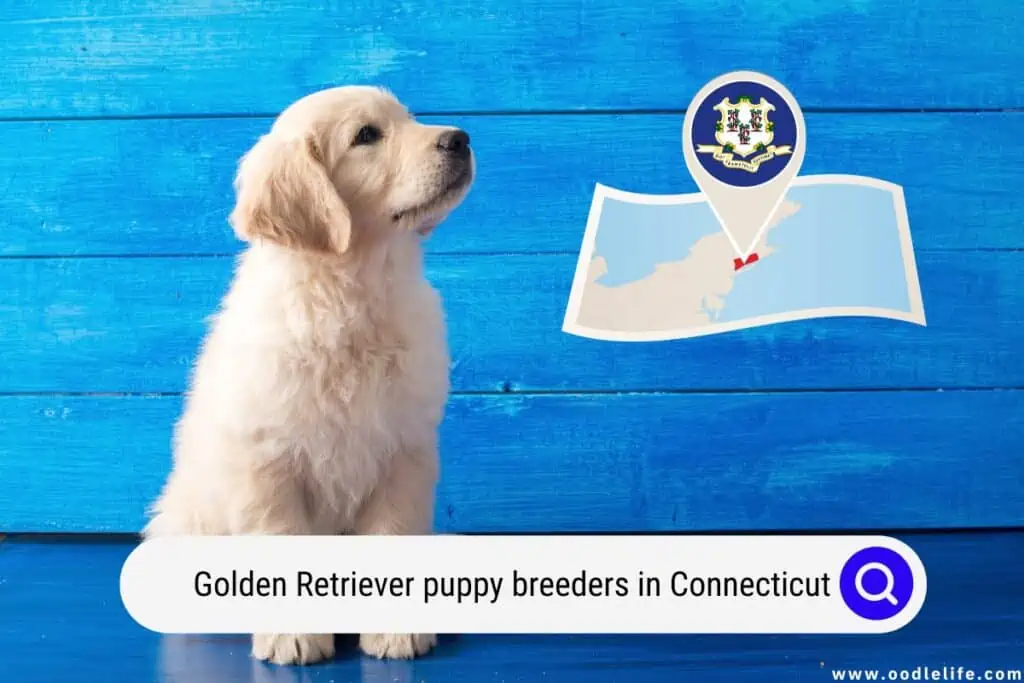 $300 2023 Discount!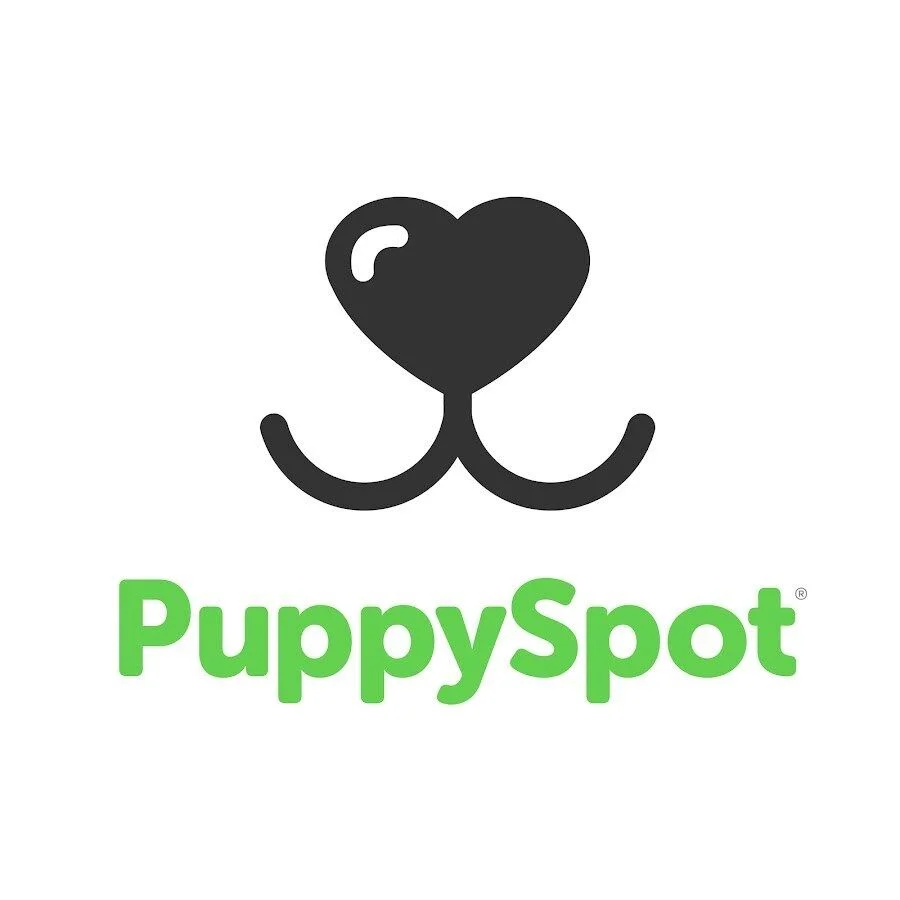 PuppySpot Adoption
PuppySpot is a reputable dog marketplace where you can browse and find compatible puppies right from the comfort of your home. They have placed over 200,000 puppies into homes in the US!
Click through and use the code PUPPY300 for $300 off any puppy adoption.
See Puppies and Save $300
If you are looking for a Golden Retriever breeder in Connecticut, here's a list of our favorites!
Aly's Golden Retrievers
Aly's Golden Retrievers have been breeding since 2014 when they got their first Golden Retriever and fell in love with the breed. They were drawn to the patient, loving, and calm nature of Goldens, so now they breed healthy pups with the creamiest coats, with bloodlines from all over the world.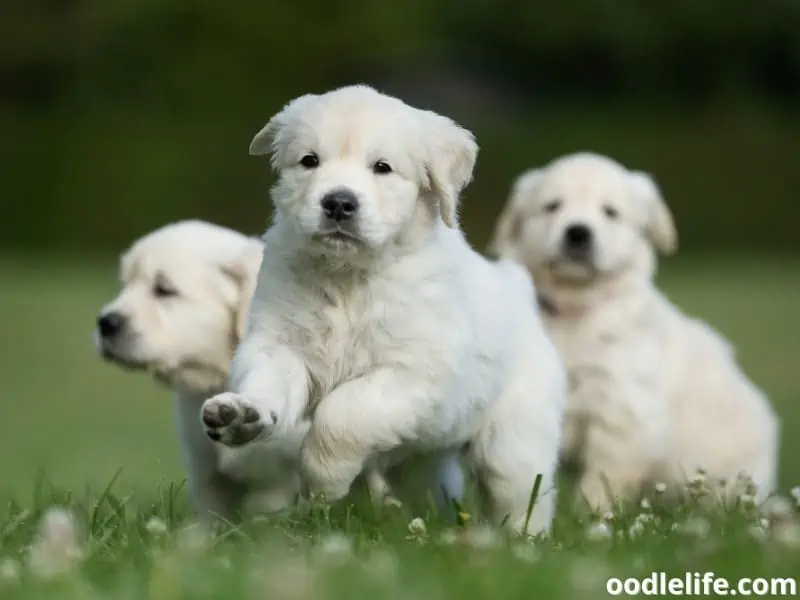 All their dogs are AKC-registered, OFA-certified, and genetically tested for health conditions that are common in the breed.
What sets Aly's Golden Retrievers apart from the rest is the fact that they have educated themselves well on the breed's needs and development. They take into account the role of genetics in breeding and the correct stimulation puppies need to grow into healthy, happy adults.
This is reflected in the weekly information on their website on how puppies are raised at Aly's Golden Retrievers, and how their needs are met. All their dogs are raised as part of the family and they emphasize making their dogs experience early family life with all its adventures, hikes, and interactions.
They know exactly what kind of temperament to expect from each new litter, based on previous generations. They encourage families to visit the site before buying a puppy, establish a relationship with the buyer, and place puppies with the perfect family.
They have a recommendation list on their website of what to buy for new puppies, explaining the importance of each item. You can find all the information on their recommended vets, trainers, and groomers for new puppies.
They have their puppy schedules up on their website to help prospective parents create a similar routine in the pup's new home. Lastly, they offer life insurance for each pup with the 'Trupanion' pet insurance company.
Contact Details:
Website: https://www.alysgoldenretrievers.com/
Phone: (203) 727-8702
Email: [email protected]
Location: Bethany, Connecticut
Indian Trail Golden Retrievers
In love with the breed's sweet disposition and desire to please, Sharon and Dennis Platt have been raising Golden Retrievers in Connecticut since 1983 and they raise several litters each year. The philosophy behind Indian Trail Golden Retrievers is to produce home-raised puppies where each puppy is given individual attention.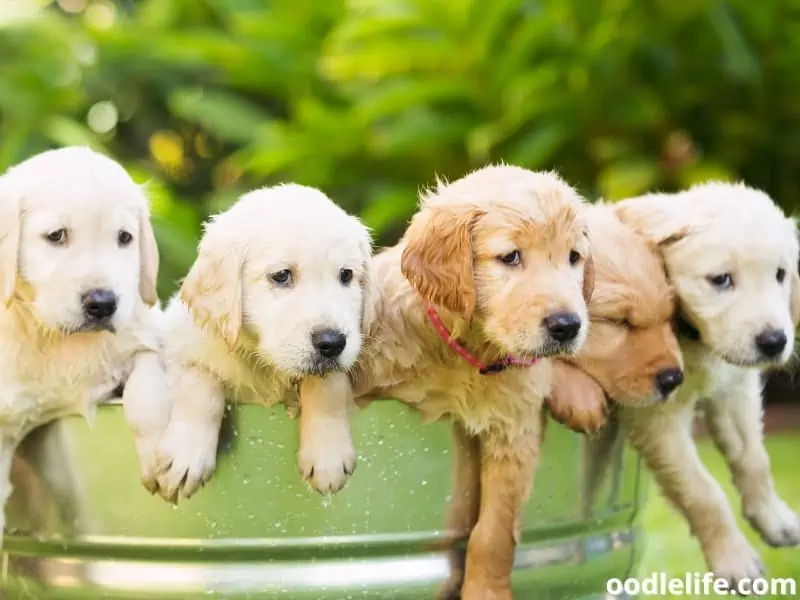 They consider themselves neither a puppy farm nor a commercial breeder, but small, dedicated Golden Retriever owners. They have excellent reviews on their website and are certainly breeding Goldens for the right reasons.
They make sure all pups receive their first vaccinations like parvo, worming, and DHLPP vaccine, and that they are all vet-certified for health. Their dogs are all health tested before breeding and they all have OFA certificates for hip, eye, elbow, NCL, and heart.
Raising their puppies at home, they do not keep the dogs in kennels and all their puppies and dogs are AKC-registered.
Puppies are raised in their Connecticut home and are constantly exposed to household sounds such as vacuum cleaners and phones from an early age, so they get used to them and adjust well before going to their new home.
They have plenty of useful information on their website on how to prepare for getting a new pup and things to think about before receiving it in your home. They educate their audience on the crucial advice in choosing a puppy, preparing a pet-friendly home in advance, and the best foods on the market to feed puppies.
Indian Trail Golden Retrievers love to receive pictures and news on how the pup is doing in their new home, and all this is posted on their testimonials page. They also offer a lifetime of support for all adopted puppies.
Puppies can be reserved by filling in their online application form, and you will be given information on prices after applying. Be aware that any applications made now will apply to litters born in 2024 since they have no availability for any litters born in 2023. All contact should be made via the 'Contact Us' tab on their website.
Contact Details:
Website: https://www.indiantrailgoldenretrievers.com/
Location: Vernon, Connecticut
The Golden Gals
The Golden Gals provide a nurturing environment for their dogs, where they are free to run around on a 10-acre farm. The pups are raised as part of the family and are nurtured and loved, so no kennels are involved!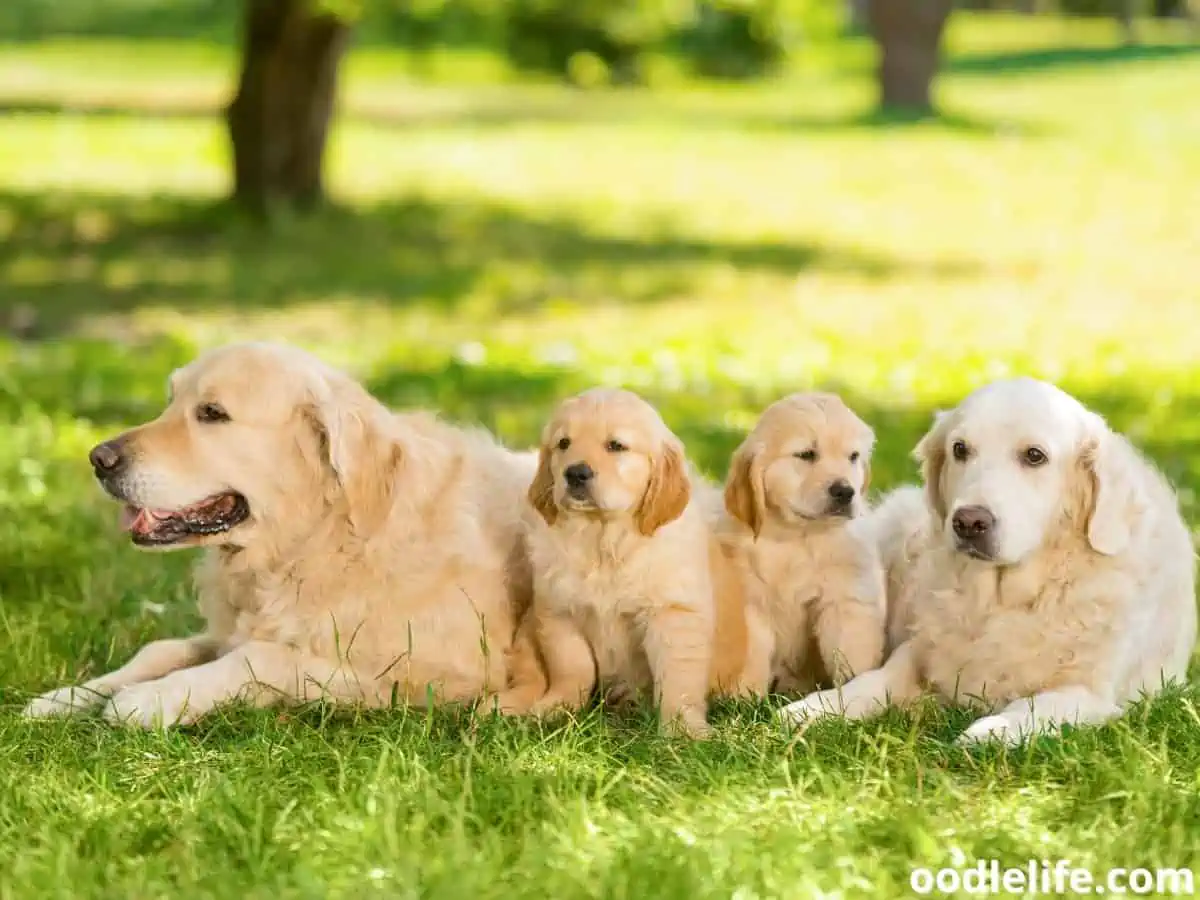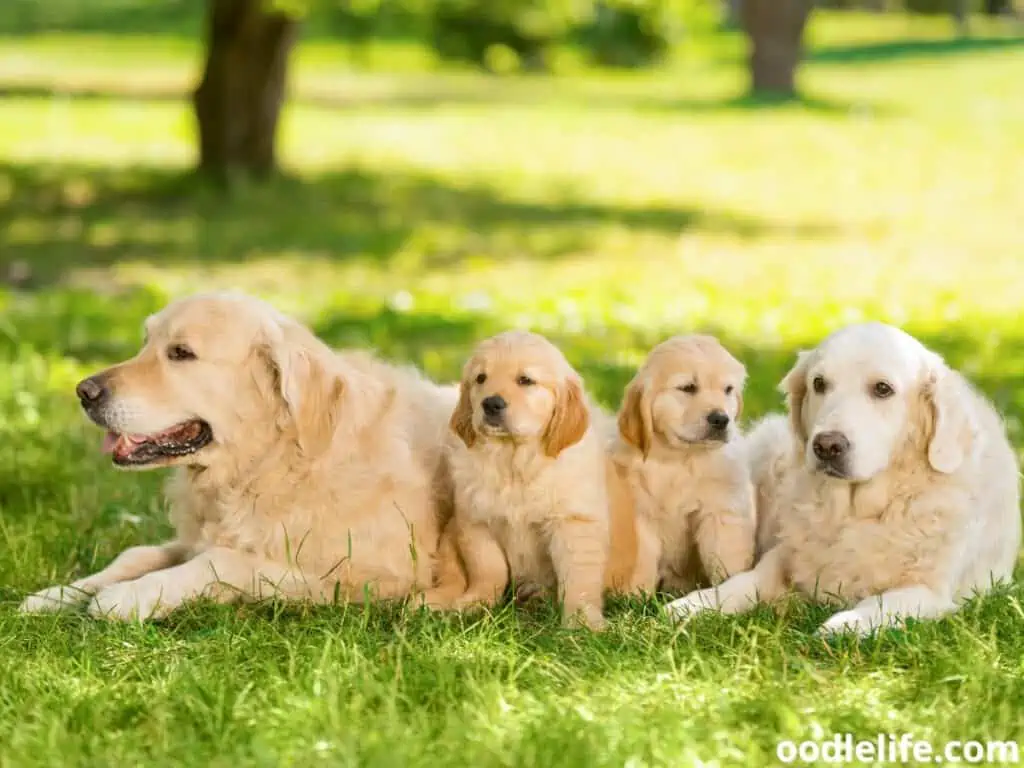 This creates a loving atmosphere where extremely sociable pups grow into happy, well-tempered adults as they get loads of early socialization and all the attention they need.
The puppies are vaccinated and undergo an extensive health test before they go to their forever homes, making sure that they are in tip-top shape. The Golden Gals work together with a licensed vet to make sure health checks are of the best quality.
When you buy a pup from The Golden Gals, you'll also get a lifetime of support from them so they won't be simply selling you a pup and throwing you off the deep end. Their adult dogs come from the finest bloodlines and are imported from multiple countries like Serbia, Ukraine, and Russia.
The price of each of their pups is relatively pricey at $4,000, but all pups come with registration and a 2-year health guarantee.
To reserve a pup, you'll need to place a $500 deposit and sign a contract. Each pup comes with a checklist of recommendations from The Golden Gals, which prepares you to welcome your new puppy.
They will also give you the schedule they have followed with the puppy since they were born so you can replicate the routine the pup is already used to. This makes the transition easier and your new Golden bestie will adapt to their new home more easily.
There is an extensive testimonials tab on their website where all the reviews give the Golden Gals five stars. They also have a few products in the shop section of their website where you can buy Golden Gal's hoodies, T-shirts, and blankets.
Contact Details:
Website: https://thegoldengals.com/
Phone: (203) 209-1559
Email: [email protected]
Location: Bethany, Connecticut
Bill and Mariana Beard started breeding Goldens in 1994 as a hobby, in the calm hills of Fairfield Country. They believe in including the dogs in their family life, from playing happily in the garden to sharing special moments.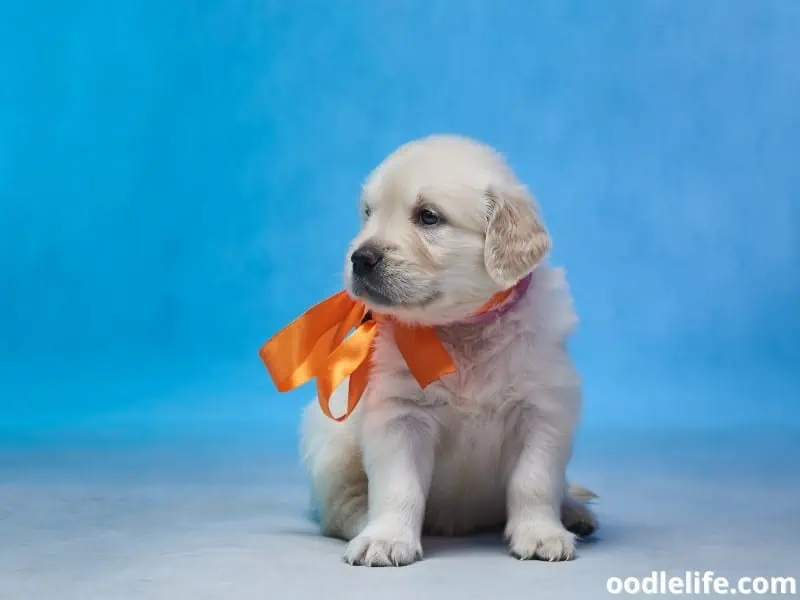 They recognize the fact that these dogs need and want human company, so they give them just that. They do not accept any aggression when choosing dogs as part of their breeding program, as they understand that most puppies will go to families with children.
They are members in good standing of the Golden Retriever Club of America and are recognized as an AKC Breeder of Merit.
Their breeding practice is based on four main pillars. Firstly, temperament is the main priority in mind when breeding, followed closely by health. Bill and Mariana assess the health of the dogs they breed multiple generations back in the pedigree.
Next, they take into account the general physical structure of the males and females they breed. Lastly, fur type and color are considered. They put a lot of pedigree research into pairing dogs that will produce what they desire.
They travel to different places and find the best sires for their girls, so breeding is a carefully calculated decision on their part.
They differentiate themselves from other breeders by minimizing the use of toxic chemicals on their lawns. They do not use chemical treatments for fleas or ticks on the dogs and they give minimal medications to the pups.
The adults are checked for immunity by using a blood test. This is underpinned by the belief that treating with chemicals affects the well-being and health of dogs and humans, so they opt for a natural upbringing.
It's important to note that they don't use chemicals to regulate their breeding times. They let mother nature run its course. Therefore, you can apply for a puppy with them and pay a deposit, however, it does not guarantee you will get a puppy from them.
Puppies are placed depending on the results of the temperament testing and according to the needs of the family, with special consideration given to any children prospective families may have.
If you are interested, you are encouraged to visit the puppies at a puppy party. The schedule of this is usually given out when the puppies are born.
Contact Details:
Website: https://www.abaleegoldens.com/index.html
Phone: (203) 426-0834
Email: [email protected]
Location: Newtown, Connecticut
Final Thoughts
Still don't see what you want? You might have to go on a road trip and hit neighboring states. When picking a breeder, be as thorough as you can in your research and avoid puppy mills and irresponsible backyard breeders like the plague.
Good luck!