Best Goldendoodle Breeders in Kansas (2023 Update)
Goldendoodles are great for ardent and first-time dog owners because of their friendly demeanor. Their hypoallergenic nature makes them suitable for allergy sufferers. Because of the breed's popularity, there's a surge in Goldendoodle breeders in Kansas.
Nevertheless, not all of them adhere to ethical breeding standards or provide the same care and attention to the puppies they rear. Thus, it would be best if you exercise caution when working with any breeder.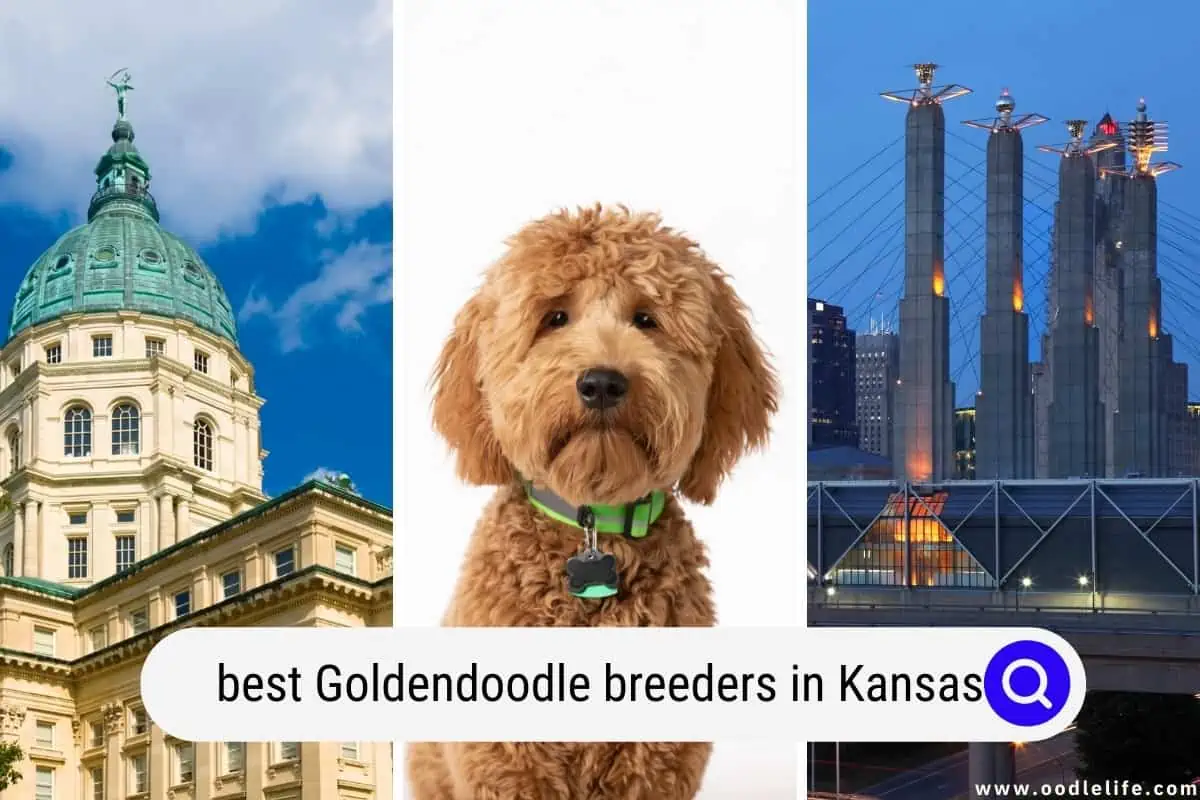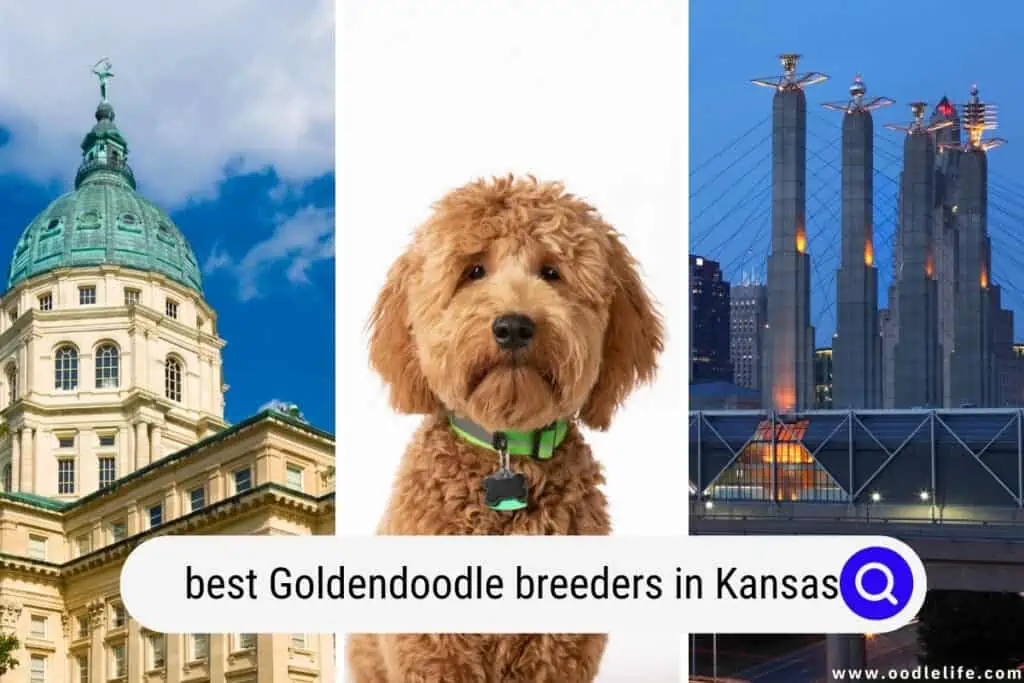 $300 2023 Discount!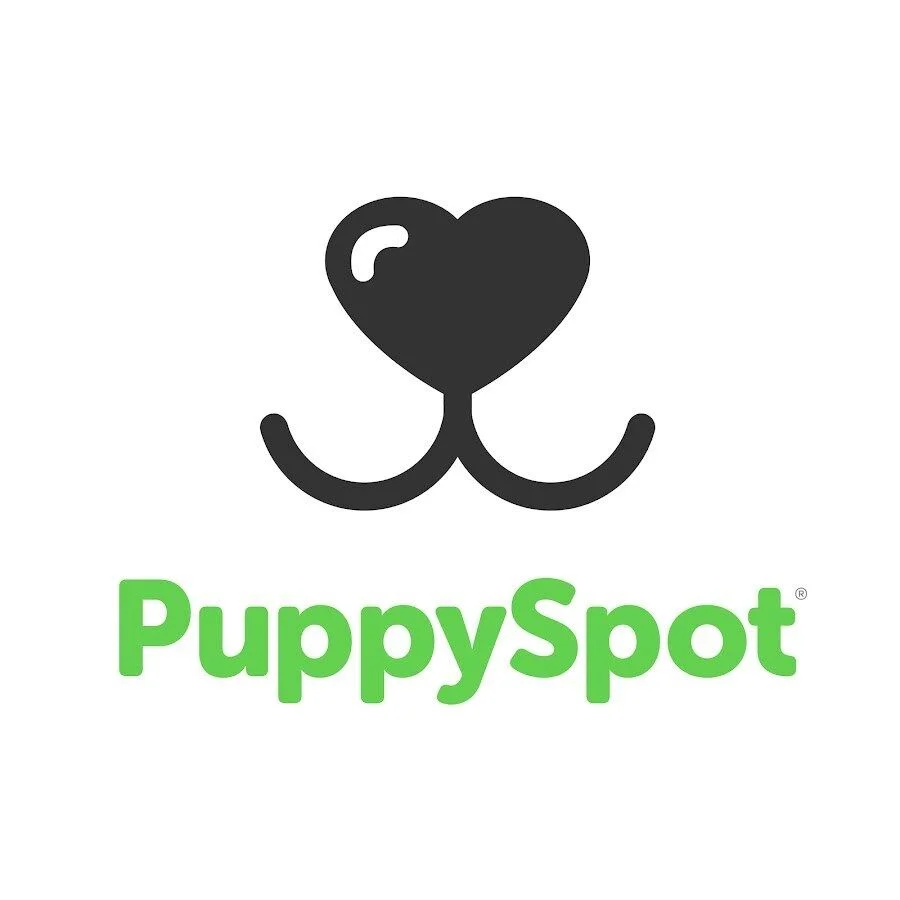 PuppySpot Adoption
PuppySpot is a reputable dog marketplace where you can browse and find compatible puppies right from the comfort of your home. They have placed over 200,000 puppies into homes in the US!
Click through and use the code PUPPY300 for $300 off any puppy adoption.
See Puppies and Save $300
Here are the best Goldendoodle breeders in Kansas to help you avoid losing money and acquire a healthy puppy.
1. Golden Ridge Goldens
With more than nine years in business, Golden Ridge focuses on producing healthy, friendly, and intelligent Goldendoodles. The breeder nurtures their puppies in a family home where they get to know many people and environments daily.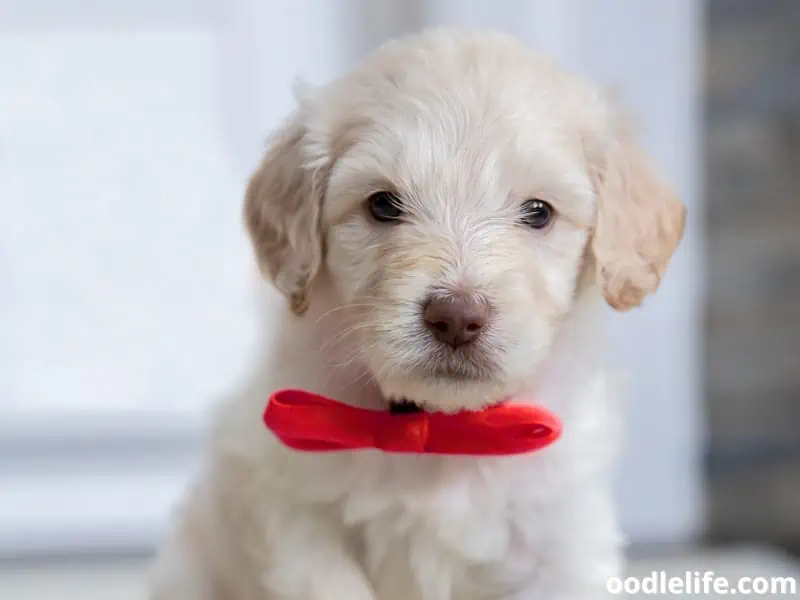 The puppies also get an opportunity to go on walks to experience various sights and textures of the surrounding world. That helps ensure they're ready for their new homes when adoption finally comes. In addition, they're only fed premium dog food and have access to sufficient playing space.
Their breeding parents have good bloodlines and come from respectable families. They limit their breeding to when they can devote sufficient time to each puppy and allow the parents time to recover between sessions. Besides checking each parent's eyes, hips, elbows, and heart, they conduct thorough screening to guarantee they're free of genetic conditions.
Golden Ridge Goldens give a health guarantee to all their puppies. Because they are affiliated with the American Kennel Club, they microchip each puppy before they can go to their new homes. The breeder puts up the puppies for sale after deworming and vaccination appointments.
Contact Details:
Website: https://goldenridgegoldens.com/
Phone: (620) 757-0273
Email: [email protected]
Location: Melvern Lake, Kansas
2. Honey Doodles of Kansas
Honey Doodles is well-known in the dog-breeding community for producing healthy, happy Goldendoodles. They have high-quality litter since they only use healthy, friendly, intelligent breeding parents.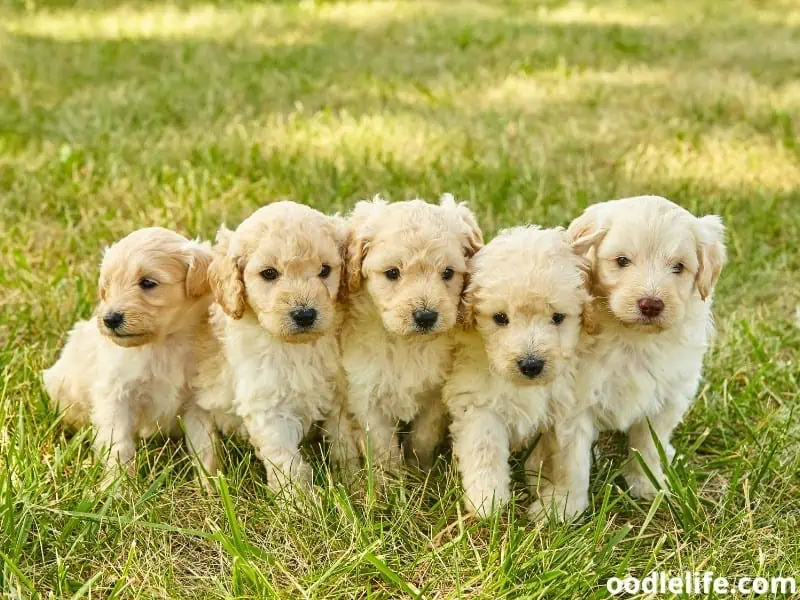 The parents have their eyes, hips, and heart vet-checked to ensure they're in good condition. They're also subjected to intensive genetic screening to eliminate the likelihood of passing down hereditary disorders to the puppies.
Honey Doodles of Kansas produce Goldendoodle puppies in various colors, but their primary focus is on golden brown coat colors with a teddy bear appearance. The hypoallergenic coats and F1 pedigree make their puppies ideal for anyone with pet allergies.
They've been running their adaptable breeding program for about seven years now. Their top priority is finding the best Goldendoodle parents for their puppies without compromising the breed's integrity. Their puppies are vet-checked before being placed up for adoption.
In addition, they hold OFA and CERF certifications.
To guarantee their puppies' welfare, Honey Doodles doesn't support kennel breeding. They believe that the practice undermines the intended benefits of socialization. Thus, they nurture each puppy in a loving family environment, where they receive the necessary socialization without much struggle.
Puppies are permitted to mingle with humans and other animals within the facility. Furthermore, they're presented with various smells to prepare them for their new homes.
Moreover, Honey Doodles of Kansas feed their puppies high-quality food necessary for healthy development. They also get a partial introduction to training procedures of Baxter and Bella training tools. The breeder guarantees your new puppy will be healthy and free of common birth deformities.
Each puppy receives all the necessary vaccines and deworming before adoption.
Contact Details:
Website: http://honeydoodles.net/
Email: [email protected]
Location: Wichita, Kansas
3. My Dream Doodle
My Dream Doodle is a relatively new breeder with around three years in business. The facility is known for producing unique Goldendoodle puppies. Their puppies are intelligent, rendering it possible to train them as service, work, or hunting dogs.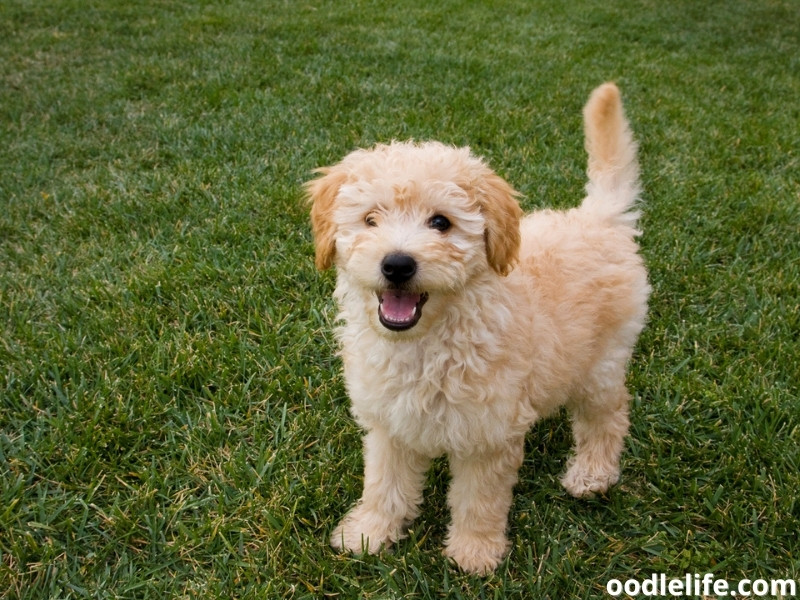 They mainly focus on Goldendoodles with apricot coats because they find the breed's teddy-bear appearance endearing.
All their breeding parents come from impeccable lineages. During prenatal testing, they screen the dogs for genetic diseases that could affect their offspring. The OFA performs tests and certifications on the breeding parents to guarantee they have good working hips, eyes, and hearts.
They do that to ensure that their breeding program only produces healthy puppies.
My Dream Doodle raises its puppies in a family environment where they can interact with many people and pets. Each puppy has exposure to socialization procedures, such as Early Scent Introduction and Early Neurological Stimulation, to ensure an efficient transition into new homes.
The puppies also get to experience the comfort of an air-conditioned environment. They give all puppies routine walks to experience new sights.
Furthermore, they undergo potty training before being made available for adoption. Each puppy has a written health guarantee and up-to-date vaccination records. 
Contact Details:
Website: https://www.mydreamdoodle.com/
Phone: (620) 724-0069 
Email: [email protected]
Location: Girard, Kansas
This highly recommended breeder may not be producing puppies at the moment, reach out to them and let us know if you have any luck!
4. My What a Doodle
My What a Doodle has been operating for more than 15 years and focuses on producing healthy F1 and F2 Goldendoodle generations. Their breeding parents come from decent lineages. Before being introduced to the breeding program, puppies undergo rigorous testing to ensure their health and disposition meet all necessary standards.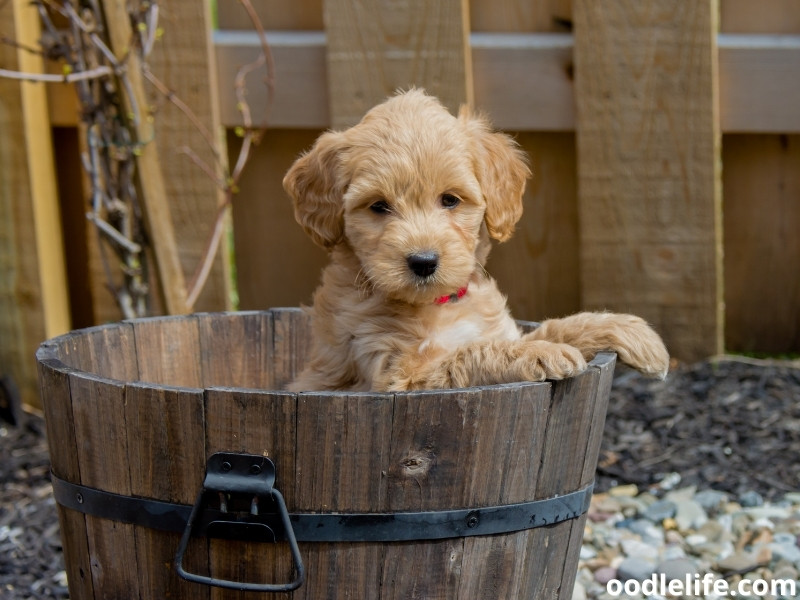 They also screen the puppies for inherited diseases and defects that could affect their offspring. The Orthopedic Foundation for Animals performs additional heart, elbows, hips, and eyes tests. The breeder gives puppies a warm and caring environment to grow up in.
Each puppy goes through extensive training to ensure their new family enjoys their boundless energy and fun spirit without worrying about their behavior.
My What a Doodle starts socializing their puppies at a young age and continues before adoption. The breeder exposes the puppies to unfamiliar circumstances, sights, and noises to improve their socialization further. Besides up-to-date vaccination and worming documentation, each puppy has a written health guarantee.
Contact Details:
Website: http://mywhatadoodle.com/
Phone: (620) 643-5815 or (620) 687-0304
Email: [email protected]
Location: Weir, Kansas
5. Four Paws Doodle Ranch
Four Paws Doodle Ranch has been in operation for close to ten years. Their breeding program's primary goal is to produce puppies that are wonderful additions to their owners' households. They focus on breeding high-quality F1B Goldendoodles generation.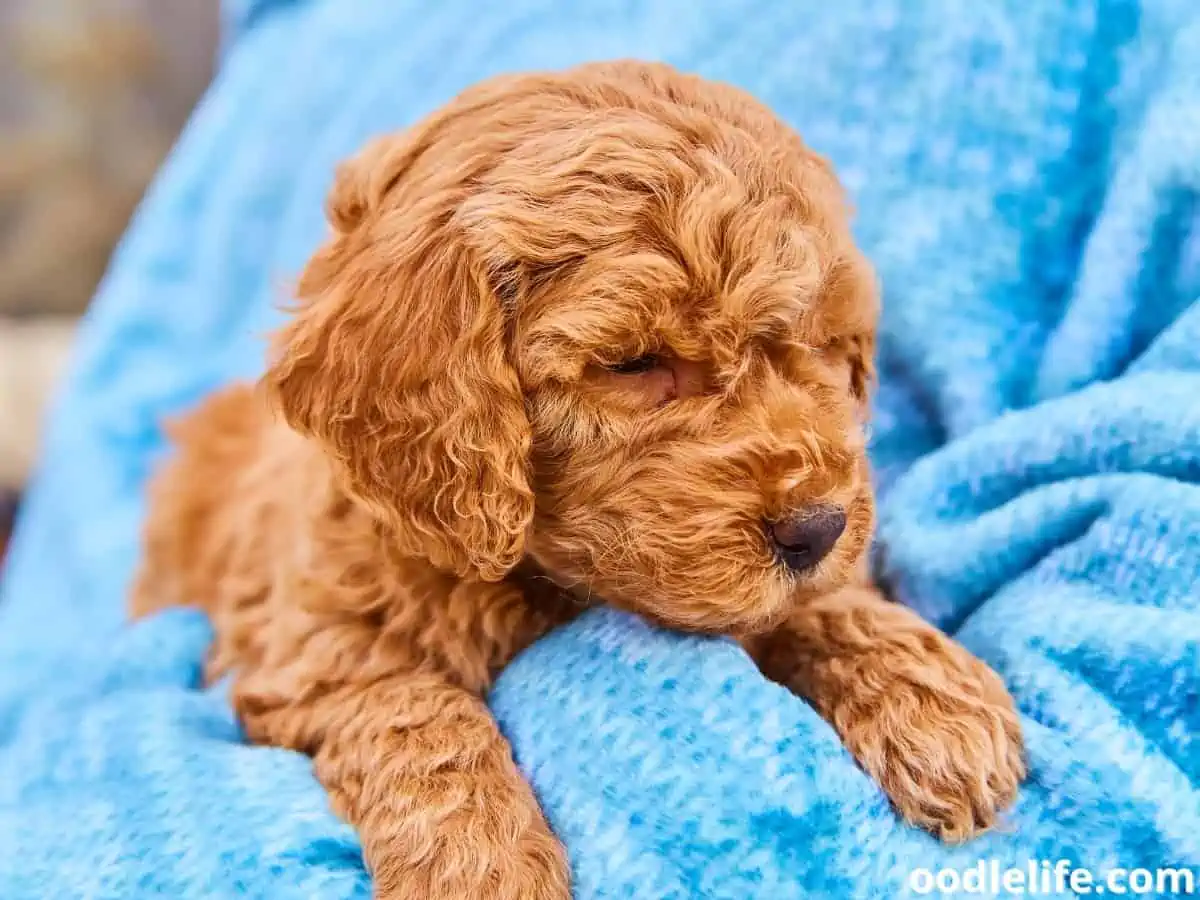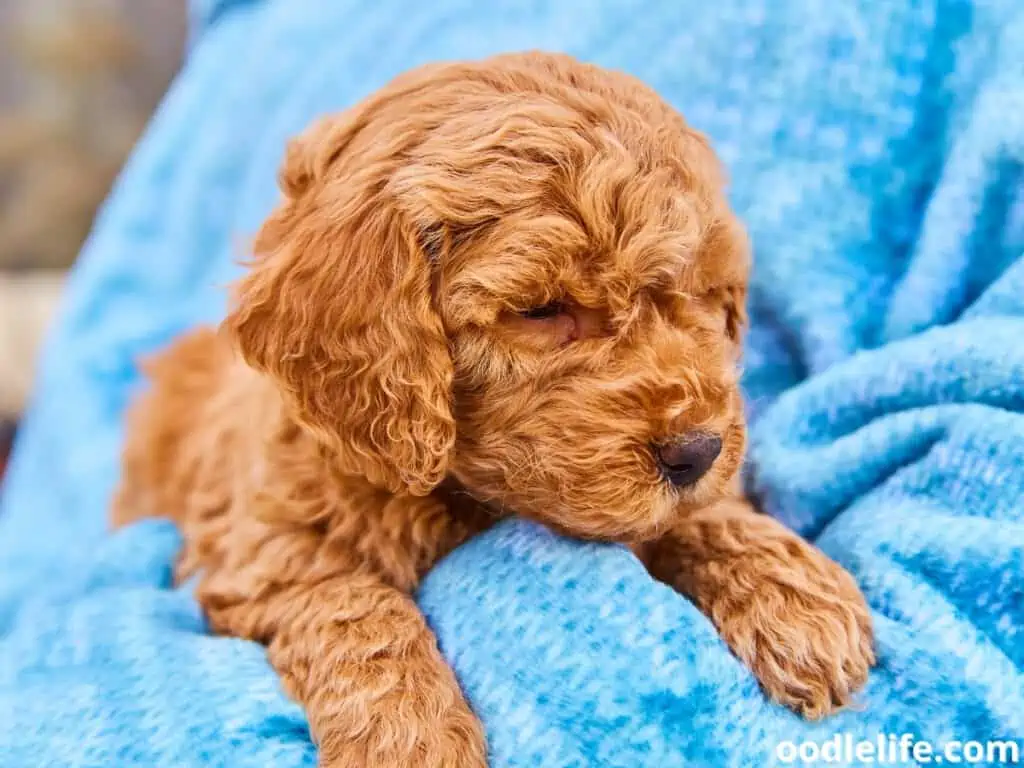 Four Paws Doodle Ranch raises their puppies on a vast 200-acre farm, each receiving the care and affection they need to flourish.
The breeder provides the puppies with a healthy diet and supplements to help them grow into strong, healthy adults. They place a high value on each puppy's socialization through standards such as puppy culture. The standards ensure that puppies are well-behaved when exposed to new situations.
All their breeding parents are certified by the American Kennel Club. Besides their remarkable bloodlines, the parents have excellent breeding genealogies with multiple AKC titles.
Before the breeding program begins, the dogs must pass through genetic testing to guarantee they're free of heritable defects. Furthermore, PenHipp, OFA, and CERF examine the dogs to prove that their hips, elbows, and eyes are in good condition.
Each puppy has a certified veterinarian's stamp confirming that they're disease-free. Four Paws Doodle Ranch will also provide you with a two-year health guarantee, vaccinations, and deworming records.
Contact Details:
Website: https://fourpawsdoodranch.com/
Phone: (316) 772-8887
Email: [email protected]
Location: Peabody, Kansas
6. Diamond Country Dogs
Diamond Country Dogs produce friendly, fun-loving, and easy-to-train Goldendoodle puppies, making them perfect family pets. They rear their puppies on a big farm alongside other animals, such as horses. Puppies are fed high-quality food and supplements to strengthen their immune systems.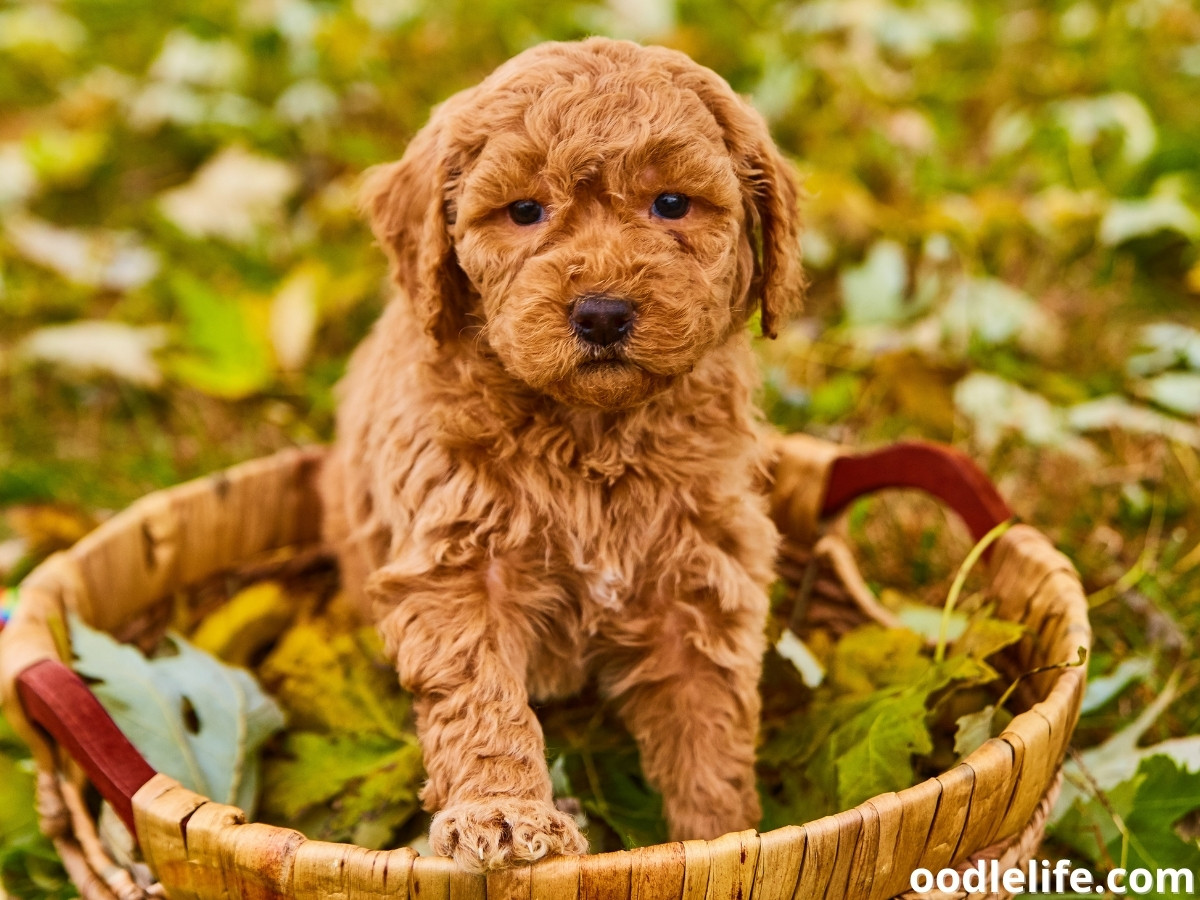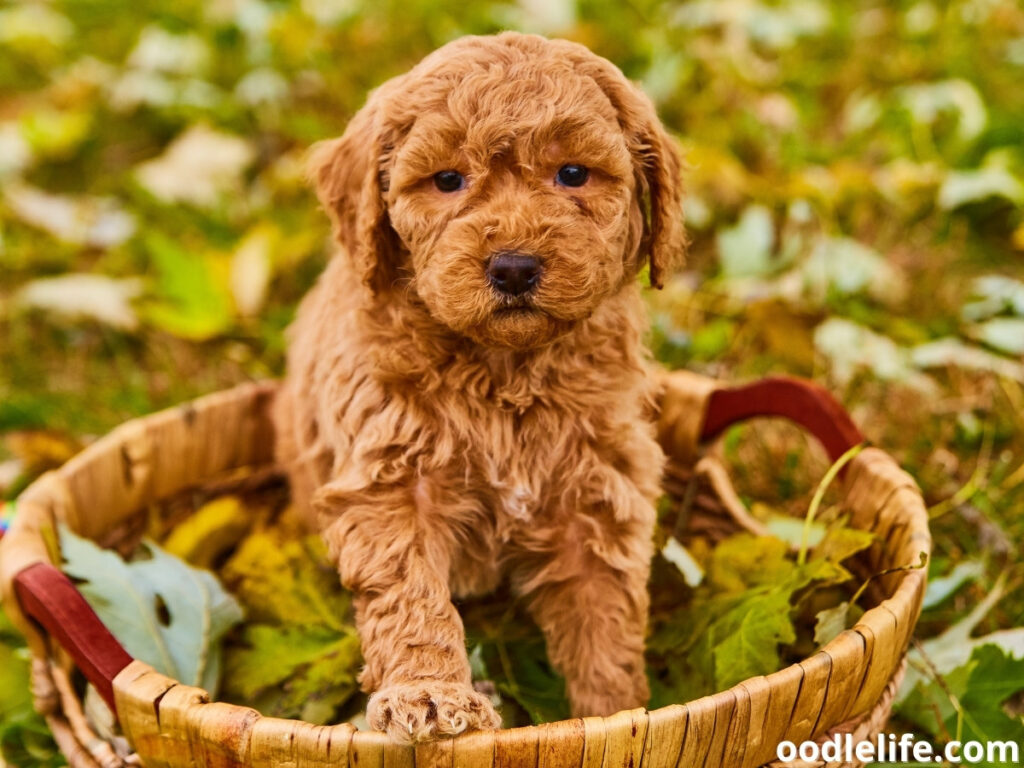 The first process of each puppy's socialization is being held and cared for by family members. They begin with puppy culture and progress to more advanced socialization standards as they mature.
The breeder also introduces the puppies to potty training basics. All their breeding parents are either Golden Retrievers or Poodles. They prioritize hybrid vigor and don't wish to dilute the breed.
The breeding parents are put under genetic tests to verify that they're free of hereditary disorders. You may request to see their certifications if you wish to. Each puppy comes with a one-year health guarantee.
Before adoption, all puppies get a full vet checkup, vaccinations, and deworming.
Contact Details:
Website: https://www.diamondcountrydogs.com/
Phone: (785) 987-5538 or (785) 527-0320
Email: [email protected]
Location: Belleville, Kansas
Final Thoughts
Due to their widespread acclaim, Goldendoodles are readily available in Kansas. Nevertheless, you must select a breeder who produces healthy puppies.
They all have ratings from previous customers for adhering to ethical breeding standards. However, it would help if you still undertook some additional research to find a breeder who meets your specific requirements. We hope our list of the best Goldendoodle breeders in Kansas will be a fantastic starting point for getting a healthy Goldendoodle puppy.